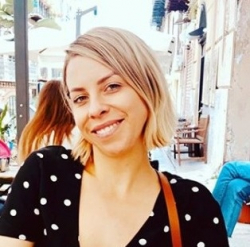 Latest posts by Jodie Chiffey
(see all)
Tory "Dinglederper" Weeks is an American Twitch streamer, YouTuber, and internet personality.
Dinglederper has been gaming for over a decade now, a period that has seen her garner a significant following across various popular social media platforms.
For instance, she has over 400K followers on Twitch, while her YouTube channel boasts more than 55K subscribers. In addition, her collective devotees on Instagram and Twitter have already surpassed 200K.
Counter-Strike Global Offensive paved the way for Dinglederper's rise to fame. Later on, she struck up a love for other games such as League of Legends, Fortnite, and World of Warcraft. This showcased her impressive adaptability, a must-have aspect for variety streamers dead set on growing their brands.
This bio delves deeper into Dinglederper's life. So if you're eager to learn what it's all about, stick around. But, first, let's take you through her biofacts.
Dinglederper's Bio Facts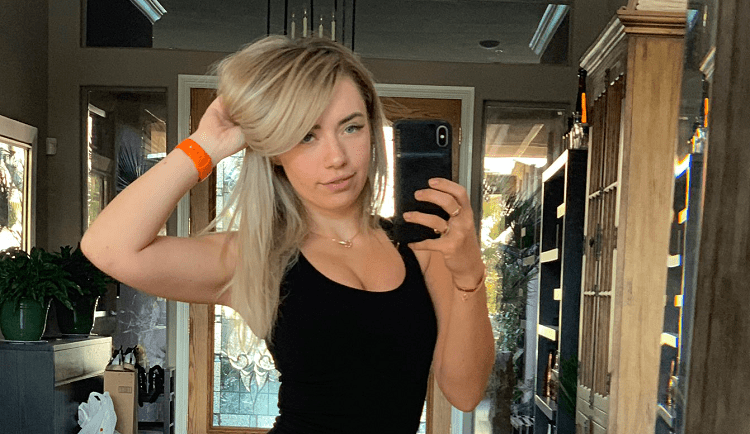 | | |
| --- | --- |
| Real Name | Tory Weeks |
| Birthdate | August 18, 1994 |
| Birthplace | United States |
| Nickname | Dinglederper |
| Height | 5 feet, 3 inches |
| Nationality | American |
| Zodiac Sign | Leo |
| Siblings | N/A |
| Children | None |
| Spouse/Partner/Boyfriend | Dinglederper is currently single |
| Games Played | CS: GO, Just Chatting, Fortnite, etc. |
| Net Worth | About $250,000 |
| Social Media | Twitch: Dinglederper, Twitter: @Dinglederper, Instagram: dinglederper, YouTube: Dinglederper, Facebook: Dinglederper |
| Awards | None |
| Last Updated | March 2022 |
Dinglederper's Birthplace and Early Life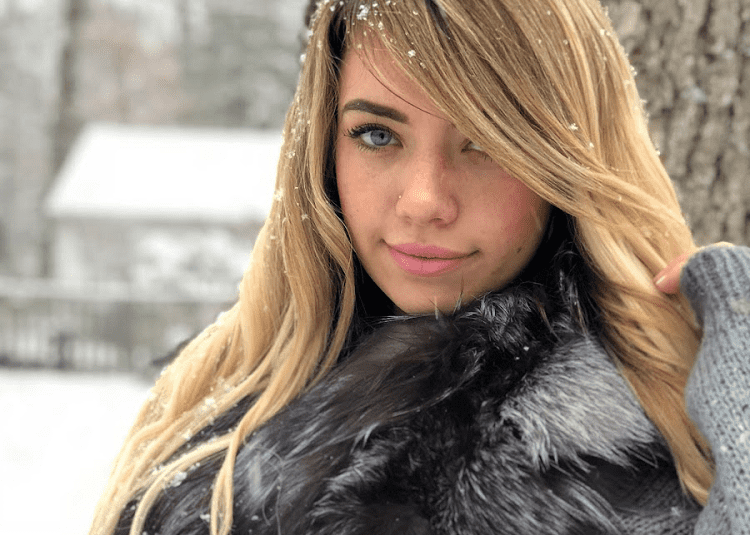 Dinglederper was born in New Jersey, United States, on August 18, 1994.
She is yet to divulge details about her parents' identities, siblings, or education.
Nevertheless, we found out that Dinglederper and her mom share a close bond. This gamer has even posted some adorable pics with her on her socials.
How Did Dinglederper Get Started Gaming?
Dinglederper's interest in video games grew during her childhood days. First, she played various titles when in high school and college. Then, she started creating content on YouTube while she was still in the latter.
Around the same time, Dinglederper created her Twitch channel and embarked on her streaming journey. And she has been gradually improving and thriving ever since.
Unlike sensational Twitch stars like Kyedae (view Kyedae's bio), Dinglederper hasn't signed with any esport organization yet. But none of us knows what the future holds, so she might do it in due course.
Dinglederper's Videos
I DON'T MISS! INSANE WIN – Fortnite Battle Royale
Fortnite is one of Dinglederper's fortes, and watching her play is insanely fun. In this 5-minute video, she displays exceptional skills in this battle royale game.
But what's even more admirable is her confidence as she makes her lethal shots. Evidently, as she says, she can't miss, because she's that good! Her enthusiasm after the win at the end shows us how much she revels in gaming.
Dinglederper – Best Moments on Twitch
This 10-minute video may be from a few years back, but it's worth watching, especially if you want a taste of Dinglederper's fun side. It's basically a compilation of some of her best moments on Twitch.
It gives us a closer look at her social life and alone time, taking us through various locations, including her living room and beach. There are also some bits of her gaming sessions.
Dinglederper's Family
Dinglederper dated former Twitch streamer James "Phantoml0rd" Varga for several years.
Dinglederper met Phantoml0rd in 2014, and they hit things off almost immediately. When this duo started dating, they first kept their burgeoning love a secret. But this wasn't an easy task, considering they were both in the same line of work.
So they decided to unveil their relationship status and even began working on video content together. Intriguingly, those videos turned out to be some of Dinglederper's most-viewed pieces.
But like most good things, this fairytale romance didn't last long.
Breakup
In 2016, things started going haywire for Dinglederper and Phantoml0rd. Their viewership declined, and Twitch banned the latter after promoting CSGOShuffle, a CS: GO skin betting site, without any disclosure. His channel had amassed over 1M followers at the time, so it was a pretty huge blow to his streaming career.
Towards the end of summer of the same year, Phantoml0rd left Twitch. His popularity in the gaming scene was adversely affected, and so was his social life.
In 2017, fans noticed that Dinglederper and Phantoml0rd were no longer creating videos together. Rumors that they had broken up started swirling, and they were right.
Dinglederper revealed via social media that she and Phantoml0rd were no longer an item.
Notably, Phantoml0rd sued Twitch for "significant monetary damage" following the 2016 ban and won the lawsuit in 2021. As a result, the platform paid him $20,720.
Dinglederper's Net Worth and Career Earnings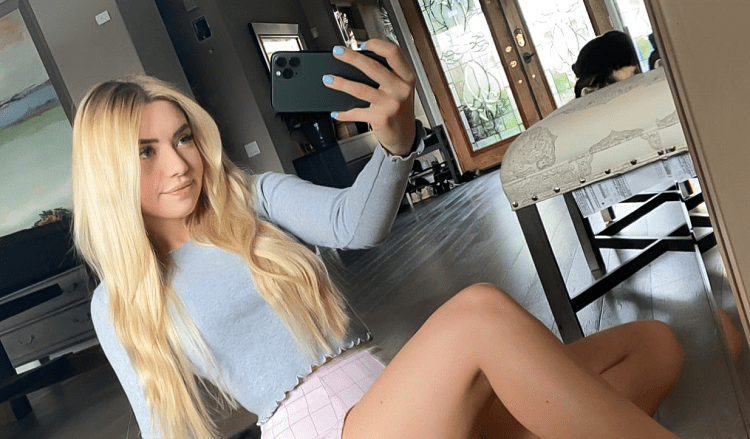 As of 2022, Dinglederper has a net worth of approximately $250,000, thanks to her multiple revenue streams. Interested in learning all about them? Let's enlighten you below!
Twitch
Twitch tops the list of Dinglederper's primary sources of income. Her streams average over 80,000 views monthly. In addition, this platform sponsors her, meaning she earns $1 per view.
Some members of her dedicated fandom also send her tips via PayPal, which increases the amount she makes on Twitch.
YouTube
Dinglederper's YouTube channel has already garnered a whopping 2,100,974 views as of this writing. So naturally, this translates into a decent amount in YouTube payouts, presuming she has monetized at least 80% of them.
Since her YouTube content continues to amass more views, she's set to keep receiving payments from this video-sharing platform.
Sponsors
Like countless gamers dominating the fast-growing streaming industry, Dinglederper has landed some sponsorship deals. And they supplement her annual income. Examples include playboy.com, an American e-commerce site providing items such as clothes and accessories.
Merch Sales
Dinglederper doesn't have a merch store yet, but she sells apparel via TeePublic. So, of course, every time a customer purchases one of her tees, hoodies, or other items, her bank balance increases. As expected, this boosts her net worth.
Dinglederper's Retirement and Post Professional
We suppose retirement is not on Dinglederper's bucket list this year as she hasn't mentioned it or given us a hint that she desires to make her exit. Therefore, we're still looking out for her top-class content on Twitch and YouTube.
Dinglederper's Merch
Count yourself lucky if you're looking for Dinglederper's merchandise. She designs various high-quality products and sells them on TeePublic, an online platform owned by Redbubble. Check out some of her offerings to expect as of writing:
Shark Rodeo T-Shirt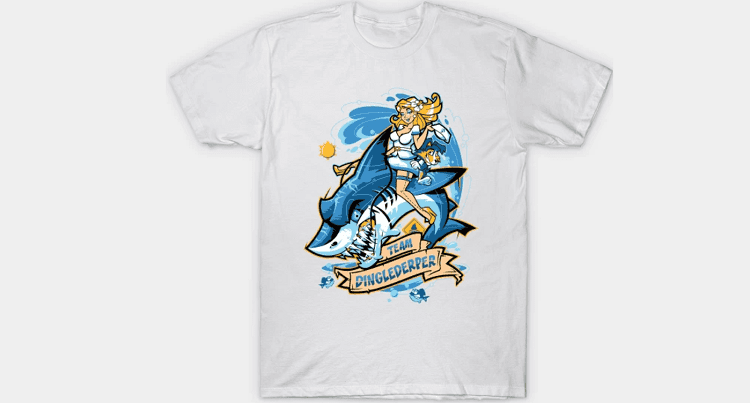 The Shark Rodeo is a fancy tee you can wear during summers. You can also have it in your winter and fall wardrobes – it'll look perfect under coats and jackets. Plus, it's an ideal layering t-shirt to achieve dashing looks in dresses.
Dinglederper provides this t-shirt in 25+ colors. You can't miss your favorite ones in this vast pool, which comprises white, red, charcoal heather, turquoise heather, vintage green, purple heather, yellow, crème, orange, and asphalt.
Fortunately, you're spoilt for choice for sizes, as the available ones range between small and 5XL.
But there's more.
The Shark Rodeo T-shirt is made from 100% ring-spun cotton, which is soft, smooth, and super durable.
Dinglederper has gone the extra mile to provide this tee in more designs.
Make sure to check out the Tri-Blend T-Shirt, V-Neck T-Shirt, Premium T-shirt, Heavyweight T-shirt, and Eco T-shirt. Of course, the available colors and sizes vary, depending on the style you opt for. All the same, expect nothing short of ultimate durability and unmatched elegance.
Shark Rodeo Kids T-Shirt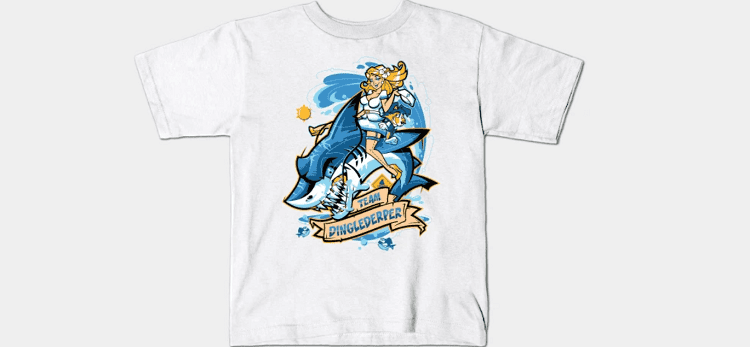 If you get the Shark Rodeo T-Shirt above, it's only fair to get this one for your little ones. Dinglederper has designed it for toddlers aged between 1 and 3.
Its key selling points include that it's ideal for everyday wear. In addition, it comes in many lovely colors, including white, red, black, orange, soft pink, yellow, navy, and blue.
Besides, it's made from 100% cotton, rendering it strong, durable, and comfy. Rest assured that it can withstand regular washes, even when using your machine.
If your loved one is between 4 and 7, check out the Shark Rodeo Juvenile tee. The Youth and Premium t-shirts also merit your attention.
Shark Rodeo Long Sleeve T-Shirt
If you're not a huge fan of short-sleeved tees, here's a unisex long-sleeved option you can mull over. It boasts a vast array of excellent features, such as 100% cotton, making it cozy, durable, and breathable.
Bear in mind that the material you get depends on the color you select. As of writing, your choices include white, black, maroon, cardinal, dark green, orange, gold, navy, and blue. All these are made from cotton, but heather tees leverage a poly/cotton blend.
Fortunately, the Shark Rodeo Long Sleeve T-Shirt's fabric is pre-shrunk, so shrinking should be the least of your concerns.
Notably, Dinglederper also offers a long-sleeved tee for kids, though the color options are somewhat limited.
Shark Rodeo Tank Top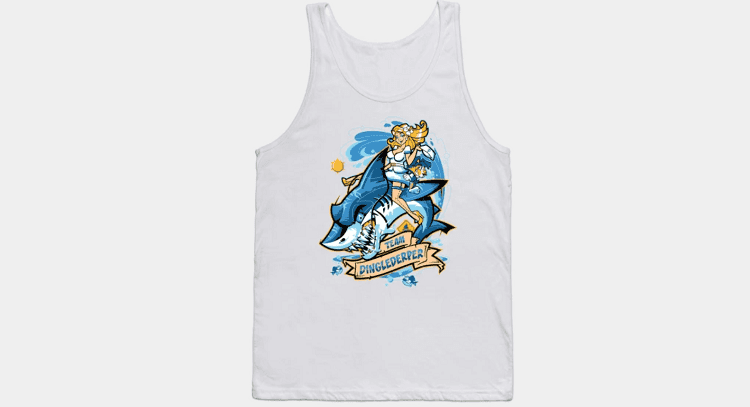 Here's another valuable item that Dinglederper offers. The thing about a tank top is you can wear it on any day. When it's hot, it's perfect for stepping out, and on chilly days, it's precisely what you need under your shirt.
The Shark Rodeo Tank top is worth your cash because it's made to last. It's 100% combed ringspun cotton also gives it a nicer feel, guaranteeing you maximum comfort.
This streamer gives you several colors to choose from, such as white, black, red, heather, navy, and royal blue. The available sizes range between small and 2XL. In addition, there's a male and female fit to gratify everyone's needs.
If you'd like a softer version of this tank top, opt for the Tri-Blend Tank. Unlike the classic tank, it's made from 50% cotton, 25% rayon blend, and 25% polyester. It also has more color options, including blue tri-blend, vintage heather, aqua tri-blend, and vintage black.
Shark Rodeo Hoodie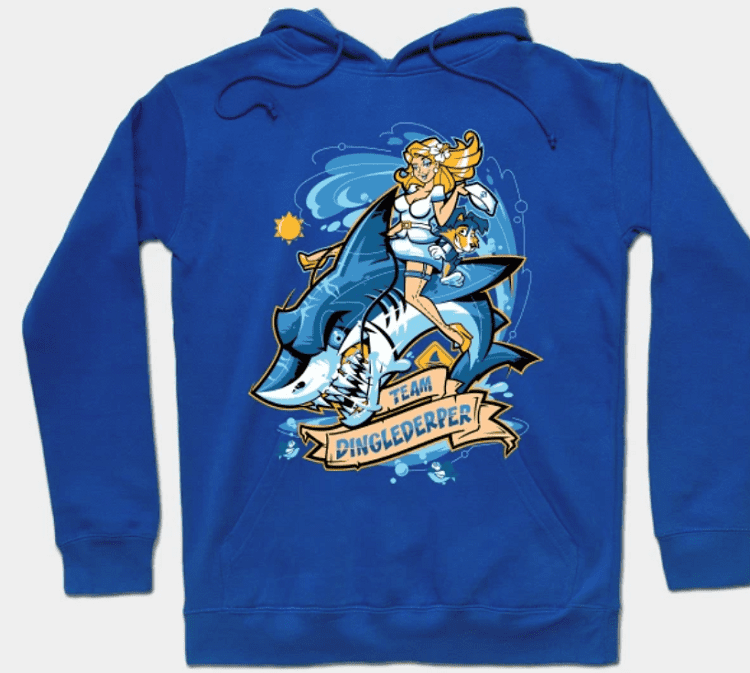 Most people cannot live without a comfy hoodie in their closets, and it's totally understandable. If you're searching for one that combines style and comfort to deliver your money's worth, consider the Shark Rodeo Hoodie designed by Dinglederper.
It's made from a cotton/poly fleece blend that automatically jacks up its durability, allowing you to wear it for months on end. This soft fabric also makes it breathable, so you can step out in it on hot afternoons and still survive the heat.
You'll definitely like this hoodie's drawstring meant to enable you to tighten the hood around your head. In addition, the kangaroo pocket makes the perfect storage place for items such as earphones, phones, handkerchiefs, and pocket tissues.
If black's your favorite color, you're in luck because this hoodie comes in it. Other colors include royal blue, red, navy, charcoal heather, and vintage heather.
In addition, the list of the available sizes is pretty long as the options range from small to 5XL.
Dinglederper offers this hoodie in more designs, including the Premium Hoodie, Lightweight Hoodie, Lightweight Zip Hoodie, and Classic Zip Hoodie.
Again, there's the Shark Rodeo Kids Hoodie for children in four sizes (small, medium, large and extra-large) and various colors, including white, teal, black, kelly, heather, and vintage royal.
Shark Rodeo Mug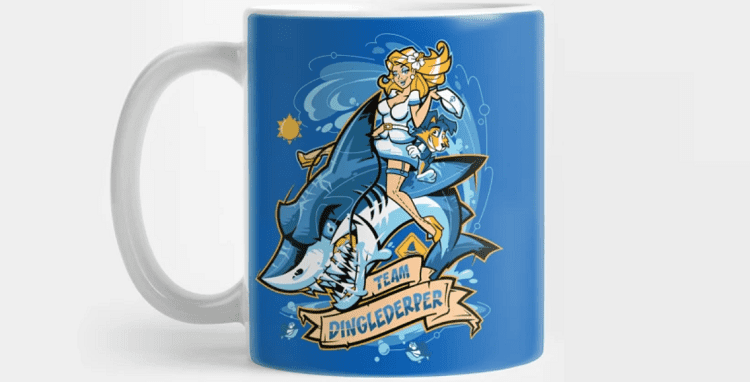 Here's an 11oz premium ceramic mug that could make a great addition to your kitchen. It's super strong, and you're free to use it while you're indoors or outdoors. Besides, it's dishwasher and microwave safe, so taking care of it is effortless.
The Shark Rodeo Mug comes with a beautiful embedded image, making it unique and easy to spot. And you don't have to get one for your kitchen alone – it makes the perfect gift for any of your pals.
As you consider the Shark Rodeo Mug, check out the 15oz travel mug available on this page. It's made from insulated stainless steel, allowing your drink to retain its temperature all day long.
In addition, the Shark Rodeo travel mug features an attractive top to bottom printing that sets it apart from the many options on the market right now. It's dishwasher safe like the coffee mug above, so you don't have to hand wash it.
Shark Rodeo Posters and Art Prints
Dinglederper also provides quality wall art, such as posters and prints, to turn your home into the beautiful space you yearn for.
If you choose the Shark Rodeo Art Print, you have five sizes to choose from – mini (8″ x 9″), small (12″ x 16″), medium (16″ x 20″), large (18″ x 24″) and extra-large (24″ x 32″).
There's also a Shark Rodeo poster that comes in a plethora of sizes and boasts the same high quality. The Shark Rodeo Canvas is a fantastic option if you prioritize durability and heavy-duty pieces of art.
These creations leverage Ultrachrome archival inks to enable their colors to last long for ultimate convenience.
Shark Rodeo Tapestry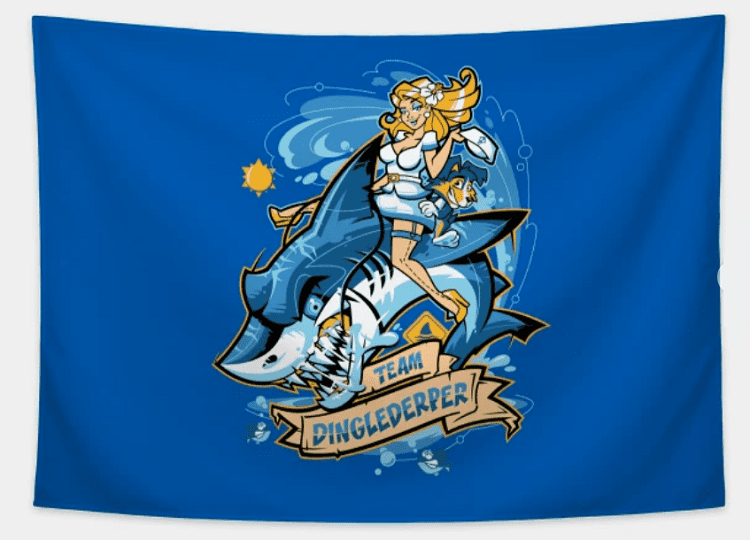 The Shark Rodeo Tapestry is a worthy alternative to posters and art prints, i.e., if you're still interested in quality décor for your home or office. You're also free to take advantage of it to cover your floors or furniture.
This tapestry's incredible beauty is hard to miss, and fortunately, Dinglederper avails it in multiple sizes to satiate the needs of different users. Then, it boasts hemmed edges, which make hanging it a piece of cake.
Shark Rodeo Onesie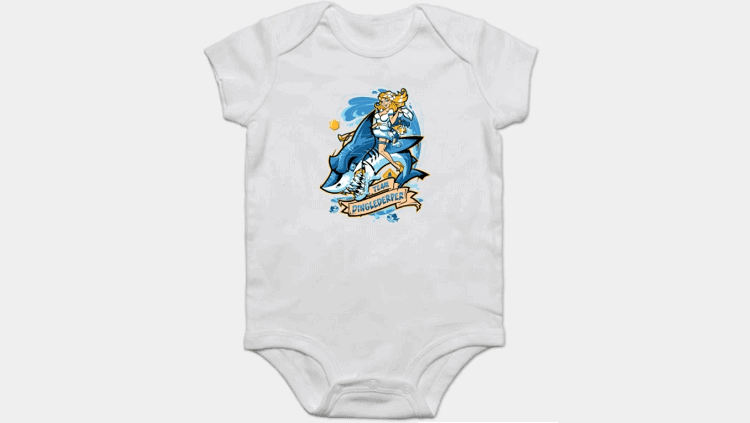 If you're a parent or guardian, we bet you already know the high value of a durable, classic onesie. This piece of cloth is perhaps the most versatile one you can have in your kid's wardrobe. It's perfect for playtime outdoors, rainy days indoors, or any other activity.
Consider the Shark Rodeo Onesie designed for 6 to 24-month-old babies as you explore the market for one.
In addition to providing maximum comfort for your little one, it'll also prevent diapers from falling, saving you huge inconveniences.
Its 100% cotton material enhances its durability. You'll definitely appreciate its reinforced 3-snap bottom closure and adjustable neckline to make removal effortless.
Furthermore, the Shark Rodeo Onesie comes in seven colors – white, black, red, Kelly, soft pink, coastal blue, and royal blue.
Shark Rodeo Sticker
Personalizing or decorating your stuff has never been easier, thanks to this striking Shark Rodeo Sticker designed by Dinglederper.
This beautiful label features a semi-gloss finish to offer you a wide range of perks. For starters, it's highly moisture-resistant, a quality that massively adds to its durability. Then, it's pretty easy to take care of since all you need is a soft piece of cloth to wipe off any dirt or dust on it.
While this sticker is ideal for customizing items such as notebooks, smartphones, and laptops, it's not the best décor art for your car.
As of writing, this sticker is only available in one size (3½ "x 2 7/8"), but Dinglederper may offer more sizes in the future.
Shark Rodeo Phone Case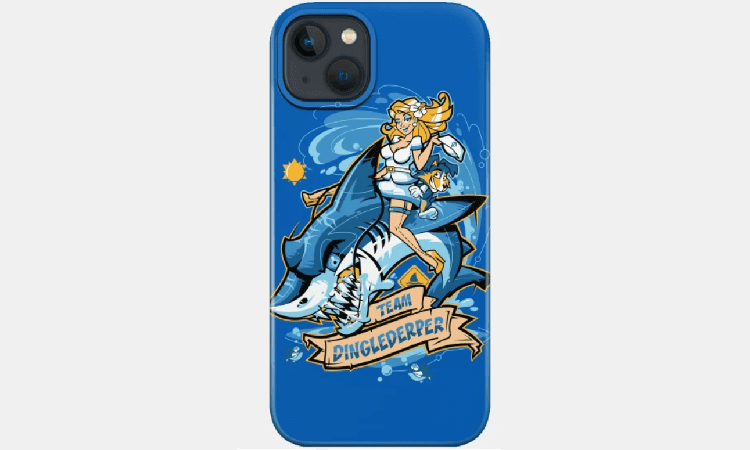 The Shark Rodeo Phone Case is undoubtedly on the list of the most stylish phone cases on the market at this moment. You can go for the slim case style or the protective case style but still expect the highest level of safety for your device.
Speaking of which, this phone case is ideally designed for multiple models, including iPhone 13, iPhone 11, iPhone 12, iPhone X, iPhone 7, Galaxy S9, Galaxy S7, and Galaxy S8.
It is built with high-quality polycarbonate, meaning that it's not only long-lasting but also conveniently lightweight and easy to install. Moreover, it's safe from harmful UV rays.
With the Shark Rodeo Phone Case's incredible design, you can comfortably access all your device's ports.
Be sure to confirm it's ideal for your smartphone before placing your order.
Shark Rodeo Laptop Case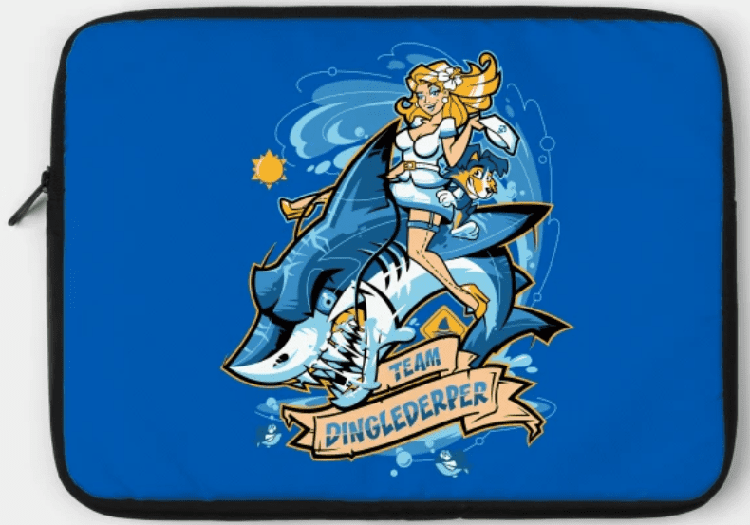 Get this elegant case that pretty much covers all the bases. It's designed for laptops measuring between 12″ and 15″ diagonally.
The Shark Rodeo Laptop case comes with a foam-padded interior to protect your portable computer against bumps and drops. In addition, it has a simple zipper closure to guarantee easy access to your laptop.
Besides, it's made from form-fitting polyester, rendering it wrinkle-resistant and unbelievably durable. You may also like its slimness and portability, which adds to its convenience.
Ensure to pick the perfect size for your laptop as you don't want it shifting around while you're on the go.
Shark Rodeo Notebook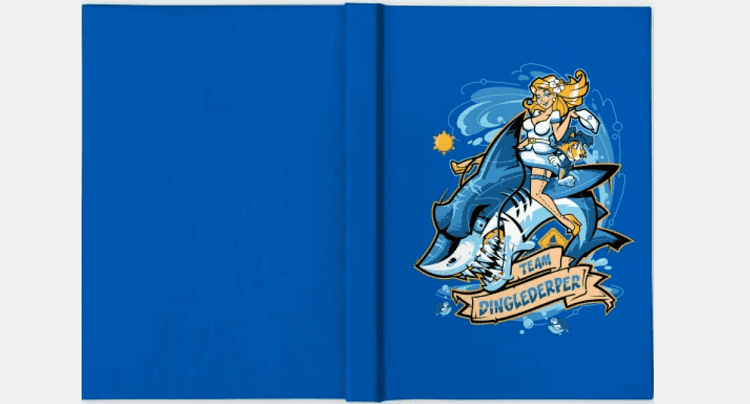 Check out the Shark Rodeo Notebook, a beautiful piece of craftsmanship worth every dime.
Dinglederper offers one with a hardcover, but if you enjoy taking notes more often, pick the spiral notebook as turning the pages is much easier. You'll also find a convenient document pocket on its inside cover, meaning you don't necessarily have to look for extra storage space.
You can have the hardcover Shark Rodeo notebook blank or rule-lined. But the spiral option is only ruled. Both come with 128 pages where you can write down your thoughts, to-do lists, or reminders, depending on your unique needs.
Shark Rodeo Pillow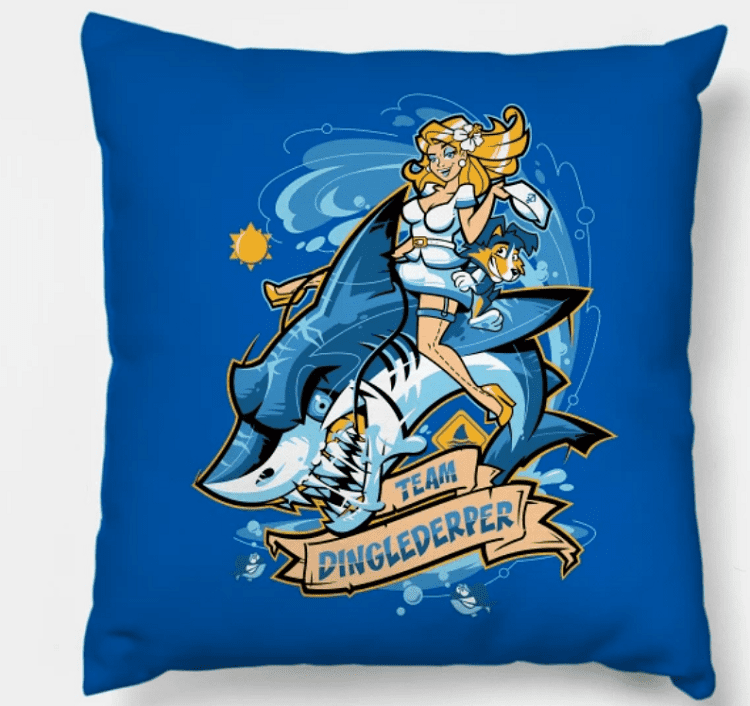 A quality, supportive throw pillow is a must-have to meet your comfort and décor needs. So put this at the top of your list of options if you're searching for one.
The Shark Rodeo Pillow is super soft and firm. It features a durable textured poly "twill" cover with a conveniently hidden zipper; you also get a synthetic insert. Moreover, it washes pretty well, so you don't have to worry about maintaining it.
Dinglederper offers this classy square pillow in various sizes, including extra small (14″ x 14″), small (16″ x 16″), medium (18″ x 18″), large (20″ x 20″) and extra-large (26″ x 16″).
Shark Rodeo Tote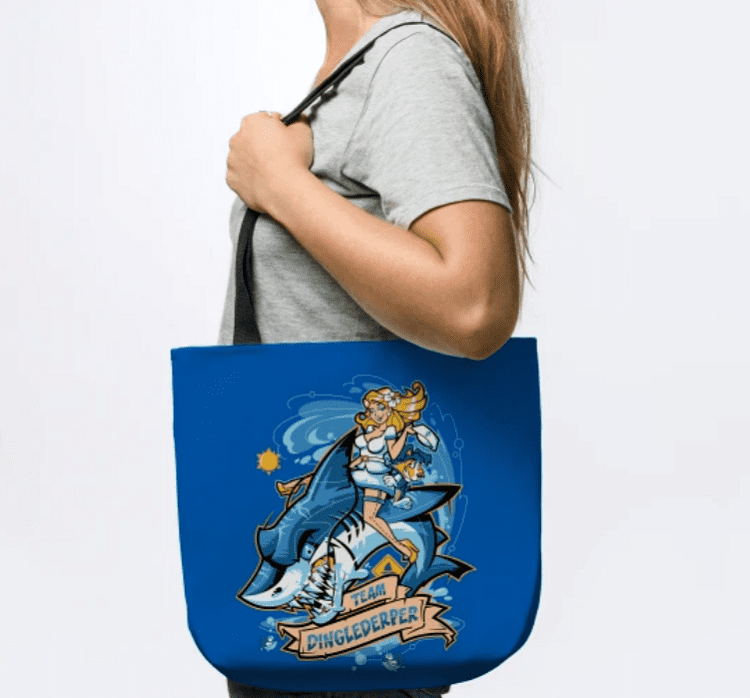 Some people may overlook a tote, but it always comes in handy during the most critical moments. And tell you what, it's always friendlier and more versatile than bulky backpacks and fancy handbags since you can go anywhere with it.
As you weigh your options, make the Shark Rodeo Tote a priority. At first glance, it's arguably the most beautiful bag you can find, owing to its print (single or double-sided). But there's a lot more to it.
Its outer is constructed with a durable, wrinkle-free, and breathable poly-poplin material for starters. The handles leverage soft, lasting cotton for easy carriage. Besides, you're not restricted to only one size as it comes in three – small, medium, and large.
Shark Rodeo Pin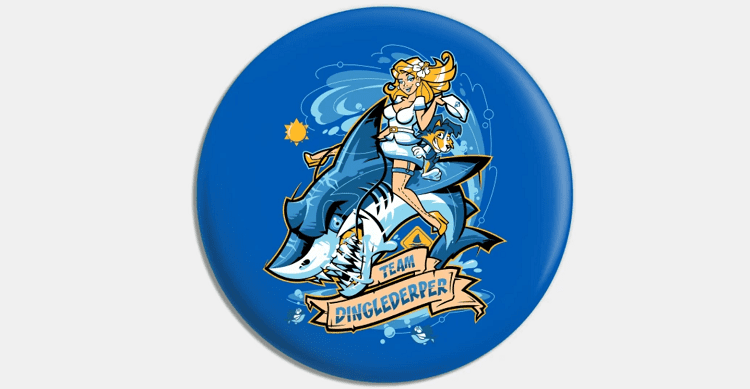 A pin makes a great fashion accessory, no matter where you're going. So take a look at this stylish pin-back option with quality scratch-resistant & UV-resistant Mylar that adds to its durability.
The Shark Rodeo pin comes in two sizes – small (1.25″) and large (2.25″). If you buy four of these pins right now, Dinglederper offers you a 25% discount!
Frequently Asked Questions about Dinglederper
Question: When did Dinglederper Join the Gaming Scene?
Answer: Dinglederper entered the pro gaming scene in 2011.
Question: Why is Dinglederper so Popular?
Answer: Dinglederper is famous for being a versatile gamer. Plus, her kick-ass attitude and positive vibes have also generated a lot of buzz on social media.
Question: Which Car does Dinglederper Drive?
Answer: As per our research, Dinglederper owns a Mercedes G-Wagon worth over $120,000.
Question: Why did Dinglederper and PhantomL0rd Break up?
Answer: Dinglederper and Phantoml0rd never revealed the real cause of their breakup. But their fans speculated it had something to do with the latter's ban on Twitch since that's around the time they stopped creating content together.