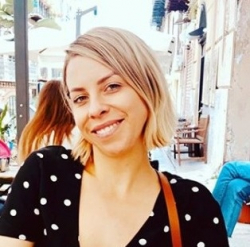 Latest posts by Jodie Chiffey
(see all)
Mariano "SquishyMuffinz" Arruda is a Canadian esports athlete, Twitch streamer, YouTuber, and internet sensation.
As an adept biographer, I've scrutinized the lives of countless players, but a vast majority of them haven't fascinated me as much as SquishyMuffinz. He unexpectedly wound up in the competitive gaming scene and resolved to make the best of what fate had handed him to develop a Rocket League career many now envy.
With almost a million followers on Twitch and 1.38M subs on YouTube, SquishyMuffinz is just as popular as many other prominent professional video gamers today, including S1mple, Crimsix, and FazeSway. His net worth might not have hit 1M yet, but I have a feeling it will soon as long as his passion for competitive Rocket League play keeps burning.
In this Squishymuffinz bio, I'll cover every single facet of SquishyMuffinz's life, including his early life, profession, gaming gear, net worth, and merch.
SquishyMuffinz's Bio Facts
| | |
| --- | --- |
| Real Name | Mariano Arruda |
| Birthplace | Canada |
| Birthdate | November 29, 2000 |
| Nickname | SquishyMuffinz |
| Height | 5 feet 7 inches |
| Nationality | Canadian |
| Zodiac Sign | Sagittarius |
| Siblings | N/A |
| Children | N/A |
| Spouse/Partner/Girlfriend | N/A |
| Games Played | Rocket League, Fortnite, Counter-Strike: Global Offensive, Valorant, Just Chatting, etc |
| Net Worth | $800K |
| Social Media | Twitch: SquishyMuffinz, YouTube: SquishyMuffinz, Twitter: @SquishyMuffinz, Instagram: SquishyMuffinz |
| Awards | N/A |
| Last Updated | August 2022 |
SquishyMuffinz's Birthplace and Early Life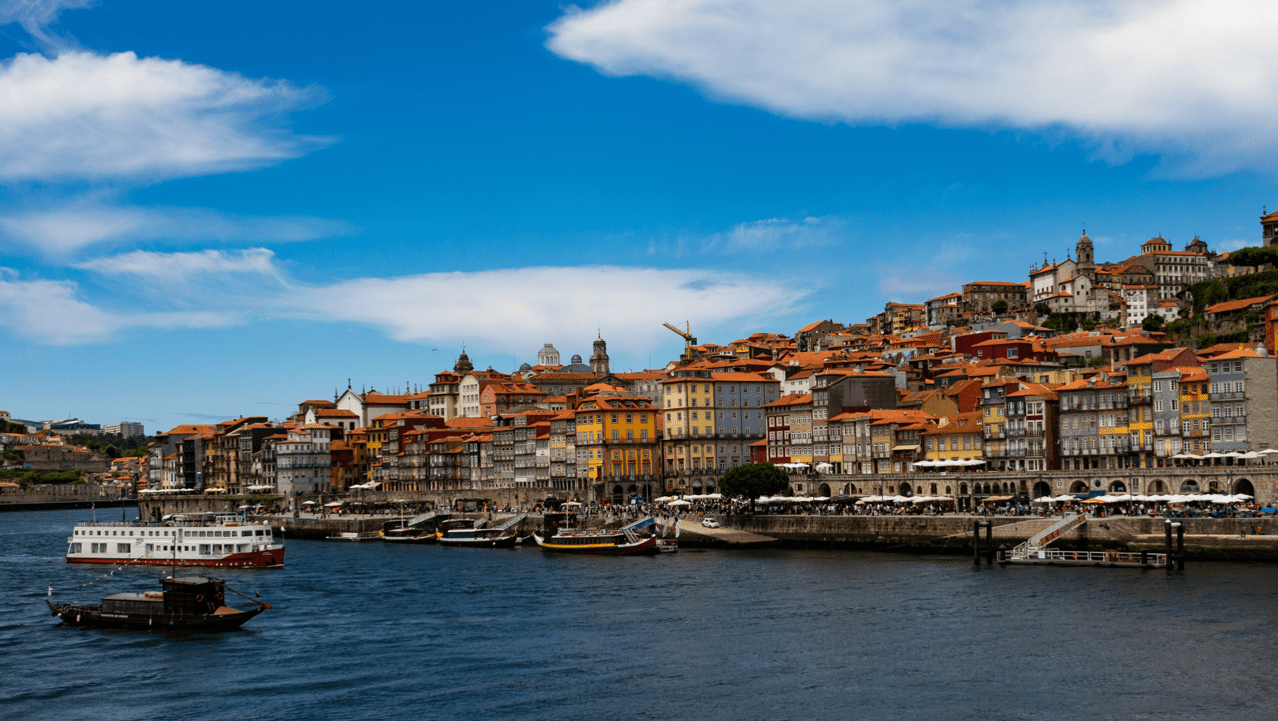 Some people assume that because SquishyMuffinz is Portuguese, he was born in Portugal. But apparently, he was not. His home city is Vaughan, ON, Canada.
SquishyMuffinz's parents and siblings aren't in the spotlight, so their identities are hidden. Additionally, much about his educational history remains in the dark.
In my view, his childhood was pretty much like mine – he played fun games with his friends and went to school.
How Did SquishyMuffinz Get Started Gaming?
SquishyMuffinz's gaming journey dates back to when he was 9.
He enjoyed personal console games, but IRL football was his personal favorite. So great was his passion for soccer that he even wanted to go pro, but he figured he didn't boast enough talent to pursue this dream. Besides, he was diagnosed with asthma, which made running extremely hard for him as it would jeopardize his health.
As time went by, SquishyMuffinz continued to hone his online gaming skills by exploring more options, such as FIFA 15, Skate 3, and Unchartered 3. Then, in 2015, a Rocket League ad popped up, reigniting his love for soccer. And I think it was the best thing to happen for his career because that's when he started playing the game in its beta phase.
Professional Gaming Career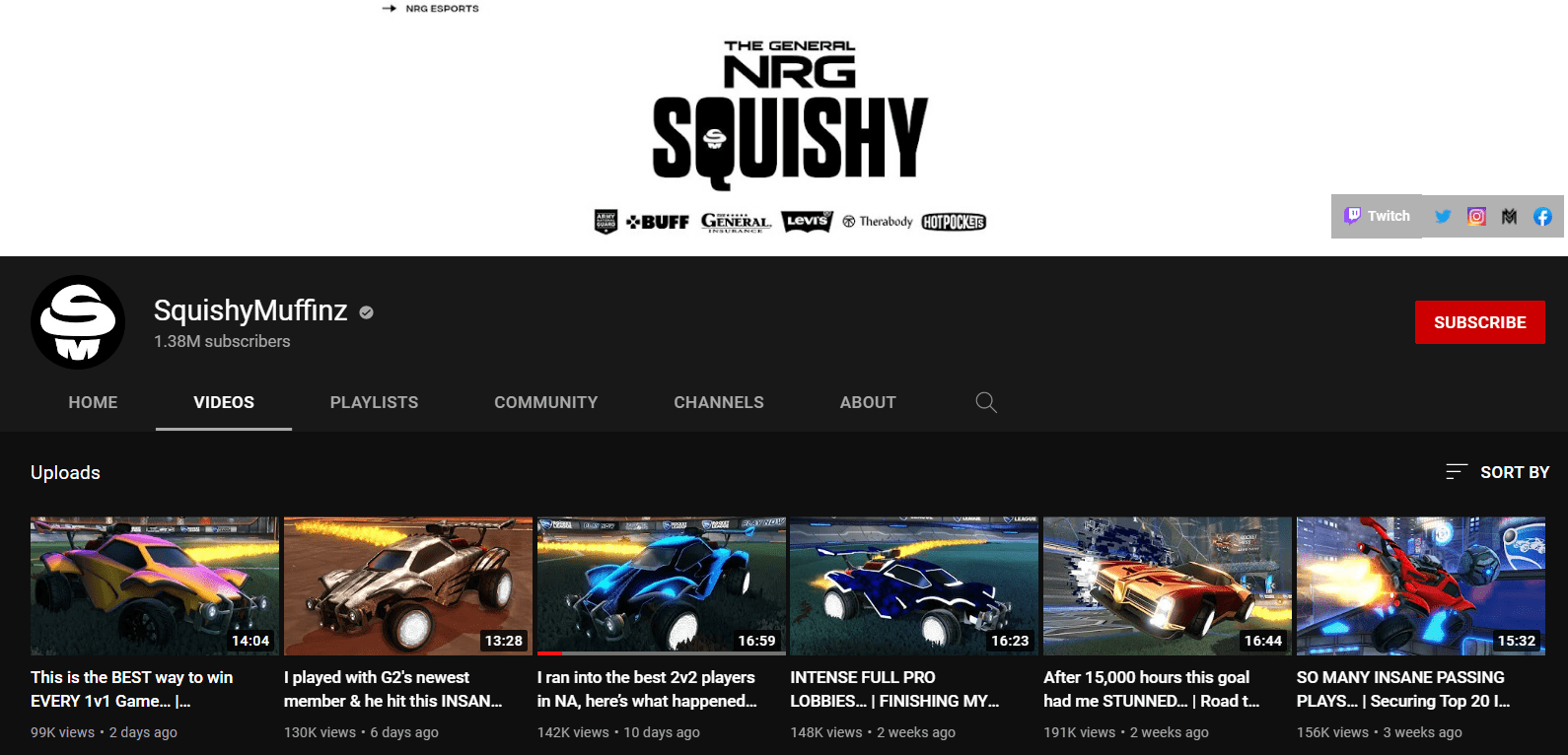 SquishyMuffinz began sharing Rocket League gameplay on his YouTube channel about a month after the game's release.
November 2016 saw him join hands with his friends, Torment and Lachinio, to create the Iris team to prep for the Rocket League Championship Series. However, the squad didn't attain much success, leading to the birth of The Muffin Men, a team that comprised SquishyMuffinz, Gimmick, and Torment.
SquishyMuffinz's big break came when The Muffin Men played at the DreamHack Atlanta and finished first place, despite being an unsigned team. As I thought, the impressive victory put the team in the limelight, and major esports companies saw tremendous potential in all the members.
Eventually, Cloud9 acquired The Muffin Men.
But the Cloud9 Rocket League team was disbanded after performing poorly in several seasons.
Fortunately, more esports organizations couldn't miss his talent, and I'm sure they considered him a valuable asset. This is how he ended up being signed with The General NRG in 2020, and it's been home since then.
SquishyMuffinz's Videos
In this intriguing 15-minute plus duel, SquishyMuffinz engages two of the best Rocket League players NA has to offer. Characteristic of this game, the controller-directed mini vehicles dribble the ball and somersault to control aerial balls before beautifully netting breathtaking goals. Here is how it all went down.
Here is a 10-minute video in which SquishyMuffinz preps for a tournament scheduled to be held in London. As a team leader, he comes out strong guiding his teammates on the best strategies and tactics for topping the chart and bagging the top prize. Curious about how it all went down, here is the link.
SquishyMuffinz's Game Setup

Like legendary Fortnite player Rubius, SquishyMuffinz leverages Logitech's flagship ambidextrous mouse. The mouse is powered by the revolutionary HERO 25K sensor that drastically improves his tracking, exponentially enhances battery life, and wirelessly charges to power him through hours of non-stop gaming.
Like its predecessors, the mouse has a complete immersive 16.8M Light Sync RGB to ease synching with other gaming equipment. Regarding customization, the mouse comes with 11 side buttons that allow him to save gaming profiles for on-the-fly use.
Other key features include a pro-grade 1ms report rate, lightspeed responsive and reliable connectivity, 400+ ips,1:1 tracking, 100 – 25,600 max dpi sensitivity, zero filtering, smoothing, or acceleration.
Like most established gamers I have reviewed, SquishyMuffinz banks on BenQ ZOWIE's XL monitors to enjoy the smoothest and most responsive gaming experience technology can offer. The impressive monitors come with a native refresh rate of 240Hz. This ensures he enjoys consistent dramatic transitions in his fast-paced Rocket League exploits.
Like most recent XL series monitors, they come with the removable shield reveal that allows him to adapt to various gaming environments. An Exclusive Color vibrance and Black Equalizer tech back this concentration targeted feature that enhances visual clarity even in dark scenes.
Crowning all the features are personalized viewing angles accessible at the touch of a button to maximize his viewing angles, pre-fitted optimal gaming configurations, and an easy-to-access s-switch to switch between different saved modes.
As Juansguarnizo can attest, HyperX Furry pad is one of the best gaming pads any serious gamer can ask for. The pad comes in four sizes, which can be easily rolled up whenever a gamer wishes to move his battle station.
Further, the pad has a soft cloth surface for exceptional wrist comfort with a textured natural rubber underside designed to hold fast under rapid mouse moments. Combine this with seamlessly stitched anti-fray edges that provide SquishyMuffinz with a uniform surface for a controlled glide, a densely woven surface that is smooth yet finely textured for optimal tracking, and tell me what more can he ask for.,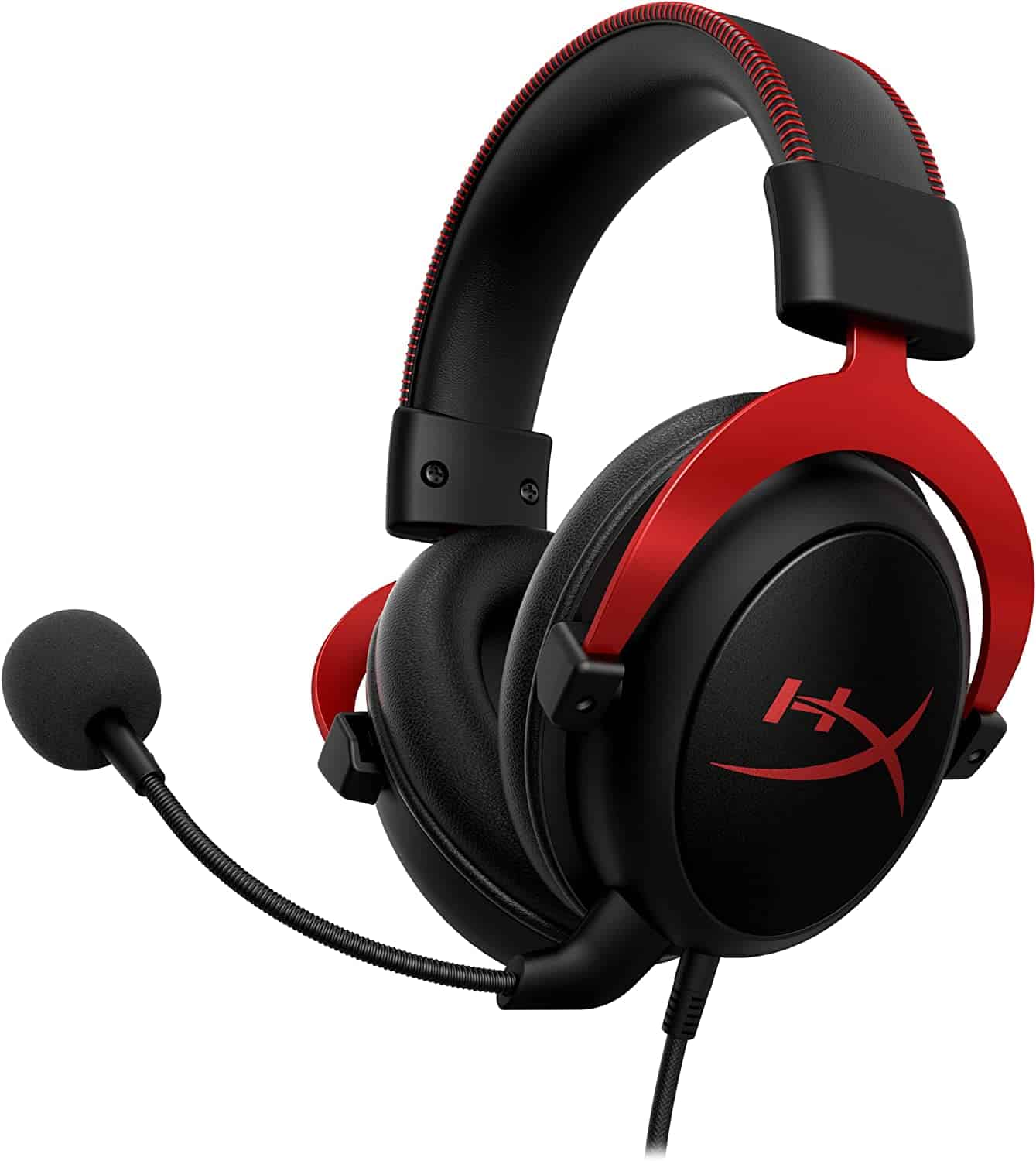 SquishyMuffinz fancies the over-ear HyperX Cloud II headset. The luxurious headset comes with a detachable microphone whose broadcasts compliment the headset's virtual 7.1 surround sound. Holding all the headset's parts in place is a durable aluminum frame built to weather the rigors of everyday use.
Further, with the closed ear cup design, SquishyMuffinz can pick out any scuttle or rustle of his opponent's wheels, avoiding cowardly tackles in his Rocket League thrills. Enhancing this audio clarity is a USB sound card audio that amplifies in-game details giving him an edge over his opponents.
Crowning it all is a passive noise cancellation feature to keep distractions at bay while enjoying exceptional comfort, thanks to the comfortable memory foam ear cushions and padded leatherette headband.
As I have opined when reviewing Lirik and Summit1g, the AT 20 mics offer incredibly superior performance for both amateurs and professionals. For instance, the Audio-Technica AT2020 features a cardioid polar pattern that deflects off-axis sounds enhancing isolation and pickup of desired sound.
Further, the microphone offers a wide dynamic range and handles high SPLs easily, making it possible for SquishyMuffinz to be audible amidst cheers and jeers. The mic has rugged construction for durability and stringent consistency in performance.
Like Gronkh and iiTzTimmy, SquishyMuffinz leverages ASUS's flagship graphics card that has revolutionalized gaming realism with AI and real-time ray tracing. The performance-tuned card packs up to 6x better performance than its predecessors allowing him to enjoy truly unique and hyper-realistic graphics.
It is powered by the Turing GPU architecture, coupled with 11 GB of next-gen, ultra-fast GDDR6 memory, making it possible for him to peak at clock speeds of 1665 MHz. Even more impressive is that it can support up to 4 monitors through its display port, HDMI, or USB Type C ports.
The Intel Core i9-9940X is an incredible multi-purpose processor with unmatched capabilities. For starters, the processor has 14 cores and 28 threads, all of which can clock up to 3.3GHz or be overclocked to peak at 4.4GHz max Turbo.
It boasts the revered Intel Optane Memory that comes in handy for SquishyMuffinz as it recognizes, remembers, and swiftly speeds access to his frequently used games and applications. But all these enhanced performances come at a cost: the processor can only operate at temperatures below 88°C.
Other key features include compatibility with only Intel X299 chipset-based motherboards and support for Quad DDR4-2666 memory channels.
SquishyMuffinz fancies the incredible X299 Rampage VI Extreme Omega motherboard. The gaming monitor packs numerous irresistible features into this compact factor form. It is compatible with Intel's Optane Memory boost to enhance SquishyMuffinz's rapid launch for his Rocket League thrills.
Further, it features lightning-fast networking and connectivity features that come in the form of 802.11AC Wi-Fi with MU-MIMO support, onboard Aquantia 10G LAN, and Intel Gigabit LAN with ASUS LANGuard. Pair this with the revered multi-faceted 5-way Optimization meant to enhance performance and overclocking, and tell me what more he can ask for.
Time and again, I have confidently stated that G.Skill Trident is every gamer's best friend up until Corsair Vengeance hit the shelves. For starters, the RAM offers support for the XMP 2.0 profile, allowing SquishyMuffinz to automatically set his RAM speeds per his gaming needs and CPU capability.
Further, the RAM comes in a small form factor, making it possible to fit in constrained spaces which is characteristic of most modern gaming motherboards and cases. Tying all this together is a variety of colors that replaces the power-consuming RGB lights and efficient heat spreaders that superbly absorbs and dissipates heat for optimal overclocking.
The WD Black SSD is an exclusive gaming rig meant to improve gaming performance. It features the NVMe interface that is optimized to deliver up to 6 times faster speeds than standard SSDs. With these mammoth speeds, SquishyMuffinz can sprint through the field, dodge defenders and net a beautiful goal in seconds.
Further, the SSD features an intuitive and exclusive WD-SSD Dashboard which, when disabled, allows the SSD to provide optimal in-game experience consistently. All these features come packed in a sleek, compact form disk that perfectly complements SquishyMuffinz RGB lit systems.
SquishyMuffins relies on the ergonomic wireless Dualsense controller to bring the thrills of Rocket League soccer to life. The wireless controller gives him physically responsive and dynamic vibrations to all his on-screen actions.
Further, the controller comes with an in-built microphone and headset jack allowing him to simultaneous chat with his friends as he enjoys his marathon gaming sessions. Last on the controller's features are adaptive triggers that mimic his in-game actions for a more immersive experience.
SquishyMuffinz's Family
If you've heard that SquishyMuffinz is dating anyone, let me debunk that rumor; he's single. I bet his main focus right now is his rapidly advancing pro-gaming career.
Word has it that he was in a relationship a few years back, but not much is known about his ex-girlfriend or whether they were serious or not.
SquishyMuffinz's Net Worth and Career Earnings
Presently, SquishyMuffinz's net worth is approximately $800K. Check out my list of his main revenue streams:
Twitch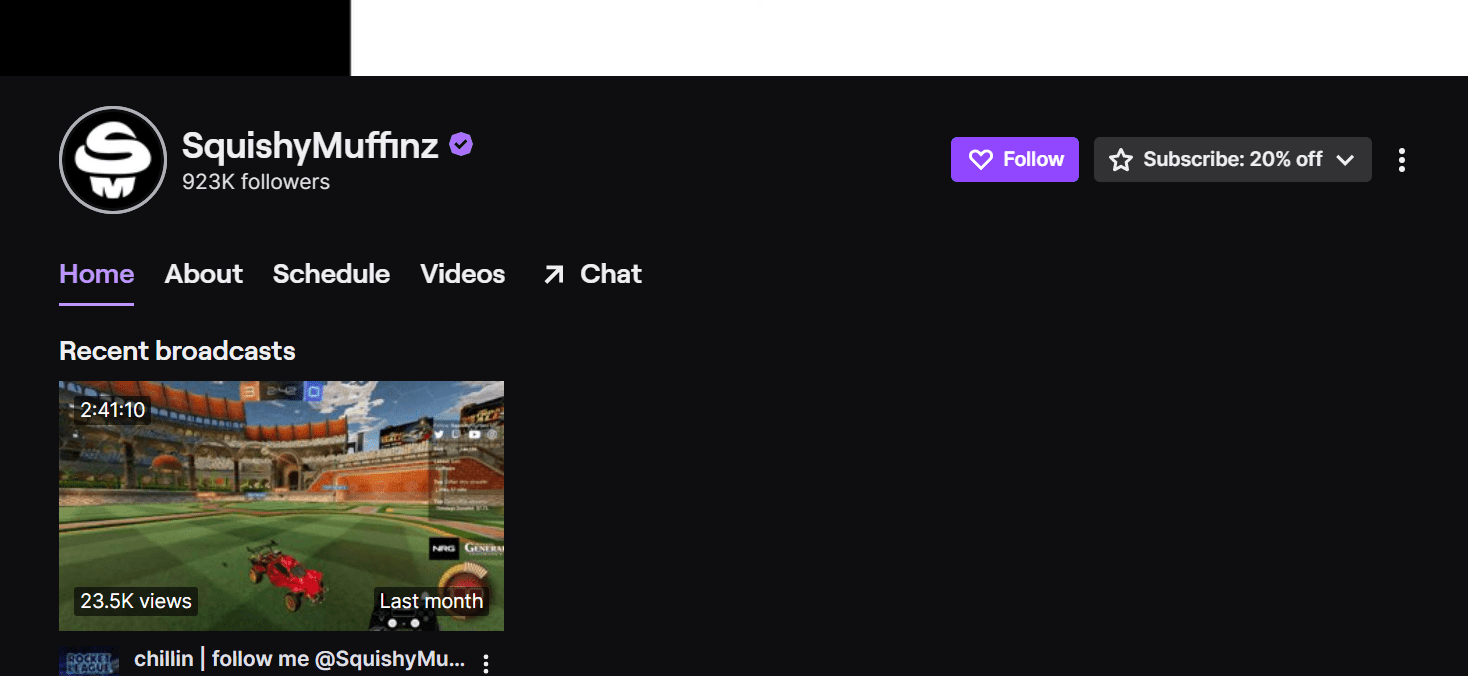 My credible sources indicate that SquishyMuffinz makes a reasonable amount on Twitch. Per my judgment, he doesn't make much from his subs as he only has 188. Even so, his donations undoubtedly bring in a lot since his fans send him thousands of dollars monthly. His revenue certainly increases when you throw his ad and bit revenue.
YouTube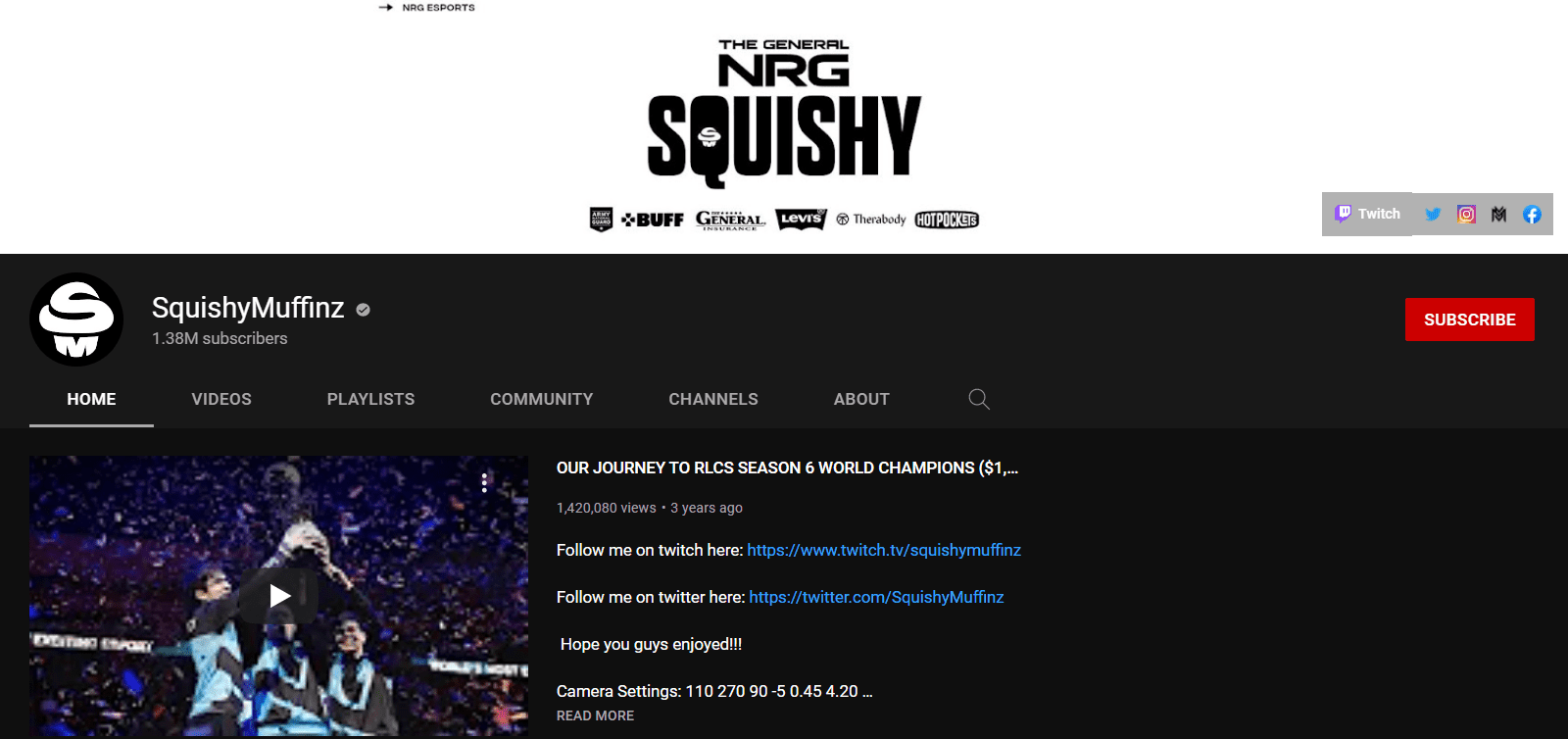 SquishyMuffinz runs a 1.38M-YouTube channel. His following might not be as large as that of more famous players like MrBeast, Rubius, Ninja, CoryxKenshin, and TommyInnit, but it has still earned him a whopping 240,966,973 views as of this writing. His earnings from the platform are estimated to have surpassed $500M.
Competitive Play
I've been following SquishyMuffinz's performances in different events, and it seems to me that competitive play brings out the best in him as a gamer. I'd say the $436,444.68 he'd made from 110 tournaments is all the evidence you need to believe me.
Doubtlessly, SquishyMuffinz resonates most with Rocket League as he has played it at 109 competitions to earn $436,384.68 — 99.99% of his total prize pool money. Valorant accounts for the last 0.01% of his competitive play earnings.
This video gamer participated in eleven tournaments as a free agent and brought in $3,859.57. He played for different teams to make the remaining sum, including the Canadian National Team, Mock-It Esports, Cloud9, Team Iris, The Muffin Men, and his current team, NRG Esports.
Notably, SquishyMuffinz has achieved some impressive first-place finishes at 50+ gaming events, such as the MCS Americas League Play, the Nexus Gaming Invitational, and Nexus Gaming 3v3 Weekly.
The highest amount he raked in from a single competition was $66,666.67 at the RLCS Season 6 – Finals, where he was crowned champion. Note that the sum enabled him to hit the $100,000 mark in total prize money earned.
Brand Endorsements
SquishyMuffinz has forged business relations with many sponsors and partners, including big brands like Epic Games, Therabody, General Insurance, Hot Pockets, Levi's, and Buff.
According to my research, most pro gamers' sponsorship and partnership deals are worth thousands of dollars, if not millions. Although SquishyMuffinz has kept us in the dark about his income from working with the companies backing him, he could be making a considerable amount.
Esports Organizations
SquishyMuffinz has played for a ton of esports companies, such as Chronix, Vendetta, Iris, The Muffin Men, Cloud 9, and The General NRG. Automatically, he's received cash from them as salaries for his gaming services.
I can tell the exact amount each organization paid him monthly, but I'm sure it's within the pay range for esports athletes, usually between $12,000 and $60,000 per year. I think he's on the high end because he's proved incredibly competitive as a Rocket League player.
Business Ventures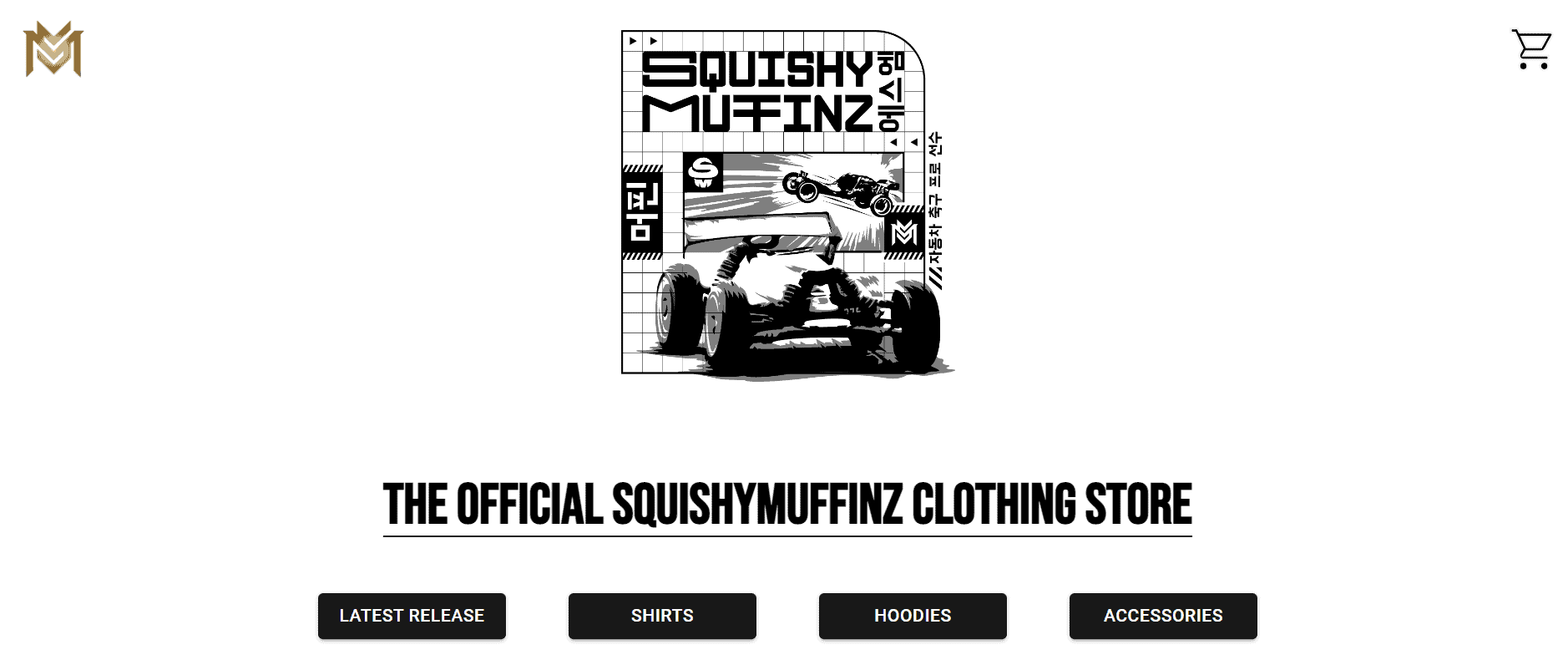 Internet stars have been boosting their incomes through selling merch for a long time. So, I wasn't startled to learn SquishyMuffinz also does the same. I explored his store's site to find many items, ranging from beanies, hoodies, and tees to blankets, mugs, and mouse mats.
In my view, SquishyMuffinz's merchandise is pretty pocket-friendly, which I think is a great strategy to increase sales. Though he hasn't mentioned or confirmed it, I speculate he's made a large sum in profits.
SquishyMuffinz's Retirement and Post Professional
At only 21, I think SquishyMuffinz would be making a mistake if he were to retire. Fortunately, I think he agrees with me because he hasn't revealed any desire to stop playing video games competitively. Besides, he's on The General NRG's roster, and hence, still active.
SquishyMuffinz's Merch
With up to six attractive color options to consider, this fancy everyday hoodie could be all you need to get through cold days and nights. It comes in multiple sizes, and while you mull over it, feel free to consider the Squishy Muffinz RL Perfection Hoodie, Squishy Muffinz Logo Embroidered Hoodie, and Squishy Gold Thread Embroidered Logo Hoodie.
Here's a classic t-shirt you can wear on any day of the week. I definitely like that it comes in several vibrant colors, such as black, Kelly green, charity pink, red, royal, and light blue. Additionally, SquishyMuffinz offers other stylish crewneck tees, including the RL Elite T-Shirt and Logo T-Shirt, though the latter only comes in black.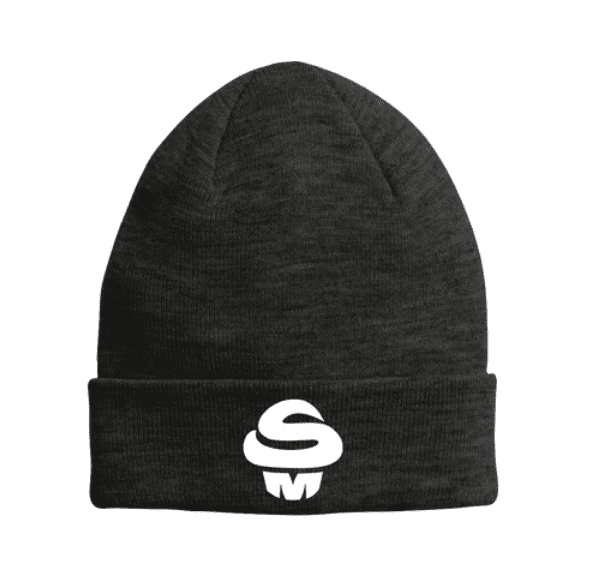 As far as I'm concerned, this beanie is worth its price tag! In addition, it's super versatile, making it the perfect go-to accessory on chillier days.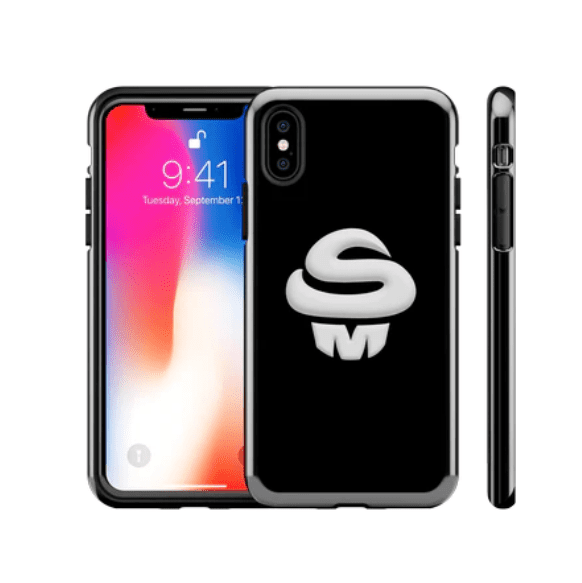 I suggest this case if you want your smartphone to look fancier. Whether it's an iPhone or Samsung, rest assured that it'll be safe from external damage, allowing it to last longer. Also, remember that although it's designed for a long list of models, it's best to go through it to ensure your device is among the available options.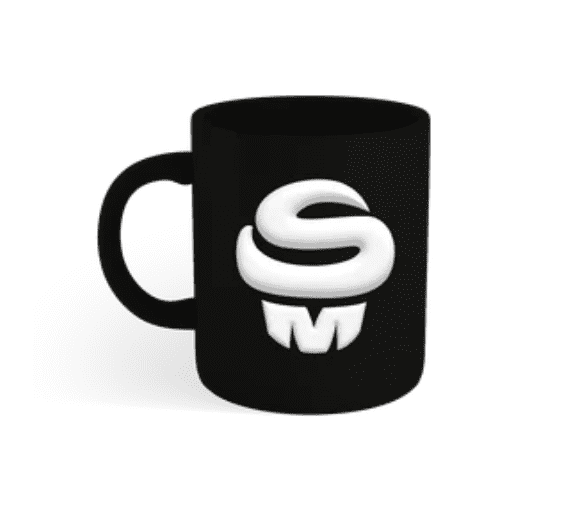 In my view, this mug could be a valuable addition to your current collection of drinkware. You can also use it as an art piece for your office or home. It's also made from dishwasher-safe ceramic.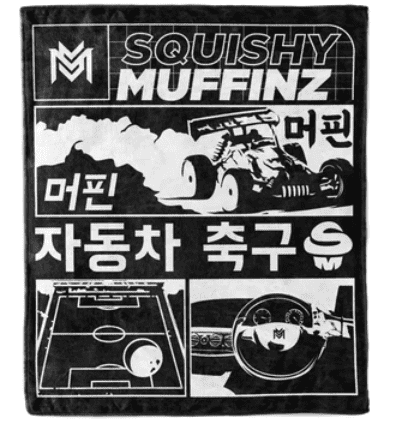 If you ask me, this blanket looks artistic and could add some life to your bedroom. It can also keep you warm and cozy as you relax on your couch binge-watching your favorite TV show. Fortunately, SquishyMuffinz offers it in two sizes (30 x 40 and 50 x 60) for convenience.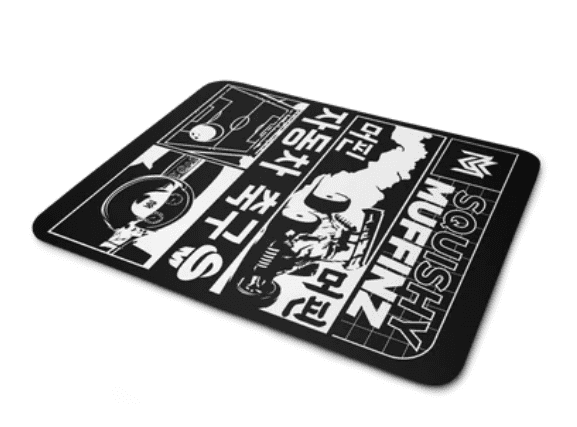 Here's another item you can purchase, especially if you fancy the art on the blanket above. Thanks to its durability and smooth surface, it might be what you require to achieve pixel-perfect shots while gaming.
Frequently Asked Questions about SquishyMuffinz
Question: Where does SquishyMuffinz live?
Answer: I found multiple sources stating that SquishyMuffinz currently resides in Toronto, Canada.
Question: Does SquishyMuffinz stream other games besides Rocket League?
Answer: Yes. According to SquishyMuffinz's Twitch Stats, he also plays other games, including Fortnite, Counter-Strike: Global Offensive, Just Chatting, VALORANT, and Portal 2.
Question: Is SquishyMuffinz an animal lover? 
Answer: In my opinion, SquishyMuffinz has a soft spot for animals, explaining why he owns a cat, Nugget, and a dog, Coop.
Question: How did SquishyMuffinz come up with his gamer tag? 
Answer: SquishyMuffinz's username was inspired by the fact that he thought muffins were squishy as a kid.
Question: Is it true that SquishyMuffinz is married? 
Answer: Unfortunately, I can't refute or confirm if SquishyMuffinz is married as his marital information is currently unavailable.
Recommended Reads:
Research Citations