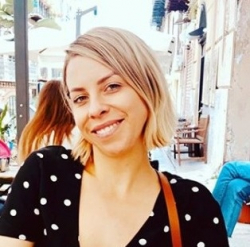 Latest posts by Jodie Chiffey
(see all)
Adin David Ross is an American Twitch streamer, YouTuber, video game player, and internet sensation.
Adin Ross certainly sits among the most diligent, talented, and charismatic players I've written about in my over a decade-long career as a gamer and biographer. Mainly, he streams Rockstar North's action-adventure game Grand Theft Auto V and Visual Concepts' NBA 2K. But sometimes, he shows off his versatile gaming skills by exploring options such as Just Chatting, Call of Duty, and Fortnite.
I think Adin Ross measures up compared to other all-rounded players like Mizkif, TimTheTatman, HasanAbi and Djarii. That's why he has a monumental online fanbase, substantiated by his 2.76M subscribers on YouTube and 6.3M followers on Twitch. Factually, he's the latter's 19th most supported streamer, and he's made over a million on the platform.
And interestingly, he's only 21! So, how did he rise through the ranks so fast despite being so young?
Find your answer to that question in this exhaustive Adin Ross bio. I've also thrown in valuable info about his personal life, gaming gear, wealth, and merch.
Adin Ross Bio Facts
| | |
| --- | --- |
| Real Name | Adin David Ross |
| Birthdate | October 11, 2000 |
| Birthplace | United States |
| Nickname | AdinRoss |
| Height | 5 feet, 9 inches |
| Nationality | American |
| Zodiac Sign | Libra |
| Siblings | Adin Ross has a sister, Naomi Ross, and a stepbrother. |
| Children | N/A |
| Girlfriend | Pamibaby |
| Games Played | Grand Theft Auto V, Just Chatting, NBA 2K20, NBA 2K19, Fortnite, Call of Duty: Black Ops Cold War, Among Us, etc. |
| Net Worth | $2M-$5M |
| Social Media | Twitch: AdinRoss, YouTube: Adin Live, Adin Ross, Twitter: @adinross, Instagram: adinross |
| Awards | N/A |
| Last Updated | June 2022 |
Adin Ross' Birthplace and Early Life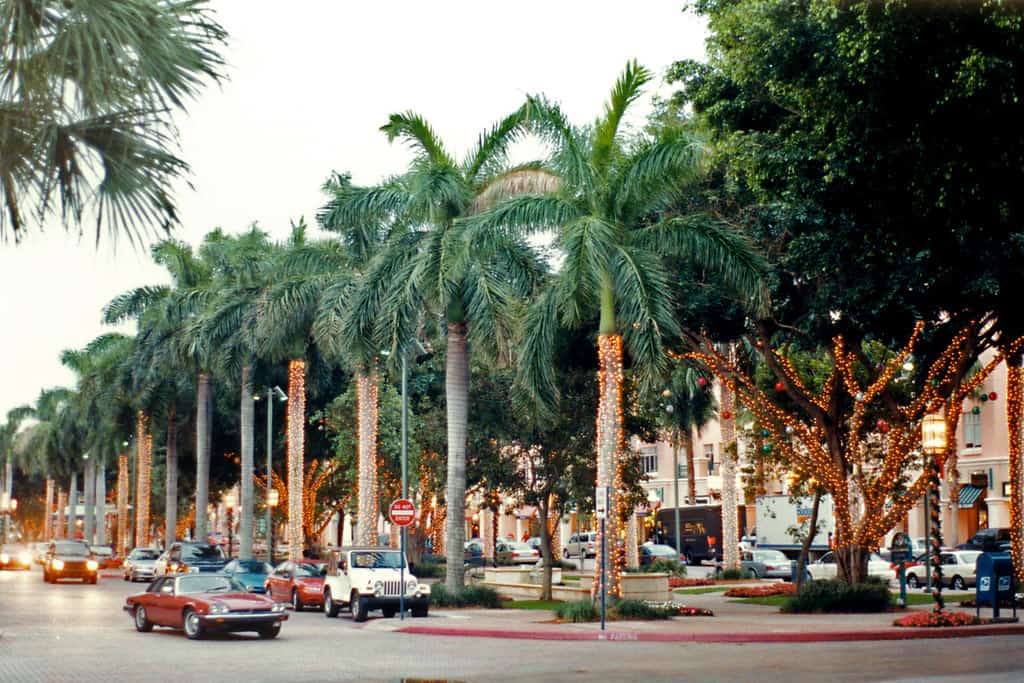 Adin Ross is a Gen Zer born in Boca Raton, Florida, US, on October 11, 2000.
His father was an entrepreneur, while his mother was a passionate homemaker. Unfortunately, his parents were mainly in an on-off relationship, which I believe can be pretty hard on kids, especially during their early years.
Luckily, Adin Ross' older sister, Naomi, who's also a content creator, made coping with their domestic problems easier.
He also has a stepbrother, though he hasn't discussed him in public.
Adin Ross went to Woodlake Union High School. But more often than not, content creation was the only thing he could think about. I was surprised to learn he missed his Prom to stream on Twitch, which is interesting if you ask me because most teens I know usually can't wait to attend the Prom.
How Did Adin Ross Get Started Gaming?
As far as I understand, Adin Ross' gaming career was inspired by his penchant for streaming. His ultimate goal was to thrive as a content creator. And if it meant having some incredible gaming skills up his sleeves, he was ready to learn them.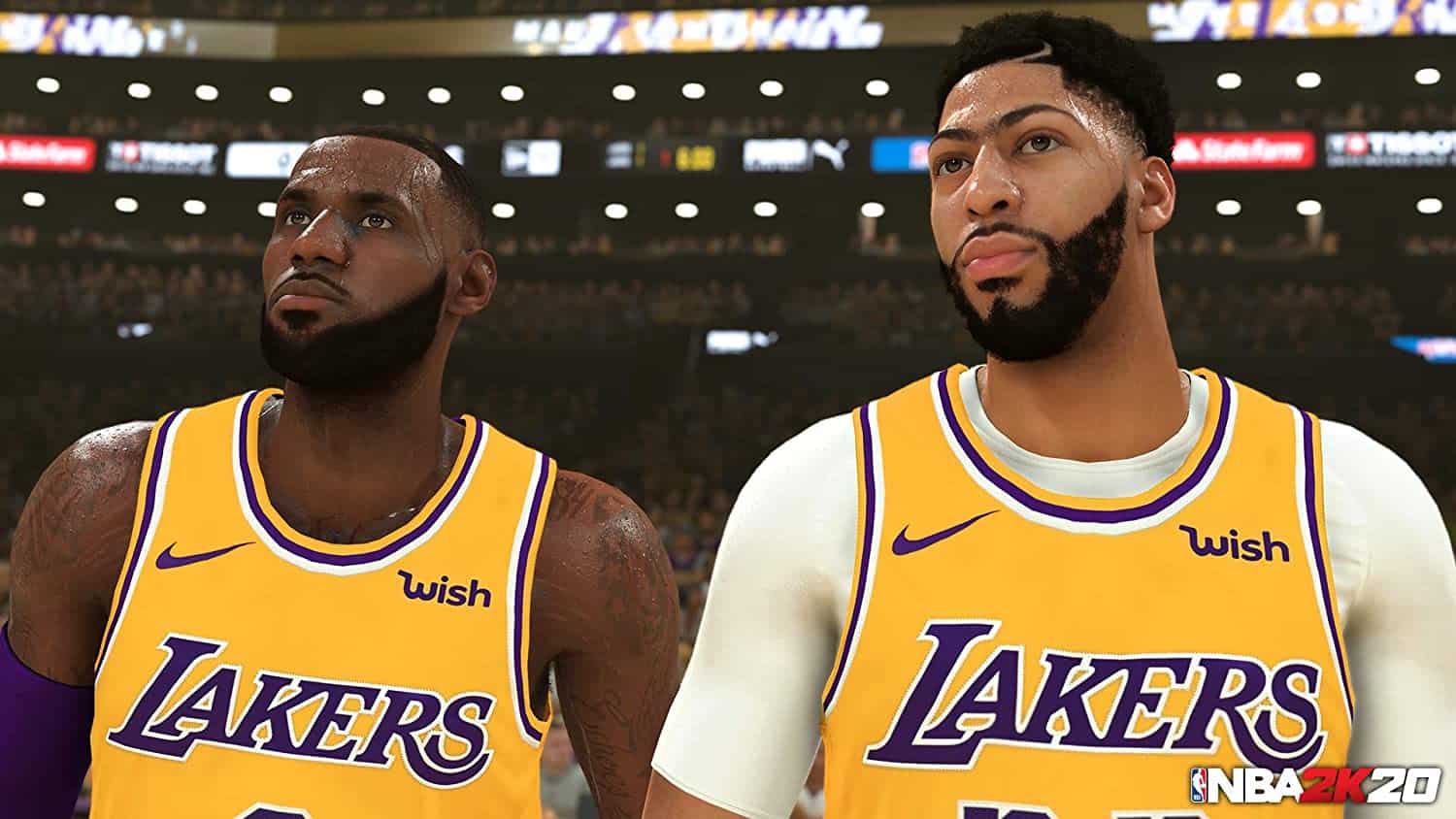 He gave his Twitch career a shot while cohabiting with his sister Naomi. He also joined Always Excelling, an NBA 2K squad that enabled him to meet the iconic professional basketball player LeBron James' son, Bronny James.
Several play sessions with the teen basketball player boosted his fame online. And he collaborated with other popular YouTubers and web stars to grow his Twitch account, including Corrina Kopf and Tyceno.
Notably, Adin Ross also shared Grand Theft Auto V gameplay and hosted "e-date" streams to garner more followers on Twitch, YouTube, and other platforms.
SSB World
This is Adin Ross' brainchild that has already garnered the attention of thousands of members. Celebrities such as professional rapper Tee Grizzley, xQc, Clix, FaZe Banks, and Travis Scott, have also played on it.
The Discord server has received a lot of positive reviews from GTA 5 RP enthusiasts.
But as I thought, it has attracted some controversy. In late 2021, its developer, AGTDevTV, alleged that Adin Ross had not paid him as promised. He even showed screenshots to support his complaints.
At first, a vast majority of the public believed him. And I think it was easier for them because Adin Ross was previously accused of scamming his fans and other creators.
Fortunately for the YouTuber, he had evidence to prove his innocence.
Adin Ross' Videos
I recommend this clip for anyone who wants to know Adin Ross before fame. He started his online career as a teen dead set on winning, no matter what it took. I love his positive attitude, and I have no doubt that he's an inspiration for young streamers hoping to join his league in years to come.
As I mentioned, Adin Ross has gained a reputation for his online date sessions. If you've never watched one of them, you might want to watch this clip where he hosts an e-date with Amouranth while she's in a hot tub. You'll also catch a glimpse of other popular content creators, including Ac7ionMan, Woo and FunnyMarco, and TyKwonDoe.
Adin Ross' Gaming Setup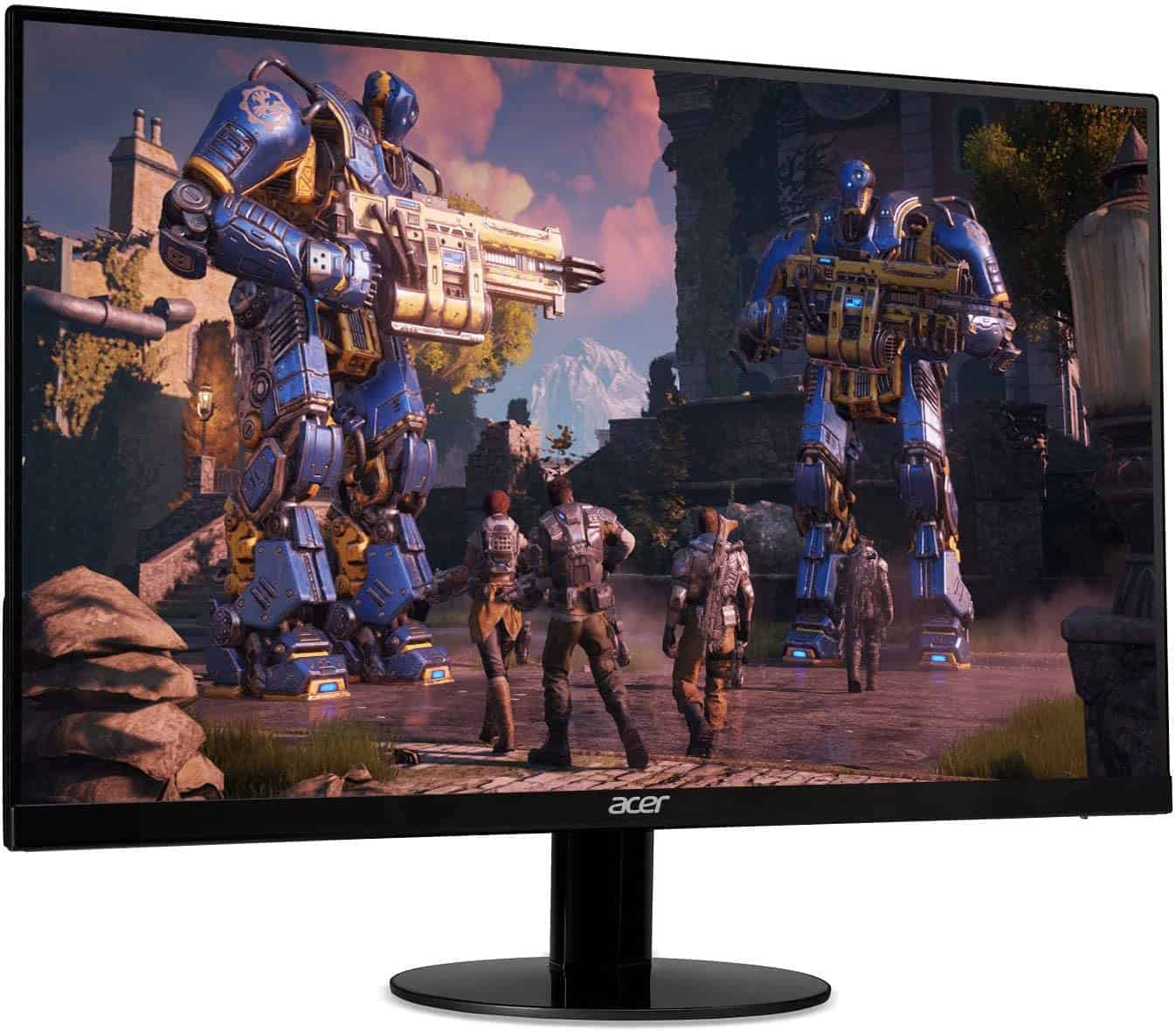 I've always approved of dual monitor setups because they make multitasking a piece of cake! Seemingly, Adin Ross and other streamers like Pokimane, share the same opinion.
Adin Ross' first monitor is the Acer SB240Y, an elegantly sleek gaming monitor with a rapid refresh rate of 75Hz to deliver the smoothest 2D motion scenes. It leverages AMD RADEON FREESYNC technology which eliminates tearing and stuttering to offer the most satisfying stream sessions.
Additionally, this gaming monitor displays stunning images. And it has a high-speed response time of 1ms so that you don't have to deal with the frustrating ramifications of ghosting or smearing. With its AcerVisionCare, eye damage should not appear anywhere on your list of your concerns.
Adin Ross' second gaming monitor is the HP 24mh FHD. Like his first one, it also boasts a 75Hz fast refresh rate to ensure he enjoys slick gameplay. Moreover, it comes with an appealing ultra-slim design that leaves you extra desk space for your other PC components.
Other favorable features of the HP 24mh FHD are the magnificent visuals, two built-in speakers, Low Blue Light mode, and straightforward connectivity.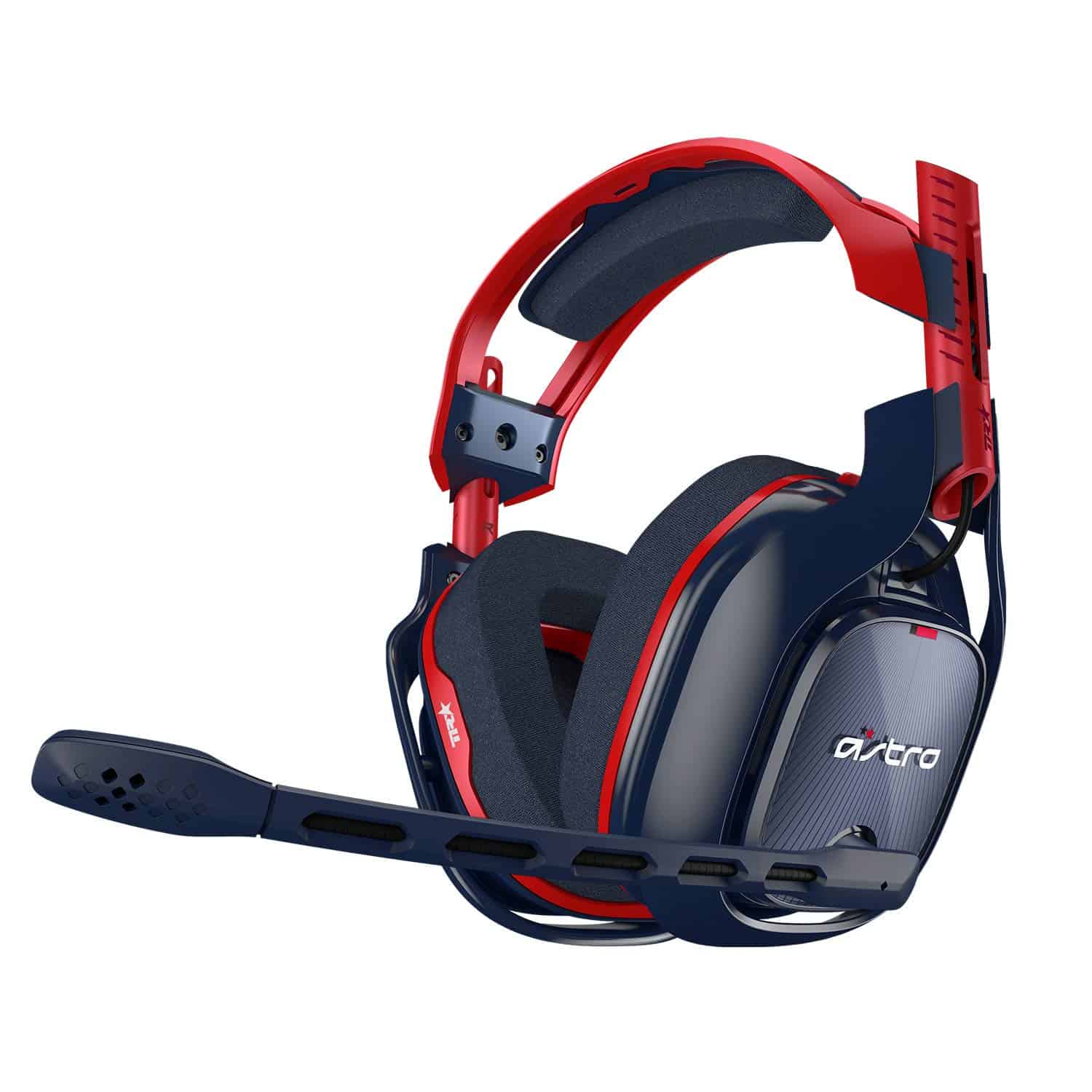 A premier gaming headset like the Astro A40 TR is critical because it enables Adin Ross to communicate with other players efficiently. I approve of its quality architecture explicitly designed to deliver fantastic clarity regardless of frequency or volume level. Also, it features a sensitive unidirectional mic to concentrate on your voice while reducing background noise.
Another advantage of the Astro A40 TR is it provides much-needed comfort, allowing you to game for long hours. Of course, this is only possible due to the lightweight build and cozy ear cushions, which come with durable clothing backed with premium synthetic leather.
Notably, this headset is compatible with a Mod kit, but you'll have to purchase it separately.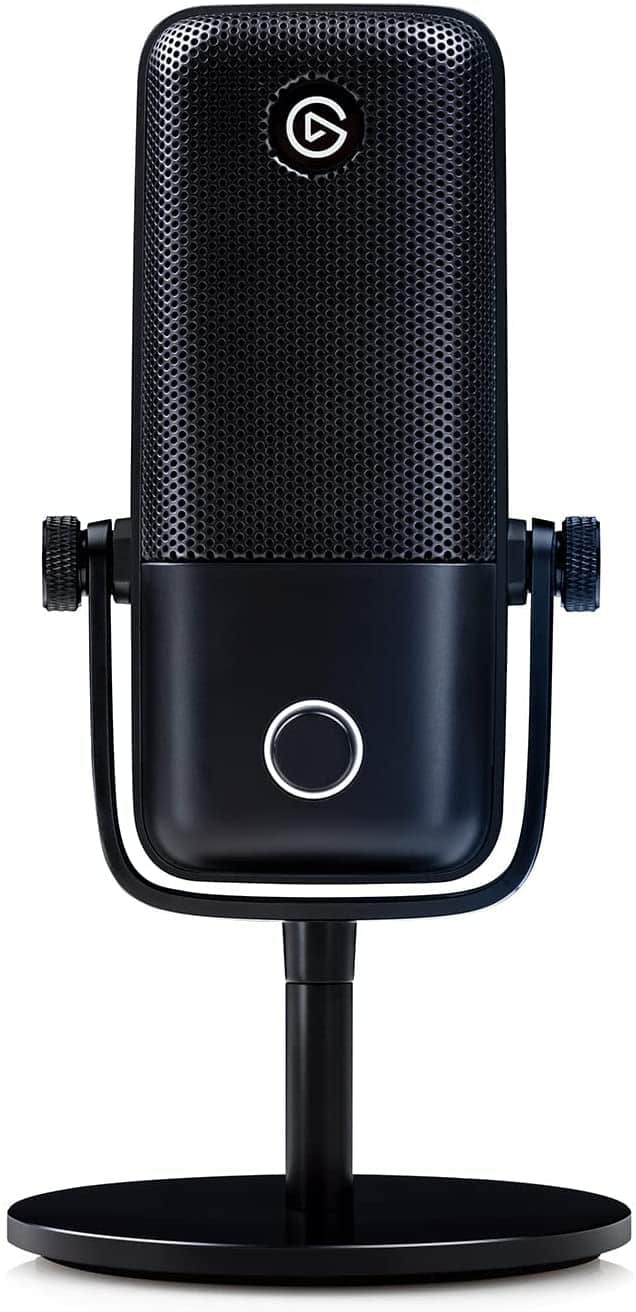 Adin Ross employs the Elgato Wave:1, a refined compact mic that delivers fantastic sound quality. But to be honest, I didn't expect him to have it in his gaming tool kit as it's meant for newbies. All the same, it brings several great aspects to the table.
For instance, its quality circuitry promises flawless audio signal transmission. It's also worth mentioning that the mic boasts proprietary Clipguard technology that considerably minimizes the chances of distortion.
Unfortunately, despite all the upsides of the Elgato Wave: 1, it doesn't leverage noise-canceling technology, and it lacks input gain controls.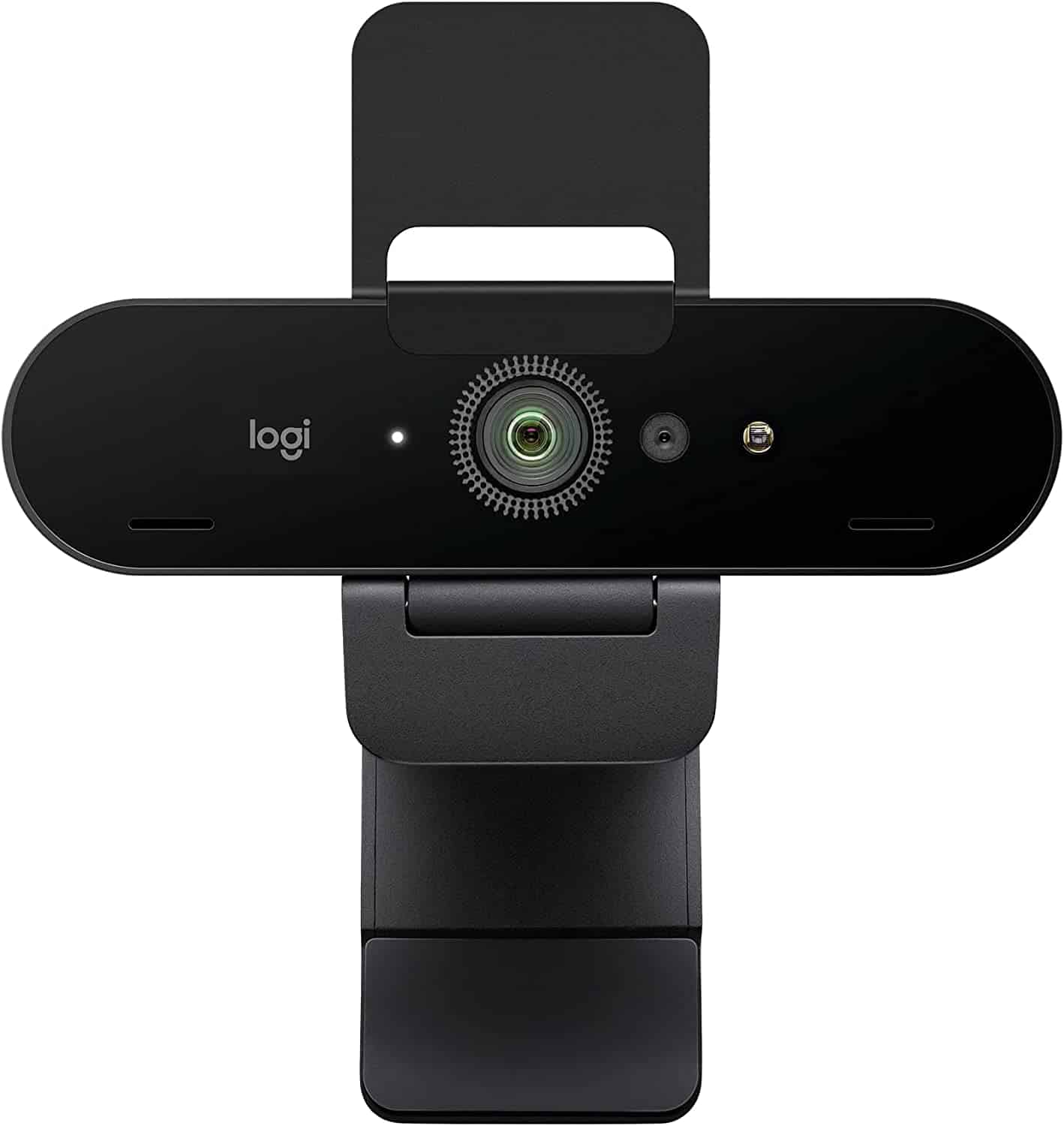 I've observed that tons of streamers have invested in Logitech webcams, including NickEh30, XChocoBars, and Stable Ronaldo. Adin Ross prefers the Logitech Brio webcam that provides much-needed 4K HD resolution, precisely what you need for professional video quality. With its noise-canceling technology, you don't have to worry about background noises that could deter your audience from hearing you.
Another notable feature of this webcam is it comes with three fields of view presets – 65°, 78°, and 65°. They make it a lot easier for you to showcase your current environment, depending on the type of content you're creating. Thanks to the auto light adjustment, your streams or videos can have the best lighting, even in backlit or lowly-lit rooms.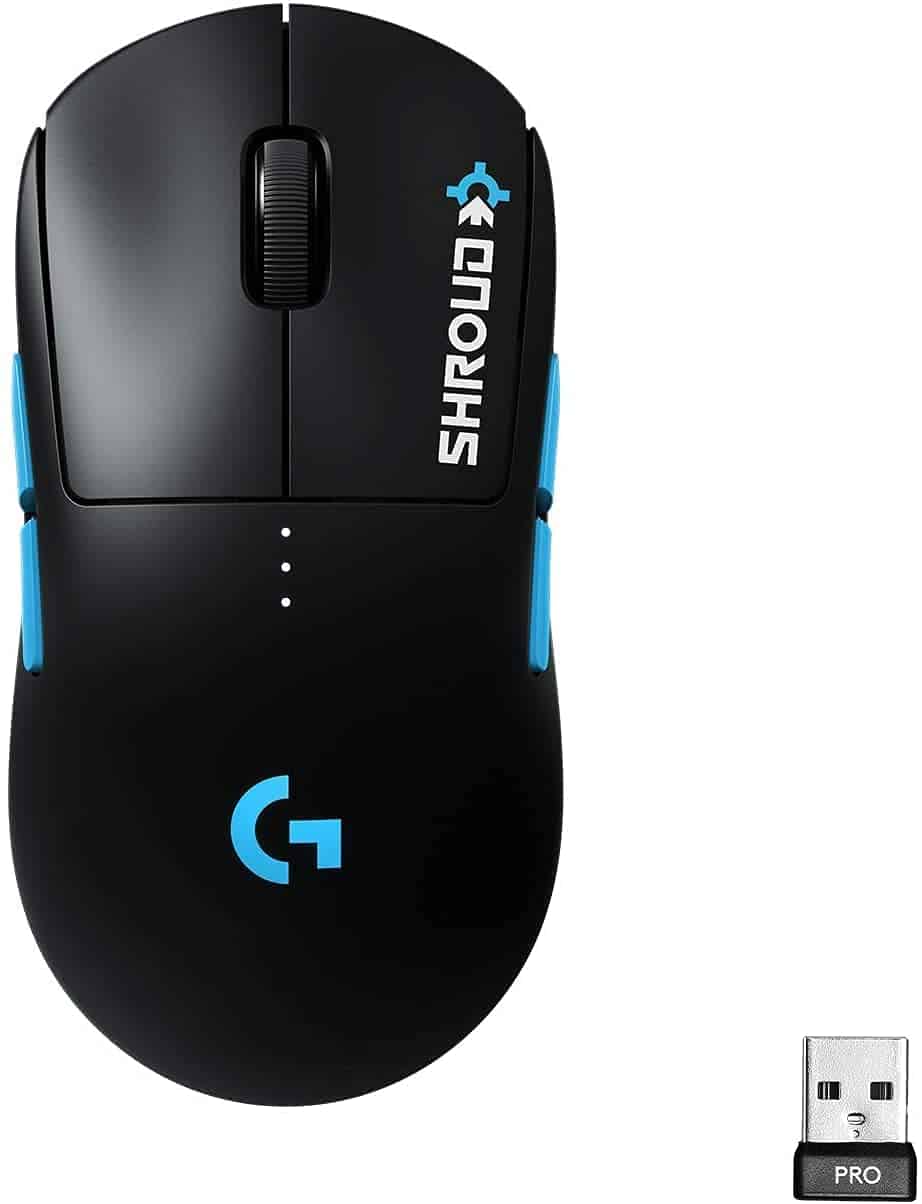 Like Sapnap, Adin Ross utilizes the Logitech G Pro Wireless mouse, famed for its ultra-lightweight design and quality construction. This handy piece of gaming equipment is meant for professional video gamers. Its HERO sensor and LIGHTSPEED wireless technologies deliver unmatched performance and precision, enabling them to shine at tournaments.
Again, this gaming mouse also features other remarkable aspects, such as four removable and customizable buttons and a simple but classy appearance. Even better, it has a user manual to guide you if you're a first-timer.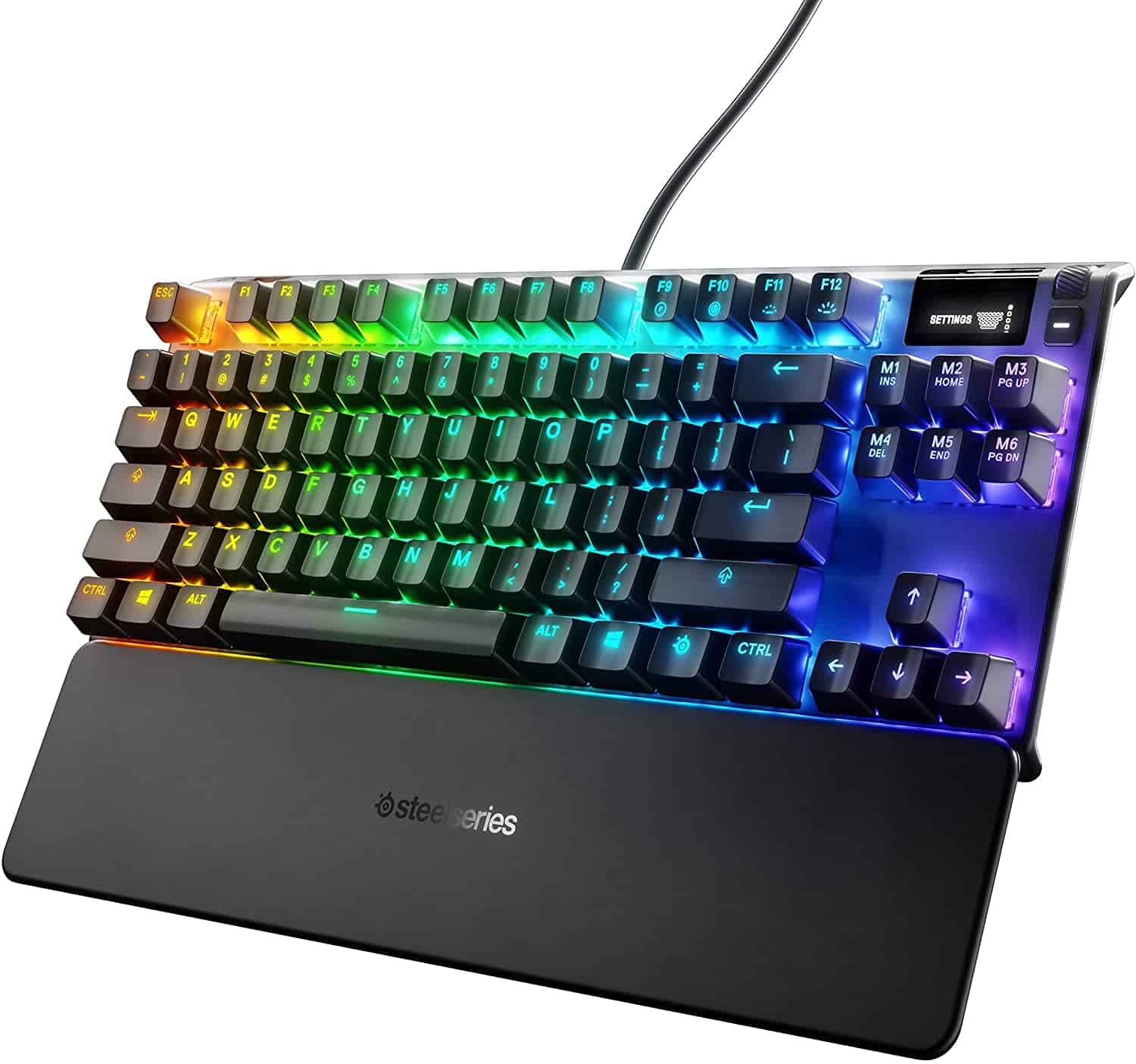 Adin Ross' keyboard, the SteelSeries Apex 7 TKL, is a classic. I was fascinated by its OLED Smart Display, which gives you access to critical settings without necessarily minimizing your games. In addition, it boasts customizable RGB illumination, low latency, and macro-programmable keys.
Furthermore, this Tenkeyless gaming keyboard's build is super durable. Trust me, if you maintain it properly, you won't have to go back to the market any time soon. The detachable magnetic wrist rest is impossible to dismiss as it supports your palm and maximizes your comfort. Even so, it accumulates dust quickly, so you must wipe it off often.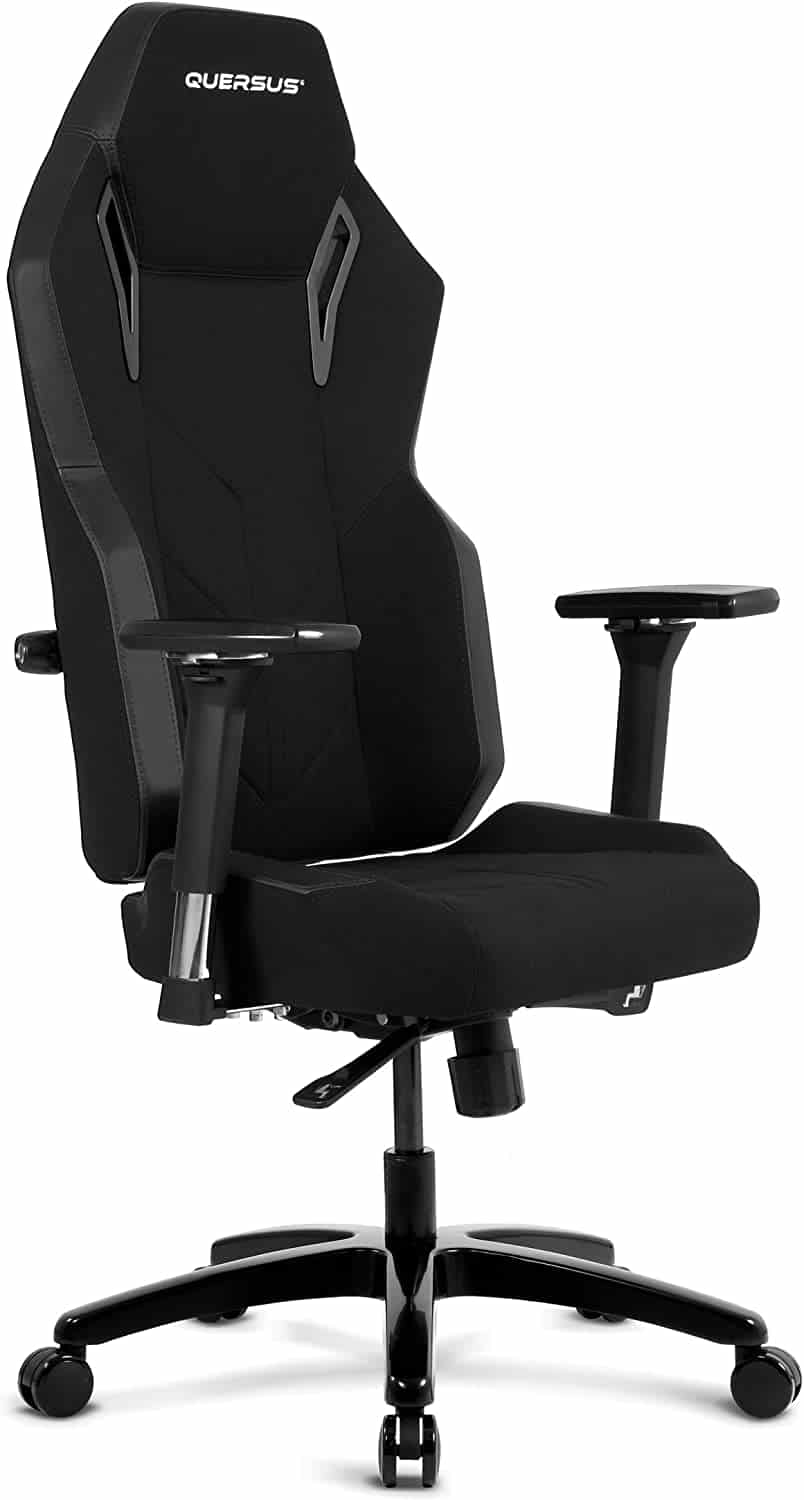 Nothing compares to a durable gaming chair, and I'm sure Adin Ross already knows it. Otherwise, he wouldn't have settled for the Quersus V503/X, whose feature package puts it among the best options for players and content creators.
First off, this gaming chair is built for maximum relaxation. The headrest is tiltable, and it comes with a cushion to guarantee your comfort. Besides, you can easily lower or raise the seat to suit your sitting style while you game. Again, the lumbar region and armrests are adjustable, and there's a rocking function to leverage when you want to take a break.
Furthermore, the Quersus V503/X looks incredibly elegant, thanks to its black faux leather material and decorative sticking.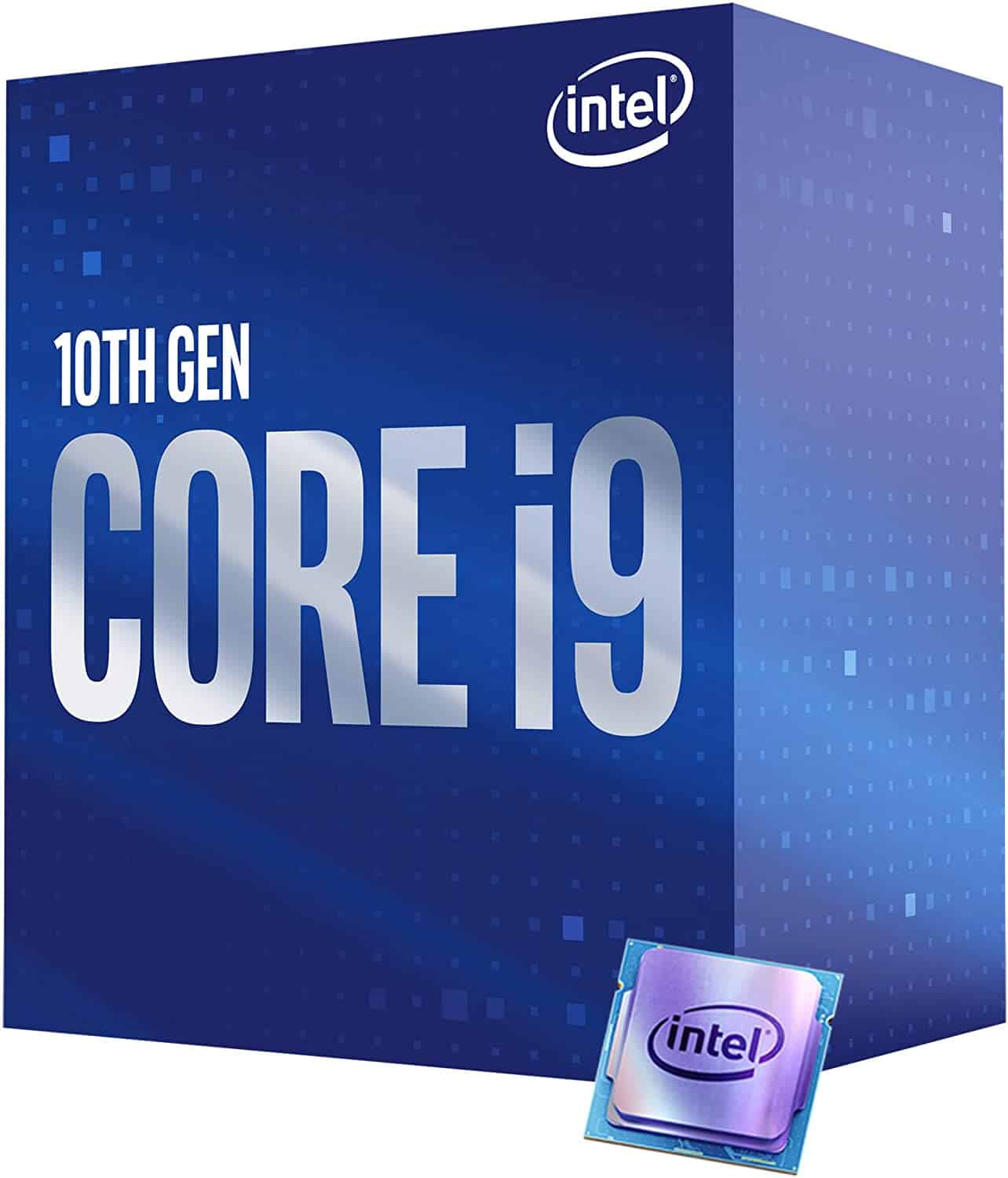 The Intel Core i9-10900K prides itself on being one of the fastest desktop processors on the market, no wonder Adin Ross and other streamers such as LilyPichu and ImperialHal use it. With its 3.7GHz base speed, I can assure you of rapid clocking, seamless performance, and an ideally high processing throughput.
Then, this CPU's 10 cores with 20 threads allow for flawless multitasking, which is much easier with the available AES support for straightforward encryption and decryption. Moreover, I liked the Intel Turbo Boost technology that boosts the processor's frequency by capitalizing on the power and thermal headroom.
Another perk of this CPU is its compatibility with Intel 400 series chipset-based motherboards, maximizing its convenience.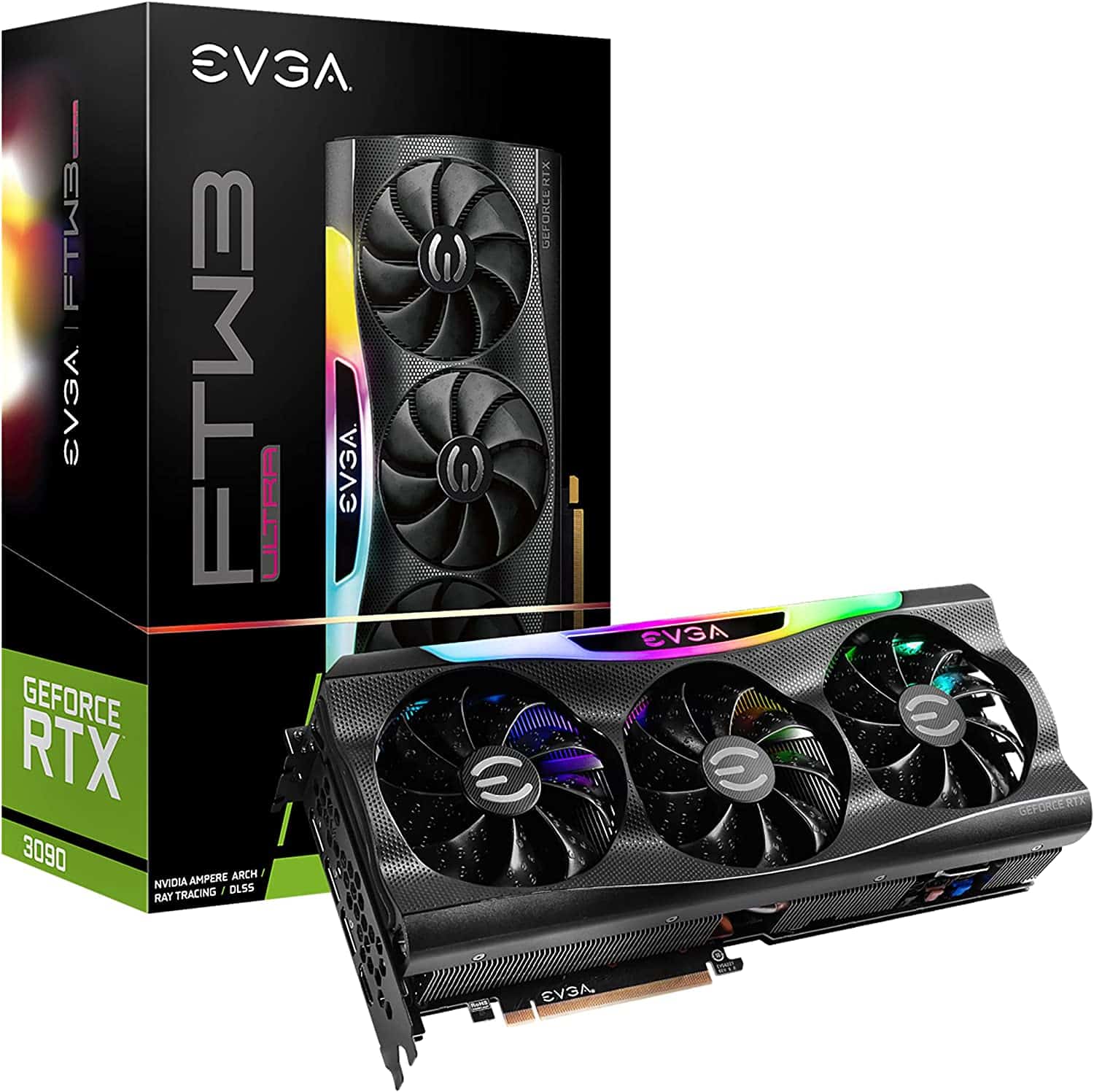 In my experience as a video gamer biographer, I have come across the EVGA GeForce RTX 3090 many times, including in the setups of Blazt, Shroud, DiazBiffle, and Disguised Toast. So, when I discovered that Adin Ross also uses this widely-preferred graphics card, I immediately knew he chose it for its incredible features.
Examples include real-time ray-tracing tech for incredible realism in games and triple HDB fans 9 iCX3 thermal sensors for remarkable cooling capabilities and quiet performance. Besides, this GPU promises 24GB of G6x memory to ensure users enjoy maximum immersion when playing the titles they like.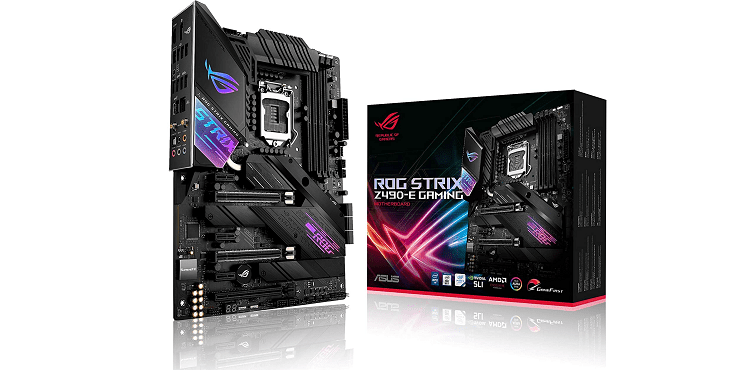 Like Loserfruit and Strahfe, Adin Ross has developed a liking for the ASUS ROG Strix Z490-E motherboard. I believe it comes with everything a gamer needs to delight in the most memorable gaming experiences, including impressive performance, maximum gaming connectivity, and an optimized thermal design.
With its Intel LGA 1200 socket, this mobo enhances the performance of your 10th Gen Intel Core processor, enabling you to make the most out of it. Also, it assures you of a flexible and fast M.2 interface, owing to the two M.2 slots. One of the latter backs PCIe 3.0 x4 for NVMe, while the second one supports SATA and PCIe 3.0 x4 modes.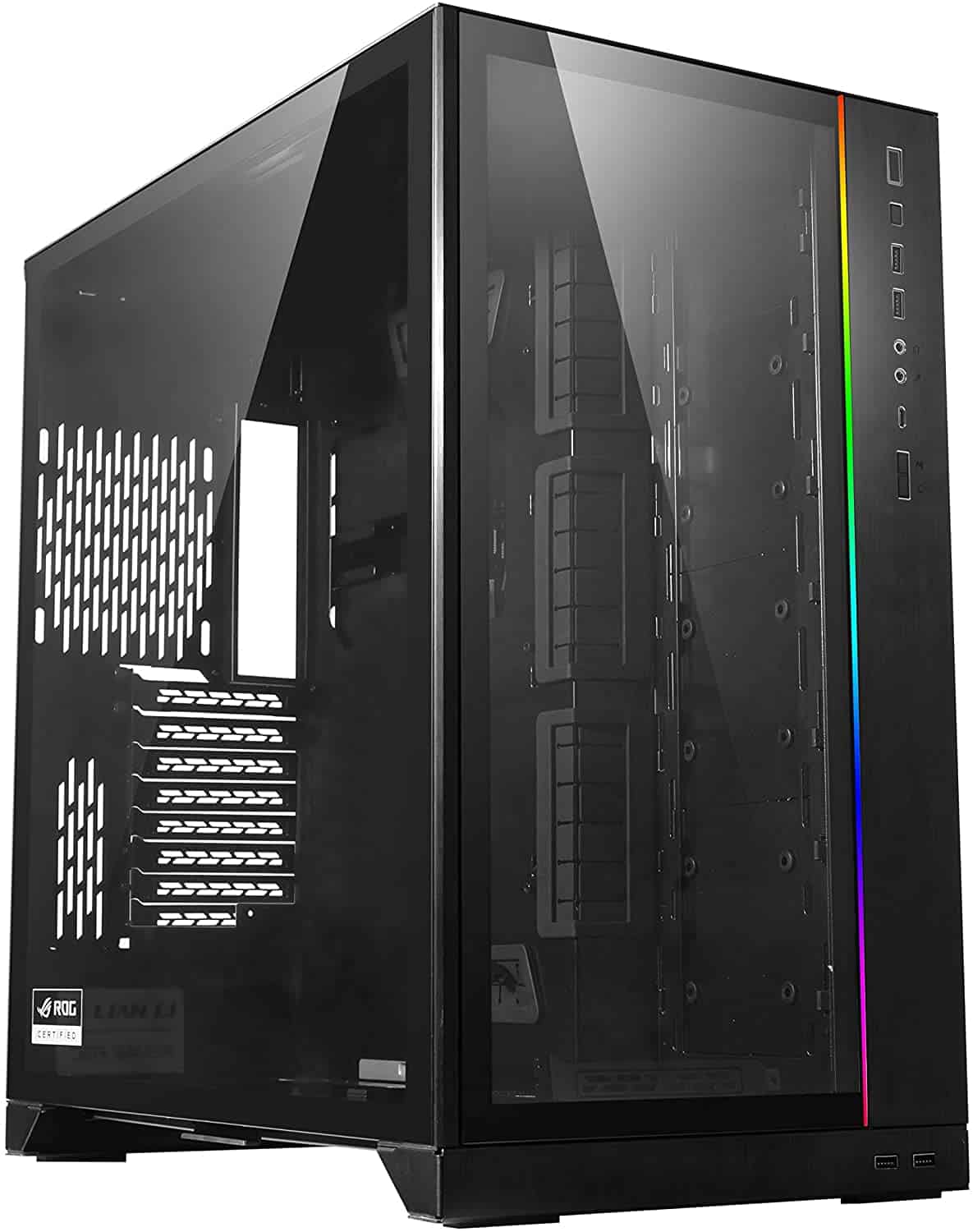 Adin Ross uses the Lian Li O11 Dynamic XL ROG case to house his gaming PC components. One of the most admirable things about it is the impressive design that makes it ideal for any configuration. I was also taken with its hot swappable drives because they let you increase or change your storage without necessarily closing down the system.
Additionally, this gaming PC case is conveniently spacious, enabling it to accommodate multiple parts of your build while guaranteeing easy cable management. With it, you can relish efficient water-cooling capabilities since there is plenty of room for thicker radiators and tall GPU water blocks.
Adin Ross' Family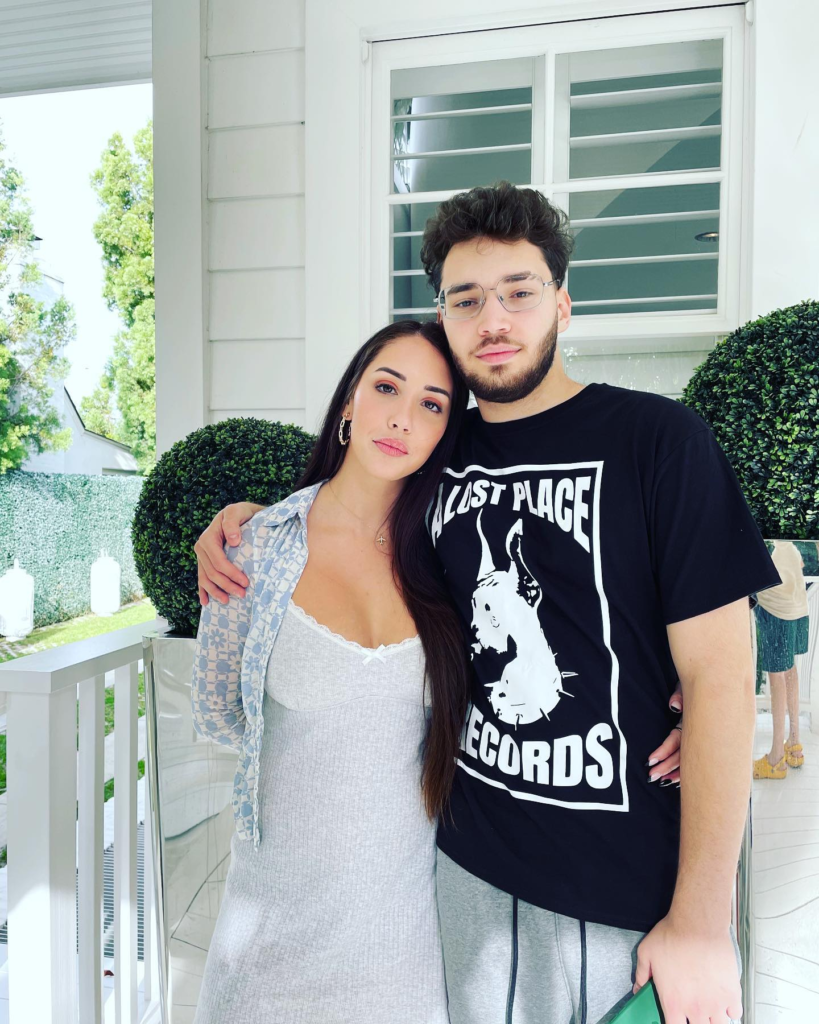 Adin Ross has been fortunate to find love, something that I and many others deem worthy.
He leveraged his Instagram account to reveal his girlfriend, Pamibaby, in April 2021. I checked out her socials, and she has also shared several pics of herself with this popular YouTuber.
Pamibaby is a popular TikToker, and digital content creator known for her makeup tutorials and fun lip sync videos. The Dubai-born and raised Instagram model sometimes appears in Adin Ross' Twitch streams, though she's not a passionate video gamer.
Previously, I've witnessed some web stars ride on their romantic partner's coattails. But I can affirm that this is not the case for Pamibaby, who has millions of endorsers online. She was considerably famous by the time she and Adin Ross went public, and her following has been snowballing, owing to her online content.
Before Adin Ross began seeing Pamibaby, he was in a relationship with Stacey and featured her on his streams.
Was Adin Ross in a Relationship with Corinna Kopf?
As you might already know, tabloids are always on the hunt for romance novel fodder to maximize their readership. So, when some started romantically linking Adin Ross to Corinna Kopf based on their great friendship and engaging stream sessions, I wasn't that surprised.
All the same, Adin Ross and Corrina have clarified they're not dating, and they've never been lovers. However, I believe these two internet celebrities benefited from the rumors since they maximized their visibility.
Factually, their dating allegations saw them trend on Twitter a while back, with Adin Ross gaining over 70K followers at the time. However, they didn't make any notable moves to quell the rumors, which I greatly applaud.
Fans have also alleged that Corinna Kopf was in a relationship with controversial Twitch streamer David Dobrik, though they also turned out to be just friends. Even so, the OnlyFans star dated Fortnite legend Turner "Tfue" Tenney.
Adin Ross' Net Worth and Career Earnings
Adin Ross has made his fortune online. As of this writing, his net worth is estimated to be $2M-$5M. I was curious to discover how he has accumulated this much, so I dug a little deeper into his primary income streams. Here's what I found:
Twitch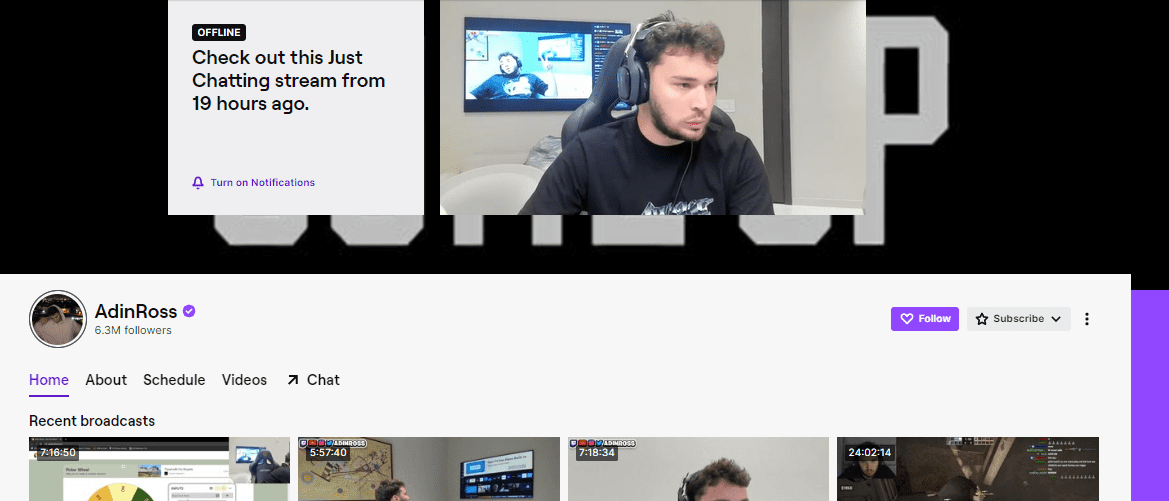 I rank Adin Ross among the most successful Twitch streamers today. His 6.3M-channel has attracted 52,369,858 views and 22,657 active subs, based on Twitch Tracker's data. And he pockets $1-1.5 million annually in Twitch payouts.
If you have any doubts, check the list of Twitch's top 100 earners, as revealed in an alleged data breach last year. According to it, Adin Ross received $1,854,656.42 during the 2-year period between August 2019 and October 2021.
That's a commendable income for an individual in his early 20s, in my opinion. And judging from his talent and hard work, it's well-deserved.
Interestingly, his Twitch earnings then surpassed that of many other steamers I've talked about in the Pro Gamers Age series, including the platform's most followed creator, Ninja.
YouTube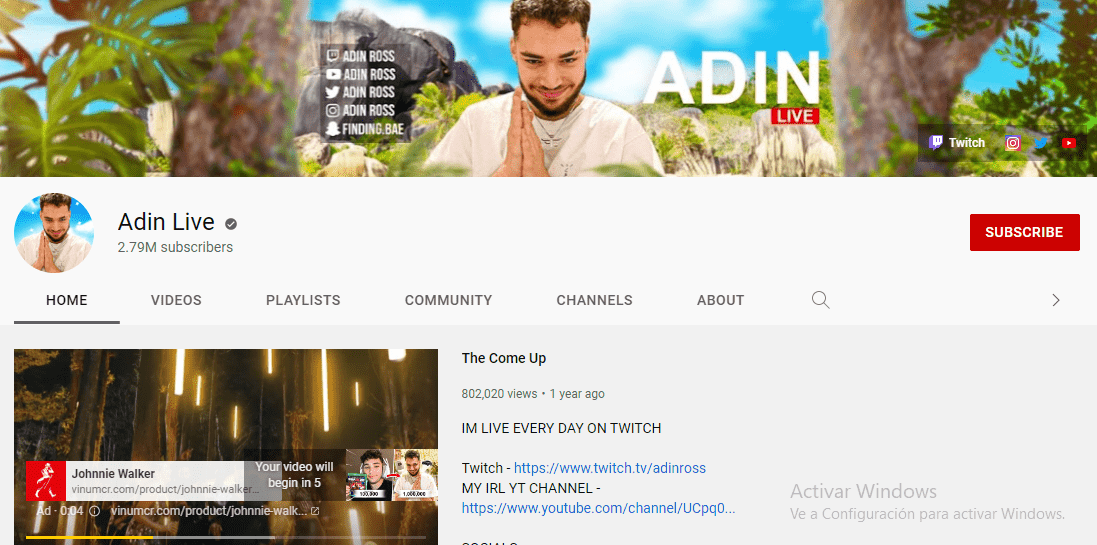 I've seen some streamers, such as ExoHydraX, who concentrate on Twitch and barely upload any content on YouTube. But Adin Ross is not among them.
He shares several videos on his 2.76M-YouTube channel weekly, keeping his fans' needs satiated at all times. Presently, they have accrued 541,301,453 views, which I expect to increase as days go by.
My research shows that Adin Ross makes over $250K monthly from his primary YouTube channel.
Notably, he also has a second channel, with 878K subs and 14,963,354 views. I presume he's monetized it, and he's also making some cash from it, though it might not be as much as his main channel's earnings.
Sponsorship Deals
Details about all Adin Ross' sponsors are a bit scanty right now. Nevertheless, I'm confident he works with several, if not many, brands, which have been handy in increasing his monthly income.
For example, in mid-2022, he accidentally revealed that his gambling sponsorship deals earn him a whopping 2M per month.
GTA Server
Adin Ross owns a GTA roleplay server, SSB Wrld, and I believe it could be bringing in a decent amount. But it is also worth noting that different factors come into play when determining the latter.
So, typically, server owners like Adin Ross, GeorgeNotFound, and Dreamwastaken make money through direct donations from their supporters and monthly subscription fees. Obviously, the amount they receive or charge is not the same, and consequently, the monthly income varies from time to time.
Adin Ross' Retirement and Post Professional
I doubt Adin Ross is interested in departing from the online streaming, gaming, and content creation scene just yet. His career may have been laden with controversy, but he has successfully found a way to get past it and keep chasing his professional dreams. Due to his failure to discuss retirement in public, I also can't let you in on his anticipated post-professional adventures.
Adin Ross' Merch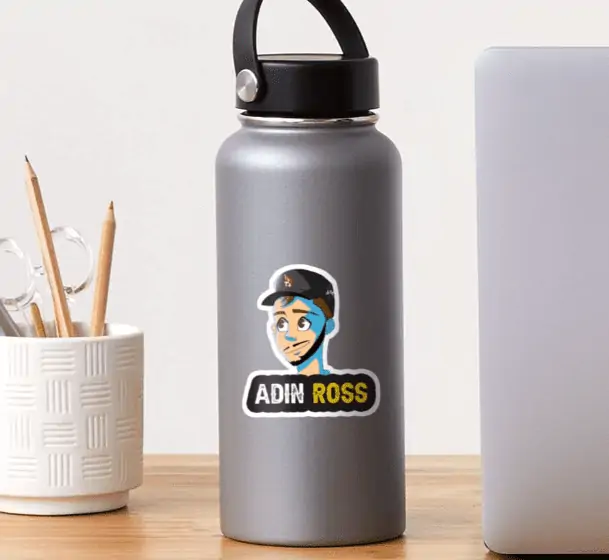 Correct me if I'm wrong, but I think this kiss-cut vinyl sticker is perfect for conveying your adoration for Adin Ross. It performs well, whether you utilize it to decorate your favorite water bottle, smartphone, laptop, or any other item you deem fit. Its matte finish suits you if you crave just the right amount of eloquence and professionalism. Supposing you long for some vibrance, feel free to choose the glossy finish for convenience.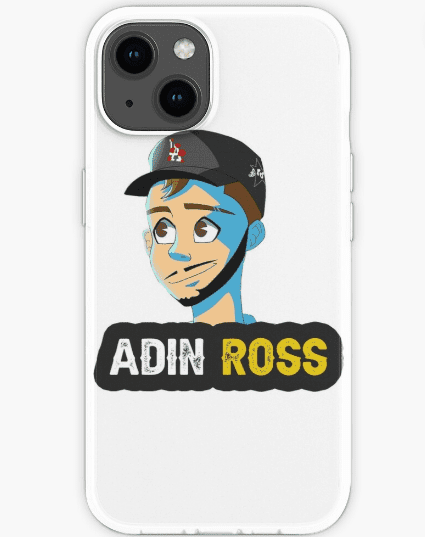 This durable iPhone sticker is undeniably captivating, and I'm sure your friends will notice it as soon as you get it for your smartphone. Speaking of which, it's constructed for many models, ranging from iPhone 13, iPhone 12, and iPhone 11 to iPhone 7, iPhone 6, and iPhone X. I was impressed that it comes in three different styles, so you can go for the soft, snap or tough case, after factoring in your taste and needs.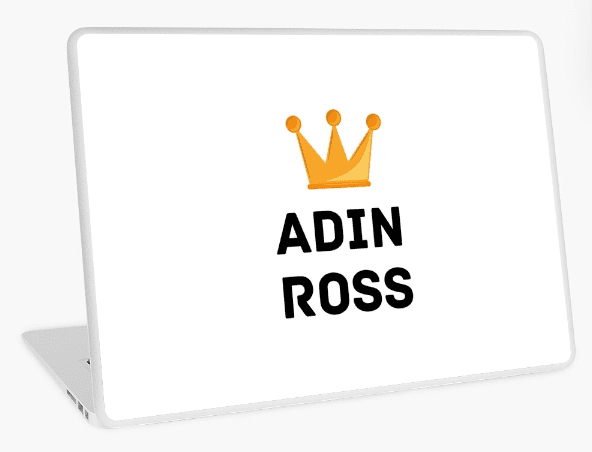 As a proud owner of a MacBook Air 13″, I can purchase this gorgeous laptop wrap to protect my device's exterior from ugly scratches, liquid spillage, or damage. Fortunately, it's also designed for many other models, including MacBook Pro 15″, MacBook Pro Retina 13″ and PC laptop 15″. Its package of perks comes with ease to apply and install and an intense glossy finish that provides the vibrance I crave. Besides, it weighs less than 5g, so it doesn't necessarily add to my device's weight.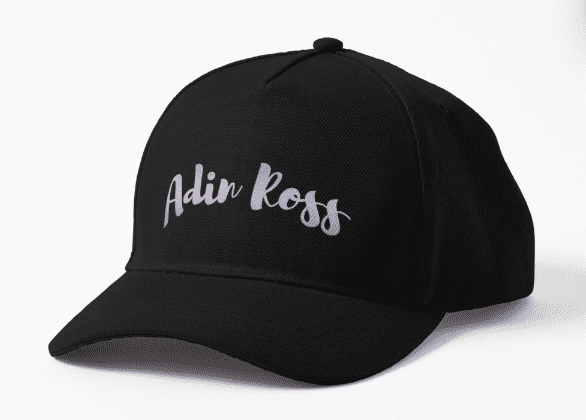 A cap is a must-have fashion accessory in my book. A modish one like this one not only takes your style to the next level but also protects your face and head from sunburn. I like that it's available in multiple colors, including in-demand options like black, navy, white, dark grey, and light grey. In addition, it boasts a snapback closure for easy fit adjustment and a 100% polyester fabric that allows it to retain its shape at all times.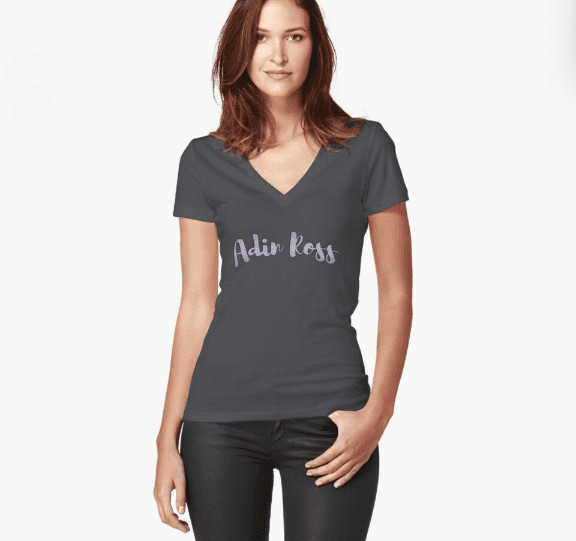 I'd doubtlessly consider this V-neck option if I were on the market for a casual tee. It checks all the boxes for me, thanks to its classy slim fit and lasting fabric. Besides, it comes in lovely shades such as black, white, navy, red, heather grey, blue and dark grey, and the size range is between small and 2XL.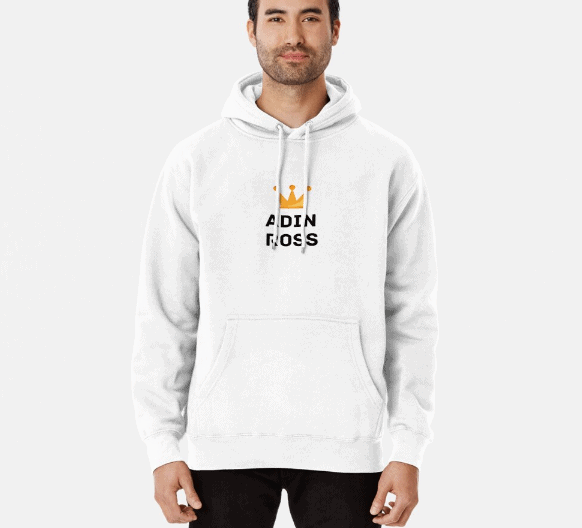 Look sharp with this durable hoodie that epitomizes style and quality construction. With its availability in many colors, I bet finding one that suits your preferences will be effortless. Bear in mind that the fabric you get boils down to the shade you select. For example, solid colors come with a quality 80% cotton/20% polyester blend. On the other hand, heather grey hoodies leverage a 70% cotton/30% polyester combination.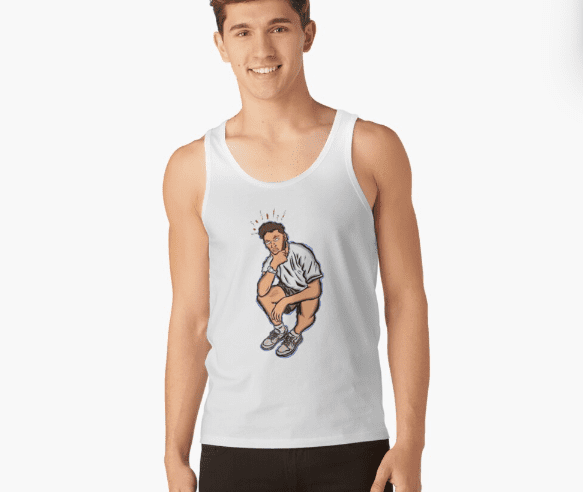 I've always perceived tank tops as valuable wardrobe essentials because of their incredible versatility. A fancy piece like this one can take you to countless places, such as the gym, beach, market, and more. Furthermore, its durable fabric enables it to last long when well maintained.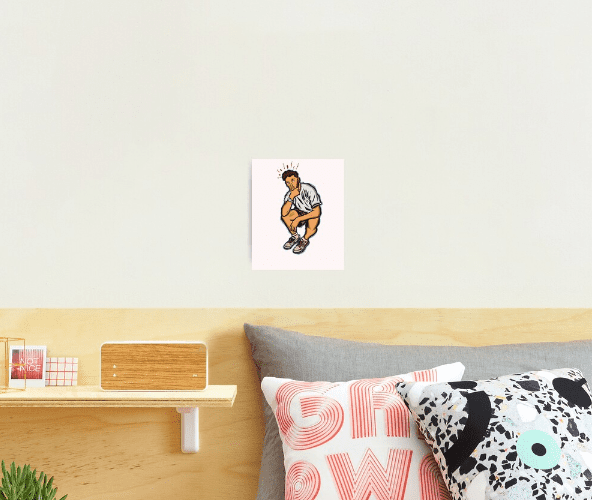 If you're into photographic art like myself, consider buying this breathtaking piece of art. You can order yours in a luster finish for minimal scratches, smudges, and fingerprints. For variety, it's also available in a metallic finish to enjoy maximum longevity. What's more, it comes in sizes small through to extra-large to help meet your distinct décor requirements.
Frequently Asked Questions about Adin Ross
Question: When did Adin Ross start streaming on Twitch?
Answer: Adin Ross started his Twitch streaming career in 2019, although he created his account the year before.
Question: Which university did Adin Ross attend?
Answer: Despite scouring multiple credible internet sources, I didn't find any info about the university Adin Ross went to. I doubt he attended any, as his eyes were always set on professional streaming for a long time, so enrolling in a tertiary educational facility could have delayed achieving that goal.
Question: Does Adin Ross have a brother? 
 
Answer: Yes. Adin Ross has a stepbrother, but he hasn't shared his identity.
Question: Did Adin Ross marry Stacey?
Answer: No. Adin Ross never married Stacey. In fact, they broke up, and he's now dating beauty content creator Pamibaby.
Question: Why did Adin Ross leave the Clout Gang 2.0 house? 
Answer: According to my research, Adin Ross left the Clout Gang house to go to Tribeca, New York, to enjoy some time alone. As he said, he craved a break before going back to work.
Recommended Reads:
Research Citations
https://hollywoodmask.com/p/mike-majlak-adin-ross-content-house.html
https://www.sportskeeda.com/pop-culture/news-what-adin-ross-s-net-worth-exploring-twitch-streamer-s-fortune-accidentally-leaks-massive-2-million-sponsor-earnings-stream
https://twitchtracker.com/adinross
https://www.sportskeeda.com/pop-culture/news-what-adin-ross-s-net-worth-exploring-twitch-streamer-s-fortune-accidentally-leaks-massive-2-million-sponsor-earnings-stream
https://armorygaminggear.com/profile/adin-ross
https://dotesports.com/news/adinross-streaming-setup-mouse-keyboard-and-more
https://gameriv.com/adin-ross-banned-on-twitch-because-guest-rapper-zais-made-homophobic-remarks-on-his-stream/
https://otakukart.com/who-is-adin-ross-dating/
https://www.complex.com/music/adin-ross-explained/gay-jokes
https://www.youtube.com/watch?v=VUD9fVXTyZk
https://win.gg/news/adin-ross-team-accused-of-not-paying-gta-server-developer/
https://www.sportskeeda.com/gta/top-five-streamers-who-frequently-play-gta-5-rp-ssb-world