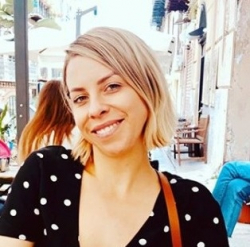 Latest posts by Jodie Chiffey
(see all)
Kathleen "Loserfruit" Belsten, also known as Lufu, is an Australian Twitch streamer, YouTube creator, esport athlete, podcaster, and internet personality.
Loserfruit is among the most dominant video game players today, and her influence is well-earned. First off, she was the first female and second Fortnite streamer to get her own skin, right after Tyler "Ninja" Blevins. Other celebrities who've achieved this feat include Travis Scott, David "TheGrefg" Cánovas Martínez, Marshmello, and Neymar Jr.
In addition, Loserfruit is one of the most followed female Twitch streamers, putting her in the same category as Amouranth, Hafu, Pokimane, and IamCristinini. Did you also know that she has three considerably successful YouTube channels?
Below, we're diving into the critical aspects of Loserfruit bio, personal and professional life, starting with these quick facts.
Loserfruit's Bio Facts
| | |
| --- | --- |
| Real Name | Kathleen Belsten |
| Birthdate | February 22, 1993 |
| Birthplace | Melbourne, Victoria, Australia |
| Nicknames | Loserfruit, Lufu |
| Height | 5ft, 5 inches |
| Nationality | Australian |
| Zodiac Sign | Pisces |
| Siblings | N/A |
| Children | N/A |
| Boyfriend | Marcus "Prestige Clips" |
| Games Played | Fortnite, Overwatch, League of Legends, Just Chatting, Grand Theft Auto V, Among Us, Minecraft, Call of Duty: Warzone, etc. |
| Net Worth | Between $2-3M |
| Social Media | Twitch: Loserfruit, YouTube: Loserfruit, Lufu, Loserfruit 2.0, Twitter: @Loserfruit, Instagram: loserfruit |
| Awards | N/A |
| Last Updated | May 2022 |
Loserfruit's Birthplace and Early Life
Loserfruit is a Melbourne native born on February 22, 1993.
Little is known about her parents and childhood.
She has siblings, but their identities are in the dark.
Fortunately, we found some details regarding her educational background. In 2010, she attended the Flinders Christian Community College, but she hasn't revealed what she was studying.
This streamer is also a qualified journalist, having attained a bachelor's degree in Journalism from Melbourne's RMIT University.
In 2013, she practiced as a media person at the Australian Broadcasting Corporation, where she was an intern.
But instead of building her career in journalism, she made up her mind to become a full-time Twitch streamer.
How Did Loserfruit Get Started Gaming?
Loserfruit started out on both Twitch and YouTube in 2013 as a League of Legends player. As she gained more gaming experience, she played other games such as The Legend of Zelda: Majora's Mask and Call of Duty.
Today, Loserfruit's primary focus is on Fortnite: Battle Royale and its variants. But you can still catch her playing a variety of other titles, such as Minecraft, Among Us, Grand Theft Auto V, and Just Chatting.
Click
Loserfruit is a former member of Click, a group of Australian content creators who developed vlogs related to video games, challenges, pranks, and lifestyle topics. Other YouTubers who collaborated to create these amusing videos were Prestige Clips, LazarBeam, Tannar, Crayator, Muselk, and Bazza Gazza.
Notably, Click did more than just entertain their over two million fans. In January 2020, Loserfruit, Crayator, and Fasffy held a 36-hour-long charity stream that enabled them to support The Australian Bushfire relief effort by raising A$300,000. And other group members and their pals also contributed to this vast amount.
Click was disbanded in 2020, after less than two years of operation. That was around the same time the Covid-19 pandemic hit the globe, making it hard for all the YouTubers to meet to film videos. On the upside, it enabled them to focus on their own content.
When the Click Crew stopped collaborating, its YouTube channel had already amassed 2.8M subscribers and 454,423,001 views. Most former members of this crew are still close friends. And a duo, Loserfruit and Prestige Clips, is in a relationship.
Other Ventures
Loserfruit has also been involved in other ventures that have helped her grow her brand as an entertainer. For example, she had a guest voice acting role on Glitch Productions' Meta Runner, a computer-animated web series that Like that Luke and Kevin Lerdwichagul created.
Besides, Loserfruit co-hosts the "All In" podcast with Crayator, but they haven't released any new episodes for a long time.
Loserfruit's Videos
Loserfruit is undoubtedly one of the best Fortnite players ever. And she doesn't mind putting that to the test, as you'll see in this 12-minute video where she challenges other Fortnite lovers in Melbourne. Whoever kills her gets to walk away with $100. The big question is, "Who can beat this legendary gamer?" Watch this video to the end to find out!
Considering that the eSport industry is dominated by men, there's nothing more thrilling than watching two of the best female gamers showcase their exemplary gaming skills. And Loserfruit and Chica have more than that in common, as the latter just released her Fortnite skin. This video is definitely inspirational for any young girl who hopes to join their league one day.
Loserfruit's Gaming Setup
Loserfruit utilizes the ASUS ROG Swift 27″ gaming monitor built for fast-paced games. Its large screen delivers the most immersive gaming experiences, not to mention conveniently wide viewing angles.
Something else we like about this widely preferred gaming monitor is the NVIDIA G SYNC technology that eliminates screen tearing and stutter, especially when combined with the NVIDIA G SYNC Processor. Since it also comes with ASUS Eye Care technology, maximum comfort is guaranteed.
The Corsair VOID ELITE is a gaming masterpiece, as Loserfruit and many other streamers have discovered. It improves the quality of your playing experiences by allowing you to hear everything in the 7.1 surround sound.
Besides, this headset boasts an omnidirectional microphone and excellent noise cancellation and volume control features. In addition, it comes with a USB adapter to help you connect it to your quality PC or PS4/PS5. You'll like the plush memory foam earpads that enhance your comfort and facilitate long gaming sessions.
Loserfruit enjoys using the lightweight Corsair Harpoon gaming mouse, whose pool of features makes it worth it. For starters, it has a 6,000 DPI optical sensor ideal for high accuracy tracking and six fully programmable buttons, which means custom configurations are within reach.
In addition, the Corsair Harpoon's contoured design allows for a natural fit no matter your play style. And with this mouse's onboard memory, you're free to store custom DPI settings for more effortless gaming experiences.
There's little doubt the CORSAIR K95 RGB gaming keyboard deserves its place in Loserfruit's gaming setup. Its remarkable features include the durable Cherry MX Speed RGB mechanical key switches, six programmable G keys, adjustable key colors, and backlighting.
Also, this keyboard comes with a handy USB passthrough port for easy access to an extra port for a headset or mouse. We also can't dismiss its sturdy frame made from aircraft-grade anodized brushed aluminum to enhance its durability.
Shure remains the go-to brand for serious gamers like Greekgodx, Trick2g, CohhCarnage, and AuronPlay, as they've already settled for the ShureSM7B. But unlike them, Loserfruit prefers the dynamic Shure MV7 XLR, which is inspired by the latter.
This mic comes in silver, red, and black, but Loserfruit prefers the latter. It also delivers a convenient, clean, crisp sound and outstanding XLR and USB connectivity. Additional handy features include its intuitive touch panel controls, advanced voice-isolating technology, and plug-and-play compatibility with macOS & Windows computers.
The Secretlab OMEGA is an award-winning gaming chair known for its excellent aspects.
To begin with, it delivers the firm support Loserfruit needs to be comfy while enjoying her favorite titles. Her comfort is further enhanced by its adjustable armrests with deluxe, concave PU padding, and a backrest with great range.
Moreover, this chair comes with spill-resistant, smooth leather, which is pretty easy to maintain and super durable. Other features we like include the multi-tilt mechanism, premium form head pillow, and simple yet beautiful design.
Loserfruit leverages the Sony Alpha a7 IIK to create her stunning Twitch and YouTube content at 24.3MP resolution. This compact camera is known for its super-fast autofocus. And it takes advantage of 5-axis image stabilization to reduce blur, increasing its convenience.
In addition, the Alpha a7 offers a tiltable 3" LCD that makes low and high-angle framing easy peasy. It also boasts excellent compatibility with the popular Sony's E mount lenses.
Loserfruit already knows that excellent studio lighting is a must-have for ambitious content creators, explaining why she utilizes the Neewer 18-inch SMD LED. It comes with a ton of essential tools, including a dimmable LED ring light, white/orange filter, adjustable light stand, US plug, and rotatable smartphone holder.
Loserfruit uses the Intel Core i9 10900K processor, which is a top pick for most passionate players and content creators. It boasts a convenient base clock speed of 3.7 GHz, and you can push it up to 5.2 GHz with the Intel Turbo Boost Max 3.0.
Additionally, it comes with a long list of other great features, such as Intel vPro technology, Intel Optane memory support, and 10 cores & 20 threads in their LGA 1200 socket. To add to its convenience, it's compatible with various Intel 400 series motherboards.
The ASUS RTX 2080 Ti has often been considered one of the best GPUs for high-end gamers, so it's not shocking that Loserfruit utilizes it. Some of its excellent specs include the 4,352 CUDA cores, a 1665 MHz boost clock, and 11GB of GDDR6 VRAM.
You'll also be glad to know that this GPU can efficiently support four gaming monitors and a VR headset. The GPU Tweak II facilitates live streaming and monitoring performance. There's also additional essential software such as X Split Game caster and game booster.
Loserfruit prefers the ASUS ROG STRIX Z490-E, which is explicitly designed for high-performance gaming. It delivers the best connectivity a player could ever look for, including the Intel Wi-Fi 6 AX201, a premium audio codec, Intel 2. 5 Gb Ethernet, and 2 Type-C connectors.
Something else you may like about this gaming motherboard is its optimized thermal design, strong power solution, and Intel LGA 1200 socket that boosts the 10th Gen Intel Core processors' performance.
When it comes to memory, Loserfruit likes the Corsair Vengeance RGB PRO 32GB DDR4 3200MHz, which guarantees her system's high performance. It leverages the CORSAIR iCUE software and is compatible with different intel & AMD DDR4 motherboards.
Another perk of this memory is it enables you to customize lighting profiles with your preferred colors and patterns. Besides, installation is a piece of cake, and you don't have to get any extra cables to do it. And thanks to its screened ICs, you can enjoy maximum overclocking potential.
Loserfruit takes advantage of the highly valued NZXT H710 case to protect the essential components of his gaming setup. The H710 is pretty large to accommodate your PC build, no matter what you have in it. It has a lasting tempered-glass side panel to showcase your iconic build, and its single screw installation to makes your job a lot easier.
In addition, this mid-tower case's front panel boasts a USB 3.1 and USB-C 3.2 connector, allowing you to connect your peripheral devices effortlessly. More features you might like include the handy cable management bar, streamlined cooling system, and impressive motherboard support (MicroATX, Mini-ITX, EATX, and ATX).
The 240EX RGB AIO CPU cooler is a great choice for Loserfruit and other gamers because of its beautiful aesthetics and incredible water cooling capabilities. You can't miss its mind-blowing RGB lighting with DEEP COOL's infinity mirror and two CF120 A-RGB PWM fans.
This cooler boasts a powerful 3-phase motor that promises a high flow rate and minimal noise levels. Then, the 25% more skived fins on its copper base maximize the heat absorption area for more efficiency. Other aspects to relish include the 5V ADD RGB 3-Pin motherboard control, advanced anti-leak tech, and cable controller.
Loserfruit fancies the modular HX850 80 Plus Platinum certified PSU, which gives her a fairly high performance at virtually dead-silent noise levels even under heavy loads. This 850-watt PSU is known for its ETA-B & LAMBDA-A+ efficiency, not to mention the Cybenetics' noise certifications.
In addition, the Corsair HX850 850W comes with much-needed protection features, such as the OTP and OCP on its +12V rails (applicable once you enable them).
Loserfruit's Family
Loserfruit began dating Marcus "Prestige Clips" in late 2017. These sweethearts first met at an airport, and their connection was so strong that they even flirted. Like many other lovely couples, they enjoy cuddling, watching Netflix, traveling, and dining out.
Marcus also hails from Australia, and he's also a versatile video gamer who plays popular options such as Minecraft, Grand Auto Theft V, PUBG: Battlegrounds, Rust and Fortnite.
He's pretty popular on YouTube as his channel has accrued 4.87M subscribers and more than a billion views.
Interestingly, he doesn't stream on Twitch, which sets him apart from many video game players on YouTube.
Loserfruit and Marcus delight in creating YouTube content, mostly letting their fans in on some aspects of their romantic life. But they've not mentioned their future plans, i.e., if they intend to tie the knot and start a family.
Loserfruit's Net Worth and Career Earnings
As of writing, Loserfruit's net worth is estimated to be between $2M and $3M. Let's look into her primary revenue sources:
Twitch
On Twitch, Loserfruit's channel has 2.8M followers, 56,617,494 views, and 1,337 subs, which translates into between $3K and $4K monthly, and approximately $50K to $90K annually. She also makes more in donations, bits, and ad revenue.
YouTube
Loserfruit has made a great deal of cash as a YouTube creator. Her primary YouTube channel, Loserfruit, boasts 3.35M subscribers and 438,924,554 views. Her second one, Lufu, has accumulated 779K and 85,868,327 views, while her third, Loserfruit 2.0, comes with 42K subscribers and 1,966,125 views.
As per our research, Loserfruit earns between $67.2K and $86.4K annually in YouTube payouts. But she's the only one who knows the exact sum as several factors determine what creators make on this video-sharing website, including their niche and ad blockers.
Partners and Sponsors
Loserfruit has partnered with e.l.f Cosmetics and Gymshark to promote their products. She's also been sponsored by brands like Apex Legends, Corsair, Secret Lab, Just Dance, Just Die Already, Two Point Hospital, and Call of Duty.
These partnership and sponsorship deals have enabled her to make more monthly.
Competitive Play
Loserfruit has earned $10,000.00 after playing two Fortnite games in 2018 and 2022. She participated in these two tournaments as a freewheeler.
Merch Sales
Merch sales have contributed to Loserfruit's net worth. Her merch store avails sought-after products such as apparel and plushies. In addition, her customers can pay via various currencies, including USD, CAD, EUR, and GBP. This increases convenience, especially for her international clients.
Fortnite Skin
We believe Loserfruit generated a massive amount from selling her limited-edition Fortnite skin. Its price was set at 1,800 V-Bucks when she released it, and we bet a large portion of her fans made a point of getting it.
Loserfruit's Retirement and Post Professional
Loserfruit hasn't talked about pulling out of the streaming scene. And gauging from her online activity, it's not around the corner. So, if you delight in watching her streams and YouTube uploads, keep an eye out for more.
Loserfruit's Merch
Are you looking for Loserfruit's merch? First, check out her merch store with these offerings:
Consider the Fruitopia Tee, which comes in black and white. Since it's made from 100% cotton, it can withstand frequent washes. In addition, it boasts superb cooling properties to let your skin breathe, even on the hottest days. Fortunately, there are 5+ sizes, so finding your fit shouldn't be too much work.
As you already know, a quality pair of socks is a staple in everyone's closet. Consider this 4-pack with four beautiful ankle sock designs to give you much-needed diversity.
The Lufu Hat is the epitome of style and quality. It's made from 100% cotton, meaning it's durable; plus, it'll never irritate your skin. Besides, it comes with a buckle closure for convenient sizing adjustments.
Check out this cuddly plushy that measures 12.9 × 10.6 inches. It leverages plush cotton and ultra-soft fleece, rendering it durable, flexible, lightweight, and soft.
You can also find some great Loserfruit-inspired items on Redbubble. These include:
Get this sweatshirt suitable for everyday wear. It's crafted from a durable cotton/poly blend that is also breathable to enhance your comfort. Raeex, its designer, gives you a broad range of colors to explore, including black, charcoal heather, royal heather, denim heather, and navy. Besides, its crewneck band and rib cuffs are made with spandex to help maintain their shape.
A t-shirt dress is a handy item in any woman's wardrobe, thanks to its versatility. This one boasts a cotton back. Its front is made from 96%/ 4% polyester/elastane blend, which gives it a soft feel, not to mention much-needed durability, elasticity, and breathability.
Check out this beautiful pair of leggings available in sizes between XXS and XL. It's constructed from 12% elastane and 88% polyester, meaning that it's elastic, conveniently soft, durable, and quick to dry. Since it's machine washable, maintaining it is a piece of cake. The leggings boast Loserfruit artwork printed all over them, which allows you to stand out.
Revamp your home or office with this clock with a clear plexiglass lens and quartz clock mechanism to help you keep time. You have three frame colors to choose from – black, white, and natural bamboo. Moreover, you can go for white, red, aqua, and black hand colors, depending on your décor needs. Unfortunately, this clock doesn't come with the AA battery it requires to operate, so you have to get one separately.
Here's a lasting bath mat you can get to step onto after your showers. It features gorgeous Loserfruit-inspired art, a non-slip base, foam cushion, polyester back, and 100% polyester microfiber face. It's also provided in multiple sizes for convenience.
This is doubtlessly one of the classiest hoodies for kids aged between 1 and 6. It's manufactured from 60% cotton and 40% polyester, enabling it to provide the comfort and warmth your loved one needs. Moreover, it's available in three fade-resistant colors – dark blue, heather grey, and black.
Frequently Asked Questions about Loserfruit
Question: Which is Loserfruit's favorite color? 
Answer: Loserfruit's favorite color is white.
Question: Does Loserfruit keep pets?
Answer: Yes. Loserfruit has two pets that she adores, and she often shares their pictures on her social media accounts.
Question: When was The Loserfruit Skin released? 
Answer: The Loserfruit skin came out in June 2020.
Question: How many followers does Loserfruit have on Instagram?
Answer: Loserfruit's Instagram account boasts 1.2M followers as of this writing.
Recommended Reads: 
Research Citations