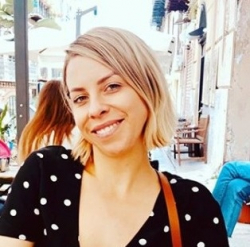 Latest posts by Jodie Chiffey
(see all)
William Neff, popularly known as WillNeff, is an American Twitch streamer, YouTuber, video gamer, and social media personality.
Before WillNeff ventured into professional video gaming and streaming, he was a famous comedian, well recognized for performing exemplarily well at many gigs. Still, his versatile nature couldn't let him settle for this profession alone. So, he explored acting and producing films and turned out to be pretty talented at these activities as well, proving he's a born entertainer.
WillNeff has thousands of content consumers following him on social media, and more are jumping on the bandwagon.
Curious to learn more about WillNeff? Be sure to read this Will Neff bio to the end, as we've provided critical details about his professional and personal life.
Will Neff's Bio Facts
| | |
| --- | --- |
| Real Name | William Neff |
| Birthplace | New York, USA |
| Birthdate | 15 September 1989 |
| Nickname | Will, WillNeff |
| Height | 5 Feet, 10 Inches |
| Nationality | American |
| Zodiac Sign | Virgo |
| Siblings | WillNeff has two step-brothers. |
| Children | N/A |
| Spouse/Partner/Girlfriend | Caroline Kwan |
| Games Played | Variety Streamer with a bias for Grand Theft Auto |
| Networth | $5 million |
| Social Media | Twitter: @TheWillNeff, Instagram: thewillneff, Twitch:willneff, YouTube: Will Neff |
| Awards | N/A |
| Last Updated | April 2022 |
WillNeff's Birthplace and Early Life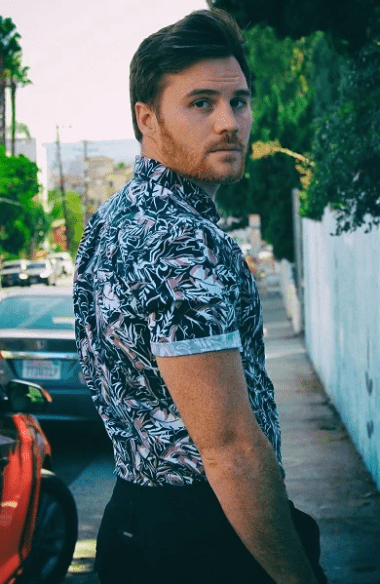 WillNeff was born to American parents in Manhattan, New York, on September 15, 1989. But he moved to Princeton, NJ, with his folks when he was 7.
WillNeff's father, who's over 90, is a romantic fiction author. But he explored many professions before he settled on being a writer. For starters, he worked at an oil refinery owned by his father, this streamer's grandfather. Then, he became a venture capitalist before he bought an airline and later sold it. In addition, he also practiced as a lawyer in New York City.
His mother, who's 30 years younger than his dad, was an international flight attendant, a profession that perfectly suited her since she enjoyed traveling.
WillNeff was brought up with his two stepbrothers.
Education
Details about the elementary and high schools WillNeff attended are not available to the public. But he was "miserable" during his time there, owing to his dyslexia and ADHD. Most of his schoolmates and teachers didn't know how to deal with him.
WillNeff started using Adderall when he was only 11, which made it extremely hard for him to focus in class.
He went to Blair Academy, NJ. His college days were fun as he indulged in many extra-curricular activities. For instance, he excelled in tennis and was the school's tennis team captain. Besides, he played squash.
WillNeff went to Elon University and eventually graduated with a Master's degree in Film. Afterward, he moved to LA to build his film career.
How Did WillNeff Get Started Gaming?
WillNeff started playing video games on his uncle's laptop. The first game he discovered was League of Legends (LoL). However, he wasn't that good at it. So he began watching other established LoL players to hone his skills.
WillNeff's pal, Hasan "HasanAbi" Piker, whom they met when working at The Young Turks, encouraged him to start streaming on Twitch.
WillNeff was hesitant at first, but after watching his buddy bring in some money, he gave in and created his Twitch channel in 2016.
WillNeff's Videos
Like every die-hard fan of HBO's trilogy, WillNeff had a lot to say about the final season of GOT. He subjectively renders his sentiments about how excruciatingly painful it is, for a dedicated team of film producers and directors could choose to subvert the expectations of millions of ardent viewers.
Isolating specific instances of epic failures in his view, he critiques the setting and ultimate wrapping of events.
Starting from the antagonist who commanded the largest army. Trained with faceless assassins. Had intrinsic motivation to win. And was protected by fierce fire-breathing dragons,
only to die from a minor stab from an ambidextrous John Snow.
He then rages on to an annoyingly lengthy monologue from Tyrion Lannister to the crowning of a crippled teen; a human barricade between two realms, to the final reunion of a war-tattered family.
This is after 10 long years of anticipation, subscriptions, and suspense.
His parting shot, even with so much limitless power, the entire film production team was able to colossally fail that they deserve to never touch another filming gig for the rest of their lives.
In this phenomenally done video, the viewer is introduced to a seemingly happy and trash-talking WillNeff. Upclose videos reveal a free-spirited smiley face of WillNeff singing and dancing along to changing music.
The video then beautifully transitions to captions and fast-paced scenes of WillNeff's best stunts kills and skill exposition from the challenging 2021. Challenging for him because, within the span of 6 months, WillNeff had buried both his mother and a beloved brother.
Despite this, he still bounced back to do what he loved the most, streaming while giving comical commentaries filled with curse words and triumphing against seemingly helpless opponents.
WillNeff's Gaming Setup
As of writing, we couldn't find any substantial info regarding WillNeff's gaming setup. But we're still on the lookout for it. So best believe that we'll update you as soon as details about his streaming gear reach us.
WillNeff's Family
WillNeff's girlfriend is Caroline Kwan, and they have been seeing each other for several years now.
Caroline identifies as a horror screenwriter. But she's also appeared in various shows, including Chicago P.D., God Incorporated, and The End of Us, meaning that acting is a passion she shares with WillNeff.
Although Caroline currently lives in California, she comes from the Midwest.
Like WillNeff, Kwan is well-educated. She holds a Bachelor of Arts in French, Theater, and International Studies, having attended Saint Louis University and underwent Université de Poitiers Erasmus Mundus Program.
In addition, these sweethearts are pretty close, and they support each other on all counts. For instance, Caroline went to social media to let WillNeff's fans know that he was faring well when he tested positive for Covid-19 last year. They even keep a pet dog named Farley.
WillNeff's Net Worth and Career Earnings
As of writing, Will Neff boasts a net worth of $5M. Check out the income streams that have seen him bring in this much:
YouTube
YouTube is a dependable source of income for WillNeff. His 35K-subscriber YouTube channel has accumulated 1,319,028 views since he created it in May 2020.
Typically, celebrities make between $2000 and $4,000 for every 1M views their YouTube channels amass. Unfortunately, precise details about WillNeff's YouTube payouts are unavailable.
Still, we're confident that the sum he earns from creating content on this video-sharing website has boosted his net worth.
Twitch
Will Neff has garnered massive fame as a Twitch streamer. His channel has lured in over 336K followers and amassed over 8M views. Usually, he broadcasts himself playing games such as Grand Theft Auto V, Just Chatting, Rust, Watch Parties, Among Us, League of Legends, and Call of Duty: Warzone.
See also: iiTzTimmy Bio
Esport Companies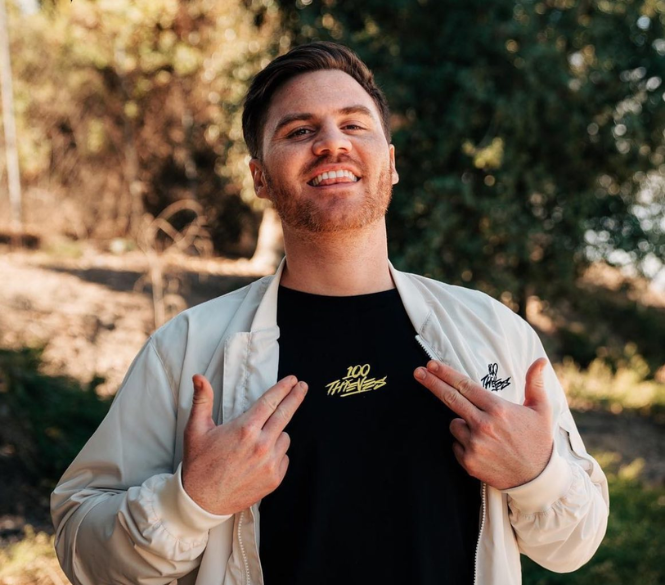 WillNeff joined 100 Thieves' content creation team in 2021. This gave him the chance to not only work with distinguished gamers such as Kyedae Shymko (check out Kyedae's bio) but also rake in a decent amount monthly.
Other Ventures
WillNeff has also indulged in more activities that have enabled him to earn some cash. For instance, he's entertained his fans at many comedy gigs. In addition, he worked as one of BuzzFeed's producers and an actor/writer for The Young Turks, a popular American news commentary show.
Will Neff's Retirement and Post Professional
According to our research, WillNeff isn't contemplating retirement right now. His social media activity shows that he's still in the game and more determined to keep entertaining his vast pool of fans. Since he hasn't spoken about ending his streaming/pro gaming journey, we also have no info about his desired post-professional ventures.
Will Neff's Merch
WillNeff is yet to establish a merchandise store. But if you're searching for his merch, you shouldn't worry too much about it as we have independent designers providing WillNeff-inspired items on Redbubble. Check out some worth considering:
Here's a fashionable t-shirt that checks all boxes. It's made from a durable cotton material, which is super soft to maximize your comfort. Last week's STOLEN AESTHETICS, its designer, gives you endless sizes and colors. This tee comes in many designs for different users, including the graphic tee, active tee, v-neck t-shirt, and fitted scoop t-shirt.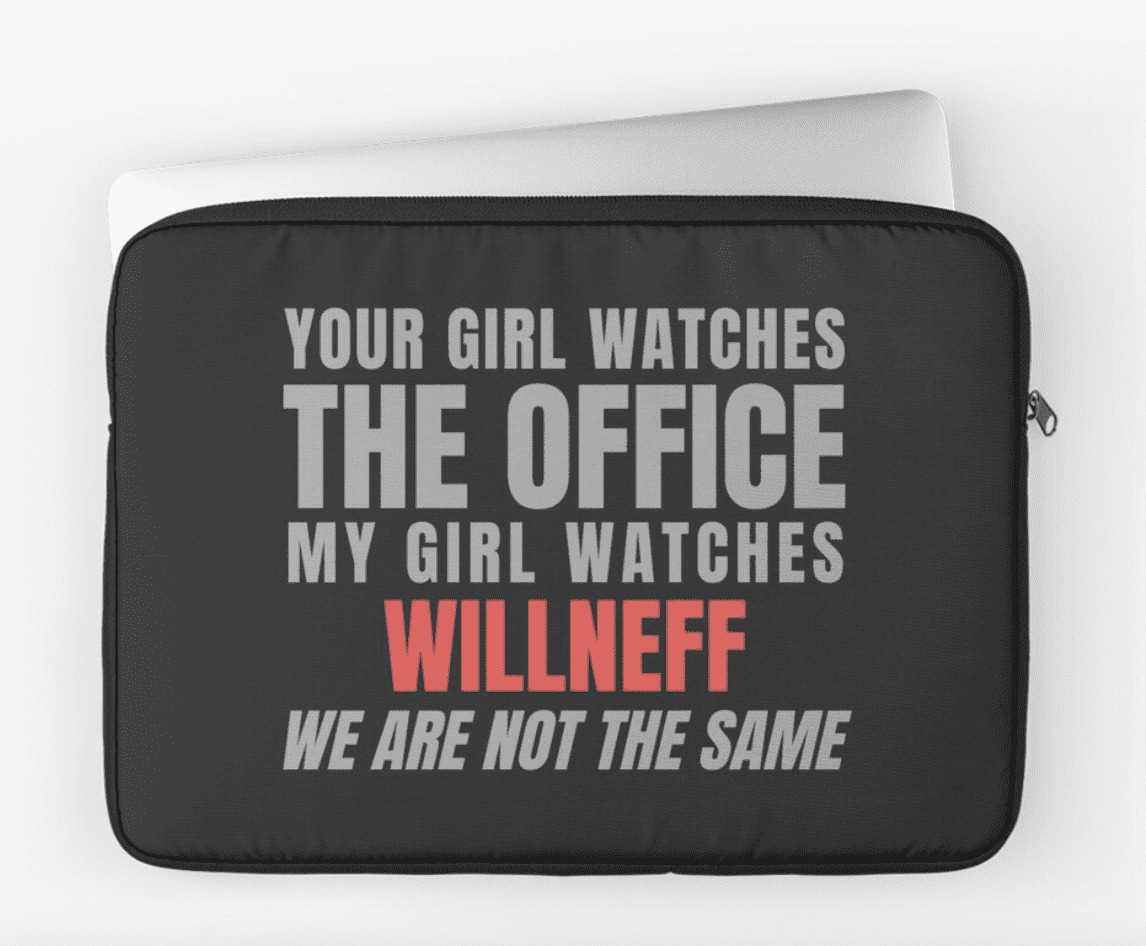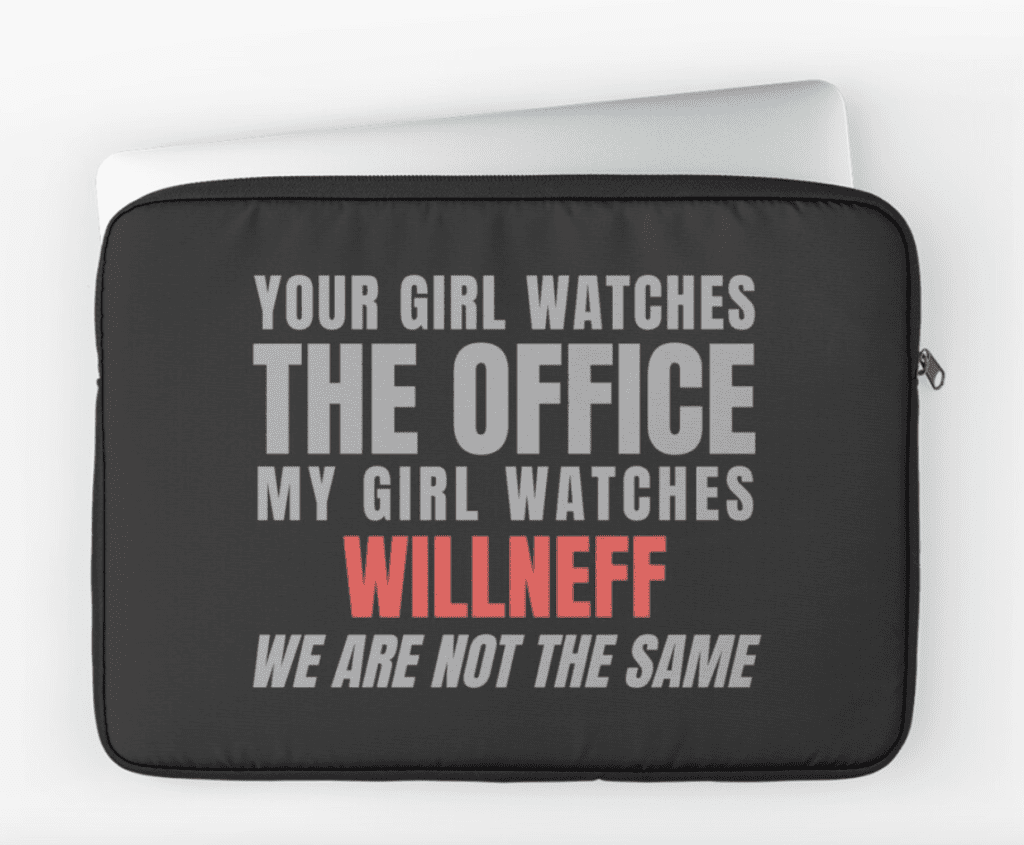 Check out this elegant laptop sleeve inspired by WillNeff. While its back is black, its front bears a durable print that reads "YOUR GIRL WATCHES THE OFFICE MY GIRL WATCHES WILL NEFF WE ARE NOT THE SAME." This pouch also features a black zip, edging, foam padding, and quality polyester cover. Feel free to utilize a damp cloth to clean it – it's that simple!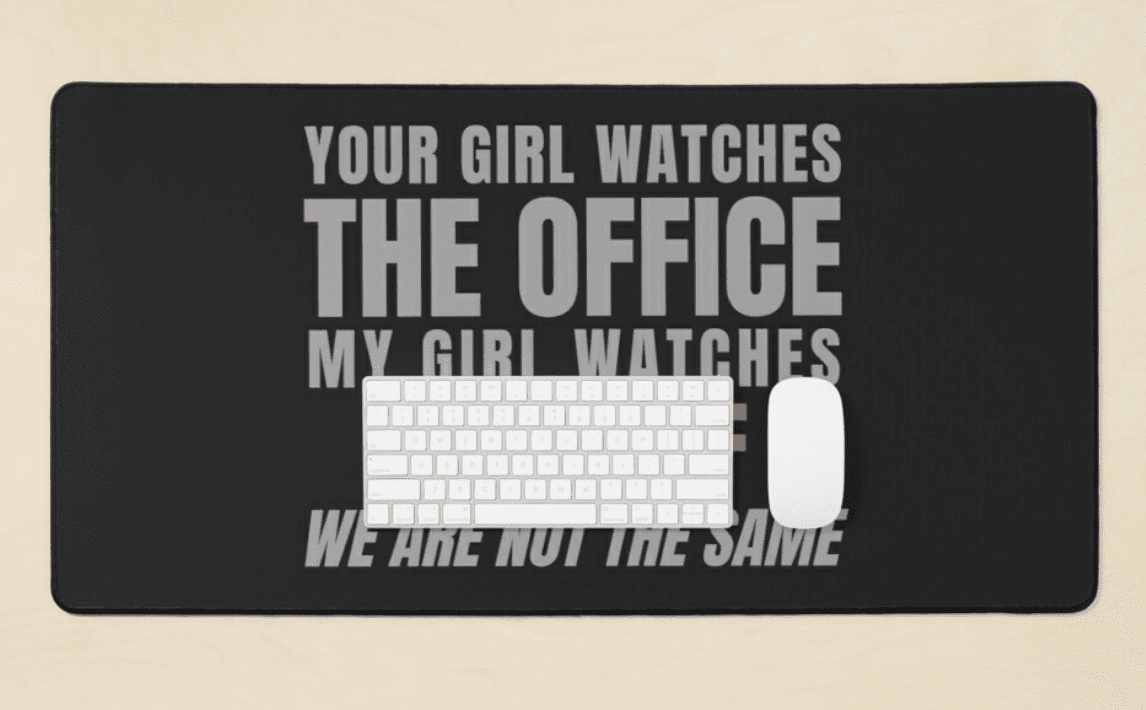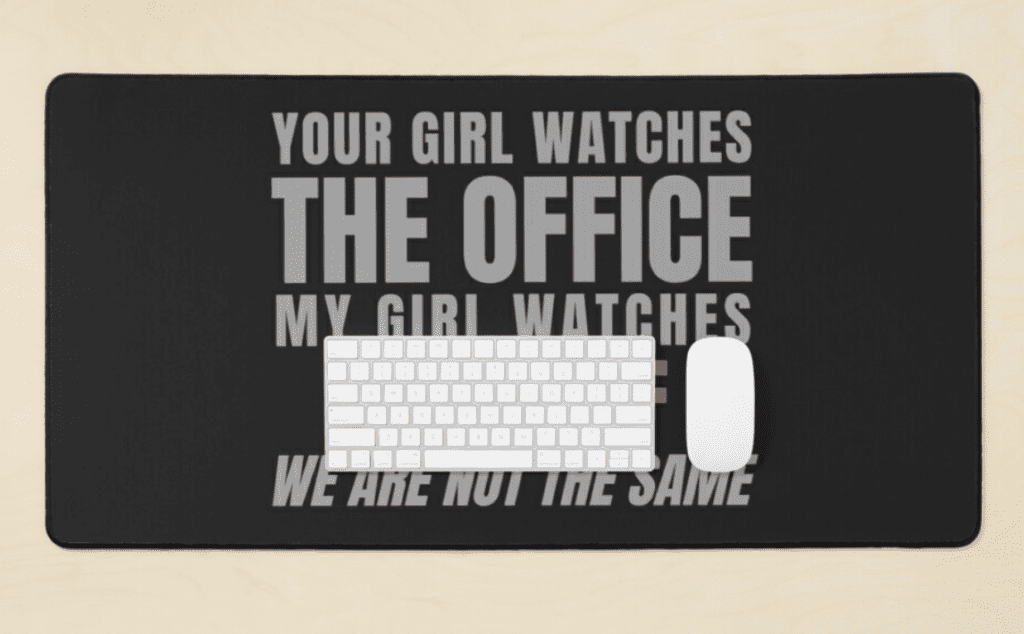 Consider this top-quality mouse pad with anti-fray edges and an anti-slip rubber base to enhance its usability. It is ideal for both laser and optical mice. In addition, it features a microwave polyester surface that gives you complete control of your mouse.
LAST WEEK'S STOLEN AESTHETICS also provides a desk mat, which is conveniently larger. And, it's constructed to last, enabling you to enjoy your money's worth.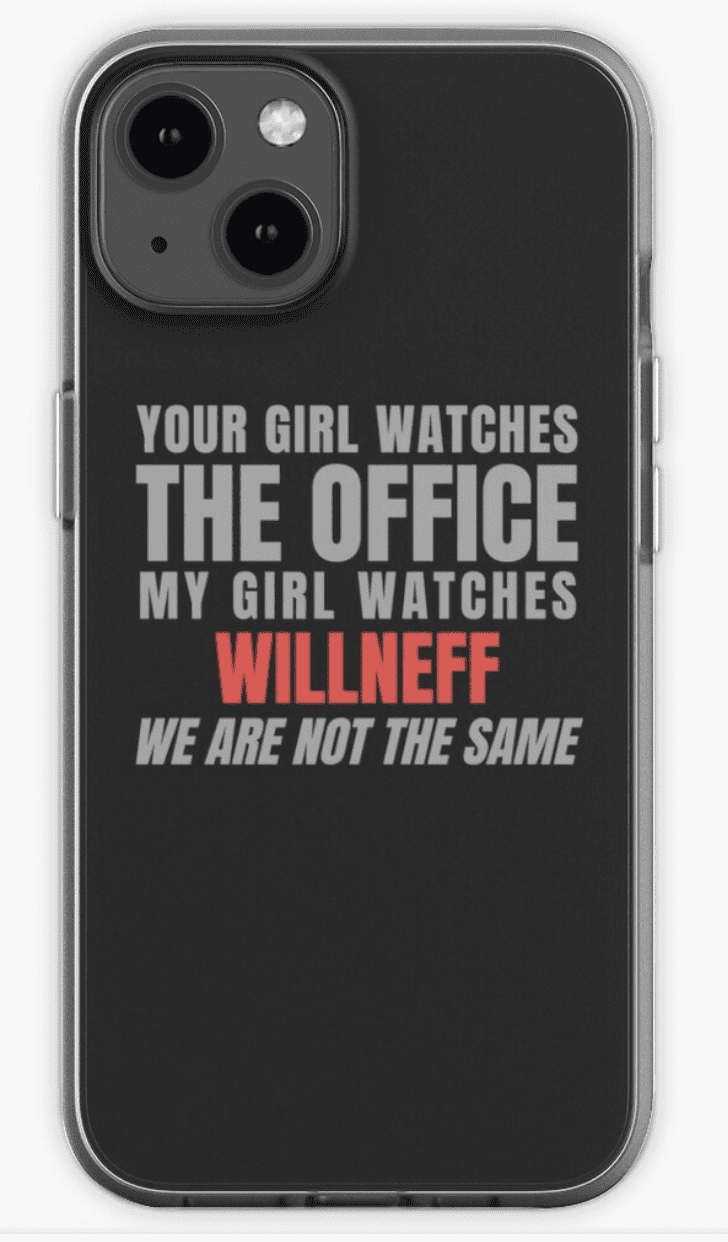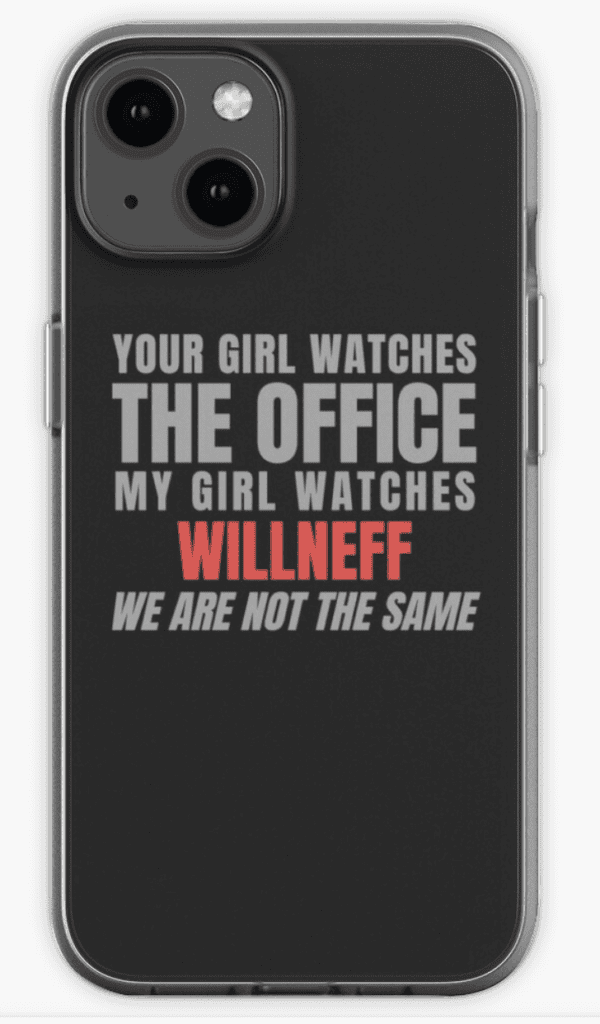 A well-built iPhone case is essential if you want to protect your device and ensure it serves you for long. Consider this option designed for 10+ iPhone models. It boasts an excellent pool of features that comprises durability, shock absorbance, and a durable print on its back. In addition, you'll be delighted to know that this phone case gives you full access to all your smartphone's ports.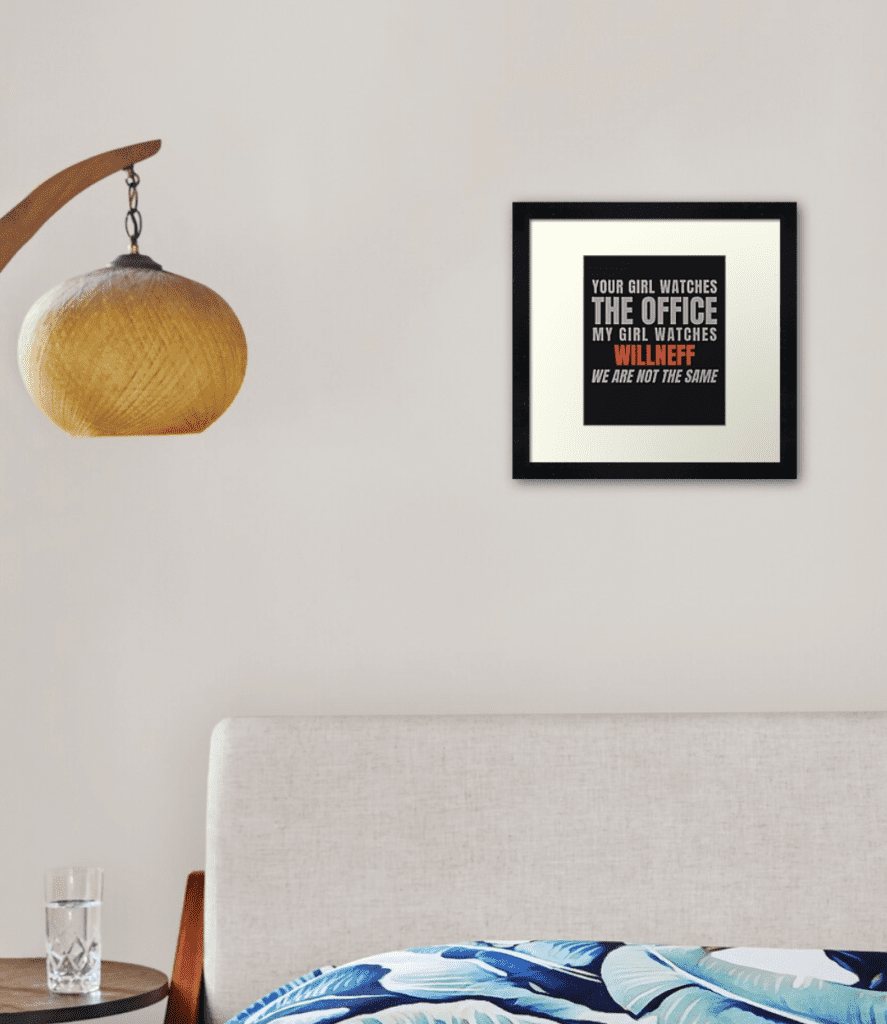 Are you looking for a unique art print to decorate your space and declare your liking for WillNeff? Then, this could be exactly what you need! It comes with a quality, lightweight acrylic pane, which is also ideally clear. Besides, it's available in various sizes, frame colors, and frame styles so that you're not limited to one.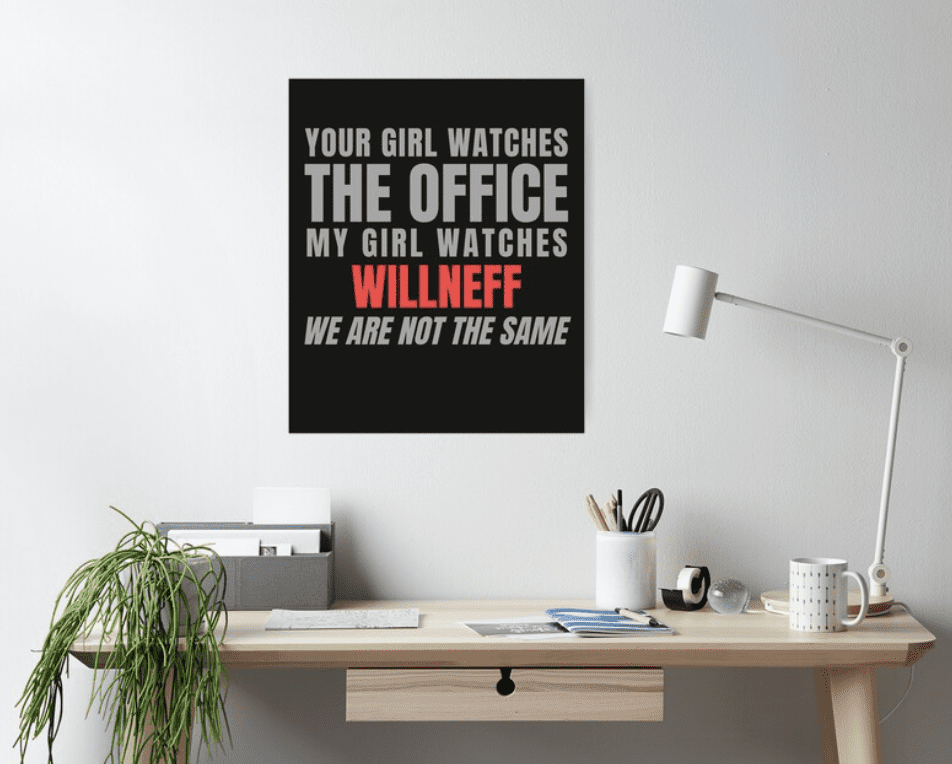 Here's another beautiful piece you can get to enhance your home or office décor. This WillNeff-inspired poster features a semi-gloss finish that makes it more noticeable. Moreover, it has a white border to help you frame it effortlessly. And it's provided in small and medium sizes to satisfy your unique décor needs.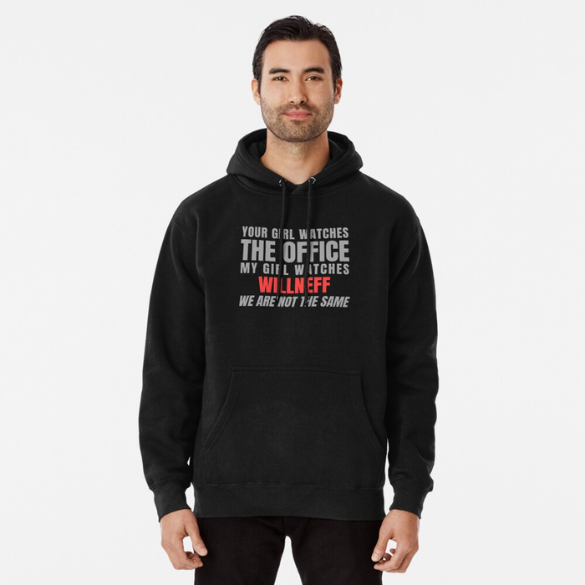 Chic, warm, and durable best describe this WillNeff-inspired hoodie, available in many colors, ranging from white, pale pink, charcoal heather, oatmeal heather, dark blue, and black. The front pouch pocket is handy when you need some storage space or a place to tuck your hands. Besides, this hoodie is constructed from durable, soft fabric to enhance your comfort.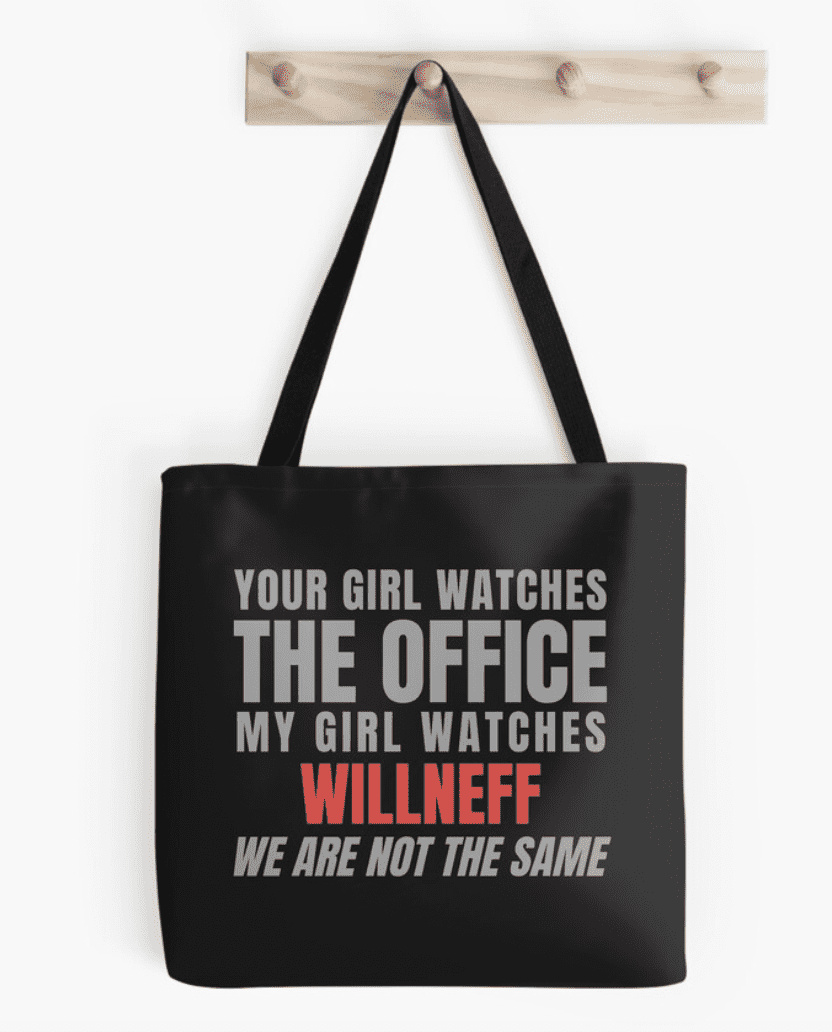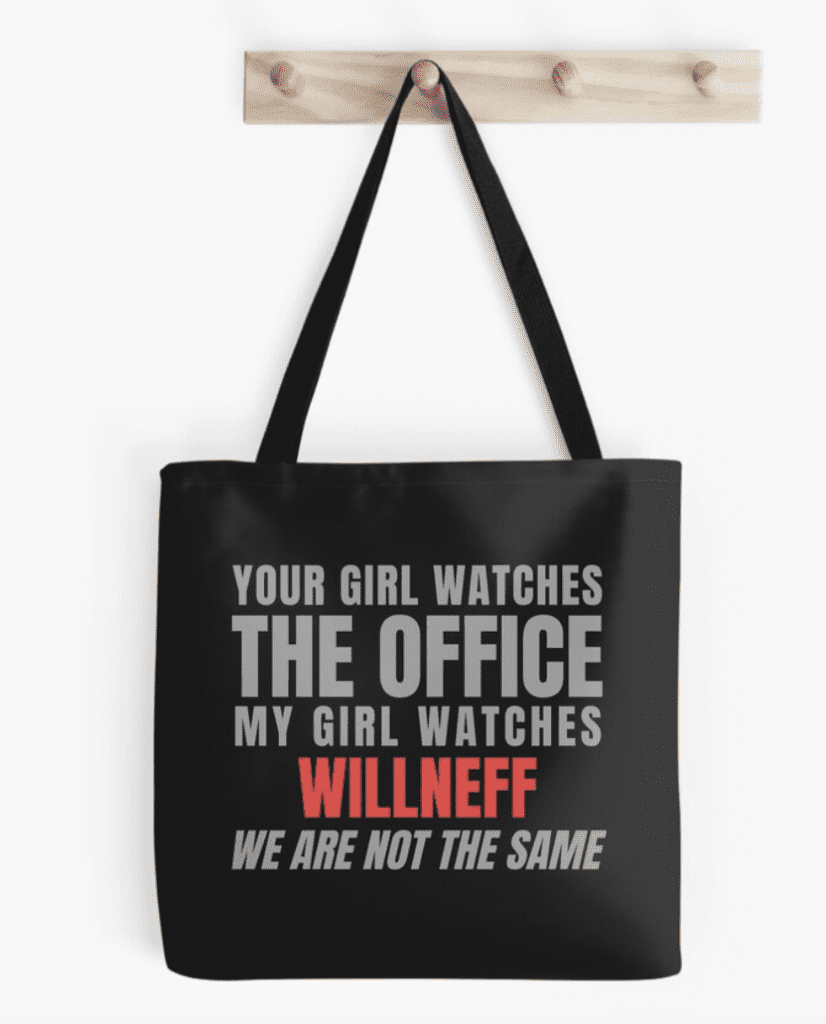 Get this sturdy, elegant WillNeff-inspired tote bag, which is also impressively versatile. Its shell is made from quality 100% polyester, whose maintenance is a piece of cake. In addition, the firm straps are manufactured from cotton, and you have several sizes to choose from.
Here's a classic ceramic mug that you can add to your kitchenware. It's ideal for taking both hot and cold beverages. In addition, you can use it as a piece of art to improve the visual appeal of our kitchen or office, thanks to its funny meme print.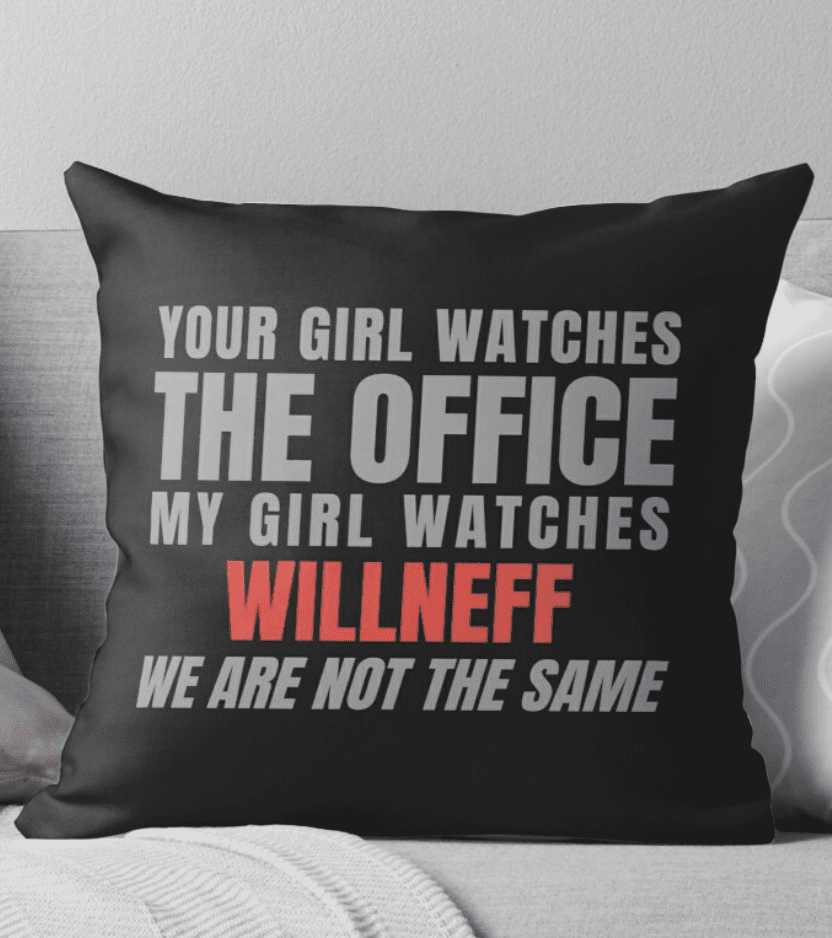 Check out this soft, comfy, and durable throw pillow that is convenient for decorating your living room or bedroom. Its cover leverages 100% spun polyester. You can buy it alone or together with its polyester insert. Furthermore, you have several sizes to select from, including 16 x 16 in, 18 x 18 in, 24 x 24 in, & 26 x 26 in.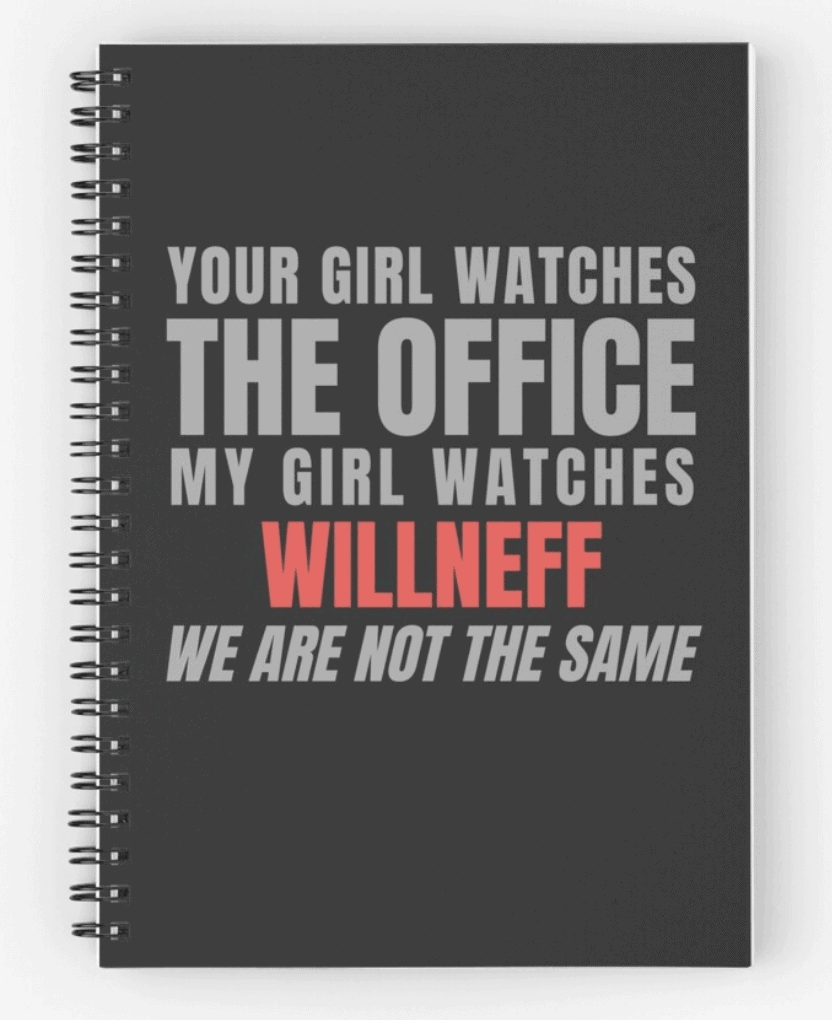 On the cover of this 120-page WillNeff-inspired spiral notebook, you'll find a meme reading, "YOUR GIRL WATCHES THE OFFICE MY GIRL WATCHES WILL NEFF WE'RE NOT THE SAME." Still, it has more interesting features, including availability in ruled and graph pages and a document pocket just inside its back cover.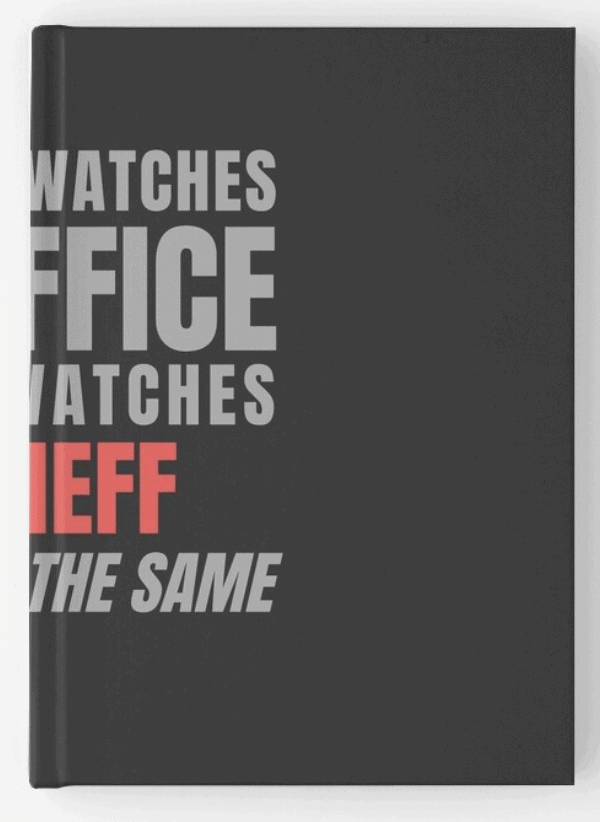 Boasting 128 ruled, graph, or blank pages, this hardcover journal is worth your cash. Its fully printed design enhances its overall look, so if you're a sucker for fancy items, this is it!
LAST WEEK'S STOLEN AESTHETICS also offers another WillNeff-inspired hardcover journal with a different meme but similar features as the one above.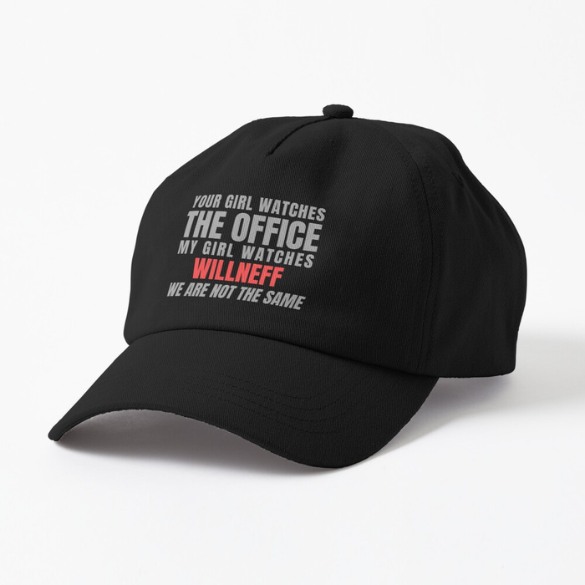 Do you fancy a classy cap to wear to any indoor or outdoor adventure? Check out this polo-style hat available in many colors: black, beige, white, and navy. Its buckle closure enables you to adjust your fit. It's also made from lasting fabric, meaning you can count on it to withstand the test of time.
This designer also provides a basketball-style cap. In addition, they sell another WillNeff-inspired dad hat boasting the same high quality.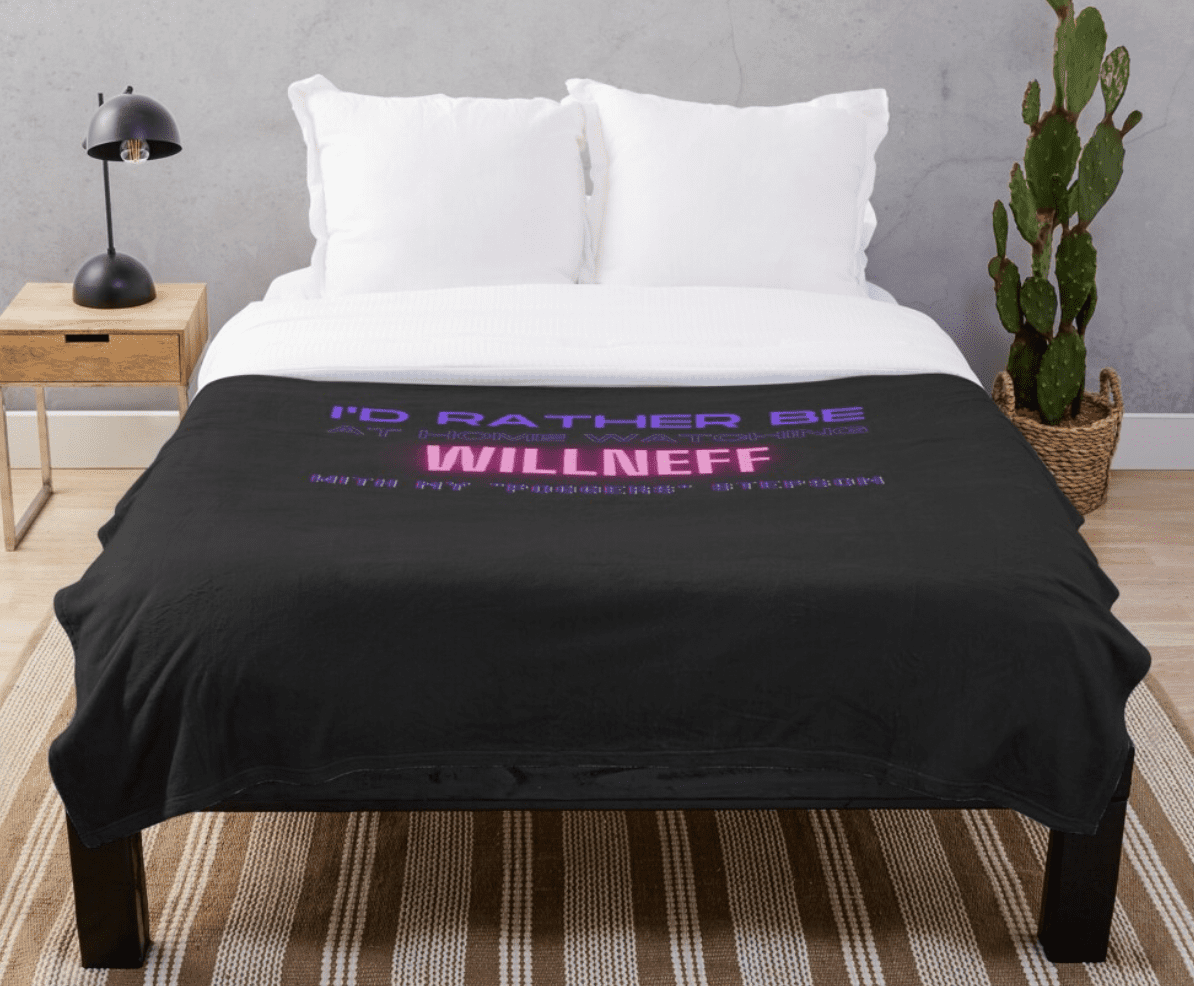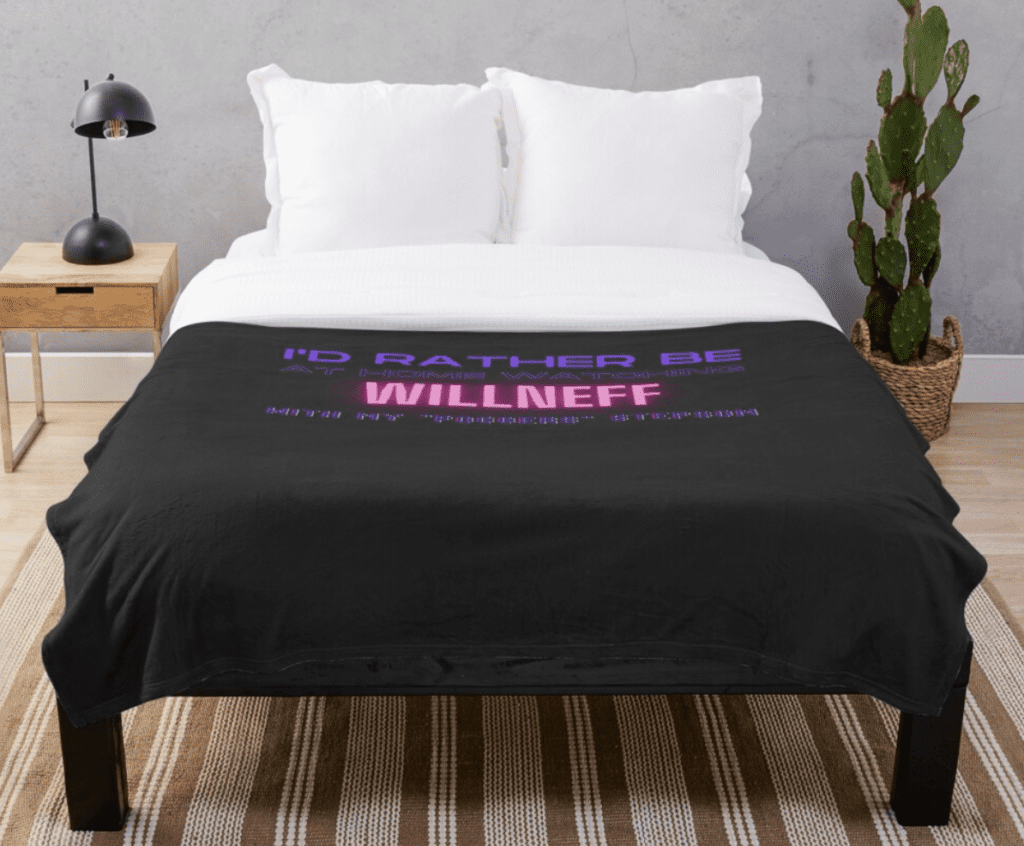 Are you hunting for a throw blanket? Mull over this option that's from 100% polyester fleece, which renders it soft, stretchable, and durable. In addition, you don't have to worry about shrinkage and wrinkles, making it incredibly convenient. Also, this throw blanket is machine washable, so maintaining it is a breeze.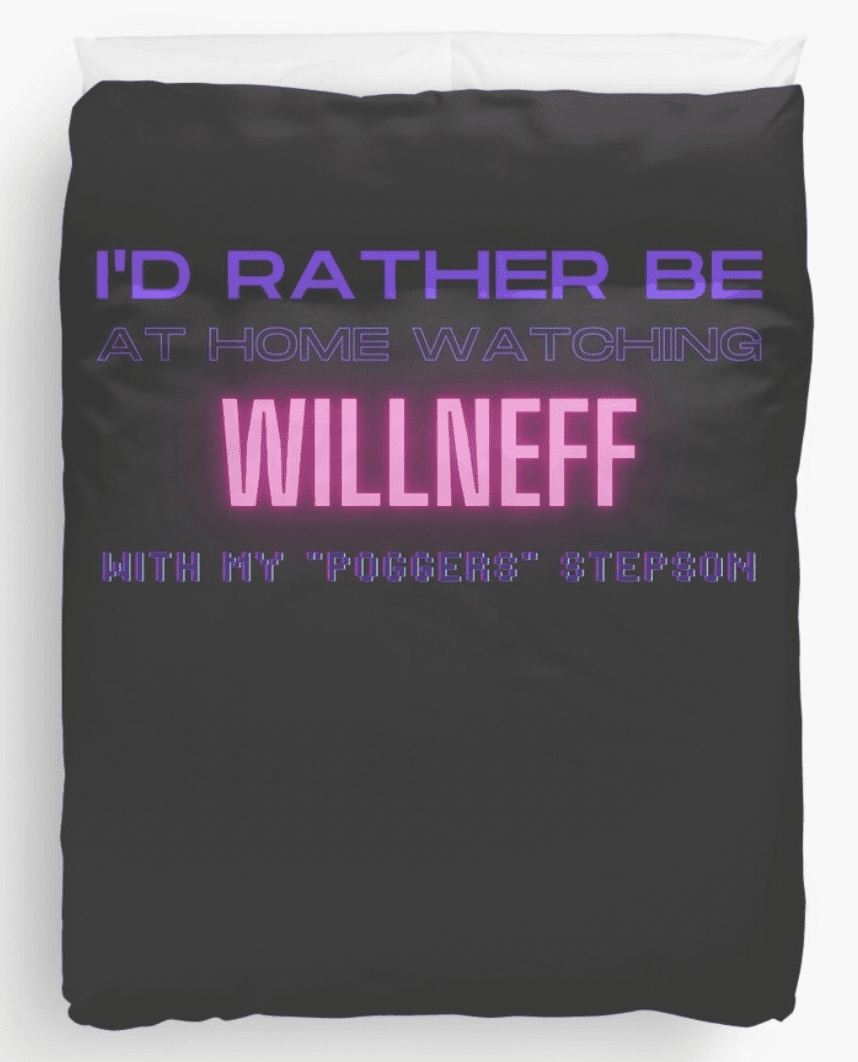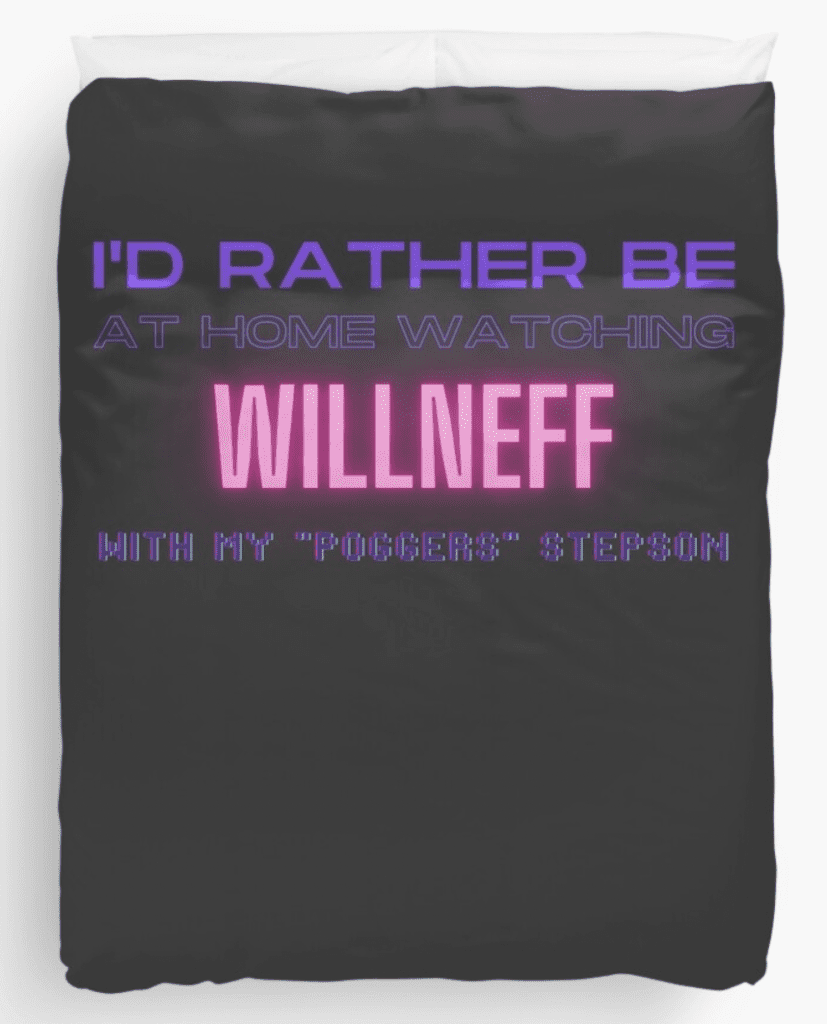 Check out this visually appealing, removable, and washable duvet cover inspired by WillNeff. It comes with internal insert ties and a hidden zipper opening to aid assembling. While its printed top is made from 100% polyester, its white back leverages a 50% cotton/50% polyester blend.
Unfortunately, this duvet cover doesn't come with an insert, so you'll have to purchase that separately.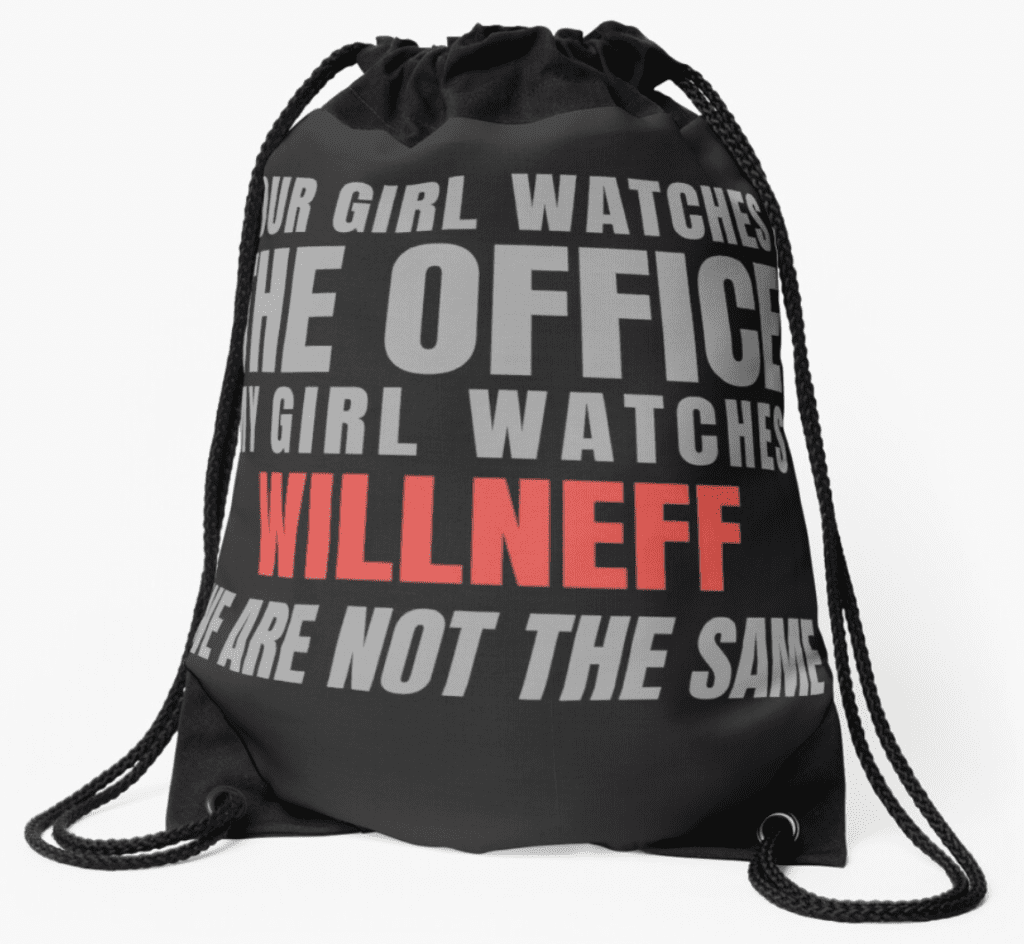 Supposing you've always wanted something flexible and durable to carry your stuff, give this WillNeff-inspired drawstring bag a chance. It's spacious enough to accommodate several things, and it's also sturdy so that you can rely on it. In addition, the strong drawcord is wide and soft to prevent straining your shoulders. Besides, it's made from quality polyester woven fabric to guarantee longevity.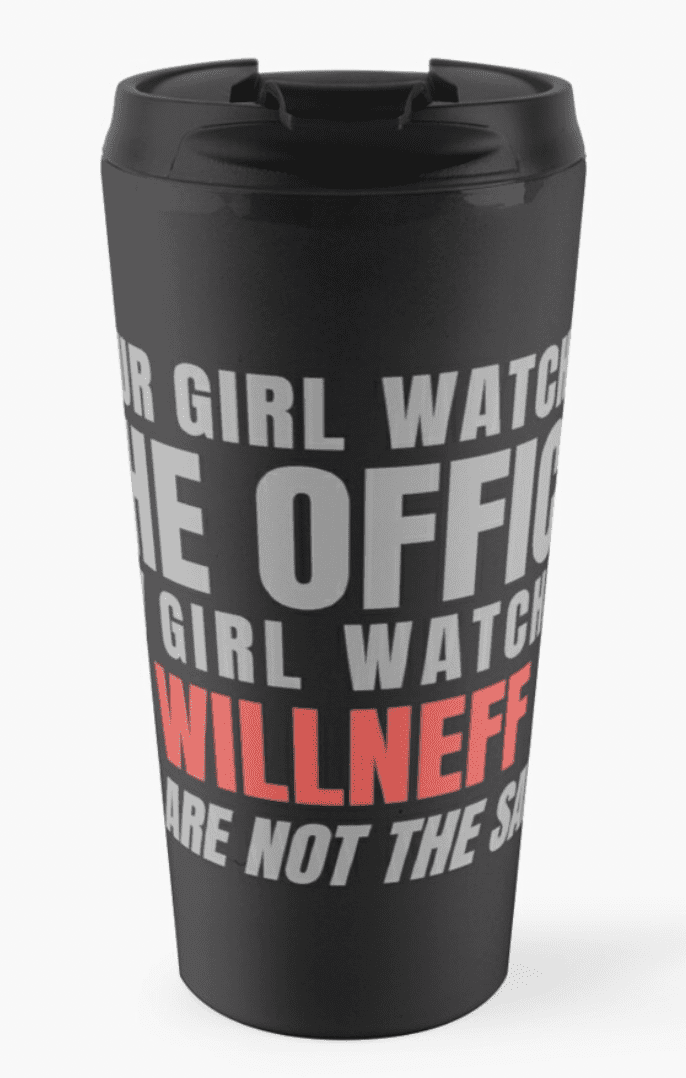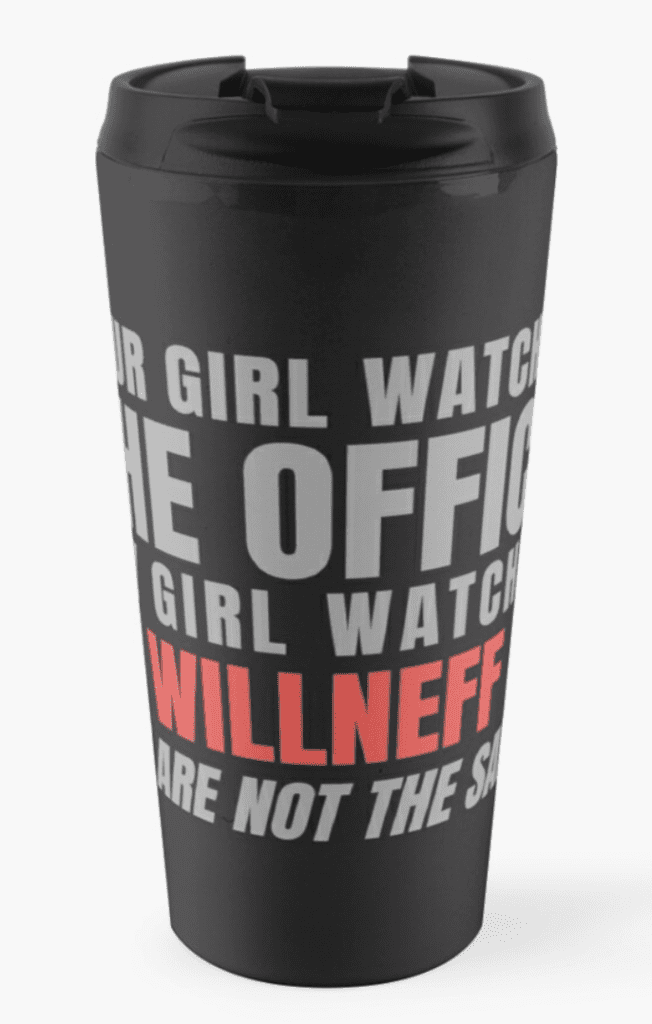 Check out this world-class travel you can get to carry your favorite drinks while you're on the road. Its base has a diameter of 2.5″, enough to fit in your standard car cup holder. Moreover, this travel mug, made from insulated steel, holds up to 15 oz. Plus, it comes with a polycarbonate lid to prevent spillage.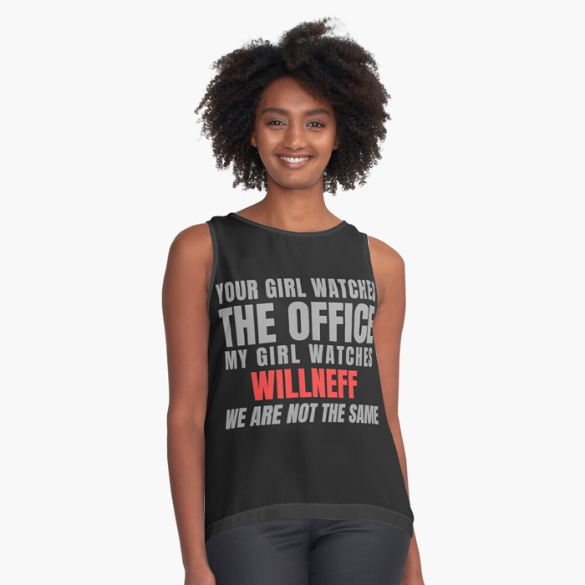 Here's a fancy WillNeff-inspired sleeveless top you can wear on hot summer days. You can order yours in white or black. And there are multiple sizes at your disposal, ranging from XS to 2XL. This top also comes with a loose flowy fit and durable construction.
If you're currently scouring the market for a round pinback button, consider this one brought to you by LAST WEEK'S STOLEN AESTHETICS. It's made from UV and scratch-resistant Mylar that allows it to last long. Also, it's available in small and large sizes.
Frequently Asked Questions about WillNeff
Question: Does WillNeff have any other interests aside from gaming?
Answer: Yes. WillNeff enjoys watching anime, football, and basketball and keeping fit.
Question: Where does WillNeff live?
Answer: WillNeff currently resides in Hollywood, Los Angeles.
Question: Is WillNeff married?
Answer: No. WillNeff is not married yet.
Recommended Reads:
Research Citations
https://game-news24.com/2021/11/02/100-thieves-sign-of-will-neff-as-a-content-creator/
https://toptwitchstreamers.com/streamer/willneff/#:~:text=WillNeff%20was%20born%20in%20Manhattan,of%20his%20time%20watching%20TV.
https://twitchtracker.com/willneff
https://twitter.com/carolinekwan
https://www.sportskeeda.com/esports/sick-dog-twitch-streamer-willneff-announces-tested-positive-covid-19