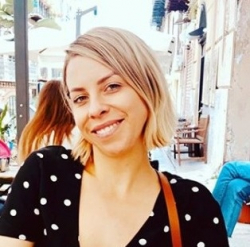 Latest posts by Jodie Chiffey
(see all)
If you're a huge Minecraft fan, you may have heard of Darryl Noveschosch, best known as BadBoyHalo.
He's an American Twitch streamer, YouTuber, and internet personality who previously went by the alias "thesaintsofgames."
Many people recognize BadBoyHalo as the host of MunchyMC, his Minecraft server. Besides playing this game, he streams many others on Twitch, such as Among Us, Undertale, Gartic Phone, and Genshin Impact, which he's also promoted on his 3.67M-subscriber YouTube channel.
BadBoyHalo's almost a decade-old career has seen him achieve triumphs that some upcoming gamers still think are beyond reach. These include winning tournaments, earning big bucks, and accruing over 9M+ views on Twitch.
This bio dives into the life of BadBoyHalo, the passionate player who's never lost sight of his dreams, despite being involved in several controversies and battling Covid-19. Like a majority of his supporters, if you are itching to figure him out, read on!
BadBoyHalo's Bio Facts
| | |
| --- | --- |
| Real Name | Darryl Noveschosch |
| Birthdate | April 2, 1995 |
| Birthplace | US |
| Nickname | BadBoyHalo |
| Height | 5 feet 9 inches |
| Nationality | American |
| Zodiac Sign | Aries |
| Siblings | BadBoyHalo has a brother and sister |
| Children | N/A |
| Spouse/Partner/Girlfriend | N/A |
| Games Played | Minecraft, Among Us, Undertale, Just Chatting, Genshin Impact, Gartic Phone, etc. |
| Net Worth | $300K |
| Social Media | Twitch: BadBoyHalo, YouTube: BadBoyHalo, Twitter: @BadBoyHalo, @SaintsofGames, Instagram: BadBoyHalo |
| Awards | N/A |
| Last Updated | May 2022 |
BadBoyHalo's Birthplace and Early Life
Badboyhalo christened Darryl Noveschosch, was born on April 2, 1995, in the United States of America. Although information about his family remains scanty, he has admitted to having two brothers and a sister.
The closest he ever came to divulging his father's name was when he released a video detailing his accident. In the video, he narrates how he rammed into a power pole that left the entire town in a blackout while driving his father's car.
Fast forward after that unfortunate incident, BadBoyHaloalo, worked with children with special needs before he sought refuge in his present passion, gaming.
How Did BadBoyHalo Get Started Gaming?
It is plausible that BadBoyhalo had prior exposure to gaming before he was thrust into the limelight at 17. And this may explain why he was able to confidently and creatively design thrilling 3D designs that wooed hundreds of viewers when he created his Youtube channel.
Psyched by the growing numbers of viewers and subscribers and increasing pleas to upload more videos, BadBoyhalo opened a Twitch channel to quench the thirst of his viewers.
Over time, his following astronomically shot, positioning him as a pro gamer within the Minecraft community. To better leverage this newfound fame, BadBoyHalo rebranded from his childhood name "TheSaintsofGames" to BadBoyHalo.
Minecraft Championships 16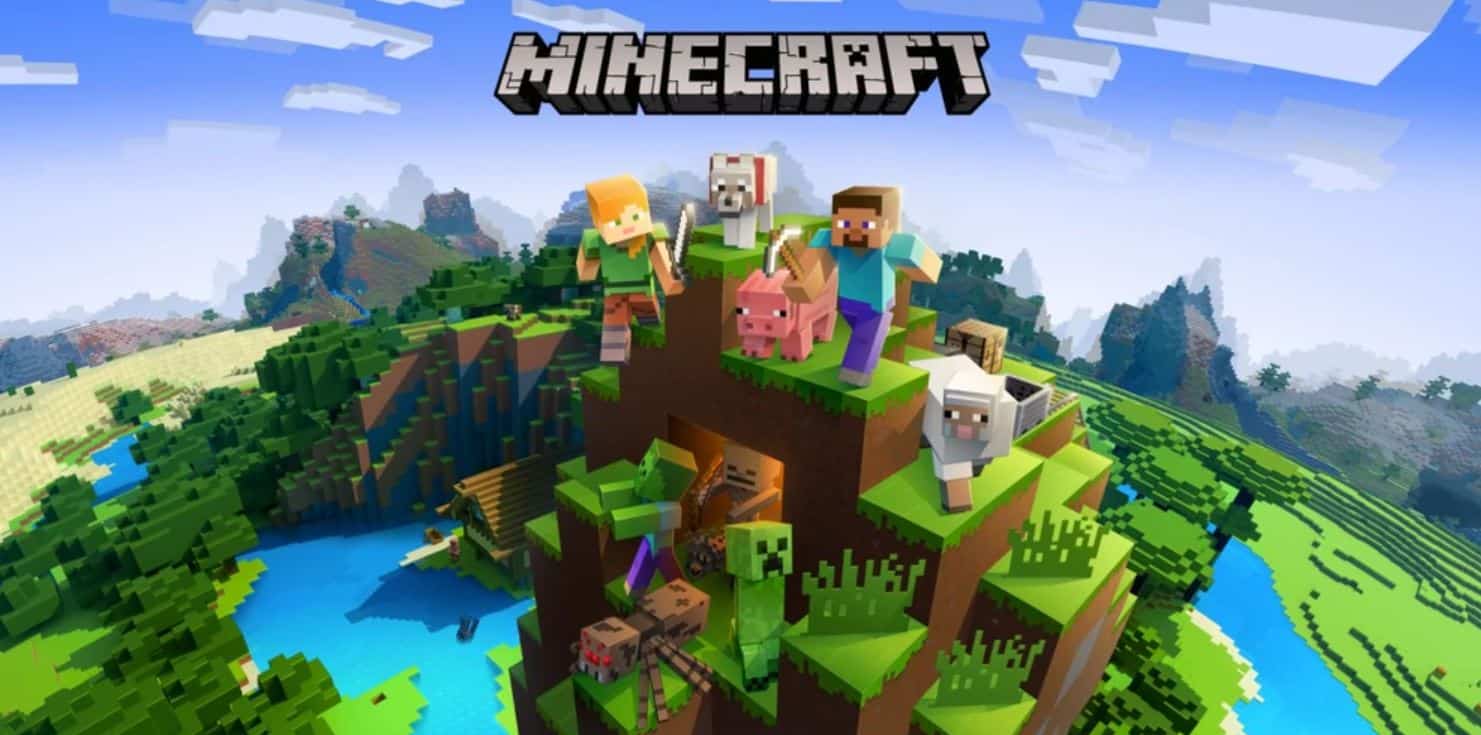 His streak of luck that could finally place him as a name to contend with came when he started participating in Minecraft Championships. His first ever was the MCC16, where he placed 16th solo and 2nd as a team that had his friends Seepeekay, F1NN5TER, and Dream.
Minecraft Championships 2
His second stab at bagging the coveted trophy and place at the podium was in the MCC 2. He registered as a team with Skeppy, RT games, and Toxxxicsupport.
But unfortunately, fate dealt them a low blow on the tournament day when his longtime friend and teammate Skeppy overslept and couldn't be reached even via messaging apps. This effectively dimmed his desire to get a seat at the podium once again as a team.
Trio Disbanded
The last blow on his gaming partnership with Skeppy came knocking in February 2020. In the unfortunate incident, their Youtube channel Trio got disbanded. However, they appealed and got reinstated, and Skeppy finally took over the channel while BadBoyHalo directed his energies to his other channels.
Fortunately, these unfortunate happenings have not severed the bromance between Skeppy and BadBoyHalo. If anything, they are still buddies who troll and stream together to date.
BadBoyHalo Controversies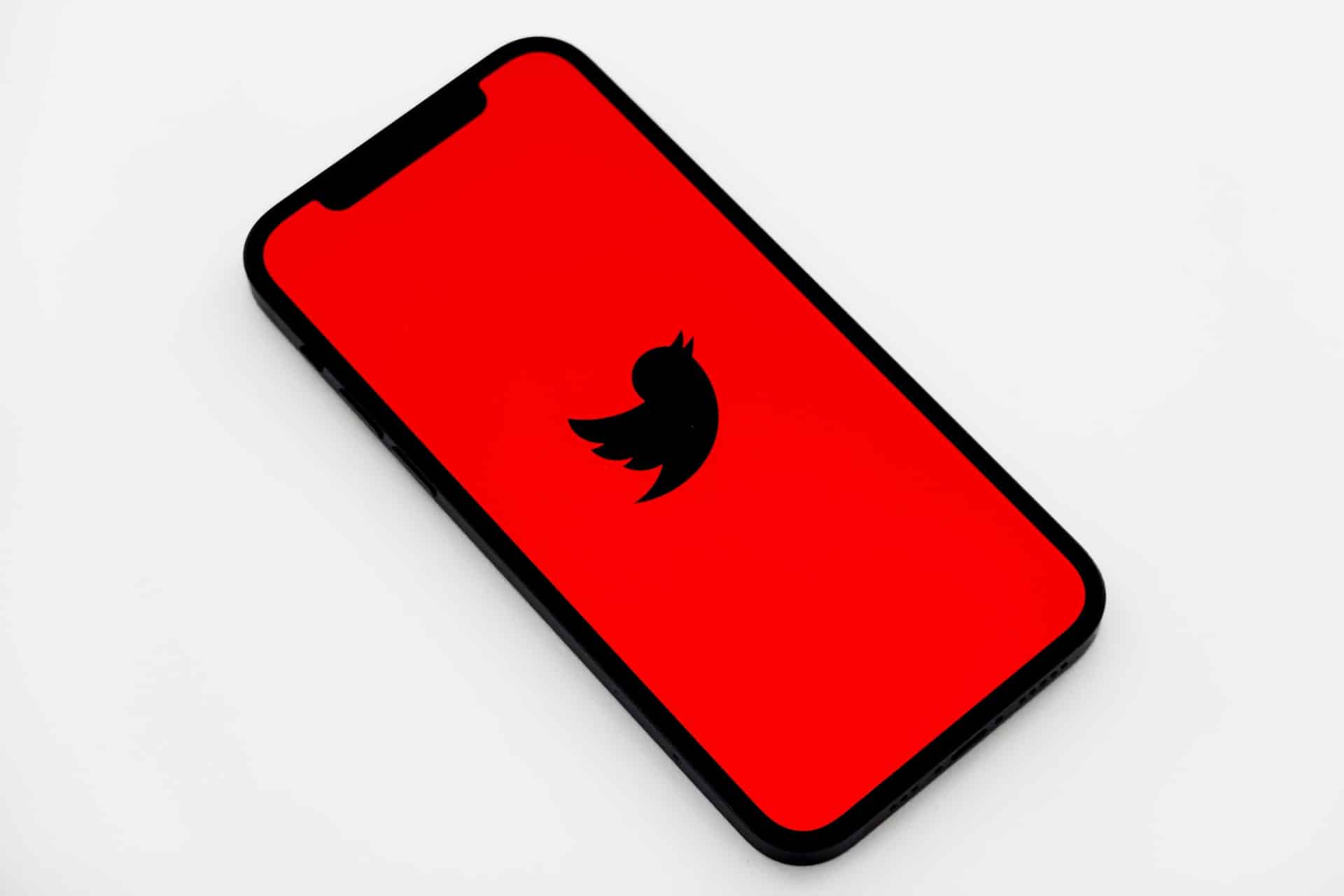 Like most celebrities in the limelight, BadBoyHalo has courted his fair share of controversies, key among them including;
Grooming Accusations
On November 2, 2021, many woke up to the chilling allegations splashed on Twitter by "XoLuciex." In the tweet, the unidentified user alleged that BabBoyHalo had an inappropriate conversation with the user when the user was 13.
Horrified by these allegations, the gaming community couldn't comprehend how such a respectable gamer could stoop so low. They demanded a response from him before pursuing legal redress.
To save face and clear the air, BabBoyHalo responded to the tweet and demanded evidence to back the alleged Paedophile allegations. His boldness stirred support that led to a trending hashtag #bbhsupport.
To escalate the allegations further, BadBoyHalo threatened to pursue the user for defamation and slander.
Scared and with no shred of evidence to back their claims, the user reappeared and apologized, claiming that the tweet was made by stupid and bored teens. They then deleted the tweet and scampered for safety, clearing BadBoyHalo of any wrongdoing.
Twitter Saga
On May 22, 2021, BadBoyHalo made a tweet that could later haunt him for days. The video tweet had "chicken enthusiast" Tiara Soliem unveiling her chicken live. And guess what, the chicken was BadBoyHalo. Sorry was named BadBoyHalo.
Baldness For $10K??
In a thrilling truth or dare game in August of 2020 held between longtime friends BadBoyHalo and Skeppy, BadBoyHalo was dared to shave for a cool $10k.
An Impishly smiling Skeepy was more than certain that his budding pal couldn't dare go bald, let alone in front of a face cam.
To his wallet's horror and celebratory cheers from his millions of subscribers, BadBoyHalo shaved clean while streaming to his enthusiastic fans.
See also: Sodapoppin Bio
BadBoyHalo's Videos
With the clock ticking, millions watching, and a reputation at stake, Skeppy and GeorgeNotFound agree to partake in BadBoyHalo's thrilling Minecraft venture.
Uncertain of what the blocks have in store for them, the two friends ferociously hit key buttons while a cackling BabBoyHalo cajoles them. Will they beat BadBoyHalo's intricate mosaic of puzzles that was built to trap and frustrate aspirants?
With two minutes on the clock, a thinning hope, and an ever resuscitating anime, the two have to bring their A-game. Impatient for the end, proceed to the video here.
There is a fun side to all of us. For BadBoyHalo, that fun side often radiates through the memes shared by his friend Skeppy. In this short video that merges comments, donations, and stream highlights, we get a glimpse of BadBoyHalo's exquisite gaming prowess, his badass personality, and everything in between. Itching for that front-row seat? Here you go.
BadBoyHalo's Gaming Setup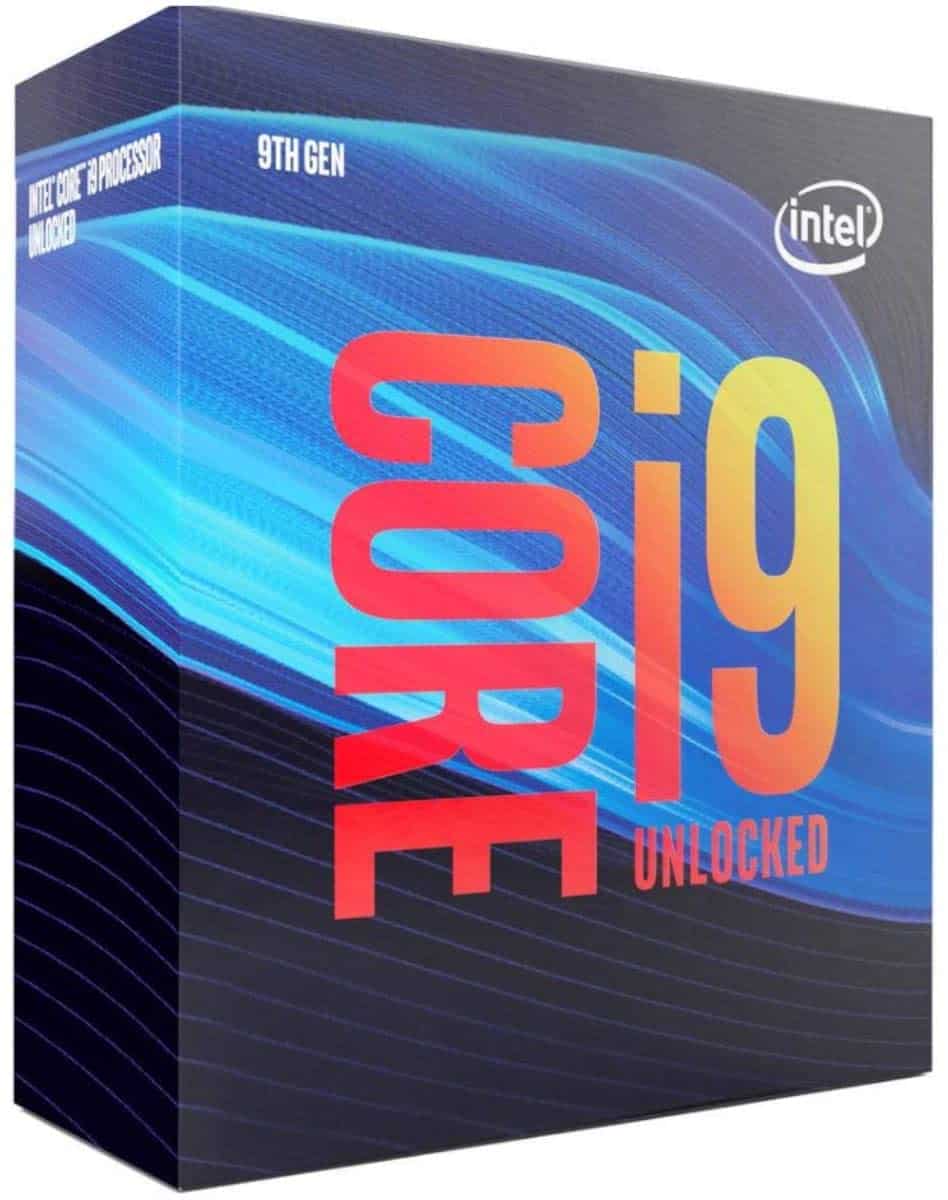 Every single component of this masterpiece is built with gamers in mind. This may explain why A-ranked gamers like Daequan Loco, Stableronaldo, and BadBoyHalo fancy it.
For starters, with its 5.0GHz turbo frequency, speed is an understatement. Pair this with a 16MB smart cache to ensure smooth running, and couple it with advanced Optane memory, and you can concur that the CPU leaves little to chance in ensuring that gamers get the most immersive and thrilling gaming experience.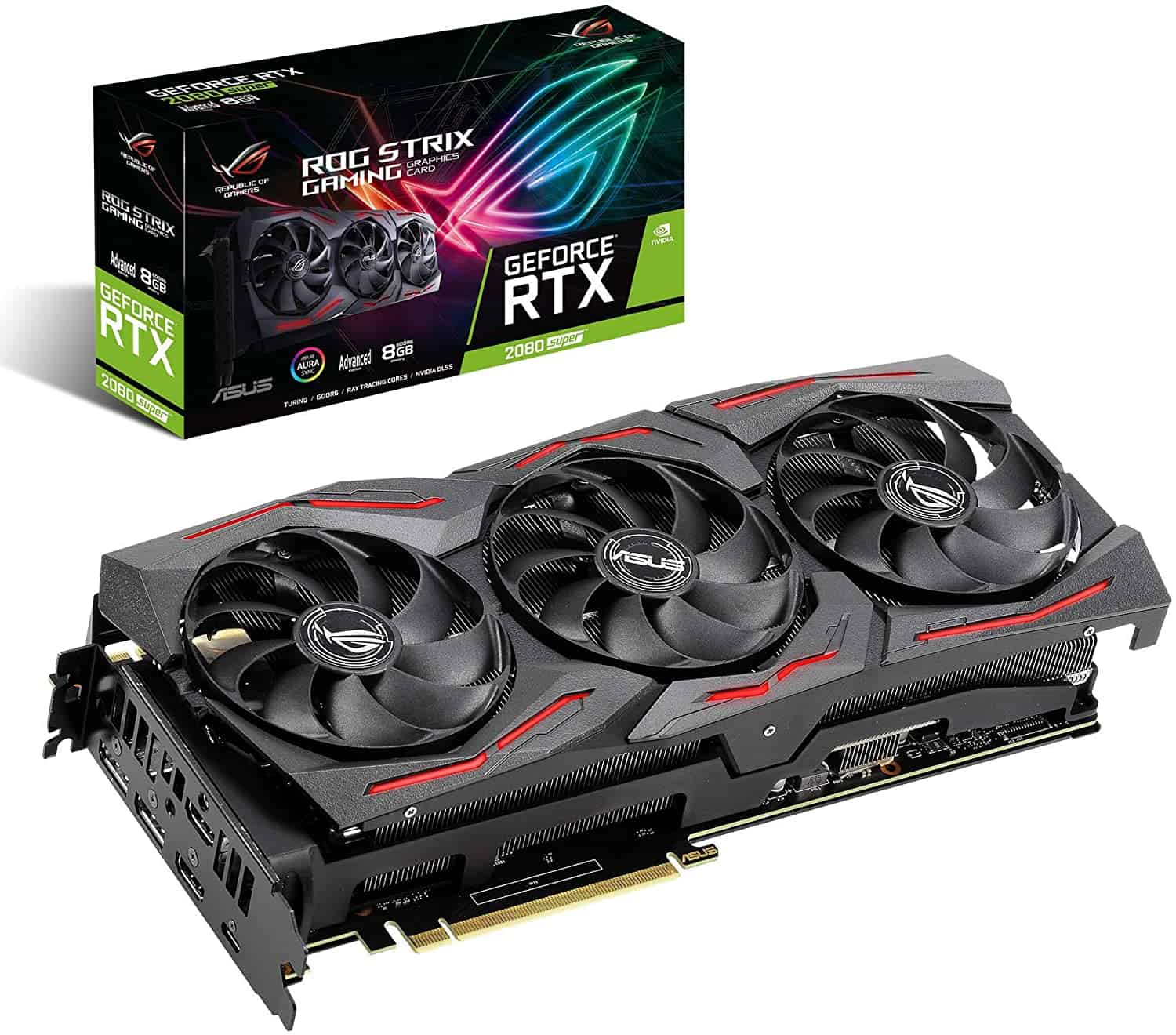 Badboyhalo and almost all other A-list gamers trust Asus to deliver magical graphic cards. The RTX 2080 enhances that trust. For starters, the RTX 2080 sets an epic stage for a breathtaking gaming experience. As Gronkh can attest, overclocking becomes a breeze with its gargantuan power delivery.
Further, its axial tech fans ensure optimal cooling allowing BadBoyHalo to focus on nothing other than the game at hand. Combine this with its new touring technological innovation, and he can enjoy up to 6X more performance than other normal graphic cards.
Other key features include new visual effects that guarantee real-life-like gaming, auto extreme technology that uses automation to improve reliability, and max contact technology that makes sure that the GPU gets 2X more contact for improved thermal transfer.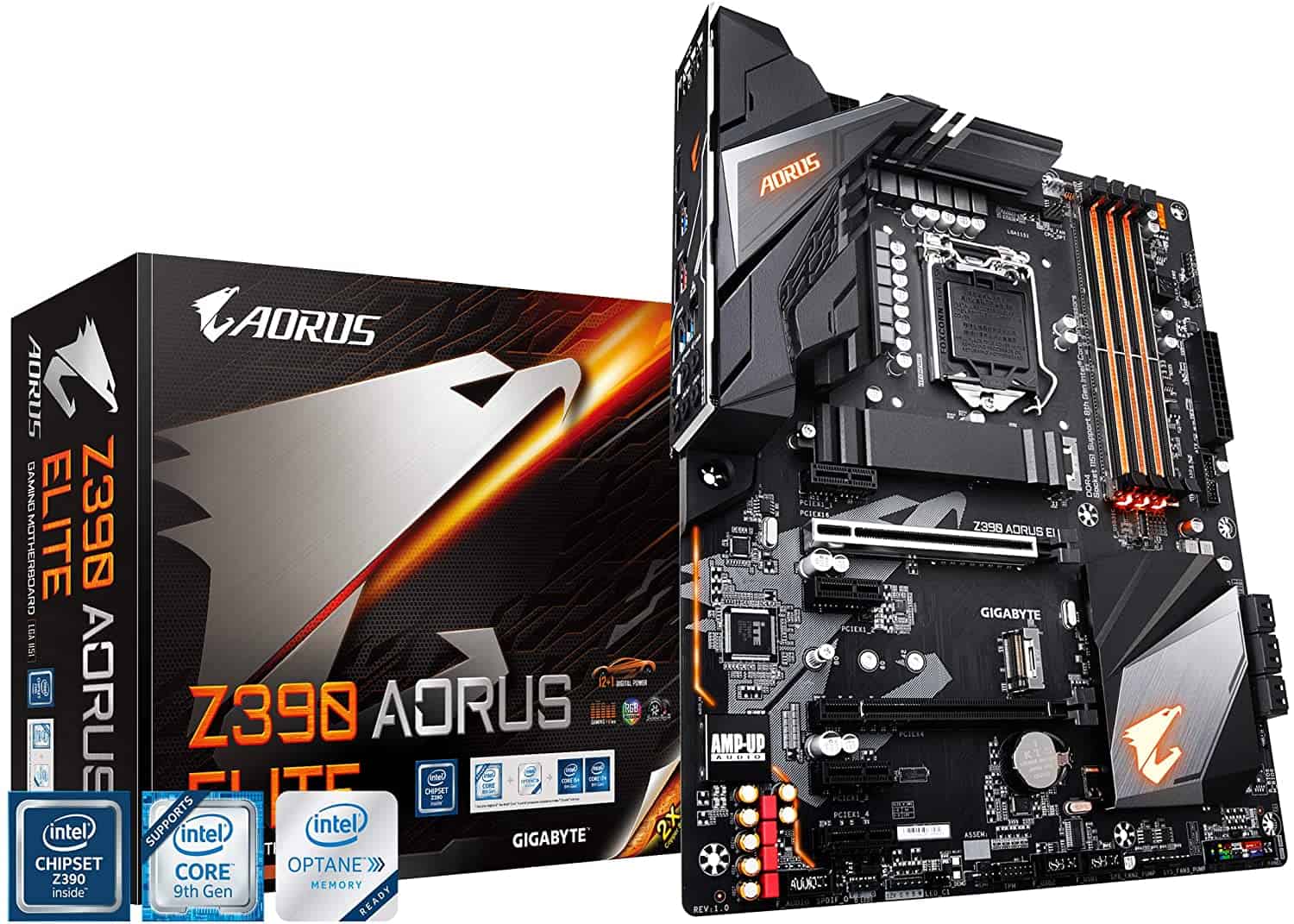 Like Valorant pro iiTZTimmy, BadBoyHalo leverages the legendary features of Asus's Z390 motherboard. The motherboard uses a digital CPU power design and power connectors to ensure that it delivers nothing short of optimum performance.
Vividly cheering on this performance is a unique RGB lighting as the board's smart fan 5 dissipates any heat produced.
To ensure that this performance is sustained, the board uses the M 2 thermal guard for durability, an integrated I/O shield, memory armor, and PCLe armor to guarantee prolonged utility.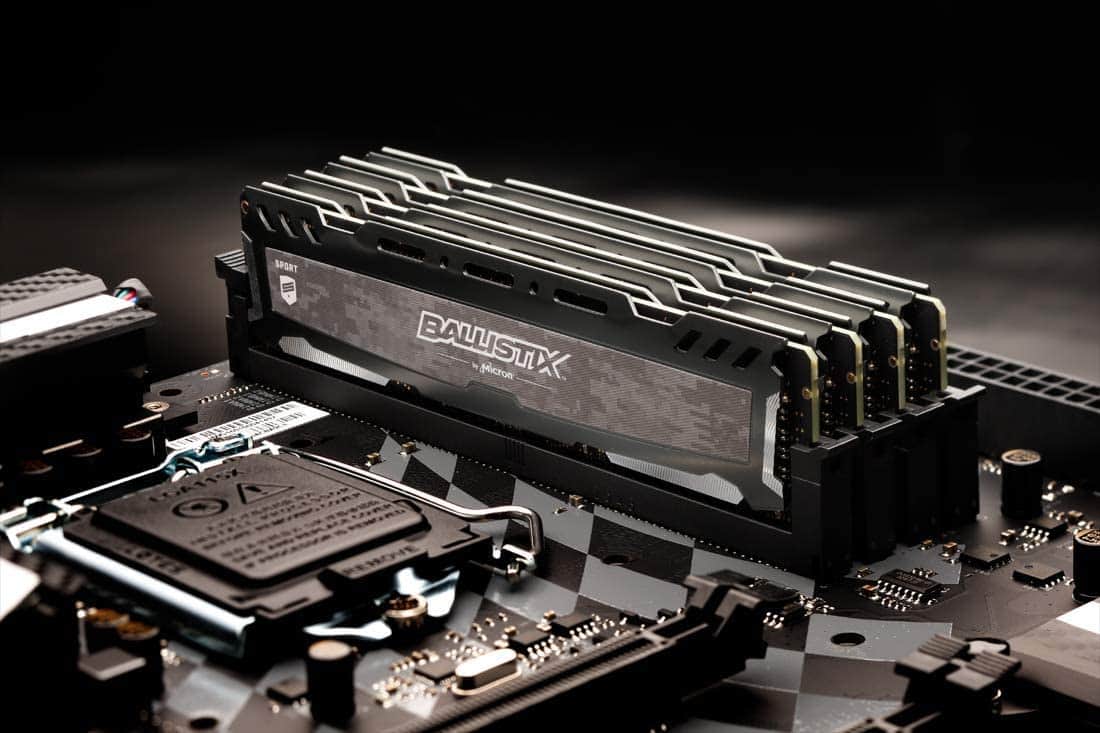 The Crucial Ballistix Sport LT is a premier Ram that is optimized for the latest Intel series and AMD Ryzen. It comes in two 16GB sticks that deliver a blistering speed of up to 2500 MB/s. Its terrific speed of 3200HZ matches the fast-paced frames pumped by BadBoyHalo's intel i9-9900K processor.
To quench the heat produced by this monstrous Ram is an accompanying Digital Camo heat spreader that comes in sheds of red, white, and grey.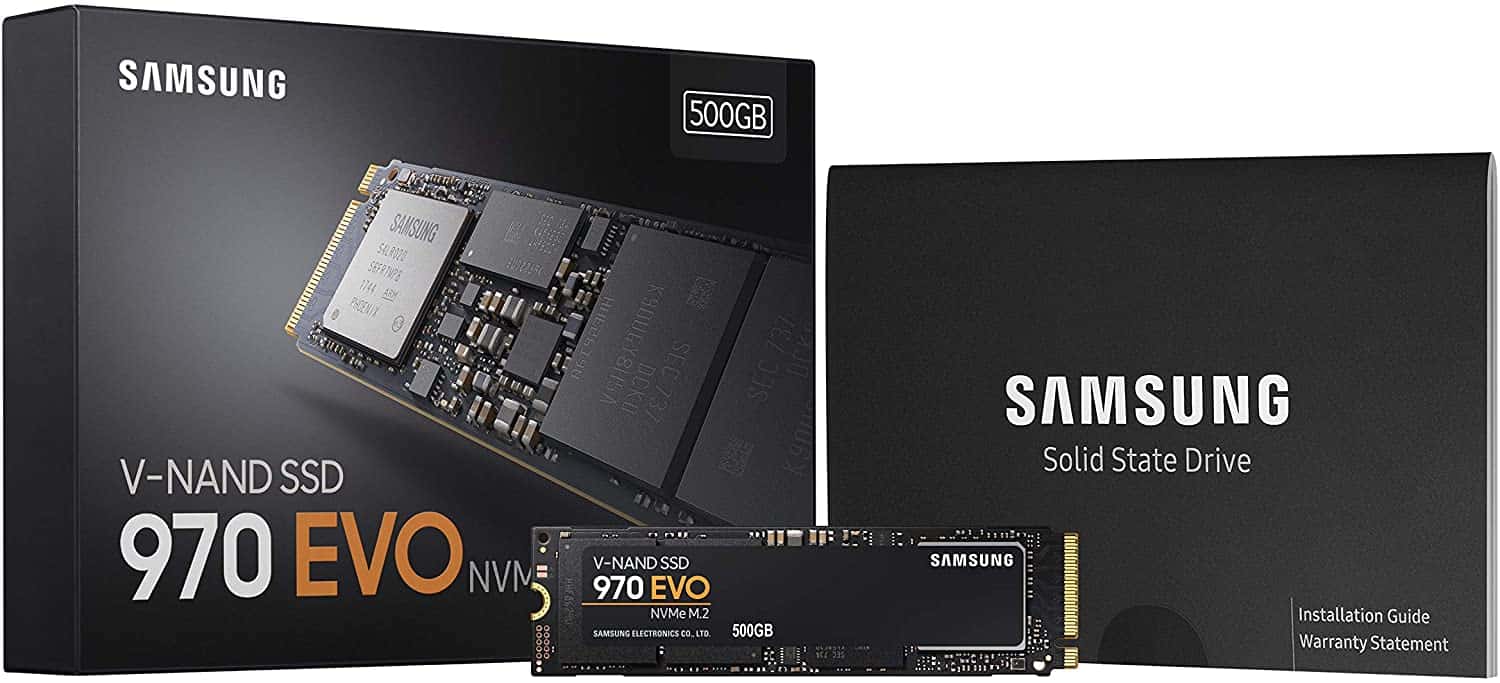 Like Stableronaldo, BadBoy Halo fancies vast storage capacities to satiate his ever-increasing storage demands. This is why he leverages the ultra-fast masterpiece SSD from Samsung to install his games and enormously large HDD from Seagate Baracuda.
Though different, the two drives tirelessly work to complement each other. The SSD rapidly reads and writes hundreds of MBs while the HDD willingly stores the clips.
With their unique optimization, BadBoyHalo can now relish in the beauty of terrific 4K graphics. It's powered by a Turbo-write technology and a self-encrypting drive technology that ensures constant safety for his data.
BadBoyHalo's Gaming Case: NZXT H510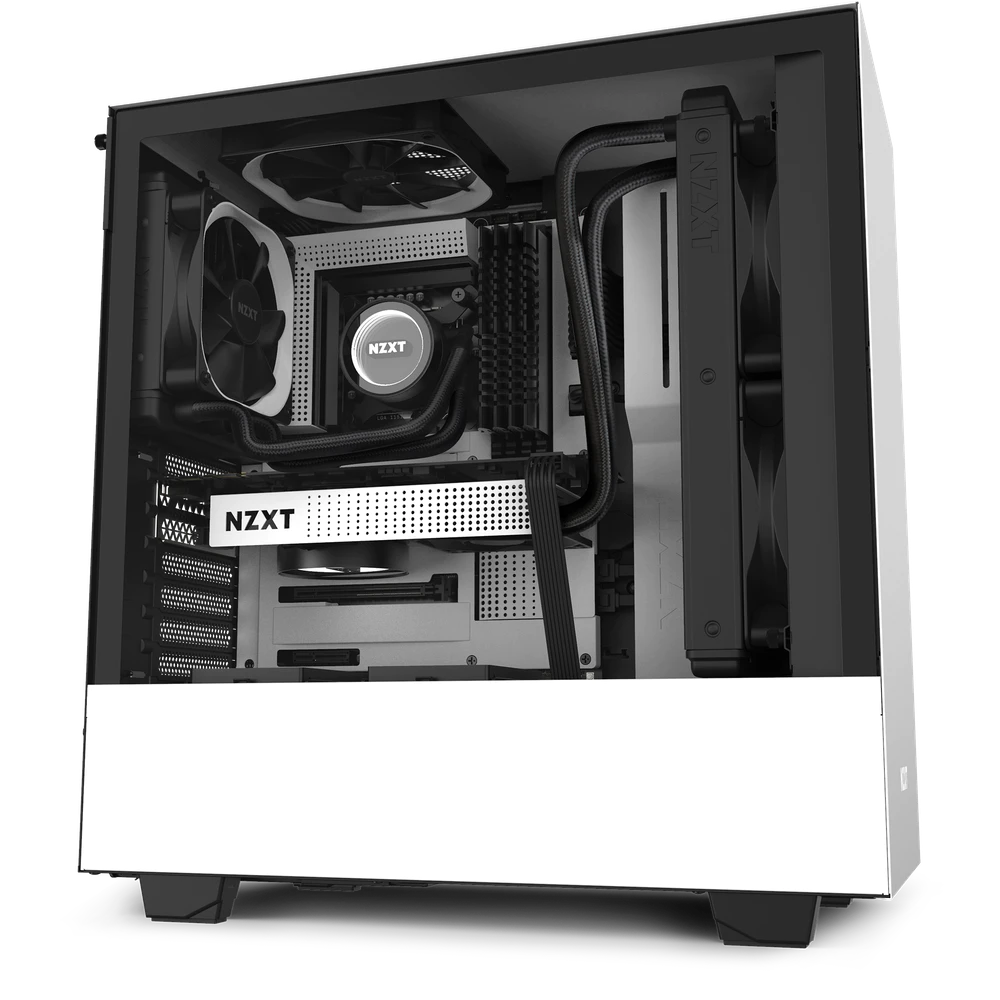 A case is like the dress of the gaming setting, and like every dress, a case should do a good job of protection and durability.
For BadBoyHalo, the H510 ticks these boxes. For starters, it dons an iconic cable management bar that beautifully packs them to minimize internal clutter. Flaunting this setup is a tempered glass side panel that exquisitely gives a glimpse of the case's unique cable routing kit that features pre-installed straps and channels.
To the front side of the case are generously spread gen 2 compatible USB-C connectors to ease connections. Finishing off is the case's design is a removable bracket designed for radiators up to 280mm.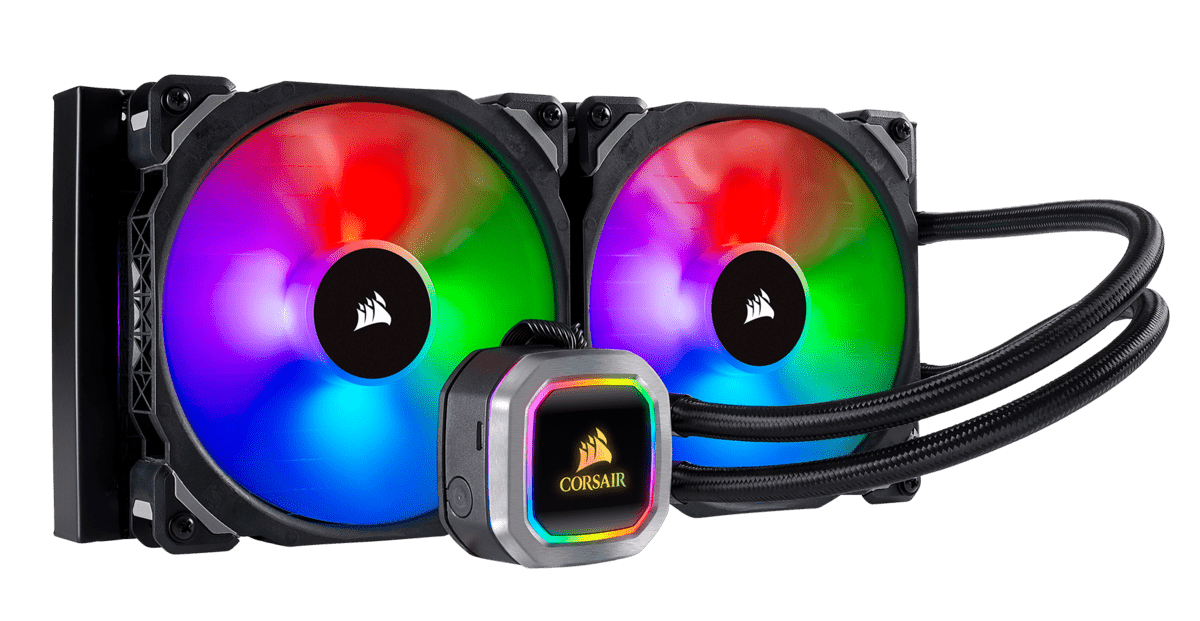 BadBoyHalo fancies the hydro H115i. This is an all-in-one cooling system with mind-blowing RGB lighting and a 280mm radiator.
Notable features include 16 individually controlled RGB LEDs that light up the pump head to produce a stunning colorful look during gaming.
Quietly dissipating the generated heat are fans running from 400 to 2,000 RPM while in operation to keep overheating at bay.
Other key features include a near-zero performance, thermally optimized cold plate for high performance and compatibility with the latest series of Intel motherboards.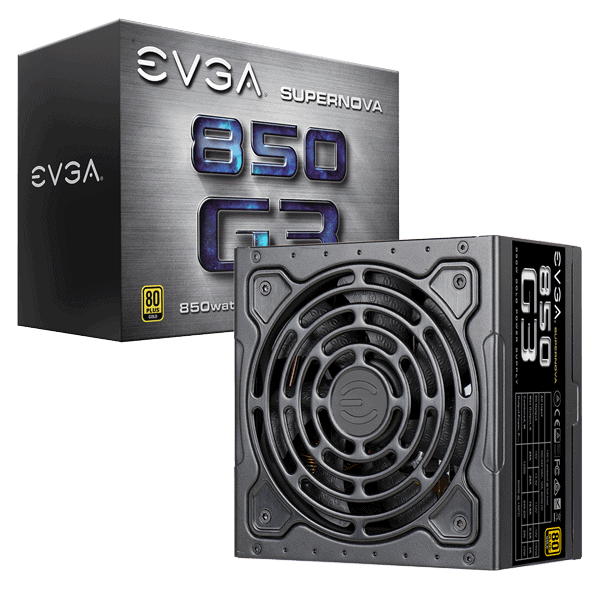 Nothing beats the sadness of a power outage on the verge of a new high score. Badboyhalo knows better than allowing that to happen. This is why he leverages EVGA's Supernova G3.
For starters, though,  the relatively small PSU packs impressive power capabilities that can give larger models a run for their money. Combine this with a hydraulic dynamic bearing fan responsible for better performance, quieter operation, and long lifespan. You will concur that it is indeed a gaming hack for BadBoyHalo.
Another mention worth the feature is its fully modular design to enhance better organization for BAdBoyHalo's many cables.
BadBoyHalo's Family
For years now, BadBoyHalo has firmly fixated his eyes on bettering his craft. And this may explain why he has had little to no time to pursue any publicly known romantic relationship.
Substituting this need for human companionship are his beloved pets, Mr. Hoppy and Leopard. Since childhood, the two frogs have stuck by his side until recently when they were joined by another loyal hound christened Lucy.
This is all we know as of writing but be sure to check with us for updates in case he replaces the dog with some human partner.
See also: Clint Stevens Bio
BadBoyHalo's Net Worth and Career Earnings
With his fame and expertise in Minecraft, BadBoyHalo's net worth stands at a staggering $300k. His main sources of income are;
Youtube

With a terrific 3.26 million subscribers, BadBoyHalo is sure to make a killing on YouTube. The channel formerly known as TheSaintsofGames was rebranded to BadBoyHalo and has from time to time played host to some of BadBoyHalo's live streams.
Considering that it qualifies for monetization, our estimates project it to rake in upwards of $30k-$48k annually. Top this with the periodic donations his viewers and subscribers send, and this figure may hit $50 plus in a good year.
Twitch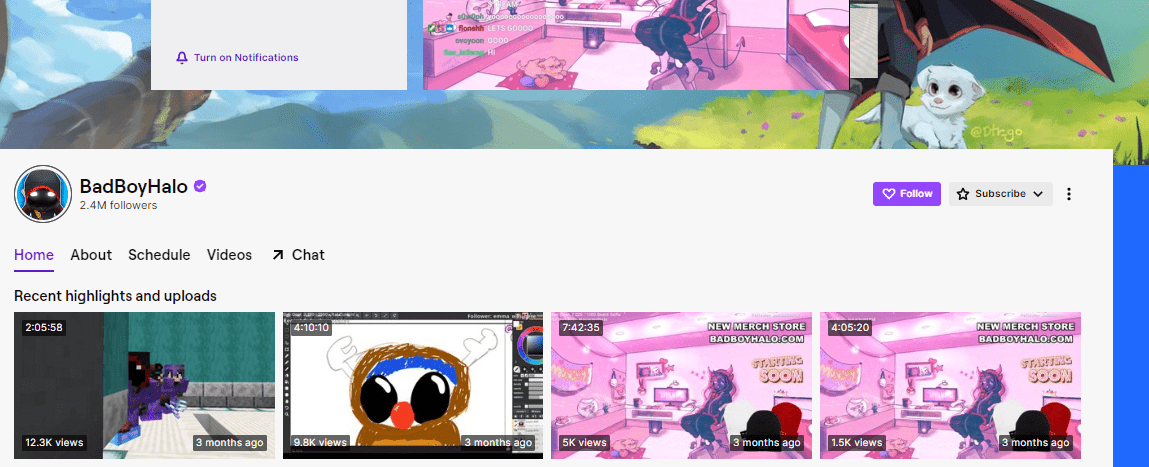 BadBoyHalo is a "YouTube" guy and just started the Twitch platform on August 19, 2020. He is also not a consistent streamer, but he has a massive 2.1 million followers and about 25k average views on live streaming. It is the 12th most-watched channel on the platform. Despite his inconsistency, he still manages an impressive average of $5.75k in his active months.
Minecraft Characters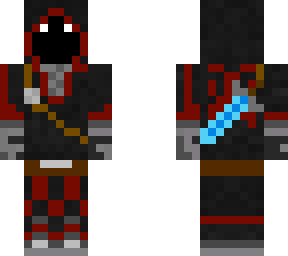 Badboy also makes a ton of money selling his Minecraft characters with Youtooz.
MunchyMC
Another dollar minting venture in BadBoyHalo's name is a Minecraft server titled "MunchyMC. The server established to allow players to enjoy a variety of mini-games is rumored to earn him an estimated $100k or more annually.
BadBoyHalo's Merch Sales
Aside from his Minecraft character, Badboyhalo also sells his branded clothing and accessories. He makes a ton of money as his merch sales are terrific. He has an online store, and his merch is also on Amazon and other stores.
BadBoyHalo's Retirement and Post Professional
BadBoyHalo hasn't expressed any desire to stop streaming or playing Minecraft and other titles. We believe he plans to be around for a long time, satiating the entertainment needs of his large, diverse fan base.
BadBoyHalo's Merch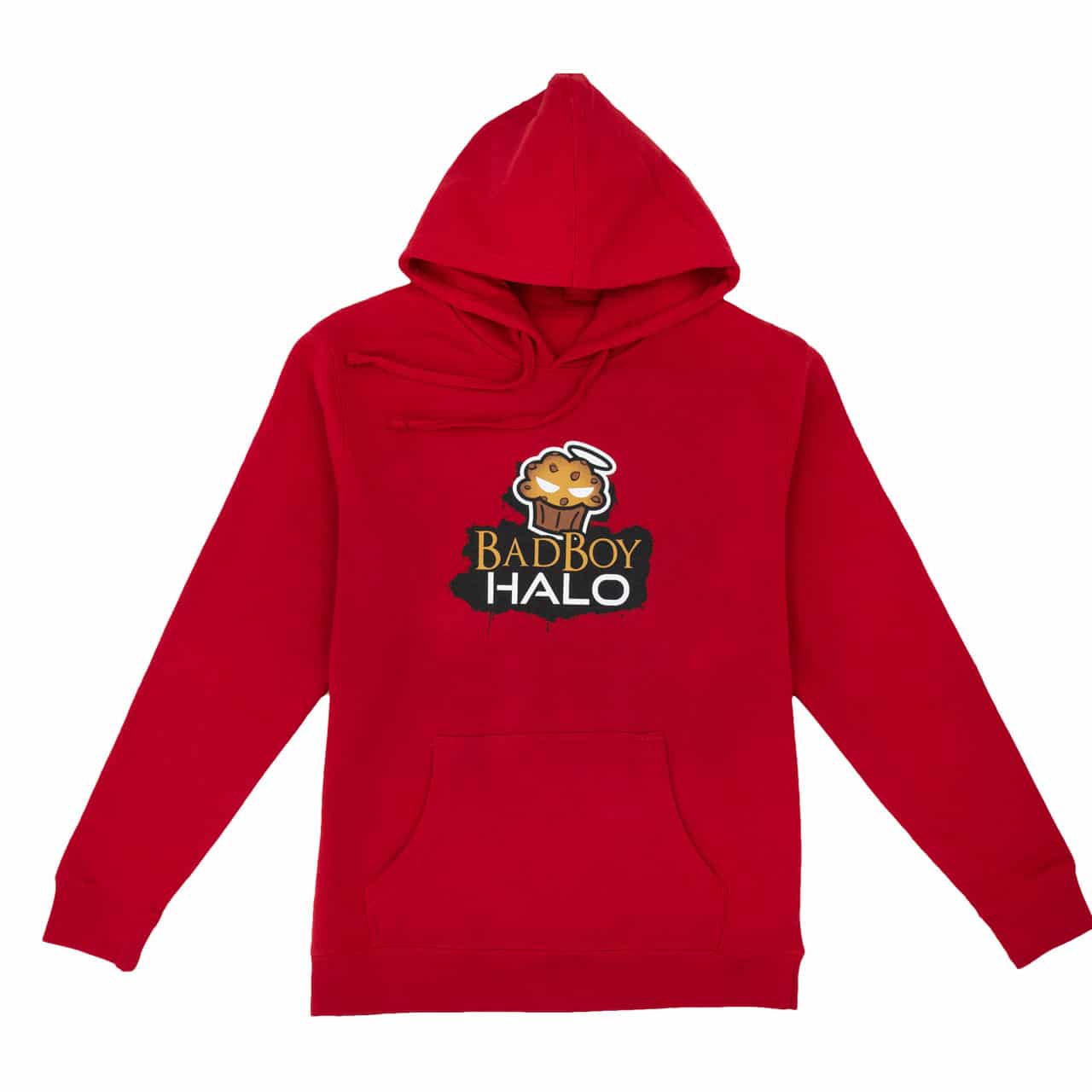 Judging from this cool pullover hoodie's look, we don't even need to sell you on it. But you should know it comes with all the essential ingredients; a durable, cozy cotton/poly blend, a spacious hood, and a front pouch. While adult sizes come with dyed-to-match drawstrings, kid/youth sizes don't guarantee safety.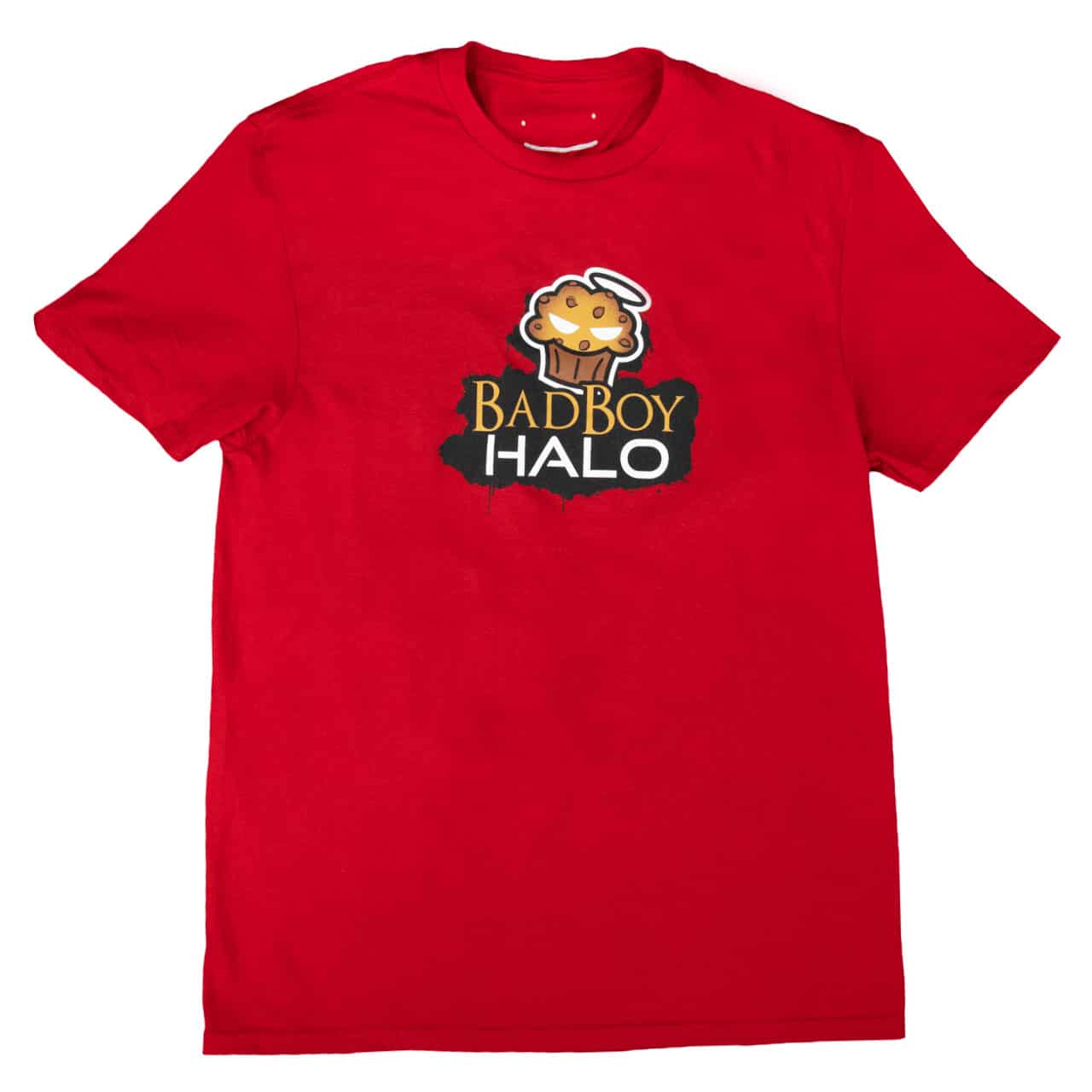 This short-sleeve tee looks and feels nice, owing to its 100% combed ring-spun cotton. It's available in white, red and black, which are lovely colors you can rock with pretty much anything. Other features we appreciate are the shoulder-to-shoulder tapping and printed graphics.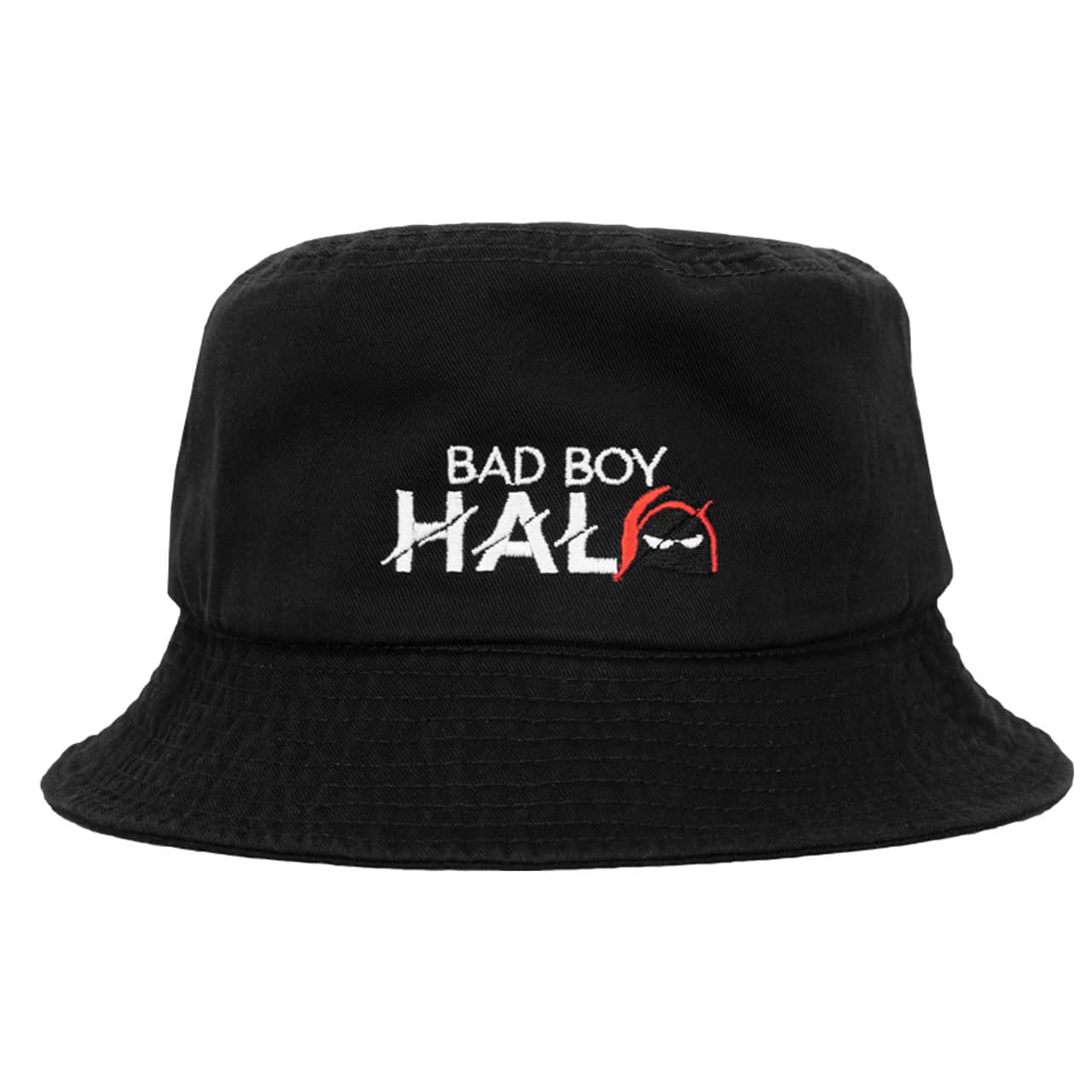 One of its great features is its quality embroidery. We also can't dismiss its sewn eyelets and availability in three cheerful shades – white, black, and red.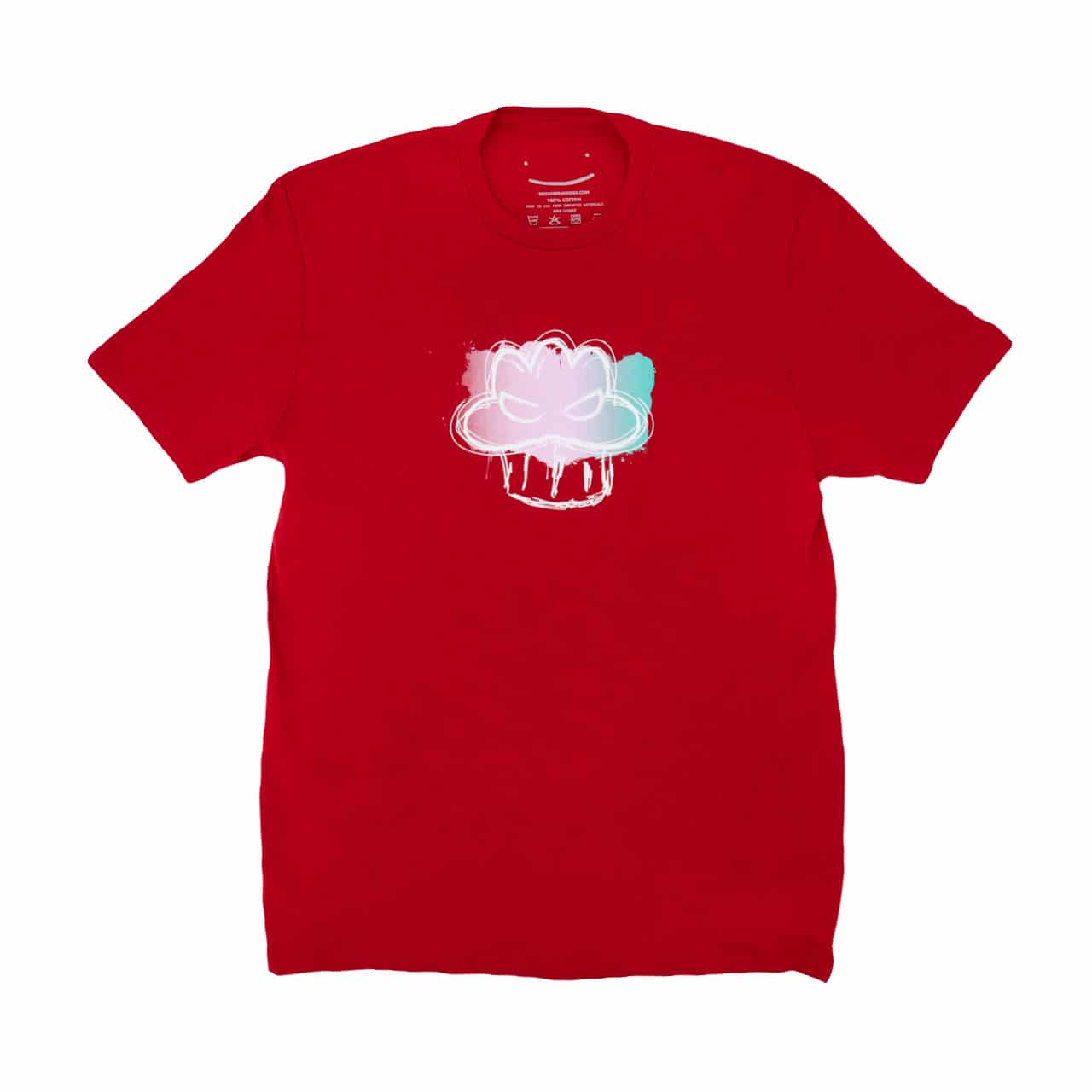 Nothing beats wearing this fancy crewneck t-shirt, whether you are heading to work or on a date with your heartthrob. Like the Chocolate Chip tee above, this one also leverages 100% combed ring-spun cotton, so you should anticipate softness, comfort, and durability.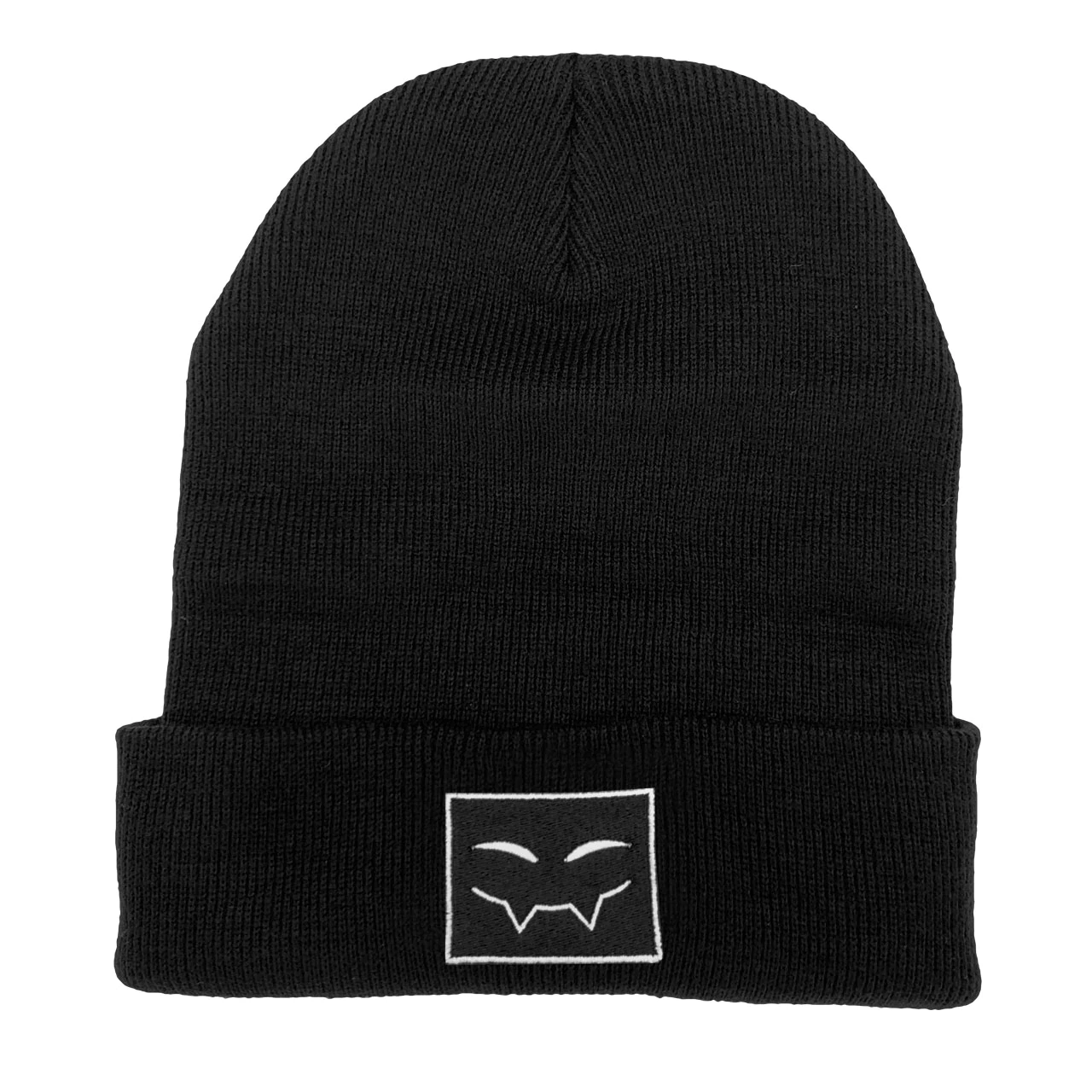 If you're into beanies, you'll definitely like this one. It's made from 100% acrylic, which means it has a nice feel and it's highly insulating. Certainly, there's nothing better to have as your cold-weather BFF. In white, red, and black, this beanie goes well with practically everything in your wardrobe.
Check out this 30oz stainless-steel tumbler with the most convenient set of features. First off, it effortlessly fits in cup holders and hands. Then, its aesthetics make it pleasing to look at. And it boasts much-needed flip-flop closure designed to resist spills.
While you scour the market for tumblers, also look at the BADBOYHALO TALL MUFFIN TUMBLER, which also has the quality and looks you hanker after.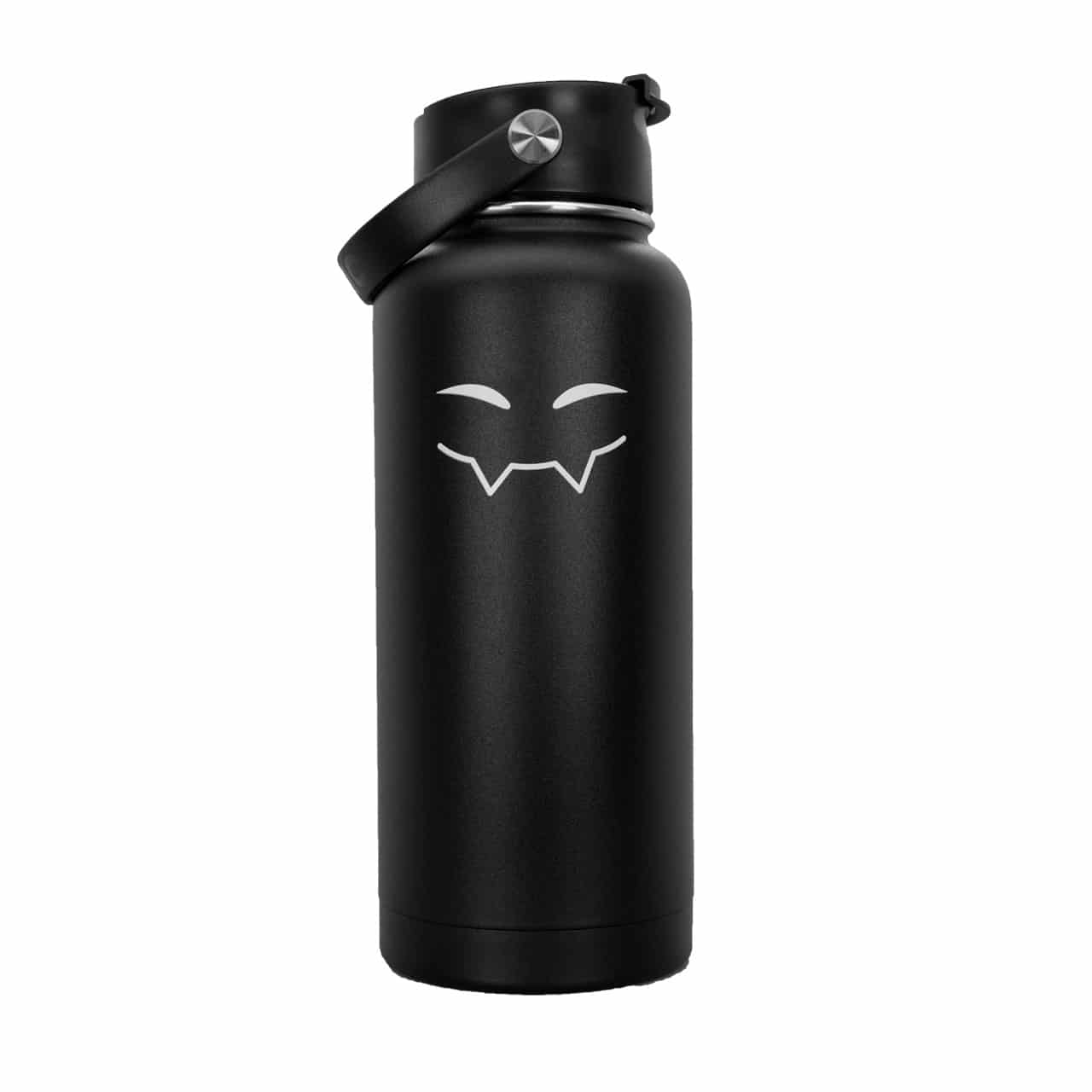 Here's another worthy item you can add to your drinkware. This bottle has a conveniently narrow, tall design that allows it to fit perfectly in many cup holders. Besides, it features double-wall vacuum insulation that enables you to enjoy maximum temperature retention. Since it's crafted from stainless steel, you can count on it to last long.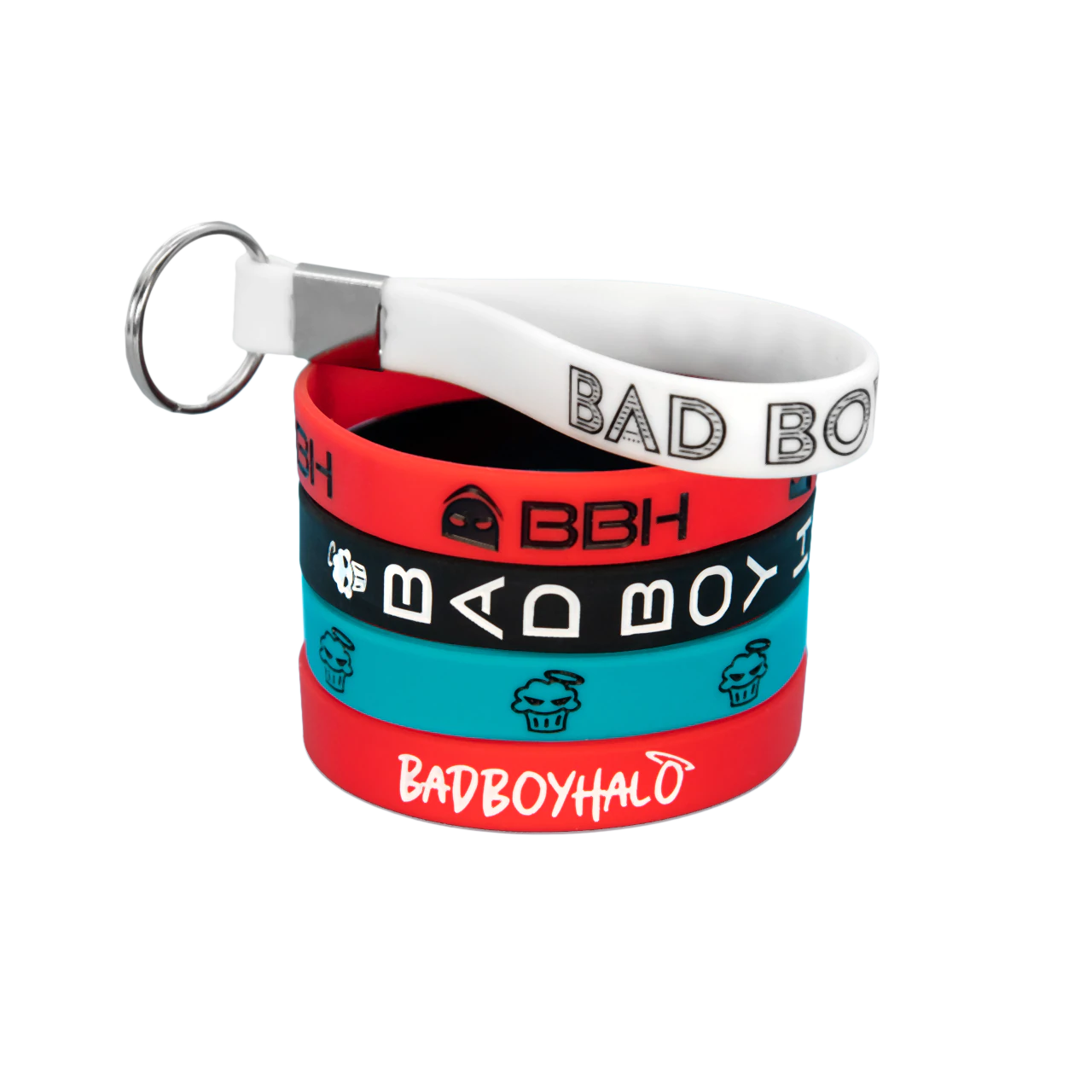 Consider this classic pack wristband to add a sense of style to your life.
Should you be the generous type, you will be more than happy to know that you can gift up to four of your closest friends who enthusiastically follow BadBoyHalo.
Even more interesting is that one of these wristbands has a keychain to provide easy access to your keys.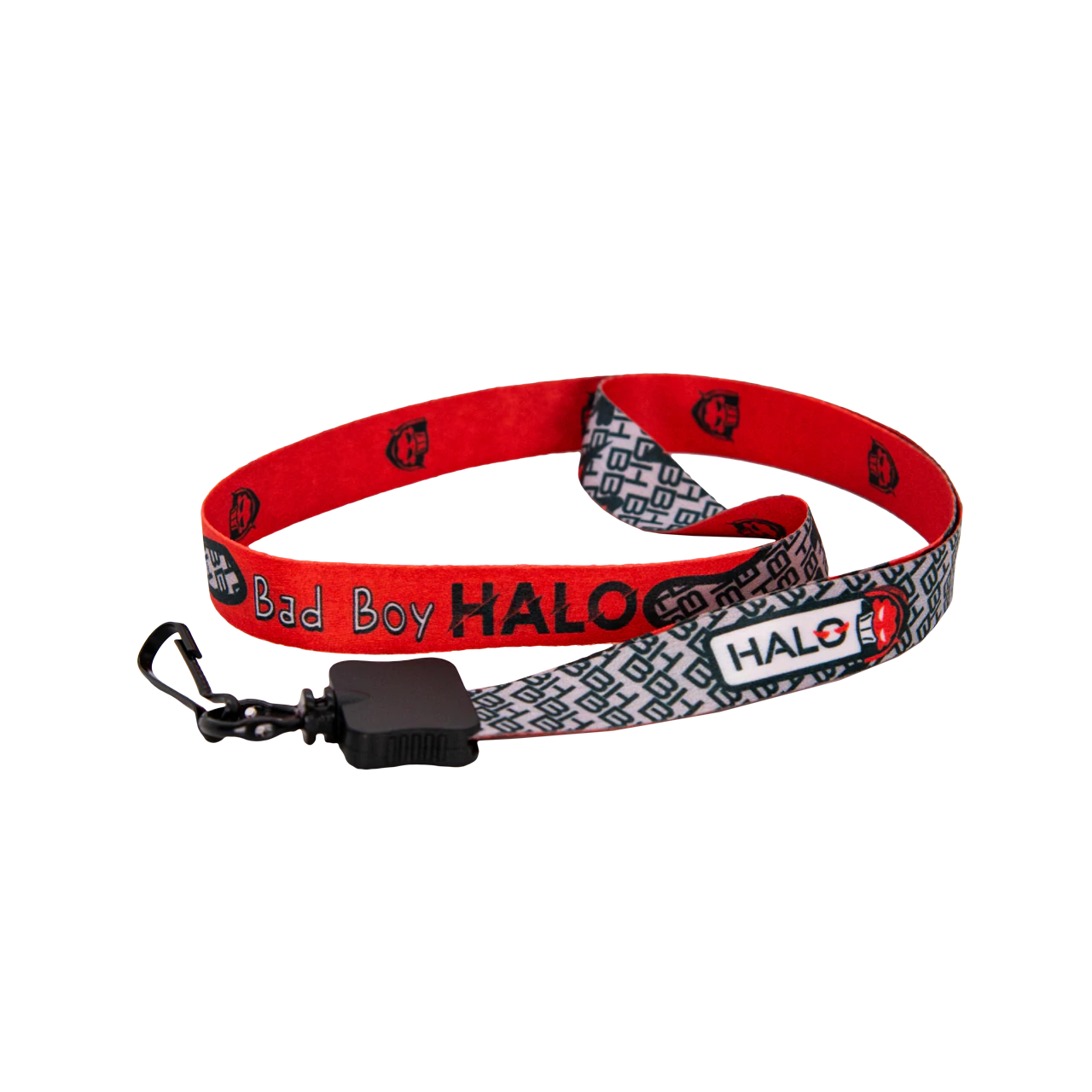 This is the perfect lanyard for your name badge or keychain. Its compelling feature package comprises a dye-sublimated imprint that renders it super unique and noticeable. Furthermore, it's manufactured from sturdy polyester material.
Frequently Asked Questions about BadBoyHalo
Question: Does BadBoyHalo love animals?
Answers: Yes. BadBoyHalo adores animals, and he's even a proud owner of several pets. For instance, he took care of two frogs, Mr. Hoppy and Leopard as a kid. Today, his furry pal is a Maltese dog he named Lucy.
Question: Is BadBoyHalo in a relationship with Zak "Skeppy" Ahmed?
Answer: While some people have speculated that BadBoyHalo and Skeppy have been dating, they're not. These two YouTubers are just close pals who indulge in 'spouse-like' flirtation for fun.
Question: Was BadBoyHalo involved in a car accident?
Answer: Yes. BadBoyHalo disclosed that he accidentally drove his father's vehicle into a pole, resulting in a power outage.
Question: Does BadBoyHalo know Dream?
Answer: Yes. BadBoyHalo and Dream have been close buddies for more than five years.
Recommended Reads
Research Citations