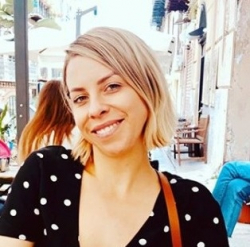 Latest posts by Jodie Chiffey
(see all)
Rumay "Hafu" Wang is a well-liked American streamer, YouTuber, professional video gamer, and social media personality.
Many people recognize Hafu as a BlizzCon 3v3 champion and Bloodline Champions Dreamhack winner. She's also one of the biggest names on Twitch, where she streams games such as Hearthstone, Teamfight Tactics, World of Warcraft, and League of Legends.
For most beginner female players, Hafu is an icon to look up to. How does she rank among the best despite massive competition from her male counterparts? Through resilience, hard work, unyielding curiosity about video games, and countless hours of practice!
We've provided crucial details regarding her intriguing life, ranging from her early start and streaming career to net worth and merch. Let's set the ball rolling with these quick facts!
Hafu's Bio Facts
| | |
| --- | --- |
| Real Name | Rumay Wang |
| Birthdate | April 18, 1991 |
| Birthplace | Massachusetts, United States |
| Nickname | Hafu |
| Height | 5 feet, 5 inches |
| Nationality | Chinese- American |
| Zodiac sign | Aries |
| Siblings | N/A |
| Children | None |
| Spouse/Husband | David "Dogdog" Caero |
| Games Played | Hearthstone, League of Legends, Teamfight Tactics, Bloodline Champions, World of Warcraft, etc. |
| Net Worth | Between $500K and $1M |
| Social Media | Twitch: itsHafu Instagram: @itshafu Twitter: @itshafu YouTube: Hafu |
| Awards | None |
| Last Updated | April 2022 |
Hafu's Birthplace and Early Life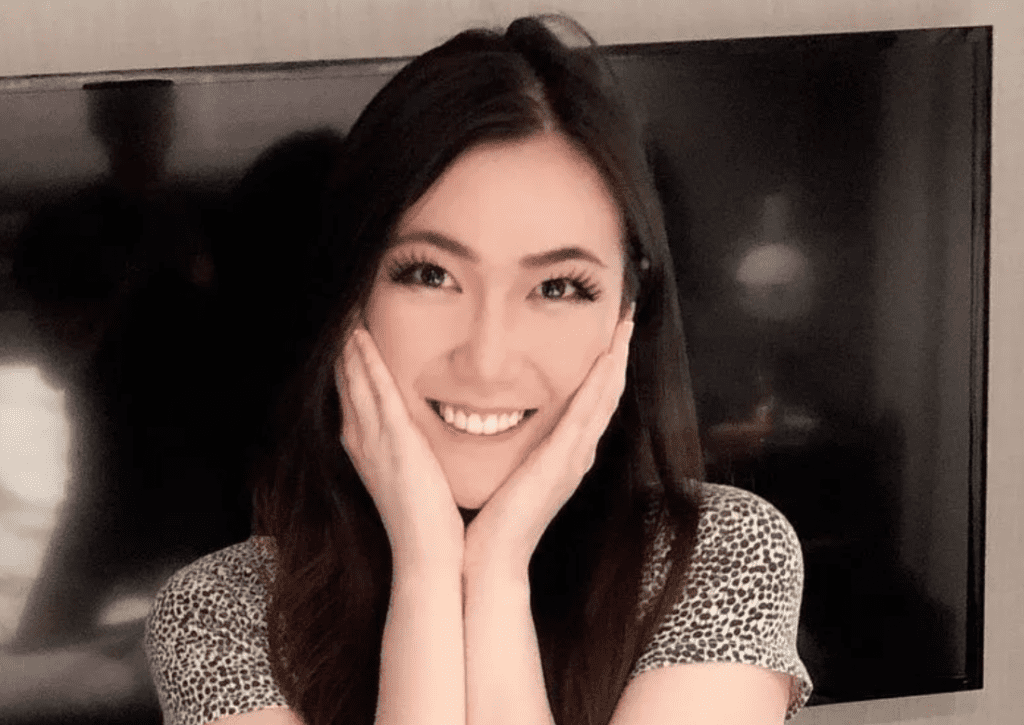 Hafu was born to Chinese immigrants on April 18, 1991, in Newton, Massachusetts.
She was brought up in Lexington. But little about her parents and siblings is known.
In addition, Hafu doesn't talk about her childhood, including the high school she went to.
We found out that she attended Bentley University to study finance.
How Did Hafu Get Started Gaming?
Hafu began video gaming at 14, and she's not turned back ever since.
Hafu's high school best friend and boyfriend introduced her to World of Warcraft (WOW). At 17, she took a much-needed break from school to play this game competitively. Her parents didn't back her at first, but they came on board once it dawned on them that she could thrive as an esport player.
Even as a teen, Hafu showcased remarkable gaming skills, which drew the attention of established players and sponsors alike. This saw her attend major tournaments such as the BlizzCon 2008 (WoW) and MLG Dallas 2008 (WoW).
Only a few female players were even interested in a pro-gaming career back then. So more often than not, Hafu would find herself the only lady at gaming tournaments.
Interestingly, she remained unfazed and gave the games she played her best. This attitude enabled her to finish first in several competitions, proving female esport athletes can be as talented and reliable as male ones.
Streaming 
Hafu's gaming enthusiasm pushed her over a plateau in her streaming journey on Twitch. She garnered followers pretty quickly. And in 2019, she was signed with G2 Esports as one of their Teamfight Tactics streamers.
In November 2020, she became the second most-viewed Twitch streamer, right below Rachell "Rae" Hofstetter (Valkyrae).
Hafu's Videos
As you already know, Hafu is a respected member of the streaming community. And she has bonded with some other top-ranked gamers, as you'll see in this close to 19-minute video. Some of these players joining her are xChocoBars, Steve Suptic, ChilledChaos, 5up, PeterTv, and Dakotaz. You'll unquestionably enjoy this creation if you're an Among Us enthusiast.
Hafu and Dogdog are definitely made for each other! This couple is ever ready to join hands to accomplish something they desire, as evidenced in this video where they won a challenge at the Twitch Rivals last year.
Hafu showcases her impressive social skills. Dogdog seems pretty chill, but this doesn't mean he's not having the time of his life. They're both humble, cute, and admirably confident, which is why they're so perfect together.
Hafu's Gaming Setup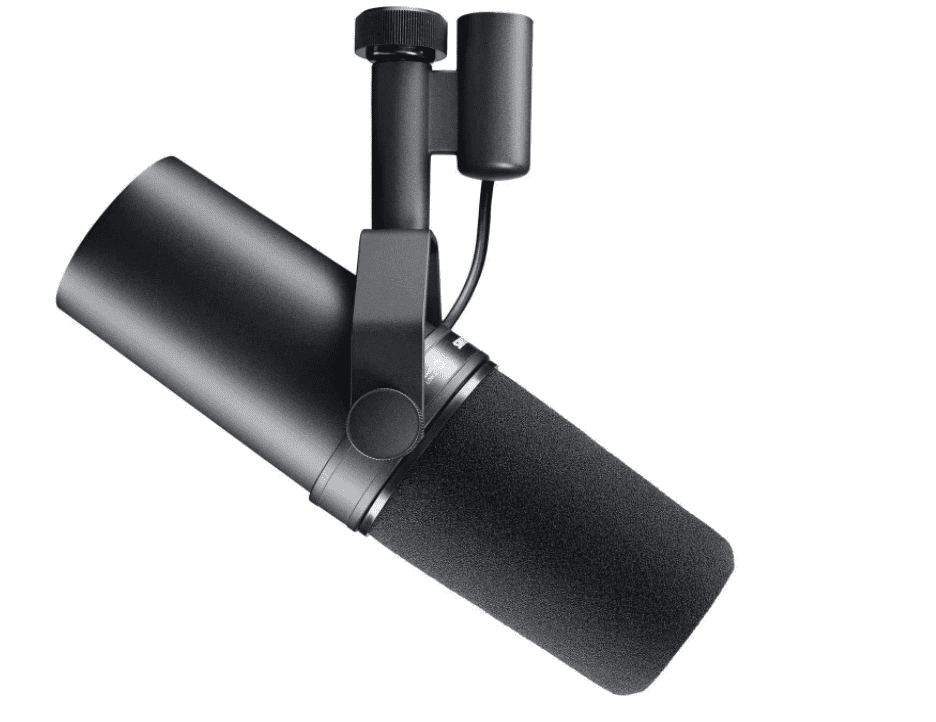 The Shure SM7B mic has secured its place as one of the best options for professional streamers and gamers. How else is it a top pick for not only Hafu but also Dyrus (see Dyrus' bio), AuronPlay, DiazBiffle, and even the legendary DrDisRespect?
This mic's feature package is everything! It boasts an incredible capability to deliver smooth yet powerful vocals. In addition, it enhances your voice's finer details so that you can provide exactly what your audience needs to hear to become hooked.
The Shure SM7B gives you total control over sound quality via its XLR connection and audio interface. Then, the mic's rugged construction protects the cartridge and promises durability.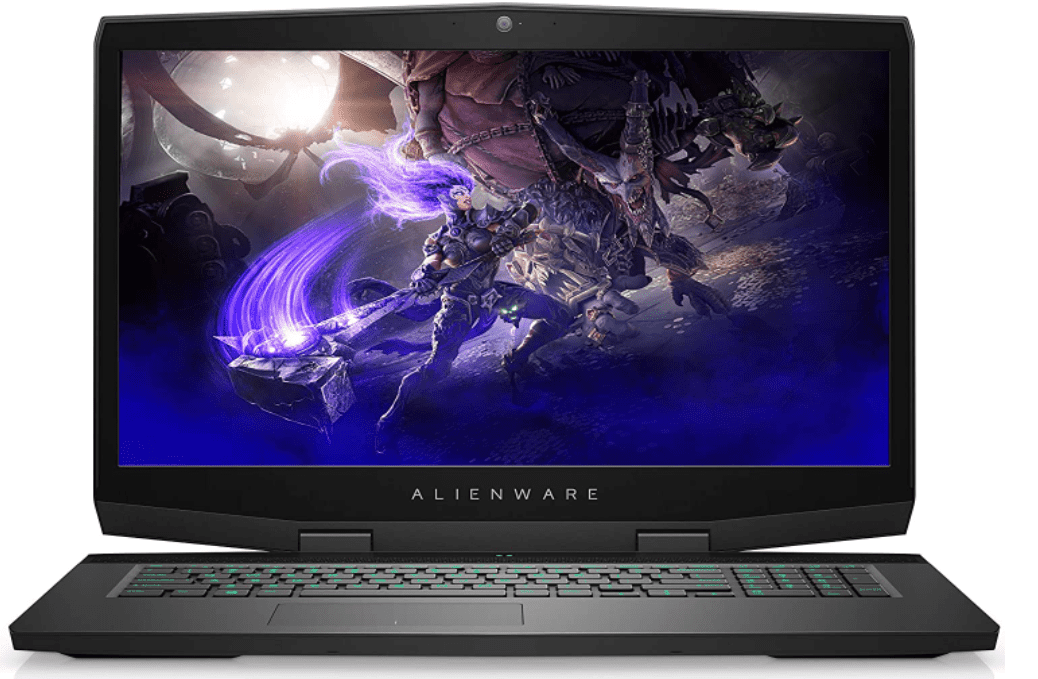 Hafu utilizes the highly regarded Alienware M17 laptop, ideal for indoor and on-the-go video gaming.
This 17-inch laptop is super reliable. In addition, it comes with the most advanced NVIDIA® technology and NVIDIA® GeForce RTX™ graphics to provide you with powerhouse performance no matter what game you're playing.
Something else you may like about the Alienware M17 is its unfailing battery life, thanks to its 60WHr battery. And you can always opt for a 90WHr upgrade if you feel it's what you need for a better gaming experience.
Additional desirable features of the Alienware M17 include the excellent cooling system, slim, elegant design, and fantastic visuals.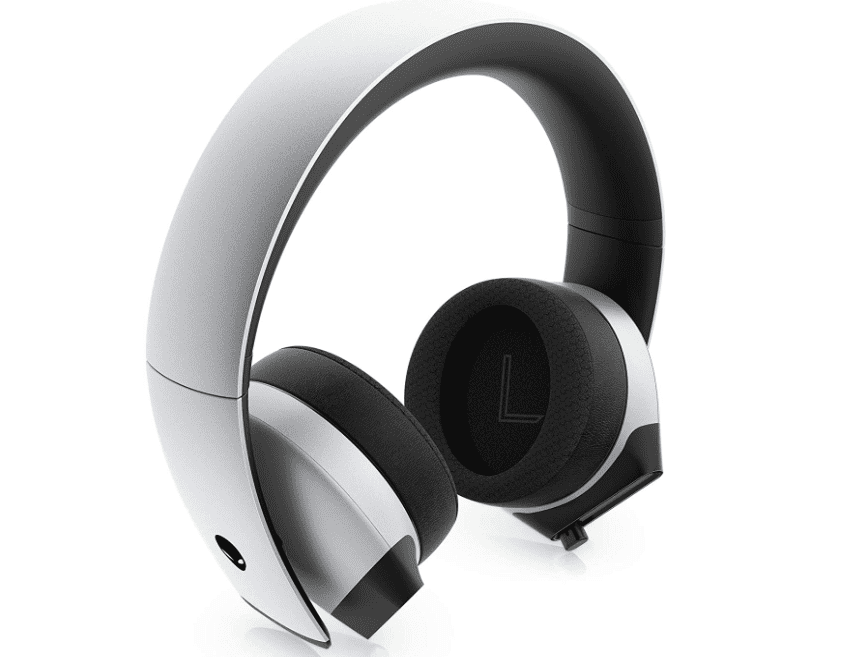 Here's another valuable piece of equipment you'll find in Hafu's streaming setup. And we get why she prefers it to other options on the market.
For starters, the Alienware 7.1 PC gaming headset leverages immersive audio technology to ensure you're fully absorbed in every game you discover.
This top-of-the-class headset also delivers maximum comfort with its cushioned headband and cozy earpads. In addition, the leatherette provides much-needed cooling to enable you to focus on your gameplay regardless of the weather.
Furthermore, the Alienware 510H features a detachable USB connection, which allows you to change your gear or platform effortlessly and still enjoy maximum action.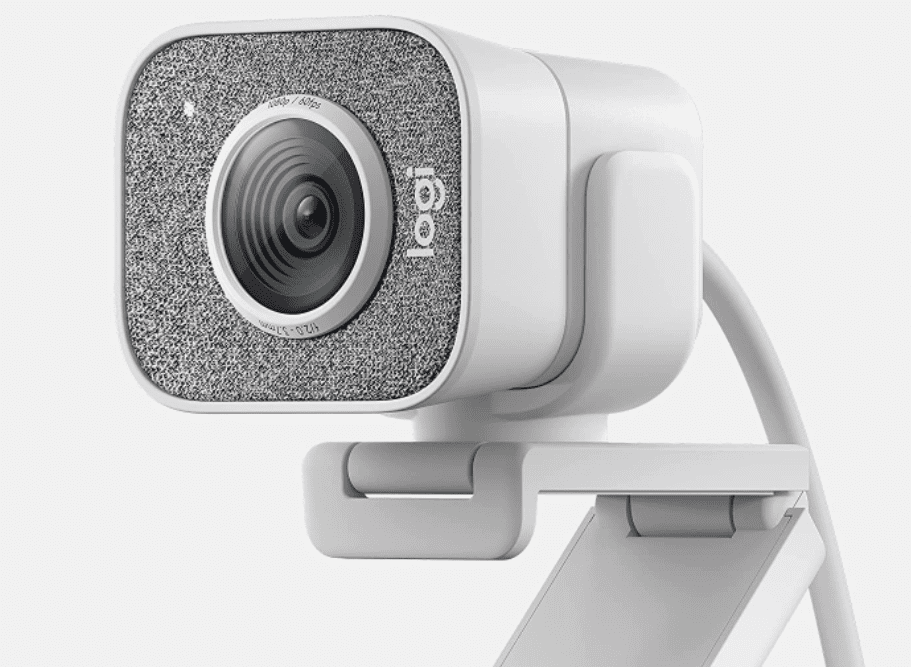 Hafu likes the Logitech StreamCam, a worthwhile addition to any serious streamer's setup, owing to its fantastic features.
The Logitech StreamCam enables Hafu to record Full HD 1080p at 60 fps to produce stunning videos for her Twitch and YouTube channels. This camera comes with a premium glass lens and a highly dependable innovative auto-focus system to guarantee the best image quality. Its 78-degree field of view is also handy as it allows you to stay at the center without diverting the focus even when you move around.
In addition, this top-rated camera comes with conveniently versatile mounting options. This helps you to attain your preferred framing, whether you're using portrait or landscape modes. Besides, you're free to mount it on your tripod or monitor at your convenience.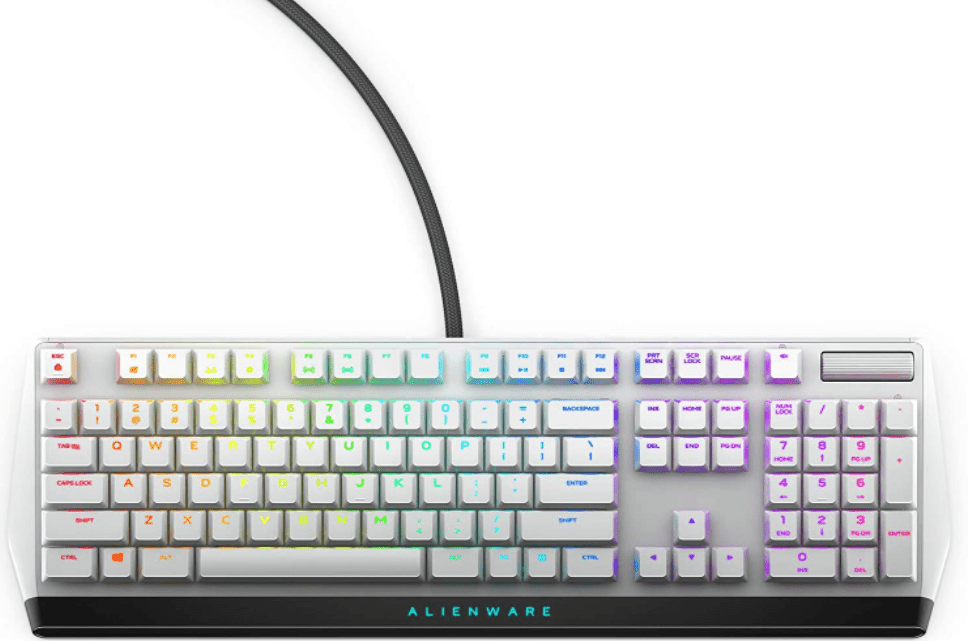 Hafu leverages the beautifully designed New Alienware Low-Profile RGB Keyboard. In addition, it features quality programmable Cherry MX keys that guarantee better control and smooth gaming no matter your pace.
Then, this keyboard's AlienFX per-key RGB lighting allows for easy customization, and you have 16.8M colors to explore. It boasts a 5000 Series aluminum construction that promises strength and ultimate durability. Rest assured that it'll serve you for an incredibly long time as long as you take the best care of it.
Moreover, there's an accessible USB pass-through to connect your gear in only a few seconds.
This Alienware Low-Profile RGB keyboard's slim design is a nice touch. And it undoubtedly enhances your streaming setup's entire look.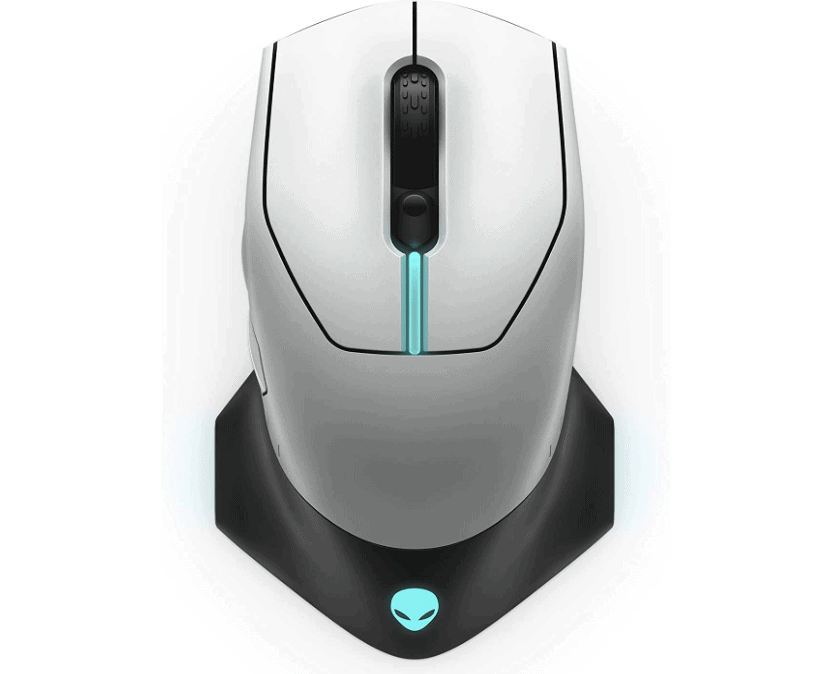 Hafu utilizes the Alienware AW610M, a well-grounded pick for gamers interested in all game genres. It has a 1,000Hz wireless polling rate that allows you to stay connected, wired, or wireless and still deliver your A-game.
Besides, this gaming mouse comes with seven programmable buttons designed to help you customize your arsenal to fit your unique gaming style. You'll definitely appreciate the Alienware native 16,000 DPI sensor that enables you to play with incredible precision, making the swiftest moves to beat your opponents.
Even better, the Alienware AW610M allows you to light everything up, thanks to the fully customizable AlienFX RGB that offers you handy 16.8M color control.
If you go for the wireless option when placing your order, Alienware throws in a USB receiver for ultimate convenience.
Hafu's Family 
David "Dogdog" Caero married Hafu on April 13, 2021.
Dogdog is a Twitch streamer known for his fantastic Hearthstone and Teamfight Tactics skills. In addition, he has a likable personality, which has enabled him to win the hearts of countless video game lovers.
Like Hafu, Dogdog is also an enthusiastic esport athlete who has earned thousands of dollars competing with other gamers in tournaments.
Notably, Hafu and Dogdog are a part of the OfflineTV universe and are the only members married to each other.
Hafu's Net Worth and Career Earnings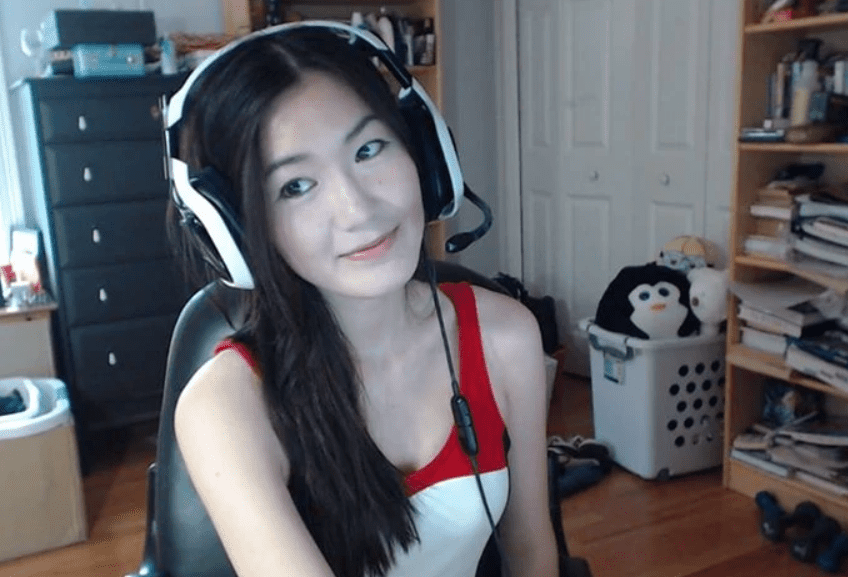 As of April 2022, Hafu's estimated net worth is between $500K and $1M. Let's dive into how she makes her money.
Twitch
Hafu is a Twitch partner with 1.3M followers. She generates a decent income from ads, donations & tips, and subscriptions.
Like most famous streamers, Hafu hasn't gone public with her monthly or yearly Twitch payouts. All the same, this platform is a reliable source of revenue for her.
YouTube
Hafu has a YouTube channel where she uploads her stream highlights. So far, it has 295K subscribers and 66,304,173 views, which could have earned her a considerable amount.
Still, Hafu posts videos on her YouTube channel daily, meaning she's likely to keep receiving payments from this social media outlet.
Esport Earnings
As of 2021, Hafu had participated in 19 gaming tournaments. She made $90,066.67 playing a broad range of esport titles, including Bloodline Champions, Teamfight Tactics, chess, Legendsof Runeterra, Valorant, World of Warcraft, Magic: The Gathering Arena, and Hearthstone.
If we break down Hafu's esport earnings by year, she made the most cash in 2019 when she pocketed $46,100.00, 51.18% of her total prize pool money. However, in 2021, she raked in $600.00, which is the least amount she's ever made in a year.
Hafu brought in $47,275.00, 52.49% of her total career earnings, as a free agent. Then, she earned the remaining percentage playing for various esport companies, including G2 Esports, Fnatic, and Cloud9.
By the end of 2021, Hafu came 395th on the list of the highest-earning esport athletes from the United States, which is quite impressive considering the gaming field has been dominated by men for a long time. Notably, Hafu and other players like Sydeon (check out Sydeon's bio), Kyedae, and Sweet Anita are changing this narrative.
Esport Organizations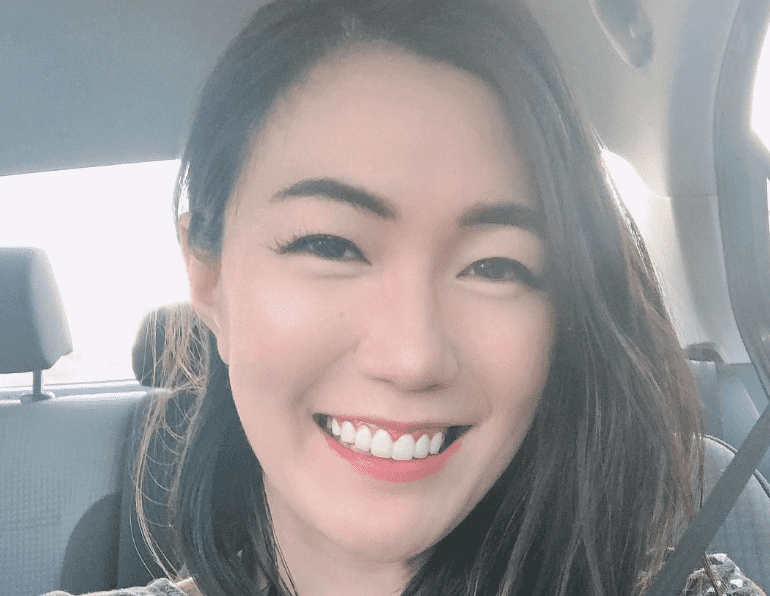 There's no doubt that Hafu is a competent esport athlete. Her outstanding gaming skills and adaptability have helped her join various esport companies, including G2 Esports. Being a part of these organizations means she's eligible for a monthly salary, but the exact sum remains undisclosed.
Nonetheless, the money she's brought in has contributed to her massive net worth.
Merchandise Sales
Hafu's great entrepreneurial potential has seen her avail in-demand merch such as phone cases, t-shirts, and hoodies. She sells these items through Crowdmade. While her profits are still a secret, they've been essential in boosting her monthly income.
Hafu's Retirement and Post Professional
Our research shows that Hafu is still in the game and even more devoted to her admirable streaming and gaming content creation career. Undoubtedly, her efforts are bearing fruits as her social media following continues to soar. Plus, her content's quality improves every day.
Hafu hasn't shared when she'd like to quit streaming to entirely focus on other ventures or her young family with Dogdog. If you're one of her devotees, sit tight – much more streams are coming your way!
See also: Disguised Toast Bio
Hafu's Merch
As of writing, it's pretty easy to land Hafu's merch. She has a shop on crowdmade.com where she sells various items, shipping them worldwide. You can pay for your order via Shop Pay at once or in up to four interest-free installments.
If you visit Hafu's online merch store right now, you'll find the following: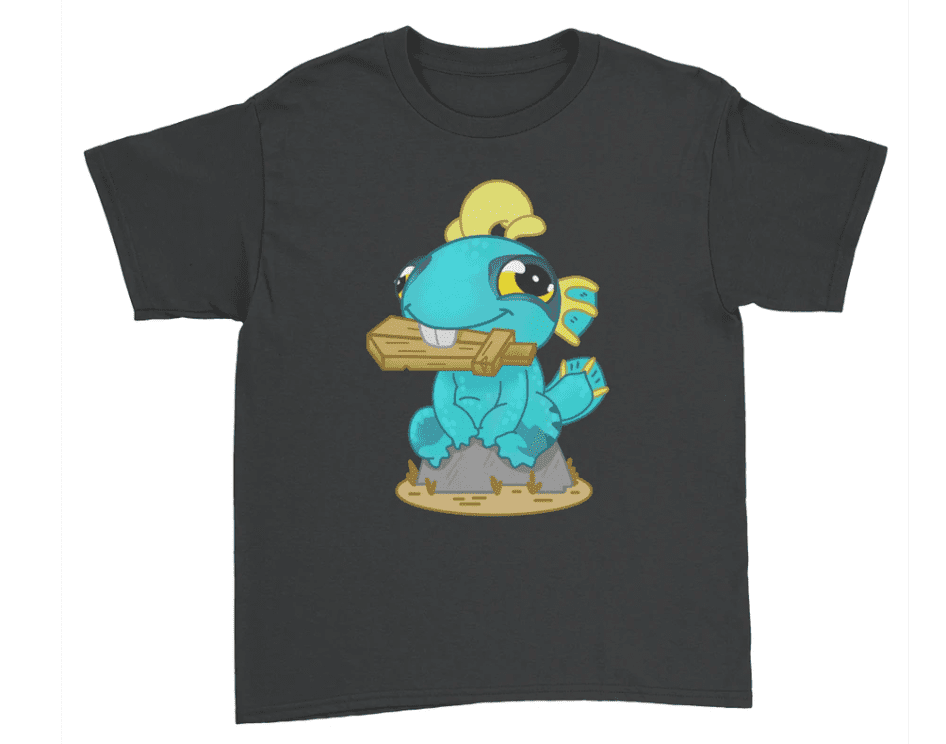 Having a cozy stand-out tee for your little one is a must-have. So here's a stylish option you should check out before making any purchase decisions – you'll be impressed.
First off, this t-shirt has a breathtaking Tinyfin print plastered on its front. It undoubtedly adds to its style and showcases Hafu's love for Hearthstone.
Besides, the Tiny Fin t-shirt for kids is made from 100% spun cotton, so it promises durability and comfort. But heather-colored tees come with a lasting poly/cotton blend, guaranteeing your money's worth.
More color options include black, navy, white and royal blue. So you can always go for your favorite. And if you're buying several tees, you're free to choose multiple colors.
Note that washing this tee with your machine is convenient, but hand-washing is also an option.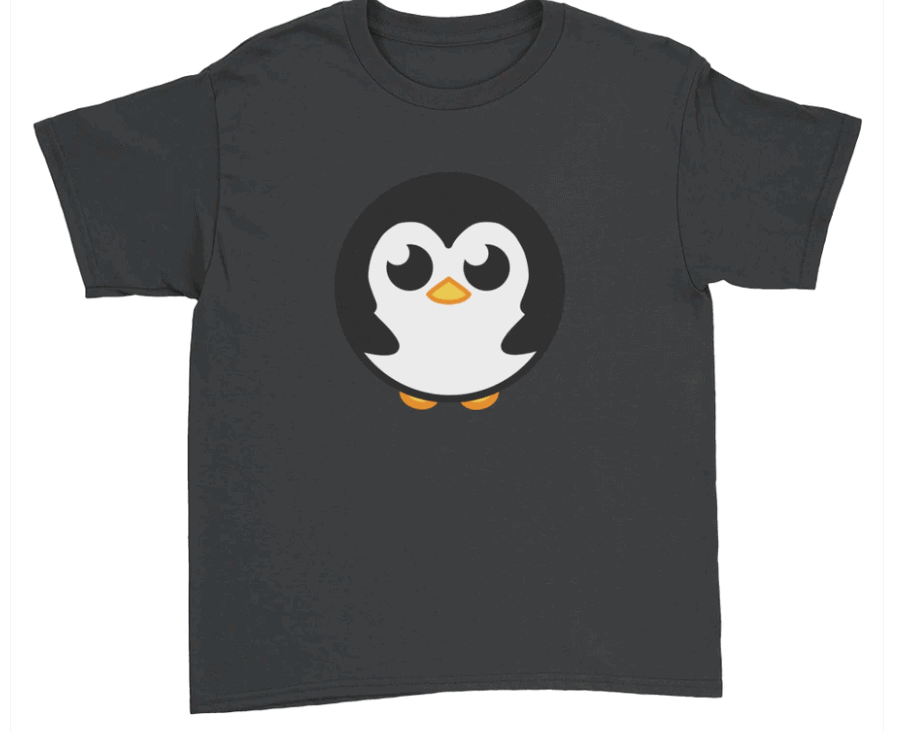 Here's another quality tee for your loved ones to ensure their wardrobe has a vast selection of comfy attire.
At first glance, the Pingu Youth T-Shirt is beautiful, thanks to the Pingu print gracing its front.
Then, it comes in a range of more colors than the Tiny Fin – Kids Youth T-Shirt, including forest green, black, navy, red, and sports grey. Even so, it also leverages 100% spun cotton like the tee above, and heather options are made from a high-quality cotton/poly blend.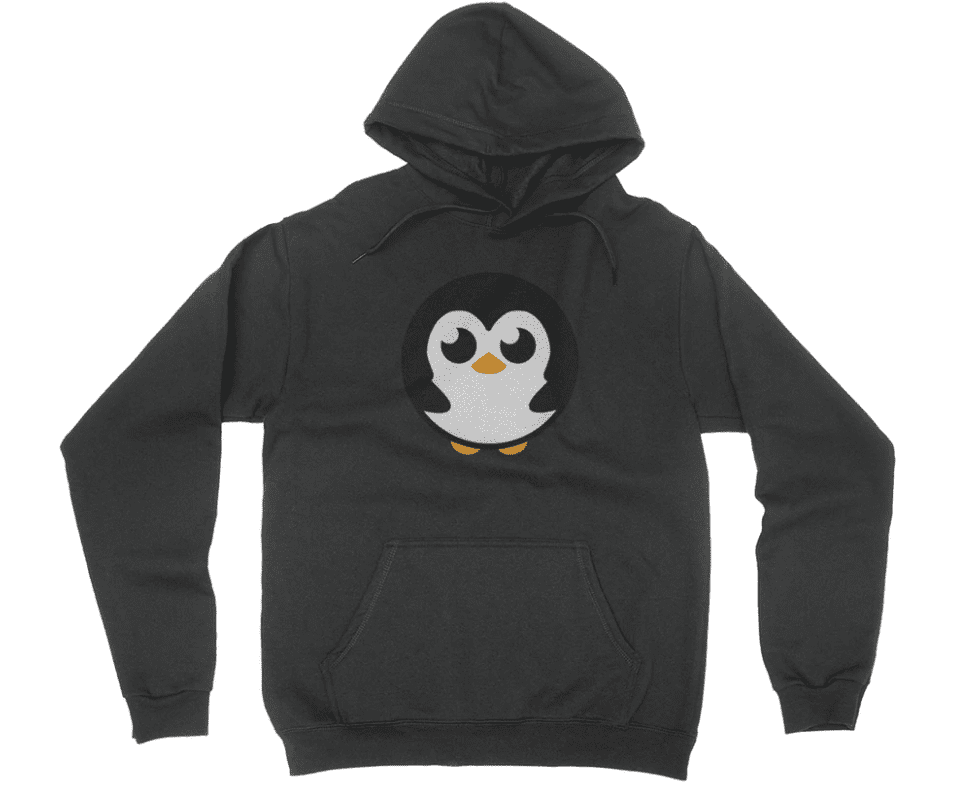 Hafu also provides this durable hoodie made from a cotton/polyester blend. This means you don't have to deal with wrinkles. And you'll enjoy much-needed durability and all-day comfort.
The Pingu Pullover Hoodie comes with a pre-shrunk fleece knit that provides maximum warmth, enabling you to wear it on chilly days. In addition, Hafu avails it in S-3XL sizes, so finding your size shouldn't be too much of a task.
In addition, this unique hoodie is available in black and navy to give you a choice when making your purchase.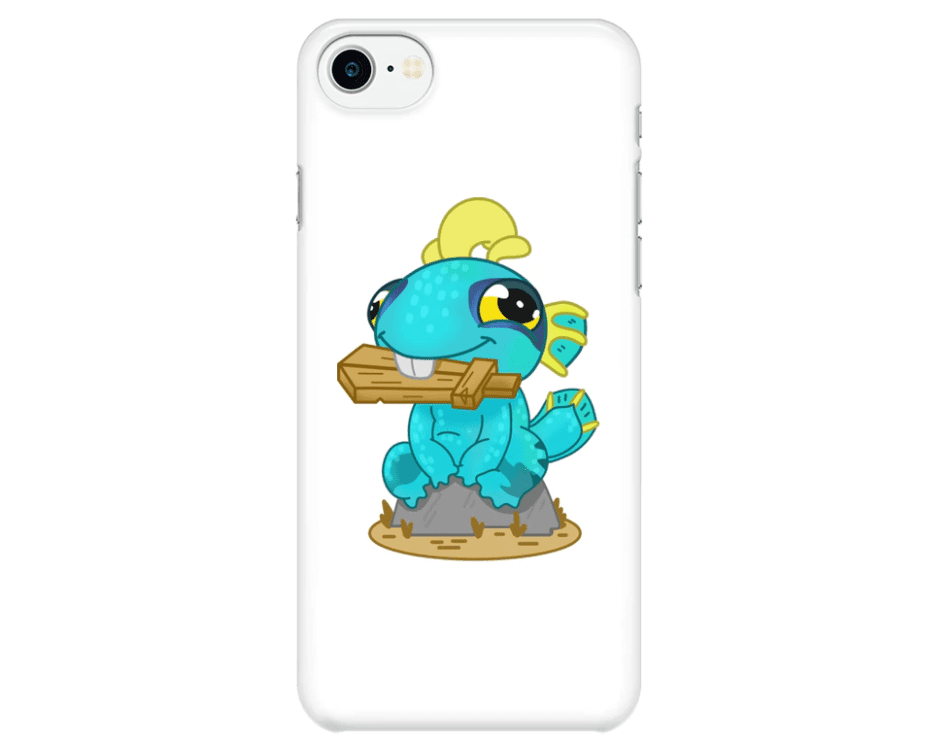 The Tiny Fin – iPhone case is a gorgeous iPhone case that comes in white, with a Tinyfin print covering most of its back.
Besides, this case is constructed for an extended list of iPhone models, such as iPhone 6, iPhone 7, and iPhone 5C. Since it is pretty light, you don't have to carry any extra weight, plus handling your phone will be a lot easier.
Something else you should expect from the Tiny Fin – iPhone Case with a beautiful gloss finish is maximum durability, owing to its incredible scratch, chipping, and cracking resistance.
If you have a Samsung smartphone, worry not, because Hafu avails the 10mm-thick Tiny Fin – Samsung Case for many models, including Galaxy S3, Galaxy S4, Galaxy S5, Galaxy S6 Edge, and Galaxy S7.
Supposing you'd like a different case design, check out the Pingu – iPhone Case and Pingu – Samsung Case. Their features are pretty much similar to those of the Tiny Fin – iPhone Case. But instead of a Tiny Fin print on its back, it features a beautiful Pingu print.
Fortunately, Hafu's online store on crowdmade.com is not the only place you can find her merch. Be sure to explore Redbubble for Hafu-inspired products provided by ambitious and talented independent designers. Here are some we found during our extensive research on her: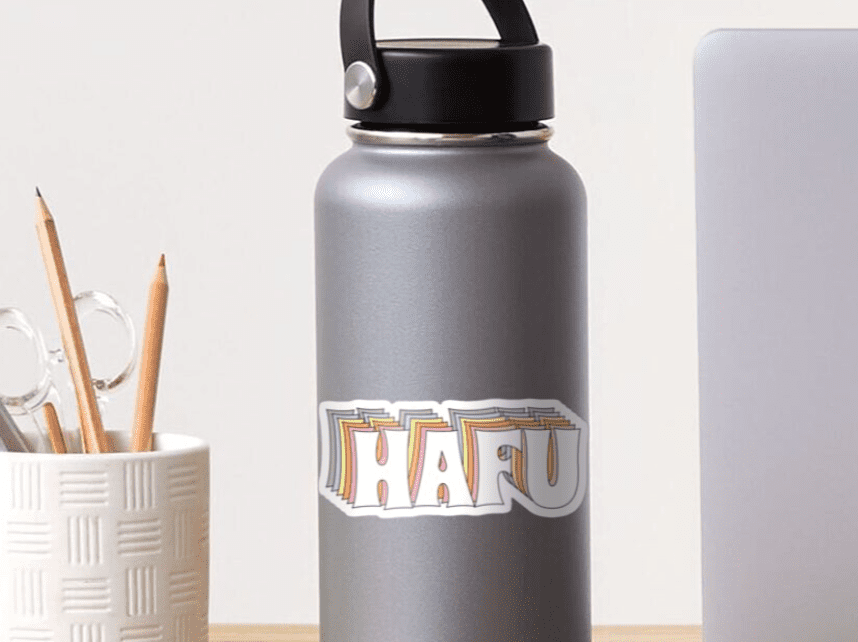 A Hafu sticker always comes in handy when you need to customize or decorate some of your treasured belongings. If you're searching for one, check out this option brought to you by birdo-art.
The HAFU Groovy Sticker's water resistance makes it highly durable. In addition, since it's removable, you can re-position it or move it from one item to another at your convenience.
It's available in a beautiful matte finish, but you're not limited to it as this designer also offers one in a glossy finish. In addition, there are multiple sizes, including small (4×1.6 in), large (8.5 x 3.3 in), and extra-large (14 x 5.4 in). Your best option depends on what you're customizing or your unique décor preferences.
Here's another Hafu-inspired product sold by birdo-art. We do not doubt that it's worth your cash, especially if you're hunting for a top-notch sleeve to protect your machine from bumps while keeping all the dust and dirt at bay.
The HAFU Groovy laptop sleeve is doubtlessly built to last. It features foam padding and a quality polyester cover, making it scratch-resistant. In addition, minor impacts are less likely to damage it.
Supposing you need a laptop pouch that's also easy on the eyes, today's your lucky day! This one's back is black, and its front is white, with a lovely "HAFU" print right in the middle.
Other features we like include the black edging, black zip for easy access, and its inside's black plush padding. Besides, maintaining it is effortless since all you need is a damp piece of cloth to clean it once in a while.
Unfortunately, the HAFU Groovy Laptop Sleeve is designed for selected laptop models, including MacBook Pro/ Retina 15″, MacBook 12″, and MacBook Air / Pro / Retina 13″. But if yours is among these, make sure to place your order – it's absolutely worth it.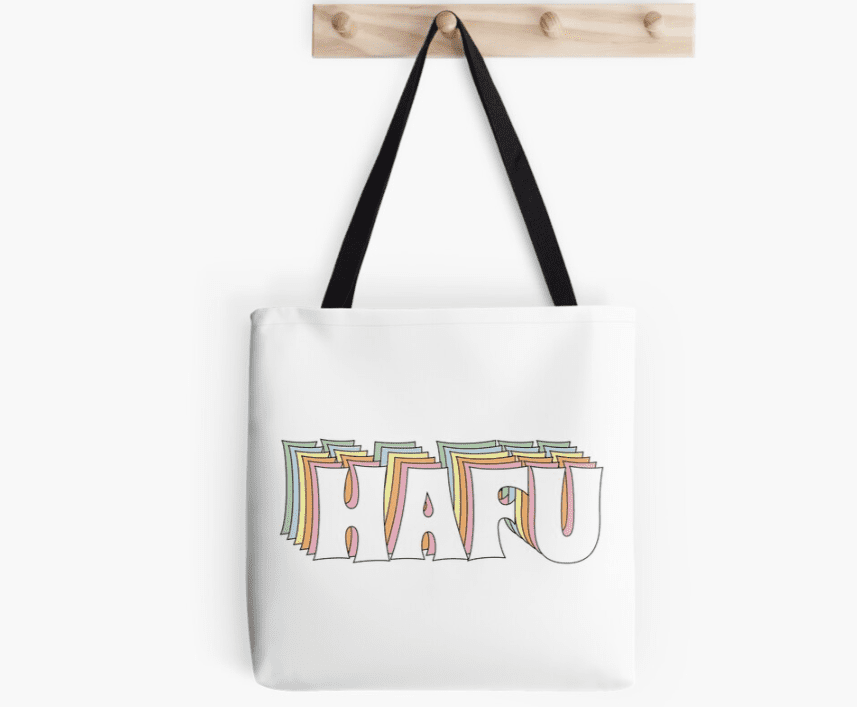 Nothing beats an elegant, durable tote bag you can carry to work, your favorite mall, or even class. So as you weigh your options, consider the lightweight HAFU Groovy Tote Bag that measures 15.25″ x 15.75″.
One of this tote bag's sides has a lovely digitally printed "HAFU" print to enhance its style and help you stand out every time you step out with it. Its firm straps are made from quality cotton, enabling them to last a while.
The HAFU Groovy Tote Bag's designer, birdo-art, also avails an option made from polyester. Like the one with cotton, it's super stylish, durable, and even better, available in small, medium, and large sizes.
The HAFU Groovy Mouse Pad is another Hafu-inspired item on the market right now. Like the HAFU Groovy Tote Bag, birdo art also designs and sells it.
This mouse pad ideally checks all the boxes. For starters, it comes with a microwave polyester surface explicitly engineered for optimal consistency control.
Durability is another excellent aspect this mouse pad possesses, owing to its pill-resistant surface and anti-fray edges. Then, it has an anti-slip rubber base to deliver the stability you need to control your laser or optical mouse fully.
The HAFU Groovy mouse pad measures 24.1cm x 20.3cm. And yes, this may be small for some gamers or users, but it's still pretty efficient.
If you'd like something more extensive, check out the HAFU Groovy Desk Pad, measuring 80cm x 39.4cm. It boasts the same features as the mouse pad, but it also covers your keyboard, which is its major selling point.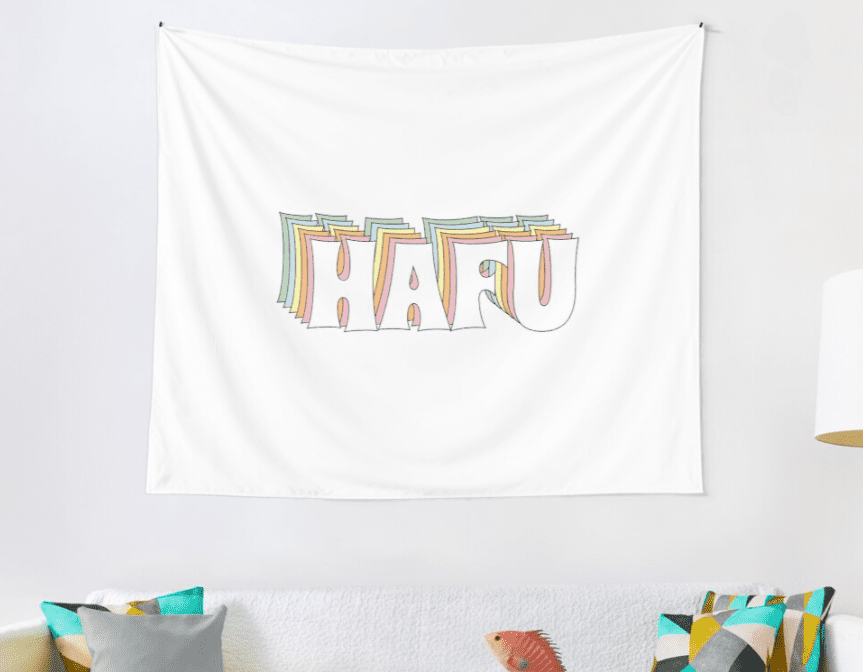 Tapestries are always worth it because of their versatility. With a quality, unique one, you can meet your décor needs and have a beach or picnic blanket at your disposal. If you're away from home for a while, they are perfect for covering your valuable pieces of furniture.
Supposing you're considering purchasing a tapestry, check out the HAFU Groovy Tapestry, which comes in small, medium, and large sizes. It's made from high-quality polyester, and the edges are finished to enhance its durability.
Frequently Asked Questions about Hafu
Question: Did Hafu complete her university studies?
Answer: No. Hafu dropped out of Bentley University in 2012 when she was in her third year to build her gaming career.
Question: Where does Hafu live?
Answer: As of writing, Hafu lives in Vegas, Nevada.
Question: Does Hafu accept donations?
Answer: Yes. Hafu gladly welcomes donations from her fans. So if you send her $2 or more, you'll automatically show up on her screen.
Question: What's the name of Hafu's pet?
Answer: Hafu keeps a pet dog named Jubbs
Question: Can Hafu speak Mandarin?
Answer: Yes. Hafu can speak Mandarin fluently, but she can't read it.
Recommended Reads:
Research Citations
https://offlinetvandfriends.fandom.com/wiki/Hafu
https://www.esportsearnings.com/players/3365-hafu-rumay-wang
https://esportspedia.com/streamers/Hafu
https://esportspedia.com/streamers/Dogdog
https://liquipedia.net/tft/Hafu
https://dotesports.com/league-of-legends/news/hafu-joins-g2-esports
https://twitter.com/itshafu/status/1382028497082671104
https://clutchpoints.com/valkyrae-dominates-november-viewership-among-female-streamers/