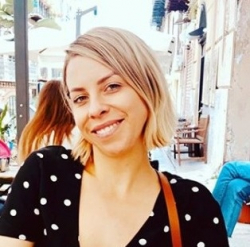 Latest posts by Jodie Chiffey
(see all)
Sweet Anita is a British YouTuber, Twitch ambassador, gamer, social media personality, and entrepreneur.
She's well-known for streaming on her Twitch channel with 1.8M followers. In addition, most people also recognize her from her Instagram, Twitter, and TikTok account with a collective 2M+ followers.
Sweet Anita's YouTube channel boasts 1.4M+ followers and over eighty-two million views as of this writing.
Hoping to find out more information about Sweet Anita? Sit tight! This bio brings you details about this Twitch star, including her thriving gaming and streaming journey. We'll begin with these quick facts.
Sweet Anita's Bio Facts
| | |
| --- | --- |
| Real Name | Sweet Anita |
| Birth Date | July 28, 1990 |
| Birthplace | East Anglia |
| Nickname | N/A |
| Height | 5 feet 6 inches |
| Nationality | British |
| Zodiac sign | Leo |
| Siblings | N/A |
| Children | Sweet Anita doesn't have any kids |
| Partner/spouse | Sweet Anita is single |
| Games Played | Overwatch, Among Us, Just Chatting, Apex Legends |
| Net Worth | $500K – $700K |
| Social Media | Twitch: Sweet_Anita, YouTube: Sweet Anita, Sweet Anita's Best Clips, Twitter: @sweetanita, TikTok: sweet_anita_official, Facebook: Sweet Anita |
| Awards | Though Sweet Anita has not won any awards so far, she has been nominated for two – Twitch Streamer of the Year (Shorty Awards 2019) and Best Streamer/Broadcaster (Golden Joysticks Awards 2019) |
| Last Updated | February 2022 |
Sweet Anita's Birthplace and Early Life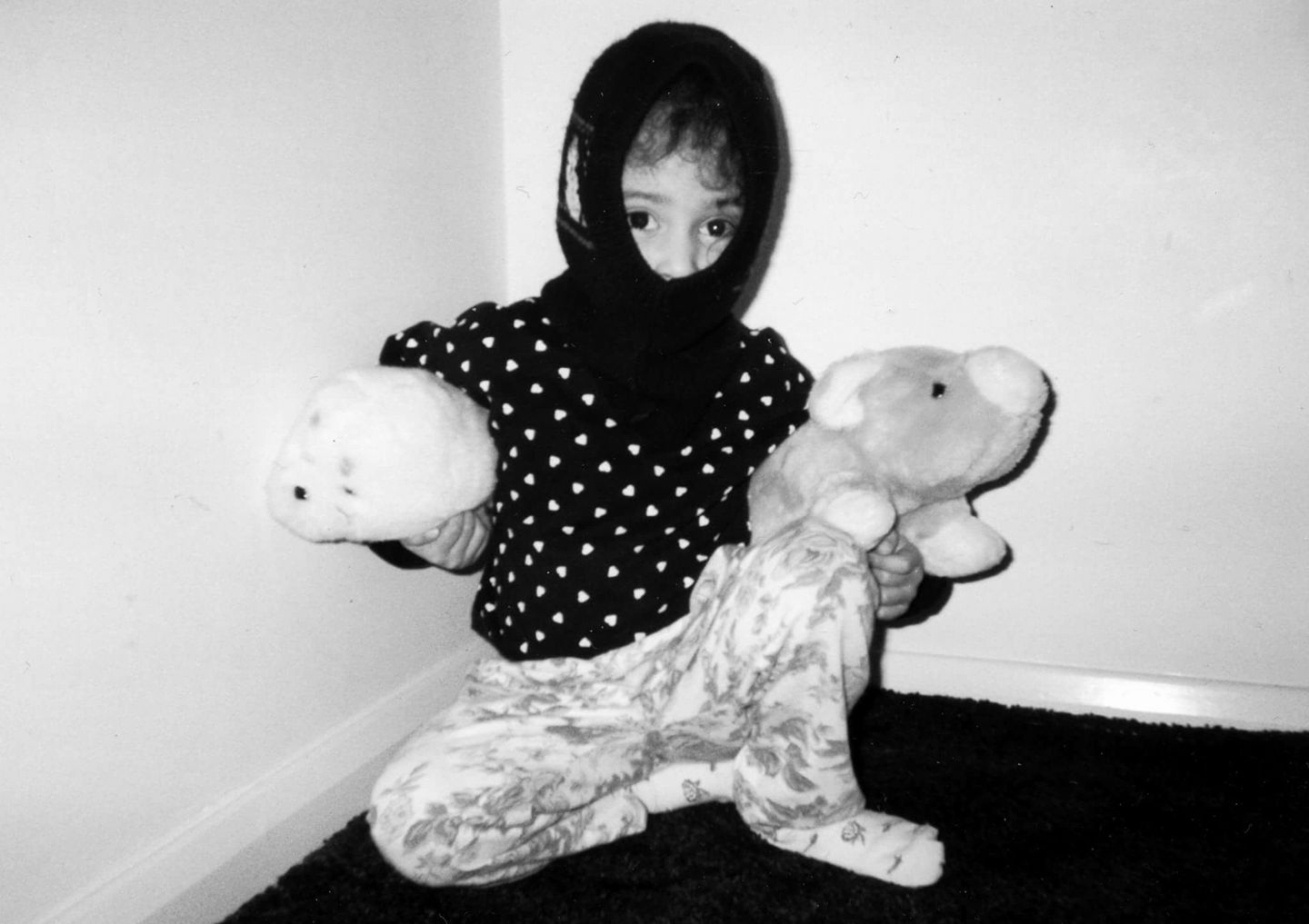 Sweet Anita was born in East Anglia on July 28, 1990. Her mother brought her up here for a few years before vacating to Southwest England.
Sweet Anita is admirably close to her mother. She talks about her often on social media and appreciates her during special days such as Women's Day.
This gamer has also expressed her great admiration for her mom, owing to the many feats she's achieved. For instance, she raised her well despite her dad being out of the picture. Plus, she successfully pursued two higher degrees and survived various fatal illnesses, including a tumor.
Tourette Syndrome (TS)
When Sweet Anita was 27, she was diagnosed with coprolalia and Tourette syndrome, which causes abrupt sounds, twitches, or movements. Individuals living with it cannot control when these things happen or stop them.
Sweet Anita has always been open about this condition, and she seems pretty comfortable with it. This has enabled her to draw the attention of countless gaming enthusiasts, most of whom are awed at how skillfully she games, even with this disorder.
Others are merely fascinated by her Tourette-fueled behavior.
Notably, Sweet Anita started exhibiting the symptoms of Tourette syndrome when she was barely a teen. She had difficulty interacting with her peers and concentrating on her studies, so she decided to seek medical help.
Unfortunately, Sweet Anita's doctor mistook her for an attention-seeker, concluding that the symptoms would fade away with time. But they persisted, so a decade later, she sought a second doctor's opinion, upon which she received the correct diagnosis.
This helped Sweet Anita comprehend her constant anger pangs and tics, which was super relieving.
Entrepreneurship
Sweet Anita was into business way before she immersed herself into the gaming world. She collected sea glass and resold it to make a profit. She also helped manage a few animal rescues and took care of her productive garden.
How Did Sweet Anita Get Started Gaming?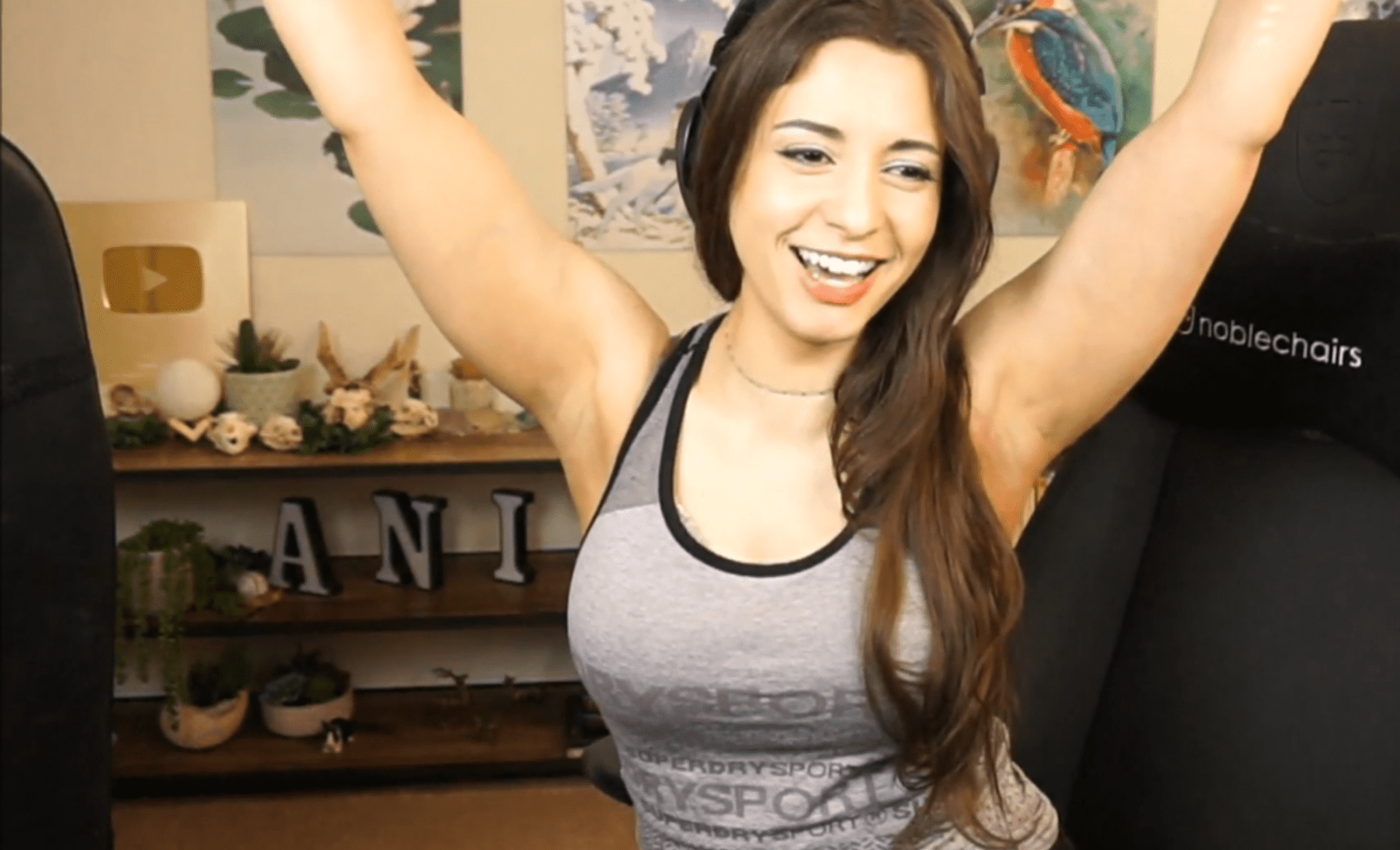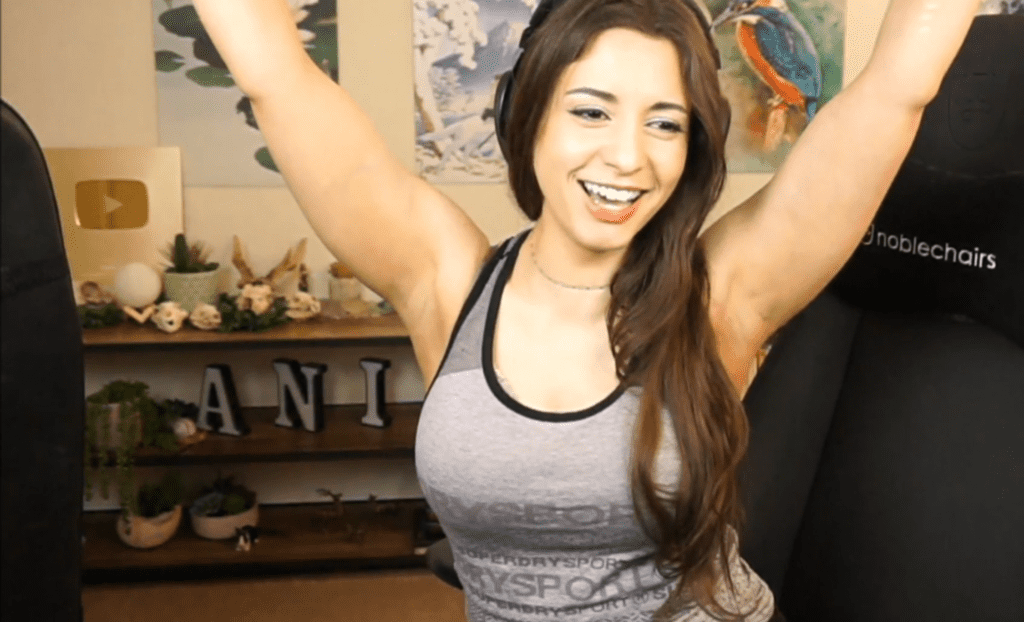 Sweet Anita started gaming when she was only a little girl. Some of the games she took a keen interest in were PlayStation 1 and Nintendo.
Sweet Anita massively enjoyed playing video games during her teen years, but becoming a gaming icon wasn't even in her wildest dreams.
As time passed, Sweet Anita started exploring other games she thought could be interesting, including Overwatch, Apex Legends, Among Us, and Just Chatting. Some of her gamer pals saw how devoted she was and encouraged her to do it professionally. And she deemed it a fantastic idea.
Streaming
Sweet Anita embarked on her now successful streaming career in 2018. Several things came into play here.
For starters, she watched another gamer stream his gaming sessions, command a large audience, and even rake in huge profits. This motivated her to do the same, although it wasn't her primary motive.
For Sweet Anita, gaming online presented an excellent opportunity to connect with people from all around the world. This is what she craved the most.
Sweet Anita's following began to grow soon after she began streaming on Twitch. A majority of her followers were sucked in by her outstanding skills, not to mention her engaging personality and great sense of humor.
It should be noted that Sweet Anita doesn't just stream to earn a living or entertain her followers. She's dead set on bringing value to the table.
Therefore, she's not fixated on her Twitch stats. She tries to enhance the quality of her fans' lives and bond with them on a deeper, human level. This is by interacting with them during her live streams, answering their queries honestly and decently, and welcoming new followers.
YouTube Content Creation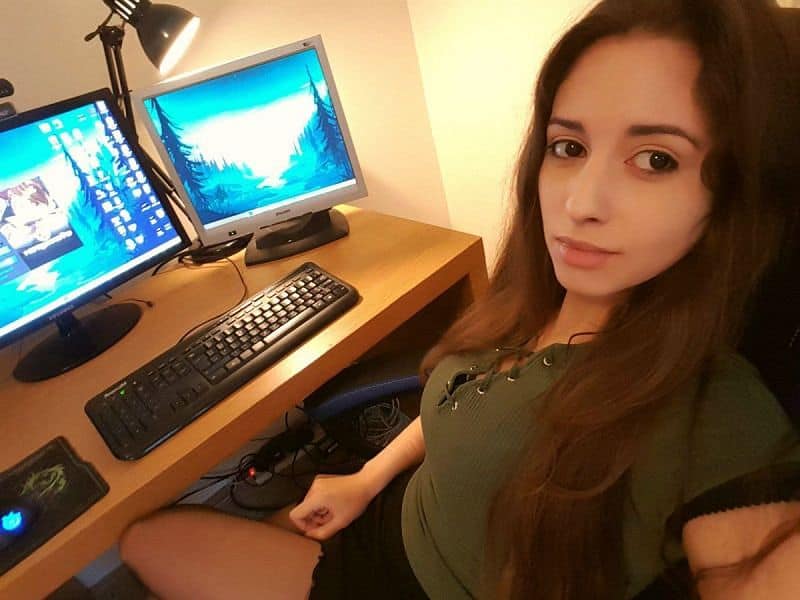 Apart from streaming on Twitch, Sweet Anita also runs a YouTube channel that is pretty much like her Twitch channel. Her content revolves around various topics, including gaming & entertainment, Tourette syndrome, mental health, and dating.
Some of Sweet Anita's YouTube videos have gotten up to over 2M views, which means her content creating a game is top-tier.
Recognition
Sweet Anita has built an excellent reputation for herself as one of the top talents in the gaming scene right now.
In late 2018, the famous American media company Variety recognized her as one of the world's most influential video gamers.
The following year, Sweet Anita was nominated for the Twitch Streamer of the Year award at the Shorty Awards. She also bagged the Best Streamer/Broadcaster award nomination at the Golden Joystick Awards.
Being considered for these awards was a fantastic achievement since many video gamers missed out. And although she didn't bring any of them home, there's hope that she may win a notable prize in the future.
Towards 2020's end, Sweet Anita was privileged to host the LuudoFest, a popular VY Esports online gaming festival.
Sweet Anita has also won various tournaments, such as the Disguised Toast's: Hide and Seek Invitational in 2021.
Sweet Anita's Video
We all know about Sweet Anita's bubbly personality, which lights up every room she walks into. Check out this video uploaded by Viqer to get a taste of that and relish some of her funniest moments, plus Tourette tics that most of her fans deem comedic.
This is one of LADbible TV's "Minutes With" episodes where Sweet Anita talks about how living with Tourette syndrome has affected her life. She's more content and bolder now because she understands her condition. This video is enlightening, and we can't help but applaud Sweet Anita for her bravery and resilience.
Sweet Anita's Gaming Setup
Sweet Anita is on record saying that she isn't tech-savvy. And that all her gaming setup is courtesy of well-wishers.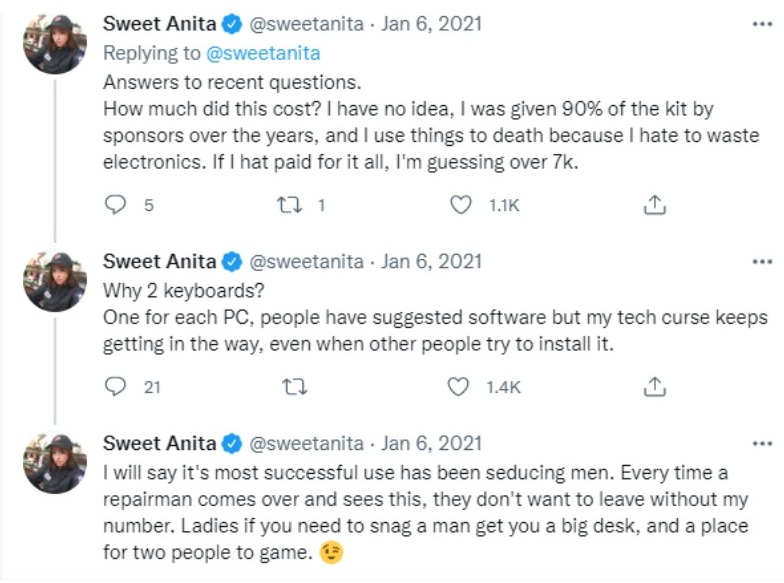 To date, she is yet to clearly divulge the specifications of her gaming PC. All she has shared is a picture of the setup.
In the setup, one picks out two keyboards, 2 gaming mice, headsets, a microphone, 4 monitors, and a wide gaming table.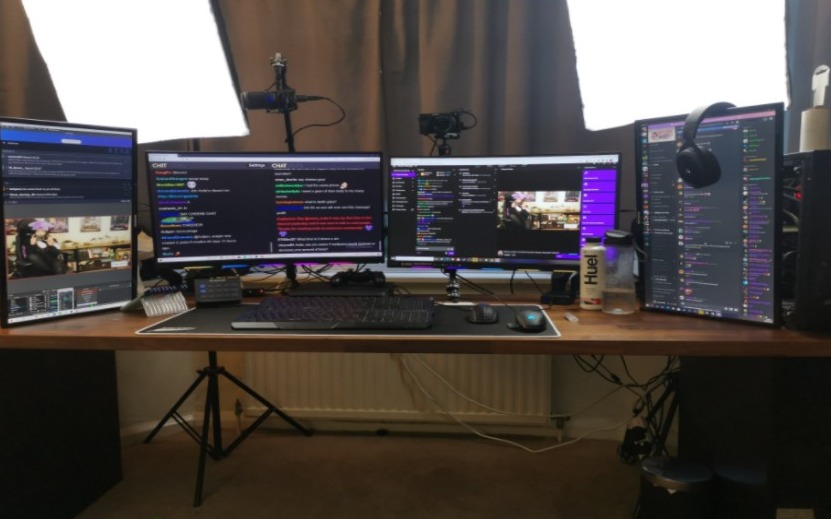 An up-close of the mice indicates that it is Corsair Mice whose specifications we are yet to get. Here is a sneak peek of the setup from her Twitter post.
Sweet Anita's Family
Sweet Anita has made a point of keeping most of her details private. We only know that her mother is a single mom, and they have a pretty close relationship.
Although she's currently single, she often shares some of her hilarious dating escapades with her fans on YouTube.
She is also close with other personalities in the content creation circuit, such as Mike Chen and CodeMiko (Youna Kang).
Sweet Anita's Net Worth and Career Earnings
When writing this bio, we approximate Sweet Anita's net worth to be between $500K and 700K. Let's look into how she earns a living and her career earnings.
Twitch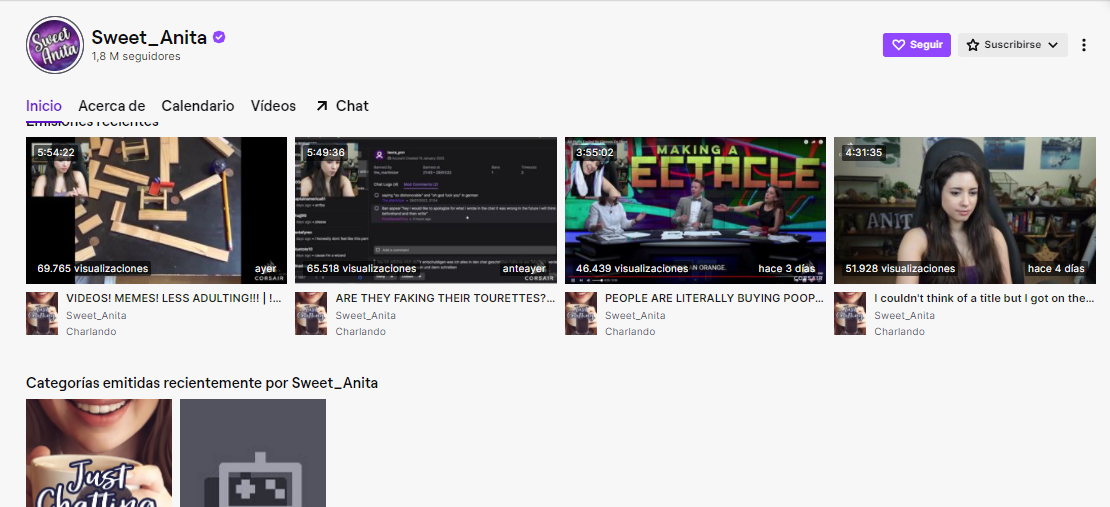 As anticipated, Sweet Anita makes money through streaming on Twitch at least six days a week. This gamer receives at least $60K yearly in Twitch payouts, and we haven't even included her donations and tips.
YouTube
Sweet Anita created her YouTube channel only in 2018, and impressively, it's now one of her primary income sources. With 82,496,664 views so far, we do not doubt that this platform nets her a large sum as its content creator.
Since Sweet Anita uploads several videos on YouTube monthly, we're confident that she'll keep earning thousands of dollars from this video-sharing website.
Tournaments
Sweet Anita takes pride in her exceptional gaming skills, and she doesn't mind competing with other exemplary video game players on the scene right now. In early 2022, she announced that she'd won the Disguised Toast's: Hide and Seek Invitational, where 16 teams competed for the $100,000 prize.
Sweet Anita's win allowed her to walk home with $20,000, while the rest was divided among the other teams.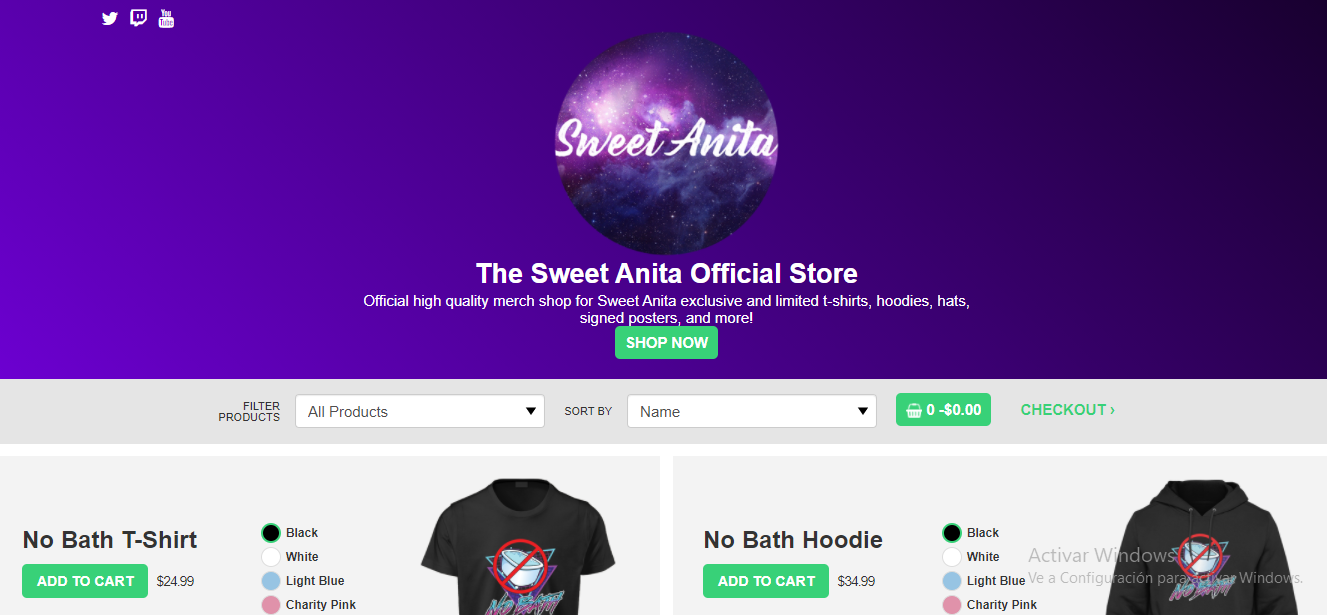 Sweet Anita is also an ambitious entrepreneur with an online store where she sells a vast array of items, including t-shirts, hoodies, beanies, and hats. We couldn't decipher the exact sum she makes in profits. But we bet it's worth it, having contributed to her praiseworthy net worth today.
Sweet Anita's Retirement and Post Professional
Today, Sweet Anita is still an ardent gamer and content creator who streams on Twitch nearly every day. She's not planning to hang up her boots just yet, and we admire her for it.
This Twitch Ambassador is already aware of the problems facing female gamers in the industry, including stalkers, but it's not enough to make her back out. Therefore, we can't wait to see how things work out for her.
Sweet Anita's Merch
Finding Sweet Anita's merch is a piece of cake because she runs an online store. Here are several of the items up for sale at this moment: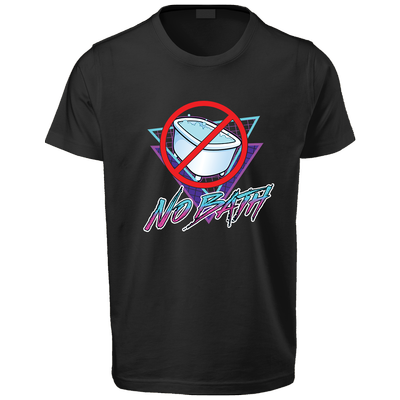 Check out this classy t-shirt available on The Sweet Anita Official Store right now. This brand provides it in black, grey, white, charity pink, and light blue, meaning you're not limited to only one color.
Other t-shirt options you can explore are the Double Dunk T-shirt, Feef T-shirt (short-sleeve and long-sleeve), Thirsty T-shirt, and Heeeeeey T-Shirt.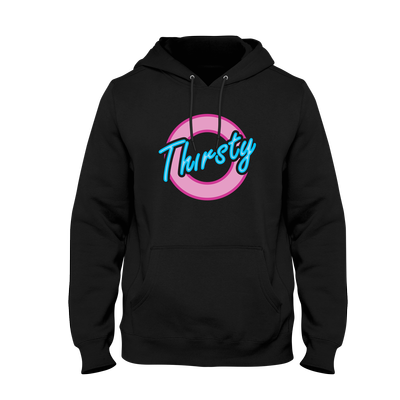 If you cannot get enough warm hoodies, this one deserves your undivided attention. Sweet Anita avails it in different sizes, plus the color options also vary.
In addition, you can also consider other hoodies on sale right now. These include the No Bath Hoodie, Feef Hoodie, Double Dunk Hoodie, Heeeeeey hoodie, and Biscuit Hoodie. It's easy to spot them as soon as you visit her store's official website.
Frequently Asked Questions about Sweet Anita
Question: Where can we find Sweet Anita's Twitch stream schedule?
Answer: Sweet Anita has published her Twitch stream schedule on her YouTube channel's "ABOUT" page to let her fans know when to catch her on this live streaming service.
Question: Does Sweet Anita have two YouTube channels?
Answer: Yes. Like Sophia "Djarii" White (Check Sophia "Djarii" White's bio), Sweet Anita manages two YouTube channels – her primary one, Sweet Anita, and her second one, Sweet Anita's Best Clips. The latter has 41K+ subscribers and 20,432,268 views as of early February 2022.
Question: Did Sweet Anita go through conventional schooling?
Answer: No. Tourette syndrome made it nearly impossible for Sweet Anita to have a normal school life as both students and teachers criticized her tics. So she dropped out to opt for homeschooling instead.
Recommended Reads:
Research Citations
https://www.youtube.com/channel/UCl4RpXZdQUhikTxBghAy1jQ/about
https://news.yahoo.com/sweet-anita-one-twitch-best-182313956.html
https://www.dailydot.com/upstream/twitch-tourettes-syndrome-sweet-anita/
https://melmagazine.com/en-us/story/what-its-like-to-have-tourettes-in-a-pc-world
https://www.news.com.au/sport/sports-life/twitch-streamer-sweet-anita-terrified-by-stalker-chilling-death-threat/news-story/30b70afdbd6d67dac727316e390d29c1
https://www.intheknow.com/post/twitch-star-sweet-anita-doesnt-want-to-be-defined-by-her-tourettes-syndrome/
https://shortyawards.com/11th/tweet4nita
https://uproxx.com/edge/sweet-anita-twitch-streamer-2020/
https://www.shacknews.com/article/108656/sweet-anita-streams-her-way-to-twitch-partner-while-publicly-facing-tourettes