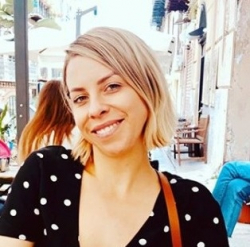 Latest posts by Jodie Chiffey
(see all)
Matthew "Mizkif" Rinaudo is an award-winning American YouTuber, Twitch streamer, video gamer, and a founding member of One True King (OTK).
I chalk up Mizkif's success as a streamer, to his relentless passion for content creation.
I believe his philanthropic nature has also seen him win the hearts of many in the internet community. For instance, in 2019, he held a charity stream that enabled him to collect more than $5,000, which he donated to Austin's St. David's Children's Hospital to help transform the lives of kids at the medical facility.
Additionally, Mizkif relishes collaborating with other popular Twitch streamers, such as Emiru, Sodapoppin, Mitch Jones, AustinShow, and Ice Poseidon. This allows him to reach a wider audience and add to his current millions of fans online.
Looking to learn more? I've done the homework for you and written this Mizkif bio, which offers essential info about his early life, streaming career, notable accomplishments, romantic endeavors, and revenue.
Mizkif's Bio Facts
| | |
| --- | --- |
| Real Name | Matthew Rinaudo |
| Birthplace | United States |
| Birthdate | February 14, 1995 |
| Nickname | Mizkif |
| Height | 5 feet, 9 inches |
| Nationality | American |
| Zodiac Sign | Aquarius |
| Siblings | Mizkif has a brother and a sister |
| Children | N/A |
| Spouse/Partner/Girlfriend | Ex-girlfriend – Maya Higa |
| Games Played | Just Chatting, Valorant, Minecraft, World of Warcraft, League of Legends, Jump King, Among Us, etc.  |
| Net Worth | $1.5M |
| Social Media | Twitch: Mizkif, YouTube: Mizkif, Instagram: Mizkif, Twitter:@REALMizkif |
| Awards | Mizkif bagged the Best Just Chatting Streamer award at the Streamer Awards in 2022. |
| Last Updated | July 2022 |
Mizkif's Birthplace and Early Life
Mizkif is a US native-born in Montclair, New Jersey. He grew up here with his brother and sister, Emily Rinaudo. I was fascinated to realize that the latter is also a YouTuber; I guess content creation runs in their family.
Mizkif hasn't discussed his parents publicly, so their names and occupations are unknown.
After finishing high school, he was sure he wanted to become a successful online streamer. In my opinion, knowing his calling at such an early age gave him a head start, enabling him to create a clear strategy to see his dream to fruition.
Mizkif was supposed to attend the university to attain a degree in finance.
However, on the first day at the institution he was admitted to, he was hospitalized and diagnosed with a heart condition. His symptoms worsened, prompting him to decide that his education wasn't worth putting his career aspirations on hold.
But he took some time to figure things out, which I think was smart because making such life-changing choices requires a clear head.
While at it, he worked at his dad's friend's firm for three months. Unfortunately, he didn't enjoy his time there, so he made up his mind about pursuing an internet career.
How Did Mizkif Get Started Gaming?
Mizkif's gaming origins date back to 2016 when he entered the streaming scene.
For about two years, his following was quite small, but his popularity began to soar when he began working as Ice Poseidon's cameraperson. Most of this famous streamer's fans deemed him funny, and I think it gave Mizkif the push he needed to pursue his content creation dreams harder.
So, he created more hilarious YouTube videos about other streamers. And when his following didn't grow as fast as he wanted, he decided to use a little tact, showing how badly he wanted to thrive.
To me, Mizkif's strategy was brilliant – he befriended more established streamers and YouTubers and convinced them that his content was worth watching. Fortunately, it worked, and his online fan base grew considerably after that.
Career Success
One of the things I consider striking about Mizkif is his grit, which has played a massive role in his current success. He has been open about struggling with attention deficit hyperactivity disorder (ADHD) and a heart complication that has often forced him to take breaks from streaming.
Mizkif revealed that his friends, including Loltyler1's younger brother Erobb221, helped him overcome his challenges. Some of them didn't even mind hosting him when his steaming career wasn't stable, way before he made bank.
Others showed him the ropes, giving him tips on streaming various titles and how to set himself apart from the over 8 million streamers on Twitch as of this writing.
Today, his determination has seen him rise and even become the owner of the esport organization OTK. Besides, he's among the top 20 Just Chatting Twitch streamers right now, alongside HasanAbi, AustinShow, ElMariana, Rubius, GeorgeNotFound, ibai, AuronPlay, and Asmongold.
Additionally, Mizkif shined at the Streamer Awards in 2022, where he won the Best Just Chatting Streamer award. He was also nominated for the Streamer of the Year award at the same event.
One True King
I consider OTK one of Mizkif's noteworthy achievements. In 2020, he co-founded this Austin-based esport company with Esfand, Asmongold, Tips Out, Nmplol, Jschlatt, and Rich Campbell, who sit among today's most distinguished content creators. Their objective was to build a gaming group based on talent and friendship.
OTK has signed skilled players such as Emiru, BruceDropEmOff, Tectone, and Cyr.
This esport organization is famed for its exceptional World of Warcraft roster that participated in various tournaments, including the Shadowlands Arena World Championship. Unfortunately, in 2021, they announced that they wouldn't be renewing their contract for the next season.
Nevertheless, I firmly believe that OTK is headed in the right direction. In 2022, it won the award for the Best Content Organization at the Streamer Awards.
Controversy
Like streamers such as LilyPichu, Ricegum, and LowTierGod, Mizkif has had a few controversial moments. And I think it's understandable since it can be tricky for celebrities to avoid these public debates and wrangles.
For instance, Mizkif and his friend Esfand made inappropriate remarks about a female content creator at the PAX East event in 2019. His comments earned him a seven-day Twitch ban.
In 2020, he aroused a public debate after holding a sleeping stream that earned him $5,600. He shared that, unlike most of his gaming streams, this one was easy since he didn't need to do much.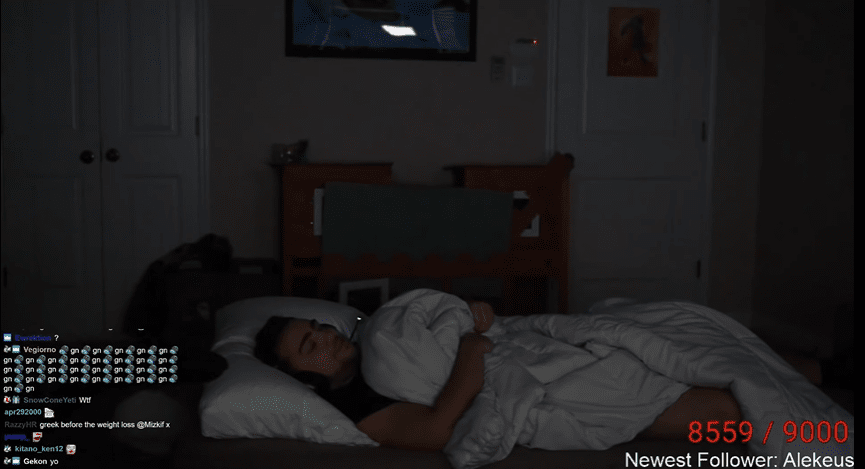 Most recently, in 2022, Hasan "HasanAbi" Piker 'convinced' him to back out of an "esportswashing" event in Saudi Arabia, losing a sponsorship deal worth close to $1M.
Mizkif's Videos
As I've mentioned above, Mizkif doesn't mind collaborations with other streamers as long as the result will be top-class content for his fans. Well, here's a video of him and Pokimane hanging out. They chat about interesting random topics, ranging from Pokimane's friendship habits and manspreading to fashion and partying.
Like the clip above, this long video is also a collaboration, and it's worth watching if you're looking for three hours' worth of quality entertainment. Mizkif spends quality time with Esfand, Jenna, and Peach, all of whom I think are meant to be content creators. I was impressed by the flow of their conversations as they played with their cat, enjoyed drinks, and did more exciting stuff. Are you curious to know about the latter? Watch this video to the end!
Mizkif's Gaming Setup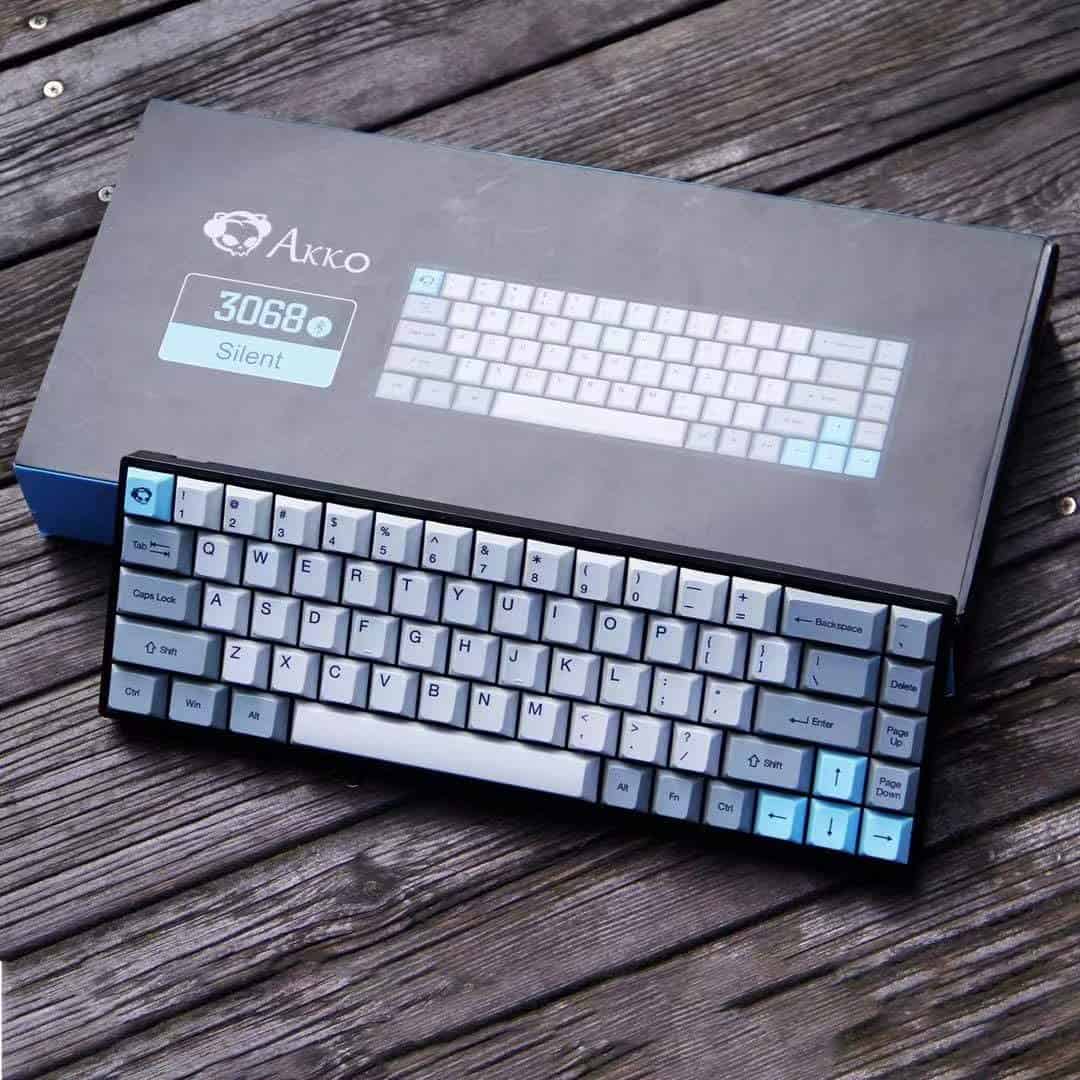 Available in a breathtaking retro design, the Akko 3068 is a fantastic option for not only Mizkif but also any other content creator out there. I was blown away by its multi-color PTB keycaps built to last, owing to their dye-sub technology, which also gives them impressive water and dust resistance.
This keyboard also boasts Cherry MX key switches whose fast responsiveness makes it the perfect weapon to have up your sleeve in a competitive environment. Additionally, the piece of gaming gear features the smoothest stabilizers with a Cherry style design to prevent the larger keys from rattling. And with each keystroke is a nice sound to ensure you relish the most satiating gaming or typing experiences.
More amazing features of this 65% mechanical gaming keyboard include the ease to customize and compatibility with multiple devices, such as Windows, Mac OS, and Android.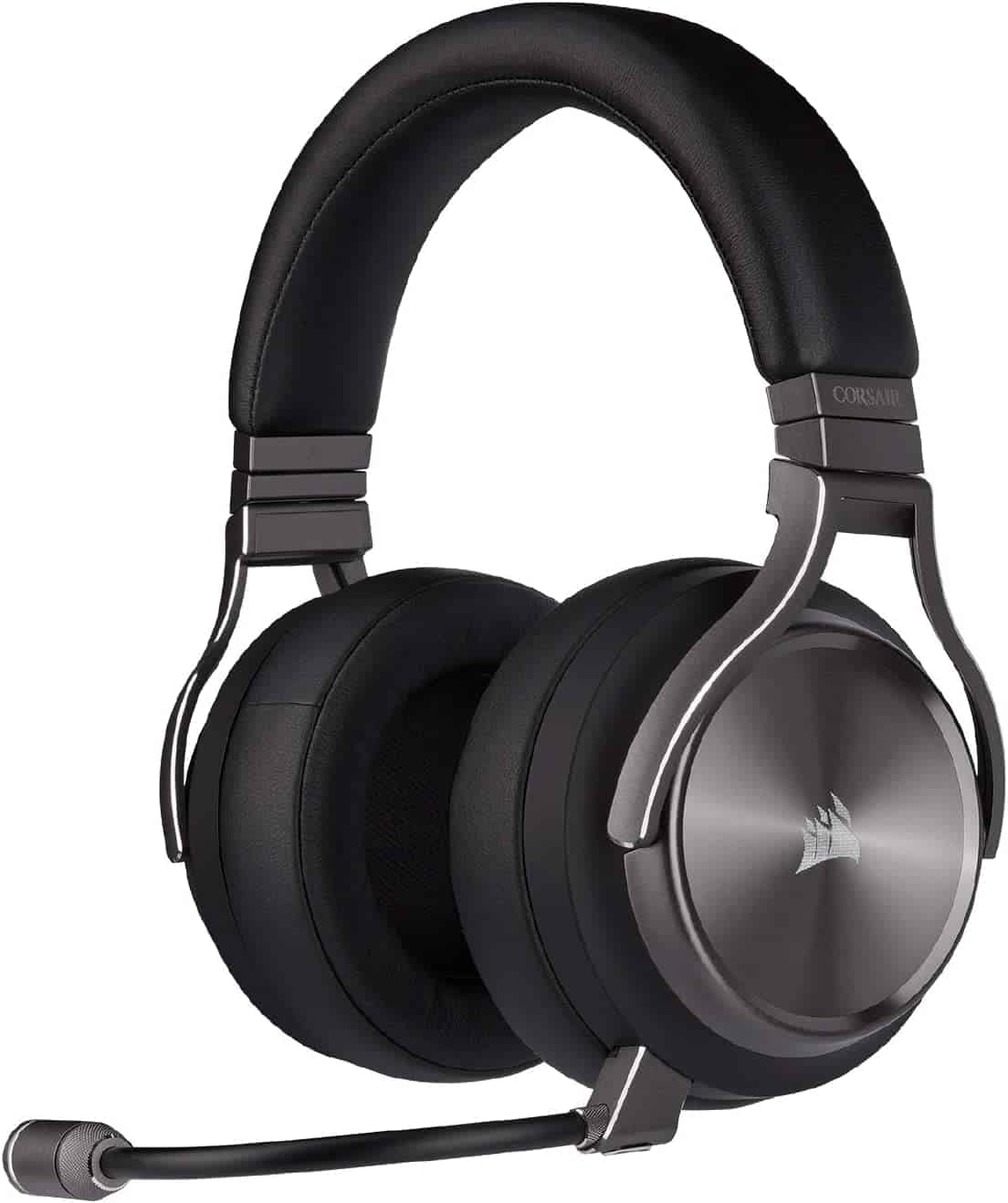 Like Crimsix and Pestily, Mizkif leverages a Corsair headset, and I deem the Virtuoso Wireless SE the perfect choice. This headset warrants my recommendation because it's an excellent option for gamers – it comes with a great mic and good battery life. And there's a lot more to it.
To begin with, the Virtuoso Wireless SE delivers uncompromising sound quality, thanks to its high-density neodymium speaker drivers. Something else contributing to its remarkable audio production is its frequency range, which is between 20hz-40,000Hz, double what many other headsets bring to the table.
With this headset, you can also enjoy lasting comfort, enhanced by the quality memory foam earpads designed to conform to your head's shape. It's also notably well-constructed, with lightweight, machined aluminum running from its headband to the ear cups to make it wearable for long hours.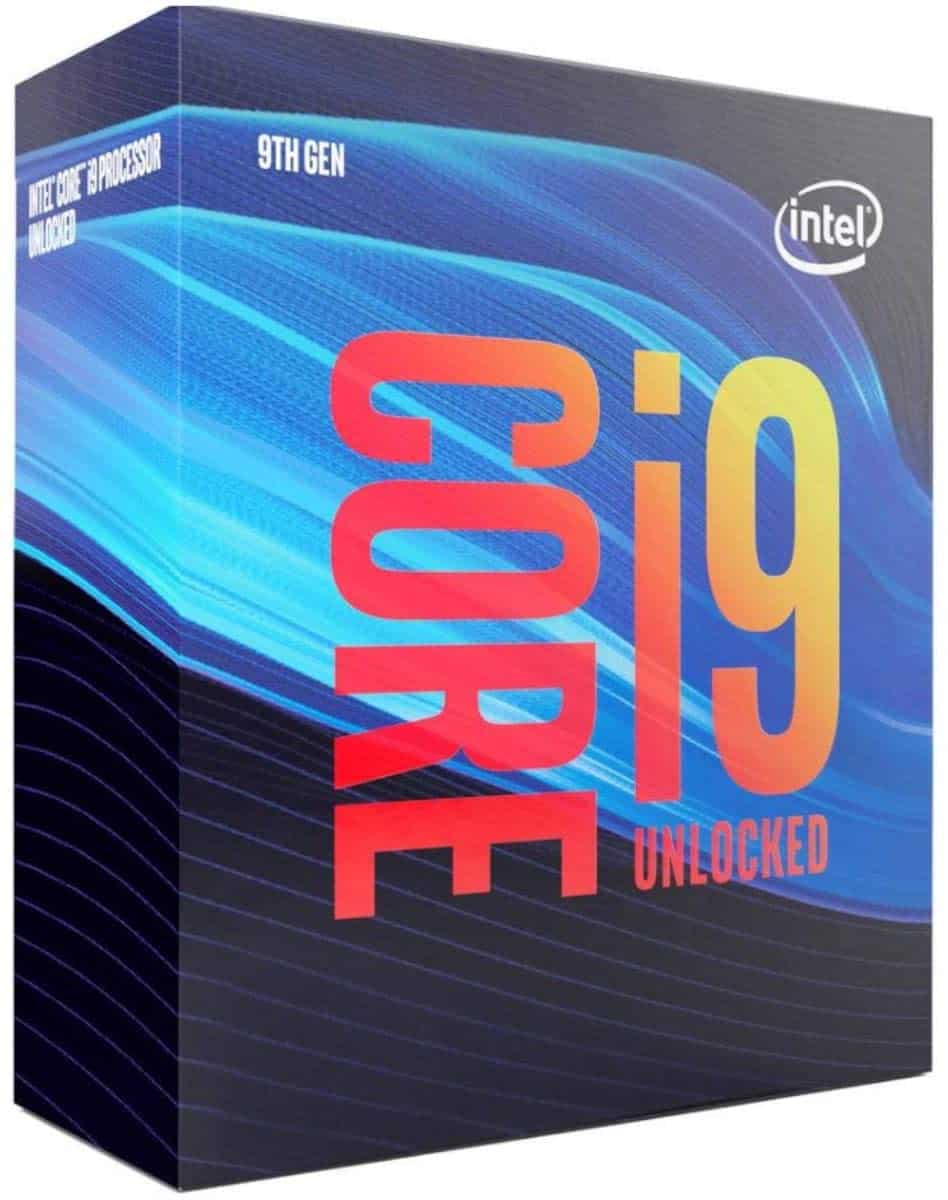 The Intel Core i9-9900K is already on my list of the best gaming processors on the market. Besides Mizkif, plenty of other well-known streamers use it, including Redshell, NickEh30, TheGrefg, and BadBoyHalo. And I'm pretty sure they all relish its advantages, such as a solid performance for gaming, higher frequencies, Intel Optane memory support, and tons of cores and clock speed.
If you're going to get this processor for your gaming setup, remember that it's only compatible with Intel 300 series-based motherboards. Although this might sound somewhat limiting, you have plenty of great options at your disposal, including the Asus ROG Strix Z390-E that Mizkif owns, the ASRock H370M-HDV LGA1151, ASRock Intel B365, and more.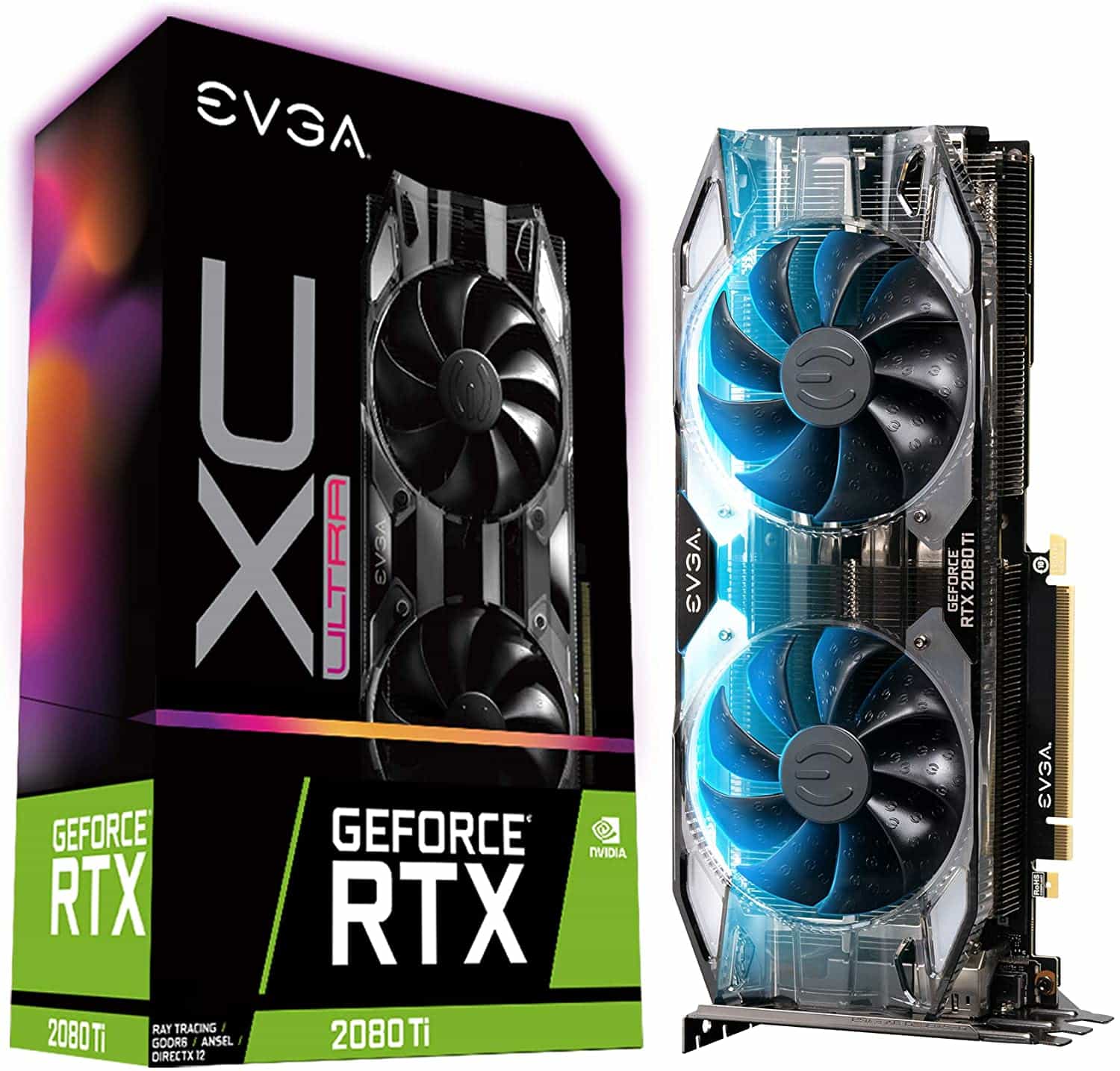 My research shows that Mizkif uses the EVGA GeForce RTX 2080 Ti graphics card. And I bet it delivers a much-needed modern gaming experience because it leverages NVIDIA's Turing GPU architecture, which enables it to be six times faster than previous-generation video cards. Consequently, this allows you to crush all the games you explore, even if you're playing at maximum settings.
I was captivated by this GPU's dual HDB fans designed for more efficient cooling, guaranteeing a quieter gaming environment. What's more, the adjustable LED lighting makes it easier to personalize your build based on your tastes or other components.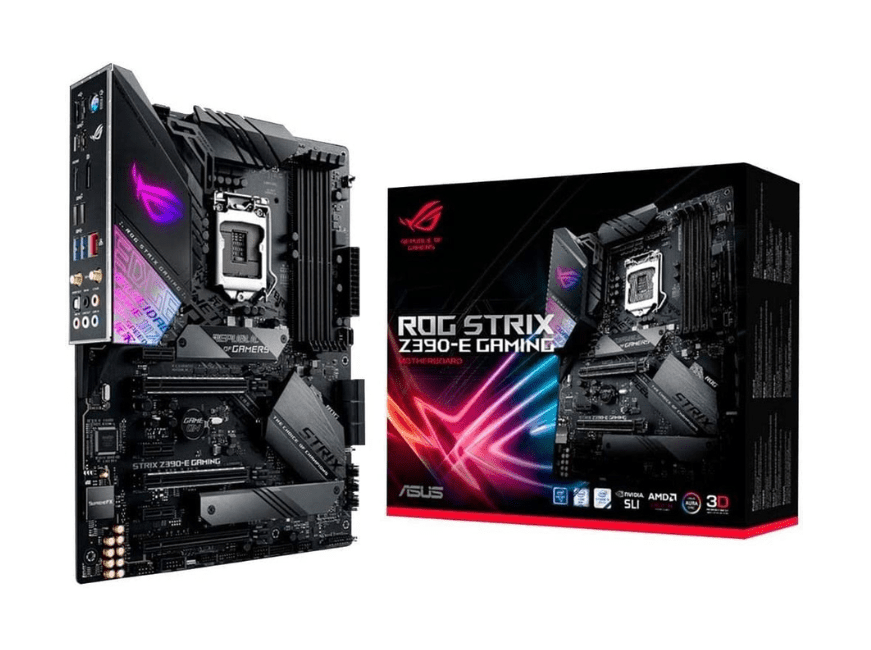 The ASUS ROG Strix Z390-E motherboard is incredibly popular among enthusiastic gamers across all genres. Apart from Mizkif, Stable Ronaldo and Daequan Loco utilize it, and its perks reward them well.
To start with, this solid motherboard is built for 9th and 8th- generation intel core gaming CPUs. And it promises maximum speed, connectivity, and overclocking stability, no matter how exacting your current gaming task is.
Furthermore, you'll find a pre-mounted I/O shield to guarantee straightforward installation. You might also be delighted to know that it stacks great cooling options to tame your processor as you enjoy the most exhilarating playing sessions.

Mizkif went for the Corsair Vengeance LPX 32GB to build his setup, and I think that he made the right choice. This RAM comes with a fantastic overclocking headroom, it's easy to install, and even better, it offers reliably fast performance. Since it also supports Intel XMP 2.0, hassle-free, automatic overclocking is a guarantee.
Something else that I liked about this memory is it features a low-profile design, which enables it to fit in small spaces. Since it's available in many colors, you can always pick your favorite to personalize your setup.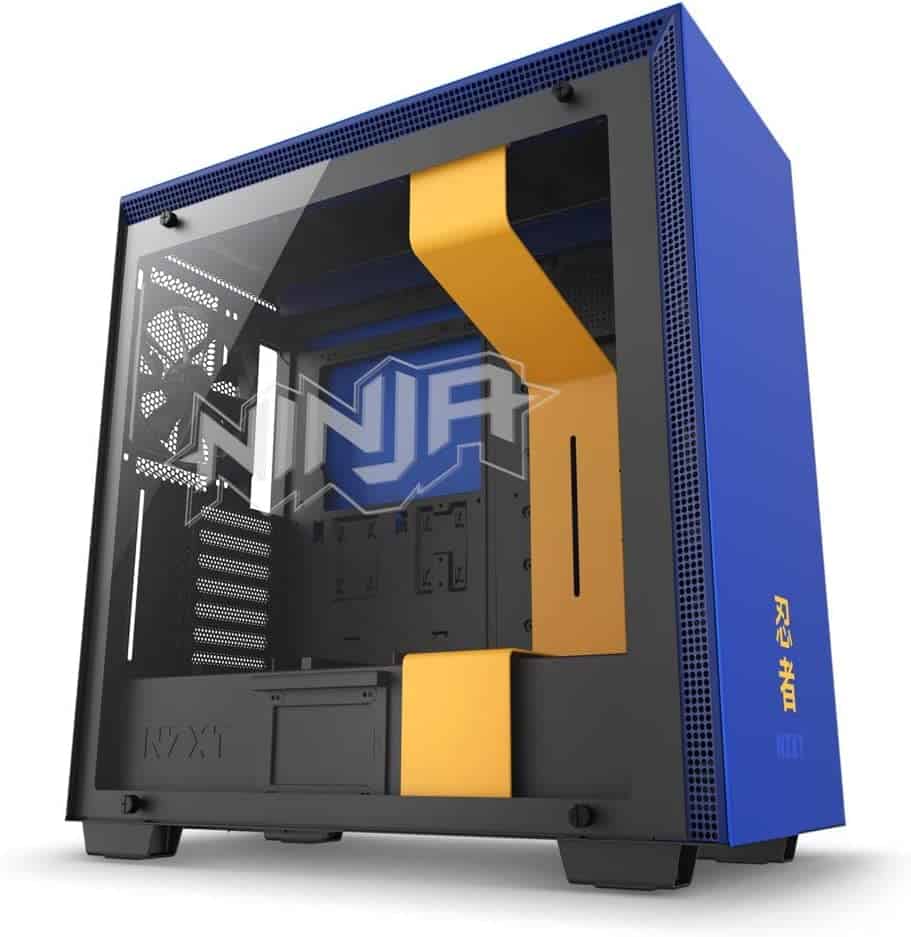 I was intrigued to discover that Mizkif utilizes the NZXT H700i case designed by Ninja. It's a great pick for gamers looking to create an ambitious build since it has adequate space to accommodate 360mm AIOs and many other essential components. Additionally, its all-steel construction renders it super durable, promising you total value for your cash. And what's more, you have four color combinations to explore – yellow/blue, black/blue, black/red, and white/black.
Moreover, the NZXT H700i comes with a digital RGB and a cam-powered fan controller, making installation a piece of cake. You should also expect zero issues when adjuring the RGB lighting or managing the fans. Another impressive feature of this case is adaptive noise reduction technology that helps provide the perfect gaming environment for any player. Other incredible aspects include the compatibility with various motherboards, plus it's water-cooling ready.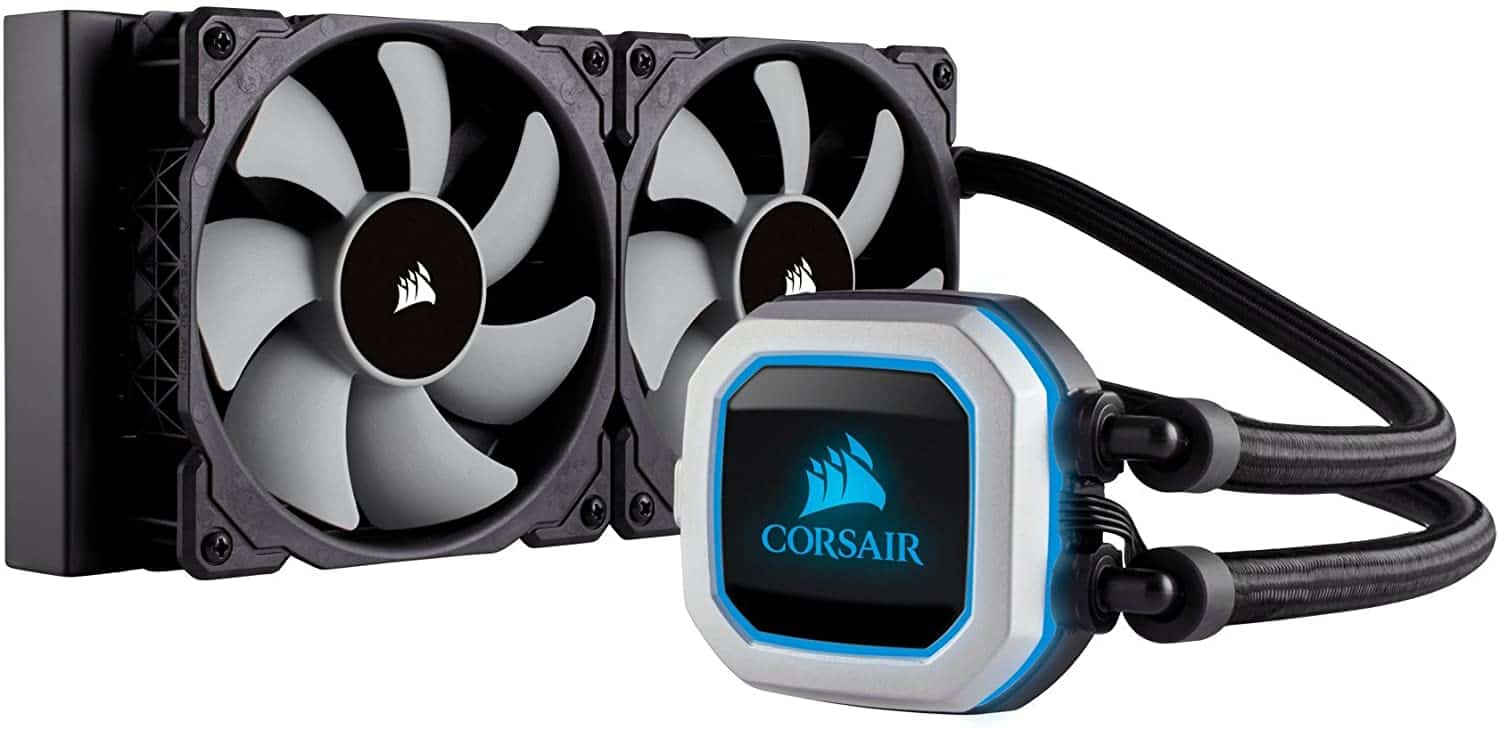 For water cooling, Mizkif uses the Corsair Hydro Series H100i PRO and judging from its performance, I think it's worth it. This cooler is famed for its multicolor RGB lighting effects to make your setup more attractive.
It also comes with two dedicated ML120 PWM magnetic levitation fans that guarantee excellent airflow and static pressure without producing a lot of noise. And with the available fan-speed control, you can effortlessly run them between 400 RPM and 2,400 RPM.
Notably, the Hydro Series H100i PRO leverages the CORSAIR iCUE software, making customization easy. When the temperatures in your gaming setup are low, the Zero RPM cooling profile will stop the fans and eliminate the minimal noise they make.

The Samsung 970 Pro ranks among the fastest consumer-grade SSDs you can invest in, so I understand why Mizkif prefers it to other options available. It delivers leading-edge performance, making it the best storage for your gaming build, no matter how complex. In addition, it works well with various servers that are compatible with M.2 2280 PCIe drives, which adds to its convenience.
Also, this SSD has other alluring features, such as seamless cloning, fast transfers, incredible endurance, full disk encryption, and a dynamic thermal guard to reduce performance drops while considerably minimizing the risk of overheating.
Supposing you're ready to get it, I feel you should also beware of its downsides. Some of them are that it doesn't come with a 2TB option, and its price tag reads higher than a plethora of other SSDs doing rounds on the market right now.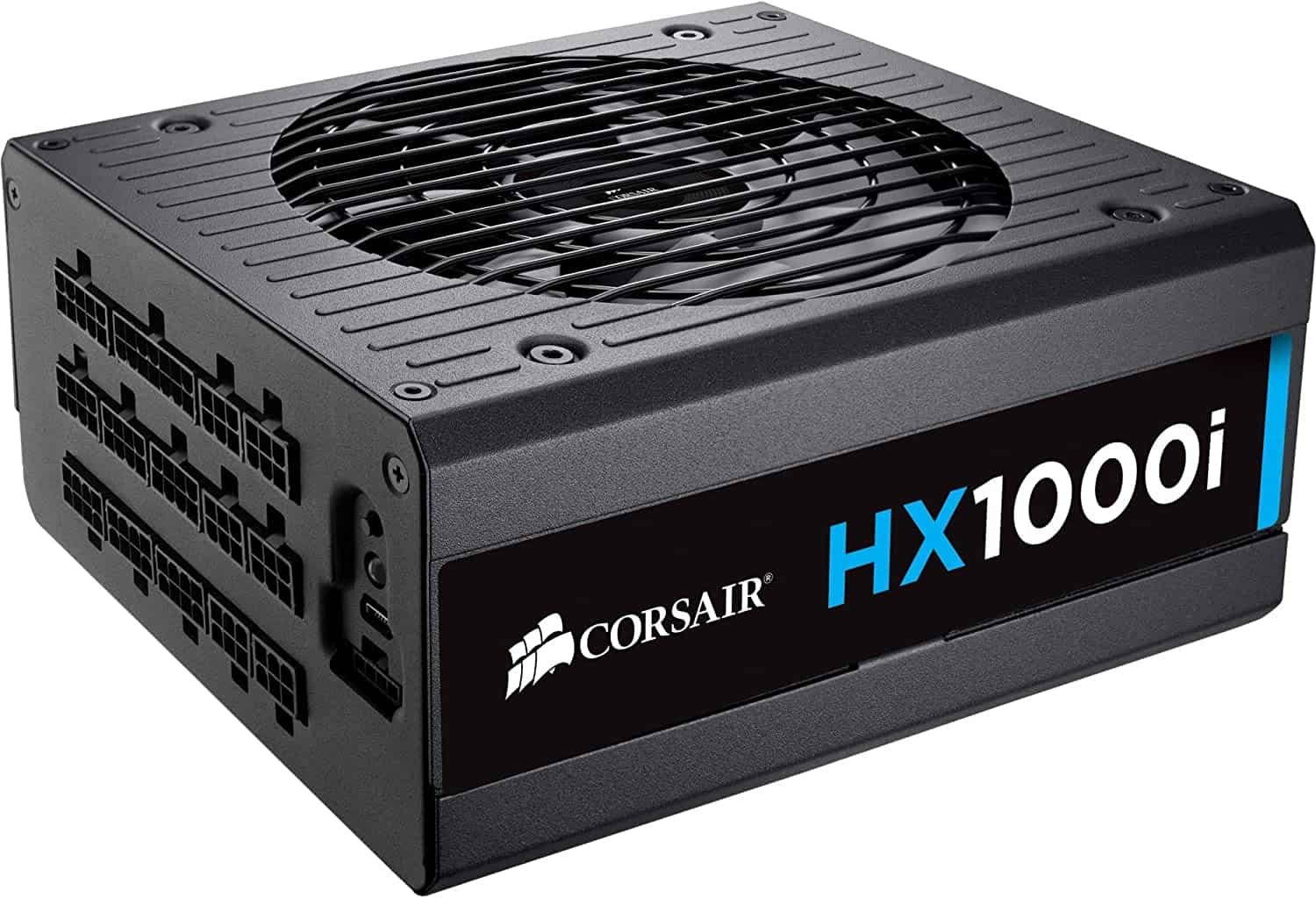 Generally, the Corsair HX1000i PSU's build is magnificent, which might be enough to lure in many gamers. But in my opinion, Mizkif chose it because of its other features meant to add to the quality of his playing sessions.
For starters, like all the options in the HXi Series, it comes with exceptionally tight voltage control and a modular cable set for straightforward cable management. Another feature that impressed me is the Corsair Link Digital support since you can monitor the PSU's performance and adjust the fan speed directly from your gaming desktop.
Additionally, the HX1000i performs well even with elevated temperatures. I attribute this to the high dependability of Corsair's offerings, plus this PSU features an open design to minimize heat by enabling fresh air to diffuse through the unit.
Mizkif's Family
In 2019, Mizkif began dating popular Twitch streamer Maya Higa, also famous for her keen interest in wildlife rehabilitation. Most people in touch with the online gaming community will agree with me when I say they seemed to be the perfect match.
Mizkif and Maya first met online, and after a while, they agreed that a face-to-face link-up was necessary. Soon after, their enthusiasts started suspecting they were together. And later, the streamers went public accidentally in a stream.
From then, Mizkif and his girl were almost inseparable as they garnered more fame in the creator economy. They'd often stream together, sharing banter, making fun of each other, and amassing an even larger fan base. So in love were they that at some point, they considered marriage, and since they were already cohabiting, this was likely to happen sooner rather than later.
That is why the news of their split up after two years of dating caught me and most of their stans off-guard.
What Caused the Breakup?
Mizkif and Maya revealed that breaking up in September 2021 was a mutual decision fueled by the desire to pursue different lives. They insisted that no cheating or drama led to the shocking decision.
However, some internet community members speculated that the OTK founder had become "too close" with Colombian YouTuber and Twitch streamer Natalia "Alinity" Mogollon, forcing Maya to walk away. But from my point of view, this could be nothing but a rumor started by those who wanted to believe there was a 'reasonable' explanation for their break up.
Both Mizkif and Maya told their fans that despite not being romantic partners, they still cared for each other and would remain friends. In addition, they both went on a short hiatus to take care of themselves.
Following their breakup, several streamers, including Pokimane and Asmongold, consoled them.
Mizkif's Net Worth and Career Earnings
According to my research, Mizkif's net worth is approximately $1.5M, brought in through the following ways:
Twitch

As I know, Mizkif ranks among the most successful streamers on Twitch. My opinion is based on his 2M+ followers on this platform and the 102,743,679 views and 15,488 subs he's amassed so far.
After analyzing Mizkif's Twitch stats, I gathered that Just Chatting is among his most played games. Others include Super Mario, World of Warcraft, Minecraft, League of Legends, and Super Mario 64. And streaming them has earned him a great deal of cash, as evidenced in last year's Twitch data breach that revealed the payouts of creators on this platform.
According to that alleged leak, Mizkif raked in $2,086,548.21 from August 2019 to October 2021. His ranking was #23 on the list of top 100 highest-earning Twitch streamers, right below Moistcr1tical and above CohhCarnage and Shroud.
Considering Mizkif still streams on Twitch, I believe he still makes money off this website; his earnings could be between $35K and $ 50K monthly.
YouTube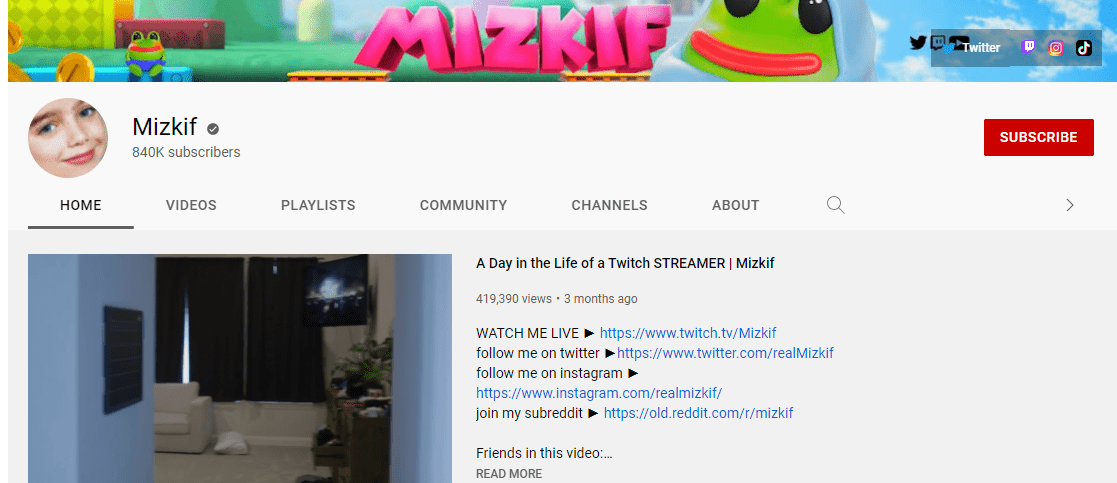 I also think Mizkif has made a decent sum from uploading gaming content on YouTube. So far, his channel, which @rosiiwun manages, boasts 836K subscribers and 264,909,593 views.
I estimate Mizkif earns between $2 and $4 for every 1000 monetized views his videos garner. This translates into thousands of dollars in YouTube payouts.
Competitive Play
Mizkif participated in two tournaments in 2019 and three more in 2020 to earn $7,575.00. They're not as many as I expected, given his fantastic gaming skills. Nevertheless, they were handy in boosting his income at the time.
So, the games Mizkif played competitively were Fall Guys, Teamfight Tactics, and Call of Duty: Modern Warfare. The latter accounted for $5,000.00, 66.01% of his total prize pool money.
I feel the need to point out that Mizkif played at all the five gaming events as an independent player.
Sponsors and Partners
Mizkif has worked with various brands throughout his streaming career, such as Nexus.gg, Rocket Bot Royale, and Robo Rascals. While I didn't find any details specifying the value of his sponsorship and partnership deals, I still believe they're worth a reasonable sum.
One True King (OTK)
Mizkif established One True King, and he still owns this esports organization. Though I don't have clear information regarding how profitable it is, I bet he has brought in a reasonable sum in profits. The specific amount depends on tournament winnings, shows, sponsors and partners, and content creation.

Notably, One True King also has a merch store providing items such as hoodies, t-shirts, socks, sweatshirts, and joggers. Obviously, as this company's owner, Mizkif is entitled to a certain percentage of the profits made from these products' sales.
Merch Sales
Besides the OTK online store, Mizkif drops merch separately via his shop. His offerings are sold out as of this writing, indicating that he's earned a particular sum in proceeds.
Mizkif's Retirement and Post Professional
As far as I know, Mizkif is still very active in the streaming scene and hasn't hinted at leaving the latter soon. Even so, he's taken several breaks from Twitch, one being in August 2018 and last year following his breakup with ex-girlfriend Maya Higa. Notably, spending time away at these different times has only helped him recharge and come back better than before, explaining why his fans are always enthusiastic about him returning.
Mizkif's Merch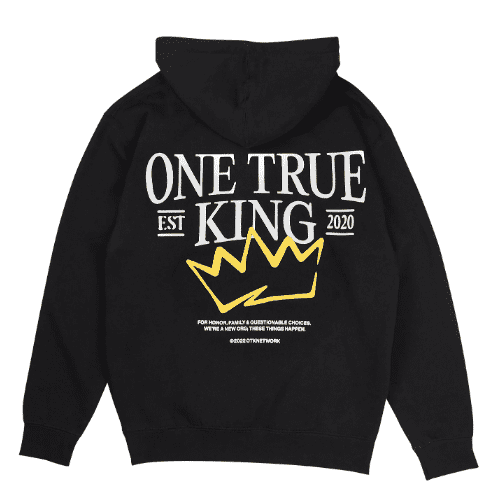 Are you a fan of Mizkif's company, OTK? If yes, I think you'll like this hoodie made from a soft blend of cotton and polyester. This material renders it breathable and comfy, making it perfect for everyday wear. This piece of clothing features a front pouch to carry your stuff or keep your hands warm when it's chilly, and it's available in off-white and black.
The OTK network avails several other stylish hoodies, such as the Ice Cream Hoodie, which comes in peach, light pink, and off-white.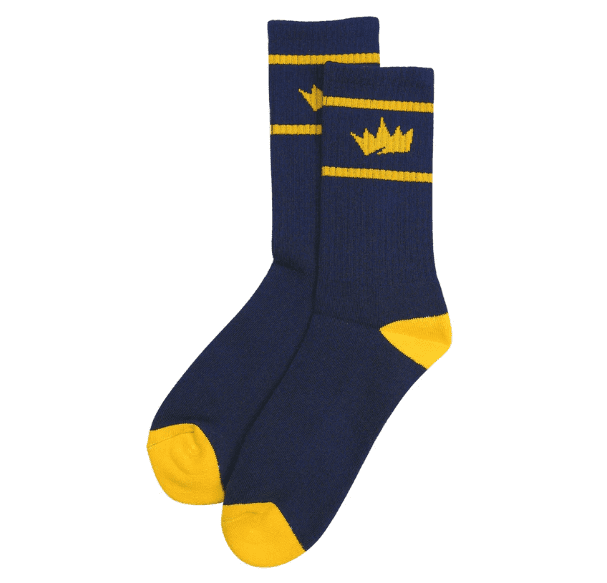 Keep your toes warm and comfortable with this perfect pair of socks. I do not doubt that it's built to last, given its impeccable knitting. The crown socks feature a beautiful blue color, and if you'd like other shades, you should check out the Logo Stripe Socks, which come in white and black.
If you fancy a fashionable short-sleeved tee to wear on multiple occasions, here's an ideal pick. I like that it's manufactured with 100% cotton because it makes it highly durable, moisture-absorbent, and comfy. Plus, allergies will be the least of your worries. Of course, you can order one for yourself and your loved ones since it comes in multiple sizes and is the perfect gift idea.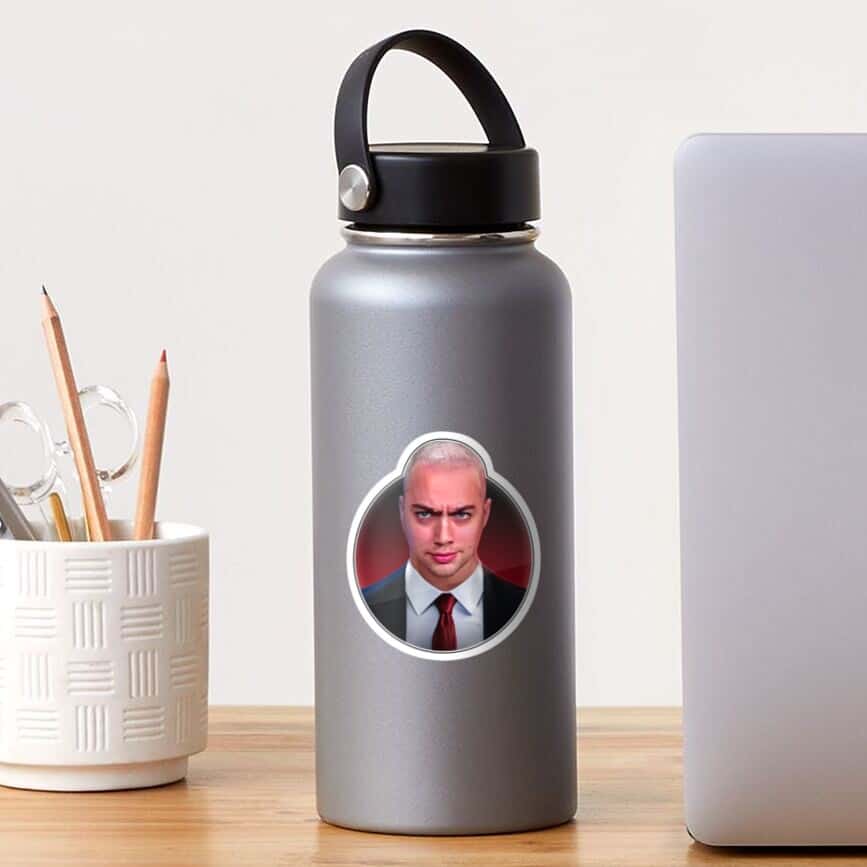 One of the attributes that drew me to this sticker sold by Lamara Belhamiche is its elegance. But there's more to it than its visual appeal because it's available in transparent, glossy, and matte finishes, enabling it to satiate the needs of different users. Then, it comes in four sizes, all with a 3.2mm white border around them to make installation a breeze.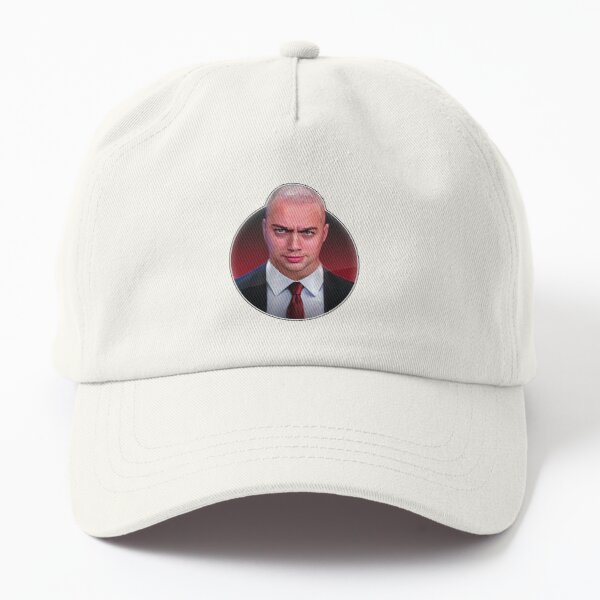 Chic, durable and low-maintenance, you can think of this cap as the gold standard of dad hats because I do. It features a buckle closure to help you quickly adjust your fit. I like the medium-to-high-profile crown with a curved bill since it boosts its appearance and availability in beautiful colors such as white, beige, navy, slate grey, and black.
A fancy throw pillow always has a place in my bedroom or living room, which is why I recommend this one. Its cover and optional insert are made from the same fabric – 100% spun polyester, which brings several perks to the table. These include high quality, wrinkle resistance, and softness. Considering that this material also shapes well and has a hidden zip, a neat look is a guarantee.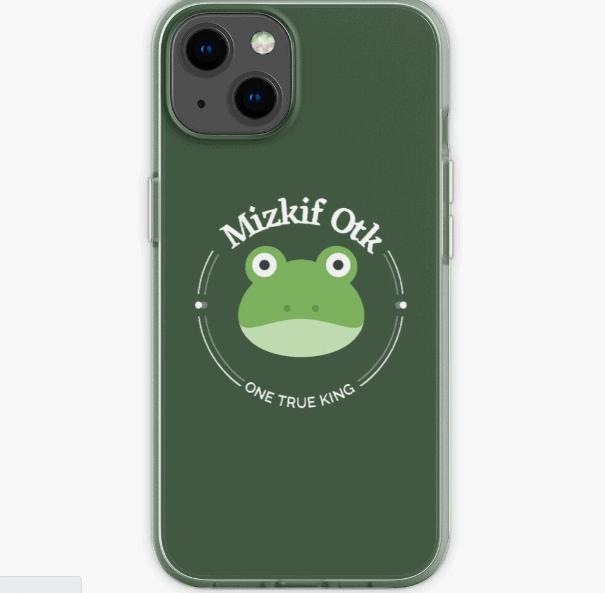 This is unquestionably among the most good-looking iPhone cases I've ever set my eyes on. It's ideally flexible, which provides the necessary grip, and makes it easier to install. Besides, it's super durable and designed for many models, mainly iPhone 12s and 13s. Additionally, it only weighs 26g, so you don't have to carry too much weight, and it allows for Qi-standard wireless charging.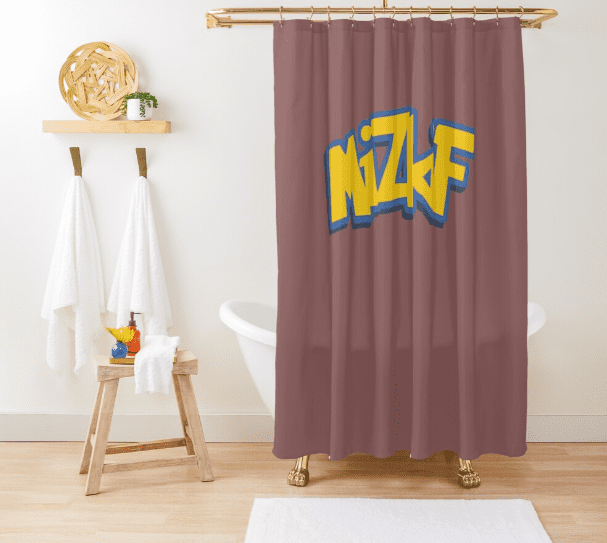 I recommend this shower curtain because it's breathtaking. Furthermore, it's made from a soft 100% polyester fabric that allows for a smooth, even drape. Since it measures 71 x 74″, it's likely to fit your standard bathtub or shower for convenience. Hanging it is effortless, thanks to its 12 stitched buttonholes, but it doesn't have any rings, so you must get them separately.
Change your bed's look with this stunning duvet cover available in twin, queen, and king sizes. It's removable and machine washable, meaning you'll have an easy time maintaining it. While its back is made from a 50/50 cotton/poly blend, its printed front comes with 100% polyester fabric that is less prone to wrinkles.
Even better, the duvet cover's zipper opening is carefully concealed to help achieve a flawless look.
If you're considering adding a duffle bag to your collection, I suggest you purchase this one. It has a lasting 100% polyester shell that makes taking care of it hassle-free. Moreover, it features a bold, beautiful design, enhancing your elegance whether you're heading to the gym or your subsequent work or romantic trip.
More convenient features include the external mesh pocket, adjustable and robust padded shoulder strap, and internal zipper pocket for more organized storage.
Frequently Asked Questions about Mizkif
Question: Does Mizkif have a heart condition?
Answer: Yes. Mizkif lives with viral myocarditis, caused by the heart muscle's inflammation.
Question: Is Mizkif an animal lover? 
Answer: Yes. I can confirm that Mizkif loves animals, explaining why he owns several pets.
Question: What does Mizkif enjoy doing during his leisure time? 
Question: What does Mizkif enjoy doing during his leisure time? 
Question: Did Mizkif marry Maya Higa?
Answer: No, unfortunately, Mizkif and Maya Higa broke up, disappointing most of their fans since I think the latter thought they'd last.
Question: When can I catch Mizkif's streams? 
Answer: Mizkif doesn't have a stream schedule as of this writing. Nevertheless, he streams several times weekly.
Recommended Reads:
Research Citations