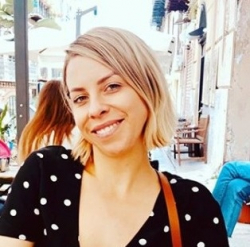 Latest posts by Jodie Chiffey
(see all)
Eric Vivian Matthew, best known online by his alias SwaggerSouls, is an American Twitch streamer, YouTuber, and podcaster.
One of the intriguing aspects I learned about SwaggerSouls is that he's a 'faceless' streamer.
And yet, he's built one of the largest and most loyal audiences on social media, evidenced by his 1.5M followers on Twitch and 4.88M subscribers on YouTube. If you ask me, it all comes down to his comedic gaming-related content and easy-going nature that makes him relatable to his fans.
SwaggerSouls' list of favorite games has many exciting options, such as Counter-Strike: Global Offensive, MapleStory, Minecraft, Grand Theft Auto V, HITMAN3, Rust, and Escape from Tarkov. I greatly admire his incredible knack for streaming these titles, considering they're a mix of different genres, ranging from multiplayer first-person shooters to survival and massively multiplayer online role-playing games (MMORPGs).
And what's more, he doesn't mind playing them with his fans online, amplifying the thrill of his streams present.
Pining for additional details about SwaggerSouls? I wrote this bio with you in mind! Read on to know more about various critical aspects of this exceptional content creator's life, commencing with these quick facts.
SwaggerSouls' Bio Facts
| | |
| --- | --- |
| Real Name | Eric Vivian Matthew |
| Birthdate | February 24, 1988 |
| Birthplace | Idaho, USA. |
| Nicknames | SwaggerSouls |
| Height | 5 feet 8 inches |
| Nationality | American |
| Zodiac Sign | Pisces |
| Siblings | N/A |
| Children | N/A |
| Girlfriend | N/A |
| Games Played | Minecraft, Escape From Tarkov, Apex Legends, CoCounter-StrikeGlobal Offensive, etc. |
| Net Worth | $1.5M |
| Social Media | Twitch: SwaggerSouls, Discord: SwaggerSouls, Youtube: SwaggerSouls, Instagram: @SwaggerSouls, Twitter: @SwaggerSouls. |
| Awards | N/A |
| Last Updated | June 2022 |
SwaggerSouls' Birthplace and Early Life
SwaggerSouls was born in the US on February 24, 1988.
Unfortunately, I couldn't find much about his family and educational background.
In addition, SwaggerSouls hasn't discussed his childhood online, so there's also little to tell about it.
How Did SwaggerSouls Start Gaming?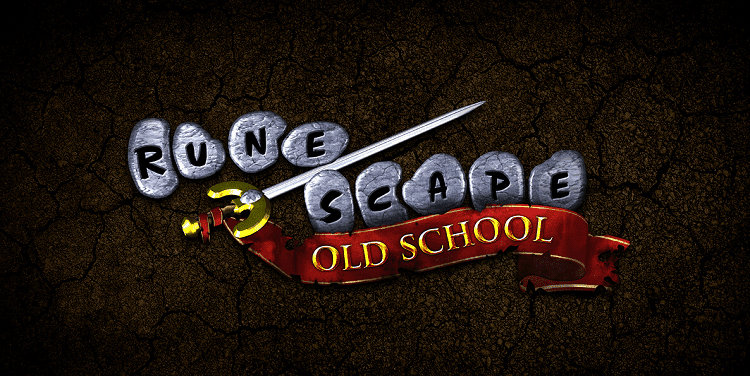 SwaggerSouls' interest in gaming dates back to the early days of RuneScape, an MMORPG that was pretty common in 2006. His interest would later shift to another MMORPG, MapleStory, between 2007 and 2012 before taking a sabbatical until early 2015.
On May 19, 2015, SwaggerSouls, who before then was Eric, created his Youtube account. A year later, he uploaded his first of many videos titled "Casual Shoutcasting! | CSGO". I was impressed by how perfectly he flaunts his incredible CS: GO skills in this short video, swiftly slitting throats, taking the most precise headshots, and dodging tons of destructive armor hauled at him.
Interestingly, throughout the video commentary, SwaggerSouls never utters a single swear or curse word, which I've witnessed in many other streamers' clips. All the same, it firmly thrust him into the limelight, setting him up for his now stellar gaming career.
This video would later be followed by hundreds more, all of which were gameplay videos with SwaggerSouls commenting but never revealing his face. But more importantly, I think that it is this single video that opened the doors to his cocolorfulaming journey. As his fanbase soared, his skills improved, and people demanded more, SwaggerSouls went all in publishing more and more.
On the way to stardom, SwaggerSouls struck hundreds of partnerships with total strangers, floored bigwigs, and never dared disclose his real identity, further fanning his fame.
Having made a name for himself, and itching to hit a million subscriptions, SwaggerSouls, who until then was defined by a Medieval helmet-wearing avatar, promised to reveal his face once he hit the million subscription mark.
Face Reveal
True to his word, on July 7, 2018, SwaggerSouls uploaded a video titled "The Face Reveal." At the start of the excellently edited video, numerous gamers, including Moistcr1tikal, Charlie, and Pewdiepie, opine that SwaggerSouls has an issue, which is why he is unwilling to reveal his face.
Halfway through the video, a well-built figure donning Swaggersouls' Helmet removes the mask before a series of faces rapidly appear. Towards the tail end of the video, celebrity Youtuber Pewdiepie makes an appearance claiming that he is, in fact, SwaggerSouls.
An even more controversial comment follows with SwaggerSouls claiming that one of the faces shown is his and that some things, for the sake of his security, should remain unknown.
And like many anxiously waiting fans, I felt betrayed by him. Regardless, the fascination surrounding his mystery even further soared.
In the meantime, I suppose as fans, we will make do with the Helmet donning avatar or a photo of him in Chainmail hood from Assassin's Creed.
Misfits Group
Alongside five other YouTube gamers, SwaggerSouls formed Misfits, a collaborative YouTube group whose members are based in Melbourne, Victoria, Australia. It has three channels – Misfits Podcast Clips, Misfits, and Misfits Podcast.
It is based on the comments SwaggerSouls makes on these podcast sets that I often question his morals. This is because in most of the podcasts I listened to, he alleges to indulge in drug abuse, watch adult films a, nd dream of making homemade explosives.
SMP
SwaggerSouls is a member of the invite-only Minecraft Server, SMP, founded by GeorgeNotFund and Dream.
Out of all the members inonhe server, I rank him as one of the most technologically advanced players, having created the industrial district complete with hundreds of automated machines within his first 13 hours of streaming.
Currently, alongside Schlatt, SwaggerSouls is focusing his energies on creating a city of dreams dubbed Industrial Dreams. His other accomplishments within the server include successfully creating the first train system dubbed Epic Express and bagging the coveted Arms Race trophy after creating the incredible Deforester and Handheld Blockzapper.
Controversy
I wasn't that shocked to discover that SwaggerSouls has been involved in controversy – online disagreements are popular among celebrities. So, let me loop you in.
On March 21st, 2021, Minecraft legend Jschlatt took a hit when he uploaded a crudely drawn blackface to Jackbox Game "Survive The Internet." The graphic image attracted the wrath of millions of viewers who considered it racially insensitive and disgusting.
In his defense, he claimed that the faceless creator, SwaggerSouls, drew the image. Besides this, SwaggerSouls has also been vocal about using weed, among other drugs, uploading videos on how to make liquid nitrogen explosions and boastfully claiming that he not only watches porn but intends to shoot one.
SwaggerSouls' Videos
For years, the mystery behind the man who has wooed millions, hrashed talked in hundreds of uploads, nd garnered millions of adherent fans was coming to a closure. The condition was simple, hit a million subscriptions, and I will take the mask off, said SwaggerSouls.
Hundreds of streamers, including streaming bigwigs, aspiring gamers, and no-namers, tuned in to SwaggerSouls' channel for the final face reveal. As millions of us held our breath, close friends fanned rumors, and the Minecraft community came to a standstill, a hastily walking and masked SwaggerSouls gave the cacamerais back before rapidly turning.
Was this the much-awaited day? Will fans finally put a face to the man whose exquisite skills have annihilated assassins and floored opponents in seconds? Well, here is your answer.
In this ten-plus minutes video SwaggerSouls, alongside his friends, delves into the exciting ventures of the popular shooter gamer Enlisted. In the video, SwaggerSouls, alongside his friends, swiftly and quickly moves through epic and realistic world war II maps as they try to relive the horrors that soldiers faced.
His friend Smii7y, whom SwaggerSouls has been teaching the ropes of gaming, turns out to be an accurate shooter and excellent learner. His other buddy, Grizzy, didn't live to expectations, leaving SwaggerSouls disappointed and lamenting. Here is how the video that SwaggerSSouls feels should leave you with a PTSD pun.
Swaggersouls' Game Setup
SwaggerSouls' Microphone: Shure SM7B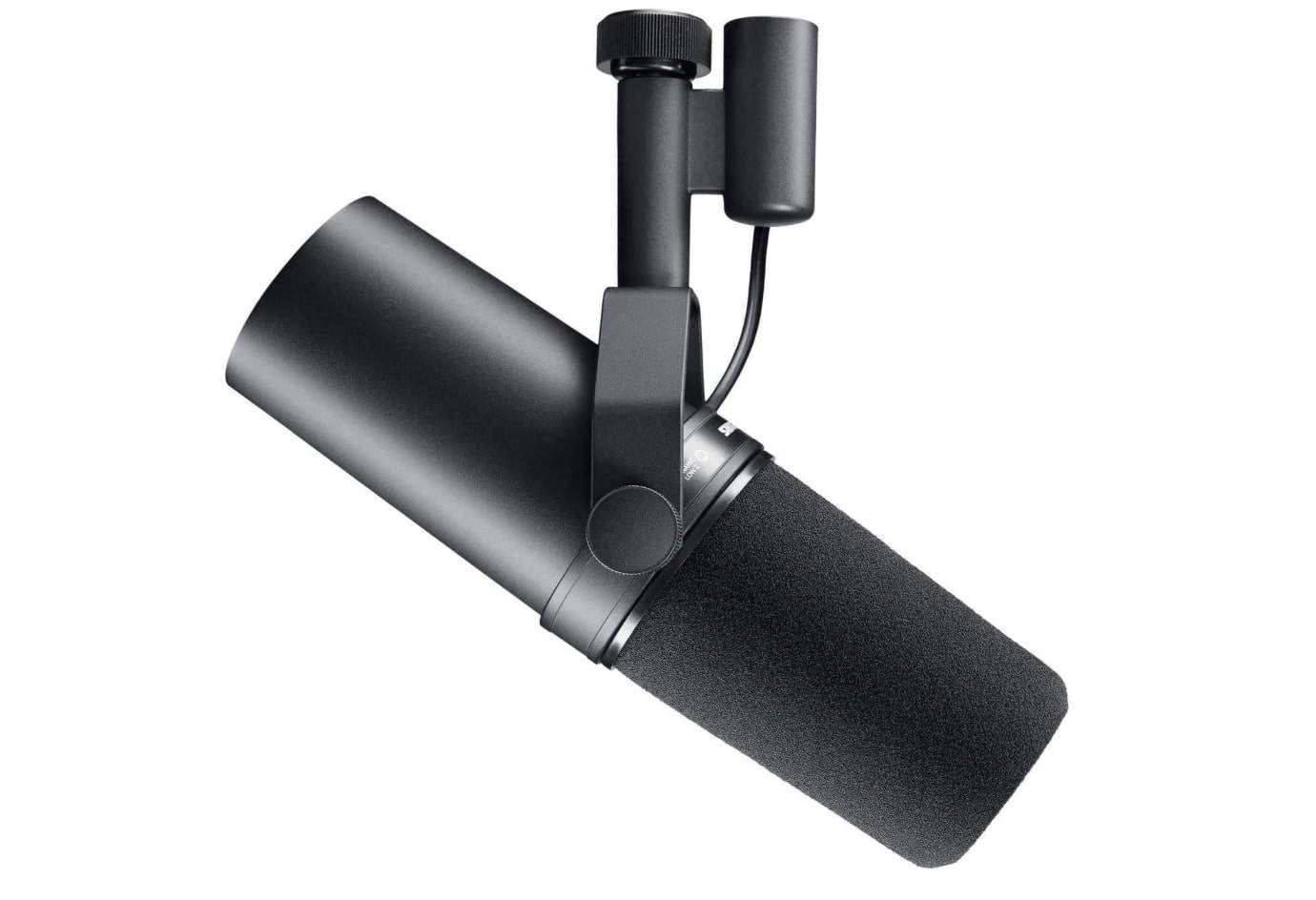 Like Auronplay and Dyrus, SwaggerSouls leverages the sleek Shure SM7B microphone. This masterpiece streaming equipment has a pop filter to eliminate breathiness allowing all of SwaggerSouls' commentaries to be broadcasted.
Further, it also features a shock isolation apparatus that eliminates mechanical noises, including those emanating from SwaggerSouls' exquisite setup. Complimenting this buffering is an electromagnetic shield that defeats any electronic hums so that his mic can accurately and naturally reproduce his speech.
Crowning this impressively high-quality sound production feature is a noise cancellation feature that works from the background to defeat any unnecessary noise. And to ensure that all sounds from visiting friends are not captured, SwaggerSouls can count on the cardioid polar pattern to reject any off-axis sounds.
The AMD Ryzen Threadripper delivers a colossally high amount of processing power that no game currently available can fully utilize. It boasts an astonishing 32 cores and 64 processing threads, all of which can clock a 4.5GHz max boost.
Thanks to this power, I can affirm that SwaggerSouls enjoys the most immersive gaming experience within Minecraft servers. To efficiently provide adequate memory, the processor has 88 PCle 4 and quad-channel DDR4 lanes allowing the processor to automatically overclock within seconds after booting.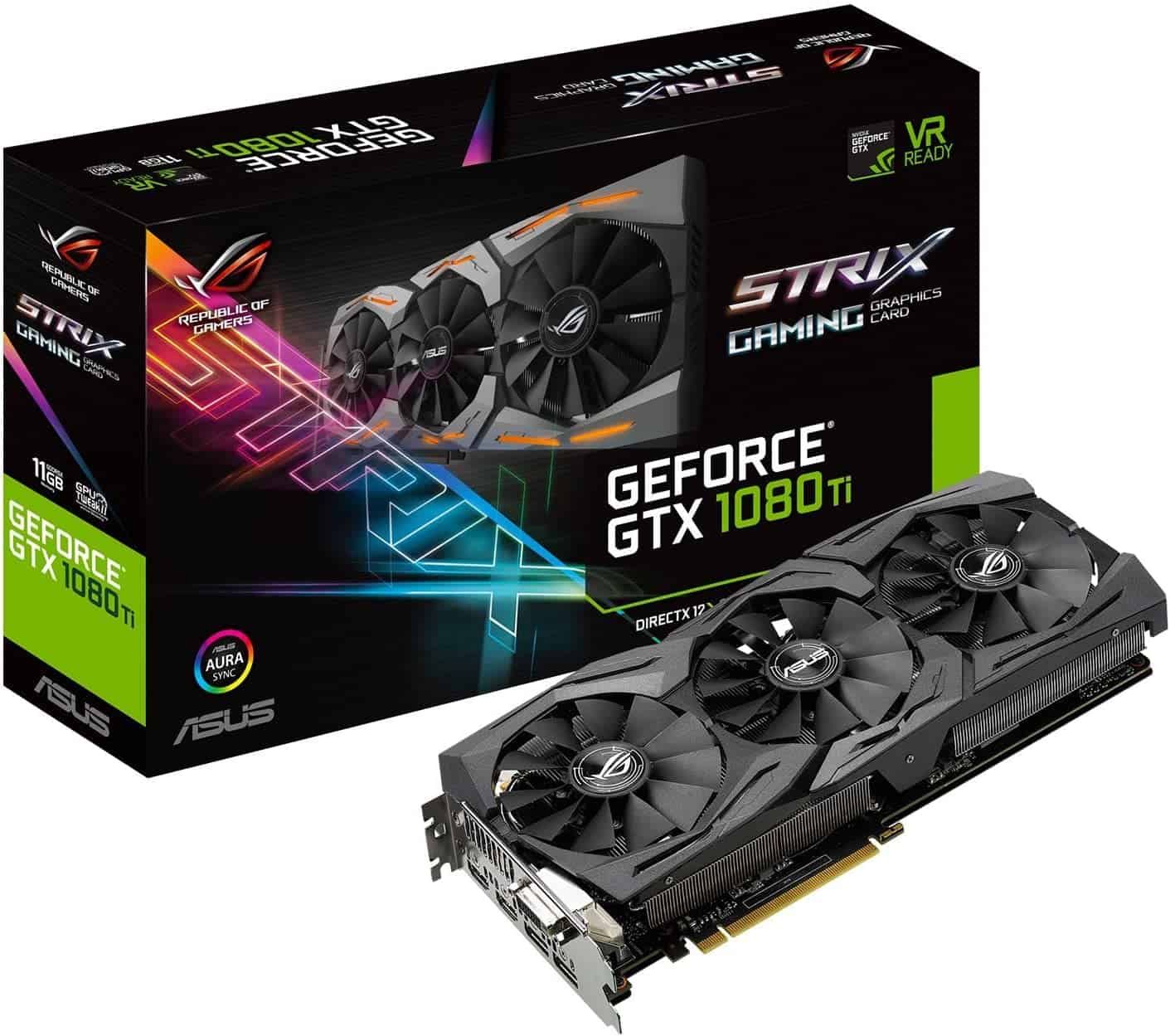 Unlike his monstrous processor, SwaggerSouls fancies Nvidia GeForce's pioneer graphic card. Like all its predecessors, the GPU features ASUS Aura Sync RGB lighting that illuminates SwaggerSouls' mainboard with near-limitless lighting options.
Further, the GPU boasts a 1632MHz boost clock powered by 11GB of GDDR5X memory, allowing SwaggerSouls to pump tens of pixel-clear videos and images. Efficiently absorbing and dissipating the massive heat generated are Fanconnect ll fans and three axial fans to guarantee consistent optimal performance.
SwaggerSouls' Family
Outside his professional life, S waggerSouls has remained tightlipped about his family. I presume he's done this intentionally to keep himself and his loved ones safe, like a ton of other streamers. Nevertheless, if he decides to share details about his love life, count on me to enlighten you.
SwaggerSouls' Net Worth and Career Earnings
Presently, SwaggerSouls net worth is approximately $1.5M, an estimate based on the following revenue streams:
Twitch
I'm pretty sure that SwaggerSouls makes a handsome amount on Twitch, where he streams a broad range of games, including Minecraft, Just Chatting, Escape from Tarkov, Rust, Grand Theft Auto V, Apex Legends, and Subnautica.
SwaggerSouls' Twitch channel has accumulated 10,112,903 and 344 paid active subs. The latter alone could be earning him up to $1,000 monthly. If I throw in his bit donations and ad revenue, this platform could be generating way more cash.
YouTube
SwaggerSouls has been a member of the YouTube community since 2015. His uploads have garnered 477,652,432 views, and I presume he's monetized most of them. Consequently, he could be receiving between $300K and $500K annually in YouTube payouts.
Podcasting
As one of the Misfits' hosts, SwaggerSouls rakes in a decent amount yearly, given that this podcast has millions of loyal listeners worldwide.
Typically, podcasters make money through sponsorships, membership fees, ads, and listener donations. I bet SwaggerSouls and his team are leveraging some of these strategies to earn off their podcast. However, their specific earnings remain their secret.
Merch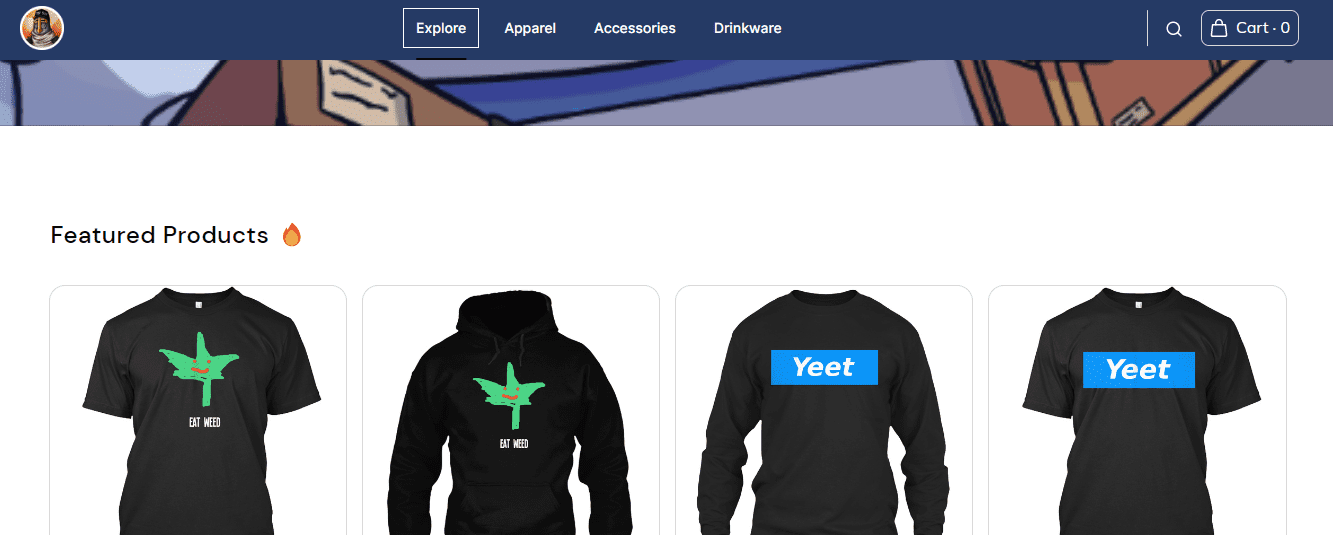 Tons of streamers and other internet personalities avail merch for their fans – it's a reliable income-generating endeavor. Therefore, I wasn't surprised to discover that SwaggerSouls owns a merch store selling items such as hoodies, tees, accessories, and kitchenware at affordable prices. I took my time to check out some of them and based on their features, they could be worth every dime!
Sponsorship Deals
Judging from his massive popularity online, I reckon SwaggerSouls has bagged various sponsorship deals. However, he's been tightlipped about the trustworthy brands he's worked with, making it hard to estimate the amount he could have earned through this source of revenue.
SwaggerSouls' Retirement and Post Professional
As of this writing, I'm uninformed about SwaggerSouls' master plan. So, I'm short on details about his retirement and post-professional plans. However, based on his activity on Twitch, YouTube, and other social media outlets, I suppose he intends to continue playing video games and streaming for a little longer.
SwaggerSouls' Merch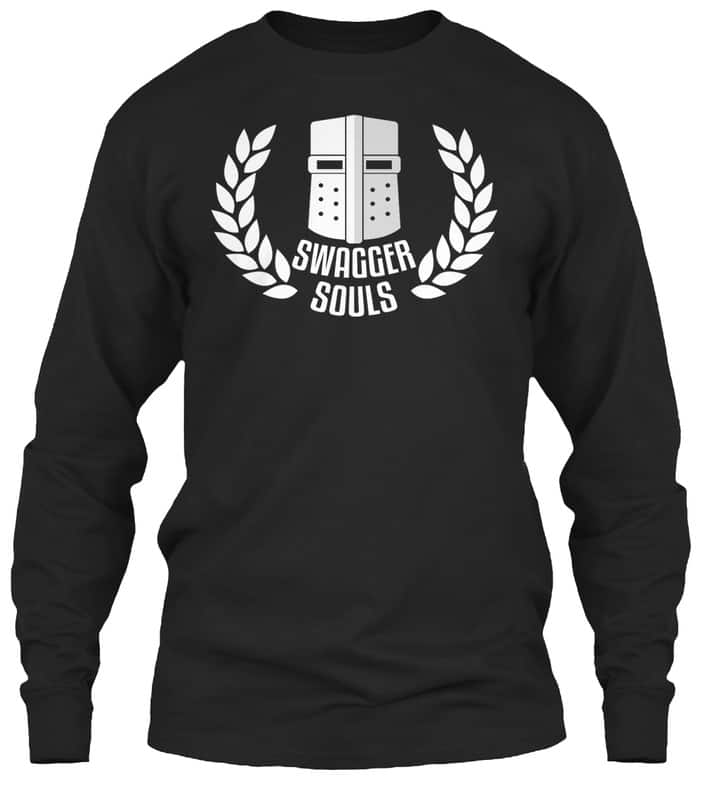 Are you looking for a long sleeve t-shirt manufactured for everyday wear? I believe you'll like this one – it's classy, durable, and comfy. Moreover, it comes in sizes S-5XL, making it effortless to find your pick. In addition, you have several color options, including black, sports grey, dark heather, and safety orange.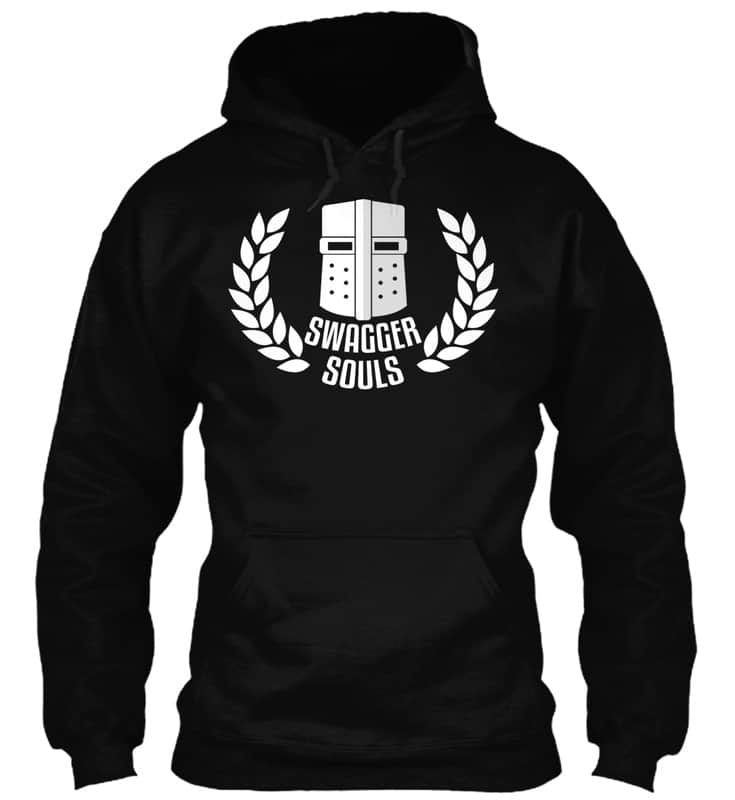 Available in multiple sizes, I deem this unisex pullover hoodie a must-have for every SSwaggerSoulsfan. Like all garments made from sa turdy cotton/poly blends, it's comfortable, tear-resistant, breathable, and wrinkle-resistant. Also, it's less prone to fading.
Supposing you crave another pullover hoodie, I recommend you check out the Yeet Classic Pullover Hoodie, which also brings comfort, durability, and style to the table.
p
This simple crew neck t-shirt's unique design caught my eye; it features a 'smiling cannabis leaf' print on its front and the caption "EAT WEED" right underneath it. Its 100% cotton fabric offers you a long list of perks, including durability, better cooling, and comfort since it's not clingy. Moreover, this tee is hypoallergenic, low-maintenance, odor-free, and available in black and blue.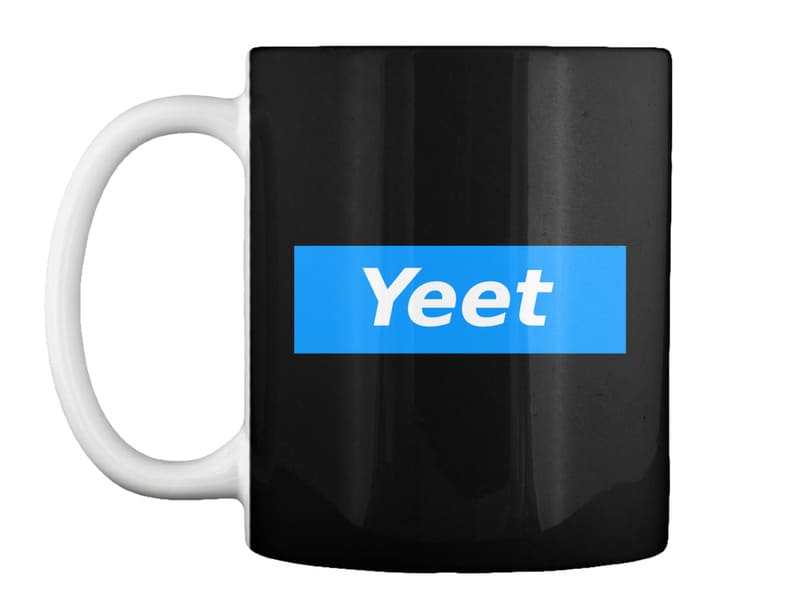 If, like me, you're the type that drinks half your coffee and leaves the rest to do other stuff, get this 11-ounce mug. It comes in black, with the word "Yeet" on a blue background, making it a lot more visually appealing. Supposing you'd like to explore options, check out the Yeetception mug, and SwaggerSouls Logo Design mug.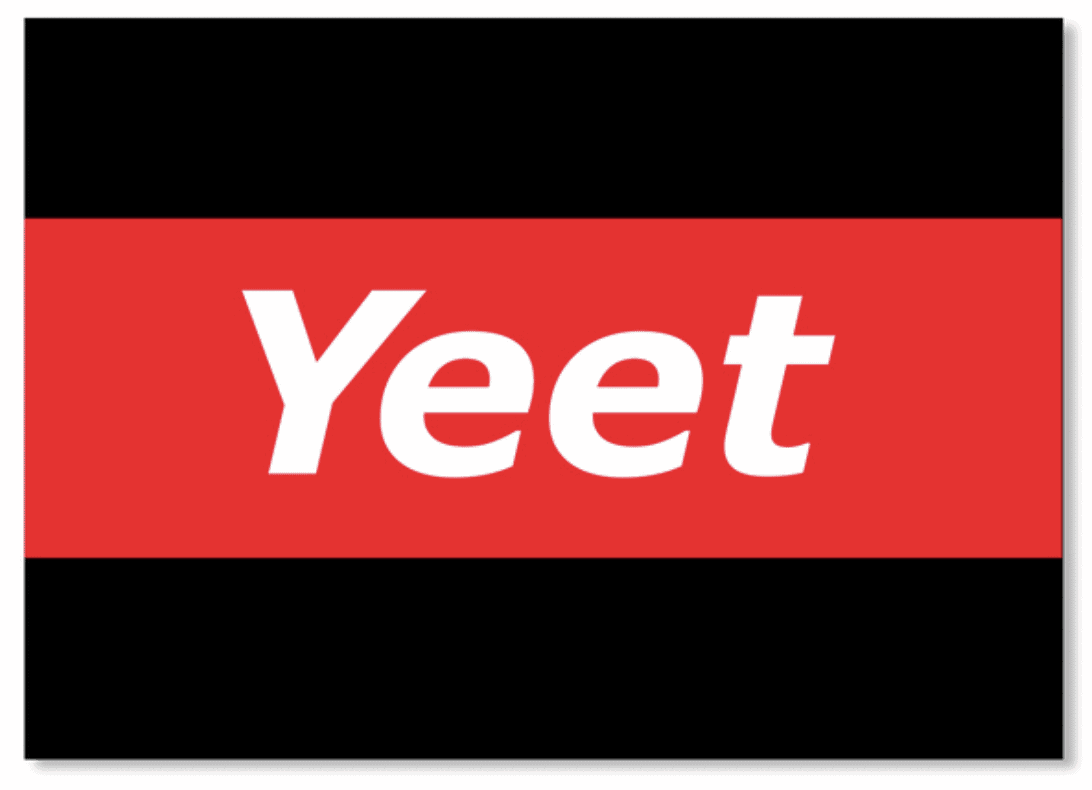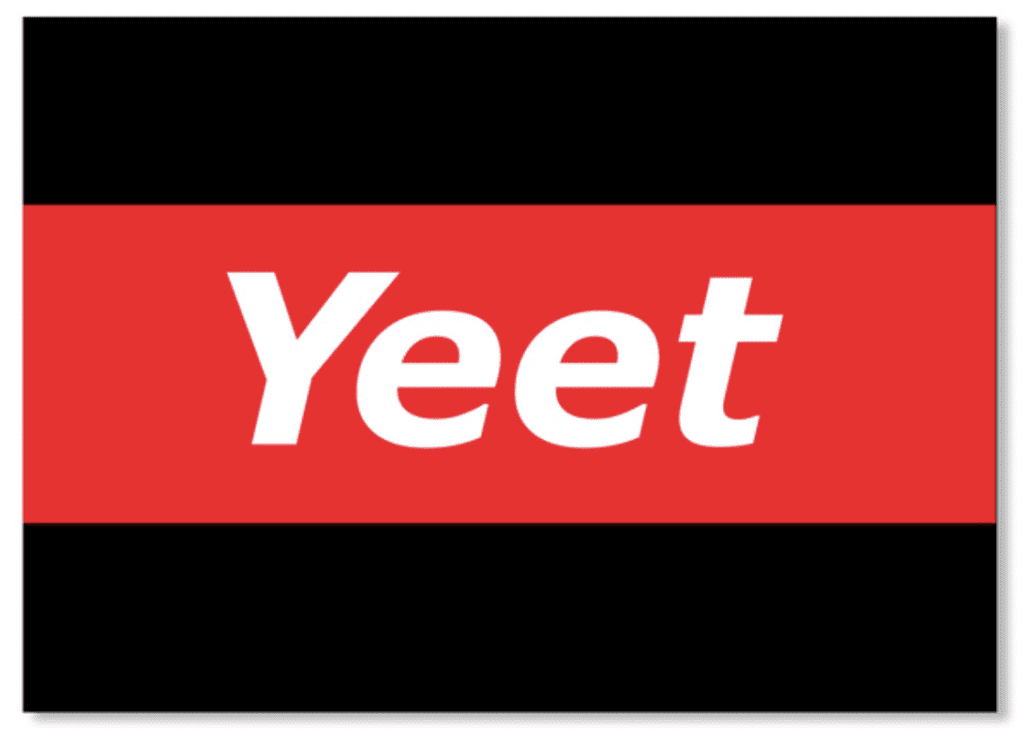 Here's an ideal sticker to beautify your surroundings. It comes with the word "Yeet" printed on a red rectangular background. Then, you have two sizes to pick from – 7 x 5 and 5 x 3.6. And if you'd like more of these decorative art pieces, I propose you look at the SwaggerSouls Logo Design sticker, and Eat Weed sticker.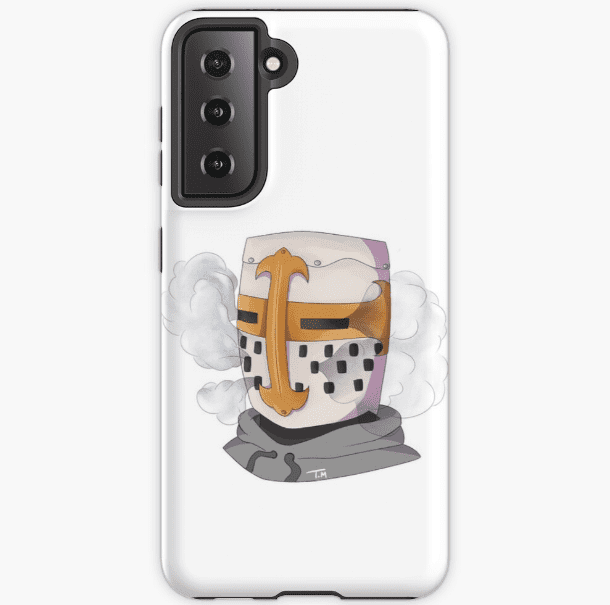 Do you own a Samsung phone? I suggest you give some thought to this double-layer case designed for various Samsung Galaxy models. Besides being extra durable, it has a shock-absorbing liner, an impact-resistant polycarbonate shell, and a super beautiful design. Additionally, it provides much-needed access to your smartphone's ports and allows for Qi-standard wireless charging.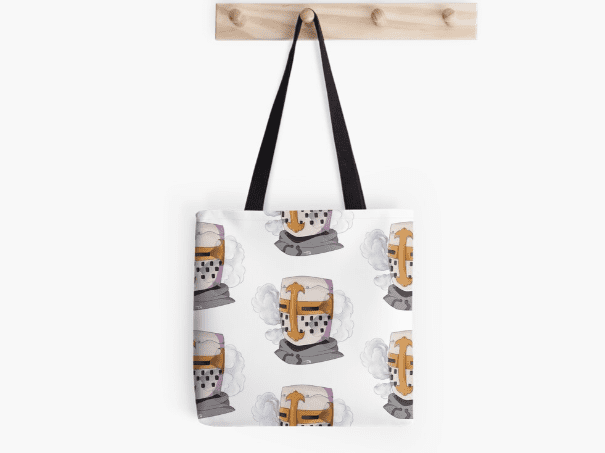 If you're interested in a stylish, lasting tote bag to run some of your outdoor errands, check this out! With its 100% polyester shell, I can promise you, that maintenance will be the least of your concerns. Plus, this fabric renders it abrasion and wrinkle-resistant, adding to its convenience.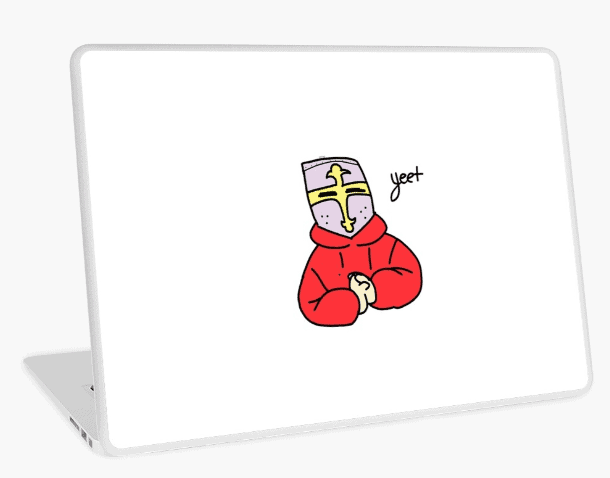 This laptop skin could be all you need to express your liking for SwaggerSouls while protecting your device from scratches. It features a gloss finish, making it more noticeable and resistant to water. Moreover, this laptop skin's application and removal is a piece of cake! But be sure to confirm it's suitable for your laptop as it's designed for selected models, including MacBook Air 13″, MacBook Pro 15″, and MacBook Pro 16″.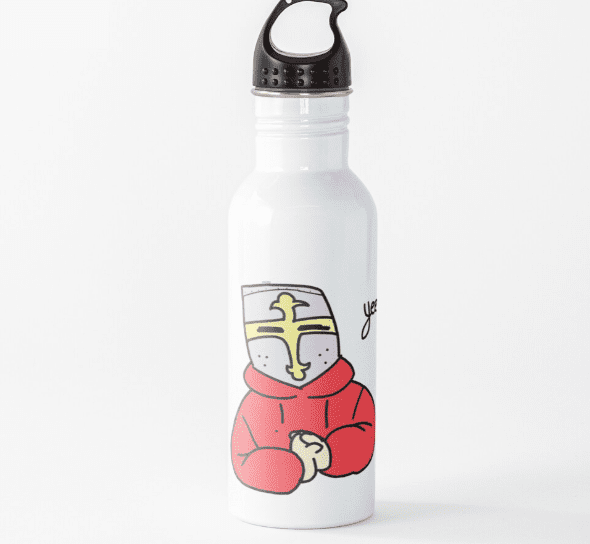 I like staying hydrated while on the move, and if you're anything like me, consider this stainless-steel water bottle. It's portable, durable, and reusable. Then, it features a leak-proof cap to prevent your beverage from spilling. Furthermore, it comes with a 360-degree full-wrap print to make it more stylish and distinct.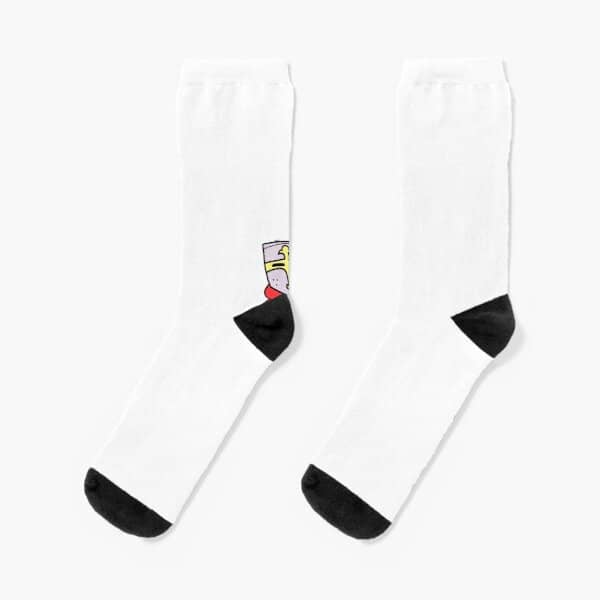 Purchase this classic pair of crewneck socks to enjoy maximum durability, versatility, and comfort. Their reinforced toes and heels provide additional cushioning to enhance the latter. In addition, they leverage a quality blend of 58% recycled polyester, 15% cotton, 22% nylon, 4% spandex, and 1% rubber. Since they're machine washable, I can assure you that maintenance will be trouble-free.
Frequently Asked Questions about SwaggerSouls
Question: Is SwaggerSouls British?
Answer: No. SwaggerSouls is American, though he sometimes uses British Slang in his streams and YouTube videos.
Question: Why does SwaggerSouls wear a helmet?
Answer: SwaggerSouls has confessed to always wearing his helmet for personal safety.
Question: Has SwaggerSouls participated in many tournaments?
Answer: There are no clear published records showing the specific gaming competitions SwaggerSouls has played at, but he has competed in some.
Question: Did SwaggerSouls date HeyImBee?
Answer: Some of SwaggerSouls' younger fans speculated that he was in a relationship with HeyImBee because they were talking, but most people didn't fall for the rumors. I think their shippers just thought they'd make a great couple.
Question: Where does SwaggerSouls live?
Answer: SwaggerSouls is currently based in Melbourne, Australia.
Recommended Reads:
Research Citations