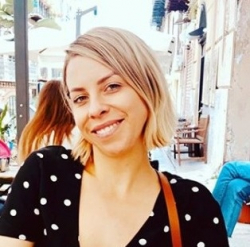 Latest posts by Jodie Chiffey
(see all)
Zack Rawrr also known as Asmongold, is a video streamer, Youtuber, entertainer, entrepreneur, and social media influencer.
He has made a name for himself, streaming different titles, including World of Warcraft, Final Fantasy XIV, Shadowlands, Lost Ark, and Elden Ring, among many others. Most recently, he bagged the coveted Best MMORPG streamer award and also co-founded the One True King organization alongside his friends.
His informative videos, often heavily captioned, have attracted millions of viewers and subscribers across his different social media platforms. For instance, his main youtube channel has a record 1.34 million subscribers, while his Twitch account has 3 million followers.
It is this gamer's colorful journey that we delve into, detailing his early life, net worth, merchandise, and his relationship status. But first, his quick facts;
Asmongold's Biofacts
| | |
| --- | --- |
| Real Name | Zack Rawrr |
| Birthdate | April 20, 1991, |
| Birthplace | Austin, Texas |
| Nickname | Asmongold |
| Height | 5ft 8' (1.78M) |
| Nationality | American |
| Zodiac Sign | Taurus |
| Siblings | Asmongold has brothers |
| Children | N/A |
| Girlfriend | Ex-girlfriend: Samantha Tomlensen aka Pink Sparkles |
| Games Played | World of Warcraft, Shadowlands, Final Fantasy XIV, Lost Ark, Elden Ring, among others. |
| Net Worth | $3M |
| Social Media | Twitch: Asmongold, YouTube: Asmongold TV, Zack Rawrr, Asmongold Clips Twitter: @Asmongold, Sub-reddit: Asmongold |
| Awards | Best MMORPG streamer in March 2022. |
| Last Updated | May 2022 |
Asmongold's Birthplace and Early Life
Asmongold was born Zack Rawrr on 20th April 1991, in Austin, Texas. His father, a dedicated civil servant, eked out a living working for the IRS for as long as Asmongold can remember.
This left him under the care of his mother, whom he has described as his best friend and light amidst the abyss of uncertainties surrounding his life. Though he has never explicitly confirmed, he has brothers spread across other states, as deduced from his tribute "About mom."
When he was of age, Asmongold joined a local primary before transitioning to Shasta High School. Here, his playful nature saw him pull pranks on his classmates, a habit that irked them but thrilled him until it was his turn.
Outside class, Asmongold discovered an even more thrilling hobby, playing football. However, his passion was cut short when he transitioned once again to college, having aced his high school exams.
College Beckons
Inspired by his father and longing to leave an indelible mark on his nation, he enrolled to pursue a bachelor's degree in Business Studies. To make ends meet, he shuttled between school and IRS offices, where he worked alongside his father.
This was not to last, for he soon left for another gig at Sam's Club, an exclusive warehouse club owned and operated by Walmart, where he worked for a week before joining business school again.
In 2014, while still in business school, he intermittently skipped classes to take care of his ailing mother. Despite this small setback, he graduated in time to join the ever ballooning workforce.
Second Degree
However, at around this time, his priority had shifted, and he now wanted to pursue another degree in the Business stream. This was in line with his newfound hobby of streaming.
Soon after bagging his second degree, he enrolled for yet another degree, but this time in law. But just at around this time, his mother's health deteriorated again, and he was forced to take a sabbatical to nurse her back to health.
Despite his efforts, on the 7th of October, her mother's dress was caught alight after being involved in a fire incident in their Texas home. The fire left her with mild face burns, further complicating her underlying respiratory disorders.
She was admitted and finally passed on the 29th of October 2021 due to her respiratory complications (OCPD) resulting from smoking and heavy drinking habits.
Her demise greatly affected him to the extent that his viewers got concerned about his mental health, which he admitted dangerously walked on a thin line between sanity and madness.
Even worse was that he was reeling from the effects of ADHD, which he had been battling for years before then.
Out of The Woods Finally
However, their fears were arrayed when he announced his return through a moving tribute to his friend, mother. In the tribute, he announced that he would take a break from streaming but would be sending updates through his Twitter account.
How did Asmongold Start Gaming?
Asmongold's stellar streaming career can be traced to the summer of 2006 when he bought World of Warcraft from a friend. The MMORPG that first hit the market in 2004 spurred interest in the young Asmongold.
So intriguing was the game that Asmongold spent hours on end exploring it. This was well until early 2008, when he finally decided to start a Youtube channel to share his exquisite skills with other passion-driven gamers.
The channel, ZackRawrr, served as his first platform where he uploaded WOW alongside other funny videos.
Then Came Twitch in 2011
Though it had not dawned on him how big Twitch would pan, Asmongold opened a Twitch account where he occasionally streamed to his viewers. He only actively started streaming again in 2014, long after he had created yet another Youtube channel.
By then, his viewership had started swelling, and his craft had impressively improved.
World of Warcraft Classic
Having explored every gaming perspective possible, Asmongold got so bored that he often longed for a better WOW, a frustration he shared in his videos.
His whims got answered in 2017 when the developers finally announced the dawn of a new WOW classic.
In 2019, the long-awaited day for WOW enthusiasts came as the developers officially launched the World of Warcraft classic, catapulting Asmongold's popularity even further.
Shadowlands and Final Fantasy XIV
To move from his comfort zone, Asmongold jumped ship and joined the newly released Shadowlands in 2019. He again got swept with the Final Fantasy XIV wave that was rife from July 3, 2021, to date.
Since then, he has tried his hand in Lost Ark and taken a jab at Elden Ring before finally repurposing to return to FFXIV in the future.
Variety Streamer
In 2022, Asmongold finally caved into the fact that a single game could never satiate his content creation desires. And this is why he rebranded into a variety streamer.
Soon after, he rendered his voice for a live commentary of the Johnny Depp/Amber Laura trial, which panned out to be a huge success for him, drawing in millions of views and clicks.
He then won the coveted Streamer Award for best MMORPG streamer in March 2022.
One True King
Alongside his close friends Rich Campbell, Tips out, Esfand, and Mizkif, Asmongold Co-founded One True King (OTK) on October 11, 2020. The entertainment organization sought to bridge the quality gap between Youtube content creators and their viewers.
Asmongold's Videos
In this 10-minute plus video, Asmongold runs through the statistics of the changing preference in games. From when there was just a handful of games to the recent past that saw hundreds of games released and millions of users registered.
So if you want to relish in the conservative gaming past before you transition to the tumultuous liberal present, here is the place to start.
In this emotional video, Asmongold relives the horror that has been pretty much his life. He fondly recalls how her mother lived life on the fast lane from her heyday in college, puffing on cigarettes and drowning in beers.
She then met the love of her life, with whom she cemented their love with children. But that bond couldn't last as they soon divorced. But even with the divorce, Asmongold was still provided for.
Fast forward to his college days, Asmongold had to skip school to care for her debilitating mother. His pleas to have her stop smoking fell on deaf ears, and Asmongold had to start streaming to fend for her.
The day of reckoning came when they all gathered around her bed for the last time. Her airways had severely constricted, her face had been scarred from fire, and she could only survive on a ventilator.
Long story short, she finally rested, leaving Asmongold lost and with lots of questions. Was he a good son? Did he make the right decisions? Well, what do you think?
Asmongold's Gaming Setup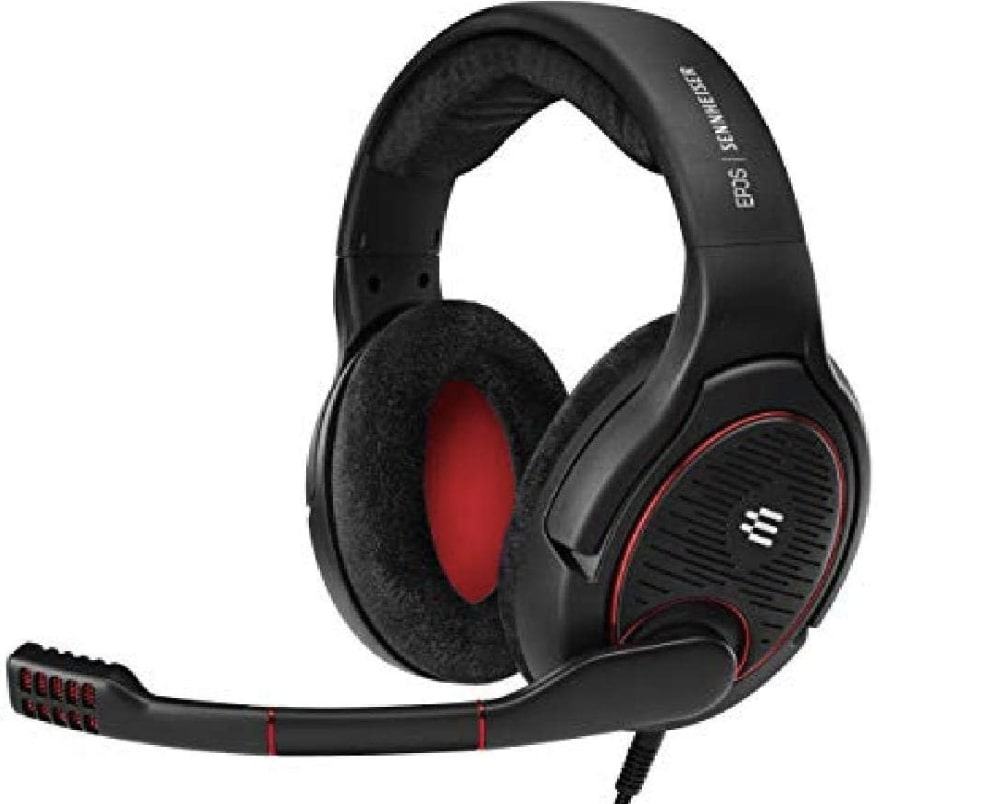 Like many A-list gamers, Asmongold knows that gaming acoustics is a do-or-die affair. This is why he leverages the tried and tested masterpiece in the name of EPOS I Sennheiser. The headset comes with a noise cancellation microphone that buffers against background noises, guaranteeing him an extremely acoustic clarity and crystal-clear communication.
Further, its open-ended design delivers sonically accurate audio that precisely reveals the robust realism of World of Warcraft for better game performance.
But let this not deceive you that that performance will come at the cost of aesthetics and durability. For impressively complementing this performance are plush velour ear pads that beautifully cover a modern, durable, and lightweight design. What more can Asmongold ask for in a gaming headset?
Asmongold's gaming mic: Shure SM7B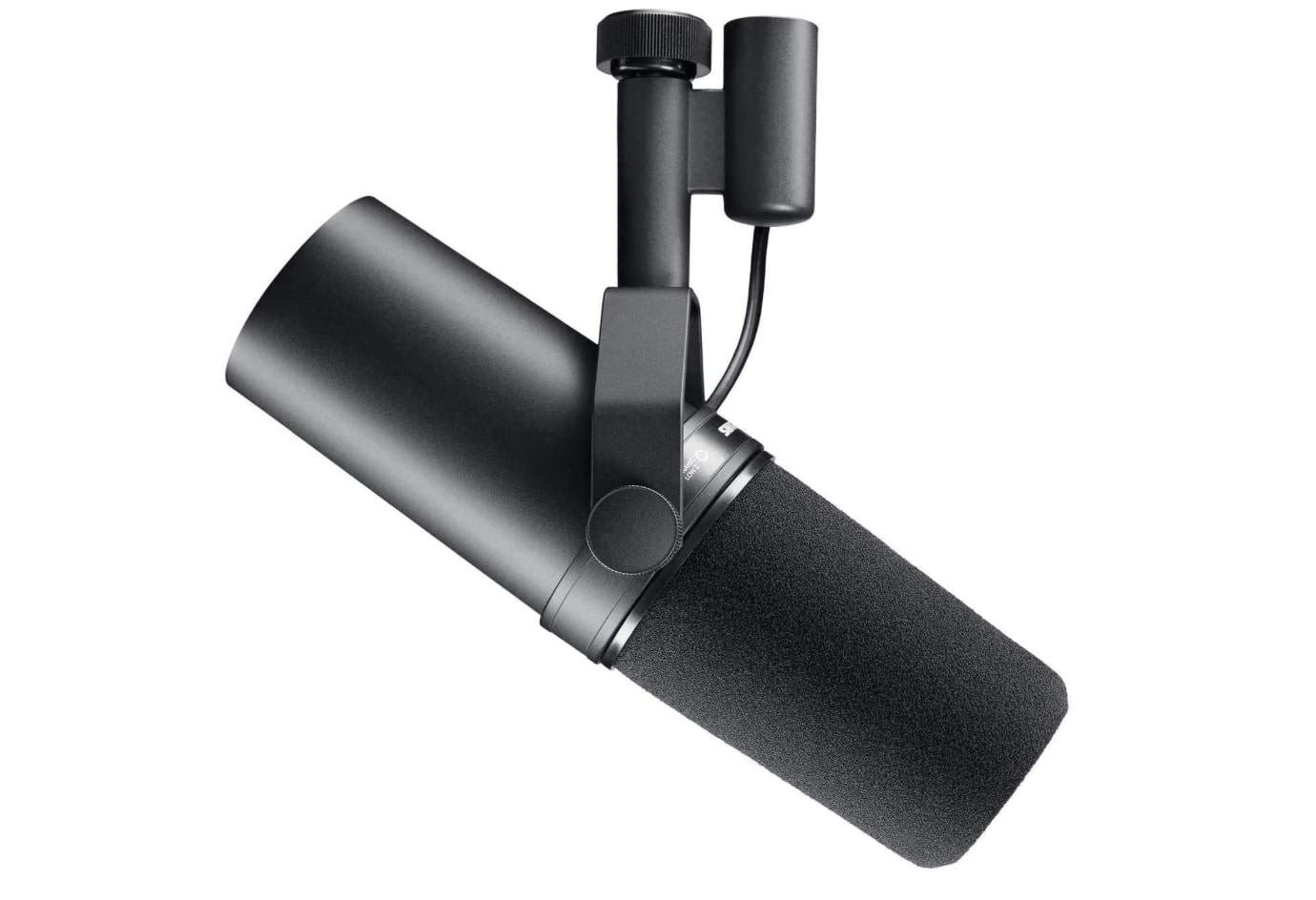 Like ShroudandCloakzycan attest, that nothing beats the versatility of the Shure SM7B mic. From a cardioid polar pattern to deflect off-axis sounds to an electromagnetic shield to defeat hum from electric appliances, the Shure SM7B packs it all.
Therefore, it is little wonder that Asmongold sought its unbeatable reliability and incomparable versatility. Other key features that make it irresistible include a pop filter and shock isolation to eliminate mechanical noise and breathiness, a dynamic cartridge to reproduce natural sounds accurately, and an XLR connection for better sound control.
Asmongold's gaming camera: Sony a7 III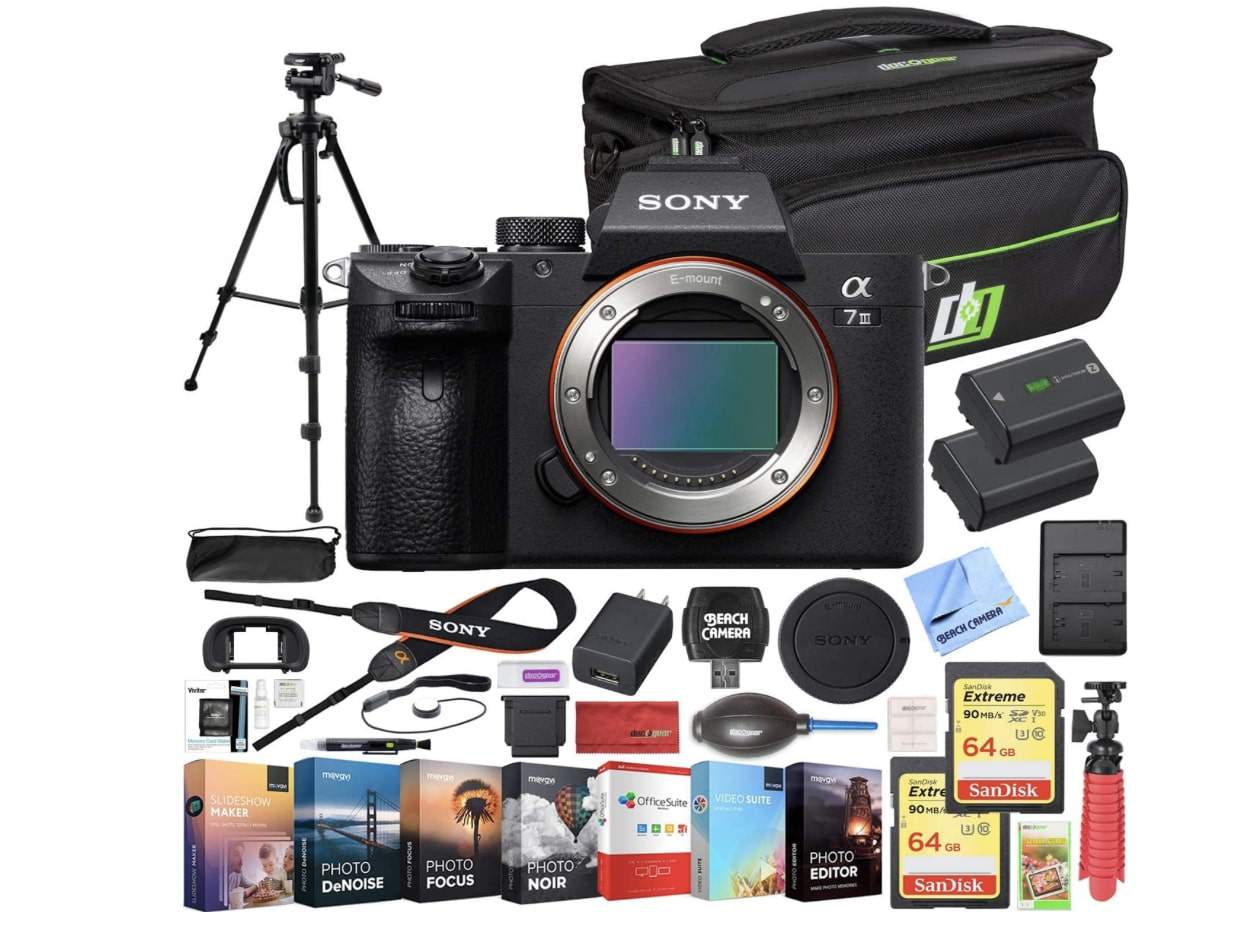 Like many Sony mirrorless masterpieces, the Sony a7 III is not a camera you can dismiss at a glance. From a rechargeable battery to power it for hours to a 24.2MP lens that banks on a 5-axis in-body stabilization for pin-pixel images, the Sony a7 III delivers just enough.
In tandem with Final Fantasy XIV's needs, the camera can continuously shoot up to 10 fps at ultra-light speeds. Pair this with versatile dual media slots that can be called to action at the plug of a super-fast USB-C charger, and you will understand why Asmongold chose it.
Other key features include a 4K HDR High Dynamic Range Movie Shooting capability and extensive accessories to ease use.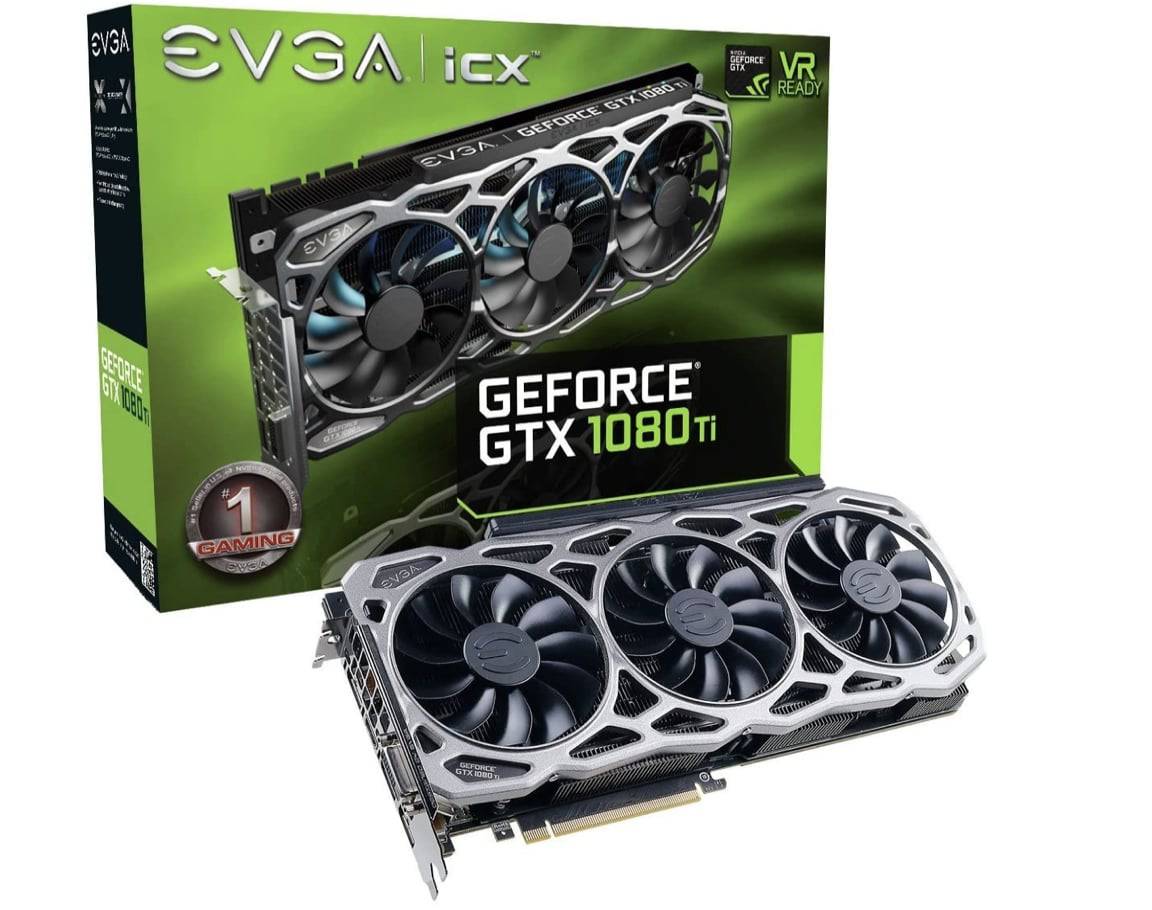 Like Dakotaz and Loeya, Asmongold relies on the never-failing capabilities of the G0TX 1080 graphics card for the best gaming resolution. For starters, the card has a vented heatsink fin-designed fans to ensure optimized airflow to keep overheating at bay.
Pair this with a real base speed of over 1569Mhz for split-second overclocking and nine additional temperature sensors to monitor memory and VRM, and you can concur that it is the best buy.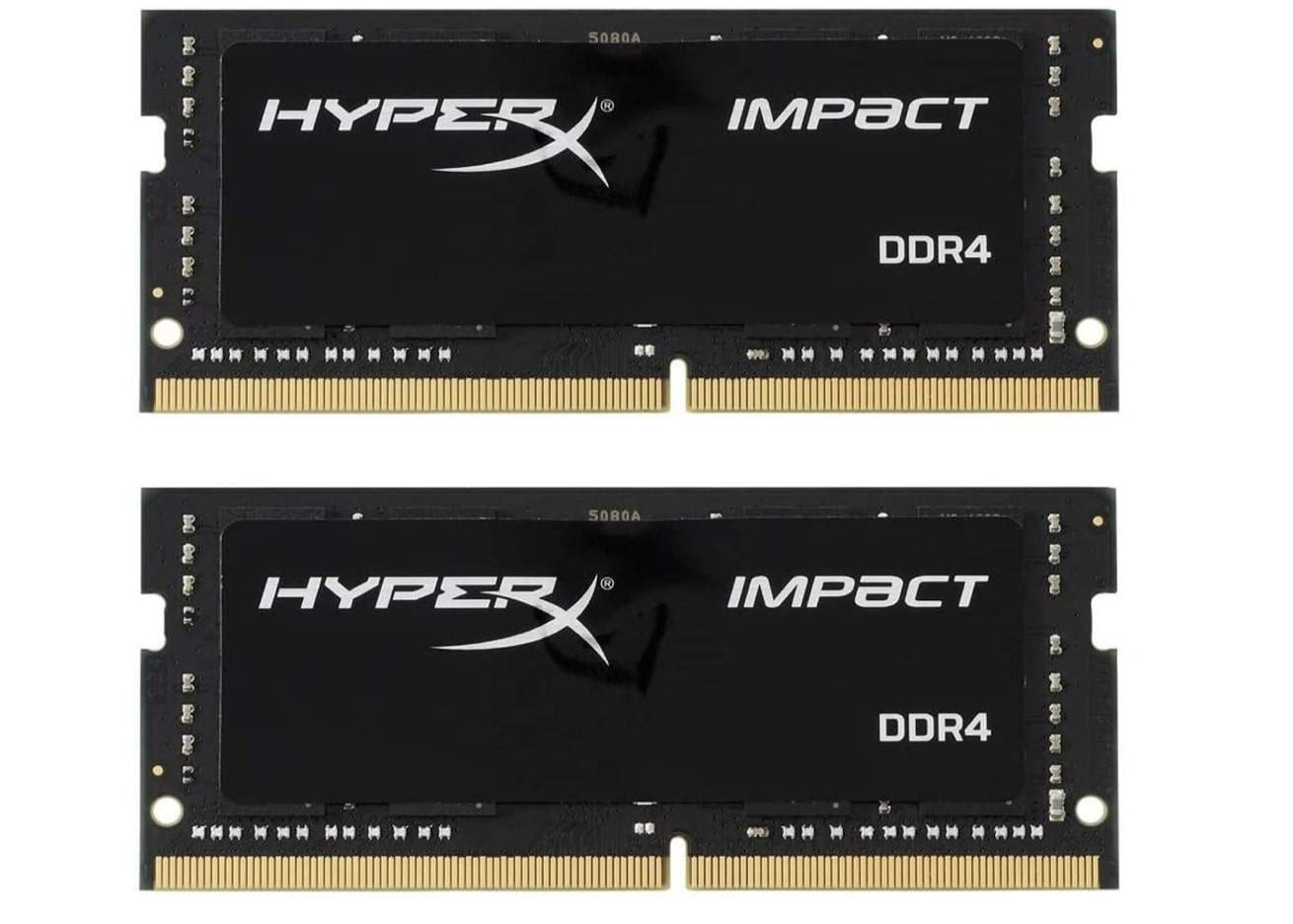 From an automatic overclock feature to a 3200Mhz speed, the Hyper X is Asmongold's secret weapon, inspiring him to win while flawlessly sinking his enemies.
Other irresistible features include compatibility with most modern Intel and AMD CPUs, easy Intel XMP-ready profiles that make setup simple, and a powerful SODIMM performance.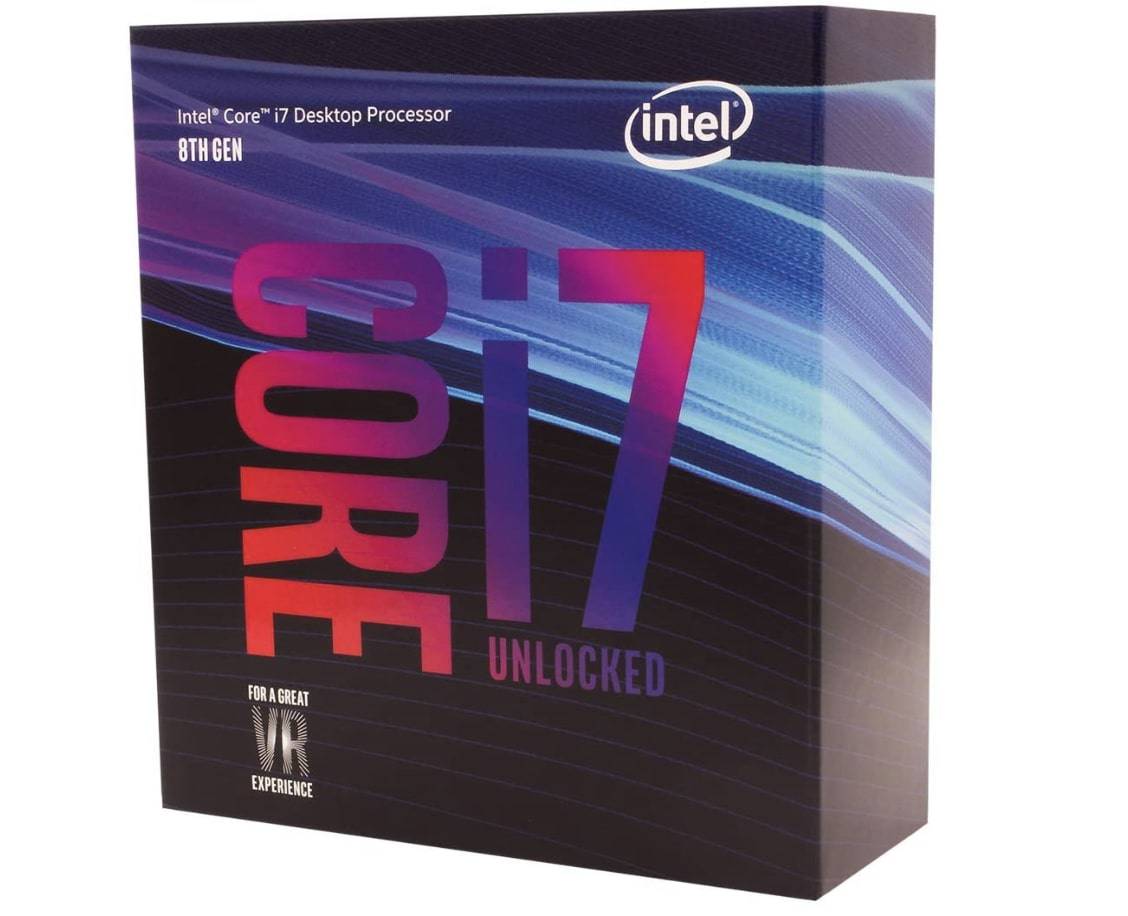 Wonder why Asmongold has always maintained a stellar career across every game he touches? Here is the recipe, a 4.7 GHz max turbo frequency, six cores/12 threads, and a 12MB smart cache.
With these specs, be sure that you have lost the game even before facing Asmongold. Woe unto you if you go with anything beneath this. To stand a better chance, combine Tyler Blevins' skills and Daequan Loco'si9-9900K CPU, then you may have a slim chance.
Other key features of Asmongold's CPU packs include an Intel UHD Graphics 630, support for DDR4 SRAM memory, and compatibility with Intel Optane Memory.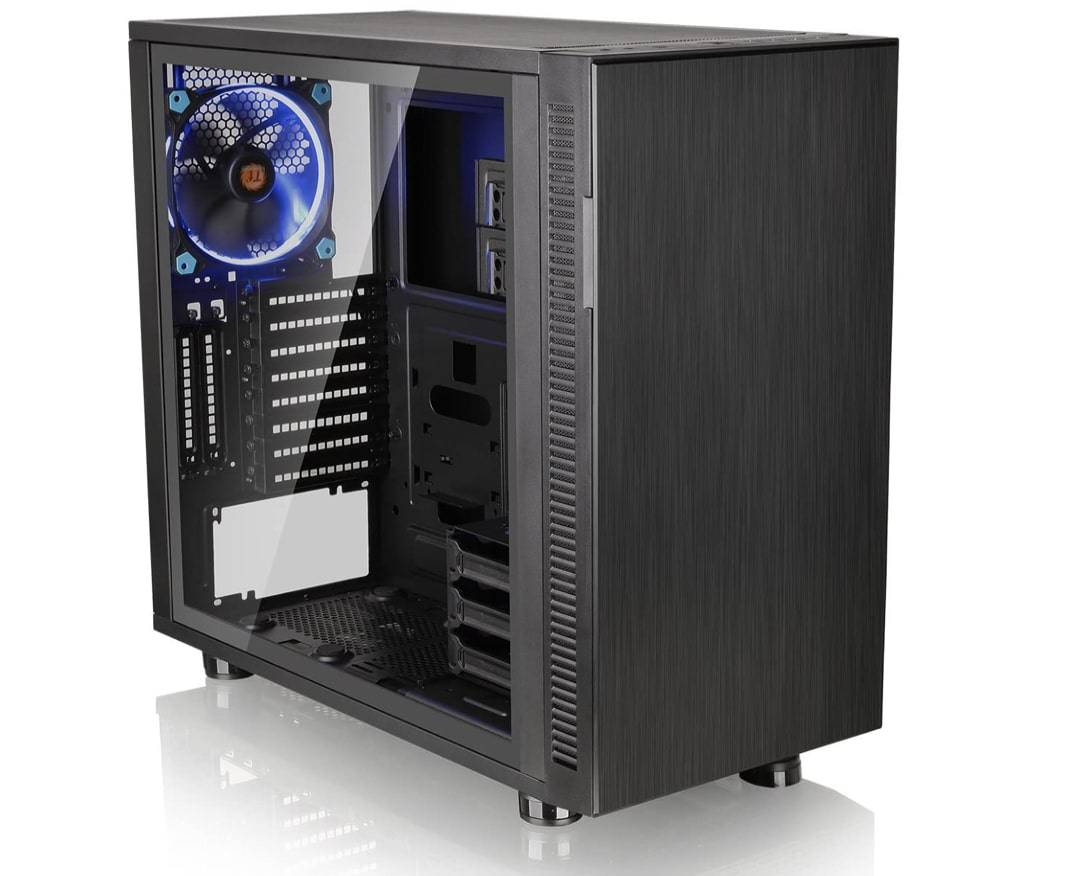 Surprisingly, not one of the many pro-gamers we have reviewed uses the top-rated Thermaltake Suppressor F31 trusted by Asmongold. The case has outstanding ventilation to optimally absorb and dissipate any heat generated, for starters. This is thanks to its dual fans that are pre-installed from both the rear and front.
Further, the case has 4mm tempered glass, allowing Asmongold to flaunt his exquisite setup while fiercely protecting them against mechanical damage.
Other key features include a vertical GPU mounting bracket to ease the weight on the motherboard, an all-in-one cooling option, and vast drive space.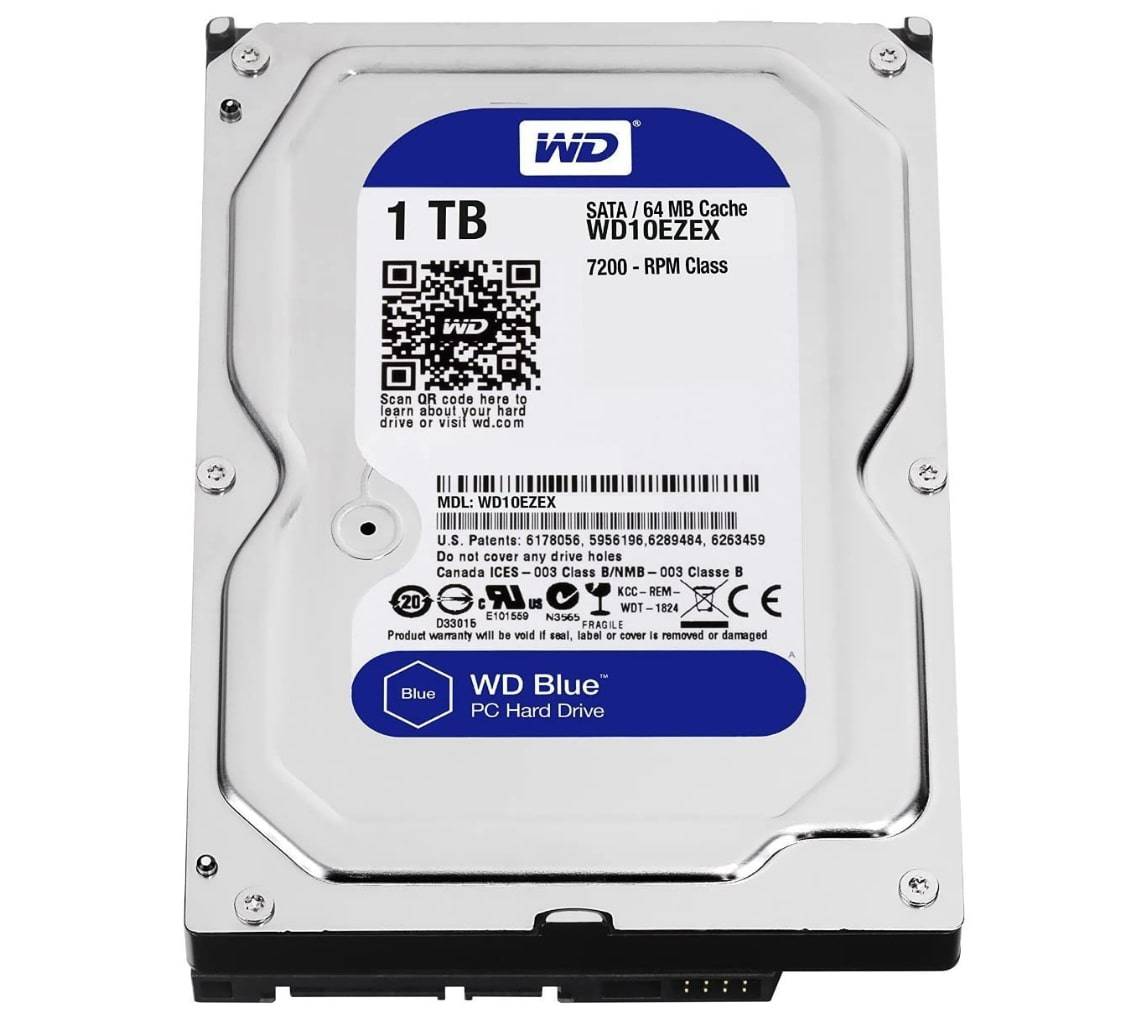 Like Rubius, Asmongold leverages Western Digital's gaming HDD. The HDD features an advanced algorithm to monitor Asmongold's drive to guarantee its optimum health. Pair this with an Intelliseek technology that buffers against noise and vibration, and you can concur that it is indeed a worthy buy.
Other key features include a no-touch ramp load technology, a 1-year seller warranty, and an easy-to-install design.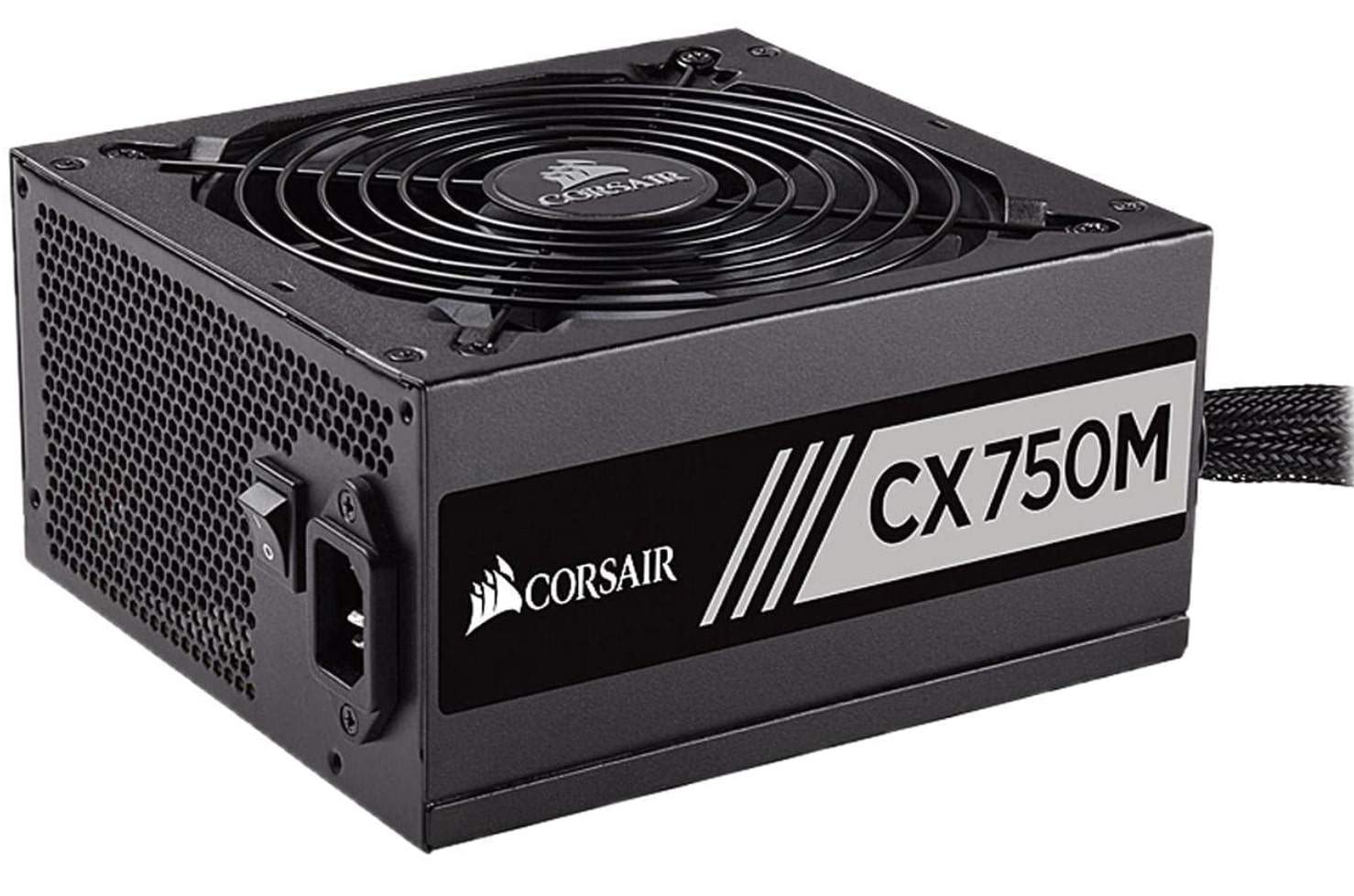 Rarely do gamers wonder outside Corsair's PSU; for most, it is either Corsair or Corsair. For Asmongold, the Corsair series that checks his power needs is the XC750M V2. Despite its modular size, the PSU is the epitome of reliability, efficiency, and flexibility.
For starters, it is built to supply slightly more power than Asmongold's power needs. This becomes significant as it helps buffer against fluctuations in rail voltages, especially when there is overloading.
Further, the PSU has an ingenious design that lets Asmongold only use the cables he needs. This saves on space, minimizes cable clutter, and optimizes airflow. Pair this with a clever fan design that can operate with little to no detection, and you can concur this is indeed a masterpiece.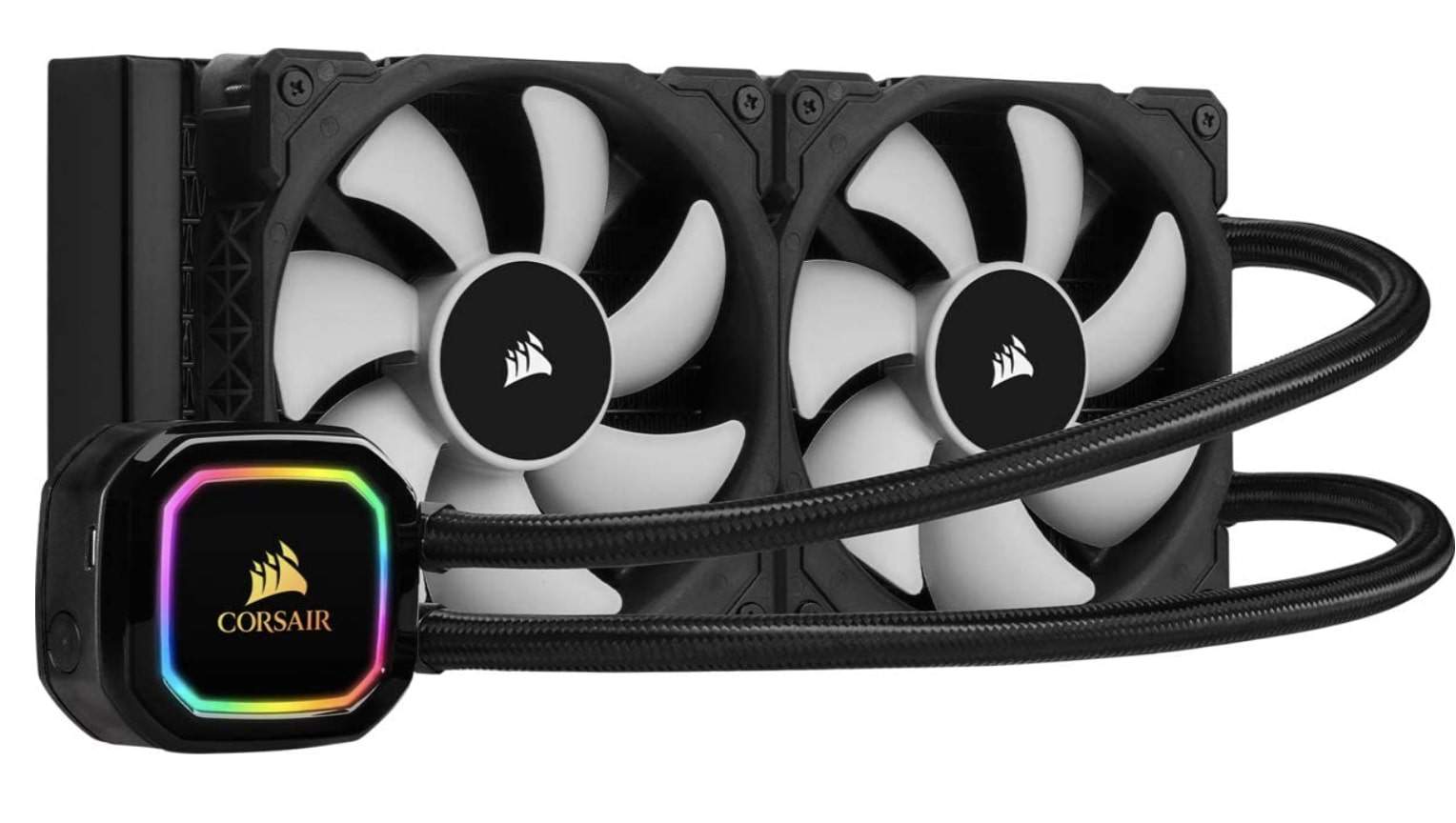 We both know how much it sucks to pull the power plug of a system because of extreme temperature. This is why Asmongold leverages the unrivalled capabilities of the Corsair H100i to buffer against any such unfortunate occurrences.
The cooler comes with the fancy 16 individually addressable RGB LEDs that uniquely light its pump head to be in sync with Asmongold's setup. Further, through Corsair's ICUE software, Asmongold can monitor his coolant temperatures, adjust pump speeds, and do much more from the comfort of an intuitive interface.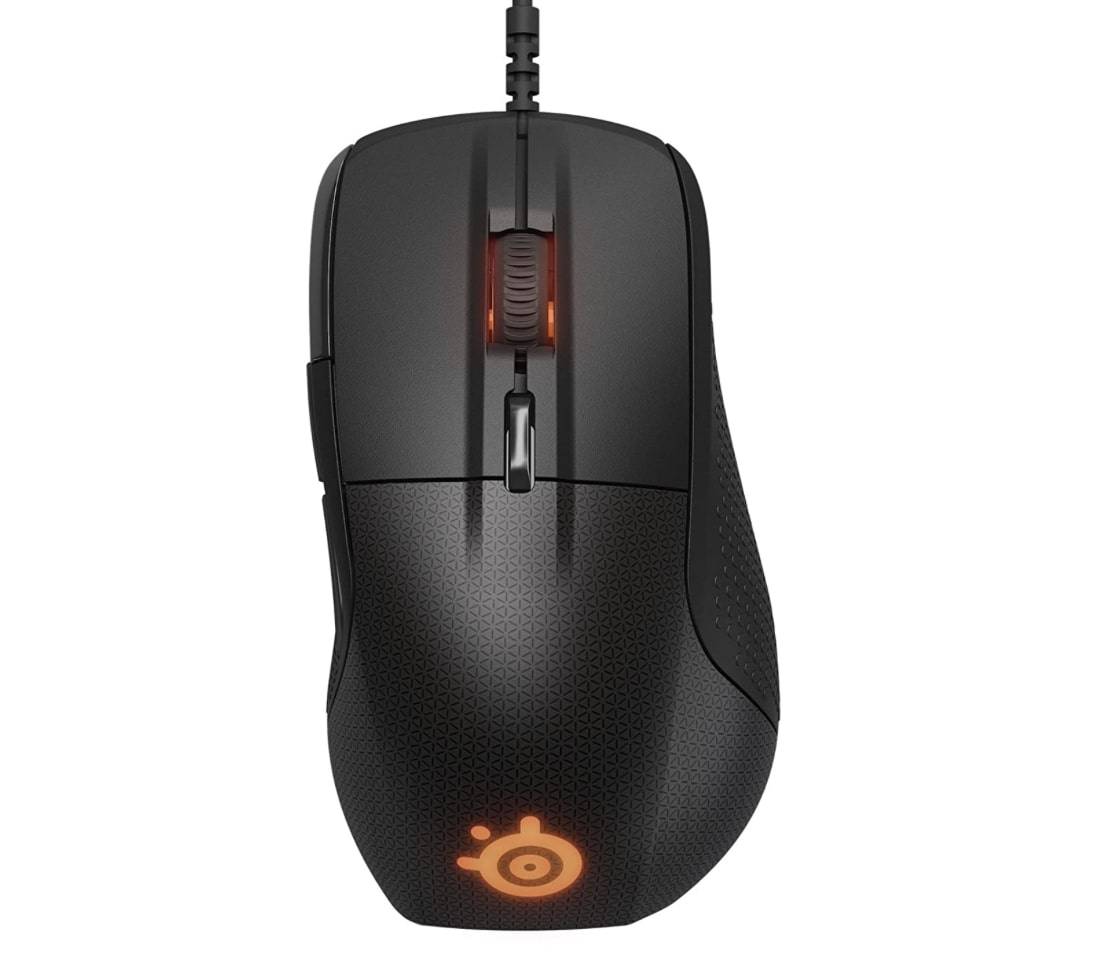 This mouse is undeniably a destructive element in the hands of a pro gamer like Asmongold. Its tactile alert lets him fully immerse in the game while enjoying the spoils of skills.
Its beautiful onboard OLED display on the hand enhances its look, giving it an exquisite touch. Rounding these up is its swappable physical components making it possible to replace slow or irresponsive ones for better gaming sessions.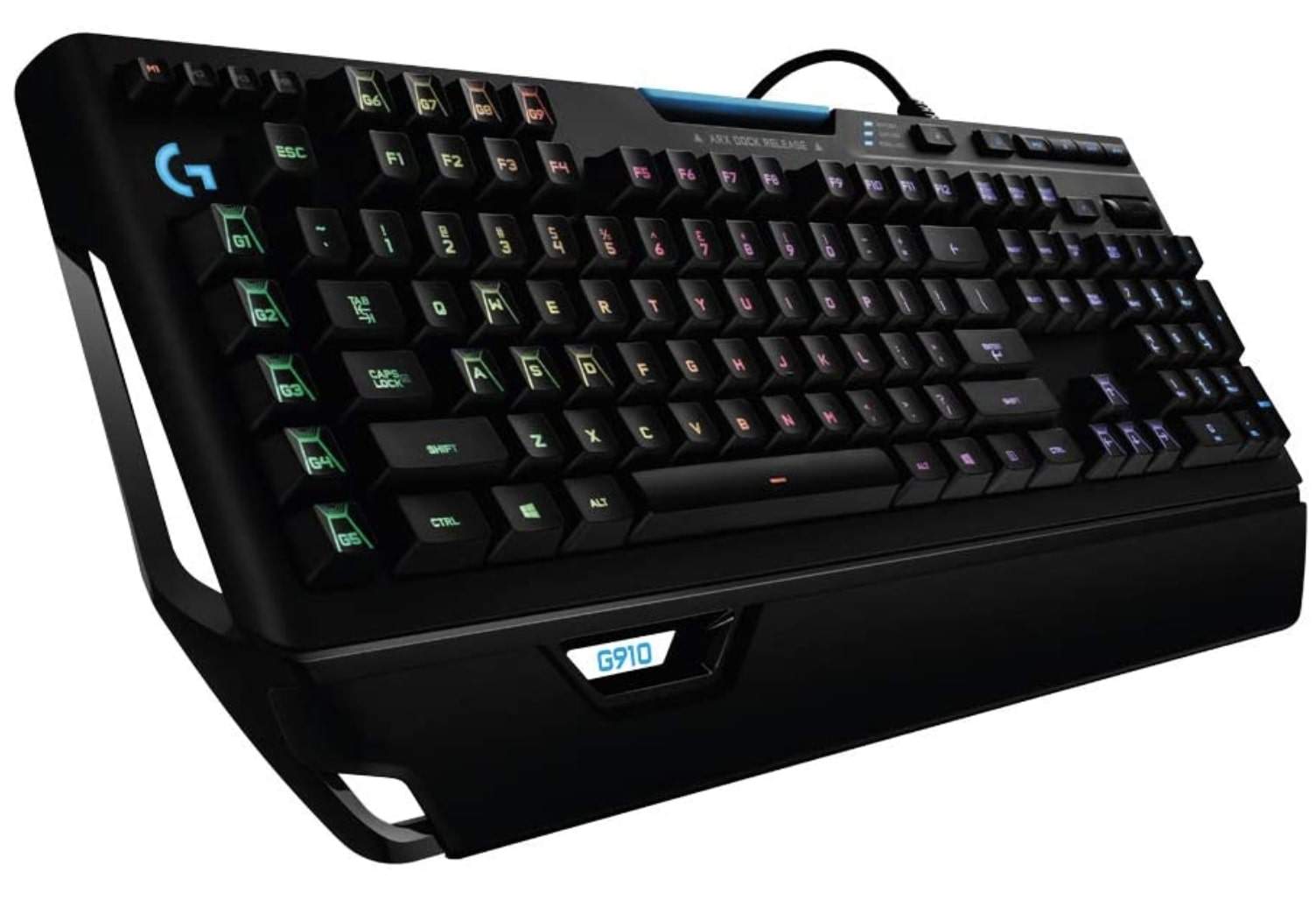 This keyboard offers Asmongold a 25% increase in actuation thanks to its Romer-G mechanical switches. Imagine an engineering company wanting to give you a more beautiful colorful gaming experience that they installed 16 million colors on their keyboard.
That's exactly what Logitech did with this masterpiece. As Asmongold can attest, its ARX control allows both his Android and iOS devices continuous real-time in-game updates and media controls.
Asmongold's family
Asmongold has no known romantic partner after breaking up with his long-time girlfriend Samantha Tomlensen, aka Pink Sparkles.
The two had an on-and-off relationship that lasted a couple of years before they agreed to end it.
Sam, who also happens to be a streamer, has a substantial following on her youtube channel, where she frequently uploads highlights of her LoL exploits.
Asmongold's Networth
Asmongold's net worth is estimated to be around $3 million. If his confessions about her spendthrift mother are anything, his worth might be even higher. Here is a quick rundown of how he has amassed his wealth;
YouTube
Asmogold has three Youtube channels to his name. Each of the channels has unique subscribers, with each optimized to cater to their unique content needs.
His primary channel, Asmongold TV, has a whopping 1.34m subscribers. This is closely followed by Zack Rawrr, which has 388k subscribers. And, losing on the bottom is Asmongold Clips which has 206k subscribers.
Combined, the channels have grossed a cumulative 1,120,791,024 views. Being a gamer who counts on views and subscribers to make ends meet, plus the fact that they are prime for monetization, we can confidently say that the channels earn him a minimum of $80k per month.
Twitch
As one of the pioneer Twitch partners, it is no surprise that Asmongold has clocked 3 million followers as of writing. From these many-tiered followers and subscribers, he is bound to pocket a hefty cheque commensurate to his viewers.
For instance, in leaked Twitch streamer earnings, it was revealed that Asmongold walked away with $2,551,618.73 as commission between August 2019 and October 2021. This translates to an approximate $115,982 payout per month for this talented gamer.
This is exclusive of donations and tips sent to his bottomless cash coffers.
Sponsorships
Leveraging on Asmongold's fame is energy drink manufacturer Mountain Dew GameFuel and fast-food seller Chipotle. Though their contracts have not been availed for public purview, the two companies must have lined Asmongold's pockets with a significant sum to make them worthy of sharing the spoils of his fame.
Besides these two, Asmongold is also a co-founder of OTK Network, specializing in producing quality content for Youtube viewers.
Merch sales
Though Asmongold has no merch to his name, he does own he has an OTK merch on both Redbubble and the OTK official website.
Asmongold's Merch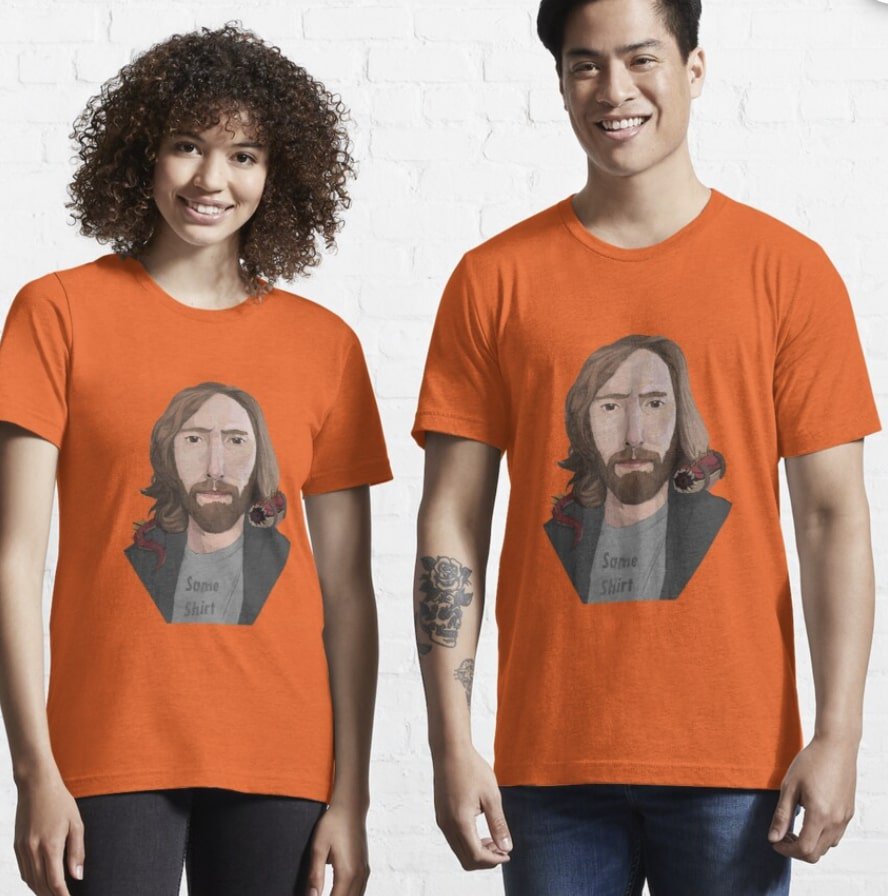 Looking to add one more tee to your wardrobe? Consider this classic crewneck option sold by Popbrain. It's made from a quality, soft fabric that won't pill or itch. Besides, it comes in a pool of versatile colors such as black, charcoal heather, white, blue, red, and orange.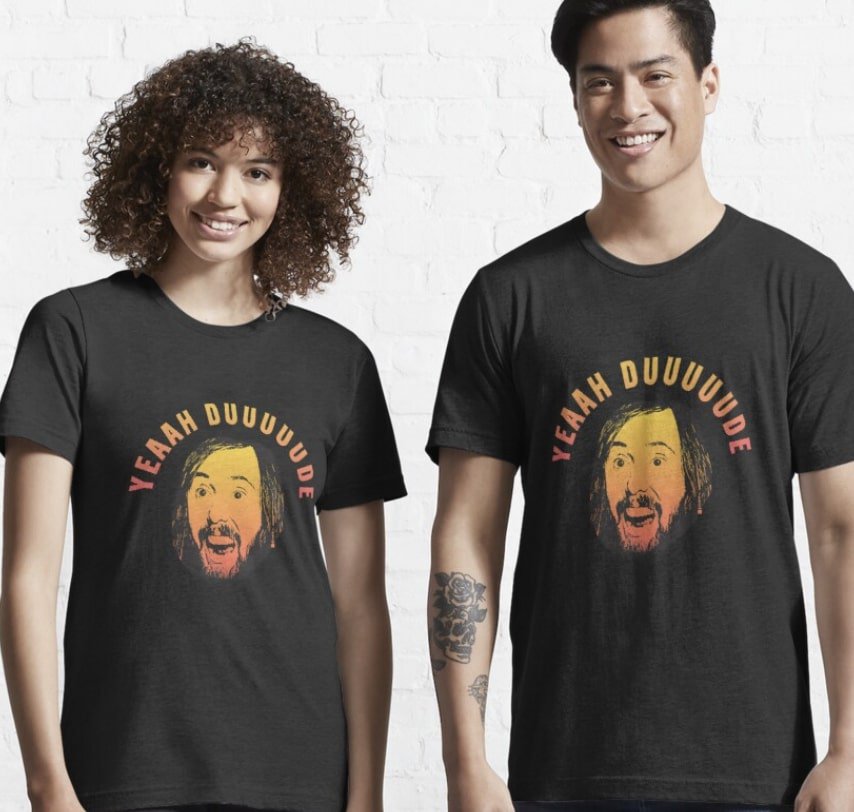 Here's another effortless short-sleeved t-shirt you can purchase to improve your current wardrobe. It's a fantastic piece to stock up on for summer, mainly because you have various timeless color options, including black and white. This t-shirt's cotton fabric allows you to enjoy lasting comfort and durability.
Made to keep you toasty on chillier days, the Yeah Dude pullover hoodie is impossible to ignore. It comes in a perfect mix of solid and heather colors. Should you pick the former, anticipate a quality blend of 80% cotton/20% polyester. Heather grey hoodies come with 30% polyester/70% cotton, while charcoal heather options boast 60% cotton/40% polyester.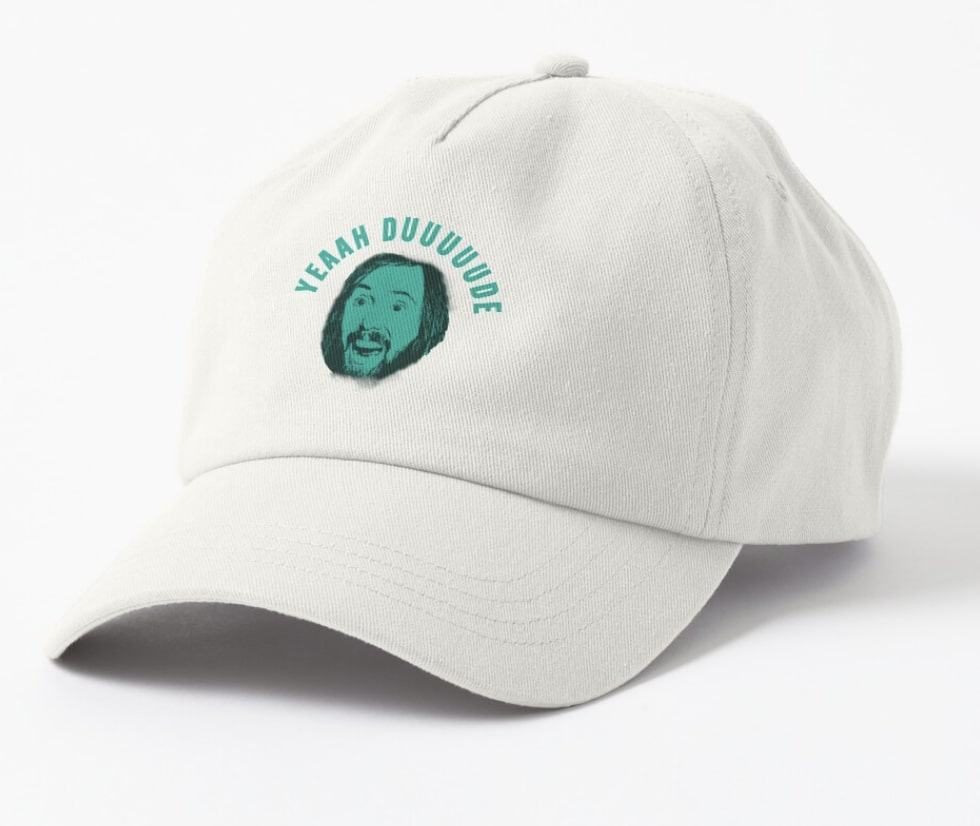 Whether you like it in white, black, beige, navy, or slate grey, this dad hat is everything you need to get through the warmer months and take your style up a notch during the cooler ones. Perhaps it's not such a hard sell because of its fine feature package comprising an excellent five-panel design, adjustable buckle closure, and lasting cotton fabric.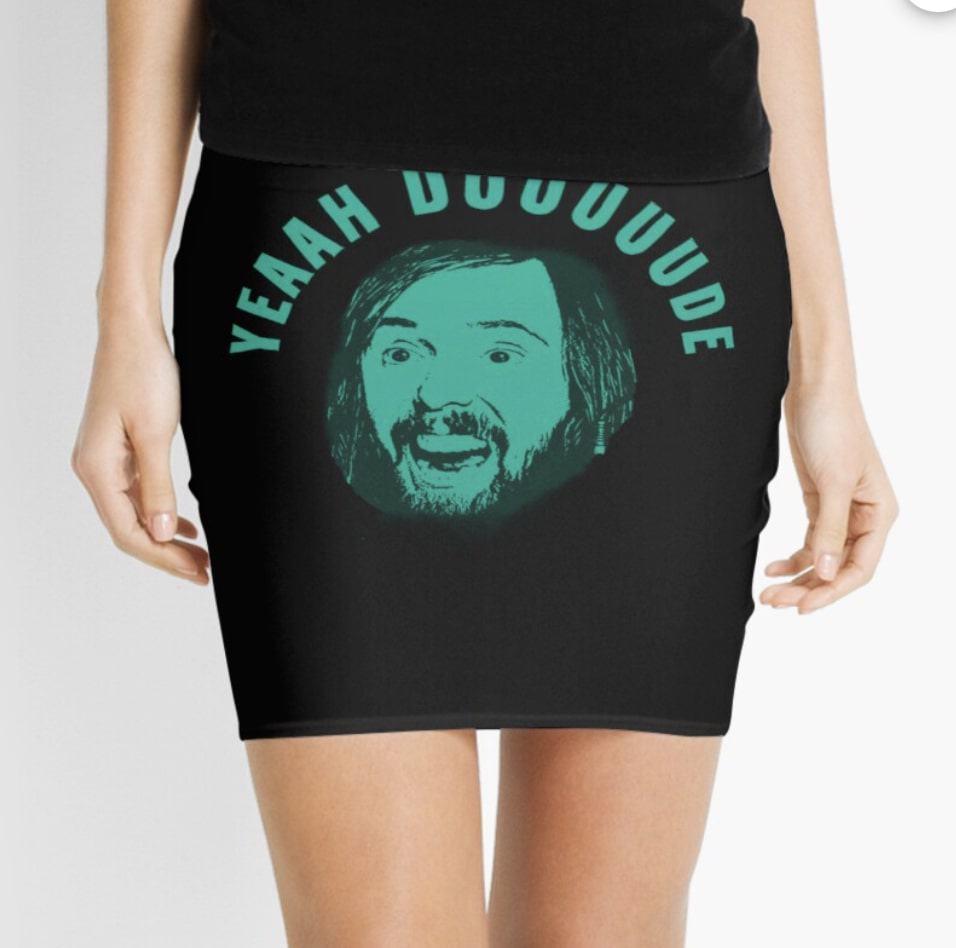 A stylish mini skirt never runs out of fashion, and it goes well with various pieces, including tees, tanks, hoodies, and sweaters. This one takes advantage of an enduring 88 polyester/12% elastane blend that makes it ideally stretchy. And to enhance its convenience, it's machine washable!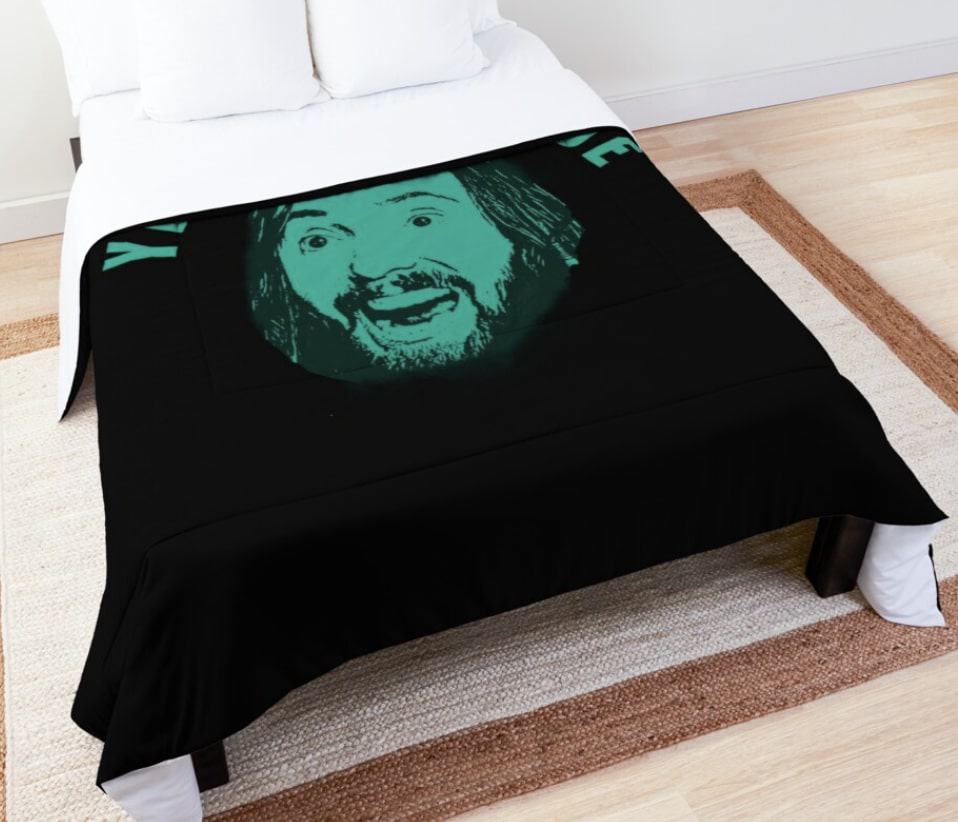 Here's a comforter designed to complement your bedroom décor. It features a 100% polyester material, which is wrinkle-resistant, durable, and lightweight. Since it also shapes well, it helps achieve the perfect layered look you crave. In addition, it comes in Twin to King sizes and is machine-washable for effortless maintenance.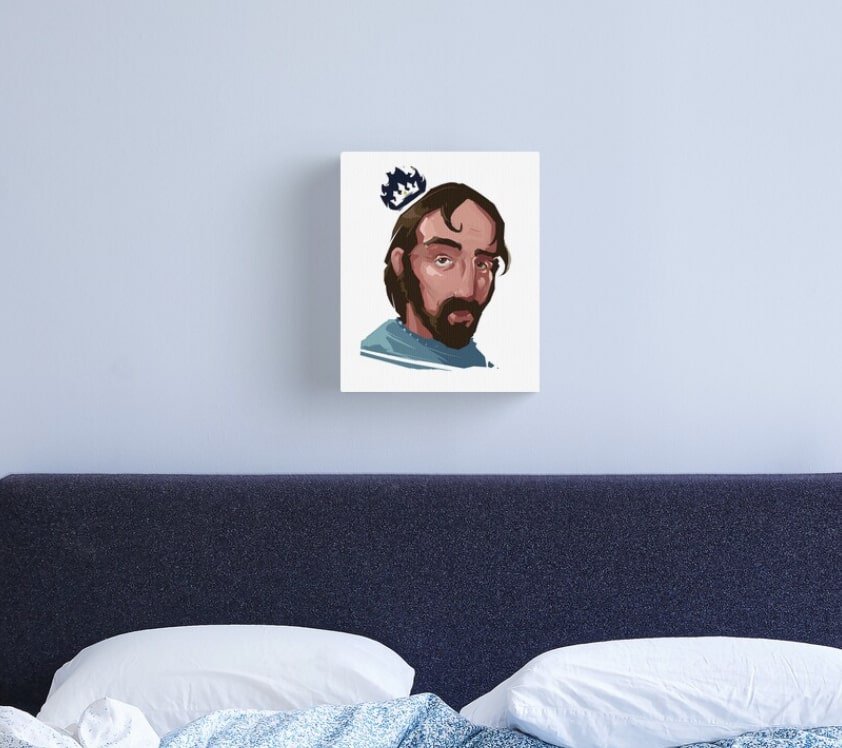 This timeless gallery-grade canvas print will take your home or office décor to the next level. It comes in four sizes to help meet the decoration needs of all Asmongold fans. Plus, both landscape and portrait orientations are available.
If you'd like to explore more Asmongold art, check out this streamer's metal print, photographic print, and framed art print.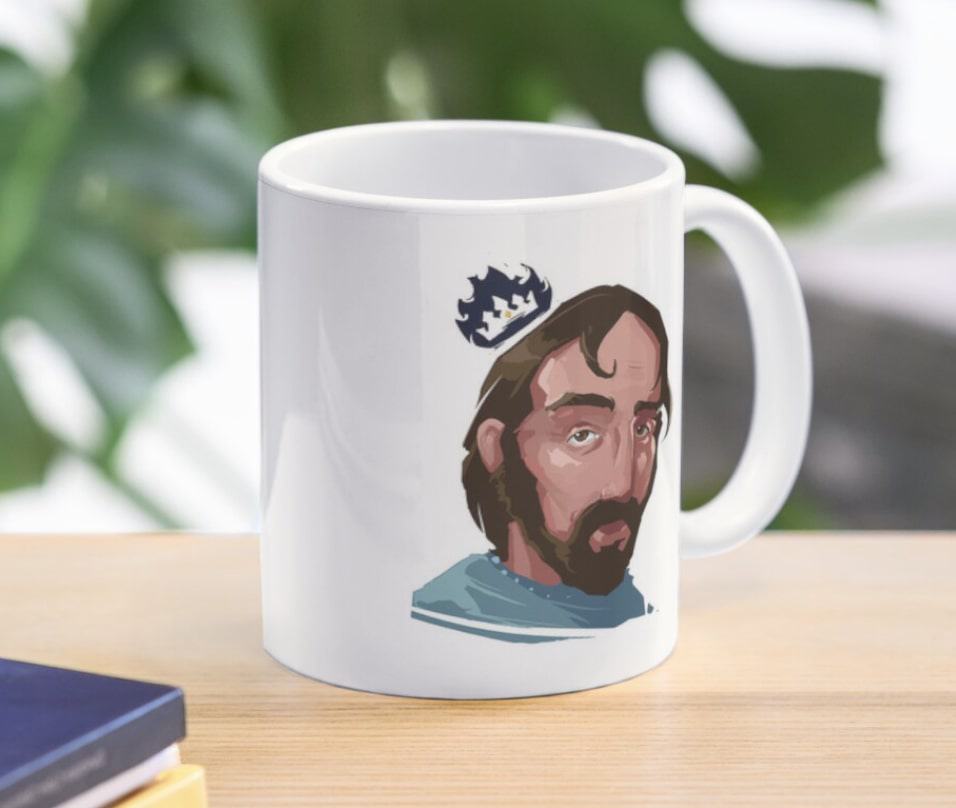 This durable mug is a fantastic piece of kitchenware. It can hold 11 oz. of your favorite coffee or tea. And you can enjoy it while it's hot, thanks to its ceramic material. You'll also be pleased to know its dishwasher-safe. If you'd like a large mug, consider this tall option that holds 12 oz.
Take your bedroom or living room décor to an unimaginable level with this lovely throw pillow with a soft spun polyester cover. You can opt to buy the latter alone or throw in a polyester insert if you don't own one already. The cover's zip is well-hidden, so rest assured that you'll get a much-needed super clean look. And tell you what, Dashion Shop, this pillow's designer, gives you a larger option for your floor too.
Frequently Asked Question About Asmongold
Question: Why did Asmongold and Pink Sparkles break up? 
Answer: Pink Sparkles revealed that she was deeply depressed, a situation that prompted her to move back to California to work on her mental health. She added that Asmongold was also dealing with some personal issues at the time, making it difficult for their relationship to work.
Question: What was Asmongold doing before kicking off his full-time streaming career? 
Answer: Asmongold worked at Sams Club, a chain of Walmart-owned members-only warehouse clubs gaming career.
Question: Does Asmongold love animals?
Answer: Yes. Asmongold treasures animals, and he even owns a pet cat named Brother.
Recommended Reads
Research and Citations
https://www.thegamer.com/asmongold-caught-watching-ex-pink-sparkles/
https://www.thegamer.com/one-true-king-new-org-twitch-otk/
https://dotesports.com/general/news/asmongold-if-you-wanna-be-successful-you-have-to-be-yourself-11405
https://www.thegamer.com/asmongold-opens-up-streaming-hiatus-future/
https://www.pcgamesn.com/world-of-warcraft/shadowlands-launch-twitch
https://dotesports.com/streaming/news/asmongold-plays-final-fantasy-xiv-for-the-first-time
https://www.twitch.tv/asmongold
https://dotesports.com/streaming/news/asmongold-plays-final-fantasy-xiv-for-the-first-time
https://www.youtube.com/user/ZackRawrr
https://www.reddit.com/r/Asmongold/