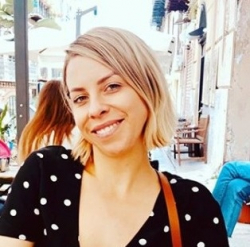 Latest posts by Jodie Chiffey
(see all)
Dávid Julián Dobrík is a Slovak-American YouTuber, Twitch streamer, TikToker, video game player, entrepreneur, and internet sensation. Over the years, I've reviewed many Call of Duty players, such as Ranboo, TimTheTatman, Crimsix, and Trick2g, and I haven't come across anyone as riveting as David Dobrik. I reckon he knows exactly what his fans need and the perfect way to deliver it. Nothing else better explains his 18.2M subs on YouTube and a collective of over 40M followers on Twitter, TikTok, Twitch, and Instagram.
My research on him unveiled that he's also a distinguished podcaster, actor, and TV show host. And besides his unbelievable versatility, he has the most endearing sense of humor. In this bio, I'll delve into the life of the highly acclaimed David Dobrik, who gained fame when he was only a teen. Read on this David Dobrik bio to know more about his meteoric rise to stardom, intriguing love life, net worth, and merch.
David Dobrik's Bio Facts
| | |
| --- | --- |
| Real Name | Dávid Julián Dobrík |
| Birthplace | Slovakia |
| Birthdate | July 23, 1996 |
| Nickname | David Dobrik, Dave |
| Height | 5 feet 10 inches |
| Nationality | Slovak-American |
| Zodiac Sign | Leo |
| Siblings | Has three younger siblings |
| Children | N/A |
| Spouse/Partner/Girlfriend | Ex-wife – Lorraine Nash, Ex-Girlfriend – Liza Koshy |
| Games Played | Call of Duty |
| Net Worth | $25M |
| Social Media | Twitch: DavidDobrik, YouTube: David Dobrik, David Dobrik Too, VIEWS, Instagram: @daviddobrik, Twitter: @DavidDobrik, TikTok – daviddobrik |
| Awards | David Dobrik has won 15 awards and received nominations for over 30. |
| Last Updated | July 2022 |
David Dobrik's Birthplace and Early Life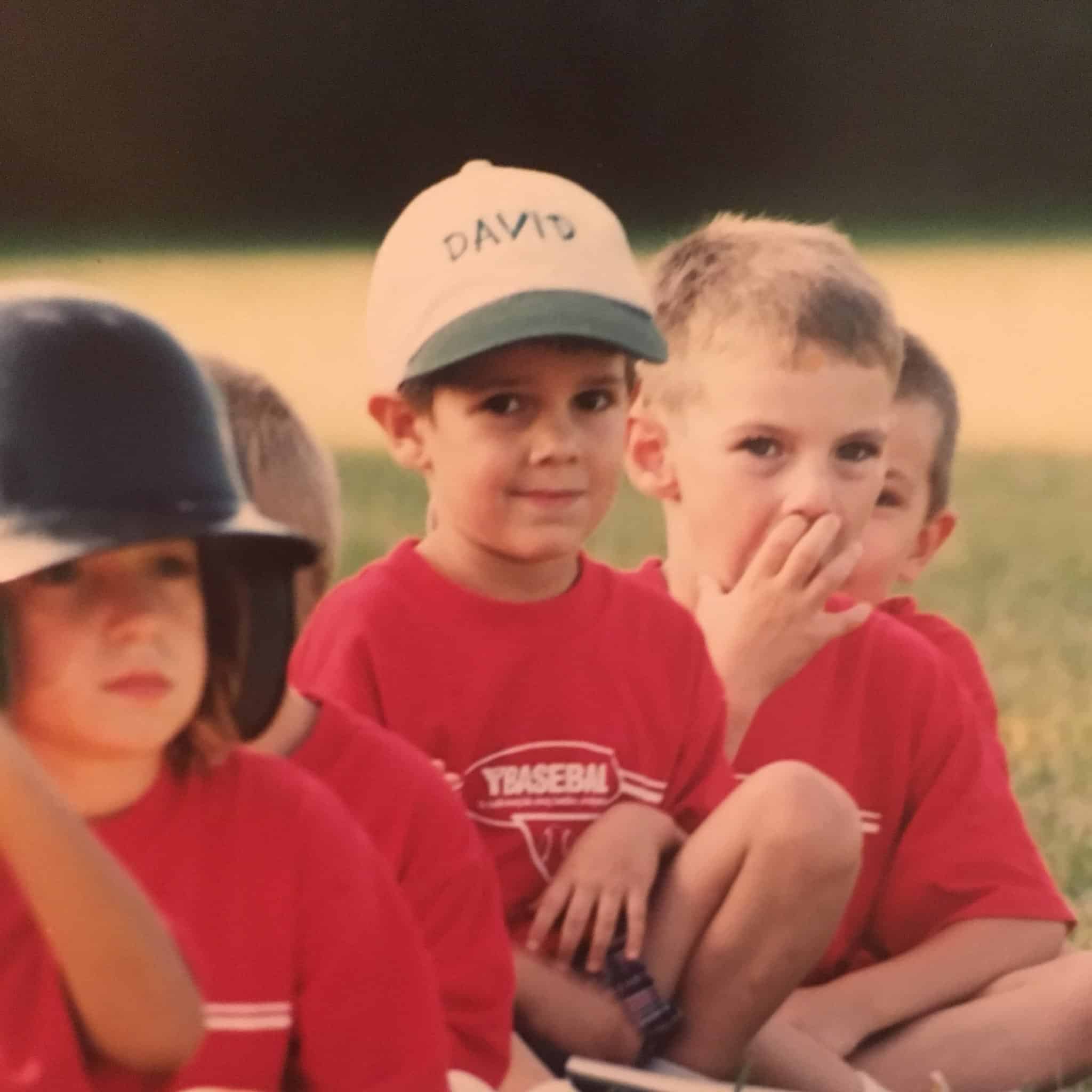 David Dobrik was born to Pavo Dobrik and Mrs. Dobrik in Košice, Slovakia, on July 23, 1996. His folks, including three younger siblings, Toby, Ester, and Sarah, relocated to Vernon Hills, Illinois, when he was only 6. David Dobrik's father is a photographer, but his mother's profession is unknown.
Since he's a Slovak citizen who moved to the US as a kid and stayed in the nation illegally, the Deferred Action for Childhood Arrivals (DACA) prevented him from being deported until 2021, when he attained a green card. In my experience, most immigrants are too scared to attract attention in foreign countries. So, I commend David Dobrik's bravery and ambition that prompted him to pursue his dream of becoming an internet star, regardless of his residence status.
Educational Background and Career Beginnings
David Dobrik went to Vernon Hills High School. While at the institution, he enjoyed tennis and participating in sports competitions. Factually, he played at Boys Tennis State Tournament and made it to the doubles tournaments, where he finished third place. After David Dobrik completed his high school education, his parents told him to proceed to college or move out. He opted for the former because he knew he wanted to build an online career. So, he moved to Los Angeles to kick-start it on Vine.
At first, things were tough. He struggled to make ends meet and survived on inexpensive food options such as peanut butter and bread. But eventually, things got better, and he could afford decent meals. All the same, I think starting so early gave him a leg-up because he had plenty of time to polish up his skills and make his way to the top.
How Did David Dobrik Get Started Gaming?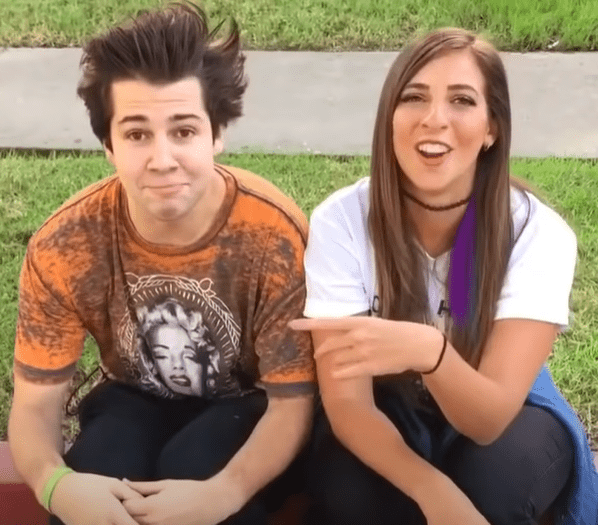 For David Dobrik, everything began in 2013 when he made his Vine debut. He'd share 6-second videos (mainly sing-offs, pranks, and sketches) whose exciting antics earned him over 1M followers by the time the video-sharing service shut down. While a large portion of his fans craved fun, others were young girls admiring him, which in my opinion, is typical teen behavior.
With a steady following on Vine, David Dobrik stopped making solo improvs, focusing on collabos with other Viners, such as Gabbie Hanna, Brandon Calvillo, Liza Koshy, Jason Nash, and Alex Ernst. This was about the same time he became a part of Second Class, a collaborative YouTube channel he hosted with his pals, Jake Webber, Brendan Lunn, Cameron Kasper, and Jack Dytrych. The way I see it, Second Class gave David Dobrik the chance to cement his position as a talented comedian worth everyone's attention. Therefore, when he started his self-titled YouTube channel towards the end of 2014, he blew up!
YouTube Career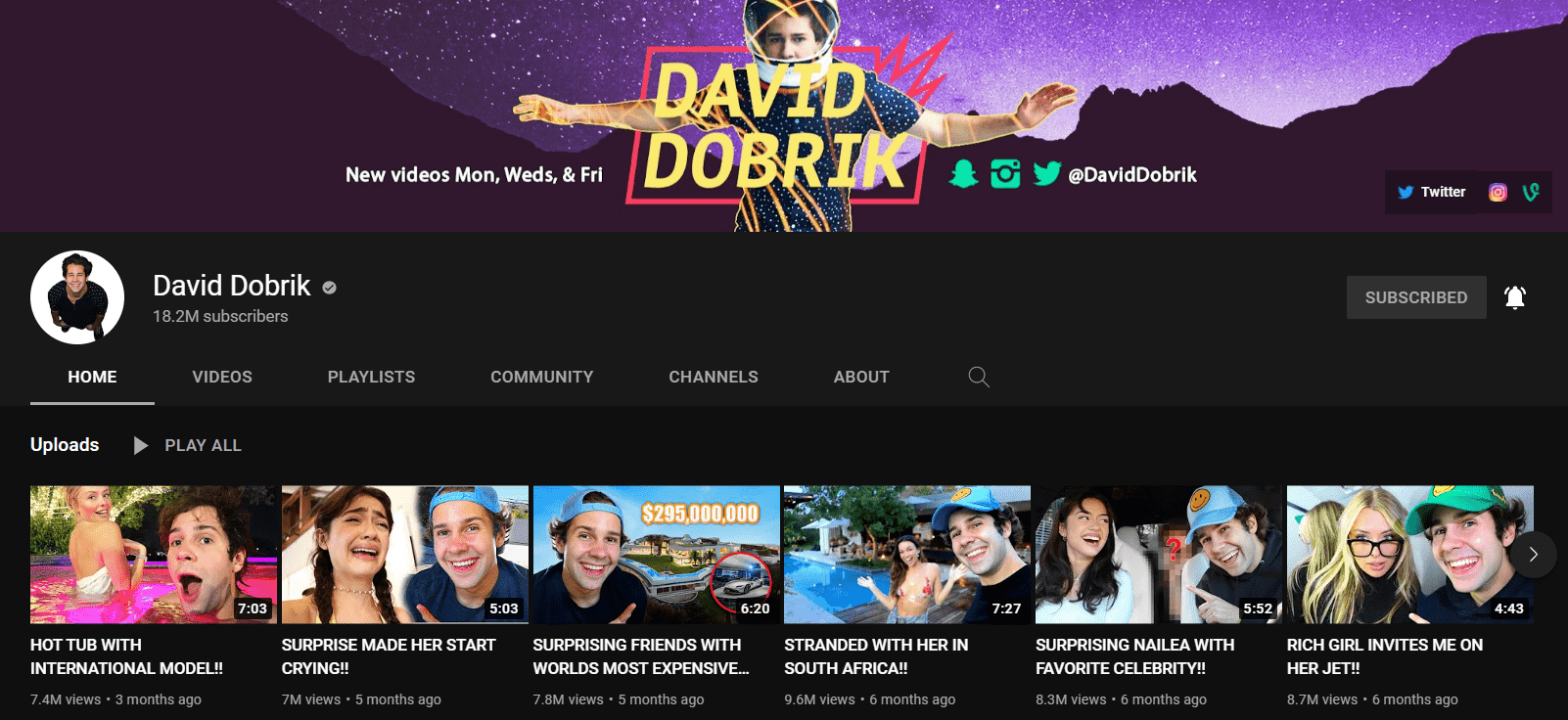 David Dobrik gained fame on YouTube by uploading comedy vlogs revolving around semi-scripted bits and real-life circumstances. More often than not, he collaborated with former Vine creators to produce content, which made it even more alluring. In 2016, he launched his second YouTube channel, David Dobrik Too, where he posts exhilarating challenge clips, blooper reels, and content related to his direct sponsorships. He also has a third channel, VIEWS, where he shares video versions of Views with David Dobrik & Jason Nash, his Podcast.
The Vlog Squad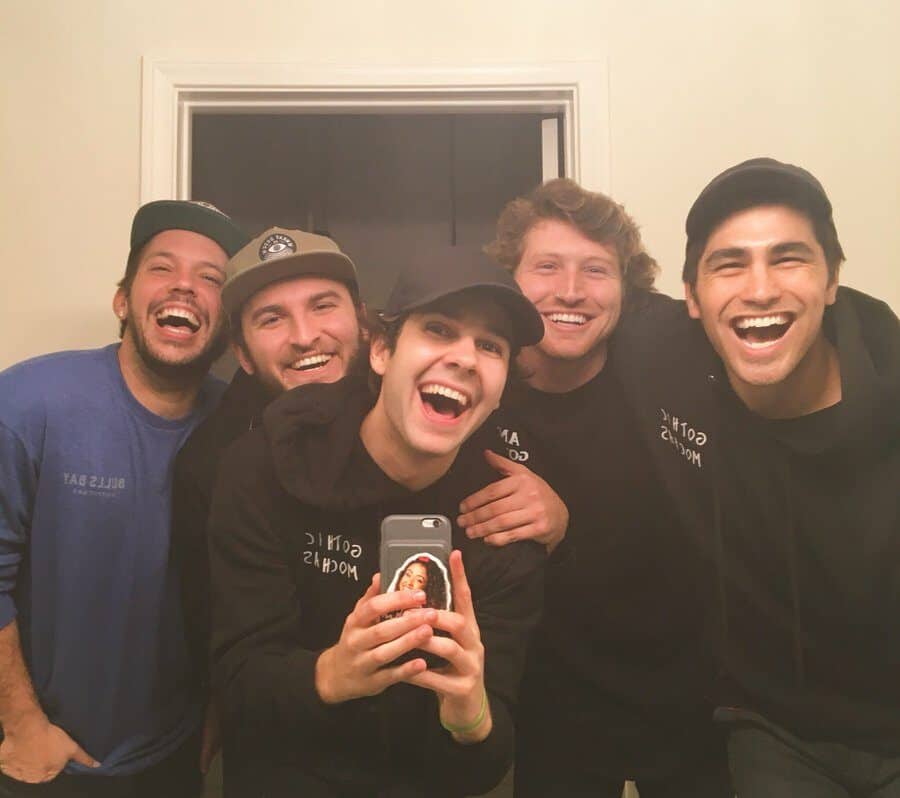 David Dobrik founded the collaborative YouTube group The Vlog Squad in 2015. Besides him, other members of this team include Jason Nash, Josh Peck, Heath Hussar, Scotty Sire, Toddy Smith, Carly Incontro, Nick Antonyan, Matt King, Zane Hijazi, and Mariah Amato. Most of The Vlog Squad members have attained massive success at an individual level, and they have millions of followers online. Therefore, I don't think it's surprising that they decided to work together; you know what they say – "game recognizes game."
Since The Vlog Squad has many members, they usually create content on rotation, so you might not spot everyone in a single video. The ensemble has become a favorite for many, with some describing it as an exciting version for Friends but for vloggers. Most people love it for its wild pranks, and if you're a mayhem fan, you might also like it. As of this writing, The Vlog Squad has shared 340 videos, each with millions of views.
Streaming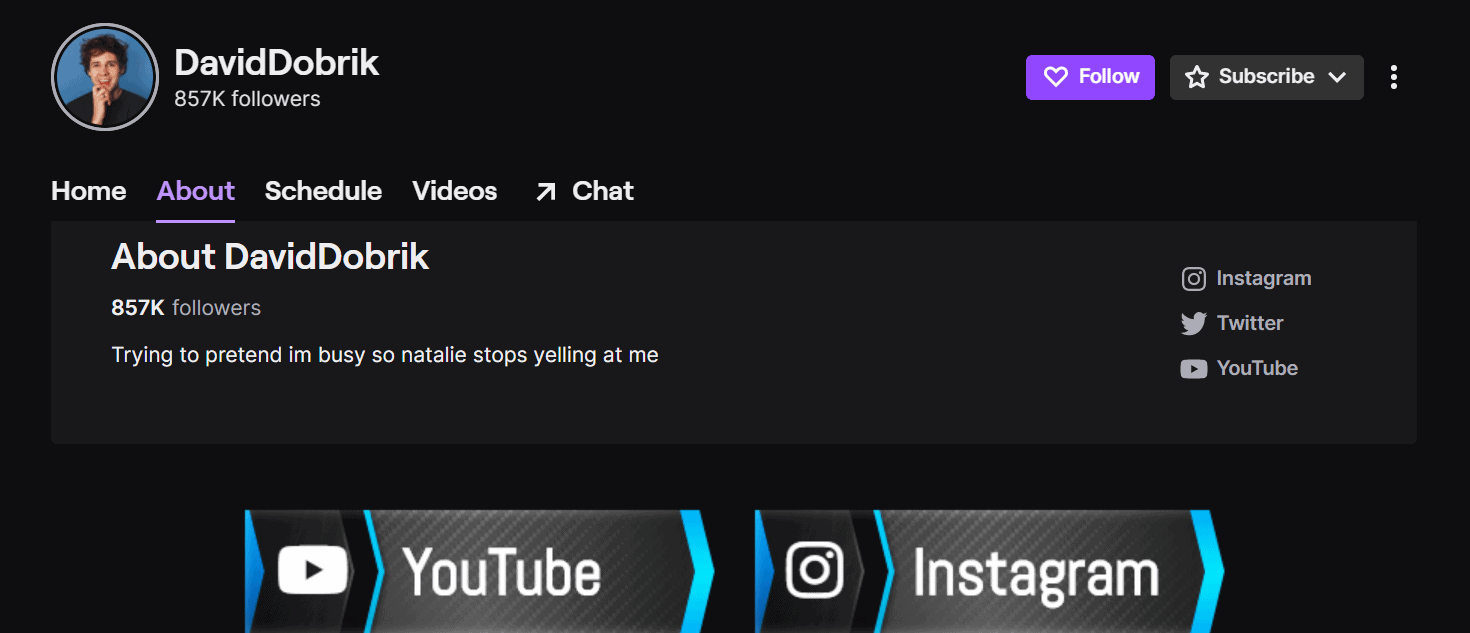 As a YouTuber, David Dobrik is in a class of his own. And intriguingly, he's also showcased immeasurable talent as a streamer on Twitch. He joined this platform in 2020 and started things off with a generous flair that caught everyone's attention. Let me loop you in on it! During David Dobrik's inaugural stream, he played Call of Duty: Warzone matches with his pals, and he revealed that if he won, he'd be gifting his viewers $1000 giveaways without partnering with any brands.
Over 40K viewers tuned in, so would each get all that cash? No. He screenshot his winning moments and used PayPal to send the money to only those whose chat user names were in the images. In a way, I think this was a strategy to gain traction on Twitch because, within four days, his channel had already amassed over 350K followers. Today, the number has grown to 908,094, and he has garnered 3,302,025 views.
Impressively, David Dobrik doesn't stream on Twitch alone. In 2021, he signed a deal with Warner Bros-owned Discovery+ to stream a travel series called Discovering David Dobrik. They began producing it in November that year.
TikTok Career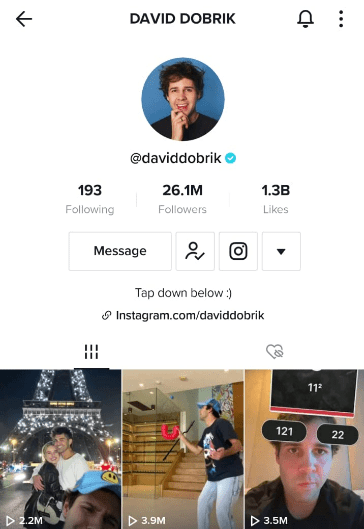 David Dobrik is also a big name on TikTok. As of this writing, his account has racked up 26.1M followers and a whopping 1.3B likes. Like on other social media outlets, he has gained a reputation for bringing limitless entertainment to his fans, which explains why most of his videos go viral.
In 2020, David Dobrik was among the first 19 creators who benefited from TikTok's $1 billion Creator Fund. This platform's current Chief Operating Officer (COO), Vanessa Pappas, said he deserved his spot on that list of recipients because of his authenticity and incredible capability to connect, inspire and amuse his audience. And I agree about it.
Podcasting and Other Endevours
David Dobrik co-hosts the weekly podcast Views with David Dobrik & Jason Nash, with his friend, American YouTuber, comedian, and actor Jason Nash. They released their first episode in May 2017, and impressively, it debuted 2nd on the iTunes podcast chart.
In the podcast, David Dobrik and Jason Nash discuss their close friendship, pop culture, and thoughts on different aspects of their lives. One of the things I admire about them is their consistency. So far, they have 220 episodes, which indicates how committed they are to their fans since they also have to create content for their YouTube channels and other social media outlets.
More Ventures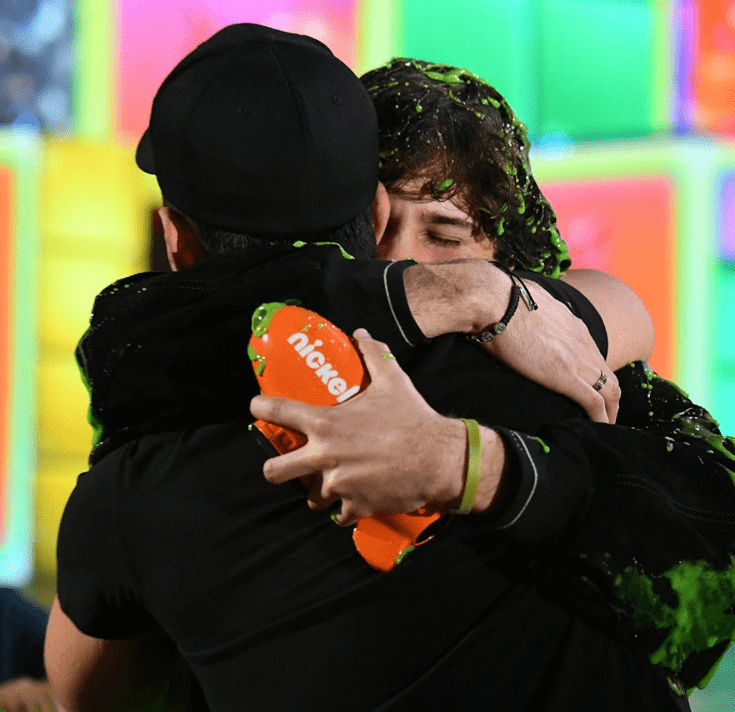 Besides podcasting, David Dobrik has also engaged in many other praiseworthy activities. For instance, he was a judge on Nickelodeon's America's Most Musical Family, alongside Debbie Gibson and Ciara. Also, in January 2020, he co-launched Dispo, a popular social networking and photo-sharing app available in English and Japanese. As of this writing, it has exceeded 5M downloads. And between March and June 2021, it was among Apple Store's top ten video/photo apps, with most users in Japan, US, Spain, Germany, Australia, and Brazil.
I was more fascinated that in that same year, David Dobrik founded his fragrance company, David's Perfume with Flower Shop Perfumes Co. And that is not the end of it. David Dobrik has also appeared in several films, including FML, Airplane Mode, and The Angry Birds Movie 2. Between 2017 and 2021, he was featured in nine music videos, such as Scotty Sire's Sad Song, Take Me Away, and Juice WRLD's Graduation. Additionally, this Slovak-American YouTuber has appeared in several TV shows as a host and judge. At this point, I honestly believe he can do anything he sets his heart on.
Achievements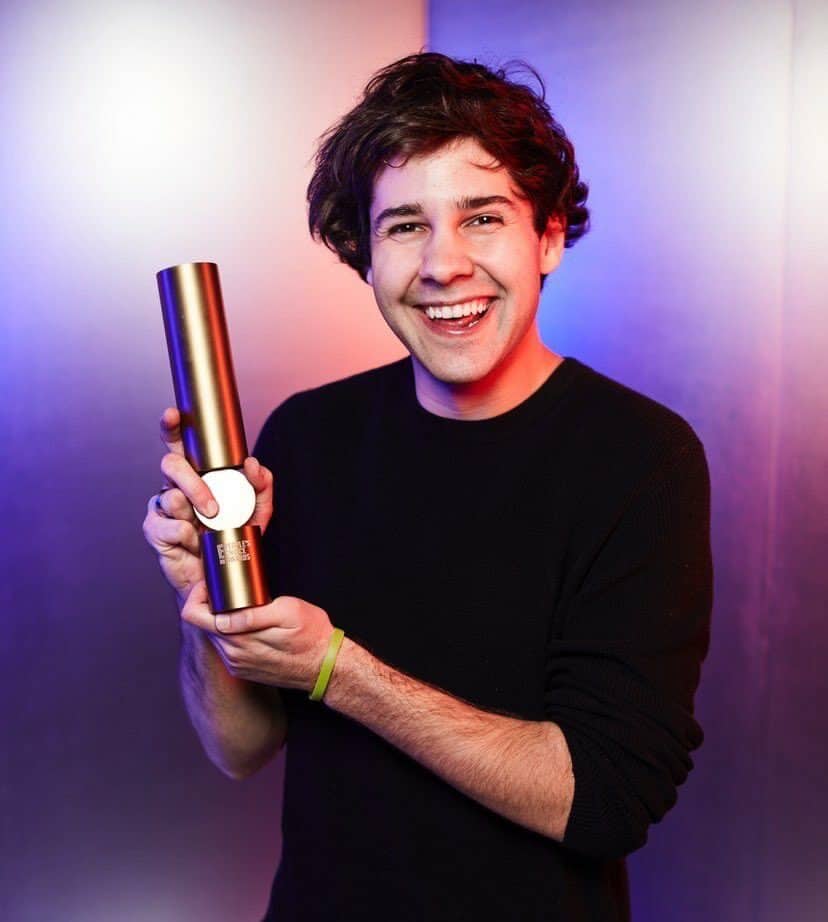 David Dobrik ranks among the most accomplished content creators today, and I'm confident he has a lot to show for it.
For starters, he's been nominated for over 30 prestigious awards and bagged at least 15 of them. For instance, at the 2017 Shorty Awards, he went home with the Vlogger of the Year award. And during that same year, he also won a Streamy Award in the Creator of the Year category.
Moreover, David Dobrik has also received a Kids' Choice Award, a Teen Choice Award, and a People's Choice Award, all in different categories.
I was even awed to discover that one of his numerous accolades was for collaborating with legendary Canadian pop singer Justin Bieber.
Additionally, countless magazines have also honored David Dobrik's tremendous contribution to the entertainment industry. One of them is NYC-based Paper Magazine which included him on their 2018 list of "10 Social Media Personalities Making the Most Noise".
Then, Variety featured David Dobrik on their yearly "Power of Young Hollywood" list in 2019. In the same year, YouTube Rewind 2019 ranked him as the fifth most viewed content creator on the platform, as his channel had accumulated a whopping 2.4 billion views by then.
Controversy
David Dobrik steered clear of controversies in the early stages of his career. But I believe massive success comes with a lot of responsibilities. And sometimes, things can go wrong, explaining the disputes this YouTuber has been involved in within these past few years.
Jeff Wittek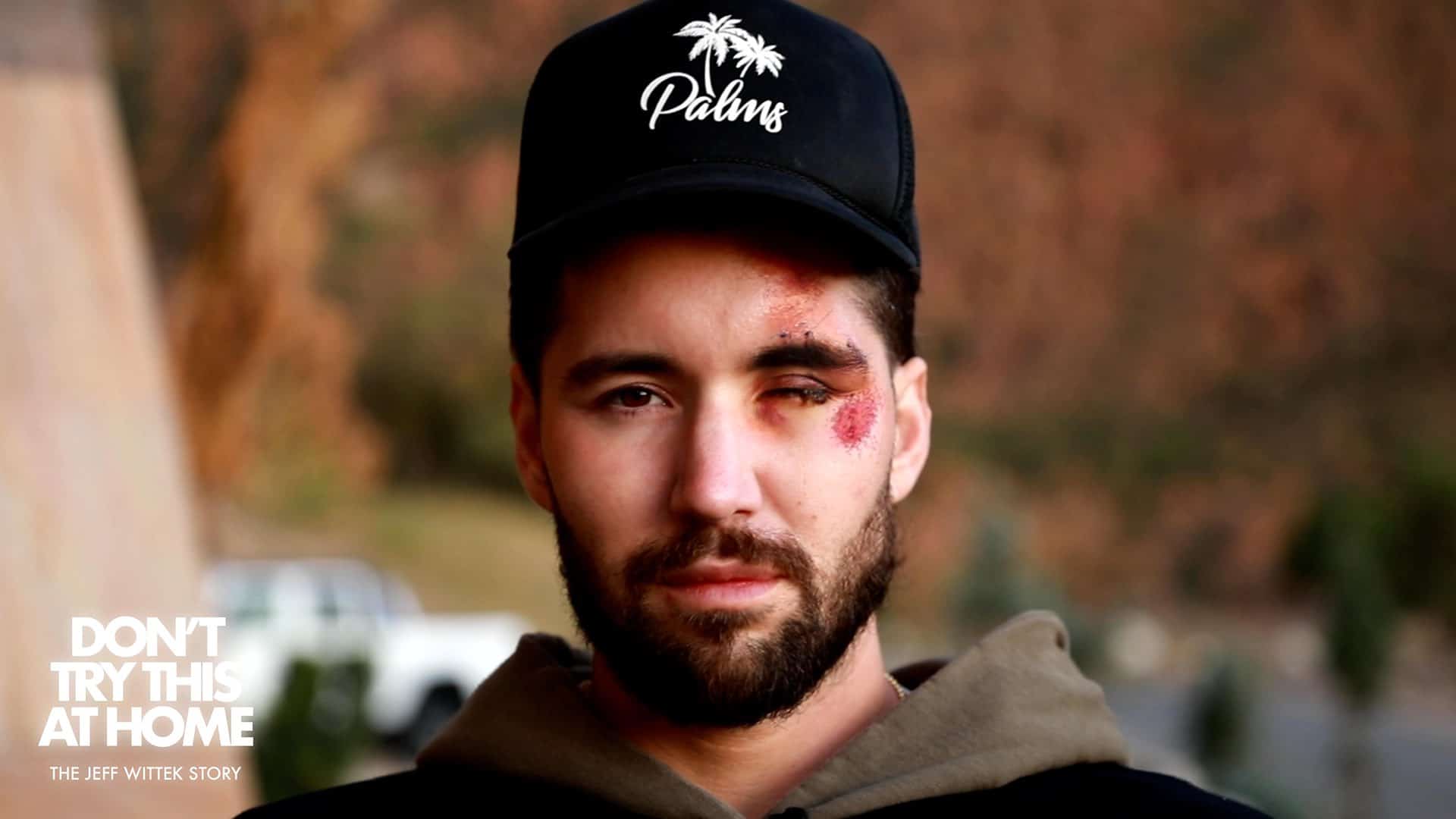 In June 2020, Jeff Wittek, a former member of the Vlog Squad, sustained near-fatal injuries while filming footage for the ensemble. He permanently damaged his left eye, requiring extensive surgery to recover. As of this writing, he's now suing David Dobrik for $10M, holding him responsible for the unfortunate incident, claiming that it happened due to his negligence and intentional tort.
Jeff's complaint stated that the mishap cost him substantial medical expenses, wage loss, and hearing capacity. All these are clearly explained in his documentary, Don't Try This At Home, which he released in 2021.
More Trouble at the Vlog Squad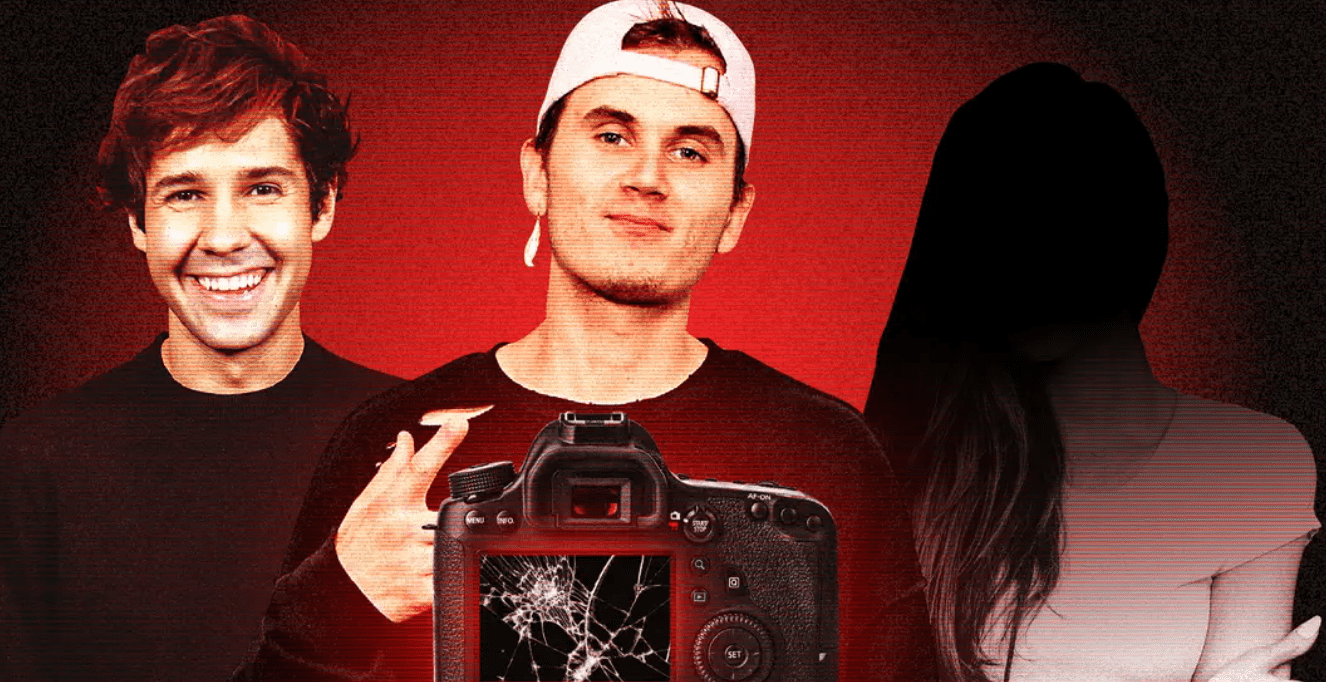 I don't think 2021 was the best year for David Dobrik. After the Jeff Wittek accident, another Vlog Squad member, Seth Francois, also had a complaint regarding his leadership. Allegedly, the Dispo app co-founder sexually harassed him by tricking him into kissing Jason Nash while blindfolded.
Francois claimed that he felt he had to do what David Dobrik wanted, although he considered some of the things culturally insensitive as a black man. Additionally, Nik Keswani, who has since left the Vlog Squad, revealed that he was compelled to make his exit because David Dobrik constantly bullied him.
That's not all. In March 2021, Business Insider's Kat Tenbarge reported that former Vlog Squad member Dom Zeglaitis allegedly raped a woman while the team was shooting a vlog about group sex in 2018. Following all these sexual assault allegations, David Dobrik was forced to resign from his leadership role at the Dispo app. He also lost countless followers, many of whom accused him of monetizing other people's trauma, and most of his sponsors let him go. Also, YouTube demonetized his channel temporarily.
David Dobrik's Videos
Here's the short video that saw David Dobrik win an award in the "Collaboration" category at the Streamy Awards in 2020. So basically, he gets fans to tell him what they think about Justin Bieber, only for them to be startled to learn they're all in the same car. As a fan of the pop singer, I delighted in watching this clip – their positive vibes are infectious, and I love how easygoing these two celebrities are.
Jason Nash has always been David Dobrik's, right-hand man. So, what does he think about the drama between him and Jeff Wittek following the latter's accident while creating content for the Vlog Squad? Be sure to watch this video to find out!
David Dobrik's Gaming Setup
As of this writing, David Dobrik hasn't told us about the items in his gaming setup. I'm of the opinion that it's because most of his content revolves around comedy instead of video games. Nonetheless, if I find the gear he used to play his favorite Call of Duty titles, you'll be the first person to know!
David Dobrik's Family
While some celebrities make all efforts to keep their romantic lives away from the limelight, David Dobrik hasn't. Below, let me tell you everything I uncovered about his ex-partners.
Lorraine Nash
David Dobrik's marriage to Jason Nash's mom, Lorraine Nash, in May 2019 is enough to prove that he's down to do whatever it takes to create "viral" content. Their one-month union was a comedic bit to make one of his vlogs more popular, and it successfully did so – it has pulled in 14M+ views as of this writing. As he revealed, his other objective was to become his best pal's stepdad after he (Nash) told him that he'd never find love.
If you ask me, this was a hilarious stunt. But it doesn't mean the couple's marriage wasn't real; it was because they went to a chapel to solemnize it and met all the legal requirements.
But as many expected, David Dobrik and Lorrain, who was in her mid-70s then, wouldn't be romantically linked for long as they divorced in June 2019. The YouTuber announced the annulment of their union on Twitter, saying that they might have rushed things. Nevertheless, he wished his ex-wife the best in her future. He further requested their fans to give them the privacy they needed while dealing with their split-up.
The Aftermath
Notably, not everyone appreciated David Dobrik's 'comical' marriage to Nash's mother. Yes, many people applauded his excellent sense of humor.
But some said there was nothing funny about that, and I agree with them. I'd be furious if my best friend married my mom for publicity, clicks, or engagement aside. Therefore, some brands cut off their ties with him soon after he shared the wedding vlog, and he also lost millions of devotees. Interestingly, his then stepson, Jason Nash, was supportive throughout the marriage and divorce, and they remain close friends.
Liza Koshy
David Dobrik was in a relationship with American TV host and actress Liza Koshy between late 2015 and early 2018. These two were the internet's dream couple that millions of people adored and envied at the same time. Seemingly, they were made for each other and had so many things in common, including fame, talent, a close circle of mutual friends, and a fantastic sense of humor.
So, when David Dobrik and Koshy revealed they were parting ways through BBC, everyone who knew them was heartbroken and shook, myself included. (They also uploaded a vlog on their channel on YouTube to announce the sad news). What exactly caused this media couple to drift apart? Life happened! They disclosed that they felt they were leading two completely separate lives, and being together wasn't healthy anymore.
David Dobrik and his ex-girlfriend kept their amicable breakup for about six months because they were mad at themselves for not trying harder to make things work. In my view, splitting up was the right decision, even though they weren't happy with the outcome of their relationship. On the upside, it allowed them to focus on their careers and explore other aspects of their lives.
David Dobrik's Net Worth and Career Earnings
As of this writing, David Dobrik's net worth is estimated to be $25M, which puts him in the pool of the wealthiest creators online. Allow me to let you in on how he's accrued his giant pile of cash.
YouTube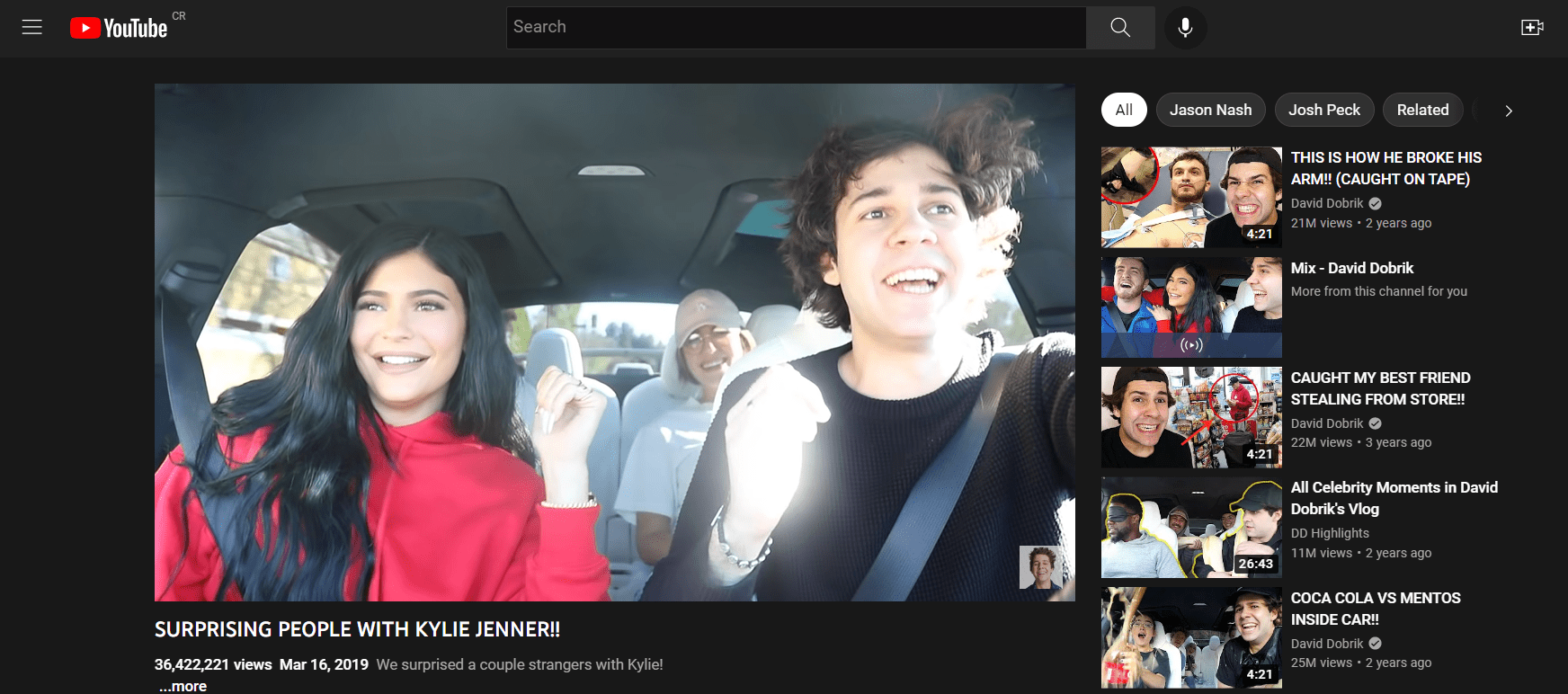 Presently, I don't think David Dobrik is making any money on YouTube. The platform demonized all his three channels following his sexual misconduct allegations last year, and he hasn't uploaded any videos for about a few months.
Nevertheless, it doesn't change that he's one of YouTube's highest-earning creators, considering he has three channels with millions of subs. And that's not the most intriguing part. His primary YouTube channel, David Dobrik, has accumulated a staggering 7,067,973,987 views! Additionally, his other two channels boast almost a billion views, accurately representing his tremendous success on this platform.
David Dobrik was on the Forbes' list of the best-paid YouTubers in 2020. The magazine alleged that he'd earned $15.5 million; at the time, his channel boasted 2.7B views. Considering his current viewership is more than thrice as much, I believe he made a lot more before the platform wrote off his channels.
TikTok
I suppose David Dobrik makes some cash off TikTok as an influencer. Usually, users on this platform make money through posting branded content, but the revenue one pulls in depends on one's popularity and the number of views their videos garner. He was also among the nineteen beneficiaries of TikTok's $1 billion Creator Fund, though the amount each star got wasn't specified.
Twitch
David Dobrik joined Twitch a few years ago, and he could already be earning on it through streaming video games. I couldn't find any accurate info regarding his Twitch income, but it's definitely through donations, ad, and bit revenue.
Merch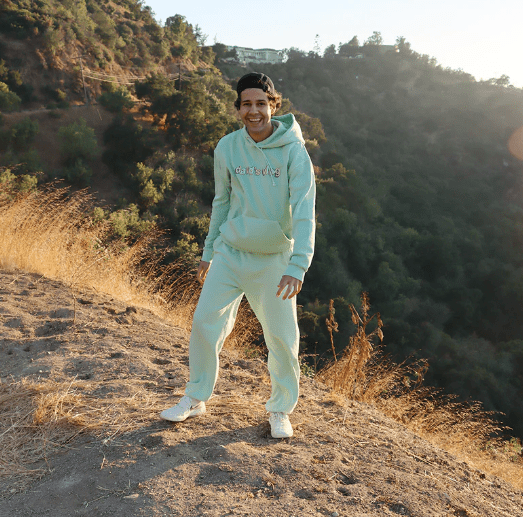 I presume David Dobrik's merch sales have also contributed to his high net worth. His merch store provides tons of items I'd consider buying, including sweatpants, hoodies, tote bags, phone cases, and drinkware. He welcomes international buyers to push up his sales, letting them pay via global banking methods such as PayPal, Amex, Discover, Visa, Mastercard, Venmo, and Amazon.
Sponsorship Deals
As of this writing, I can't give you any concrete details about David Dobrik's sponsors because most dropped him after his sexual harassment allegations. All the same, he's had an extensive list of them, including Bumble, EA, Hello Fresh, and Seat Geek. Promoting their products possibly brought in millions.
More Revenue-Bringing Ventures
I'm convinced David Dobrik has raked in a substantial amount by indulging in other income-earning activities. These include podcasting, acting, hosting TV shows, and launching the Dispo photography app.
David Dobrik's Retirement and Post Professional
Many of David Dobrik's fans are eager to know when he plans to retire, but I don't suppose it's this year or the next. I feel he still has a lot of things to do, considering he's incredibly active on social media apps such as TikTok and super enthusiastic about his podcast. Additionally, he's just returned to YouTube after being away for a while, and I believe he's hell-bent on making up for the lost time.
David Dobrik's Merch
I fancy this phone case because it's super classy, not to mention durable and dependable. I would consider getting it for my Samsung Galaxy Note 10, but it is also designed for many other models, including iPhones.
Tote bags have always been my thing because I can carry them everywhere. If you're on the market for one, I recommend this option since it has all the essential aspects. For instance, it has a unique design, ample space, and a 100% cotton twill, and maintaining it is straightforward.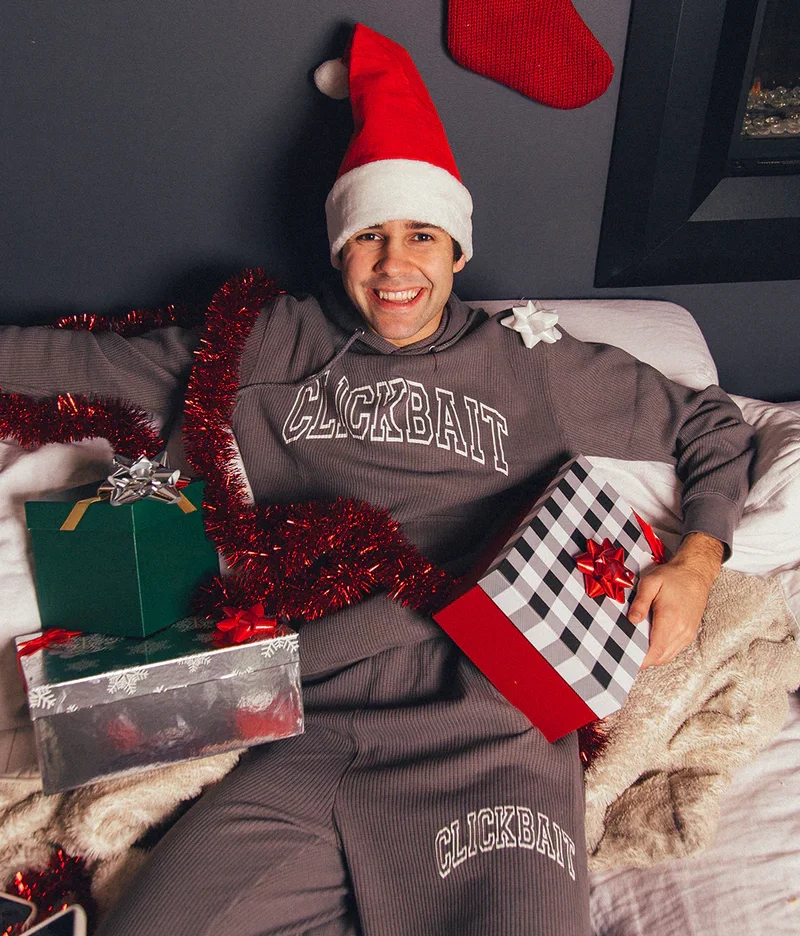 Supposing you fancy a comfy pair of adult midweight tracksuit bottoms, I think you might like the Waffle Charcoal Sweatpants. They're incredibly comfortable thanks to their breathable, soft cotton/poly fabric. Additionally, they come in sizes small-3XL for convenience. If you don't mind exploring another option, I suggest you check out the David Dobrik: Waffle Cream Sweatpants.
I was taken with this piece of drinkware as soon as I saw it on David Dobrik's website. Apart from being classy, it's constructed with lasting ceramic material and can hold up to 15 oz of liquid. More available mugs include the David Dobrik Beverly Mug and David Dobrik Midgnight Clickbait Mug.
Frequently Asked Questions
Question: Who's David Dobrik's current girlfriend?
Answer: I scoured multiple websites to try and find out who David Dobrik is dating as of this writing, but I didn't find anything. I should point out that most of them revealed that he's single and has been since his divorce.
Question: Has David Dobrik earned any money via competitive play?
Answer: There's no published info regarding David Dobrik's earnings from gaming tournaments, so I don't think he has made any cash through playing video games competitively. If he has, there's no record of it online.
Question: Is David Dobrik rich?
Answer: Yes. David Dobrik has millions of dollars to his name, so he's definitely on my list of the wealthiest 25-year-olds.
Question: Where does David Dobrik reside? 
Answer: As per my research, David Dobrik lives in his 9.5M-worth lavish house in Sherman Oaks, California.
Question: Does David Dobrik have a nickname?
Answer: Yes. Sometimes, David Dobrik goes by the moniker "Dave".
Recommended Reads:
Research Citations