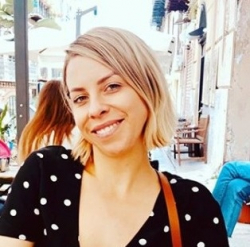 Latest posts by Jodie Chiffey
(see all)
Alexis, better known online as Quackity, is a popular Mexican YouTuber, Twitch streamer, video game player, and internet personality.
So, over the past several months, I've been probing the lives of exemplary Minecraft players, and Quackity was hard to miss. He's unquestionably as talented as the likes of Nihachu, GeorgeNotFound, Dreamwastaken, Ranboo, and BadBoyHalo, all of whom are members of the legendary Dream SMP.
I was stunned by his massive online fan base, corroborated by the 4.8M followers and 6.17M subs on his Twitch account and main YouTube channel, respectively.
What I found even more exhilarating is that creating content on these platforms has enabled him to amass great wealth. Consequently, his net worth exceeds a million. And though it doesn't surpass that of more established gamers like Asmongold, Sodapoppin, and TimTheTatman, I believe it might soon.
But what exactly makes Quackity tick? Find that and more about his personal and professional life in this comprehensive Quackity bio.
Quackity's Bio Facts
| | |
| --- | --- |
| Real Name | Alexis |
| Birthplace | Mexico |
| Birthdate | December 28, 2000 |
| Nickname | Quackity, QuackityHQ |
| Height | 5 feet 8 inches |
| Nationality | Mexican |
| Zodiac Sign | Capricon |
| Siblings | Quackity has an elder brother |
| Children | N/A |
| Spouse/Partner/Girlfriend | N/A |
| Games Played | Minecraft, Roblox, etc.  |
| Net Worth | $1.55M |
| Social Media | Twitch: Quackity, YouTube: Quackity, QuackityTwo, QuackityVODs, ElQuackity, Twitter: @Quackity, Instagram: quackity, Discord: |
| Awards | N/A |
| Last Updated | July 2022 |
Quackity's Early Life and Birthplace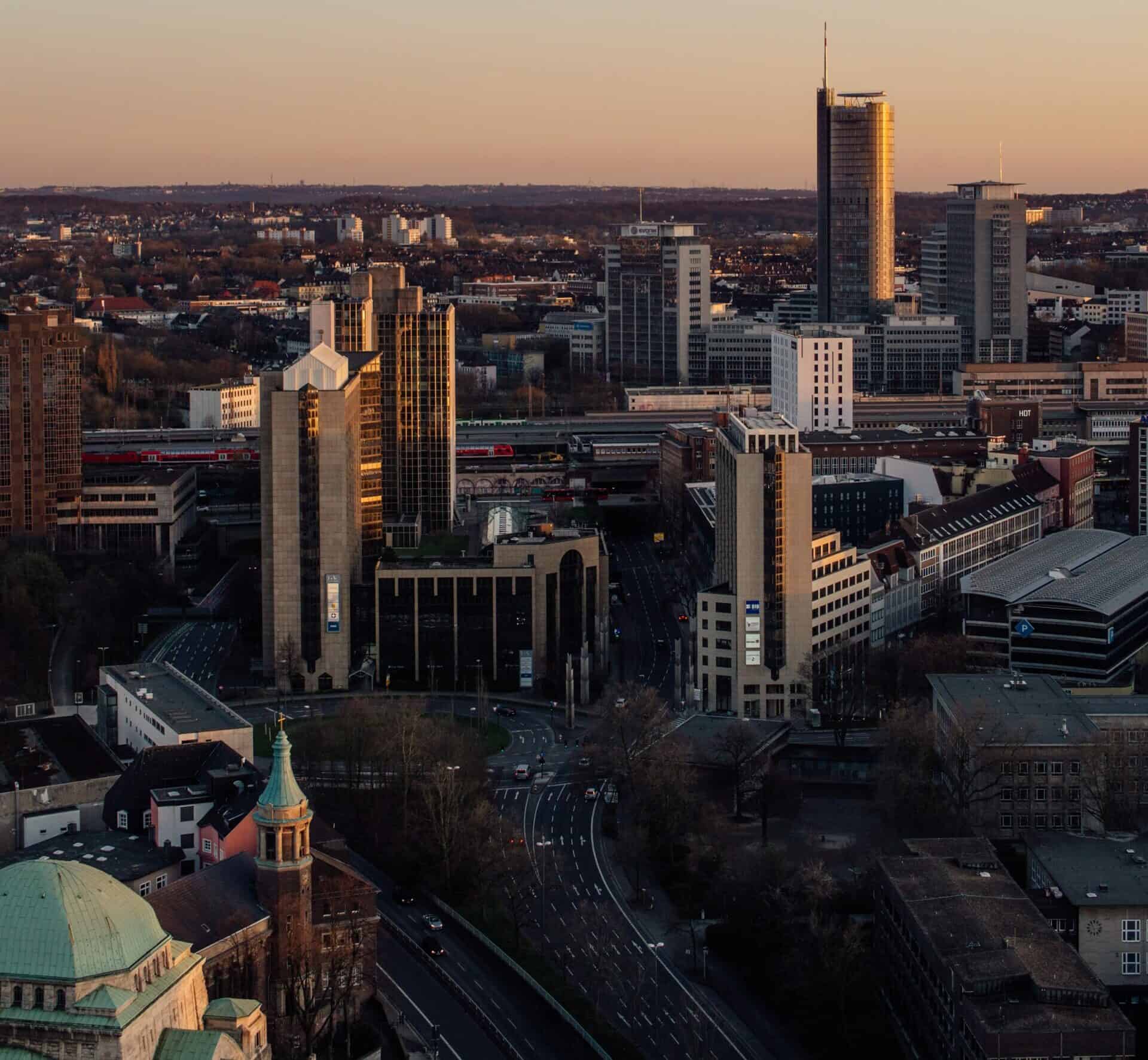 Born on December 28, 2000, Quackity is a Mexican raised in a Christian household. While he's been open about his religion, he's not mentioned his full name or his parents'. And I don't find it unusual because plenty of other streamers have done so to enjoy some privacy.
Nevertheless, his father is a teacher, and his mother is a pharmacist.
Quackity has an elder brother who was also a creator on YouTube. But his sibling is not as successful or famous as him, which I think is the reason he's currently inactive.
During his early school days, Quackity enjoyed co-curricular activities. After completing high school, he enrolled in an undisclosed college/university to study law. He hopes to attain his degree soon.
If you ask me, the fact that Quackity already has a demanding social media career and is in law school is awe-inspiring. Juggling all that and his seemingly great social life can be highly challenging, and striking a much-needed balance requires a lot of dedication.
How Did Quackity Get Started Gaming?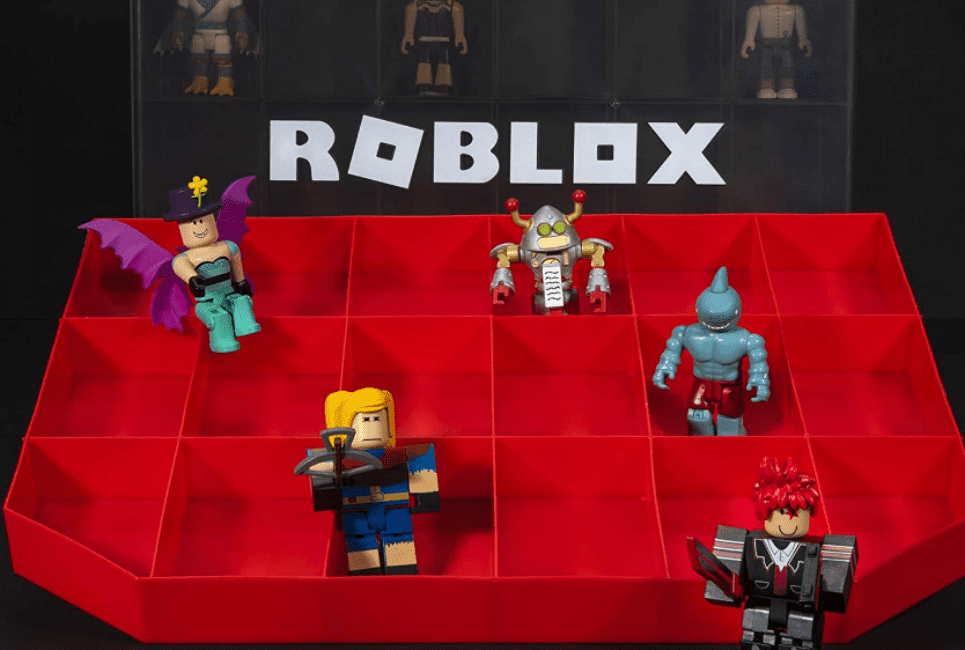 Quackity started gaming as a young boy. So, he was already a pro when he began sharing Roblox and Minecraft gameplay on YouTube. His videos gained a reputation for their comedic quick cuts, intensity, and fast pace.
Quackity has revealed that he often edits his clips. But sometimes, he hires competent editors to help him out. Given that he's also a student, I think it's reasonable since completing his school work, and social media tasks can be somewhat overwhelming.
Besides being a big name on Twitch, YouTube, Instagram, and Twitter, Quackity is also on Discord. His server has 400K+ members, and he thrills them by hosting competitions, such as Discord's PhotoShop Hunger games and Discord's Got Talent.
MC Championships
The MC Championship is a big deal in the Minecraft community. It's a competitive space where players hone their skills, connect and have fun.
Quackity collaborated with some of his friends to participate in MC Championship 11-15. His former teammates include TommyInnit, Fundy, Wilbur Soot, Tubbo, Wisp, Dream, GeorgeNotFound, CaptainSparklez, and Ph1LzA.
During MC Championship 15, he was a part of Team Red Rabbits, which also comprised Michaelmcchill, Sapnap, and Dream. Though he finished 25th as an individual player, his team was crowned champion at the event, making it his first ever win.
I thought that victory would motivate him to play at more MC Championships. But it did not, as he didn't appear at MC Championships 16, 17, 19, 20, and 21.
Dream SMP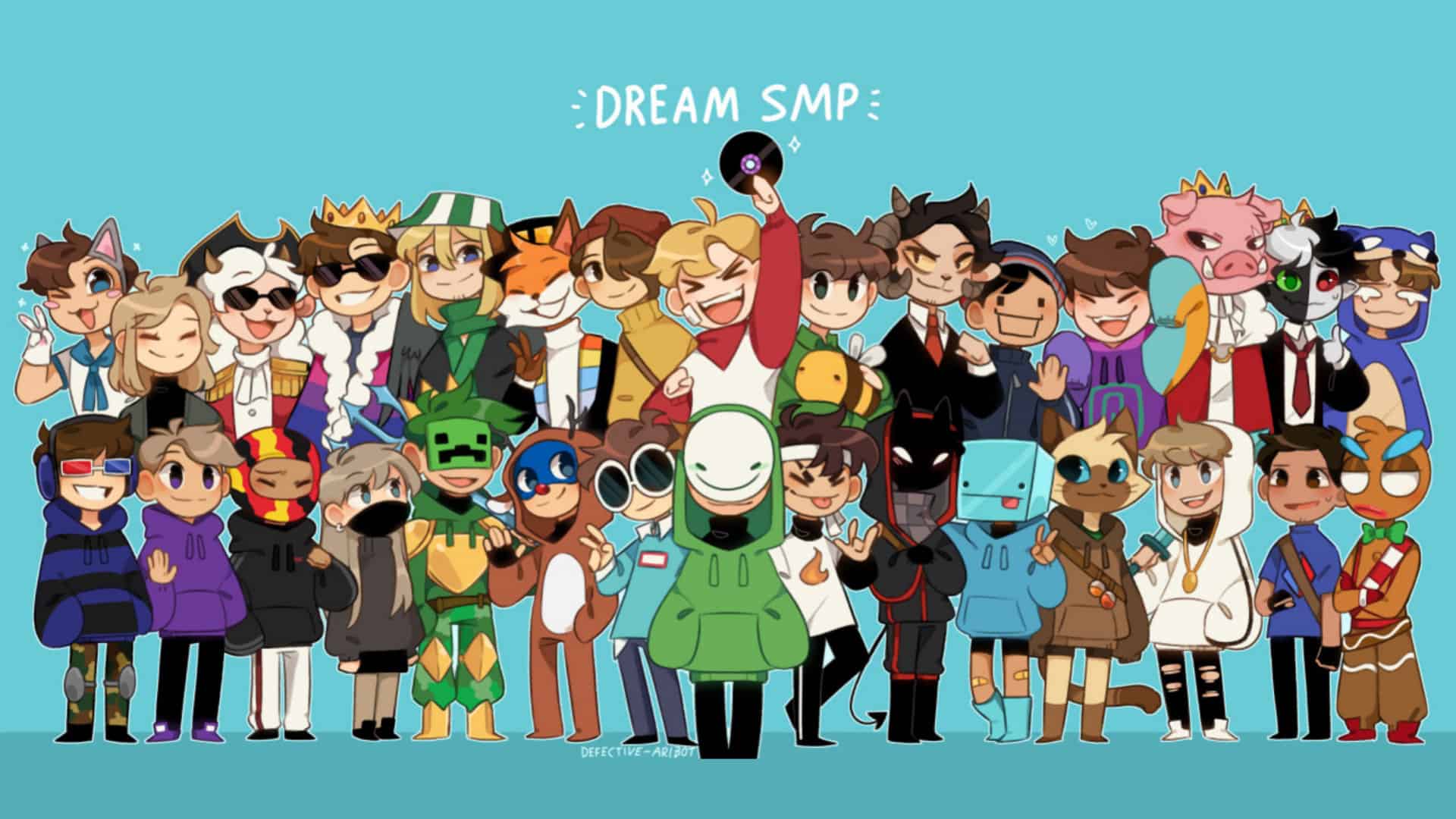 Quackity joined Dreamwastaken and GeorgeNotFound's Minecraft server, The Dream SMP, in 2020. Typically, most of its members play the game during Twitch or YouTube live stream sessions. And they roleplay as fictionalized characters of themselves.
A large portion of the Dream SMP's content is improvised. Even so, various prominent parts of the plots are scripted earlier by some of the players. Notably, one can only die three times, upon which they are declared permanently dead; but it's not necessarily the end. They can come back as ghost characters.
In August 2021, Quackity revealed that he would quit his role as non-canon Quackity on the Dream SMP to focus on his Law studies. He said he'd still stream on the server as canon Quackity.
Quackity's Videos
If you're curious to learn what genuine friendship is like, be sure to watch this video documenting the first time Quackity met GeorgeNotFound. I couldn't help but smile while observing these adorable YouTubers joke about everything, including each other's height. You'll also catch sight of other Dream SMP members, including TommyInnit and Wilbur Soot.
Charlie Slimecicle, Ted Nivison, and Jschlatt featured Quackity on their podcast, Chuckle Sandwich. Watch this video where he talks about his childhood, how he started his social media career, his earnings, and more. I was massively enthralled by the enlightenment Quackity offers, his vibe, and excitement as he told his story, and I bet he'll draw you in too.
Quackity's Gaming Setup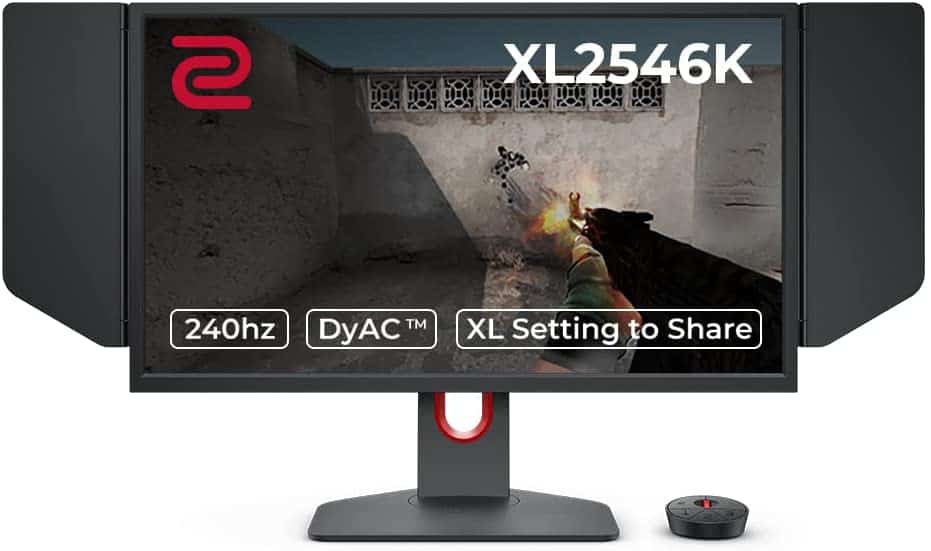 Quackity leverages the BenQ ZOWIE XL2546K, which I also found in Moistcr1tikal and s1mple's gaming setups. It comes with a handy 240Hz refresh rate to deliver a smooth gaming experience, whether he's playing Minecraft, Roblox, or any other game he'd like to try.
Additionally, this gaming monitor features a smaller base, allowing it to take up the least space in Quackity's setup. Its free tilt design and adjustable height give him much-needed flexibility to position it however he wants.
Other fantastic features of the BenQ ZOWIE XL2546K include the Black eQualizer technology for easy visual customization, effortless assembling, and DyAc/ DyAc+ tech for less blur during intense in-game actions.
Quackity's Family
As of this writing, there are no precise details about Quackity's love life or dating history. Still, I must point out that none of my sources linked him to a lover. I suspect he's single because he has a lot on his plate, including attaining his law degree and producing content for YouTube, Twitch, and other platforms he's on. Nevertheless, if I find anything about his romantic endeavors, I'll let you know.
Quackity's Net Worth and Career Earnings
As of 2022, Quackity's net worth is approximately $1.55 million. Are you curious to learn his income generation avenues? Allow me to give you valuable insight into them.
Twitch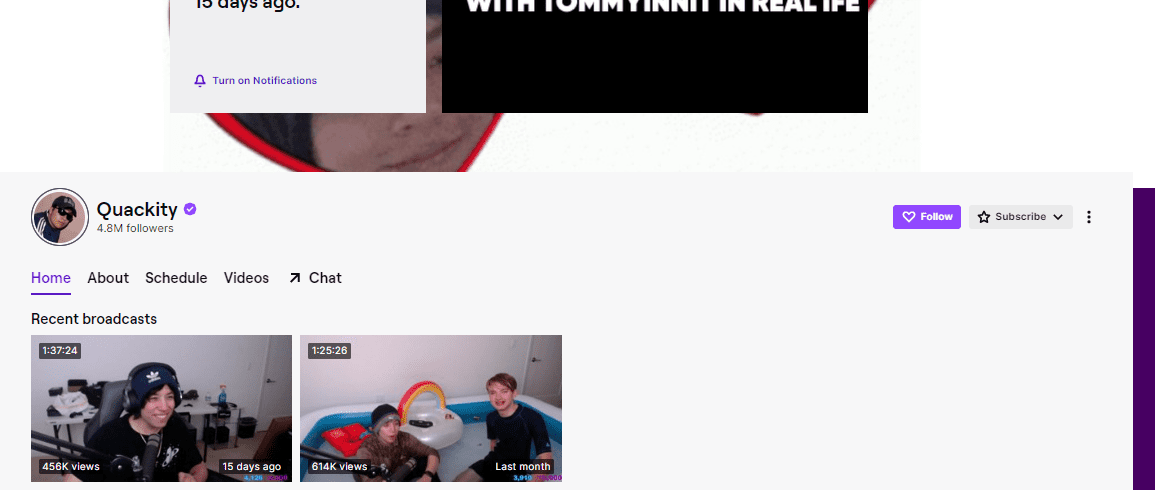 I was impressed that Quackity has built an incredibly lucrative Twitch career. Presently, his channel boasts almost 30 million views and 3,300 active subs, which help boost his income from donations, bit, and ad revenue.
Last year, an alleged Twitch data breach exposed the payouts of top streamers between August 2019 and October 2021. Quackity was the 73rd high-earning creator on the platform, receiving $1,065,157.18 within those two years. Notably, this amount only factored in his earnings from the subs he had at the time, bit donations, and advertisements, excluding the cash he received from his sponsors and direct tippers.
Unquestionably, Quackity could still be earning from Twitch, where he's online several times monthly. Mostly, he plays his favorite game Minecraft. But you may also find him streaming others, such as Just Chatting, Roblox, and Jackbox Party Packs.
YouTube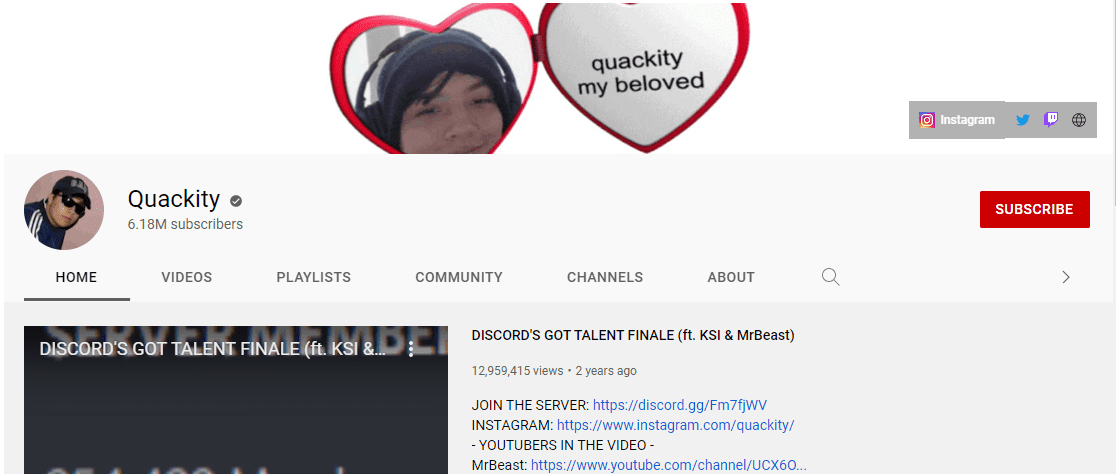 Quackity is also incredibly popular on YouTube, where he runs four channels to entertain his fans. So, here's what I unveiled about them.
Quackity's primary YouTube channel boasts 468,778,712 views, and it could be bringing in between $200K and $226K annually. His second one, QuackiTwo, has amassed 3.26M subs and 235,467,803 views as of this writing. My research indicates it generates over $20K monthly.
Additionally, Quackity's third and fourth channels collectively have over 140M views.
His four channels possibly earn him between $650K and $700K yearly.
Sponsorships Deals
Various brands back Quackity, consequently increasing his income. They include Raycon, Youtooz, AFK Arean, Dollar Shave Club, SimpliSafe and Raid: Shadow Legends. He may not have stated the amount he makes from promoting their products, but I believe it's worth it; otherwise, he wouldn't have agreed to work with them.
Discord Server
As I've mentioned, Quackity owns a discord server with more than 400K members, and I think he earns a reasonable sum from it. Since he hasn't publicized his income from the platform, I can't mention an accurate figure. Besides, it all comes down to the strategies he's leveraged to monetize it.
In my experience, most Discord server owners charge users a monthly fee to make money. Others advertise stuff, ask for donations and sell tutorials.
Merch Sales
Quackity sells merch via two websites, though one of them is currently closed. His collections comprise products like beanies, hoodies, and t-shirts. What he makes in profits has definitely impacted his net worth.
Quackity's Retirement and Post Professional
Like many of his fans, I was wondering if Quackity plans to retire from streaming after he graduates from law school, hopefully, next year. Apparently, he doesn't intend to do that soon. In a recent YouTube video, he said he'd consider practicing as a lawyer if he weren't working on social media, which he plans to do for a long time.
Quackity's Merch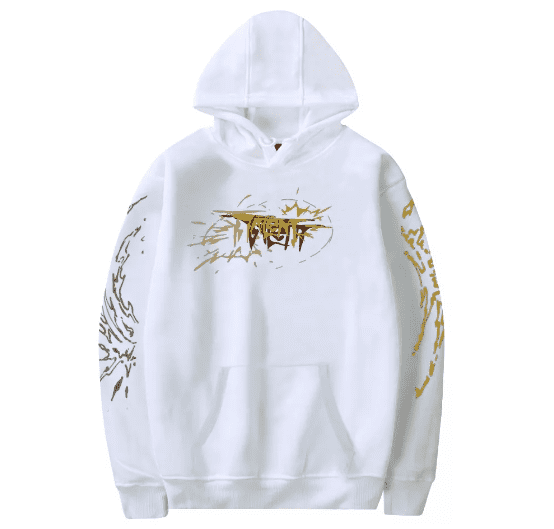 I fell in love with this hoodie because it prioritizes quality and style. As of this writing, it's only available in black and white. But best believe it'll give you full value for your cash because it's super soft, comfy, breathable and unique. Additionally, its availability in sizes XXS – 4XL makes it difficult for you to miss your ideal fit.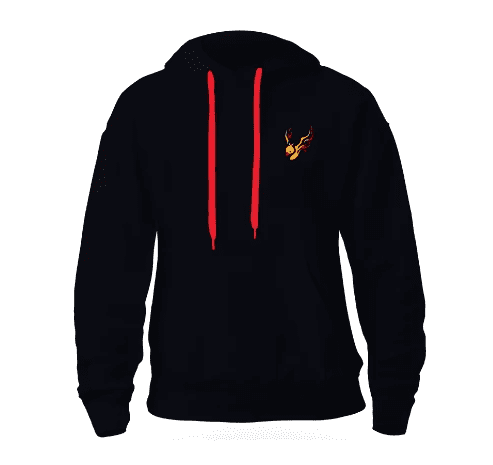 Here's another fancy hoodie from Quackity's Planet Duck collection. It's made from a premier 65 cotton/35 polyester blend, so you should expect it to be durable and cozy. Thanks to this fabric, I can also promise that it's less prone to wrinkles, piling and shrinking.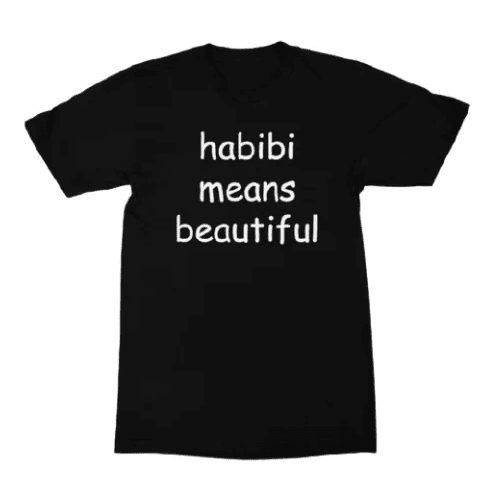 I recommend this crewneck t-shirt because it's constructed with 100% combed ring-spun cotton, which gives it superior strength and makes it look more refined. The phrase "habibi means beautiful" is printed on its front, massively enhancing its style. When it comes to sizes, you have a long list of options, so you can order yours and others for your loved ones if you enjoy matching outfits.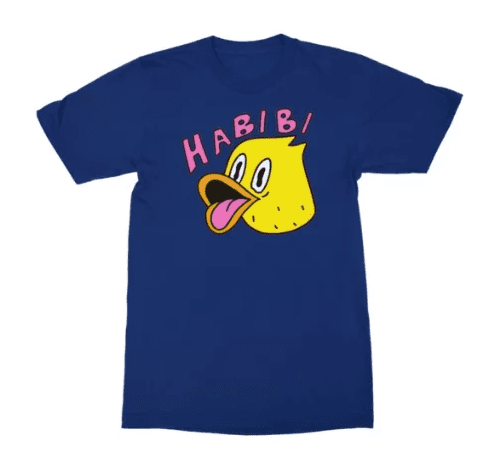 This short-sleeved crewneck tee is the perfect option for anyone looking for fancy summer wear. It comes in exciting colors such as white, sky blue, and navy blue. And you can order all of them if you like the t-shirt design as much as I do. Unfortunately, the available size range is small-2X, which might not be convenient for everyone.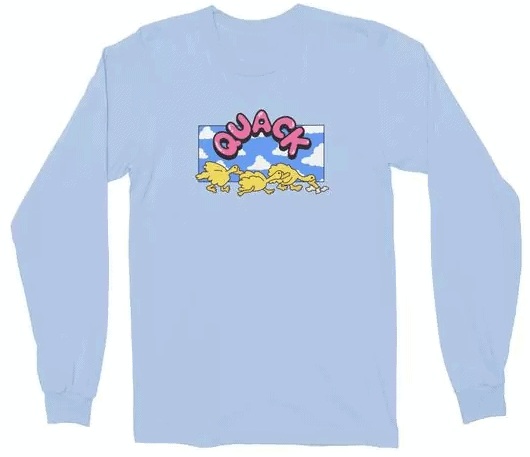 I find long-sleeved t-shirts handy sometimes, so I always make a point of stocking some in my wardrobe. Supposing you share the same opinion, consider this option available in a lovely sky-blue color. It's manufactured with 100% combed ring-spun cotton, so it's bound to last longer than your regular cotton tees. Besides, it's exceptionally soft, automatically enhancing your comfort while in it.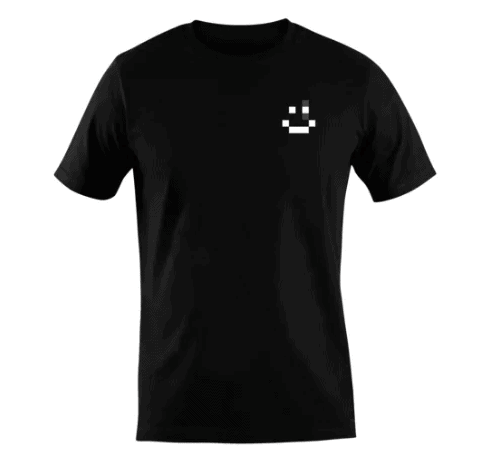 Thanks to its high-quality and soft combed ringspun cotton fabric, I'd go for this tee any day. It doesn't have a lot of printed graphics, so even though it gives off a casual vibe, you can still wear it to the office and fit right in. The provided size options are numerous; all you need to do is go through them and select your fit.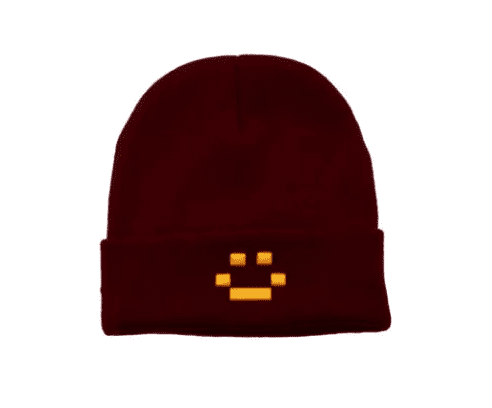 If you're searching for a unisex beanie to keep you warm during the cold season or elevate your style, I suggest you look at this one. It appears luxurious, which I attribute to its 100% soft acrylic fabric that also resists shrinking and wrinkles. Furthermore, it boasts excellent durability and moisture-wicking capabilities.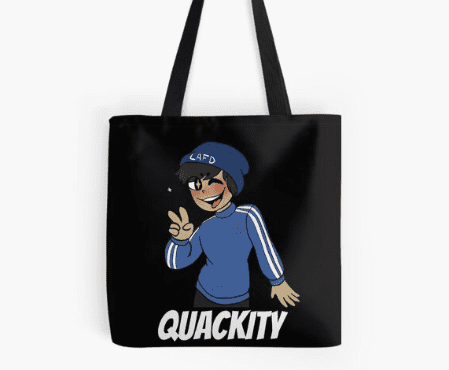 Tote bags deserve all the hype they get. As an avid shopper, I believe this sturdy and fashionable option is worth it, owing to its low-maintenance polyester shell. Its straps are made from quality cotton fabric, which enables them to last long. You're free to pick from three options.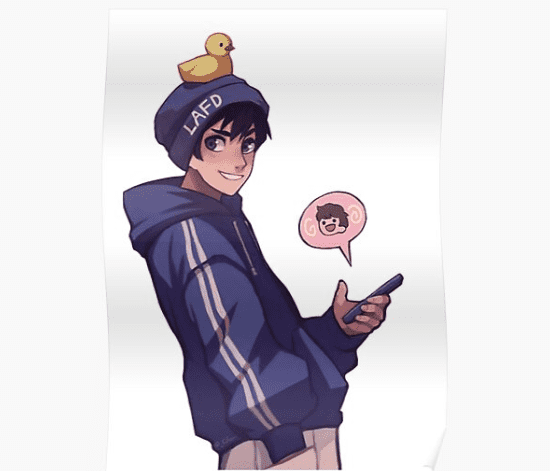 With this stylish poster, you no longer have to worry about blank walls. Since it's printed on semi-gloss paper, it attracts the right amount of attention. And even better, maintaining it is effortless because it's resistant to moisture. I also liked its 5mm white border that simplifies the framing process.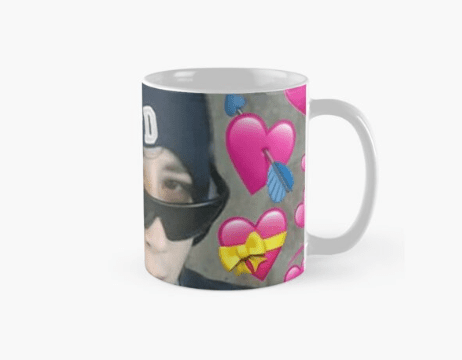 Are you looking to add some pieces to your current drinkware collection? Here's a fantastic mug I think you should consider. It's made from dishwasher-safe ceramic and can hold 11 oz of your tasty tea or coffee.
Frequently Asked Questions about Quackity
Question: Was Quackity banned from Twitter?
Answer: Yes. Quackity's Twitter account was suspended for several weeks between September and November 2018. I discovered he ran another Twitter account, @grandma_bertha, within that period and after his ban was lifted.
Question: Does Quackity own a pet?
Answer: Yes. Quackity has a cat he named "Tiger".
Question: Where does Quackity live?
Answer: Quackity currently resides in Mexico, though I've often heard him joke about living in the US and Afghanistan.
Question: Did Quackity participate in the MC Championship 9?
Answer: No. In fact, Quackity didn't play at MC Championships 1-10.
Question: Is Quackity a chef?
Answer: I didn't find any info about whether Quackity enjoys cooking, but he's often said he's a foodie; thus, he delights in eating delicious meals.
Recommended Reads:
Research Citations
https://mcchampionship.fandom.com/wiki/Quackity
https://twitter.com/quackitymerchh?lang=en
https://www.twitch.tv/quackity