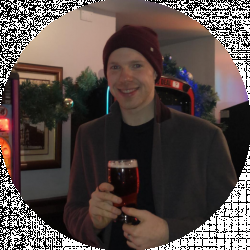 Latest posts by James Gibson
(see all)
I respect few things more than someone who can consistently produce creative and useful ideas over a long period. If one could ever master this art, they would surely reach the top of their given field in no time. 
The subject of today's biography is someone with this ability and the drive to see his ideas be put into action if only to record them for the whole world to see. Of course, today's subject is MrBeast, one of the past decade's most famous figures in the YouTube scene.
MrBeast rose to fame seemingly overnight, reaching public awareness in a matter of months via his unique and massive in scale videos that always left the fans wanting more and curious about what the creator would come up with next. However, for those in the know, MrBeast hadn't just appeared from nowhere; the hard-working and dedicated YouTuber had been uploading for years; however, his jump to stardom did come as a surprise to many.
With all of this in mind, why don't we take a closer look at the life and story of MrBeast in this complete MrBeast bio? But first, let's have a look at some quick facts about the man in question: 
MrBeast Quick Facts
Real Name:

Jimmy Donaldson

Birthdate:

May 7, 1998

Birthplace:

Greenville, North Carolina

Nickname:

MrBeast

Height:

6 feet, 2 inches

Nationality:

American

Siblings:

One brother named Charles

Children:

N/A

Games Played:

Minecraft, Among Us, Grand Theft Auto 

Net Worth:

$25,000,000

Social Media:

Twitter: @MrBeast, Instagram: @mrbeast, YouTube: MrBeast
Early Life and Background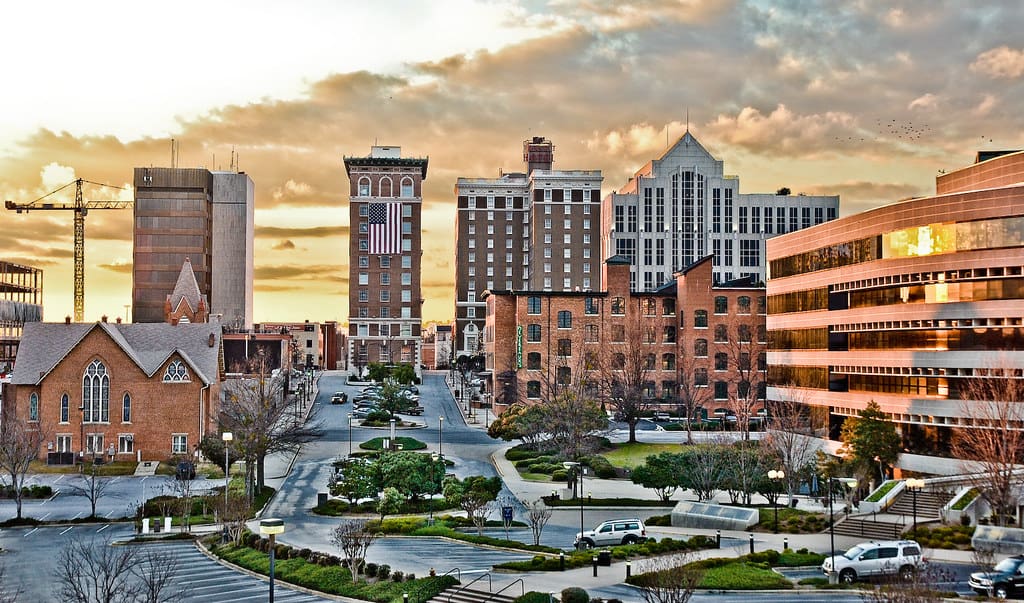 The famous and multitalented YouTuber known by millions worldwide by the moniker, MrBeast, does not get called this by his mother, believe it or not. Instead, Jimmy Donaldson (MrBeast's real name) was born on May 7, 1998, in Greenville, North Carolina. For those of you not great at math, this makes Jimmy 24 years old at the time of this article.
Jimmy's childhood was relatively standard; growing up with his mother, father, and brother. The only difference for Jimmy was that both of his parents served in the army for almost 20 years throughout his childhood. This meant that the two weren't around much. However, they did prioritize and ensured their children were well looked after. As mentioned, Jimmy has a brother, CJ. CJ also has a YouTube channel that Jimmy pretty much forced him to create. This channel, MrBro, currently has over 4 million subscribers. 
Jimmy was a quiet boy outside his family, preferring to stay inside and watch YouTube or play video games rather than engage in sports. As a young man, he fell in love with YouTube and the lives his favorite creators seemed to live. However, it wasn't until a hacker attacked Jimmy on the Facebook game Battle Pirates that he got the idea to begin a YouTube channel. 
Early YouTube Career
Then 12-year-old Jimmy decided to call the channel Beast5ty. MrBeast chose to upload the actions of this hacker. However, this was just the beginning of the account. After his first video did well, Jimmy moved on to uploading Call of Duty videos for a short time. However, these videos were primitive for the time as they didn't have the voice-over element that many of the top creators at the time were doing.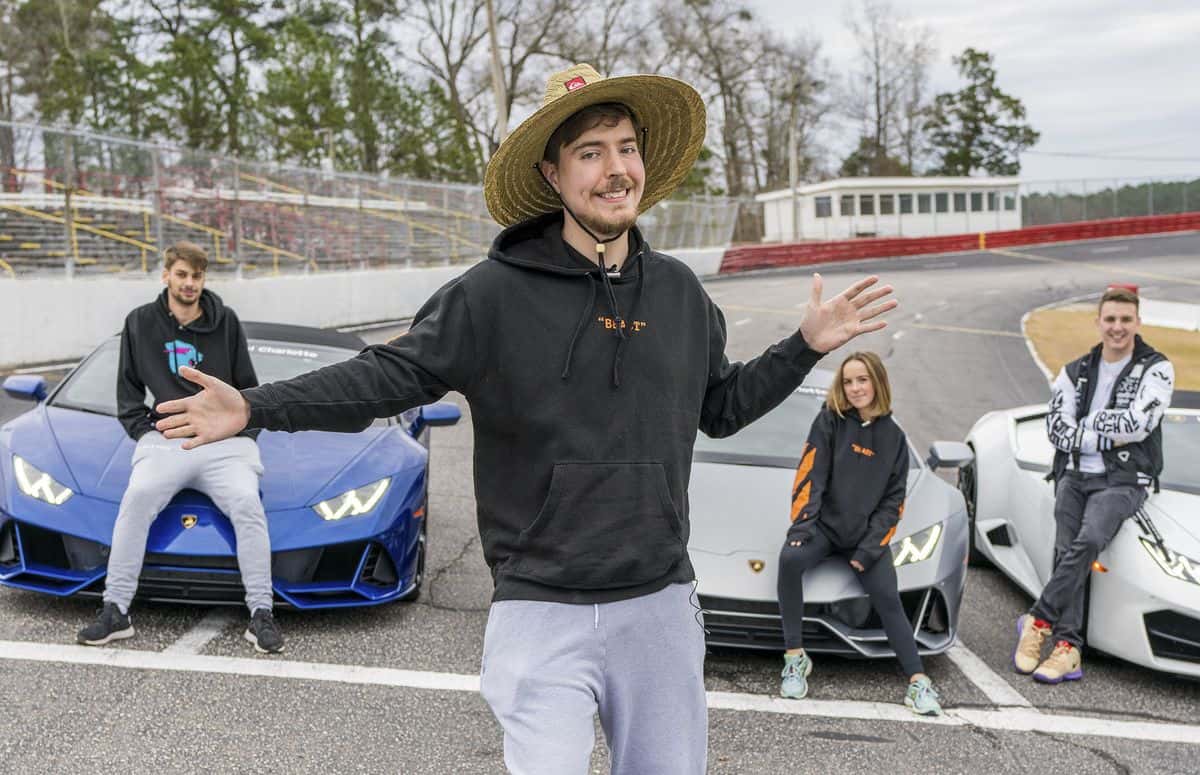 It wasn't long, however, until Jimmy was inspired by his YouTube icon, Ali-A, to begin adding commentary over his videos, a decision that would bring him a good deal of views. The fledging creator continued producing these videos until each upload averaged around 7,000 views. 
Enjoying this, Jimmy decided to branch out and upload footage of other games outside of Call of Duty, the first of which is Minecraft. However, the dedicated fanbase he built up on his first channel had subscribed for CoD content, not Minecraft. Therefore, Jimmy set up another channel called MrBeast 6000 for these Minecraft videos. 
After some time and a bout of consistent uploading, Jimmy decided that his main channel, Beast5ty, wasn't doing well enough, and his subscriber count needed a little extra boost. For this boost, Jimmy decided to purchase a sub for sub-service to generate more traffic on his account; however, as Jimmy has said repeatedly in recent years, this was a huge mistake. Not only had he wasted a great deal of time, money, and effort on attaining these subscribers, but they were also dead. They did not generate any new views or revenue for his channel, meaning they were essentially worthless. 
This wasted energy and tainting of his channel pushed Jimmy to delete his Beast5ty channel in a bout of frustration. It seemed to dull his passion for content creation for a while as he took an extended break from the site and his other Minecraft-focused account. However, when he saw how his remaining channel was doing, generating up to 20,000 views per video, Jimmy decided that he needed to jump back on the horse and take another crack at the whole YouTube thing. For a while after this, he consistently uploaded Minecraft content. 
A Change in Content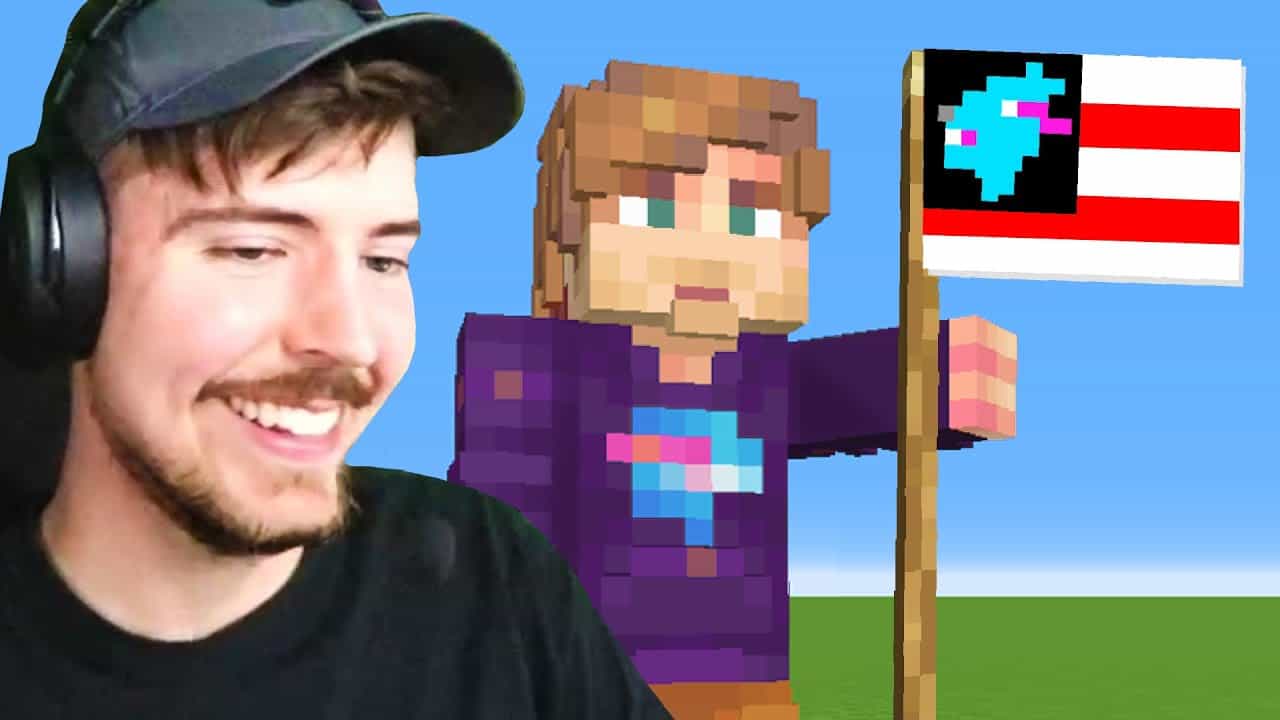 After uploading commentary-style gaming videos on this channel, Jimmy became rather bored with the gaming scene and decided to shift the content on his channel to something different to keep himself interested in the project. 
Instead of playing Minecraft for hours and hours, Jimmy decided that thinking of, planning, and shooting funny skit videos was the way forward. He finally hit on the concept of mocking the intros of other YouTubers, a video series that would generate great success for Jimmy. At this time, Jimmy would also make videos wherein he talked about how much money he estimated other YouTubers were making, naming figures such as Pewdipie and Zoella. At the same time, Jimmy frequently put himself through a series of difficult challenges for his viewer's enjoyment. 
These videos brought the creator a marginal level of notoriety, even bringing in his first big-time sponsorship deal with a company called Quid. This deal would prove to be the turning point in Jimmy's career and the start of something wonderful for him and the YouTube community as a whole. 
Quid's first offer to Jimmy was for $5,000 in exchange for the typical brand promotion you have undoubtedly seen in countless YouTube videos over the years. However, Jimmy thought that this standard transaction could be tweaked a little to help everyone benefit even more. So, instead of accepting this money, he haggled with Quid and asked for $10,000 instead, promising to give the rest of the money to someone else as part of his video in order to promote the company further.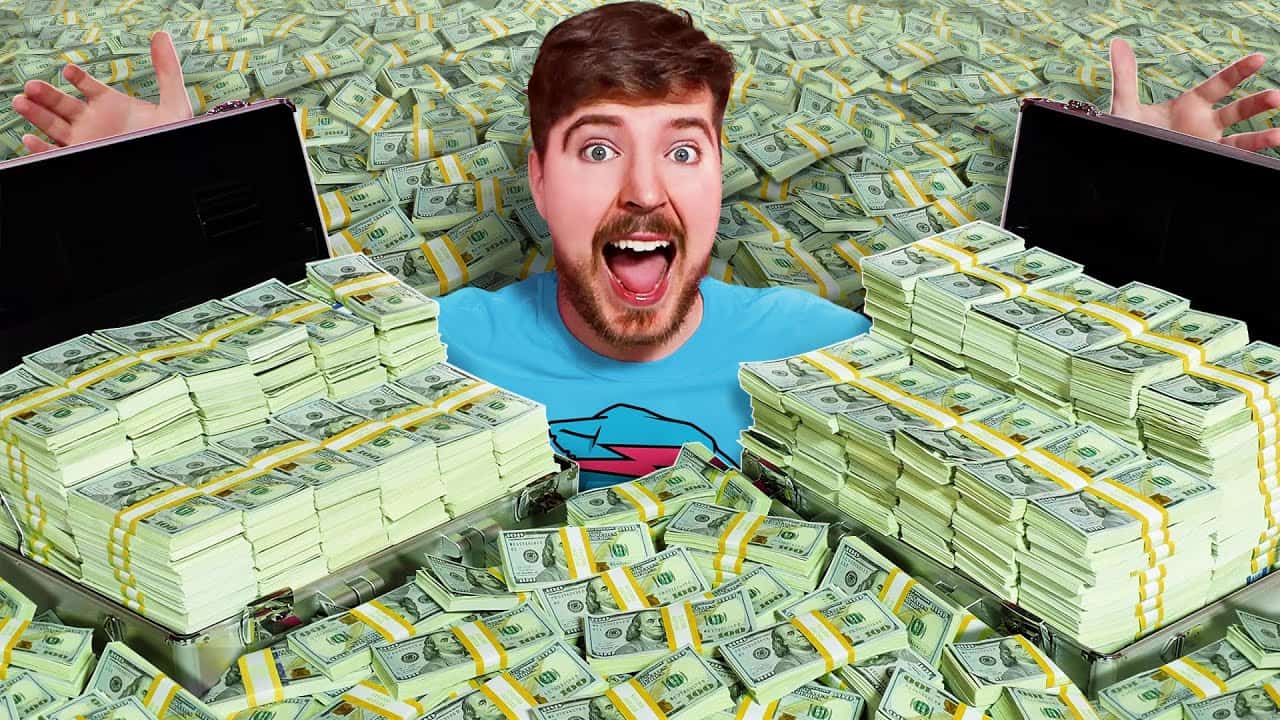 Shrewdly, Jimmy decided to use the whole $10,000 from the endorsement, putting it into an envelope and handing it over to a homeless man that Jimmy could see needed the money much more than he did. This kind gesture and the video Jimmy made surrounding it generated a huge response on YouTube and actually began the 'gift giving' trend on YouTube that we still see today. 
After this, you could say that the real MrBeast was born, creating video after video with huge, cash-rich prizes that he gives to both viewers and his crew, all under the sponsorship of several brands.
A Selection of MrBeast's Videos
Would You Swim With Sharks For $100,000
In this crazy-sounding video, you really get a taste for the kind of content MrBeast likes to produce. It starts with the creator standing on the deck of a boat, holding a backpack filled with $100,000. He then proceeds to throw this backpack in the water and challenges one of his friends to jump in and retrieve the bag so that someone else can get gifted the money. Oh, did I mention the water was filled with sharks? Yeah, a very Jimmy thing to do.
The video continues for another 8 minutes of random and seemingly unconnected challenges wherein people are subjected to crazy challenges to win themselves or just random people off the street some money. The best of these challenges is probably when Jimmy's friend has to stay in a freezing cold room for an extended period. For every hour he endures the cold and the pain, he wins $10,000 for a random person Jimmy finds on walking outside the studio.
I Didn't Eat Food for 30 Days.
In a return to his previous challenge videos, Jimmy decides not to eat for 30 days. The reason for this is quite unclear other than his desire to push himself and challenge his body. While this does sound crazy, rest assured that Jimmy is taking all necessary precautions by having several doctors on call and getting them to check his vital signs every day.
If Jimmy does succumb to his cravings, however, his friends have been given permission to shave his head. After this initial rule-setting period, Jimmy proceeds to show a highlight reel of his next 30 days, most of which is spent being tempted by his friends to eat and fail his challenge, whether this is eating Mcdonald's in front of him or hiring an Ice-cream van to sit outside his house. 
In the end, however, Jimmy only made it 14 days before a video with Gordon Ramsey made Jimmy give up on the challenge and eat a delicious burger made by the chef. Jimmy then finished the video with his new crew cut, promising that viewers won't see him without a hat for the next five months.
I Got Hunted By A Real Bounty Hunter
In this video, MrBeast challenges a real-life bounty hunter to track him down and take a backpack containing $100,000 off of him, earning his prize. However, Jimmy was never going to make things so simple; of course, a seasoned bounty hunter should be able to track and find a YouTuber easily; however, Jimmy uses his extensive resources to make things a little more complicated.
First of all, Jimmy ensures a boat is waiting for him at the start of the video, then he jumps into a car and drives to a Kia dealership where he buys a brand new car. After this, with the bounty hunter still on his tail, Jimmy drives to a warehouse wherein he has installed a real-life bank vault, proceeding to hide inside it, challenging the hunter to somehow make his way through the reinforced steel walls or door. 
After this, Jimmy escapes through a trap door he had installed within the vault and climbs out through the foundations of the building to escape. The video continues along these crazy lines for some time until the bounty hunter finally manages to capture Jimmy and gain himself a cool $100,000.
Famous Endeavors
Team Save Trees

One of the best and biggest things MrBeast has gotten involved in and put his weight as a popular streamer behind was his Team Trees movement. This tree planting mission began when the creator hit 20 million subscribers, and he asked his fans what they wanted him to do to mark the occasion. Of course, the usual silly suggestions were made; however, some eco-conscious fans commented that they would like him to plant 20 million trees. 
Jimmy saw this and thought that while the project would be very challenging, it was accomplishable with the world's help. So, soon after he decided that he would help change the planet on October 6, 2019, he uploaded a video of himself, friends, and some fans planting trees. In total, the group planted over 1000 trees in a weekend, a good start to say the least.
However, Jimmy knew that at this pace, he could not possibly plant 20 million trees, so he decided to switch the movement into a charity foundation with $20 million as the goal, equating to $1 per tree. With the help of other YouTubers getting behind the movement and a certain billionaire named Elon Musk, Jimmy raised $20 million in no time. 
MrBeast Burger

As of December 2020, MrBeast decided to set up an online fast food service called MrBeast Burger. This service, which operates via delivery only, is available in over 300 locations across the United States.
This online chain went viral amongst Jimmy's fellow YouTubers and, therefore, amongst the public, causing the business venture to become incredibly successful. To achieve this, MrBeast and his staff worked with the Virtual Dining Concepts company to generate the overall concept and some of the finer details. Currently, the fast food service can be ordered via MrBeast's own android and apple store app. 
PewDiePie Vs. T-Series

In late 2018, a new phenomenon was sweeping through YouTube, and Jimmy had to be a part of it. The drama originates from a battle between the two largest YouTube accounts on the platform battling for that top spot. Pewdiepie and T-Series would slug it out for months; however, the entire YouTube community seemed to rally at some point, backing Pewdiepie to maintain a proper content creator as a top dog instead of a multi-million dollar production company like the T-Series.
To help the fight against this company, MrBeast decided to buy multiple billboards around his city, putting a straightforward message across each of them, "Subscribe to Pewdiepie." Of course, this campaign went viral and only helped increase Jimmy's celebrity while also helping the good fight. 
Key Relationships
The MrBeast Team
Along with Jimmy, his three best friends work to keep the MrBeast channel and all other accounts filled with content. The group of 4 long-term friends works as a single unit, each trusted completely by Jimmy. As key figures behind his success, Jimmy pays each of his friends a salary for their hard work. However, when watching the videos, you wouldn't suspect these three guys are worried about offending or annoying their boss.
Chris Tyson

Each member of the team, however, serves a different purpose. Chris is mainly in charge of the Beast Reacts channel and takes ownership of all content posted on this account. He is also one of the few people who almost always appears in Jimmy's videos, playing a pivotal role most of the time. Chris helped Jimmy set up his original channel in 2012 and has been along for the ride the entire time; some would even argue that without his hard work and determination over the years, the main channel's current success would be impossible.
Chandler Hallow
The second member of the MrBeast team is Chandler. Chandler became known to the MrBeast fanbase as a fellow YouTuber and content creator via copious collaborations with Jimmy over months. 
The joke in the MrBeast fandom is that Chandler started as Jimmy's janitor, only rising to the position of on-screen talent after the audience began to like him and request his presence in more videos. 
Once Chandler became liked by the fans, Jimmy kept him around, having him appear in almost every one of his videos. This participation in Jimmy's videos has allowed Chandler to win a crazy amount of prizes worth staggering amounts of money.
Garret Rogers

Garret started as one of the original members of Team MrBeast, taking on various roles in his time with Jimmy and friends. This role also required him to participate in some of Jimmy's videos, something I'm sure he didn't mind considering he got the opportunity to win thousands of dollars over the years, winning $20,000 sums more than once.
As of late, Garret tends to feature less often on the MrBeast main channel. This is due to Garret moving over to help with Jimmy's brother's channel, MrBro. While working with CJ, Garret concerns himself with editing, social media, and partaking in the odd video here and there. 
MrBeast Gaming Setup
MrBeast's Headset: Beyerdynamic DT 990 PRO

As you might imagine, a man who throws around as much money as Jimmy does would not scrimp over his gaming rig. With this in mind, he purchased the Beyerdynamic DT 990s. These headphones ensure perfect audio as open diffuse field distorted headphones. 
They are also extremely lightweight and well padded to ensure extreme comfort throughout intense and long-running gaming sessions. These headphones are also wired, ensuring no audio output lag between the computer and the headset and removing the risk of them dying on you in the middle of an important game.
MrBeast's Camera: Sony A6000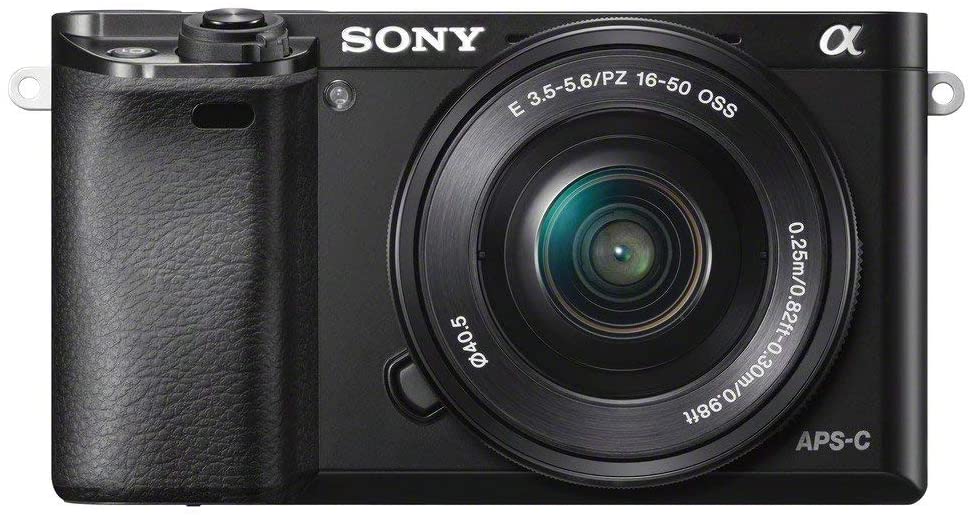 One of the best features of this camera is its incredible autofocus speed, ensuring everything that should be in the shot is also the center of attention. Sony promises that this autofocus is actually even quicker than any DSLR camera on the market currently, no mean feat if you ask me. 
This camera is also incredibly lightweight and easy to transport should the need arise; however, this is not much of a concern with a stationary home recording studio like Jimmys. This camera also comes with the latest in lens technology, which, combined with the amazing 24-MP quality, produces an unbeatable shot for any and all videos.
MrBeast's Microphone: Shure MV7 USB Podcast Microphone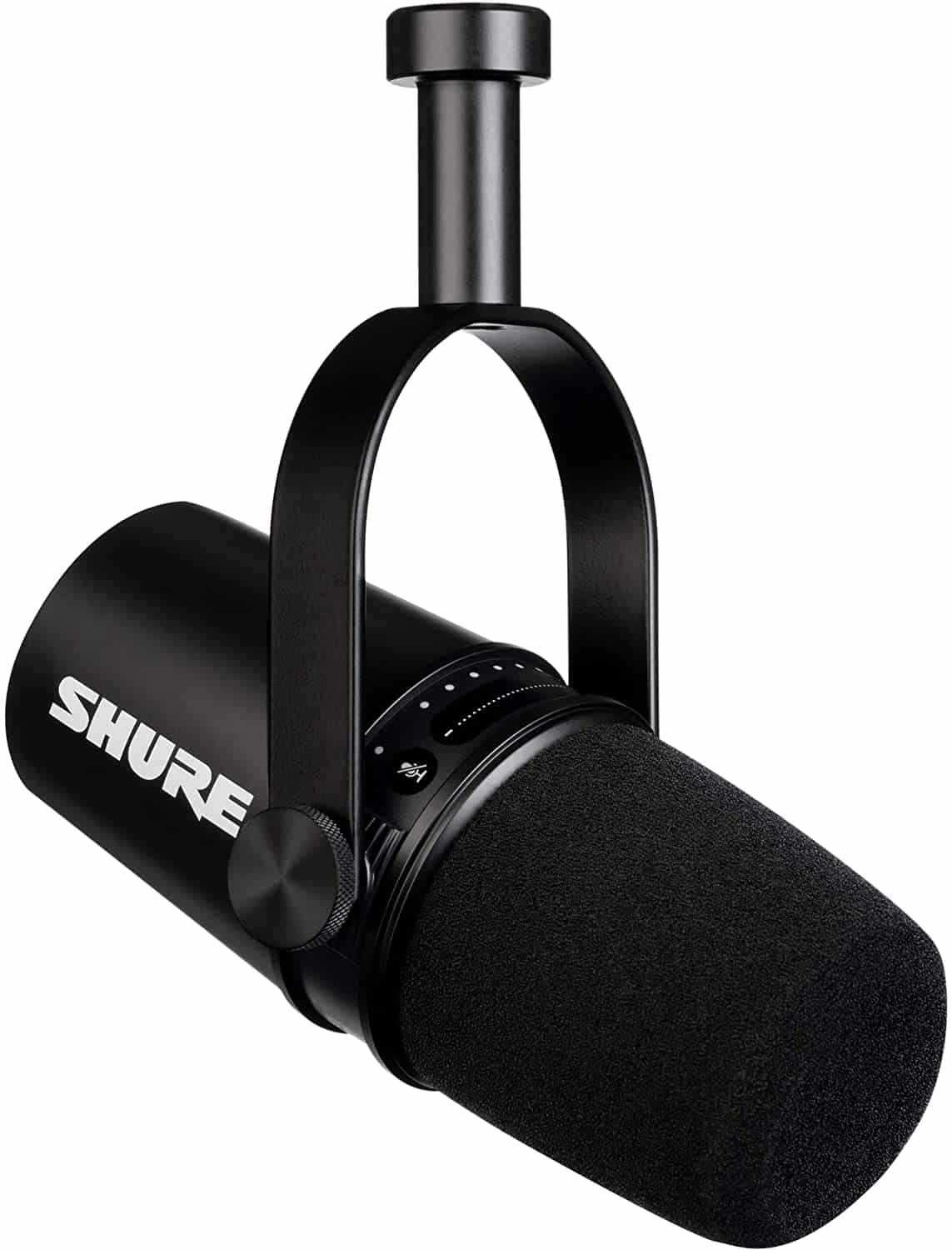 As you might have guessed, this microphone was designed by the good people over at Shure for podcasting, so you know that it is extremely adept at picking up, isolating, and recording the human voice, something quite important for YouTube content, you might say.
This microphone also features an intuitive touch panel of controls, allowing full user control at the touch of a button over settings such as grain, volume monitoring, headphone mix, and mic muting. This, combined with the built-in close-mic applications, ensure that the high-end mic can pick up each user's voice perfectly. Lastly, once you purchase this product, you also gain access to the Shure Plus Motiv Desktop Application. On this piece of software, users can access audio processing, auto-level settings, and much more, allowing for complete customizability.
MrBeast Merchandise
Currently, MrBeast and his team are preparing a new merchandise drop for his upcoming 100 million subscriber milestone. This drop is set to be like nothing we have seen before. However, both the MrBeast merchandise store and the Instagram page for said store are being very quiet about what kind of pieces we can expect or how limited the numbers of each item will be for this one-time drop. 
However, in the meantime, we can look at some of the other previously released pieces of MrBeast merchandise which are still available for purchase today, 
MrBeast Squid Game Inspired Hoodie

After MrBeast watched the amazingly popular Squid Game series on Netflix, he was inspired to create a series of videos wherein he put strangers and some of his friends through a series of challenges, or 'games,' in the hopes of winning thousands of dollars.
This series was hugely popular on his channel and inspired the creation of a one-off MrBeast Game hoodie. This hoodie is available in a variety of sizes, originally available from XS to 3XL. The hoodie design features the MrBeast Game writing in the Squid Game font on the front and the MrBeast logo on the back with a "Let The Games Begin" slogan underneath.
MrBeast Loading Next Challenge T-Shirt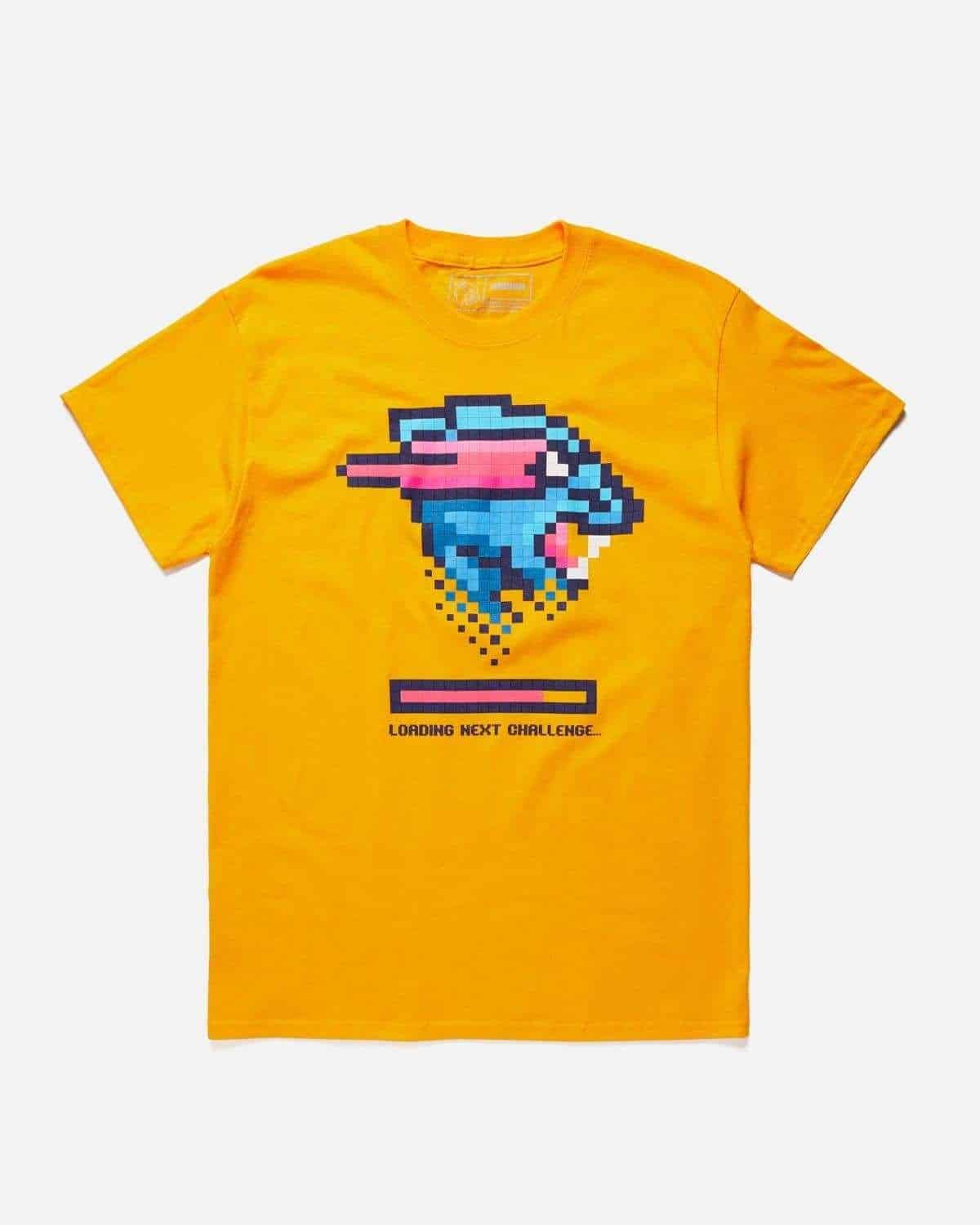 This t-shirt features a pixelated version of the MrBeast logo on the front with a progress bar underneath, with the slightly worrying phrase, "Loading Next Challenge" underneath. This t-shirt blends the iconic MrBeast logo with the art style and gaming culture of the past, reminding us of Nintendo 64 titles with similar loading screens, ironic considering neither MrBeast, myself, nor most of his fans wouldn't have been alive for this era of gaming. 
This t-shirt was originally available in a wide variety of colors; however, due to the limited availability of MrBeast merchandise, only the white option is still live and available for purchase. There is a range of sizes available, however. 
MrBeast Classic Logo T-Shirt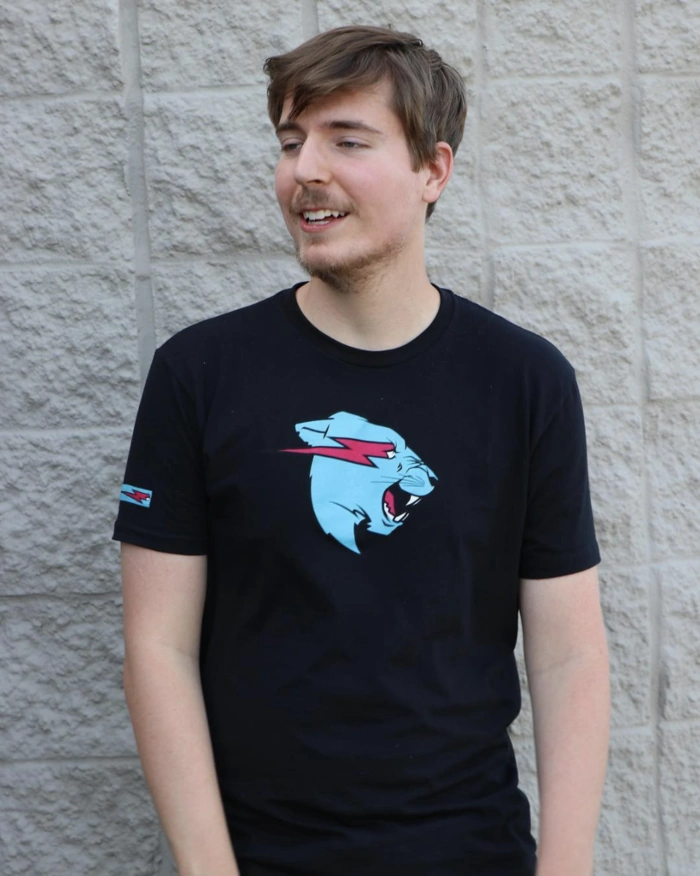 This t-shirt which sports the simple yet classic MrBeast logo and no other accouterments has been available in many iterations, including hoodies, socks, and much more. The t-shirt features the logo, without writing, in the middle of the chest and the patented MrBeast lightning stitching on the right sleeve.
This t-shirt perfectly represents classic MrBeast style, ensuring that everyone knows you are an avid fan and supporter of the creator. These tees are widely available as a version of them is usually part of each new MrBeast merch drop.
MrBeast Net Worth
Jimmy ensures that his net worth is always on the rise, whether from new ideas and enterprises or YouTube ad revenue. Of course, since MrBeast has a range of YouTube channels with differing views, subscriber counts, and YouTube ad-cents ratings, his actual net worth is hard to calculate, and that's before we even try and consider merch sales and paid promotions.
With this being said, however, if we work with numbers that seem accurate for other channels of similar sizes/view counts as Jimmy's, we can roughly estimate that he earns $3 million in monthly revenue from his series of YouTube channels. This may seem high, but considering that his average video costs nearly $300,000 as of 2022, you can see just how big these numbers are. 
When we combine his other revenue streams, such as merchandise and paid sponsorships, and any other enterprises he has going on the side, we can estimate his net worth in the ballpark of $25 million.
Frequently Asked Questions – MrBeast Bio
Question: What is MrBeast's real name?
Answer: MrBeast is called Jimmy Donaldson. He is from Greenville, North Carolina, and was born in May 1998.
Question: Does MrBeast have a girlfriend?
Answer: MrBeast began posting on social media images of his girlfriend, Maddy Spidell, in June 2019. However, as of late, there has been little content about the couple and no mention of her in his videos, leading fans to think that the pair have split up.
Question: Is MrBeast the richest YouTuber?
Answer: As of the 2022 Forbes list, MrBeast is the highest earning YouTuber on the platform, beating out Jake Paul and many other famous names with similar notoriety.
Final Thoughts
So there you have it, a detailed and comprehensive biography of one of the most popular YouTubers currently on the platform. MrBeast has certainly shot to fame over recent years. However, you can clearly see throughout this article just how hard he and his team have had to work for this success through the years, spending much of their youth on the incredibly successful product that is MrBeast today.
With all this being said, I really hope you enjoyed this biography and took something new away from it. I hope to see you again soon.
Recommended Reads:
Research Citations
https://gamerstats.net/setup/mrbeast/
https://shopmrbeast.com/
https://www.reddit.com/r/MrBeast/comments/n3n7qp/mr_beast_where_do_you_get_all_your_money_from/
https://twitter.com/MrBeastYT/status/1069282172195008512
https://mrbeast.fandom.com/wiki/MrBeast
https://teamtrees.org/
https://www.forbes.com/celebrities/