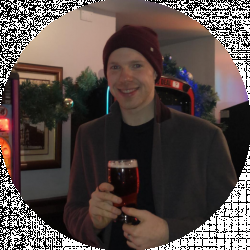 Latest posts by James Gibson
(see all)
Over the last decade or so, Minecraft has been cycling between massive surges in popularity and relative obscurity on both YouTube and Twitch. These surges almost always bring new players to the public's attention, gaining them massive followers in a very short time. 
One such Minecraft content creator who managed to hit this new wave of Minecraft popularity is TommyInnit. While he is not the first to capitalize on the game's popularity, putting his skill in the game to good use, he may be the youngest. Tommy shot to fame at the very young age of 16, amassing millions of followers within a few short months through hard work, dedication, and skill in his craft. 
So, with all this being said, why don't we learn a little bit more about him and his path to success in this TommyInnit bio? First of all, though, let's take a look at some quick Tommy facts:
TommyInnit Quick Facts
Real Name:

Thomas (Tommy) Simons

Birthdate: April 9

, 2004

Birthplace:

Nottingham, England

Nationality:

British 

Siblings:

N/A

Children:

N/A

Games Played:

Minecraft, Among Us, Fortnite

Social Media:

Twitter: @tommyinnit, Instagram: @tommyinnit, Youtube: TommyInnit.

Net Worth:

$10,000,000
TommyInnit's Early Life
Considering that Tommy rose to fame at 16, his entire childhood and content creator life could fit in this section. However, we will focus on the YouTuber's life before he found this massive success.
Firstly, Tommy was born in a little place called Nottingham in England. He was born on April 9, 2004, making him only 18 today. By all accounts, his family and home life were rather typical growing up; however, he does seem close to his parents, who have supported his gaming obsession from a young age, a decision I am sure they are delighted with today. Additionally, Tommy's mother, Sarah Simons, has become beloved within Tommy's community, even gaining herself a nickname, MotherInnit. 
Growing up, Tommy always had an interest in gaming, spending many hours in front of his computer watching his favorite YouTubers. Throughout this time, he really garnered an obsession with becoming a content creator and producing video game content for a living, seemingly having fallen in love with the entire process. So, as most young kids do nowadays, Tommy started a YouTube channel, uploading to it semi-regularly for some time.
This channel, started by 12-year-old Tommy, was named Channelnutpig for reasons I cannot fathom. However, it seemed as though the young man really enjoyed his time on this account, uploading fairly often. However, Tommy has recently spoken about how he was bullied over his videos by his classmates. This bullying would continue for the entire time Tommy was uploading to the channel. As you might expect, this took away some of his passion for uploading, forcing him to restrict the channel and all of its videos by the time he was 13.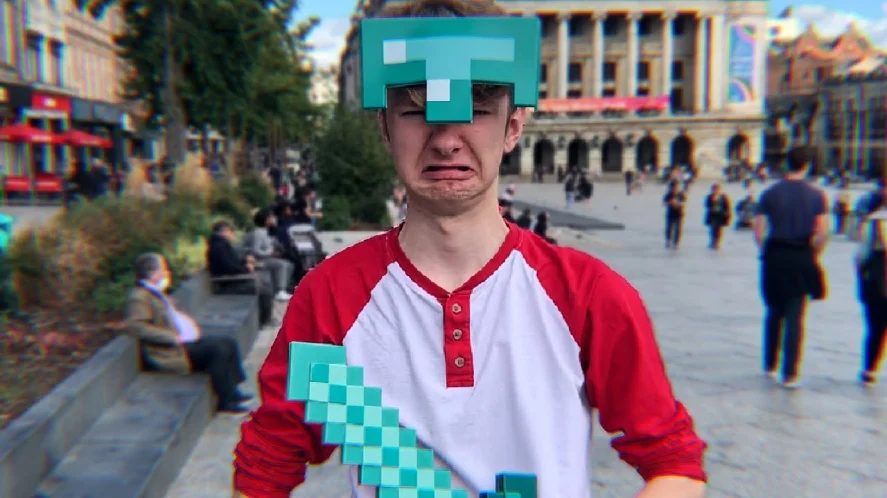 After this setback, Tommy did not return to YouTube for a couple of years; however, instead of letting his creative juices seep away, he decided to set up a Twitch account and begin streaming from it almost daily. Over the following year, the fledging creator managed to gain followers slowly but surely; however, he still missed YouTube and the idea of having a successful account on the site. 
To pursue his dreams while ensuring that his personal life didn't get as complicated as before, Tommy decided to start another YouTube account in September of 2018; however, this time, he wouldn't tell anyone in school about his new pursuit. 
His first video on this account, TommyInnit, would be uploaded on September 9, 2018, it was a Minecraft gaming video, and from there on out, he would upload to this channel regularly.
YouTube Career
It may be too early in the game to say that Tommy has had a 'career' on YouTube; however, the young man has become massively successful on the platform, with many of his channels surpassing the 1 million subscriber mark and one even reaching 11 million at the time of this article. With this being said, let's take a look at each of Tommy's channels.
TommyInnit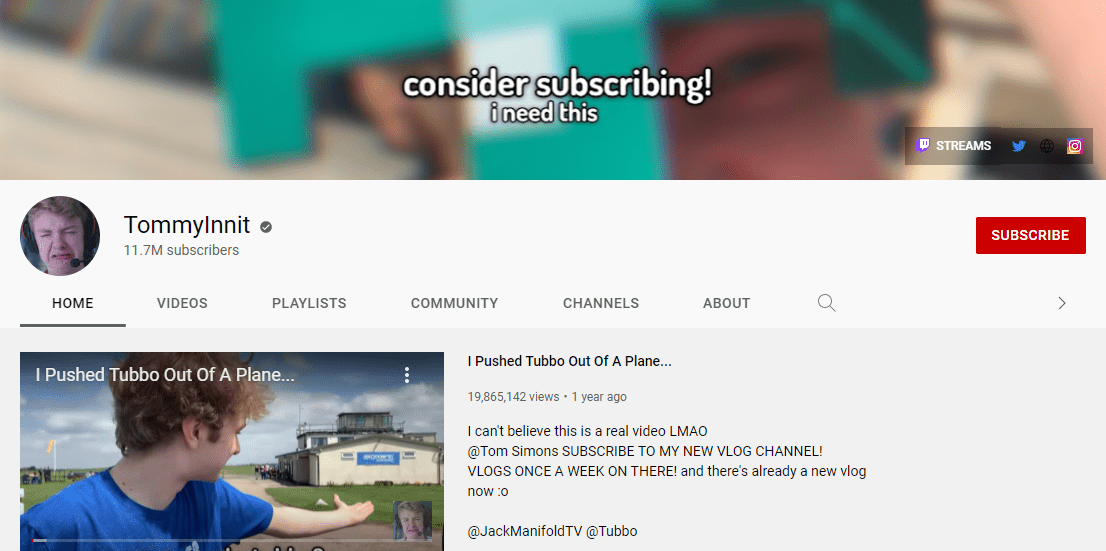 The TommyInnit channel is the creator's main channel and the one with the most subscribers and views. It currently sits at 11.7 million subscribers and has a mammoth view count of over 1.5 billion. 
On this channel, Tommy mostly spends time putting out Minecraft content with his friends. Most of these videos are either challengers or just funny skits.
Tom Simons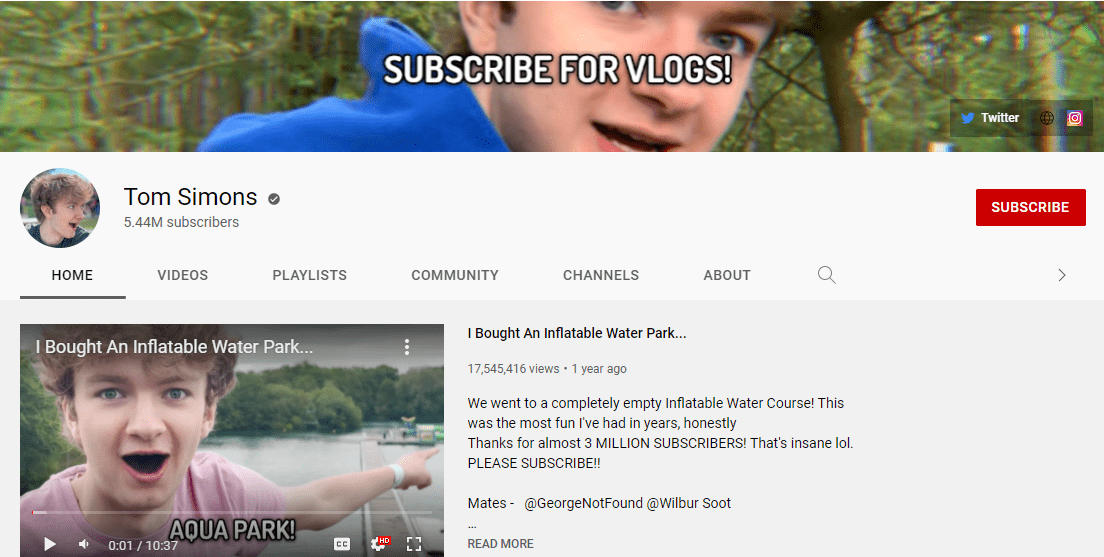 On this channel, Tommy mainly uploads his real-life content wherein he chronicles his adventures throughout England and the occasional trips to see his American friends and fellow content creators. 
This channel currently has 5.4 million subscribers and boasts a view count of 242 million. His current most recent uploads feature many other U.K YouTubers as they join Tommy in his escapades, whether that involves completing an obstacle course or getting consistent electric shocks for no apparent reason. Either way, these videos are a nice change for Tommy as they let his viewers see the YouTuber outside and in the real world, expressing his different side. 
TommyOutit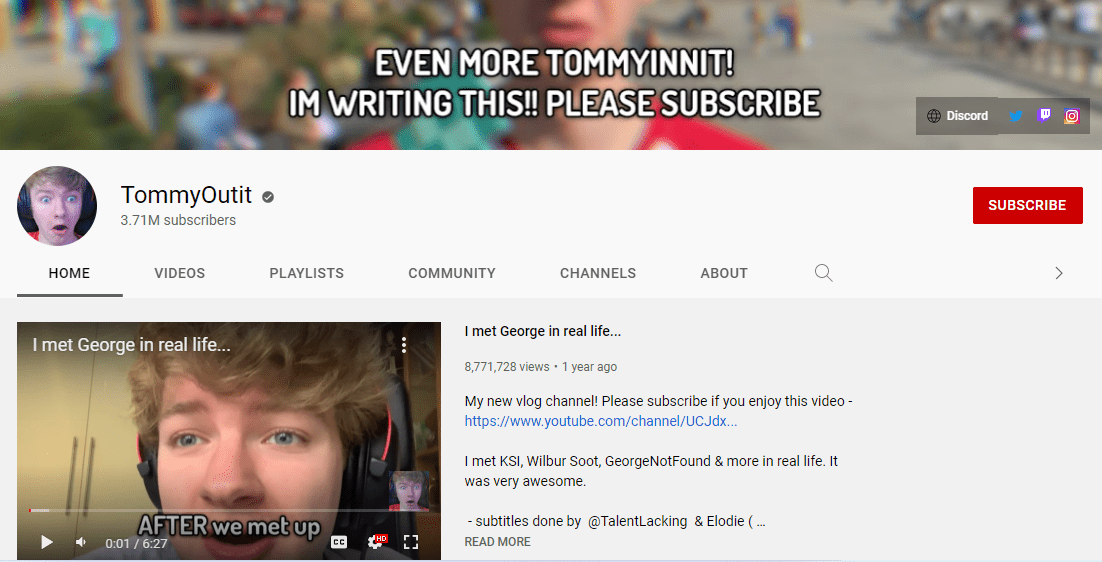 This channel is the home for a lot of the extra content that hasn't found its way onto the TommyInnit channel. While the videos on this page are mainly complementary to the main channel videos, viewers still get a few extra laughs should they need more Tommy content in their lives. 
The channel currently has 3.71 million subscribers and a view count of 89 million. When you think about it, these figures truly speak to Tommy's popularity, as having such a large channel for mere blooper/highlights is something unheard of for a creator of his age and time on the platform. 
TommyVODS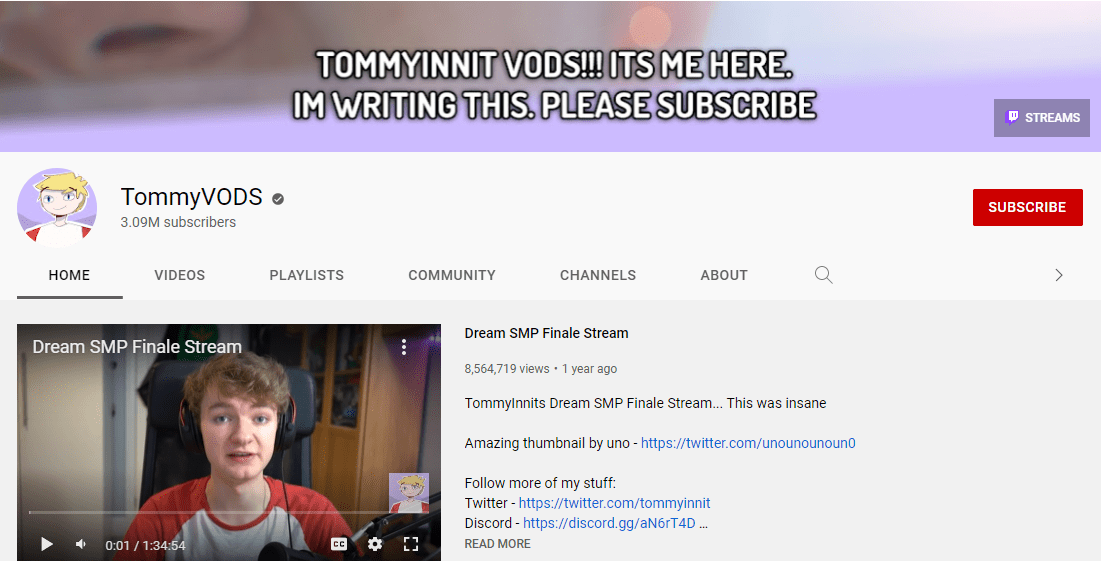 This channel is where Tommy uploads highlights, clips, and full videos of his Twitch live streams. Not only does this mean that fans can keep up to date with his DreamSMP escapades and other Twitch adventures, but it also allows them to look back at some of the best moments from his Twitch whenever they wish. 
This channel has just over 3 million subscribers and a view count of 369 million. Currently, the channel is very active, having new videos nearly every other day.
Twitch Career
As I have already mentioned, Tommy loved the idea of content creation and streaming from a very young age, engaging with the community for most of his life now as both fan and creator. However, I would say that he has treated streaming as his main love for some time now, preferring to stream for hours and hours daily than to produce YouTube content with the same regularity. 
Tommy began Twitch when he was just 13 years old after being bullied by classmates for having a YouTube channel. After he decided that he had had enough of the bullying, Tommy decided to shut down that YouTube channel and start a Twitch account. 
On this account, Tommy would regularly stream in the beginning, playing Minecraft seemingly every free moment he got. However, his Twitch career began to take off when he began playing on more populated and famous servers. 
His first famous server that he became known on was probably the most famous of them all, the Hypixel server, where he eventually earned the rank of YouTuber regardless of his limited subscribers at the time. 
His popularity grew after he became obsessed with playing and streaming the Minecraft mini-game Sky Wars. Playing this game mode on a stream alongside other famous Minecraft creators got Tommy noticed, and his Twitch channel grew from there. 
Tommy currently has 7.2 million followers on Twitch and regularly streams, sometimes daily. These streams are often viewed by 300,000 plus people concurrently. 
Key Creator Relationships
Tubbo

This fellow streamer and YouTube personality have been friends with Tommy for many years. Many of Tommy's fans would call the pair best friends, explaining why the pair almost always feature in the other's videos and live streams. 
While most of their friendship was built in Minecraft, the pair often met outside the video game to chat and have real-life adventures together. They have helped each other grow massively; however, it would seem that they have two different career paths in mind at the moment, with Tommy still focusing on Minecraft content and Tubbo becoming much more interested in his music career. 
Wilbur Soot

Wilbur, also known as Will, is another friend Tommy has made through Minecraft and the streaming of it. The pair have been good friends for some time now, bonding over their shared love for the game and their close proximity to one another as they now both live in Brighton, England. 
The pair originally met on the Minecraft server SMPEarth and have played on the DreamSMP server together for some time. However, Tommy does owe a good portion of his popularity to Wilbur, gaining a lot of his initial popularity via exposure on Wilbur's private Minecraft server when he was still a relatively small creator. 
Technoblade

One of the biggest reasons that Tommy is successful today was the exposure given to him by Technoblade. The pair became quick friends through Minecraft and streaming. They were also members of the DreamSMP server together and enjoyed role-playing together more than any other pair I've seen on the server.
Technoblade recently passed away after his fight with cancer, an event that really saddened Tommy as his death meant not only the loss of a good friend but also a childhood hero for Tommy.
TommyInnit Videos
I Made 100 Minecraft Players Simulate Civilization
In this video, Tommy and his friend become Gods of the world they have created, lording themselves over a group of 100 Minecraft players which they have invited to their private server. However, these players don't know just how involved their Gods are going to get in their lives.
Throughout this video, Tommy and his friend ensure to act as stumbling blocks for their subjects to trip over, making their lives much harder than they need to be, at times even teleporting them off the side of cliffs for their own amusement. 
This video also sees the pair put several of the server members on public trial for various made-up offenses. Needless to say, the video is full of funny moments of exasperation from the server's subjects.
Minecraft's Funniest YouTuber Talent Show
In this video, Tommy invites some of his best Minecraft friends onto his private server for an impromptu talent show. This talent show is in aid of Minecrafters Vs. Cancer, raising money in the fight against childhood cancer, inspired by Technoblade, battling cancer at this time. 
This video features many of the most famous Minecraft YouTubers on the planet right now, including Captain Sparklez, Technoblade, jschlatt, and Tommy himself, putting their talents on show. These talents include rapping, the production of famous songs via music notes, and much more.
I met Charli D'Amelio in Real Life.
In this video, Tommy combines real-world Vlog footage with some posthumous commentary. Both of which detail just how much Tommy hates America but how his traveling to the country would be worth it should he get to meet his TikTok crush, Charli D'Amelio. 
In reality, this is just a funny lens that Tommy has put over a video showing himself traveling throughout L.A with some of his best American Minecraft friends as well as Wilbur.  
Some of the video highlights include a hot tub live stream that Tommy took part in, a trip to Captain Sparklez's gym, and an impromptu psychic reading. 
Of course, Tommy wouldn't clickbait his fans, and by the end of the video, we get to see Tommy's experience with meeting Charli and how his dance moves compared to hers.
TommyInnit Gaming Setup
TommyInnit's Gaming Mouse: Logitech G Pro Wireless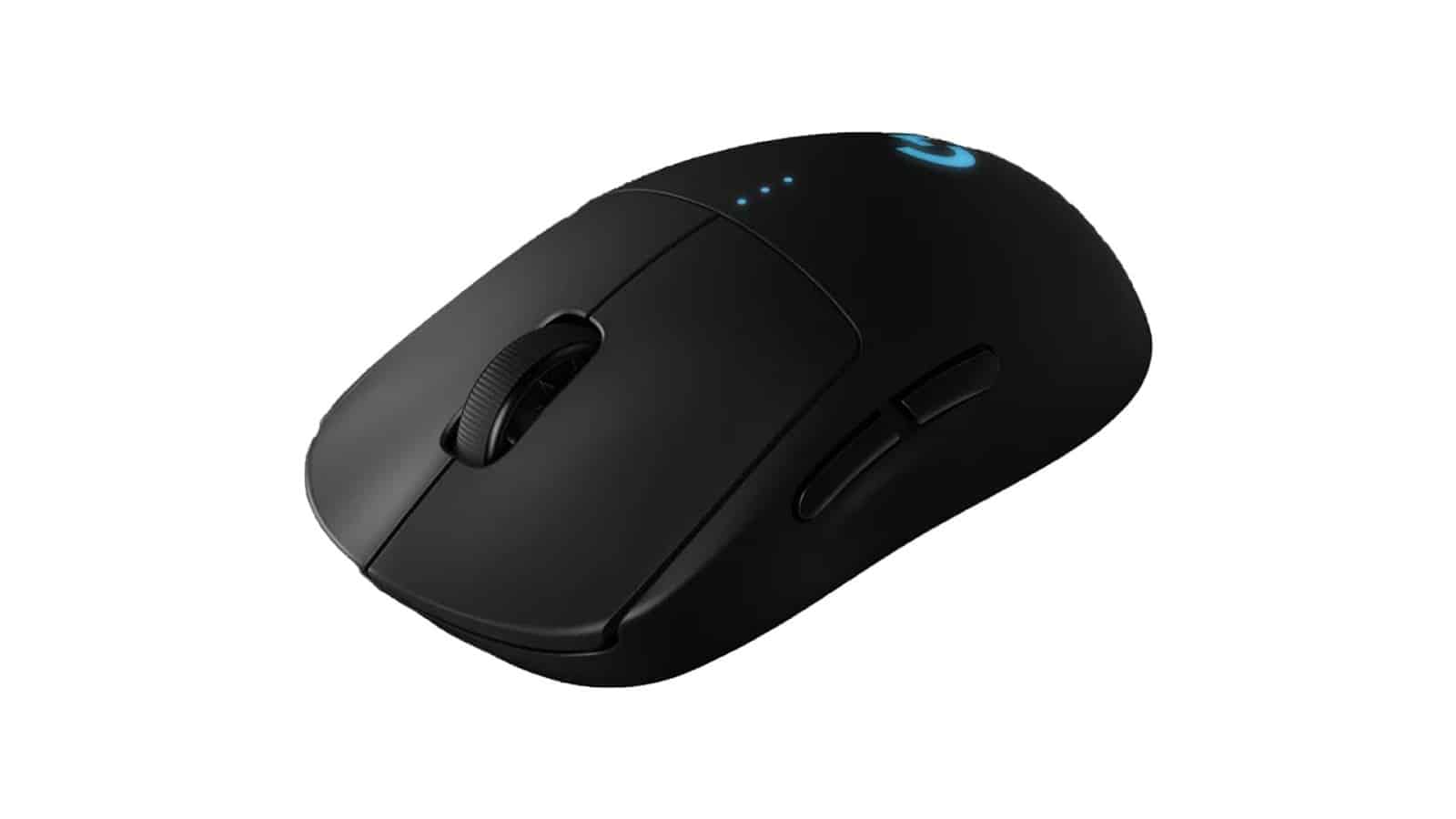 This mouse is a favorite of many streamers and content creators alike. The lightweight and ergonomic design ensure that the player has a positive experience every time and is in the optimum position for some fast twitch first-person shooting or PvP gaming.
This mouse also features a lightning-fast 1ms response rate, which is unheard of in the wireless mouse game, ensuring that no plays are lost due to connectivity issues. 
TommyInnit's Headset: HyperX Cloud 2 Gaming Headset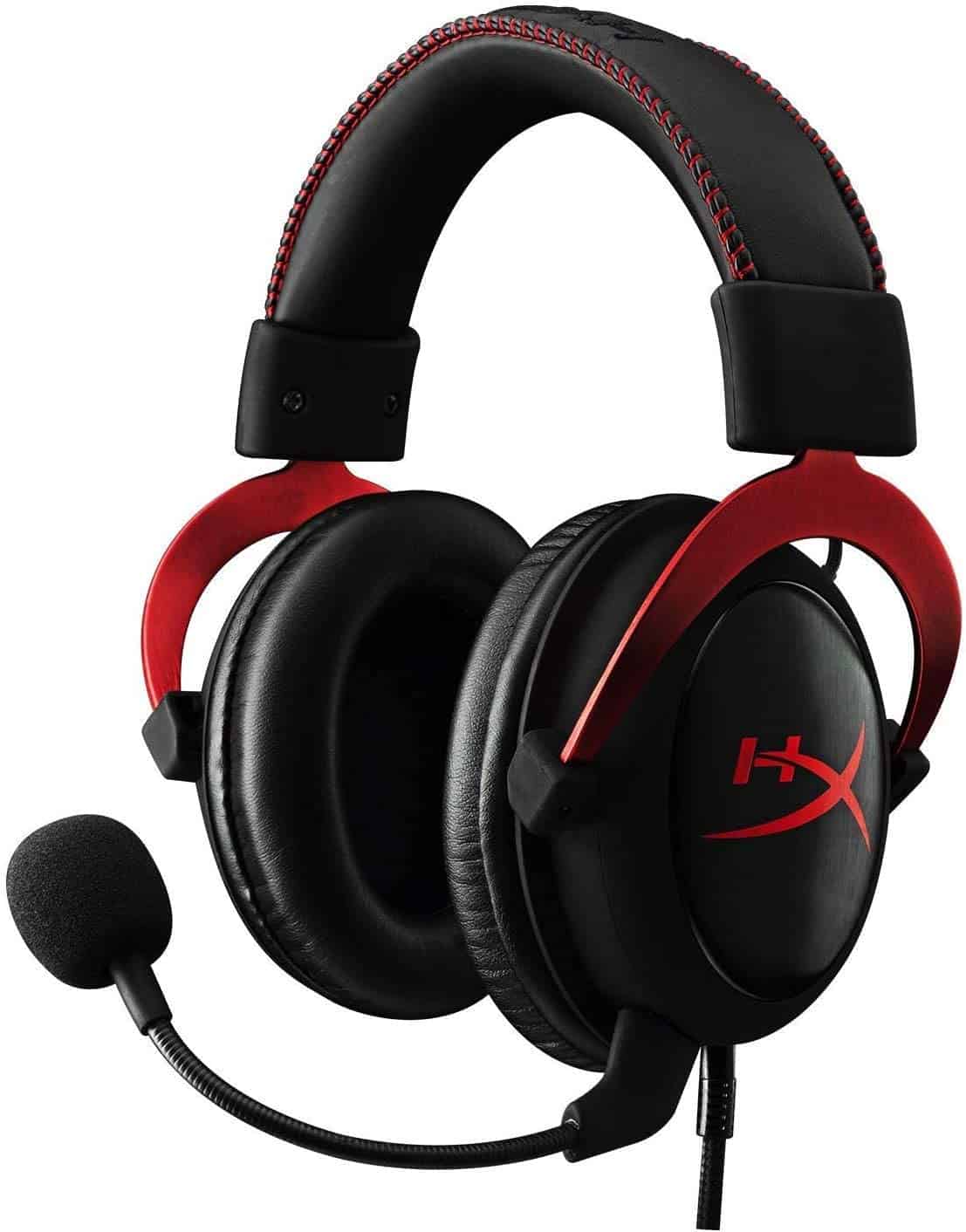 As with all streamers and gamers, one of Tommy's top priorities when selecting a headset is comfort. The Hyper X Clouds ensure that comfort and ease of use are their top priority by giving the player memory foam padding around all contact areas and soft leatherette covers, ensuring a comfortable gaming experience.
This headset also provides an outstanding sound, featuring 7.1 surround sound from the 53mm Neodymium drivers that are specialized for gaming audio. 
TommyInnit's Microphone: AKG P120 High-Performance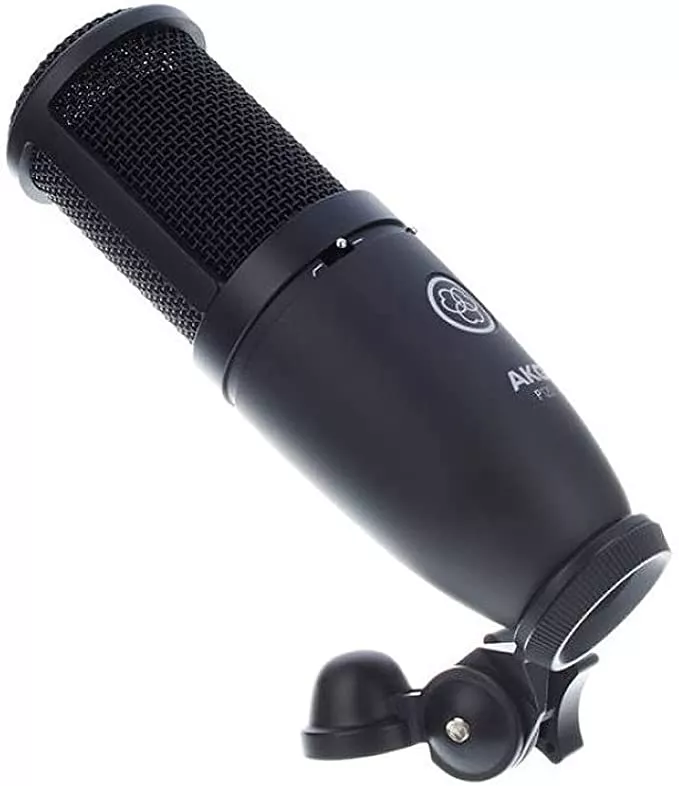 As the name suggests, this microphone is only bought by those who require their audio capture to be at the top of the food chain. This microphone features a range of 20-20,000 Hz, ensuring that the human voice is captured perfectly and true to life with next to no distortion. 
This microphone is also built to last, featuring a rugged and forgiving all-metal body that can truly take a beating and stand the test of time. 
Tommy Innit Merchandise
As with all YouTubers and content creators in today's market, TommyInnit has a line of merchandise that his fans can purchase to show their love for the streamer. This line is wide and diverse, but why don't we take a look at some of the best sellers that Tommy ships to his fans around the world?
TommyInnit Backpacks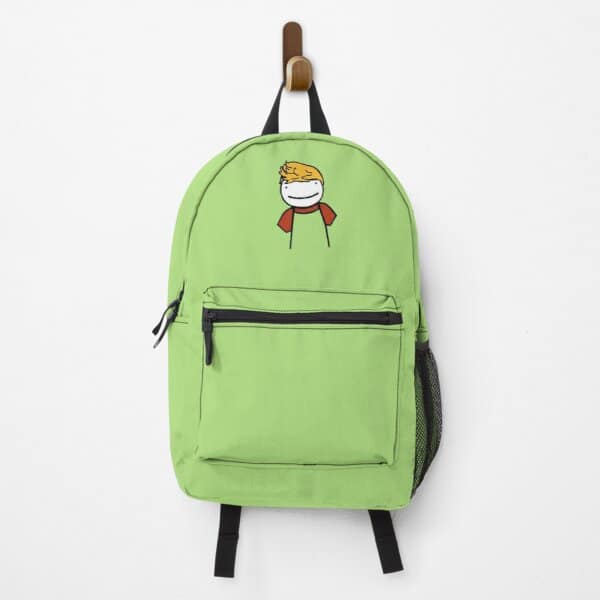 This backpack which features a cartoon drawing of Tommy on the front has been available for purchase on the site recently. This bag features an internal laptop pocket to make sure that anyone who needs to do work on the go has the option. 
This bag currently only comes in a light green color and is fitted with several external mesh pockets for your bottles of choice, perhaps a TommyInnit bottle?
TommyInnit Baseball Jacket
This TommyInnit-designed baseball jacket features a 'kawaii' Tommy figure placed on the front left breast pocket. This jacket is available in a range of sizes, from XXS to 4XL. 
These jackets also come in a range of colors, from black and white to pink with white sleeves. Outside of these options, the Jacket is designed by the brand Aikooki to be both casual and classy for summer outings due to its lightweight design. 
TommyInnit Tote Bag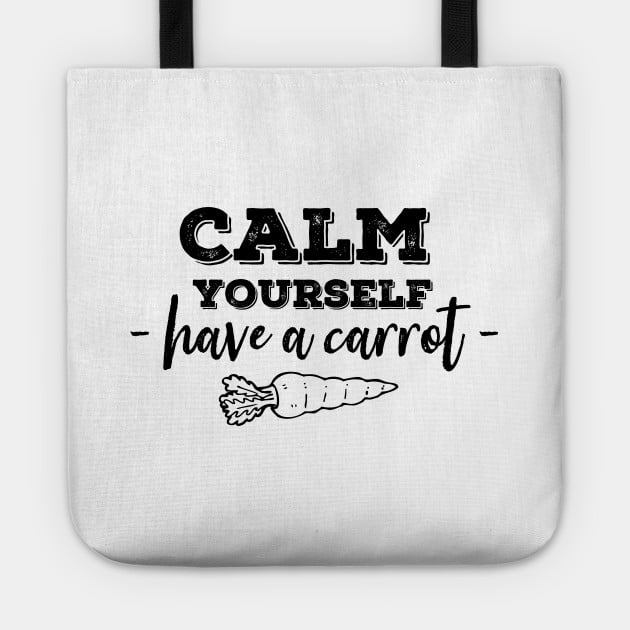 In a deviation from the norm concerning YouTube merchandise, Tommy has produced a wide range of tote bags featuring a series of his most iconic quotes. These quotes range from one simple word without any real design to the amazing "Have a carrot – calm yourself" slogan featuring a lovely carrot image underneath.
This tote bag is perfect for all TommyInnit fans who love to cart around their entire lives with them. This bag and the options available in a series of sizes and colors are so unique that they will provoke many questions. 
TommyInnit Net Worth
As with many content creators today, Tommy has made the smart decision of diversifying his revenue streams to ensure that he is not fully dependent on YouTube ad revenue or Twitch subscriptions to make a living. Of course, they do help and make up a great chunk of change for the creator every month. 
These external revenue streams include paid promotional content on his YouTube, Instagram, and Twitch streams, as well as merch sales, to name a few. However, all of these streams combine to place the creator's net worth near an estimated $10 million as of 2022. 
From YouTube alone, Tommy is estimated to make roughly $8,000 per day based on ad revenue calculations that take into consideration his near 1 million views per day average at present. 
Of course, Tommy also has a massive following on Twitch, boasting over 8 million followers at present and a surplus of 100 million views thus far. Concurrently, his streams always get about 200,000 concurrent viewers, and on some days, he can hit 650,000, a figure which is nearly unheard of on the popular streaming site. According to Twitch, streaming partners under their umbrella receive 50% of the subscription fee paid by fans. Therefore, Tommy receives roughly $2.50 per normal monthly subscription (outside of Twitch Prime). This, of course, does not consider any donations Tommy may receive during his streams. All of this Twitch revenue combined becomes near incalculable as figures change every month, but rest assured, Tommy makes a great deal of money from streaming.
As mentioned, Tommy also makes a good deal of money from merchandise, paid promotions, and other sources; however, we do not know just how much the young man makes through these means and therefore are left with only speculation. All in all, though, we can confidently put his net worth in the ballpark of $10 million. 
Frequently Asked Questions – TommyInnit Bio
Question: Who is TommyInnit in real life?
Answer: The U.K born YouTuber who goes by the gamer tag TommyInnit is known to his family and friends as Thomas (Tommy) Simons. He grew up in Nottingham, England, and was born in 2004.
Question: When did TommyInnit start YouTube?
Answer: At the age of 12, Tommy started his first YouTube channel. This channel featured some fairly sporadic videos until Tommy decided to restrict the channel and all its content amidst rather intense and persistent bullying at school due to said videos. 
Question: Is TommyInnit part of the DreamSMP server?
Answer: Alongside many of his long-term friends, TommyInnit was invited to take part in and play on the very famous and exclusive DreamSMP server. This server, created by Dream and GeorgeNotFound, acts as the perfect place for Minecraft YouTubers and streamers to meet up and create some amazing content, helping each other grow along the way.  So there you have it, a detailed biography of one of the most popular Minecraft YouTubers and streamers in the business today. I hope you enjoyed reading this and that you learned something you perhaps didn't already know. Either way, I wish you good luck and hope to see you again sometime in the future. Peace!
Recommended Reads: