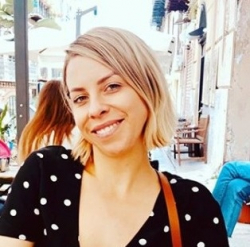 Latest posts by Jodie Chiffey
(see all)
Jaryd Russell Lazar, best known by his alias Summit1g, is a partnered Twitch streamer, YouTuber, internet sensation, and entrepreneur.
Summit1g is also a retired eSport athlete known for his exceptional Counter-Strike: Global Offensive skills.
Generally, he slants towards first-person shooters and battle royale games. But he doesn't mind trying other titles as long as he delivers the top-class entertainment his massive audience hankers after.
Below, you'll find critical details about Summit1g, ranging from his early life and streaming journey to his gaming setup, net worth, and merch.
Summit1g Bio Facts
| | |
| --- | --- |
| Real Name | Jaryd Russell Lazar |
| Birthdate | April 23, 1987 |
| Birthplace | California |
| Nickname | Summit1g |
| Height | 5 feet 6 inches |
| Nationality | American |
| Zodiac Sign | Taurus |
| Siblings | Summit1g's brother is Kite61 |
| Children | None |
| Spouse/Girlfriend | Lilchiipmunk is Summit1g's current girlfriend |
| Games Played | CS: GO, Apex Legends, Sea of Thieves, Valorant, Radical Heights, etc. |
| Net Worth | $7.5 million |
| Social Media | Twitch: summit1g, Twitter: @summit1g, YouTube: summit1g, Instagram: realsummit1g |
| Awards | Summit1g hasn't won any awards, but he was nominated for the Twitch Streamer of the Year award at the 9th annual Shorty Awards, and the Streamer of the Year Award at the 2020 Esports Awards |
| Last Updated | March 2022 |
Summit1g's Birthplace and Early Life
Summit1g was born in Orange County, California, on April 23, 1987. He grew up here, but he now lives in Colorado Springs, Colorado.
Seemingly, streaming runs in Summit1g's family. Jacob 'Kite61' Lazar, another popular Twitch streamer, is his brother.
Summit1g hasn't mentioned the educational institutions he attended, but he scored high grades.
How Did Summit1g Get Started Gaming?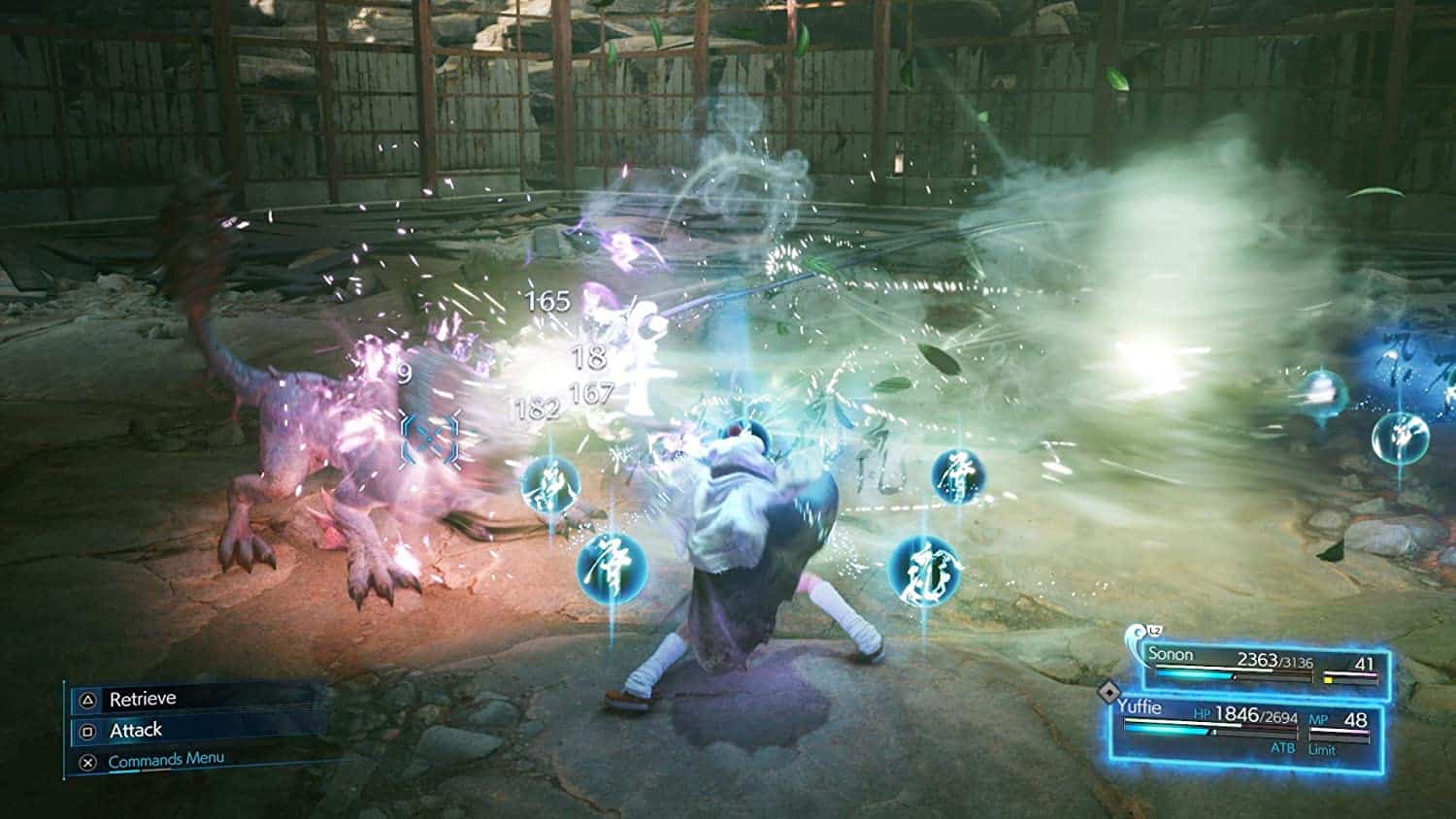 As a kid, Summit1g invested most of his leisure time in video gaming, even though most of his age mates preferred playing outdoors. Final Fantasy and Joe Montana Football are among the console games he enjoyed massively.
In his early teen years, Summit1g was already into serious gaming. He discovered Counter-Strike when he was buying Pokémon cards at a local shop.
However, he was disillusioned when he tried to download this game for the first time. The internet connection at his home back then was unstable, and his PC's 32GB RAM wasn't helping either. So he decided to play Team Fortress Classic instead.
Later on, Summit1g's father bought him a better computer after realizing he could balance gaming and studying.
This enabled Summit1g to download Counter-Strike. This title grew on him, and his skills at it improved within a short time, thanks to countless hours of practice. Shortly after, he began playing it competitively.
Summit1g's Pro Gaming and Streaming Career
As a professional Counter-Strike player, Summit1g played for several esports teams, such as Mythic, Team SoloMid, and Area 51 Gaming.
When Summit1g left the competitive scene, he diverted all his attention to streaming on Twitch. At first, he explored Counter-Strike: Global Offensive and WarZ. As his audience grew, he started streaming more games, such as Grand Theft Auto V, DayZ, Hearthstone, Escapefrom Tarkov, Foxhole, Valorant, and iRacing.
Summit1g's Videos
Watch this YouTube video uploaded by theScore esports to make sense of Summit1g's gaming and streaming journey. We gather from it that he's always strived to be the best, no matter what he's playing. He's versatile, down-to-earth, and highly likable, contributing to his ever-soaring fame.
Check out this video to witness some of Summit1g's best random moments of 2021. Prepare yourself for a good laugh because most of them are hilarious. Doubtlessly, Summit1g is more than just a gamer or streamer – he's an elite entertainer!
Summit1g's Gaming Setup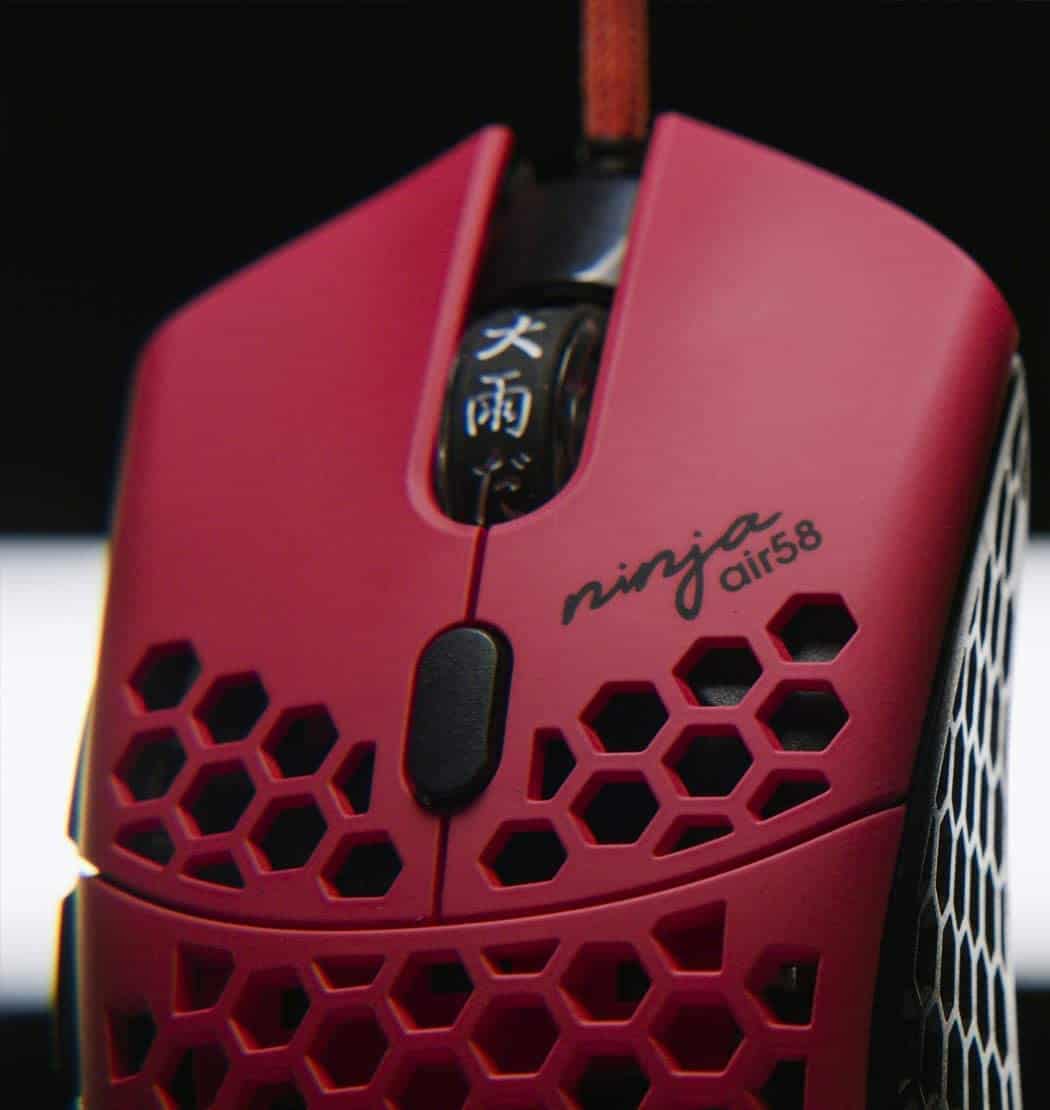 Summit1g chooses the Finalmouse x Ninja Air58 mouse, which belongs to the list of the lightest mice on the market right now.
Its wheel features unique hand-engraved Haiku Scrolls to achieve a beautiful artistic design. In addition, its structure comes with numerous holes to ensure Summit1g's hand doesn't sweat up when he streams for many hours on end.
Another fantastic feature of the Air58 is its acceleration-free Pixart PMW3360 sensor that allows for precise tracking.
We also like that this mouse is highly durable, allowing Summit1g to leverage it for an extended duration.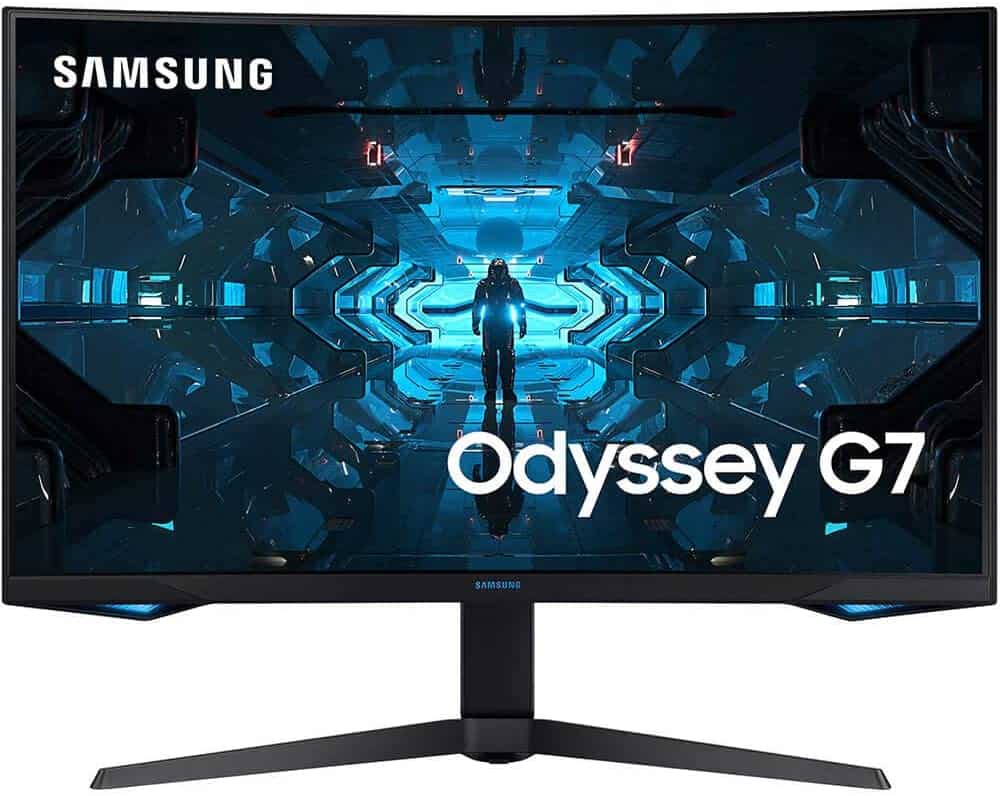 Like plenty of pro gamers out there, Summit1g has recognized the actual value of the Odyssey G7. It comes with a 240 Hz refresh rate that's pretty convenient for any player, no matter their preferred game genre.
But that's not the only irresistible aspect of this gorgeous gaming monitor.
The Odyssey G7 offers a full HD, WQHD resolution that enables you to relish the most detailed images. Combined with the 1000R panel and the top-tier Samsung QLED technology, expect the most immersive and satisfying gaming experiences.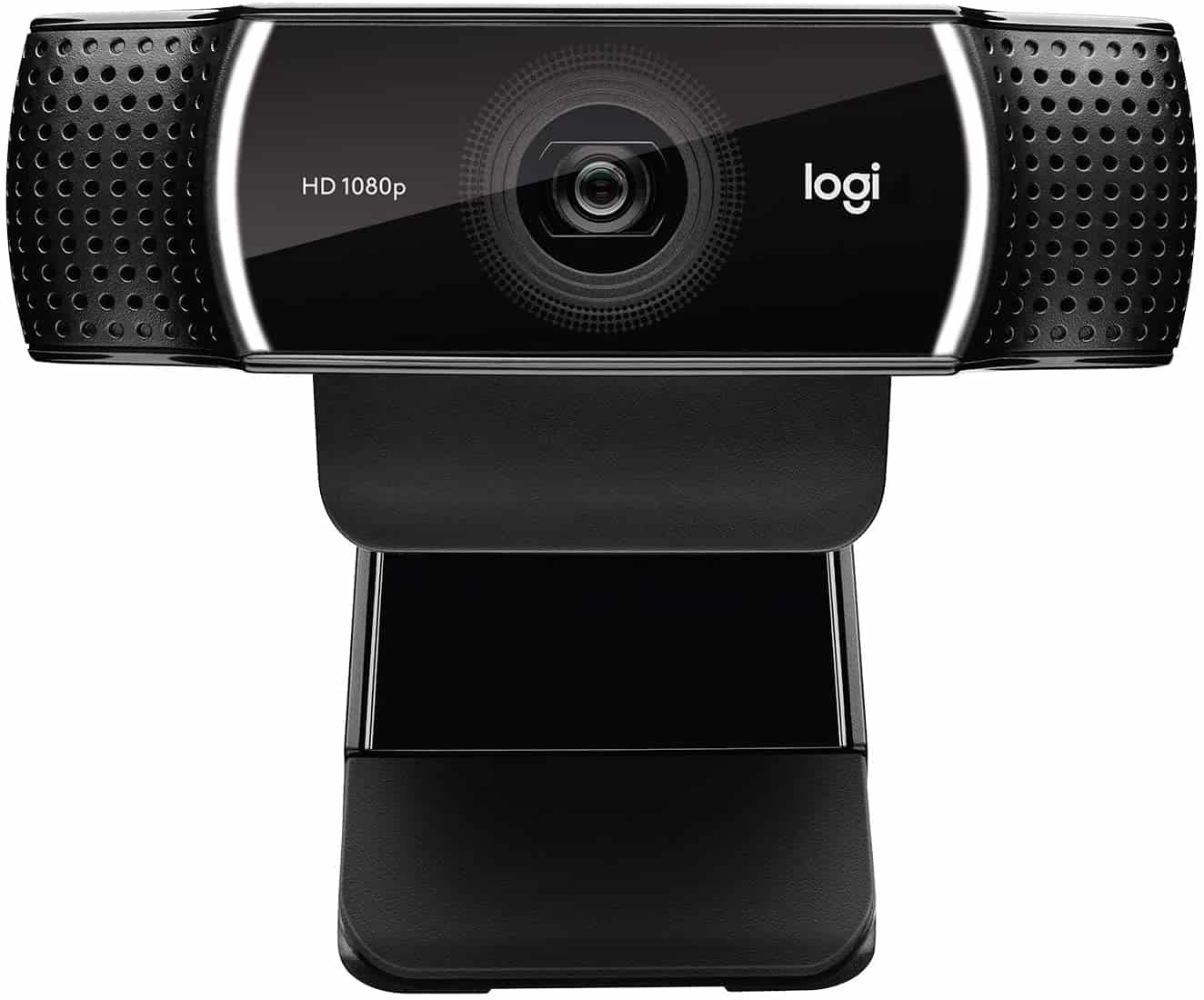 Check out Summit1g's facecam that ticks all the boxes. Logitech built it for serious streamers, and its features are enough evidence that it doesn't disappoint.
For starters, the Logitech C922x Pro allows you to record vibrant videos at 1080p/30fps, and you can also opt for HD at 720p/60fps. You'll like the autofocus feature. Plus, you can always leverage Capture to pan, zoom, or edit your video content.
In addition, the C922x Pro offers a handy 78° diagonal field of view, enabling you to effortlessly stream with your buddies without necessarily sacrificing high video quality.
Tons of streamers have confessed to liking this webcam's usability, enhanced by its compatibility with many systems, including macOS 10.10 and Windows 7.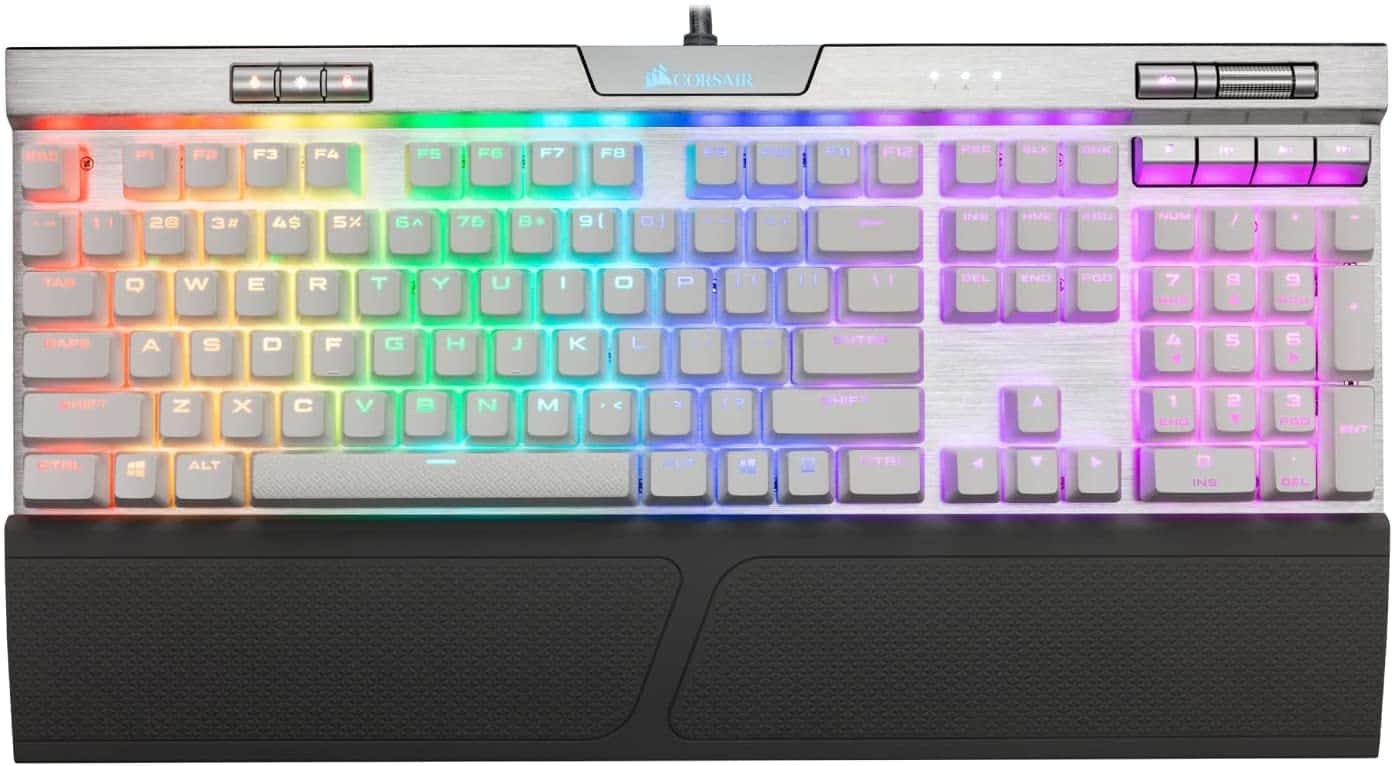 Summit1g leverages the Corsair K70 RGB MK.2 keyboard, a great pick for players looking to build the best gaming setups.
To begin with, this gaming keyboard has a sleek, beautiful design, owing to its rainbow backlights and Cherry MX switches. It's impossible to ignore its reliable performance across many genres. It doesn't matter if Summit1g is playing CS: GO, Apex Legends, Call of Duty, or Radical Heights – it still works magic!
Furthermore, the Corsair K70 RGB MK.2 comes with a quality aluminum frame to boost its durability and guarantee reliability during intense gaming sessions.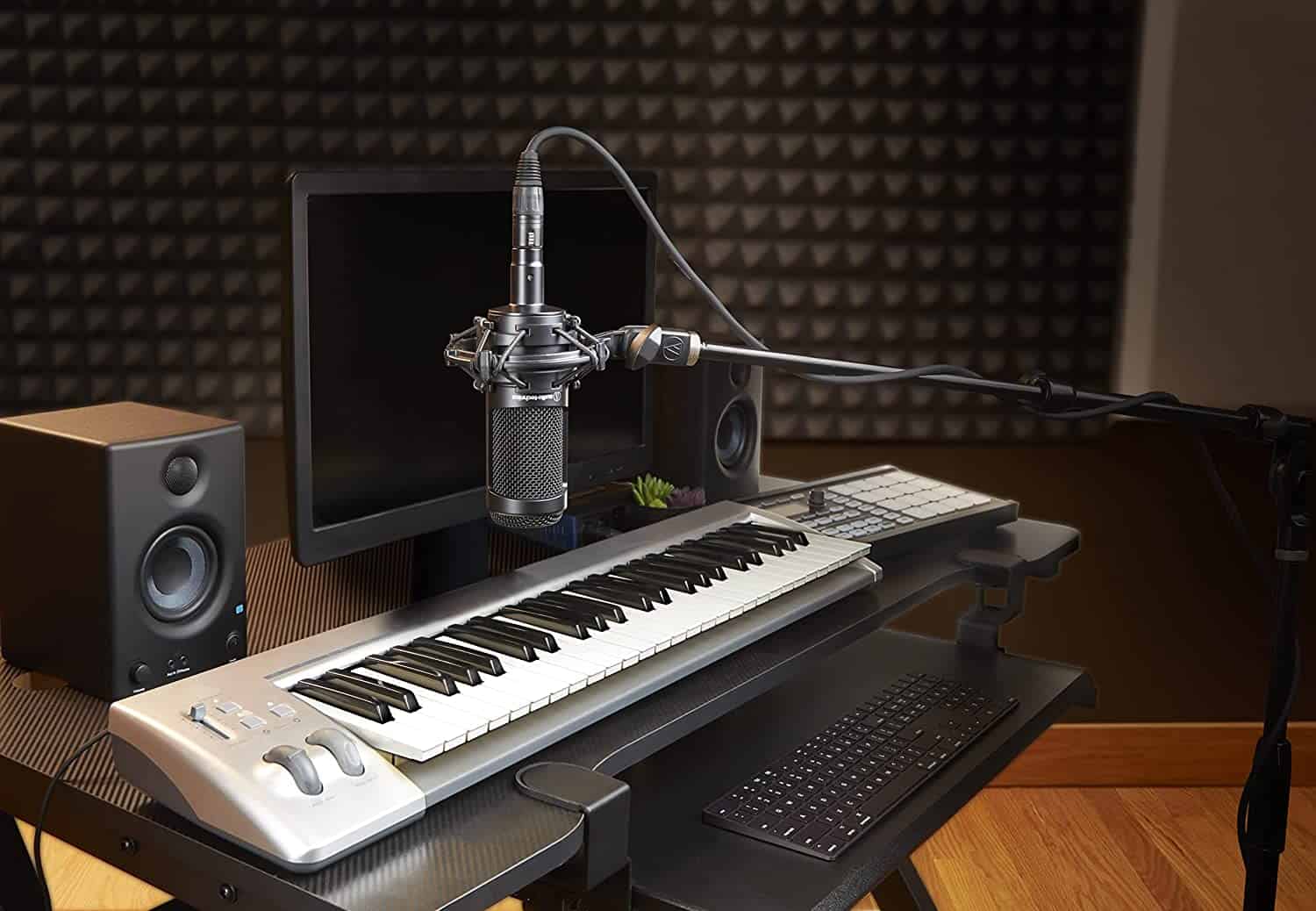 Summit1g likes using the Audio-Technica AT2035. Given its combination of features, we're not surprised at all.
This mic is sleek, versatile, and dependable. It delivers smooth and detailed audio performance to increase the quality of Summit1g's streams no matter where he is.
In addition, the Audio-Technica AT2035 comes with rugged construction that lengthens its lifespan, despite everyday use.
There's also a Cardioid polar pattern to minimize sound pickup and enhance isolation, which is something every professional streamer craves.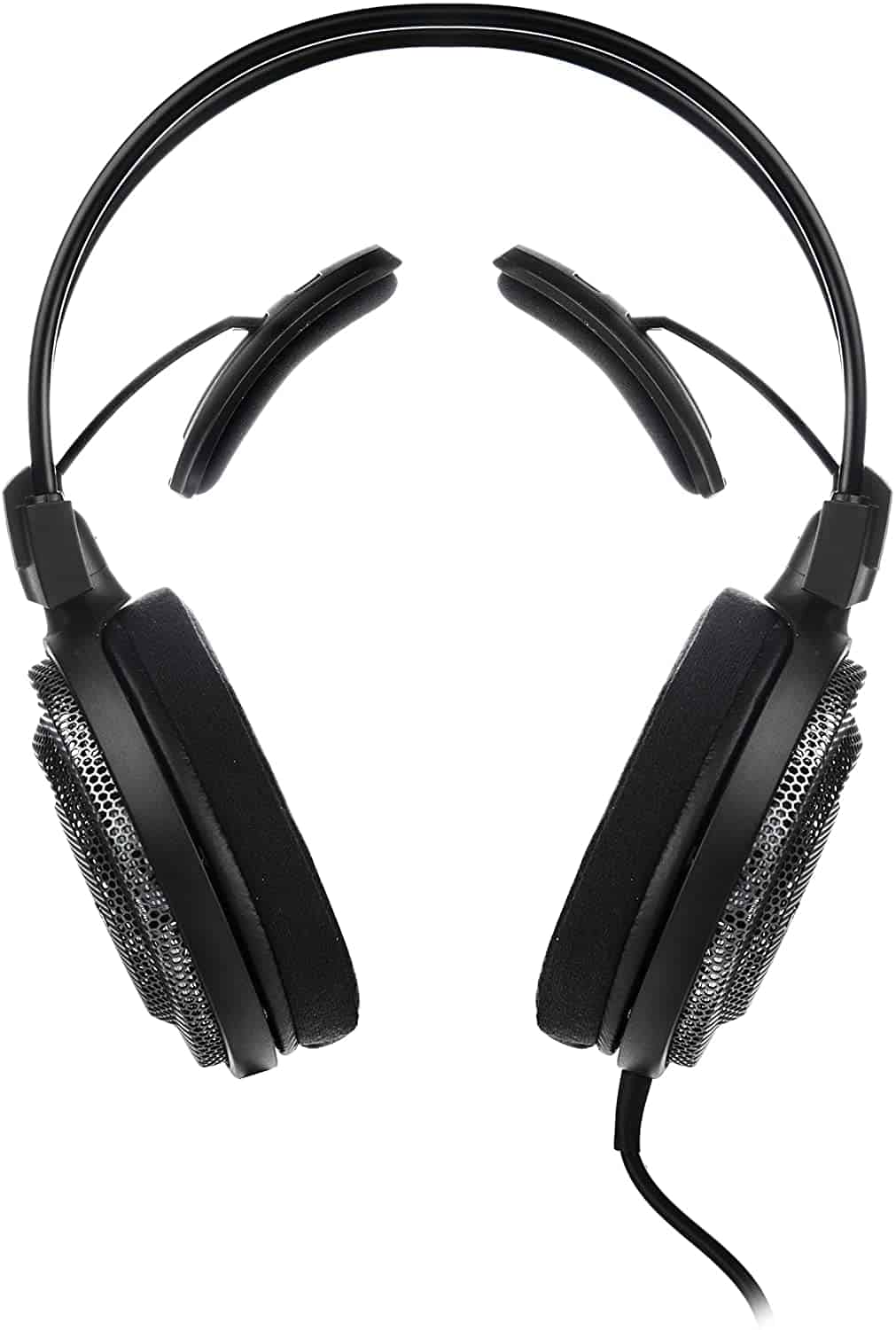 Summit1g enjoys using the Audio-Technica ATH-AD700X. These are pocket-friendly headphones designed to deliver the best listening experiences. They also have a lightweight build that renders them portable.
Note that this is an open-back headset. It sounds more spacious than the closed-back options doing the rounds on the market today.
Yes, the Audio-Technica ATH-AD700X may look somewhat large. But it's all for a good reason. With this huge size, there's enough headroom for everyone. And what's even better is the fit is adjustable.
In addition, this headset for streamers has soft, roomy earpads. They minimize the pressure on your ears and allow for long listening periods.

Summit1g made a wise decision by selecting the Corsair Vengeance RGB PRO RAM. It delivers reliable performance, not to mention an incredible speed of up to 3200 MHz.
This RAM's diffused RGB lighting is a nice touch as it beautifies your gaming setup. Notably, the lighting profiles are customizable, so you can build something that perfectly suits your individual preferences.
We liked that the Corsair Vengeance RGB PRO is unbelievably easy to install. Do you want to know what the best part is? You don't need any additional wires to get the job done!
We also cannot forget to mention this RAM's aluminum heat spreader. Corsair provides it to cool the memory even when overclocked.
Summit1g's Family
For several years now, Summit1g has been romantically involved with Lilchiipmunk, a famous League of Legends player from Canada. She's of Romanian and Vietnamese descent and can speak various languages fluently, including English and Hebrew.
Like Summut1g, Lilchiipmunk relishes each second she spends in her gaming room. She even considers herself a gaming nerd.
In addition, Summit1g's partner is also a frequent Twitch streamer. Tons of her fans are stunned by her incredible gaming skills. Her perky personality and gorgeous looks have also drawn a considerable share of fans to her socials.
Lilchiipmunk always admired Summit1g. She even began following his professional Counter-Strike: Global Offensive tournaments, which led to them meeting and falling in love.
Today, it's pretty common to find these two streamers creating gaming content. They also delight in spending quality time outdoors, dining, or indulging in other thrilling activities.
Desirae Lazar
Notably, Summit1g was married to Desirae Lazar before dating Lilchiipmunk. Before their marriage, they had known each other for over eight years. They did not give any official reason for their divorce, but it was mutual.
Desirae is also a Twitch star, and gaming ranks among her top passions. She also worked as Summit1g's manager when they were together.
Desirae is now a mother of two. Despite parting ways with Summit1g, they are still close friends. In addition, there's no bad blood between her and Lilchiipmunk.
Summit1g's Net Worth and Career Earnings
Summit1g's net worth is $7.5 million as of this writing. Some sources have even alleged that it's higher. All the same, he's among the wealthiest gamers today, putting him in the same pool as Lirik (check Lirik's Bio), AuronPlay (check AuronPlay's Bio), and xQc (check xQc's Bio).
Interested in knowing how he's brought in this large sum? Let's take you through his main income streams.
Twitch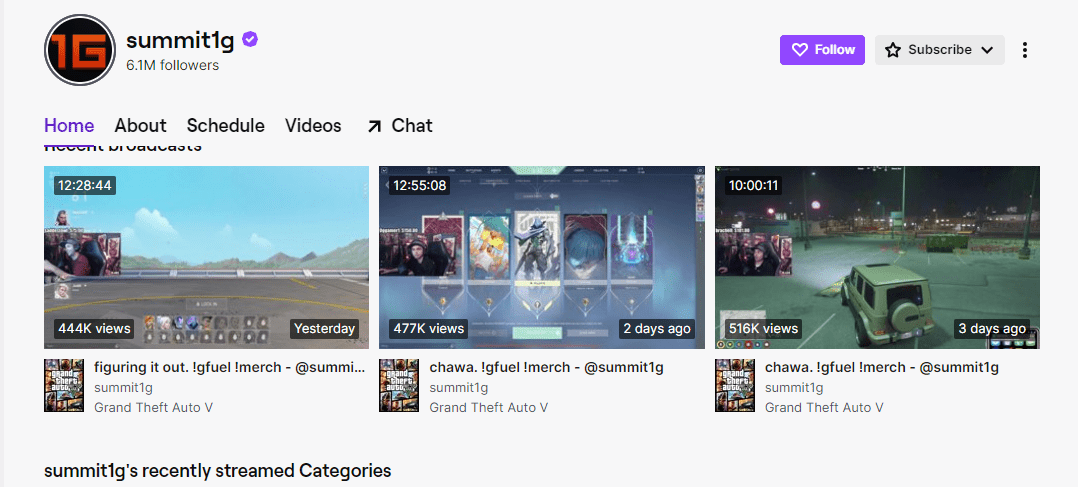 With over six million followers right now, Summit1g is among the most supported streamers on Twitch. His high viewership on this platform bagged him a multi-year contract with it in 2020.
Unquestionably, this veteran Twitch streamer makes a considerable sum entertaining his fans daily.
As per the alleged Twitch data leak in 2021, Summit1g was on the list of the top 100 highest-earning streamers on this website. Impressively, he racked up over $5M between August 2019 and October 2021.
Note that he was the third-best paid Twitch streamer at the time, just below the legendary CriticalRole and xQc.
Stats from Twitch tracker indicate that Summit1g's channel has over 38,000 subscribers, with more than 400M views. In addition, he earns about $36,000-$80,000 monthly from his streaming ventures. And we haven't included his donations, which he gladly receives via PayPal.
YouTube
YouTube is another source of income that Summit1g takes advantage of. His channel boasts 700,000+ subscribers and more than 120 million views. This makes him eligible for a handsome amount in YouTube payouts, although the exact sum remains undisclosed.
Tournaments
Summit1g was one of the best professional esports athletes before hanging up his boots. He played a wide range of games competitively, including H1Z1, Apex Legends, Creative Destruction, Fall Guys, Call of Duty: Warzone, Sea of Thieves, Halo: Reach, Radical Heights, Call of Duty: Modern Warfare, and Splitgate: Arena Warfare.
As of 2020, Summit1g had grossed $26,944.47 from participating in 17 gaming competitions. Radical Heights accounts for 35.26%of his total tournament winnings. The least amount he's ever made from playing an esport game is $275.00, which was Splitgate: Arena Warfare.
Despite Summit1g being a part of various esports organizations, he made 96.49% of his tournament earnings as a free agent. Team SoloMid, Mythic and Splyce account for the remaining percentage.
Esports Teams
Typically, esport companies are obligated to pay the players on their rosters. Since Summit1g was a member of various teams such as Mythic and A51, he must have received a certain amount as payment for his gaming services.
Summit1g's salaries from these teams are still in the dark, but we believe they played a part in increasing his net worth.
Merch Store

Summit1g has an official merchandise store where he avails fancy items such as clothes, stickers, and mugs. The collections this esports athlete offers vary from time to time. All the same, they help in bringing in more cash, boosting his net worth.
If you're interested in an item on Summit1g's online shop, make sure to read its return, refund, and shipping policies. This will give you a hint of what to expect should you make an order or want to return a product after purchase.
Partnerships and Sponsorships
Partnerships and sponsorships have also added to Summit1g's net worth. Some of the brands he's collaborated with are G-FUEL, CyberPowerPC, Corsair, Samsung, and Audio Technica.
Summit1g's Retirement and Post Professional
Summit1g joined the competitive gaming circuit in 2011, and by 2018, he had already made his exit. But this wasn't the end of his career. On the contrary, it paved the way for his current success as a streamer as he could focus on full-time streaming.
In 2020, Summit1g announced on a stream that he was terminating his contract with Twitch to concentrate on creating a video game. Even so, it was all a joke. He later asked his fans not to worry as he wasn't planning to quit streaming soon.
So far, we haven't gotten wind of when Summit1g intends to retire or what he would love to do after that. Since his popularity continues to soar and the quality of his content keeps improving, we bet he wants to stick around the streaming scene for as long as he can.
Summit1g's Merch
Looking for Summit1g's merchandise? Make your first stop at his merch store with the following offerings as of this writing: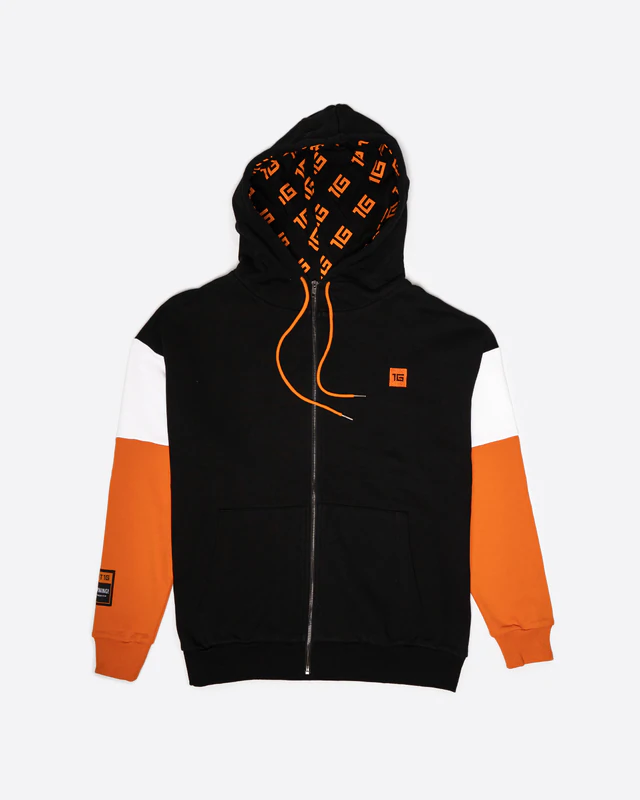 Check out this custom zip-up hoodie available at Summit1g's merch store. Its embroidery detail is impressive, and we can't forget to appreciate its durable and soft 320 GSM French terry cotton material.
This beautiful hoodie also comes with 1G orange drawcords that enhance its style. They're also handy whenever you need to tighten the hood around your head.
If you want to extend this hoodie's lifespan, make sure to wash it with cold water and with similar apparel.
As you scour Summit1g's merch store, don't forget to check out the 1G Zip Up – Black hoodie. It also comes with orange drawcords and high-quality embroidery.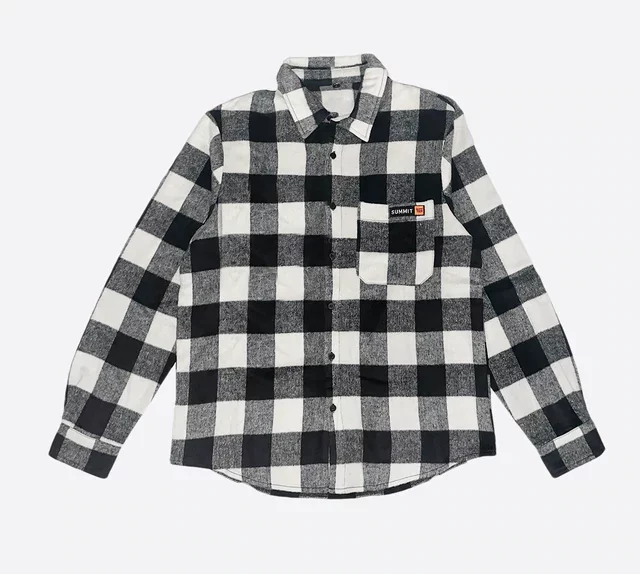 Here's a quality piece of clothing to mull over if flannel shirts are your thing. You can find it in many sizes, including small, medium, large and extra-large.
On this shirt's front pocket is a 1G label to make it more fashionable.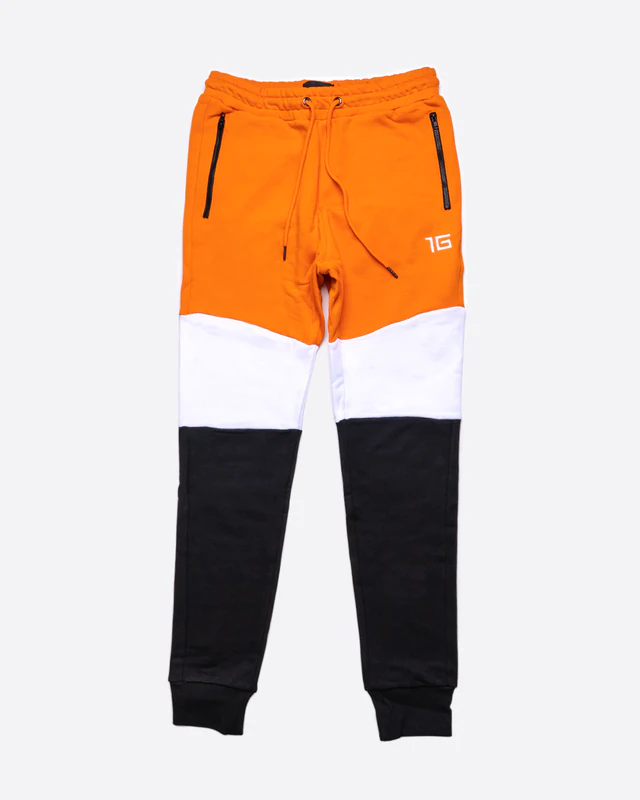 Take a look at these quality joggers that you can wear to the gym on any day. Rest assured that they'll keep you warm and protect your skin by minimizing your risk of injury.
Summit1g offers these fashion joggers in three colors – orange, white and black. They leverage soft, cotton material to provide you with much-needed comfort and durability.
This gamer also delivers the IG Joggers. Unlike the Segment Joggers, they come in black, with an "IG" label on the front left pocket.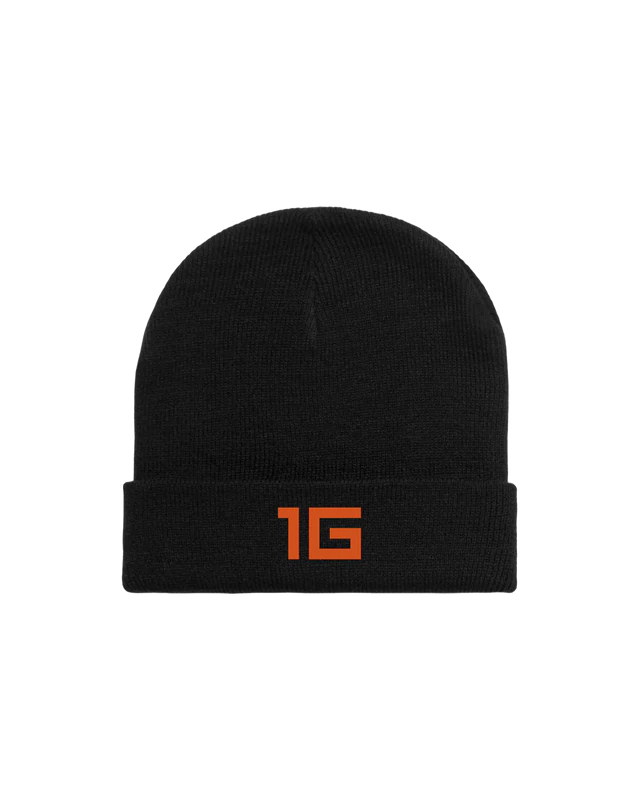 Supposing you're into beanies, consider this option, which Summit1g offers in black. It is designed for ultimate durability to provide you with nothing short of your money's worth.
You might be impressed by the top-notch embroidery on its front. Plus, it's available in a size that suits most people, regardless of gender or age.
If you're a fan of long-sleeve t-shirts, this option merits your attention. For starters, it's available in two colors – white and black. This means you're not limited to a single color, which is super convenient.
Besides, this tee is made from 100% combed cotton material, which is considerably softer than regular cotton material. Its front also features a "SUMMIT 1G" label that does an excellent job of making it classier.
Frequently Asked Questions about Summit1g
Question: When did Summit1g start streaming?
Answer: Summit1g began his streaming journey in 2012.
Question: Does Summit1g have any phobias?
Answer: Yes. Summitg1 has confessed to having a great fear of being buried alive. Plus, he's also afraid of brown recluse spiders.
Question: What did Summit1g do before he joined the streaming world?
Answer: Summit1g was a call representative before he decided to pursue streaming as a career.
Question: Which are Summit1g's streaming hours?
Answer: Summit1g hasn't created a streaming schedule yet, but he streams for 2-14 hours daily.
Question: Why is Summit1g less enthusiastic about Valorant?
 Answer: Summit1g doesn't particularly enjoy streaming or playing Valorant because he deems it rather dull and non-interactive.
Research Citations
https://www.sportskeeda.com/esports/cs-go-pro-summit1g-announces-retirement-stream-worries-fan-worldwide
https://www.twitch.tv/summit1g/about
https://www.youtube.com/user/summit1g/about
https://blog.gfuel.com/summit1g
https://www.esportsearnings.com/players/14802-summit1g-jaryd-lazar
https://liquipedia.net/counterstrike/Summit1g
https://www.sportskeeda.com/esports/cs-go-pro-summit1g-announces-retirement-stream-worries-fan-worldwide
https://dotesports.com/streaming/news/how-much-does-summit1g-make-on-twitch
Recommended Reads: