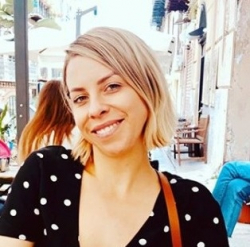 Latest posts by Jodie Chiffey
(see all)
Cecilia "KittyChipz" Marie is a Twitch streamer and video gamer.
Mostly, you'll catch KittyChipz streaming Dead by Daylight. But sometimes she also broadcasts herself playing other well-liked titles such as Apex Legends, League of Legends, Among Us and Just Chatting.
This impressive adaptability, combined with her positive vibes and chill personality, has drawn thousands of video game lovers to her socials.
This bio delves deeper into KittyChipz. So, read it to the end to learn more details about her, beginning with these quick facts!
KittyChipz's Biofacts
| | |
| --- | --- |
| Real Name | Cecilia Marie |
| Birthplace | N/A |
| Birthdate | N/A |
| Nickname | KittyChipz |
| Height | N/A |
| Nationality | N/A |
| Zodiac Sign | N/A |
| Siblings | N/A |
| Children | N/A |
| Spouse/Partner/Girlfriend | Unknown |
| Games Played | Dead By Daylight, Animal Crossing, and other Horror games |
| Networth | N/A |
| Social Media | Twitter: @Kittychipz, Instagram: kittychipz_, Twitch: kittychipz, YouTube: Kittychipz, Discord: Kittychipz, Patreon: Kittychipz |
| Awards | N/A |
| Last Updated | May 2022 |
KittyChipz's Birthplace and Early Life
Details about KittyChipz's birthplace and birthdate are unavailable.
Also, nothing about her family or siblings is public knowledge.
KittyChipz is well educated. She attended an unknown high school and university, where she did theater and improvisation for eight years. Later, she graduated with a degree in literature and writing.
How Did KittyChipz Get Started Gaming?
KittyChipz hasn't mentioned when she began exploring different video game genres.
KittyChipz Videos
Her bleeding leg couldn't hold her back. Safety was within an arm's reach. Just one detour and she could cool off to nurse her badly injured leg. In her left hand was her only hope of survival. A metallic rounded ball with sharp spikes on one end and a handle on the other.
But as she negotiated the corner, her heart in her hand, with a limp that could barely support her frame, she came face to face with her most dreaded gigantic fear. As a labored gasp escaped her lips, her body weakly frailing to the ground, lights dimming, a painful scream left her lips. But it was only the start, here is the entire stream highlight.
In this thrilling 10-minute plus video, KittyChipz gives the viewer a close-captioned look at her gaming skills. It kicks off with a giggly KittChipz wondering if her friends will ever trust her after her obvious in-game tactical move while playing as a survivor.
As the highlights unravel, a seemingly scared anime of KittyChipz runs for dear life as she tries to outwit the horrifying and blood-hungry killers. Accompanying this adrenaline-charged exploit of hers is a clear high pitched commentary, whose intonation matches the ever-changing gaming scenery.
So if you are the kind that craves adrenaline-filled horrors that are dotted with blood spurts, mutilated bodies, broken jaws and mangled brains, hope on this thrilling video by KittyChipz.
KittyChipz's Gaming Setup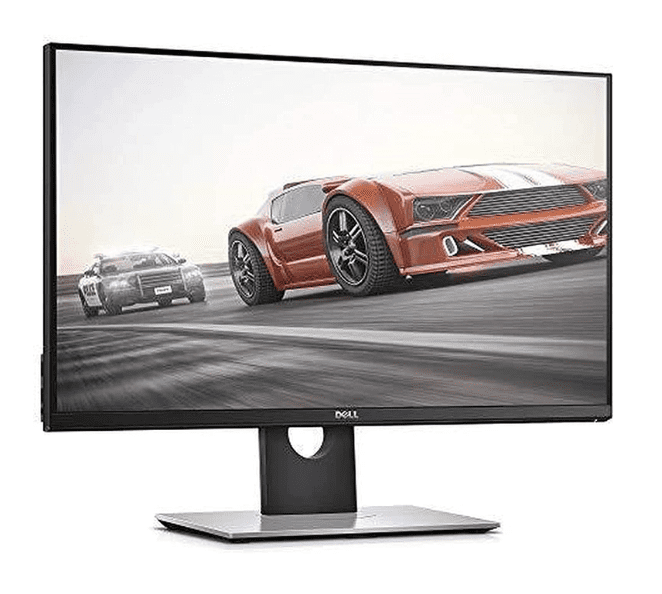 KittyChipz leverages the power of the versatile and elegantly designed Dell S2716DG in all her Dead By Daylight exploits. The powerful gaming monitor boasts of the premier NVIDIA G-SYNC technology that runs on a 144Hz refresh rate.
With these two, KittyChipz enjoys sharp and undistorted fast-moving anime characters with jitter-free graphics. This in turn translates to a smooth gaming experience that is free of motion blur for her vast fanbase.
Another key feature in her monitor is the extremely rapid 1ms panel response time. Through it, she can now attest that truly immersive and responsive gameplays should be nothing short of incredibly swift responses that are backed by minimum input lags.
You have probably heard her scream, giggly, or even haul an insult when gaming. And this is all thanks to her exceptionally detailed and crispy life-like videos and images that dot her gaming screen courtesy of its Crisp QHD resolution.
Other key features include multiple comfortable viewing positions through tilt, swivel, pivot, and height adjustment options. Plus an effortless connectivity thanks to a wide range of ports that include HDMI 1.4, DisplayPort 1.2, and USB 3.0 for mice and keyboards.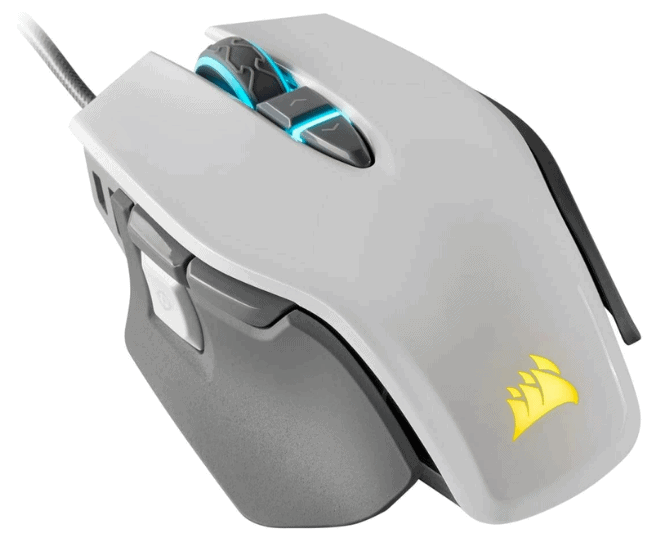 Kittychipz prefers the ultra-light wireless Corsair Sabre gaming mouse. The mouse gives her a four-zone 16.8 million color backlighting customization option to allow her to create dazzling personalized lighting that is in tandem with her setup.
Further, the mouse comes with eight configurable buttons, and a 1,000 Hz refresh rate, both of which are powered by super-responsive switches. This makes her sniper shots accurate, her tracking precise and her gaming smooth.
For enhanced customization, KittyChipz leverages Corsair's ICUE software, which gives her the power to define her brightness levels, hue, speed, and even color palettes.
Another feature that stands out on this mouse of hers is its grip versatility. With an enhanced ergonomic design, the mouse allows for extensive grip adaptability giving her a truly all-in-one weapon for her diverse gaming needs. So be it MOBA, FPs, or even RTS, she can trust that her Sabre Mouse will deliver.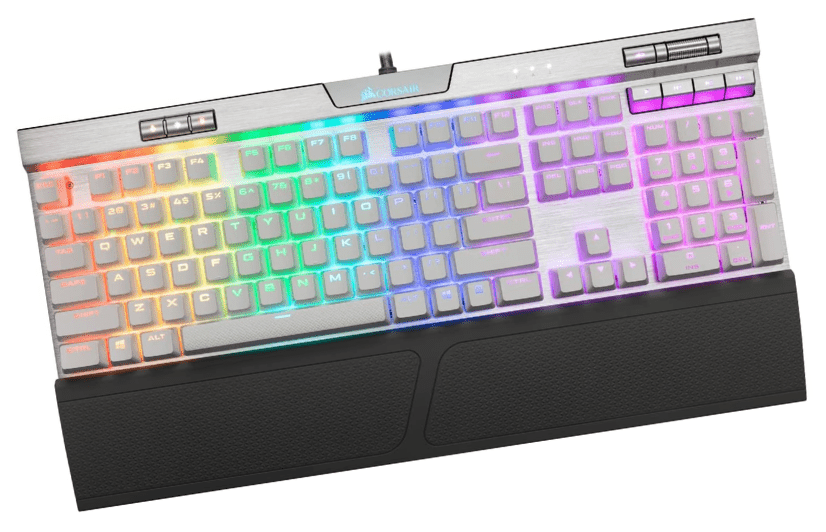 KittyChipz leverages the unrivaled prowess of the Corsair K70 2SE keyboard. This keyboard, which is an upgrade of Summit1g'smechanical keyboard, has a sturdy frame made from a brushed aircraft-grade aluminum frame.
This aircraft-grade frame makes it extremely durable and ready to face the horrors of KittyChipz's millions of keypresses deployed when gaming DBD. Another notable upgrade is the 8MB profile storage that gives her access to 3 pre-loaded profiles for all her gaming needs.
Further, the keyboard's keys are encapsulated with PBT double-shot keycaps that make them able to weather her millions of keypresses. Pair this with blistering fast 1.2mm actuation, dynamic multi-color RGB backlighting, and ICUE compatibility and you will concur, that her choice is on point.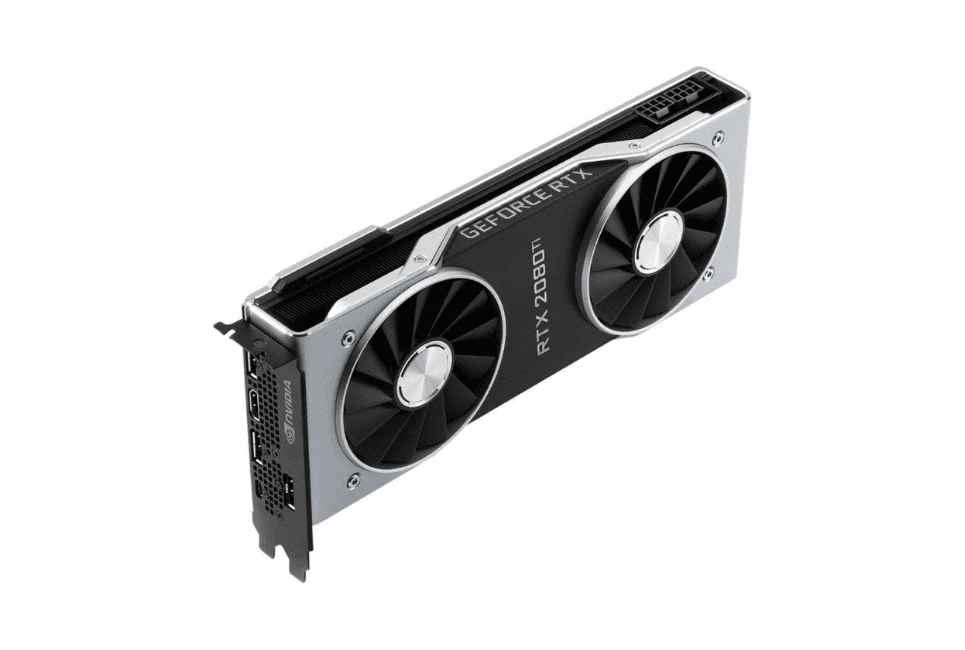 Like Gronkh, KittyChipz can attest that once you get a GeForce GTX, you can never look back. For starters, the graphics card boasts of real-time ray tracing technology that tirelessly works to give KittyChips incredible video loading capabilities with highly detailed graphics.
Further, the card bundles a whooping 11GB worth of graphics memory to power her gaming PC to explore uncharted levels of clock rates. The result is superbly crispy clear images, superior CPU performance, and an obvious immersive gaming session.
Other key features include superior dual-axis blade fans for optimal clocking, as well as a next-gen 13-phase power supply for maximum overclocking.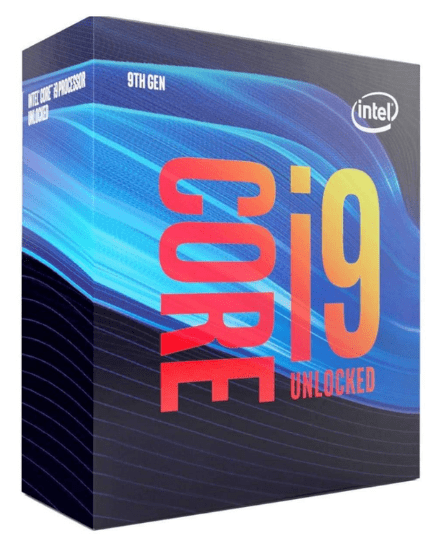 Though this processor may not rival Intel's most recent releases, it still boasts an impressive 4.8 GHz Turbo CPU speed. This is more than sufficient for KittyChipz's animal crossing and Dead by Daylight exploits.
Further, while many CPUs falter due to overheating problems associated with high clock speeds, this particular processor comes equipped with cooling features that are designed specifically for use at higher temperatures.
Additional key features include 8 cores and 16 threads to power through any memory demanding activities, LGA 1200 sockets, and compatibility with Intel 400 series chipset-based motherboards.
KittyChipz's Family
KittyChipz has a boyfriend, but his identity is a mystery as of this writing. They've been seeing each other for more than two years.
From KittyChipz's tweets, she and her boyfriend are immensely close, and they relish a lot of stuff together, including gaming. For instance, in 2020, she disclosed that he taught her how to play RuneScape.
Undoubtedly, KittyChipz's partner loves playing video games. But details about his profession are unknown. So we don't know if he's also a streamer or professional esport athlete.
KittyChipz's Net Worth and Career Earnings
KittyChipz's net worth is under review. Even so, she still brings in some money through the following revenue sources:
Twitch
KittyChipz is a frequent streamer with 34.2K followers on Twitch. More often than not, she streams Dead by Daylight, but she also explores other game genres, including Battle Royale titles such as Fortnite.
KittyChipz's Twitch earnings are unknown to the public, but they boost her monthly income.
Sponsors & Partners
Like streamers such as Dennis "PaymoneyWubby" Richardson (check PaymoneyWubby's bio), KittyChipz has also partnered with GFUEL. This partnership deal enables her to rake in an unknown sum monthly, depending on the number of customers purchasing this brand's products using her code. Throne Gifts also backs this streamer.
Merch Sales
KittyChipz sells products such as t-shirts and top tanks to supplement her monthly income. Her proceeds from this entrepreneurial venture are secret, as she doesn't mention them.
YouTube
KittyChipz may have received a small amount from YouTube as payment for her gaming content. Her channel has 1.01K subscribers, making it eligible for monthly payments, depending on the views it garners monthly. Speaking of which, KittyChipz's channel has amassed 20,170 views so far.
KittyChipz's Retirement and Post Professional
KittyChipz is still building her brand to join the ranks of more established streamers such as Hafu and Kyedae. Therefore, we bet she's dead-set on staying in the gaming scene for several more years to attain this goal, and hopefully, more. We're all patiently waiting to see how things pan out for her eventually.
KittyChipz's Merch
As of writing, KittyChipz has a merch shop offering these top-quality items: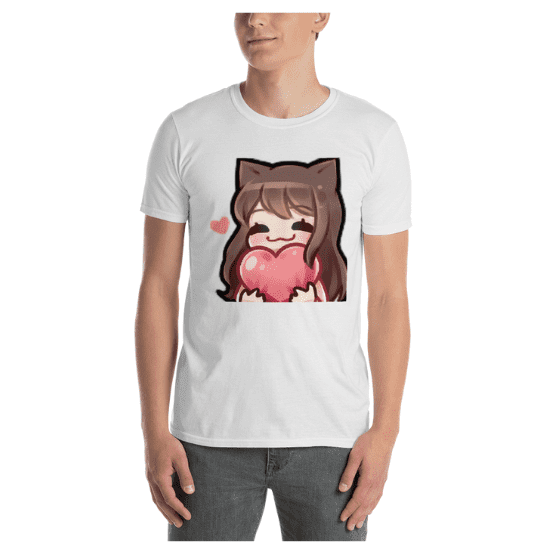 KittyChipz brings you this comfy, fashionable tee made from durable, pre-shrunk fabric to enhance its durability. It comes in white, black, navy and sports grey. Dark heather Kitty Love Shirts leverage 35% cotton and 65% polyester, while those in sport grey are manufactured with 10% polyester and 90% ringspun cotton. The available sizes range between small and 3XL.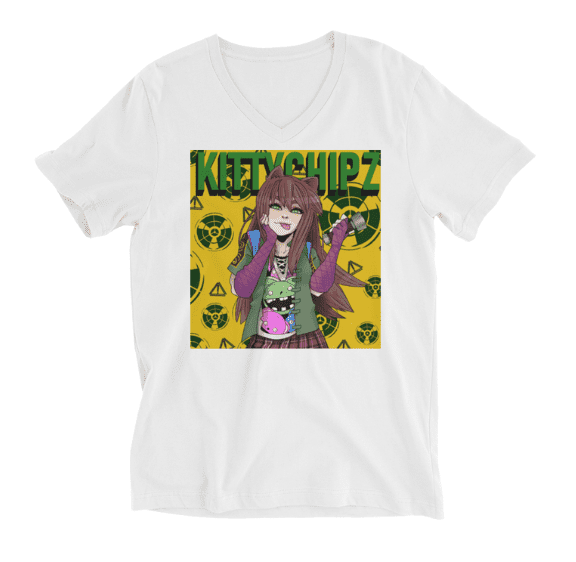 The trendy kittychipz t-shirt is made from 100% combed ringspun cotton, meaning it feels nice and comfortable. It comes in white and black, with a printed kittychipz graphic on its front. If you prefer V-neck tees to crewneck options, this is worth your attention. Expect maximum durability from it, thanks to its side-seamed build and hemmed sleeves.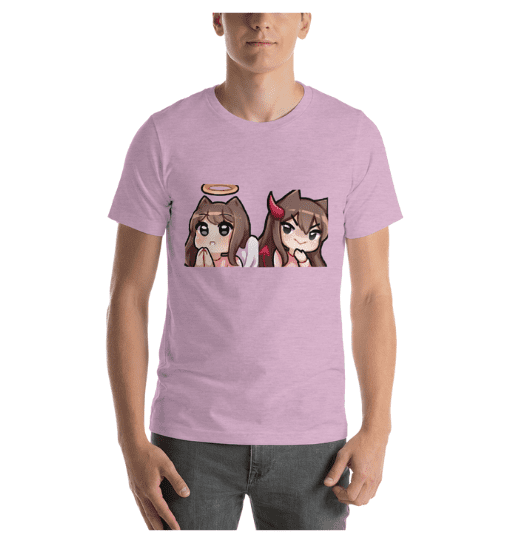 Here's another t-shirt available at KittyChipz's merch store right now. You'll be happy to know it comes in many lovely colors, such as heather prism lilac, white, berry, heather mint, and oxblood black. The size options are between small and 3XL for convenience. In addition, this t-shirt is made from a lasting fabric that promises you maximum comfort.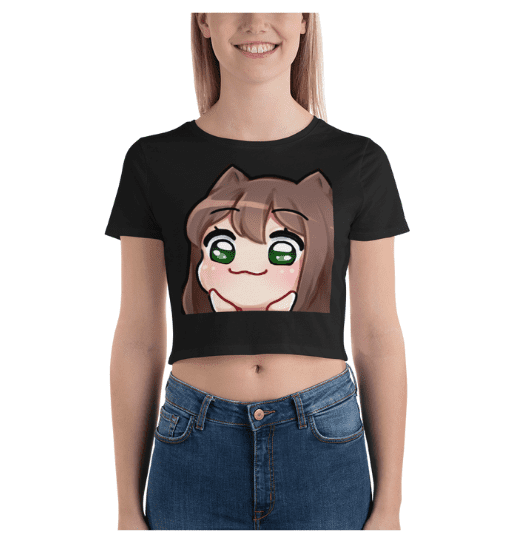 If you're a sucker for classy crop tops, consider the kittyzCute Crop Top. Although this piece of clothing is tight, it's also unbelievably comfortable, owing to its 48% polyester/52% combed ring-spun cotton blend. Feel free to order yours in any provided colors, including black, white, and heather olive.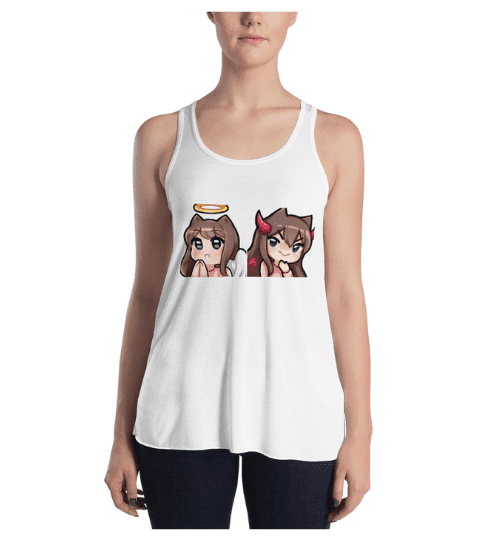 The Racerback Tank, which comes in white, black, and dark heather grey is made from a polyester viscose blend, making it breathable and quick to dry. You're also spoilt for choices when it comes to size, with the available options ranging from small to 2XL. In addition, this tank top features a relaxed, drapey fit to enhance your comfort.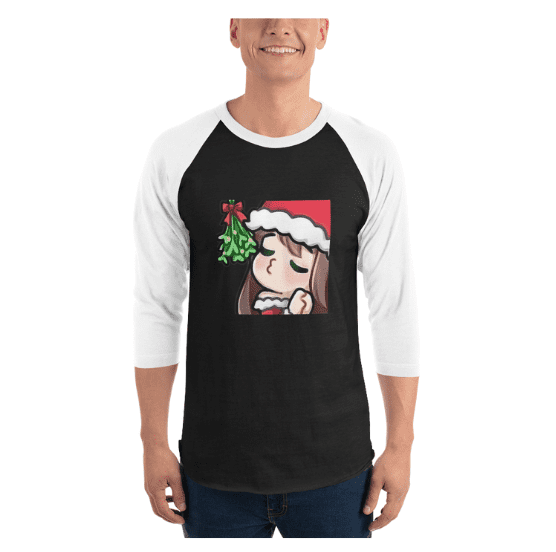 The Christmas kiss is the perfect tee for the Christmas holiday, but you can also wear it during any other season. KittyChipz avails it in black/white, white/Kelly, and white/red. Note that this tee comes with ¾ sleeves. Moreover, it's made from quality ring-spun cotton, and you have plenty of sizes to choose from.
Bear in mind that you can also purchase KittyChipz-inspired merch elsewhere. For instance, check out these products: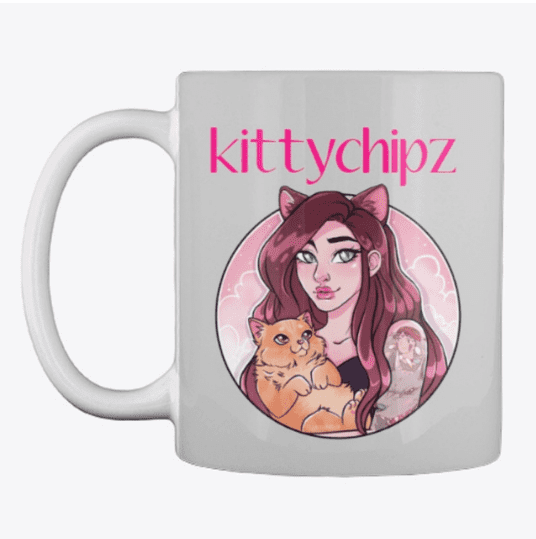 Consider this large 11oz-mug made from ceramic. It's suitable for taking all types of beverages, whether hot or cold. We like that its microwave and dishwasher-safe since it makes using it and maintenance a piece of cake. Also, this piece of drinkware is available in multiple colors, including white, black, sky blue, and heather grey.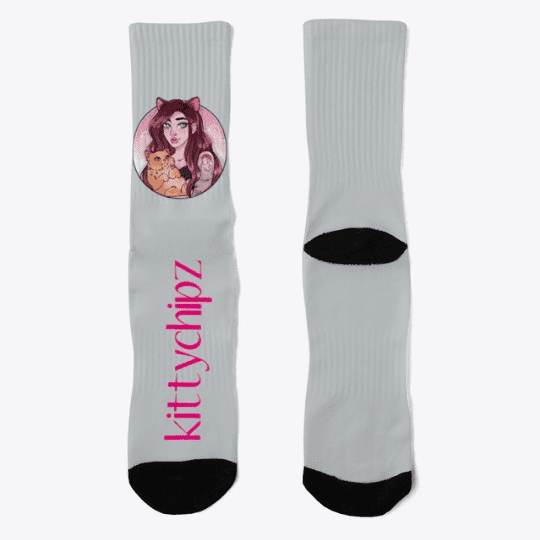 Get this trendy pair of crewneck socks inspired by KittyChipz. Thanks to its 100% polyester fabric, it molds perfectly to the shape of your feet. In addition, it's conveniently lightweight, plus it dries quickly. Again, these crewneck socks come in many colors, such as white, pink, turquoise blue, light purple, black, green, and blue.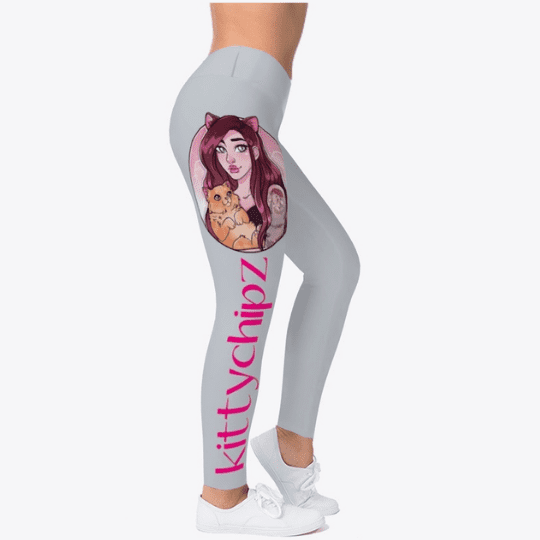 Perhaps this pair of leggings is the most beautiful KittyChipz-inspired one you'll ever stumble upon. It's made from an anti-microbial polyester fabric that delivers optimal breathability and comfort. In addition, this designer lets you choose from 11 shades, ranging from black and white to turquoise, baby pink, and lilac.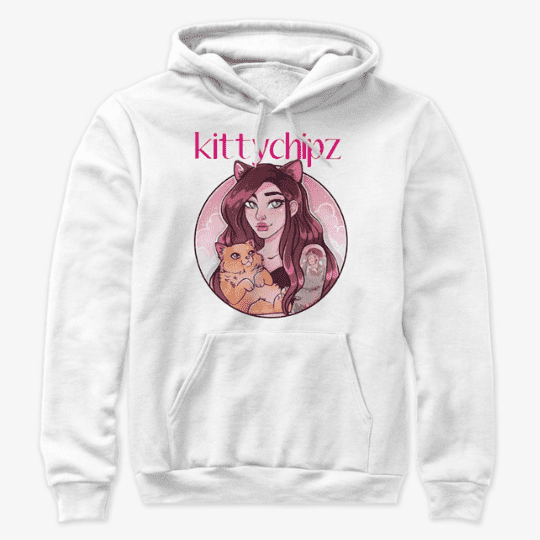 This chic pullover hoodie leverages a 20% polyester/80% cotton blend. It is warm, comfortable, and available in black, white, and heather grey. The provided sizes range between small and 2XL; plus, it's unisex.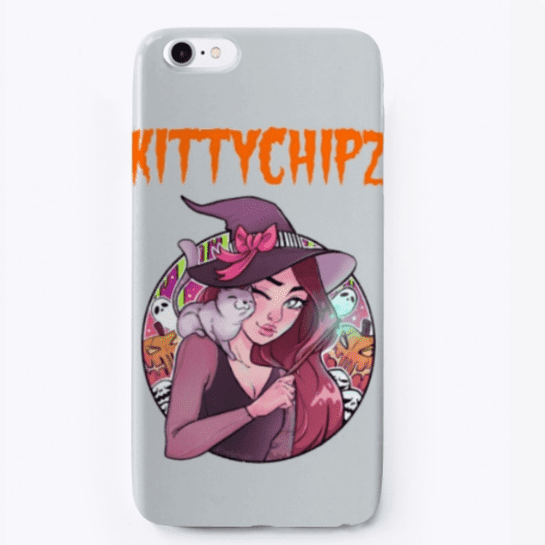 Designed for many iPhone models, the KITTY HALLOWEEN iPhone case is durable and easy on the eyes. In addition, it comes in several colors, such as black, white, and light grey. Also, check out the HAPPY KITTYWEEN iPhone case, also inspired by this streamer. Its range of color options is ideally wider, including black, orange, purple, and green.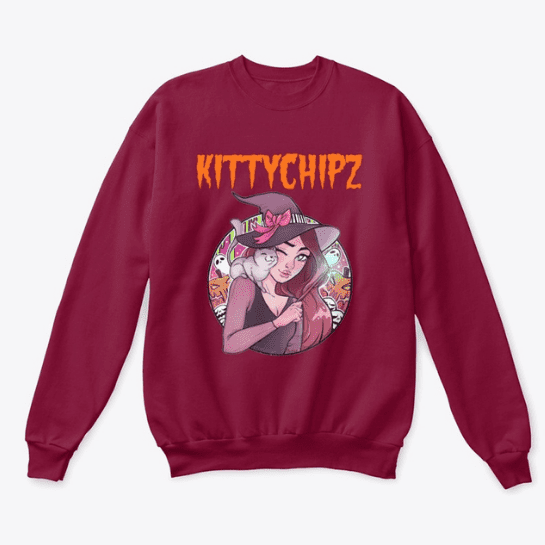 Here's a durable KittyChipz-inspired sweatshirt you can get to enjoy much-needed durability, comfort, and elegance. This garment is made from a cotton-poly blend, and it's provided in many sizes and shades. Examples of the latter include black, red, heather grey, and light grey.
Check out this KittyChipz-inspired sticker ideal for personalizing your items. It boasts a UV gloss laminate finish that adds to its beauty and durability. Again, it's suitable for indoor and outdoor use, increasing the range of items you can decorate with it.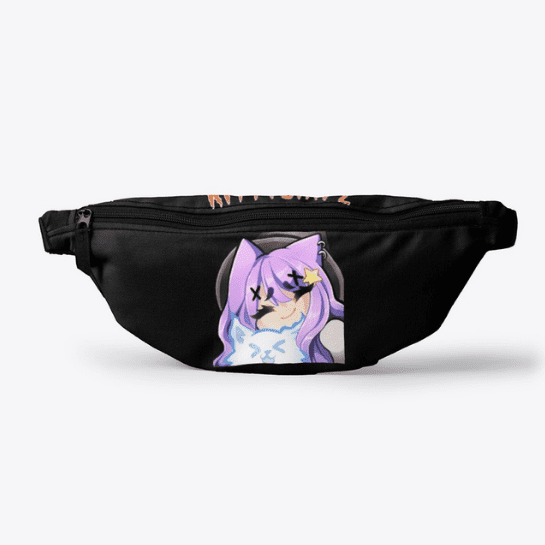 Consider this lightweight, durable fanny pack to carry or store some of your stuff. It's made from 100% spun polyester, and its interior is fully lined. Moreover, it provides three handy cardholders and an adjustable strap for convenience. There are also back pocket and inside pockets, zippers to guarantee the safety of your items, and 7+ colors to select from.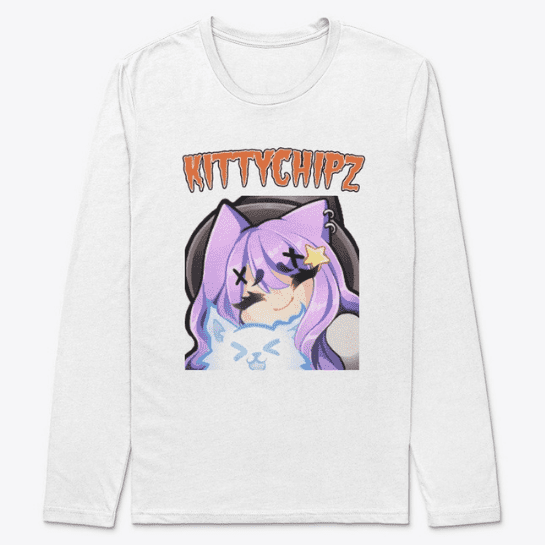 Available in black, dark heather, and grey heather, this unisex long-sleeve tee is worth every dime because it comes with a convenient set of features. For starters, it's available in sizes ranging between small and 2XL. Then, it's made from combed ringspun cotton, which gives it the strength to withstand many washes, and much-needed softness to promise comfort.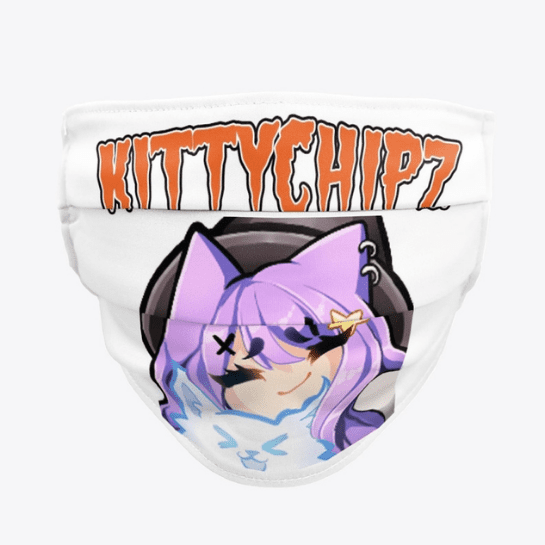 Here's another KittyChipz-inspired product you should consider if you're interested in her merch. This facemask is availed in beautiful colors such as black, green, dark heather, red and white. It offers full mouse and nose coverage and has a single-sided print to enhance its beauty. The two 6-inch ear loops are elastic for comfort.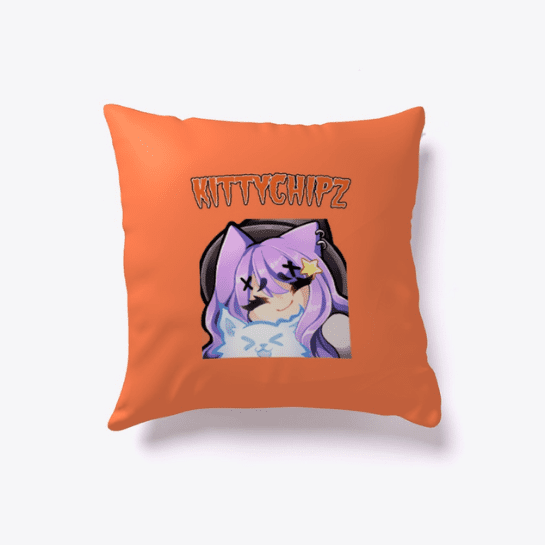 If you're a throw pillow enthusiast, here's something for you. This indoor pillow is available in three sizes – 16″ x 16″, 18″ x 18″ & 20″ x 20″. The pool of color options for you to explore comprises black, purple, white, heather grey, dark heather, orange and green. Besides, this pillow comes with a handy soft polyester insert, a machine-washable cover, and concealed zipper.
Frequently Asked Questions about KittyChipz
Question: Does KittyChipz have any pets?
Answer: Yes. KittyChipz takes care of two pet cats.
Question: Apart from gaming, what are KittyChipz's other interests?
Answer: KittyChipz also enjoys reading, writing, cosplaying, and watching anime.
Question: x KittyChipz accept donations and tips? 
Answer: Yes. KittyChipz happily welcomes fan donations and tips. She mentioned that she utilizes the finances to support her streams and not pay for personal goods and services.
Question: Has KittyChipz set a streaming schedule? 
Answer: KittyChipz doesn't have a fixed streaming schedule yet as she has problems sleeping. Nevertheless, she streams six days a week (apart from Monday) for up to eight hours.
Question: When did KittyChipz join Twitter?
Answer: KittyChipz created her 5K+-follower Twitter account in 2017.
Research Citations
Recommended Reads: