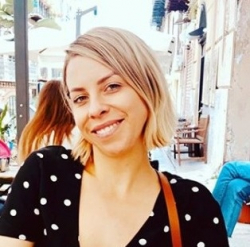 Latest posts by Jodie Chiffey
(see all)
Jesse, better known as MOONMOON, is a famous American Twitch steamer.
MOONMOON blew up on Twitch almost as soon as he joined this platform. His unbelievable flexibility undoubtedly played a crucial role in his instant fame. He has flawlessly played over 200 games so far, and he doesn't shy away from taking on new titles even if other gamers deem them challenging.
Looking forward to learning more about MOONMOON? We've written this bio just for you, so read on! But first, let's take you through these quick facts.
MOONMOON's Bio Facts
| | |
| --- | --- |
| Real Name | Jesse |
| Birthdate | March 20, 1990 |
| Birthplace | United States |
| Nickname | MOONMOON |
| Height | N/A |
| Nationality | American |
| Zodiac Sign | Pisces |
| Siblings | N/A |
| Children | N/A |
| Spouse/Partner | N/A |
| Games Played | Overwatch, Elden Ring, Rimworld, Darkest Dungeon, World of Warcraft: Shadowlands, Grand Theft Auto V, etc. |
| Net Worth | About $1.7M |
| Social Media | Twitch: MOONMOON, YouTube: MOONMOON_OW, Twitter: MOONMOON_OW |
| Awards | MOONMOON hasn't won an award yet |
| Last Updated | March 2022 |
MOONMOON's Birthplace and Early Life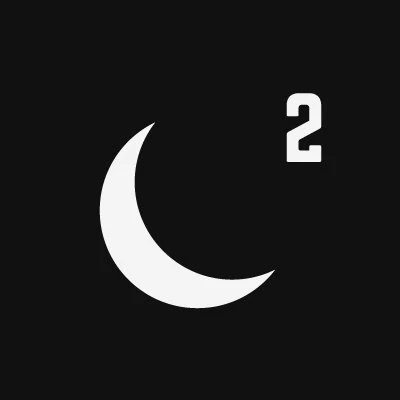 MOONMOON was born on March 20, 1990, in the United States.
Little is known about his family or early life since he's incredibly secretive.
Some of his fans have even assumed that he's an only child since he's never mentioned a sibling.
In high school, MOOMMOON kept to himself on most days. He didn't indulge in any sports. His parents encouraged him to play some games, but they didn't have any objections to him doing what he wanted to during his leisure time.
MOONMOON found solace in video games, eventually.
How Did MOONMOON Get Started Gaming?
MOONMOON's passion for video gaming has always been ingrained in him.
Still, he only began playing video games professionally after completing high school.
At first, he was a competitive Overwatch streamer, but he started exploring other games when its hype diminished.
MOONMOON's Videos
Check out some of MOONMOON's best performances from a few years back. Despite his mad gaming and entertaining skills, he's pretty laid back, which makes him even more exciting and fun to watch.
Here's one of MOONMOON's latest YouTube videos. Check it out if you're down for over an hour of top-notch gaming entertainment. It also allows you to witness this gamer in action and appreciate his insane talent.
Moonmoon's Gaming Setup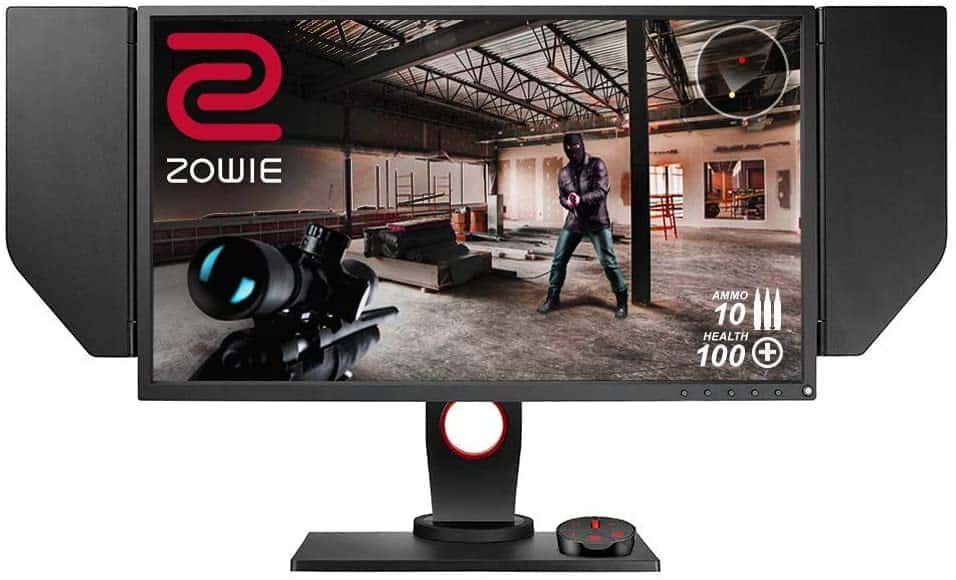 Moonmoon arms himself with the BenQ ZOWIE XL2540 gaming monitor that leaves little to chance on matters of performance. For starters, the monitor has a premium 240Hz refresh with a response time of 1ms. This eliminates ghosting and lags even in fast-paced objects leading to more immersive and thrilling gameplays.
It also has an adjustable and removable shield to keep all distractions at bay, allowing Moonmoon to only focus on delivering killer shots to hit home runs in all competitions. Add this to the inbuilt AMD FreeSync technology that allows the monitor, to precariously adjust its refresh rate to eliminate screen tearing, and stuttering, and you will appreciate Moonsoon's preference for the XL2540.
Further, the monitor can be adjusted to full height tilt and swivel with VESA compatibility. Other additional features include a 1080P resolution to allow Moonsoon to relish the most detailed and crisp clear images, multiple connectivity options, and exclusive color vibrancy to enhance visual clarity in the thick of the battlefield.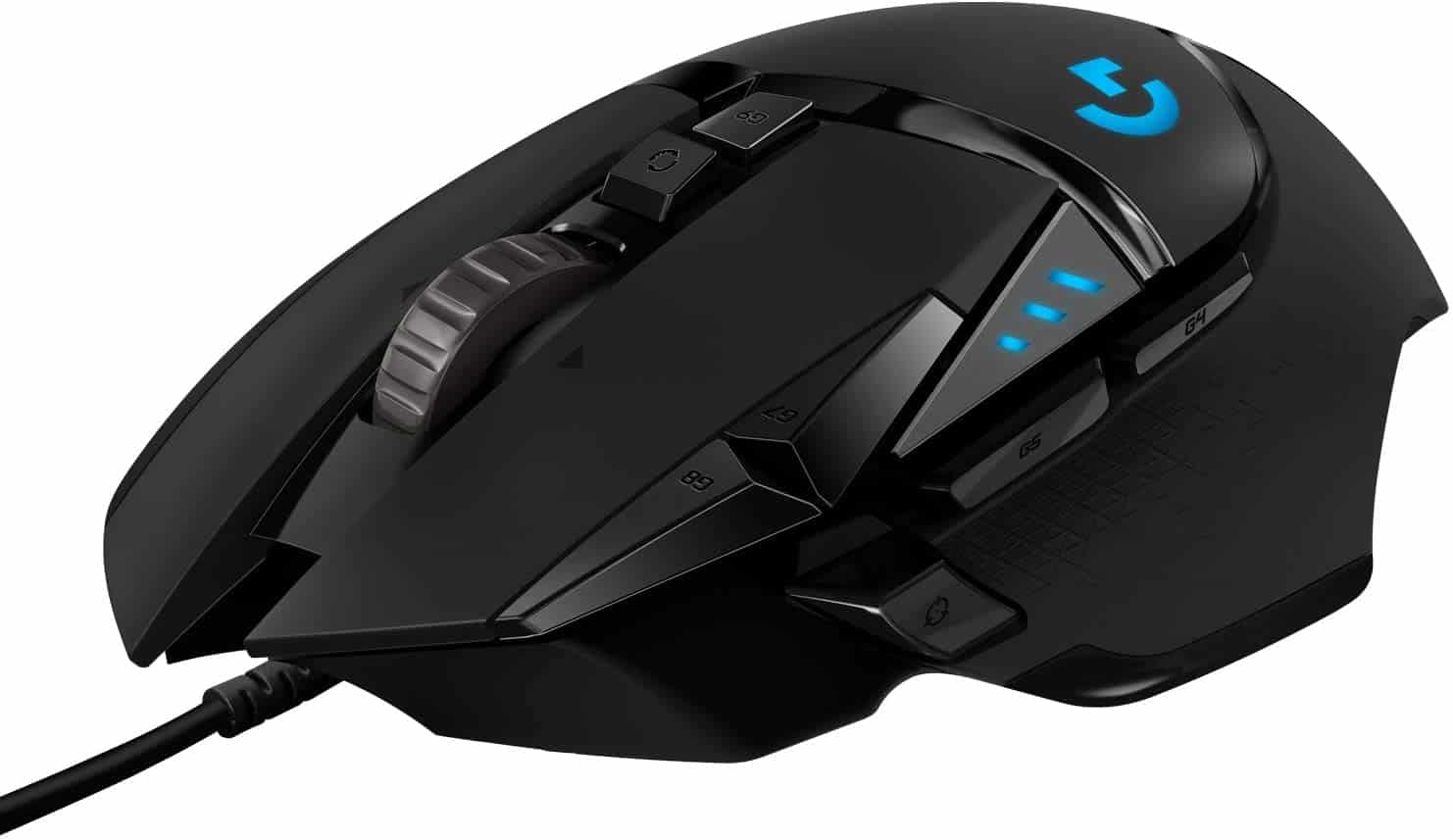 Moonmoon, alongside Dakotaz, fancy the Logitech G502 gaming mouse. The wired gaming mouse comes with five 3.6g weights to allow Moonmoon to adjust its weight with changing needs demands of his roles.
Being a product from Logitech's Hero 25K optical sensor line, the mouse has a DPI range of 100-25,400 DPI. Couple this with the optical sensor's design and the mouse can clock up to 400 IPS across its vast DPI range with zero filtering, smoothing, and lightning-fast acceleration.
Further, the mouse comes with customizable RGB lighting with near limitless color customization options. With this, Moonmoon can conveniently tweak his mouse lightning to be in sync with his other gaming components. The icing to this is that all these profile settings can be saved in up to 5 of the 11 programmable keys that are generously distributed on most facets of the mouse.
Other mention-worthy features include a 1-year limited hardware warranty and a mechanical switch button on both right and left buttons for a crisp, clean click feel with rapid click feedback.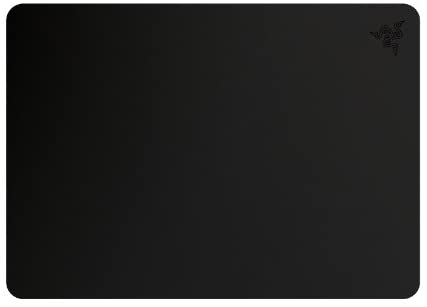 The Razer Manticor is a black, thin rectangular-shaped gaming mousepad that has found a purpose among Moonmoon's gaming setup. The mousepad is superbly smooth thanks to its lab-developed microscopic texture.
The texture is optimized to deliver the most accurate and consistent tracking sensor readings giving Moonmoon the advantage of accurate and razor-sharp aims in his shots.
Most pads shelves durability for performance optimization. But not the Razer Manticor. The pad is made from a single sheet of aircraft-grade aluminum that is stamped flat, smoothened before finally being sand-blasted to yield an extensively durable pad. And all this without compromising on the much-needed smooth and unhindered glide.
Further, the pad has been cut and stamped slim to seamlessly meld to Moonmoon's desk. This ensures that the pad is continuous with his desk and does not interrupt his tracking even when the mouse veers off the pad.
Moonmoon uses a customized Epomaker Akko 3108-9009 keyboard from renowned customized mechanical keyboard builder taehatypes. The expert mechanical builder has rendered his services to other notable eSports players including Imaqtpie (check out Imaqtpie's bio).
This particular keyboard boasts Cherry Blue MX switches that have an actuation force of 60G and an actuation distance of 4mm. With these specs, Moonmoon requires the least pressure to get feedback at half the time of other non-gaming keyboards.
Further, the keyboard comes with removable abrasion-resistant keycaps that are covered with dust and water-resistant material to make them withstand weather elements over prolonged gaming sessions.
Another interesting feature is the three-step adjustment feet that allow Moonmoon to adjust the keyboard inclination angle to suit varying gaming needs. Other key features include unique aesthetics in the form of unforgettable vintage color schemes and a 60% keyboard layout that renders it sleek and compact.
Moonmoon's keyboard being custom made, he recommends the Corsair's mechanical keyboards K65 or K95. These two are the closest one can get to best enjoy thrilling sessions of Overwatch that mirror Moonmoon's personalized experience.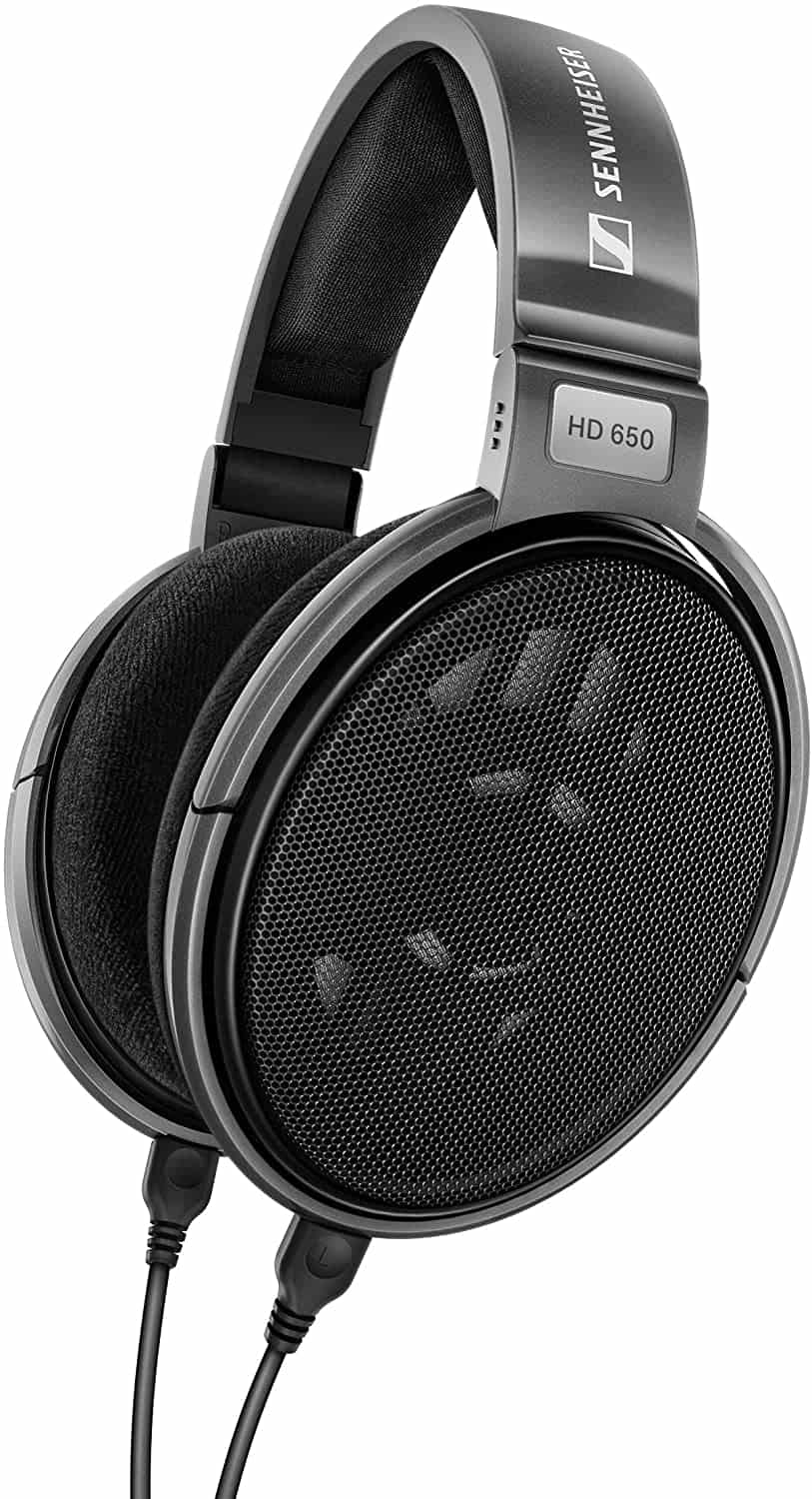 Moonmoon uses the open-back dynamic Sennheiser HD 650 withspecially designed acoustic silk to enhance precision damping. The open-back design allows them to comfortably sit on Moonmoon's head while generously covering his ear cups for the most immersive audio experience.
Note that the headset has optimized magnet systems for minimum harmonic and intermodulation distortion, as well as a generously long cable to allow Moonmoon to roam without risking disconnection.
Further, the material that goes into designing it is durable and lightweight to minimize strain over long gaming sessions, in addition to being optimized for an improved frequency response of up to10 39,500 Hertz ( 10 dB).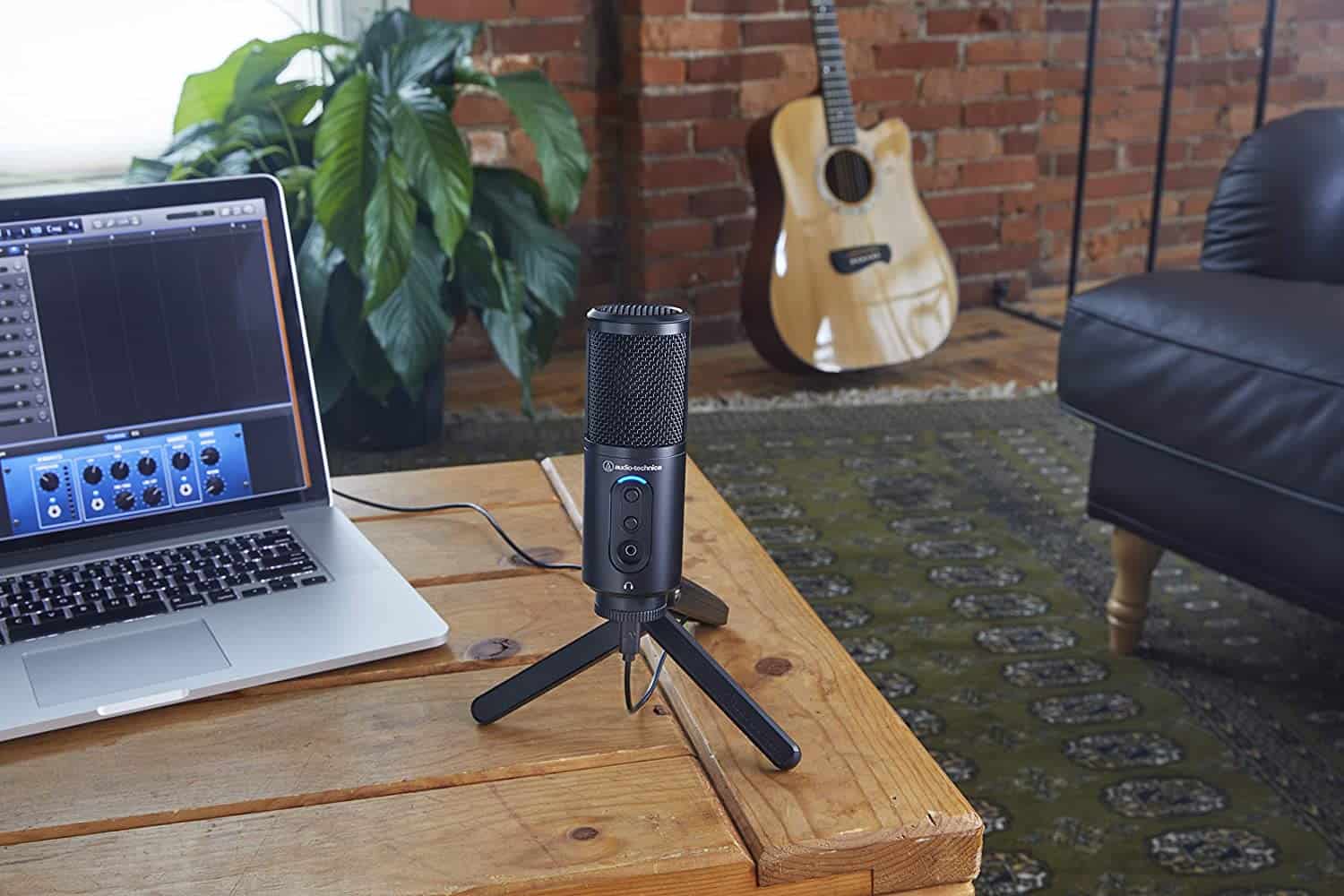 Unlike most streamers who relish the classy Shure SM7B, Moonmoon prefers the sleek lightweight plug-and-play Audio-Technica AT2020USB+. Given its versatility, it comes as no surprise that Moonmoon settled for it.
For starters, the mic offers a frequency response range of 20 – 20,000Hz at an impedance of 100 Ohms. Add this to a sturdy foldable tripod stand and a durable metal chassis and you will see the value Moonmoon derives from this dependable mic.
And similar to most mics, it has the famous cardioid pattern that minimizes picking of unwanted noises. But it tops this with a side-address condenser microphone with USB output for convenient connections, and a built-in headphone jack with easily accessible controls for volume adjustments.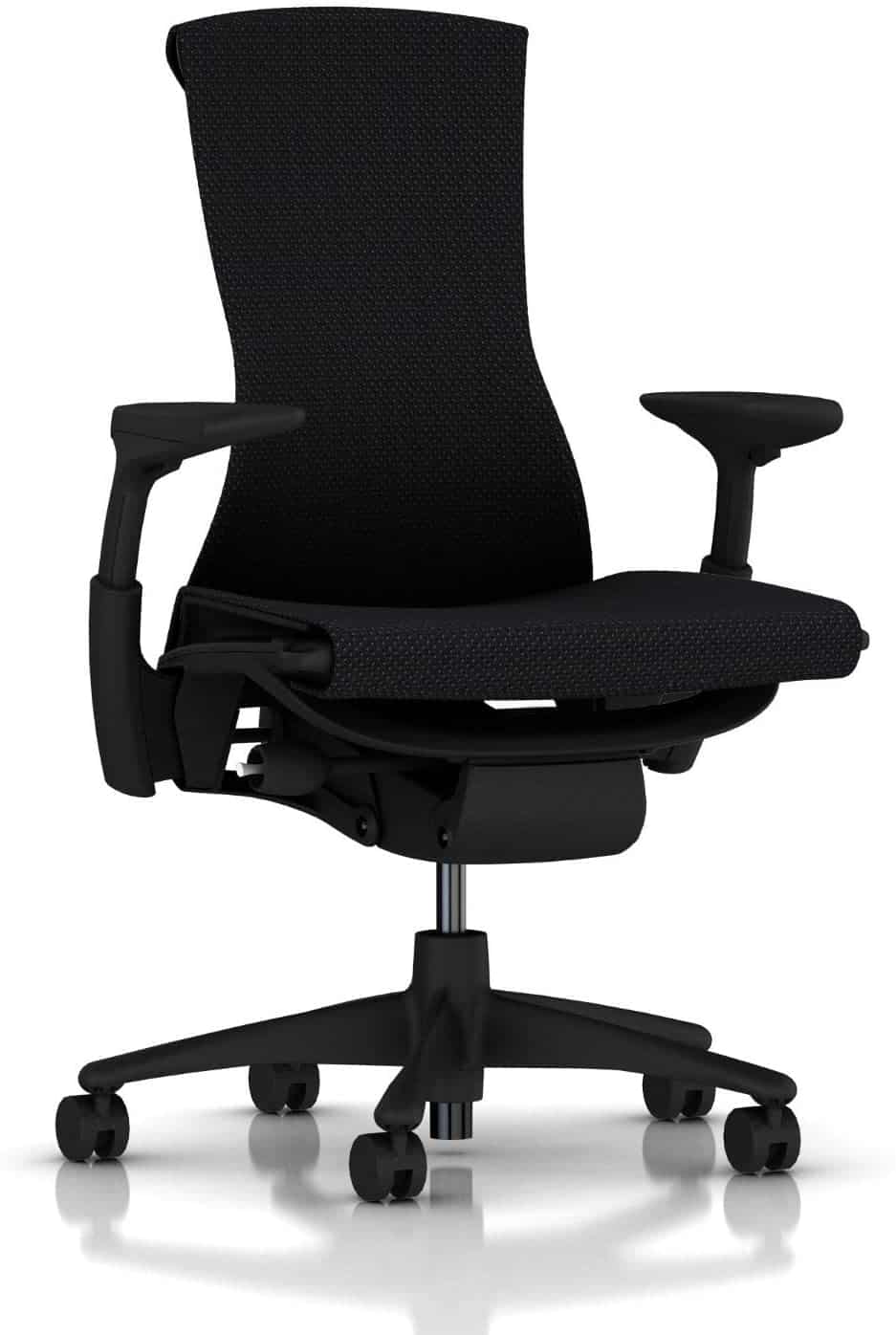 Correct posture and comfort, especially along the lumbar region, as XQC can attest is key to long gaming sessions. For Moonmoon, the Herman Miller Embody is what does the trick for his arms, spine, and neck.
The ergonomic chair is the result of prolonged research design backed by human anatomy specialists and gaming enthusiasts. The result is self-evident as the chair is almost the one constant across the ever competing equipment divide among gamers.
For starters, the chair has an adjustable seat depth, carpet casters, fully adjustable arms, tilt limiter, graphite base, and frame, all of which work to ensure ultimate comfort for Moonmoon when gaming.
Further, the chair features a premier best fit technology in the name of pixelated support. The technology has a dynamic matrix of pixels that conform to Moonmoon's body movements reducing pressure and encouraging more movements. With this Moonmoon can stream for hours without compromising his focus and health as keeps enjoying what he does best, win.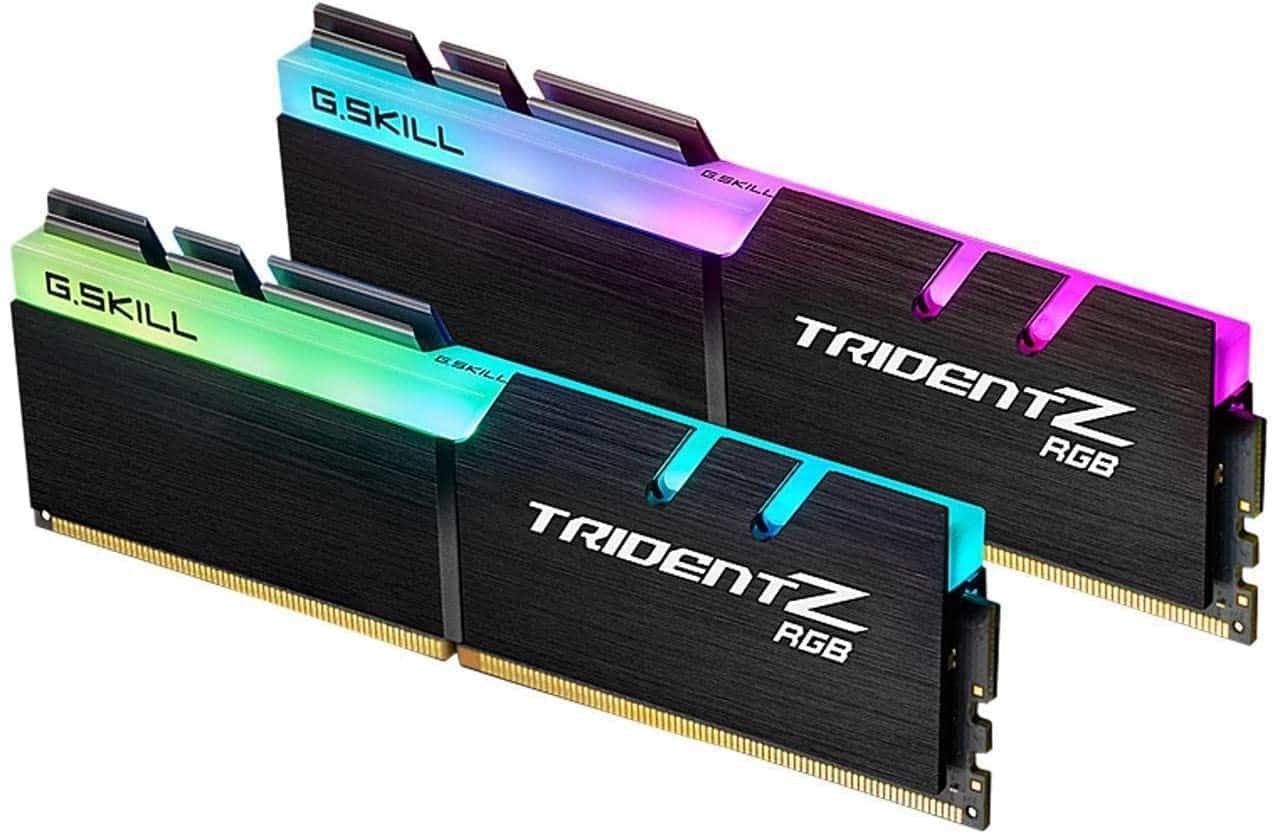 Like StableRonaldo and Gronkh (skip to Gronk's and StableRonaldo's bios), Moonmoon uses the high-powered G.SKILL TridentZ RGB Series gaming ram. The gaming ram comes in capacities of 8 or 16 GB, and Moonmoon prefers the 2x16GB modules.
The ram is widely compatible with the common gaming Intel and AMD processors. It has CAS Latency CL16 (16-18-18-38) at 1.35V, 288-Pin, and DDR4-3200 features that stack up as solid, reliable, and moderately high-speed memory kits for fairly aggressive tasks.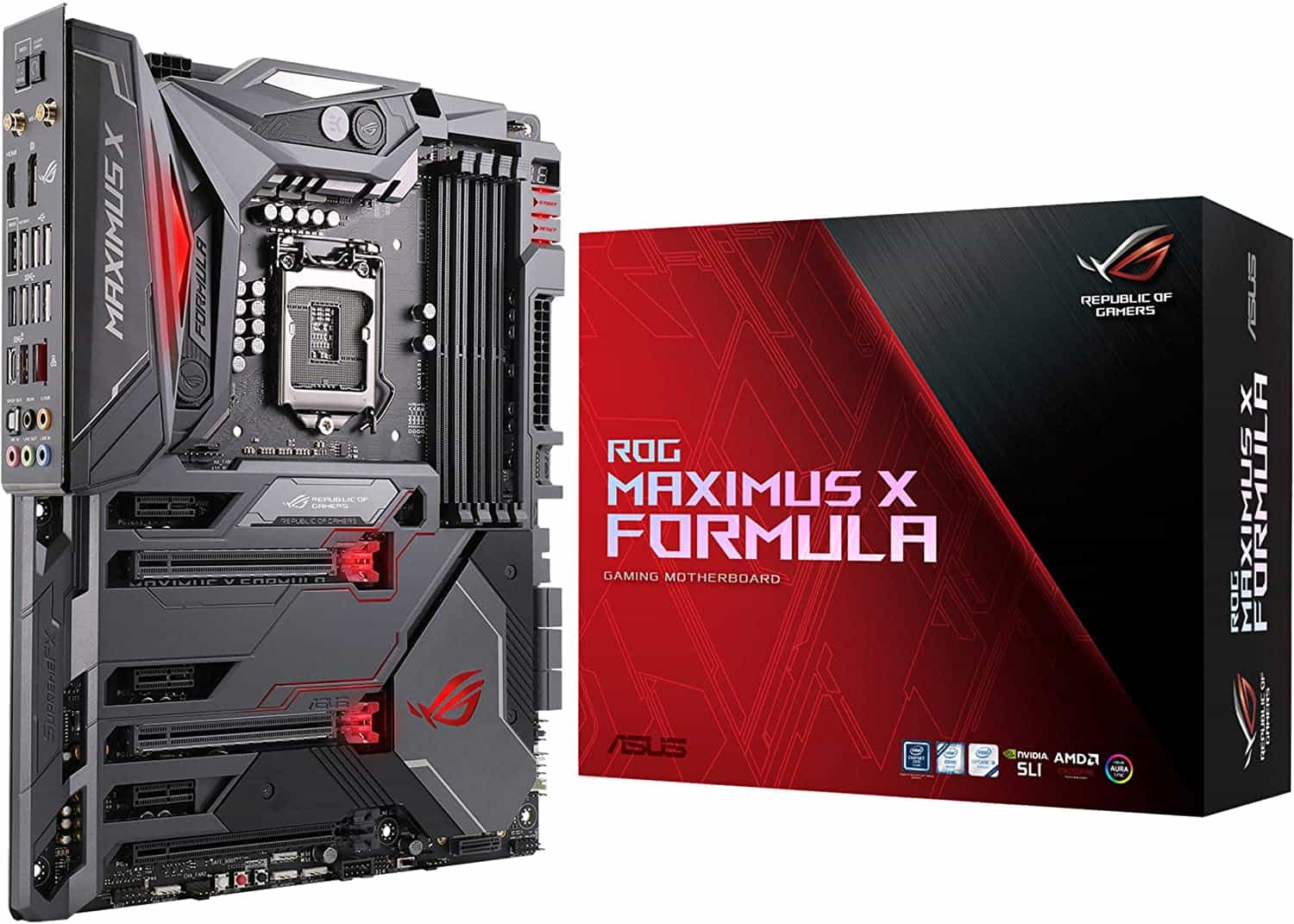 Moonmoon fancies the ROG MAXIMUS X FOMULA motherboard. The 8th generation intel board's combination of features stacks it up pretty well against competing boards.
For starters, the motherboard features redesigned CROSSCHILL EK II cooling fins that are compatible with either water or air. Meaning, Moonmoon gets up to 35oC lower temperatures alongside a more efficient and quiet cooling setup at no extra cost.
Further, the Motherboard is equipped with a built-in OLED LiveDash. The display panel relays visible useful information regarding CPU frequency, device temperature among many other processes. Through this customizable display, Moonmoon is guaranteed reliable and instantaneous diagnostics regarding the health and performance of his CPU.
Note that the Motherboard also boasts of aesthetically designed M.2 heatsinks that bolster maximum performance and reliability. Top this up with the most comprehensive cooling design that is accessible via UEFI BIOS or Fan Xpert 4, and you will appreciate why Moonmoon cherishes the monstrous capabilities of this Motherboard.
Other key features include a 5-way optimization with Fan Xpert 4, Industry-leading 8-channel HD audio with amplifying dual headphones, and an exclusive AURA Sync RGB lighting for unmatched personalization.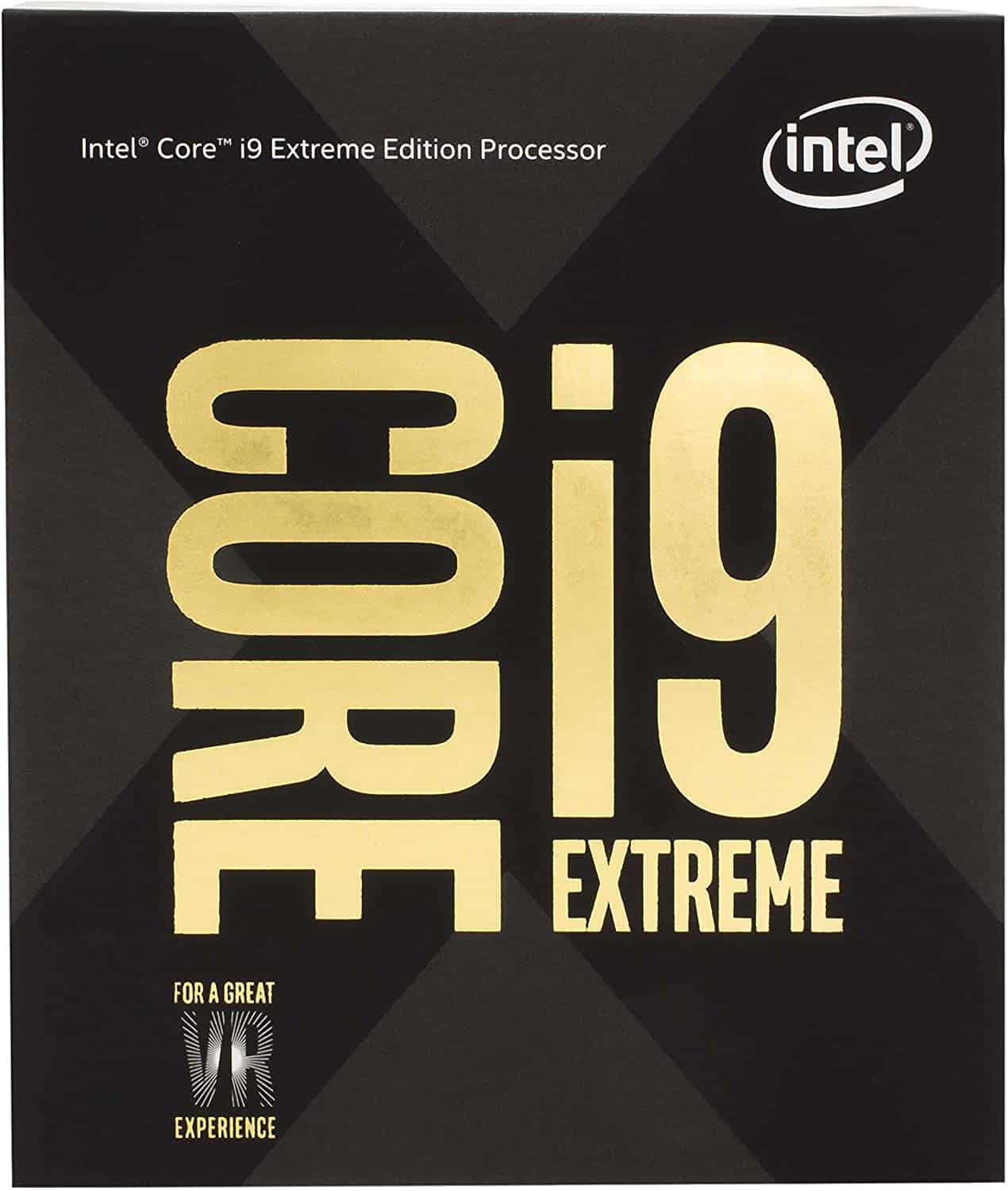 Moonmoon's intel Core I9-7980XE processor oozes nothing short of exceptional gaming performance, staggering overclocking capabilities, and superb gaming exploits.
For starters, the processor packs 18 cores and 36 threads to effortlessly and optimally execute multiple tasks simultaneously. The cores are built into Intel's Skylake-X Core architecture to enhance the processor's overall performance.
Other key features include support for up to 44 PCIe 3.0 lanes, quad-channel memory, 24.75 MB of Smart Cache, Intel Turbo Boost Max Technology 3.0 up to 4.40GHz, and a 165W TDP.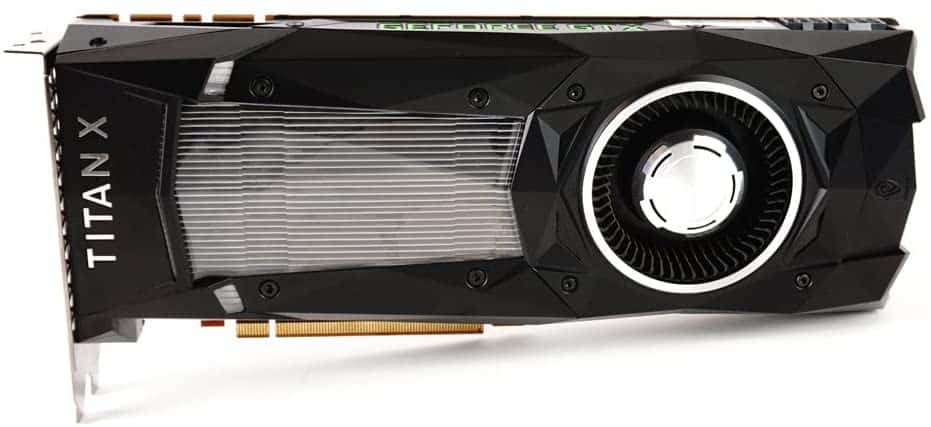 The NVIDIA TITAN Xp graphics card that Moonmoon fancies is a sequel to NVIDIA's earlier generation of video cards. This particular graphics card is built to unlock 3x the performance that gamers and researchers had grown accustomed to.
The graphics card boasts superior heat dissipation capabilities to guarantee Moonmoon the most powerful combination of industry-leading performance, impressive design, and brilliant efficiency.
Moonmoon's game settings and Keybinds
Apex Legends Mouse settings
| | |
| --- | --- |
| DPI | 800 |
| Polling Rate | 1000 Hz |
| Mouse Sensitivity | 1.6 |
| ADS Mouse Multiplier | 1 |
| Mouse Acceleration | OFF |
| Mouse Invert | OFF |
Apex Legends Keybinds.
| | |
| --- | --- |
| Sprint | L-Shift |
| Jump | Space |
| Crouch (Toggle) | L-Ctrl |
| Crouch (Hold) | C |
| Tactical Ability | Q |
| Ultimate Ability | Z |
| Interact/Pickup | E |
| Inventory | Tab |
| Map | M |
| Toggle Fire Mode | B |
| Melee | V |
| Aim (Hold) | Right Click |
| Reload | R |
| Cycle Weapon | Default |
| Equip Weapon 1 | Default |
| Equip Weapon 2 | Default |
| Holster Weapon | Default |
| Equip Grenade | G |
| Gibraltar Shield Toggle | Default |
| Use Health Item | 4 |
| Ping | F |
Apex Legends Video Settings
| | |
| --- | --- |
| Display Mode | Full-screen |
| Aspect Ratio | 16:9 (Native) |
| Resolution | 1920 x 1080 |
| Field of View | 104 |
| Color Blind Mode | Off |
| V-Sync | Disabled |
| Adaptive Resolution FPS | 0 |
| Anti-Aliasing | TSAA |
| Texture Streaming Budget | High 4 GB (VRAM) |
| Texture Filtering | Anisotropic 4x |
| Ambient Occlusion Quality | Disabled |
| Sun Shadow Coverage | Low |
| Sun Shadow Lighting | Low |
| Spot Shadow Lighting | Disabled |
| Volumetric Lighting | Disabled |
| Dynamic Spot Shadows | Disabled |
| Impacts Marks | Low |
| Ragdolls | Low |
| Effects Detail | Low |
| Model Detail | Low |
MOONMOON's Family
MOONMOON falls into the category of celebrities who highly value their privacy. He hasn't disclosed a single detail regarding his relationship interests or status. Even so, the word on the street is that he put his dating life on hold to focus on building his streaming and content creation career.
MOONMOON's Net Worth and Career Earnings
As of this writing, MOONMOON has an estimated net worth of $1.7 million, which is quite admirable. We bet this figure will increase in the future, given that he maintains his streaming consistency.
For now, let's show you how MOONMOON amasses his wealth:
Twitch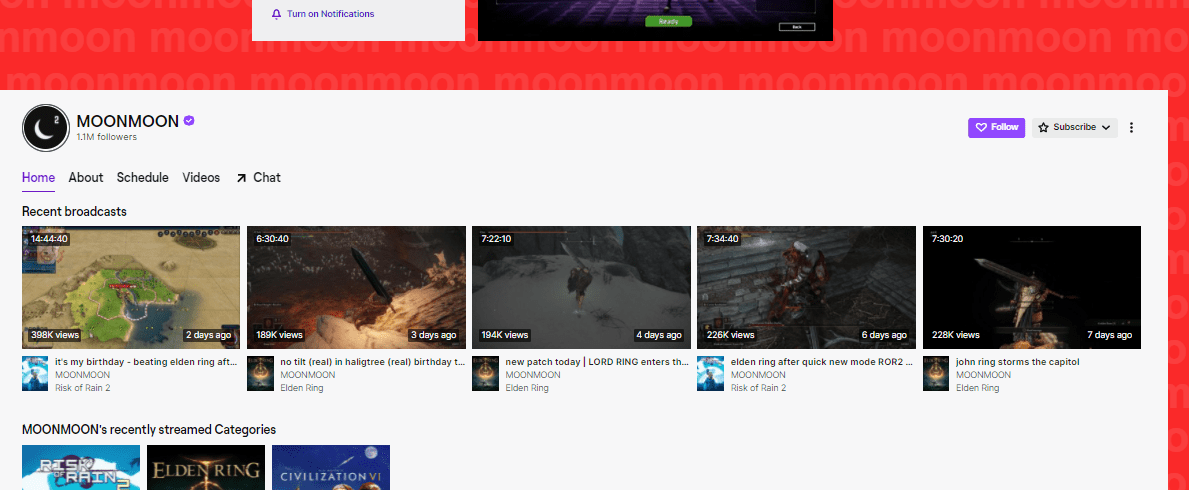 With 1.1M followers on Twitch, MOONMOON is among the top-rated streamers today. He's impressively carved out a loyal audience that watches his streams every day. Data from Twitch Tracker indicates that he has over 130,000 subscribers, and we believe more will join his team in time to come.
MOONMOON has built a powerful brand on Twitch, making it one of his primary revenue sources. Did you know that he's one of this platform's top 25 earners?
Twitch was hacked last year, and a great deal of information was disclosed, including the payouts of the most successful streamers. The leak showed that MOONMOON grossed $2,236,043.55 from August 2019 and October 2021.
This amount included his earnings from his streams ads, subscriptions, and bits. But it didn't count donations from his fans, sponsors & partners, and endorsements, which means he could have made a higher amount than what is public knowledge.
And don't forget he has still been streaming every day since October last year.
YouTube
MOONMOON has a YouTube channel he created in 2016, and he has uploaded many stream highlights that have garnered 28,159,123 views. Supposing he has monetized most of them, he could have received a good amount from this website.
Tournaments
So far, MOONMOON has only competed in two Overwatch tournaments, bringing in $2,233.21.
He played the first game on LGD Gaming's roster, earning $566.54, 25.37% of his total prize money.
He participated in the second competition as a free agent, raking in $1,666.67, the remaining 74.63% of his total career earnings.
MOONMOON's Retirement and Post Professional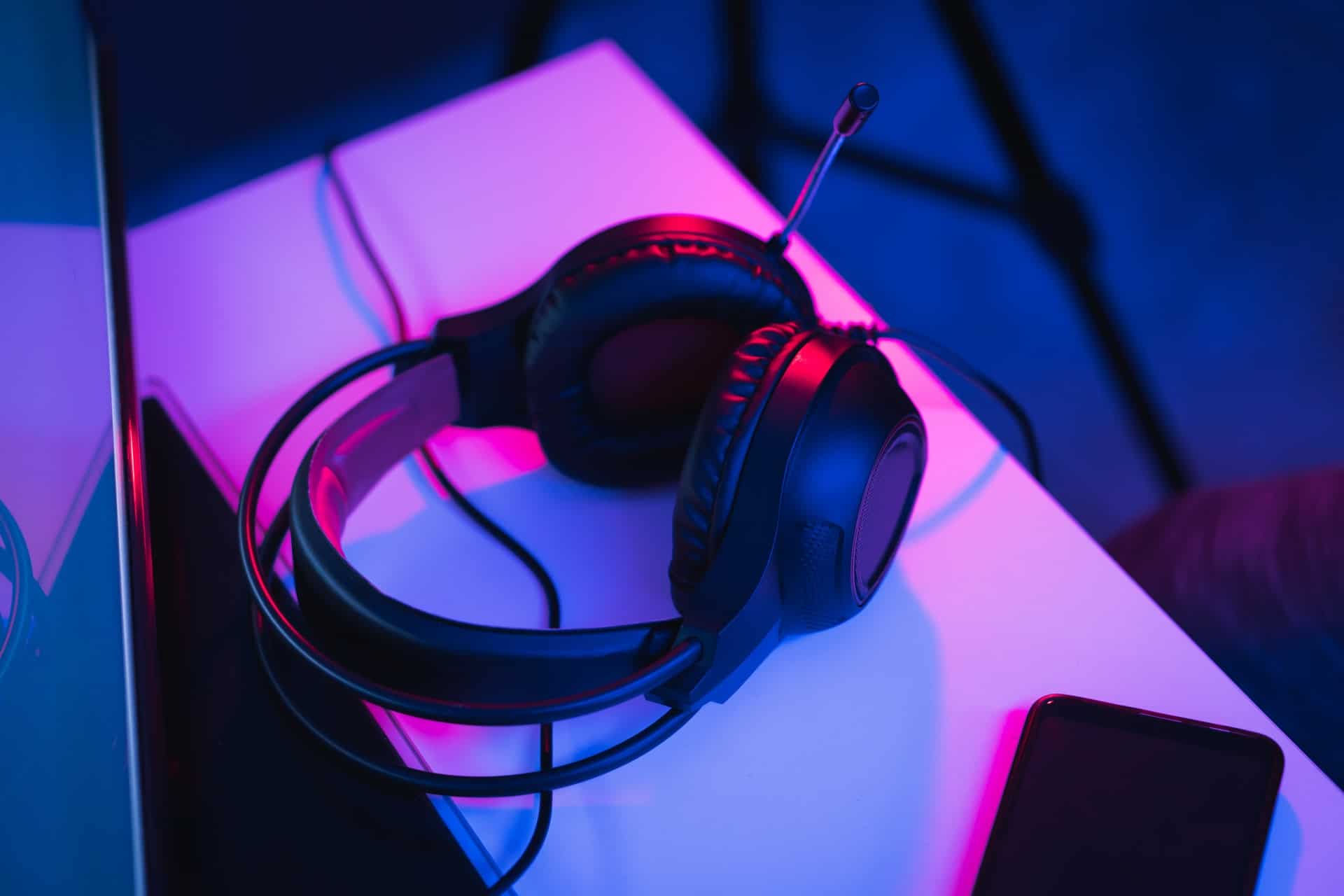 MOONMOON has taken breaks during his career, but he hasn't talked about pulling out of the streaming scene soon. Therefore, if you're his fan, continue watching out for his world-class content – there's a lot to look forward to.
See also: JerAx Bio
MOONMOON's Merch
Are you a MOONMOON diehard fan? Consider getting some of his merch. If you hope to spend the least time possible doing it, let us help you out as we have sifted through the market to find the available options. These include the following: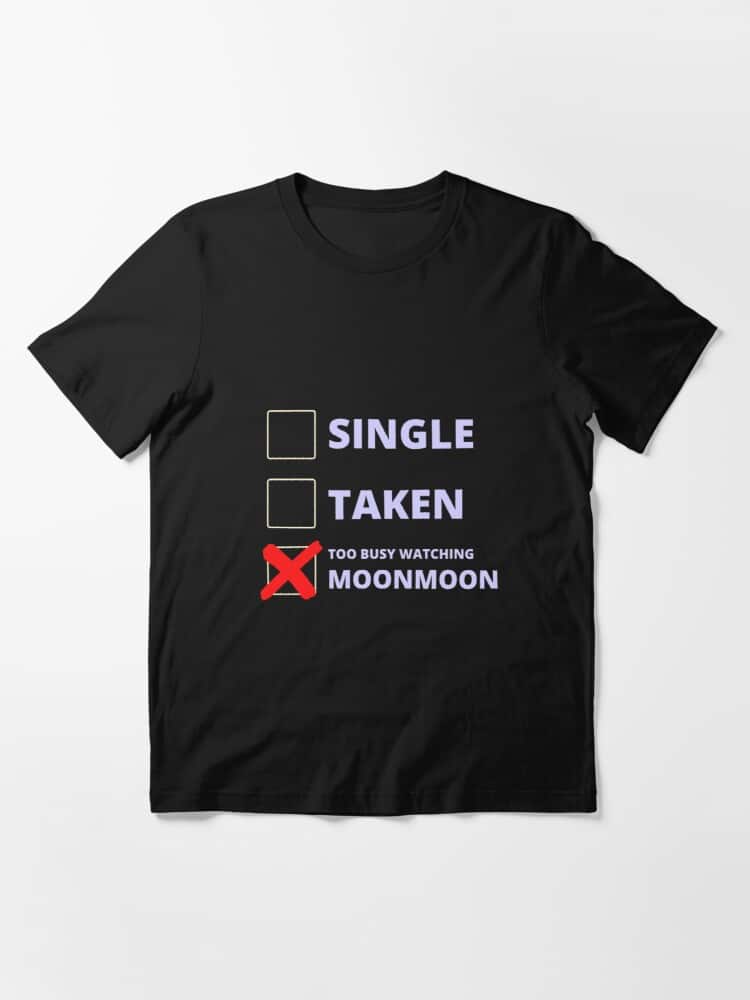 A fancy t-shirt always comes in handy, regardless of if you're a man or woman. And this one could be worth every dollar, especially if you're a fan of not only MOONMOON but also memes.
LAST WEEK'S STOLEN AESTHETICS has designed this tee for comfort and longevity. They offer it in various colors such as black, white, heather grey, dark red, green, crème, gold, and orange.
Note that the color you opt for determines the material you get. For instance, all solid colors boast 100% cotton. While heather grey options come with 10% polyester & 90% cotton, charcoal heather tees are made from 48% polyester & 52% cotton.
In addition, this seller also offers this t-shirt in a plethora of other designs. If you prefer covering your arms, take a look at the Moonmoon Funny Single Taken Long Sleeve T-Shirt. But its color options are only six – black, dark blue, white, cardinal, heather grey, and dark grey.
Other designs to mull over are:
Bear in mind that these tees don't have the same features, including colors. So it's up to you to pick one that suits your size, body shape, and personal preferences.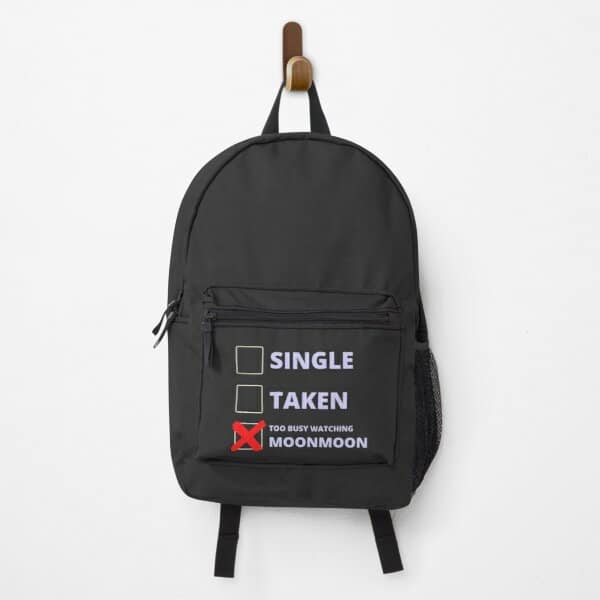 It always helps to have a quality backpack at home. You can use it to carry your stuff when heading out on any day. Plus, it can act as a storage place for some of your valuables.
If you haven't purchased yours yet, consider this one that LAST WEEK'S STOLEN AESTHETICS sells and designs.
This backpack comes with a lasting polyester shell, which also makes it lightweight. An external mesh pocket provides additional storage space and helps it look somewhat fancy.
Besides, its straps are padded and adjustable to guarantee comfort.
Those looking to discover more styles should look at the Moonmoon Funny Single Taken Duffle Bag, also provided by this brand. It's roomy and ideal for going to many places, including the gym and work.
In addition, LAST WEEK'S STOLEN AESTHETICS also avails the Moonmoon Funny Single Taken Tote Bag. It's super stylish, durable, and low-maintenance.
If you're searching for a water bottle that'll give you real value for your cash, give some thought to this one. It's also a part of LAST WEEK'S STOLEN AESTHETICS' MOONMOON-inspired merch.
It is made from stainless steel, which makes it rust-resistant, and hence, durable.
This water bottle can hold around 20 oz (590ml) of liquid, and it also features several other fantastic qualities.
For instance, it's reusable for convenience. But make sure to clean it well after use to keep infections at bay.
Besides, there's a leak-proof cap to ensure your water or juice doesn't spill out while you're on the go.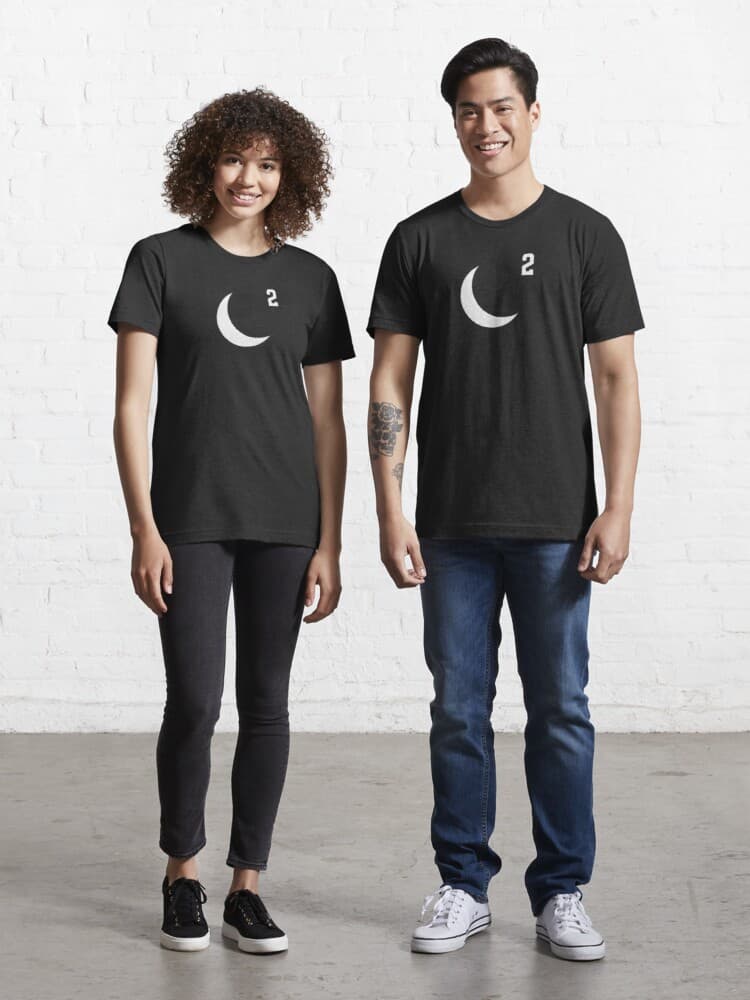 Check out this comfortable tee that you can consider if you're looking for one suitable for daily wear. Its front features MOONMOON's logo to enhance its style.
Reto Run, this t-shirt's seller, gives you an extensive list of colors. Examples include black, red, white, orange, brown, blue, purple, and gold.
Its availability in small – 3XL sizes enables it to suit the needs of countless MOONMOON lovers on the market, regardless of where they are.
Like the MOONMOON Essential T-shirt above, this tee comes in a variety of cuts and designs that you should explore before making your final decision.
Your pool of options comprises:
Here's another MOONMOON-inspired product brought to you by LAST WEEK'S STOLEN AESTHETICS. It comes with a "THAT'S WHAT I DO I WATCH MOONMOON AND KNOW THINGS" meme that adds to its style.
There are several things we like about this mouse pad. First off, it's designed to last a long time, owing to its fray-resistant edges and pill-resistant surface.
In addition, it's pretty versatile as it works well with laser and optical mice.
Maintaining this mouse pad is also not rocket science – all you need is a soft wet cloth to complete this task.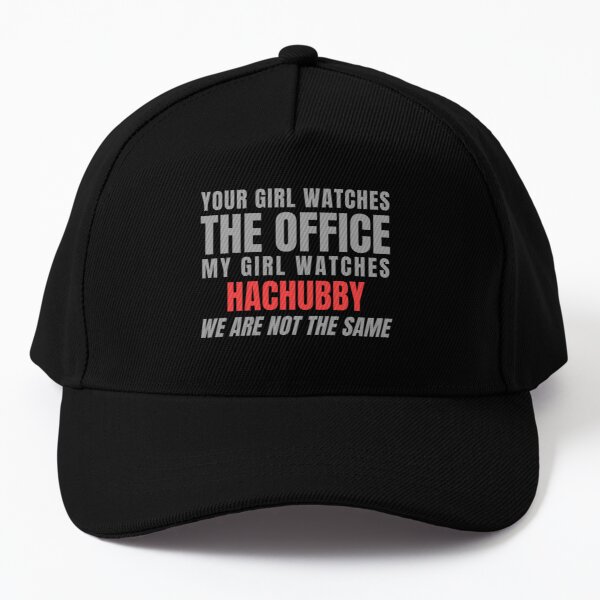 While we were going through LAST WEEK'S STOLEN AESTHETICS's collection, we also found this cool baseball cap that comes in black, navy, dark grey, and light grey. A hilarious, flawlessly-printed "YOUR GIRL WATCHES THE OFFICE MY GIRL WATCHES MOONMOON WE ARE NOT THE SAME" meme graces its front.
Since it boasts a snapback closure, you can adjust its fit at any moment.
You shouldn't stress over how long this cap will serve you because it's well constructed. If you take the best care of it, you can wear it for a while, daily or otherwise.
Interested in personalizing some of your properties at home, work, or school? SleepingRoSo designs and sells this MOONMOON sticker explicitly for you.
Order it with a glossy finish if you're looking for a décor piece with a contemporary feel. It'll also be hard to miss, but don't forget that its shine might make some people uncomfortable.
Supposing you're looking for something easier to look at, and the item you plan to decorate is made from glass, go for a matte finish. This is also convenient if your water bottle, laptop, or phone goes through many hands since the sticker will not absorb their fingerprints.
Besides, this designer provides this sticker with a transparent finish. Feel free to opt for it if you're looking for maximum visibility.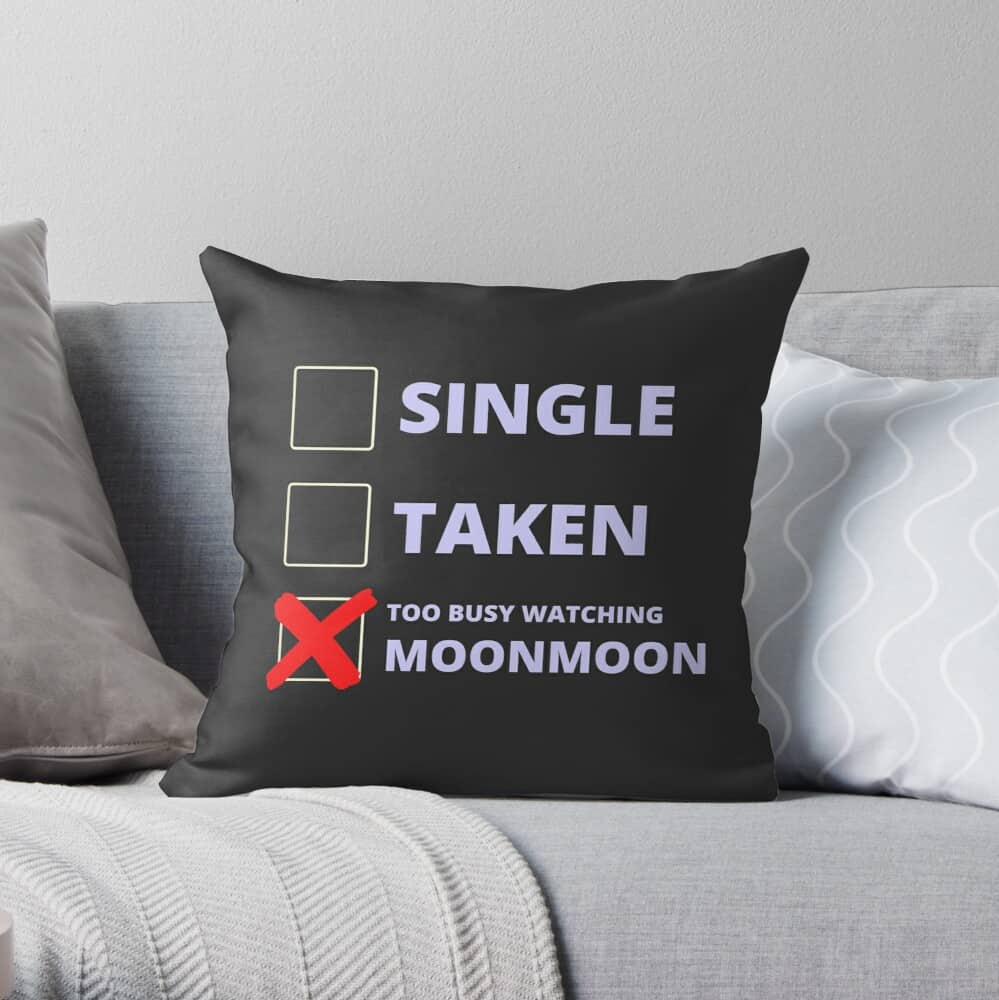 Throw pillows are a much-have if you're trying to upgrade your home décor. Don't skip this one with a humorous MOONMOON-inspired meme as you explore the market for one.
It comes in black, making it perfect for your furniture no matter its color.
Moreover, it features a concealed zip that helps achieve a clean look and adds to its elegance.
Masks are still in high demand. If you need some, consider this design suitable for persons aged 13 or older. It enables you to communicate while you conceal your face and protect yourself from the coronavirus.
One of the things we like about this non-medical face mask is that it's sturdy and still super comfortable. Furthermore, it's reusable – wash it well after use. It also leverages durable 95% polyester and 5% spandex material that's ideally soft.
But as you contemplate ordering this mask, note that it's unsuitable for kids below three or individuals living with breathing problems.
Frequently Asked Questions about MOONMOON
Question: Does MOONMOON have a merchandise store? 
Answer: No. As of this writing, MOONMOON isn't selling any merch, and hence, he doesn't have an online store.
Question: Did MOONMOON bring any money as an esport player before he turned 18? 
Answer: No. MOONMOON participated in his first gaming tournament when he was already past 20.
Question: What happened between MOONMOON and xQc? 

Answer: There was drama between MOONMOON and Felix 'xQc' Lengyel after the former said it would be best if the latter left the NoPixel GTA RP serAnswer: Yes. Like countless internet personalities today, MOONMOON is on Twitter. He joined this networking platform in 2016, and his account boasts around 130K followers.ver. MOONMOON later apologized to xQc, adding that he delighted in gaming with him.
Question: Is MOONMOON on Twitter?
Answer: Yes. Like countless internet personalities today, MOONMOON is on Twitter. He joined this networking platform in 2016, and his account boasts around 130K followers.
 Question: How often does MOONMOON stream? 
Answer: MOONMOON streams on Twitch six days a week, from Monday to Saturday, for at least five hours daily.
Recommended Reads:
Research Citations
https://www.twitch.tv/moonmoon/about
https://www.tubefilter.com/2021/10/06/twitch-data-leak-how-much-do-creators-make/